Trądzik noworodkowy i niemowlęcy - Przyczyny, objawy i leczenie
2021-12-27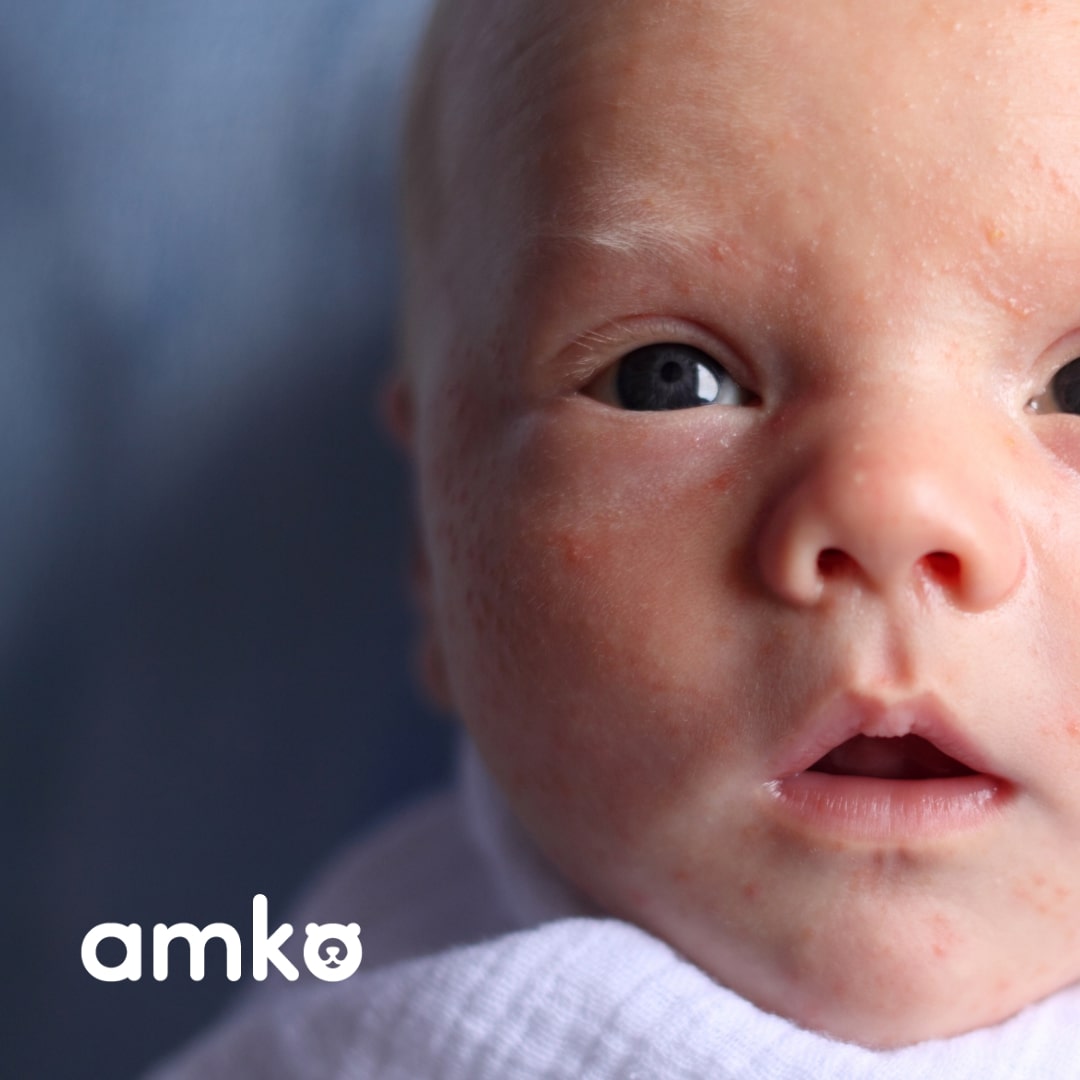 Trądzik niemowlęcy i trądzik noworodkowy – co to jest i jak sobie z nim radzić?Nawet najmniejsza wysypka i zmiany na ciele dziecka sprawiają, że rodzice zaczynają się martwić o swojego malucha. Coraz częściej występującą przypadłością jest trądzik – czy jest się czego bać, i czy rzeczywiście trądzik niemowlęcy jest ciężką chorobą? Co to jest trądzik niemowlęcy?

Cóż, wszyscy zmiany skórne nazywane trądzikiem kojarzymy z wiekiem dojrzewania, kiedy w ciele zachodzą ogromne zmiany hormonalne. Jednakże ta przypadłość dotyka także niemowlaki i noworodki, a jej pochodzenie jest niezwykle podobne – również wynika z burzy hormonów! Jak leczyć trądzik niemowlęcy i przede wszystkim, jak odróżnić go od innych chorób?


Niemowlęcy trądzik – kiedy występuje?

Kojarzący się z okresem nastoletnim trądzik może występować już od pierwszych dni życia – nazywamy go wtedy trądzikiem niemowlęcym. Po okresie 5 pierwszych tygodni życia jest to już trądzik noworodkowy. Ta przypadłość dotyczy około 7 proc. dzieci przed ukończeniem 12 roku życia, ale aż 20 proc. noworodków i niemowlaków ma problemy skórne.

Trądzik niemowlęcy pojawia się w przeciągu 3-4 tygodni po przyjściu na świat i dotyka on w znacznej mierze chłopców. Zmiany, które pojawiają się na skórze są dla rodziców tak małych dzieci bardzo niepokojące, ale spokojnie – ta choroba nie jest aż tak groźna, można sobie z nią poradzić także dzięki odpowiedniej pielęgnacji.
Trądzik niemowlęcy, trądzik noworodkowy – jakie są objawy?
Zarówno u niemowlaków, jak i noworodków trądzik objawia się zmianami skórnymi przede wszystkim na twarzy, choć nie jest to reguła. Małe, białe krostki rumieniowe, a także guzki ropne najczęściej dotykają niemowlaki i można je zaobserwować na policzkach, brodzie czy czole, czyli popularnej strefie T. W niewielkiej ilości przypadków także na plecach i na ramionach, a także pomiędzy włosami.

Trądzik noworodkowy przyjmuje natomiast formę zaskórników, które nie raz możemy wyczuć dopiero gładząc delikatną dziecięcą skórę. On również najczęściej atakuje policzki oraz czoło, rzadko kiedy rozprzestrzeniając się na całe ciało. Skóra malucha dotknięta trądzikiem jest zaczerwieniona oraz wrażliwa na dotyk, dlatego też dzieci mogą reagować nerwowo na pielęgnację czy gładzenie.


2XnQTabOHS7p9w8pN/JNxmFwWhxlgc/h0RjvuoSr/OeHs4K+MGZvoj/2gPuo7sLp0vvUm4/Q7szr2mysa0qNNkxJ0j2HOP+mBT4y4TG3qW6iIBJkRoJyJiCyHYzM3mMj5uoKTcmd7+RGbnShgdymd9pZmethSmh/NoLvdTALv5qZfJjT3Nffl9Dkcx1uyFp9W7FCdfYrY3iqiAgxRkmqmXLNdwnqTw4/Q2B2qSSXjIUeyt3icr/iKd5V60l7qpp1S8wCOdQaREH8Pd8g18rV8nzX870c4f4HjxJYKcPiHUcy9i6RFM3cx8CaMT2UxMZQN9fPNNC+uCMJxOYWk1j9W1XGQ1IR5p8bhuLufz9G4dSxPpZMWLFeMAwW47SA47qulGbVX2zIu1rDtQxW+G0F1kR+2jNuec4i7zYw+qrSvW+wvyY0/QVeXA0rCY2yPgURVPNrLgfiarwx7cmvKnqegcJYYjFBmOk5dwlGjvL8iIFMXwZaV7cbeUjbFYShPP4W35JobA7WRHfkFd7jH1Ha5NRCnDN9L/CFnJV5kby1AriRjpRZnL01a+XitmrC1Es37L0iwoTr5MmMtOEr1PkRdhRVqAMZHOB4hx/1L3tcMN16lIO83NiUTuTGUQ5riHy4dfwv/6VrKiz9FVE6AoubZKP1Wrb0yXMN6RwFhzJLcmDGSG7SXO6yPFguZGHVRvrHStg01R3JytYKwrhTtLFTx/2KIs4tS4KxSm2lKcco0WAUtUWNNZYU5u9F7qci4z0R7ESEuQ7uVKsq9qks3cuNjeUpQWJc9fAa5M9kToTl2eHyImHGrzJtJzK342r2F78keK6HQ3/pXCPiRaLtB9J2lxZ4n020diyGHlPMvhb8d7f0FljjW3FvJUSSxJMhX5rhiir2By4W0aq3zJTrEmOuQCt9brSY6zwt5mDzdW6pmbKaOlNY7p2VLyir0prghgYr6M0elyohPtmZstZKLNncqkfcS4vcVclwtDjddpKjZhfjBYO1OZvs0MR+rEsCLPlJoiCxXApUQdUNdCaZqR7iNri0xUS7IwEahAHtkp3l5M5clGDvcW4ylNPUiJYRdNxSeZ6LBhssNZi2l/8zUersfw7E4Kd1ajWRjzZ7DTialBX1bnorm7nsadtQxdJUrzIkIpEZDK6mOiL4obc5na/Ig9ScJK5H5emGGsX++Tu4V0NbnSVGvHzHiEjqrv3cjUXefDmznqNOlrdkEOBWvTMTy5lYOoir++ncPXd3KZHAlWNXNvhzuzo6Esz8WyNBWlHenmkkEVv+NDwUyOhLI4E8vmaiqbK2mszifpJY8Fpbu2kMz9m7l6yb9NjYTr17OykPRHa0yixrC9MNgfzvhoLEsLqczNJDE0EMLkeLTOg+WdZXQ13B9Ia6Mr3e3eyj8UXKDsPwe6AlV8NN4bqBADsSpIMZVL4trkhyepM/1dgTTVumke6uaNfCbG4tSzJ0k1dbUe9HSHsbSUowW0vNyJ27fLWd8sZXImnbGxZNbXi7l9u5LBQSHnJDM3k8nXj5rhu04lWTRV2FGSbaY8Rgl+FRyiEDmGegLheS3fPipVpRlPq3hwK4/ifDMqymy5fbOIe3dKNbuuushWPYBV2WaoAs13C0PVFnQVnWeowoipZgsaMg/RVXqWoXoz5nscWRsNpL74GjMDsXRUuNKQf43BGjfmO4KpTb9MacJZFSlMtPoR471bhS3l6ZYUJprpiXp1JIO6bCdNYZGwbccrH+FxdYsGk8d67GDve39GgufHGLw/JdX7U7yMX+LSzr/H6dzvyQu+SFOBtwp2JCGjsz6W9ZFMugpNyQ98mzyff8P79Asc+90L2O35S+Jtf06EzUt4Gv0a2+O/xuzAKzicf0dZvGJtEXygxdHf4GXyGa4XP8b5/Kd4mX5JQ44H5al2VOU4MN4dRXrsaczO/4Igd1HsfYmn6bvEOu3G9fLbuJq8ja3RH5TYUyHj1vDTpEYaUZR6jaGWOPqbYxjtMdDeJKKTdB7cb2R2NpPw8JMkJZqxvlrD9GQxFSUBRAQZkxZrjYPZZ1w+/muunnyF9jJHuFfGrAAzugOVMSq4stmeSAWpV5fYUZhphJXxK0qikRfrrY0yHj6o0TGw+Znf4Wn6KQVRxhQkGCGIte4mL8pzTajLM9EbbpD1q8Q4vklRzH4a88zpb/FnZiKDjVv1PGOEsZk8sgocqWsKoLs3hsXVIobGDEzMprNxq5zHj+uZnUljfSWf5VkhssTCN+08v1uvrFZZCcgJPT54vyrG06KPkm84x1SPHzdnYylKPIq/3Wvkx+6nNus83eU2P3j1oo8r9lK8p7J/2phK4ru7BXx/K5kbo57MdNkz2mrD7RkRtFkQ6f05fg4fEOW9U9cSEe7bESVqV7kdddkmeF79g7KrQ51foiDhUwbqTbk9F0NS6BHdT5ek2ypDenMml7m+GOb7ohlq9KEm24qmAnsSA06QG2NEkt9+fK0/IdhmLzHOp4h2Pk7I9R1Eu35GVdoR2orPcXM8kK8XM6hINsXP8gvSAk5Rm2mptKe82EuUpljTUubFymgWi/3pDNSGcWM4jW/ENtfuSEH0dmVN3xoP5dlaIc8363iwVMfiSBFpsdfwdDxAStwV6io89flVne9BYfI1equ9KIg7RFH8Hj0QP5yLY7YzFDkEJAQfoTDD9I8hH9GaCiX0IsE4Rrjv0P1ec5kDpVlmWoykuyrLOMdslzvVhiMEX/2lRhyWZl5RHnmYz158nD8nLvgwBYbLmuJkZ/w6l4/+nLpCO8qybNTmJnCWslxnBFF5cNfPsDL5CJfrO7Ax36Lfh7fbEQK8T+PhcoSoCBOqa0JZXaujvTOJqHhLSquCdeTbM5RHdOR5/Gx/S1HEJ1Qm76Yp5zjpYdvwsnkVm0sG6CV7AAAgAElEQVS/IjnykIpBJ/pDeXK7iGf3Srkxk6gj6PjAXZSkyd7envFOX8Z6PNhciOTRrRQe3Uzj0UY2I21elKdfYKDehqr0/bQUHaWz8iQjzab011lSV3CBjdkgvr4dz+qMH6M9Dgy0X6enxZalyVC+fVzI00dF8KyGuzfztA5IvKdEnYnCXoK8JQhBo91Kpbs3Vq9+WZ4JWSlnaa6VJs6FgR5fZiYi9ZoeC2djJYUHt3+wvNxeStbXjqiKRdn+7H6BMgEWJiKYGg1BCun0WCj3bmby5EEBdzYyWV9KVsiDqIDXFhNYmY9jcSaahekolmbj9N9lMntjKYWv7xVx50aWFteFqVjkWpyO05G5THLnpuL+vzxTKWwzU0ksL6ZpYnhPlx8DfUHa5oo5XTiE0qm2NLjQXO/8p25TwPbVpbbqe5O9qYx5pZiK31QUj1JMJbZNipvS/HvDNHdSiunqchYNte66J21s8CYv14qO9iDu3C6nry+SsbFEYJC5xRxm5rNYWS9iYTlPO5jUVFNSUkwoLXUhM82UjITzWtBXZwzwvJHHd0vhuwYdU99cS+P5wyK+vp2l1/NHBfBtDePDodTVOFFb7czCbJomjqTFnqO6wIa+ek/KDOfJiz5Ea95FBitNac8/Q33GYZK83yEvcpsm0Mx0OOnNZ302mef3a/QkKzmB4qcqTbxAheGSevq+u1HITGcQpSmXCXD4QrF7penWpIVdIC/OFBeTT/C33cWd6WKSA85x7exbXD35O7Ut+Fu/S7j9O1pMC8N3URJ5gMKIo8Q4bSfYaisFcWYaL1ZW5srmYhk866Kv1IIsn9fpSH+PNNe/ozNpK3XRn1AS9ib5Ye9RGnuYOPfdeJh9TEbYRdLCz1CVdY2hhmAqDNZYHvs9Vw//nlQ/I/IiLBhtjmN9Ip+bc0Wsz+aoajDCfw9ygBEcnsnhn+Fl/oGi6YKdtilAo7/eF77pYmkknYTAc5Sk2jPZZWCiK5Wx3hSFAQjl6O6tem4slpIaf5XkmCvcWa9mcbZAY6SKsxwY7UyguyaIzMhL2Jx/Ay8LScXZjtnJH+Nl8wdcLX5HiPNW5vqilXBUkm9NR4Mz6XHHdVQkntLQoKMayyb+wVCPXfhabMHgd5Tc2PO6CyvMuUpi9HEMkQepzb7AULU1DZlnSA/4UtW0CaFHFbCfmHCFlHRr0rOvUVntxfJyPnfvVnL7bi3rG+VMz2Xqc3Rzs4SZ6VQtpmLRyUwyITvRTMd7QW67iA04RGOJnRa5cI8vNEghLUYSavaQEX0AQ9BOQpzeJ957GyJGGqn31HSftOAjtBfbM9cbpmIMEZqsyGl70IObEz7MdjtQlXlCu9rBJifGO71JjzqsCtTc+DOIcEsSYzyt38b3+nukh+2jrfgyRYlbqc3ZzWiLJcsjAWoLk+B1SVKpynVUqEVdng2zPeFsThqozrLUUIQoj31UpFkSIMHyVh/jYvwJble2kuR9nKK48yQHbCXG+y16qo34Zi2emfZAgm2/JMbtKBNNMawPGZjrimBlIF6Z0BnhZ2kqcCbF/wyRTvuYbAxivS+MhQ5nGrOOUm04wPfrKfB1Iwu9yST4XcDu8jYO7vgVQV6n6W2LVsRjToqdwuw7q0Opzb1OTvRBoj0+INr9fea6fFgdSVRxlPWl1xTKIAcdCQg4c+CnOJq/q5qIBP+DP+AlPXeSEHYQd/v3iA78ivTYg7SXmdKQc4p419fxt/q1KlWF9ZoafZKi9CusTSYrtcf87K85/OXf6wqot94fH4cv+fyd/6784/iwi1wz+ZSdn/2ID17/H4T6nKa1JoQQ3+MKvRdRVmtTFFkZTnh4nKKyMoLe3mwmpypo70whOvYq80vliAvC1+Y3jNZcpC79AO7mP8X72m/VIhjssYVw3y/pbvKgONdcm42KPHO1zpRnX9GuNDXioBZU8elLZ9rVYMtwl5uyBG4tJml3K+hB8eW3l5xjacCe4cYrNBedZLjZmscrsSyPebIy6UVn3RUayi/S02xNX5udFlOBPjz/uoTvv6ni3q183UsKZeibh9WsLWbpOmZtOlX9uzIiFxuRfL2CCGyqsaet0YmhXj8WpmOQItrZ4srUaNgPBXE+UdW7y1Jk+wLob3FFutSRbu8frh4fZkZCWJlP4N7NbO1qH97J4/YNSYZJVNiD7IWle5ViK8X0xnISN5YNWlClI5UOVFadckmXujKXqOJc6VTl84rOSARJi/Mp2oy+MNAXRk9XEMOD0qFG093pT6MIisTy0uJBZ6unjnib6pxoEOpFm68CHoS4L0ACKaBij+ludKevxUsLqRRU6VplzCt7pfJCKzqafTRsvK3Fh+ZGT/WXCuFIAOV9vRFaUFdX8piZSaOqypVbd6v4li4tpIMjCQyPJSFve3ujqK/3YWQkmYG+GI3REaFTfaUDPe1+WvT7unz0B788F83jW+nwrIhvH+WwsRCDzMlvrWXw/EkVd2+XsDCboeZ+oTOJZF6S57Mjj9KYa0JD9kU6C4wZqDBhpsWGoRpTptvt6S43QdSSCYFf0tPszdp8Js/vVTHdF6XA8miPL4ly346r6evIY4E+Q48a2QUKLwrheL8TGri9592/5uLuX1GWbEdp0nXqc1xxuvwhZ3f8CIujL+Ji9DL54btJ9foMD6Nf4mb0Cl4mb+Bj8j6uZu9hiD9LT3cIs6NpdFf5Um04R3X8DkZLd5Dt/SMMjv+C+c4XsDr0AvHuL9GQfZ4OYbkWu7E4nKYKYvl6NiZy4G4rbQVe1Ge6MlQXRVKAET214ZoxONoVx+psnlKsBOsoojJBfsmYz8viQ8xPvKxfj+Xp3xBgt013IpnhRjhf+RhPi22UpdjTWxdBY0UAI/2piDDp3u0Gvn3YocBxERkJgvDejXIVuAhyTkKF3a5+hu2FNzn++f/C1eQd+qrcGG31ZrLbl0LDabUxDbcFIxFrVmZvEur/FWE+21kcSeDWQg5TI4mKrvR1+YIQly+xP/saPuYfKnxbOKIx4UepqpCsRFPNt20uuExfpSUVhtOadStsUFEFP33Sxv2HTUxPZ7K2VsS3T5u4e6uUzc0ypqfT6e6OYHExm5ubJQz0R7E4l0lh3jXN7nWw+oyrF1/H8/pWApy363Ms1O0LMmOOsjQewc2FeLUapEXuU29eftwxZUa35FuTF3mWINutxHjsUeVtf507Iy1e2kmLgrKnyoSeSmP6a80ZarxGccoxVTrnJpwkwPFjEoP2q5XL3+ETwtw/V0FTRcZF2kosSQrcSqlhG1WZXzLdZQN3M7VQS0xXmMde2iu9megIQ/nAAQeUI5wZeZLaHGsa8x1ICjhGvPd+RFAScG0HDhffxd/6E7X55MRso7n4KJMd1kx1OJIefASLo68S7XKC2fZk1odSGa73oyzBiDZBOUacwe7c7znw/v+D8Z6fEW2/HT/z16hJOkxL1jHS/T4kL2wXJXHnSPA8ivPlLRhCzLi12EhncwKZKTYKmpDM0o3FGh6s1VGUYoGT6avEen2M3cUXcTd7VYUtGdFGyMFGUnXG+hLobQpVYZBQvYqTrlCeJjSvQKrzrPSgnhZ/nOpCc0a73emutaSr4jKVhn0Y7/sLvGxeR4pSkPOnrE/E8XgjX0e8Yh8TIY34mB/dqFBf+Hu//U+c3PtL7Ew/5dCXP+Wd3/xn3nrpz9n18T/hYbuT0lwHpWYJIGNxrpiBvnRKS0NobkohxeBBeUkY9+50aHh6bOxFSvLMKIjfTXPOYTzNfoKT8Y8JlpSoyH0sjkXyYCNPY8gkTUUmd/lpxoT77iTIbQul6RdV1NZYfJWmEgs6au10VCpjUlG/PlhPVRFRf901uipMKErYRU/lJWY6r7M84KKHuNuzgcz02DM76EBnjTHdDabMDbkzPyoCoWjdTfKsUsejYkERpbsUU0lnWZxJ5d5GERtzGVpMhVct65aCtAuU5l5RTODdzSwdv0pR7Wn30EL3/dNKxQaqb7Q3gMWxcDZn4vStCPLEgyosBOlMNxYTefqohG8eFusIVwqgNFjSmYpSWeAO0pnOTUYwOxGuY2Ap3FKwxdHy6E6Bdqf3NnP0e5CCKm4XeSvdse5M1Wcq495EXujvDaWjzY/Odn96uwPpbPelpcmDrjYvxaUJxFgKa1OtC91tvjpClW5T8uAe3SlhtDuQf+9MxSIjAAfZUz7YKGCkWwLBJS3GAslIlcw4yYmTmLeNlVztTmenUoEuxscS9SYkY7LJSQPtXWFaUB8/a2F2KYdb96vVkP3gcQO9AzHcvV+v3evqQiYiKpIk9b7OAB1FD/b60dXqxPS4Pw82k+B5Ed8+yNIRhlA+SvKvUF1uw9BABE+/boTve5gdS9Y5voSB+9p+rDez7lJb+sssmWl2ZK3fi5lWB5b6vOguM6c06SSh7lv0e6urdFawd1u1GxKhVZBwgd4ad6olBT7LXLP9hCN87tDPNBWhtz5QI9lO7Pg3vQkd/Oh/s/eD/63FdHOskLZiLx2VOV54lUu7/h73Sy+T4PIBOYE7sT3xE85t/2sCLD7A7MSvyMm4oL+3pfFMOit8lbUbaPEKQRZ/xdV9LxBw+b8SYvm3GHx+RqTrryiIP4xYaLrrgjW1RvJHJXbLzfoL8hOtmOlK5uuVOm7PletoNiveEnuLL4iPMGK0L1GZs+31/mr74Fk7HVVeGlcmsO/qTCslIZkd/SVXDvwc470/x2TfSxjt/gUl8Vbcm6ugpyGSiQFBv6Wo71RSTcRTJt6y5jJnRjsjlM+56+O/0simUoM5InKyPPkycV574Y48D3r1ureQqzd7UWTOT6bTVO9NdqoRV878XAUMPGuD77v4+m6likMkiKAk9hL5oWc0NUVYyu1N3qytZPPsUQUrk1E0F5pSlX6GytSzZIQdRF7kQkASmH1bWzBJCZf04CcHUHnNbKwV0tzkS1GhLWuruSqaE/GcjHolmky8tmIn6ajzU/uGIApj/faSHX1SBWwJoV9RW2KqysexDg86Kmzoq3NmuMGTngo3ypPMyIuUScdVKlPNaC2yYaTFk+ocI0pTjlGTdZyO0gu0FJ3nxngQN2dEtGGshKXshFM0ltoyPxxFW/l1veHbX/4NntZvkBt3jLrcM2RFfsBCvwU8SubmVDDV2cbU5FpSlWVFT40X4+0hOq3pqnSiLteCeL99mvfaXuRCZ4mbFtXsqAsE2GxTeEec95fE+nxIsWE7CwPXGG+7Sle5Ge5m73Lk038izP4oa/25PFmpZKknmvL487RlXyXeZTtnt/4tdid+g6/J+1zY8rcYffE/qYzeR0fWSQxu7+J4+l+xOPwT/Cy2kBFszHx/Hq1V0ZQW+lNfHcbsZDGjgzn0daQw3GWgqdRTaURJAV8SaP8O1y+8hOmJlxSMIoD1ggzhvjpza6EMGWsXJFsgz7e6HBuGmwM0lk+oU3J/EyHL3EgAc0PezPQ4UJG6Fz+bX3Hmq78k0P4tarONWBmJRPznshN/eqtCk08kKnGsOx43m23s+vR/s2/rP3Fy96/Yv/VfObvvFQ5veZE9H/6IU7t/hoQhzI0bNIWorSWUJ4/7uHOzh5wMPzJTfamviqMg242GGj88nLdq0WgtPE9B1DYsT/4dziYvEuT8NsEen6roR6Z1t9dzubNRyO21fA3nqMy/iqf9+1QXmFGccV69oInBO8kznEHERk/vlvDkdj731pJYmQhkediTtRFP1YoUx+2mo8SI21P+DDdakBX1Of11l5nqtmGk9SrDbWIBE3ShHUsTQdxZTVa278Pb+Xz3pJqHt4uZkFSZ9iAdjQvDvb1G2AAXEcuY8IQby22ICNipsAVBBdaUmNNUdY1bKwadMj57UKg2F2Gli1J3tEuoX36sy85zPkH3xOo13cyGJxXalcpoV3adMrp9cr9YC+PSjMAZYrUbXZqN0R3oxHAIcs1NRun7ykpQ1L4PbxdqAZWPkc8jzZh8rpmJqD92pj+oel8YGYrSotLdGUhrs7d2phIrI8ZVbWFnE1XFJH8W/43gByVdRgqYZMatzSSpNUY8piKhlsi2G/MpWkw3FzM00k1GvmWF15DcO5mXD3SHsL6UrZ7RvGxLbm+W8uhhLZ0dwSpAunWrTEdmsjd9+E0TwxPJNHcE09gWSHGZE8Fhx8nJu05RkT2+Xrs1lFhQbt89b+L5U6GgNPDN4zwe3UtjYcKP9flQhjoctZh+96iQuspr+Hl9QUjgAYIDDhMRckqxY7IYj/E/iLvF+0Q4b6M0/jz5EYfIDNxBlPM7eJu/TJTr+4Q5v0eM5zbktC+xdRKuLll5RZlmxPgfIMDhc1JCj1OZaaFFQug3ImSR1ImqPHsaS93wsNyqmaApAafxtfqCQ5/9I2HOB6nJcKEp34Oa1Gs0Z9tSkXBOT+iOp/+NvOBdRDl8xJW9/0ikk3QUgmR00N/L0zsNZEYaqxAo0OoPtOd9RUP6e9Qnf0R10kdkBv8O/+svIoi57+430lEfSlz4JW6v1dDXHkdlrhsFKdcpSXOgMtuV/sZont5uJTHiMo7XvsTH/TCVpZ7UVnprEoyP2x7c7b9EAs3tTT4k1H2fQhui3Xcry9dk/4tYHPyF3hwvbP9nMgLOsjmeT12BJD0kk5vtRlz0FdxsPtIOqizdhKJUU+0mkkJOs/fjvyHYcQedpc5khh7h7M6/5eDH/wW3K29rwk1W5EWGJMcy+zolWde4uV6uVCw5vDlbv63RZaIAFu+gWGdkjCT2pKyA4+SGnNTDUnLIfgJ9dhEpoI6YY5RlG6t/LsbjM0IcPiDWd4cmgKTGn6OrPZiONukSfNncKOSbr2tZX81Rm5bs/sXaJapz8UULElNAI7K62Fgr5tmjJg3TloOCIfykjhA7Su3UPyo3NAmNGOv2orvBkdvzifCgDNmz50SeItzxS6Jdd5EbdY7GXBuaC6yZaPVmuMWF4SY7BustmOm0o7XYiLLUYxSnnGCgyUWxgoK/HGz1UWvCXH+oYgdXRsLpb3Bgqtub8TZ72sqOMd1lwuKAPelhnxPk8C4dFXZMdYYw1hasRns5EIpxfnEgkrHWAPUA1mRYUpVqyURbpI5n1e4QcojOcgstNisjdqyO2rE26kZ/jY0mEB3f+m/EuZ9lfTAH7jXBnUrWu4KJtv0At7Mv43v5NVJcd+nlcvJlgs1eJ9nxPaKsf0ui0zskOn+E/clXiHM7QEOGK93V0TSUhzMymMfMZBnjI4V0d6QzMVJIa3UEGTFX6Kh0RpTQfjbv4mv7IR5WH+Fi9anGFwqmcKQ7mZGORBJDLmhodXr4eU2jEmuaRKkVpV5WhOhYtw91hcYUJB+gIuMQXlb/RqD9L4lyeY2rx/8Bp8s/JzNiHxMdvjxazePmfLYGVkT4HsPx6lY+/MNfsu39v+P03pexOv8+x3f+nKsn3yLE4SC50WbU5thrBqqkb+VnmVNe6srURD6P7g9RURKFt+tFqkvD2LfjJ1hffpOEsH34O72pxa02/bDuSqM8P9SkK3EoSHKKdH4KEXnerOkozx9Xq5WsufI6Al+I9NtGQvAXpETvoa7IksWROB7eKFJU58p4EIPN1sz1ObIy6Ep7wUVdf3SWmrDU50FPtTHlabspSNhGXe4h+usuqTCpteIilbmn6GuxY7LPV0EQwvbl+2ZW5lJU8DXcE662MbFLylhcBKSJoQcVVbg+m0ih7Gk7vJRrkBp3WMl7UM/j2zkKa5gdEVVulh5+hfQk3bWOeDu91Aq0MBapHlJBCUoXuraYpB2mFMfnj8u1oP57tylj3Tsb6fp+IkSanYjUUbDsSWU/emMpTYWrUkBlhyrFVMa8UlhlFPzDmFdGvcm80NcTglxdHQE67p2aSGBjPUcRS1JARTwkRXRsMIK6Sgcd2TZUOaqaVwLENxdSEQGSjHslRUVAwkOd/uoznR6K0pTzjeVMtaVIksz4QJSeTuanDLqETk+5QmmR3Q8dIt0sL+fqLmr1RjGtHSEsrOYzvZDFwGgCPYMxTM5l6PX1s3bdVd3cKGN4II6B3kjGJHNvLJL2NjdKCi9SUXKR8X5XpoY8qC02oq/NXrNJywvNyU67RJrhMvnZtgpfL861JSHsOH6OX+Bp9SEe5u8RZr8Vh7MvYX/25zhd/Omfiqnz5ZfxuPoGzuZvEea/j8YaV24sZqkd59ndSkrSzTTRvirPBsGrSRKF+/UtapHISzb7Ifg2wki9eHJT6q30IMJtH5anXic70oTqDHtK4sypNpjTkG5KWewp4hw/wuvSK4TavI+v+dvYn3sVQ9Axqouu6Yvm/koFZsdfI8J5D/cn41jvtyLC4R/I9P8tlof/b45+9gIupj9lYTierzcbaKoNUW+nhCc31IayMFHIk7sdtNWG6w4nKdKUgY4ketrjqK7ww5BowZ2bDcAEowNpKiISOtHsYCZPNhtoK/fF6OAv2fXuX3J8y9/ga/oWTqdeJsNzD6GWH5HqfYS6DAeCnI7Q05xMc0MSvZ1p9DYHI0kc4kUUVOJkdwpr43l62Nj/yV+z/c3/iMWJH3Pl4D9wavt/xerETzmz/e/xsfhIfYgyipTc1LWVYpYX84gOPYiV8W9IDjmsvtFI/wOE+e5RwU+ZwQhvk3cJt9lKefIF3RtlJJ/X57eoBlOjD1OYfILqzAt0Vdhop1Gdb8FAe6DiCaU4NtR7MTWVwuREol5i75JLMj0T48/QUOfG0kI6Dx9UKtGrrztcwfuyRshOMMbbbgsRnjupSDXWpKK54TD4pkrHvUXp5xht92RpKFRFQs0FlsR7faXAjDDHz9Uekht9koZcM7orbWkquMx0pxNd5Ua0FF2kPu88+YlHWJ+Mhq8r+e5BCTwsV4BAcbqRsk03pmO5s5AAz8q5Ox/KeLvYKn5DgP0vCXd9g8zw3QgwIiXogAqO+hs8yE88pzCChMB9Om3prfGkq8yV9OBTZEcakxZ6Fr9rn+prwhC8jb46E+7Oe7I55cLT9RjaiixwuvQupgdfI8LxKANVQdyZTWe+258GwzlCr/6BXL/dlEeeIMlxG2VhJ2kxXKY4cD+RV3+P7YG/oyhkF9M1LoRYfYzf1c/JjTCjKsuLyeFCxsZKGBoqYHS0mNGRUjrbUnGw2sX5w79R/3B7hQMBDh/p61XIVtEBJxRVWJrnTH97IhmJtqTGmtNdH6arhboCSeEJUEiIiJAKk8+pp7m+wJj08O1UZwp39j0inH9NpNNvMT/03/E0/QUZYTsZbXajqdhGlcEwrKSn6+ZbeefVv+Dwjhfxtd9HYbItxod+y+EtP+LCVy/ifOltCuIvqXBJXAlC60qMvUROpiP5OV7AMu2NSYT5nWf/th/hYvU2nTXWaocaabCi3HCQjIidGEJ3IvmkqTFHdcXGsyZ1Tci9trnGTe/d4pkVEL74YCUxJsTrfTITDjLeFcLzu7XwqIEHN3JZmwpmbtCZ2zPeNBecINnnU82FXhsM5uZ4MIMNJkx2XqUyfReFCZ/TXXmOm1PejLVdo6nEiJF2J0a7PBW4vzITryPn8b4whjtDubmYwzd3KuF5CzyuQ34/CSEHlHcuQSKT/UHqF12bjVWrzmiPD0/uZHN7JYmbC4k0lFrowXOwzZ3xHl/tTkXR21RuRVuNvQIcBIMokZmSGiMIQSmKD24VIDxe6TYV9fqsBr6rhe+qeXyvQHezs+NR3F7PVJiDAB3mJ+P0Y+/fzEcu6UhFgCTvJ9fESBiTo+F6vTA8GInYRGTcOzdj4MZarr6VUawocZvrXHUXKUVVLjn5i/BIQAiN1Q40lF1jcTxaIciN5dfVYyo7U1FJttdJMoSkdwgNJlOtC/UVTgz3hDHYE0Z3WwASj1VZ5sTMZArfP2/jmyeN3LtXxfJaIfNLueSX2LOyUcz39CIj35v3qphfyeN7+nn0dYtC0ttbQynIs1UMYW2tE0ODgTTV25CbdpTa0ot0NFgw1uOq+1PhCcsP6LtvGlmaz+HGWhnfP+uG551IqruL5fvq7ZT9nLBL03wPkOa3m4yg7aSHbMfg/zke5r+jIO6MjsDEjpEpsVqJFzRDULIk/Zy/wNfxC3ob/fRzdtZ7K6pscyGXeyslPLtVy63pXBVwlCQa0V3hqOrGbW/+Oef3/Bybc2+R4HmYMiHw+O+nJPoEE9VOJLhtxf7UL7E7+xsufvVjErwP0SBZsYUOhLjt59DWH3F3Khee1pIT+T5h9v+IwefXOJ3/a4Kvv6IjzAcr5Yz0pJKRaqOouMnxAnq6DMxMFDHcl0F9eTB9bQnMjxewMl9OXbU8N1JwdtxHfq6rov4qy/y4f6uF77/up7cljpaKQOxNP+b9V/6Mc7v+mfDrWygKPYr7mZdxO/0SsbafkOVzmBjX/Rzc+hMMkRLBF8jkSBk3lyp1xBzkJgbyWIrTnciOs8TfYTdmJ3/Nma/+HoPfLoJt3uLUlr/g2rEfY3/mV/hbva+ip7iA46QnmFBb7cOtzXIVWxif+gk+1z9mvj8GSfsQ2X2Y+zYS/faQ5n2QmsTLtBVak5d4iuJsY1Xr8V09D1fTGKx3oC7nEh1l1rSWXkPUmtnJRppcJKPcoaF4Zheyae0IYn4+E7lRyc58pDec/CwTfa0sLRi4fbOAlaV0Olr9dXIiOZmCr5N95A/ZokcoTbnEVF8oN+YM3Jw36A1CcnQDXd4lzv9zDWJY6gugNvMSUW5bKYg5icF/j3Jh+6sddRRdFC/WpUNUpkuU4FnGWpxVuf7tnXy+f1jK15t5PLmVR1H6BczO/ZQQt4/UL3hjMpSN6UBGWk1oLT1KQYKMQn+nKuL8mKN4mL2OsGdnukOQIio/vxjfXbq+GGsKoCrFjAinr8iNNNacW6tTryhnWOARi4MuPNsM45v1CO7ORFAYewp3009wvPixrjUmWoJ5upFNUcIh4hzexePMi1ze/j+x3vfPeJz9NQGX3yTI+HXsDv4LZtv/B2c/+k90ZBjD3QrygvZMsPcAACAASURBVE9ic+I14jxOMtqWyuhgHt3dmXR0ZjI4VExPdy6FeQFYm21HgsAHmoIoTTVVeldO3FmcLd7H+vLbBLgfQgLeezuSKc73oqrUj4nBVLVxSfyhAFqEQd1YZEtm1FGcrvyaeJ8tGAK20ph3ksEaYzKDPyDF6w0y/T4kM2gL1qd/hLf1a8z0hvL0diX+7vv4ass/suuLf+Gzd/+Wj1//n3z8h/+G8aFXeetn/4Gtr/5ntv3+z0j1389KfyRr44n0NnnjeO1DHK9/QUToBbraEomPvqqvWdfr27Exfo3+RmfSwr6kIe80j5dj6Kkyw8/+df3d1hSaK5jm+aNaHt4p58HdKs32lVWUxBUKTKc485ImF1XmXaKrwZrmSjPFg369WcU3t2oUULE6GcS9lUAerQTQXnqKrJAd9JXZMNv6w5orN/YLmgsPsdgrxXwbzYXHuL8QqDat/kZr5gZ9dNoiyEuJbJP/V6ApgnaUVB65J67PpKkYT3jGLRXXNfForMefbx+U6N5WEIACs396Lx+elNAgNsX6/5eot46uOkvXbrl9z/m+03K6u+q0VUu5U15QUGjh7pJAgLgS4u7u7u664+7u7hAhhAgEd+uyecdadJ/7xx5hFAwKSLLXb73v88zpLFGJ4hAVP35yM1c+iIoAkpgezE1EM9zpI+0xYkwsbsWLM4ksz2fKce2/D1Sx1nnxqFymgh/fy5cBJZEQFiEjETwSTm/xa8ShKw5RcRiLlzhMxe1UHqSitytAR/96rZi6mCx3l0LELSTdl8YTaax3p73JW45jB3tCuTqTzoPbJTy+V86NhRyZzh3qCWR6XMCJreXNVIx2RQRbaLG6mzwQTyHCcdpa44KQyS5Op0suqjh8xGG6fFXBQHcoHU3+9LaH0Nzgw5WZLHmYvnjRKsNHt+/VMD2XS3tPOIs3SuW4t67Zj+aOYCprvamq8SEj3ZKsTGtmZ/N49KieZ0/r+emHRm7fELvYehZnwkgM30dlvjb3r6fLsJSo7AiXamWpG2HBGuRmWtHXEUqE/3F5mHqYb8bHfDulCefJD1NHEaqMp9FK+qrMGK63xlrzXYLst1GcYijt8/zYKmH2gq7TUeshC+GipC8OVKFJS4hUl97R0hxLSjLNJbFFsEXTw84RYLsJQbt5eCVDdlFFgOf07r+ge+RN0vxP4aj1GZF226iK06AyXovqBAOSvZWwUf2G5ZEcFoYyCHY6jJn617LmwpNWfljOobVEiXrFbn68HgJ3k5nr85JKr+o8V6yN91JU6MSNWzXMXa1k4WotTx71c2msgLbGGJbmarg+XycP2NHhXFJSbenuSaWkyEfupuZnq3hwu0MevGb63xHicZog1xMkBapipPwB3ue/RWfX79He+iuUv16BndJb1AgYgOk2tI99SlV+AH0deVyb6+Dh7T4CPcVNQYdn97p4fq8DJ6vdnDrwD5R2/YkdX67ASOk93HS/wkvvKwJN1mJ46I+46HyEn8U6nEw3SmB4S1MQU5Np9Lb7YKbzMTa6X5IRflaKv+tLbOVI3t/mO6Lt9zFQ4szSUBQjbR40llnK0ndfgxMXu7yoydaVqr7mQhNaSiy51BfKSLfoGg4xM5XF7bt1PH7eTmtPFA8eNXP7WglFOaYyvS4CeuPDobLYLfYpgiz29EGlTJiP90XQVu1GWZap5LgKEXhG5DkJhBe+T/EmWpVvJJOYVXnqdFZfoK3CgJFmG/rrLKlIU5N/LkWUCm2Flky1BjDb5U9N5jkyw3aS6L+F8rSXadNny1nwuFzujETFQRiPAt22kxh2FC+bNRSlnePFzQwmuhwY67KkKOUApanHaC3WId5rGwneu2Udp7/GlYn2gH+xqk8j6F4LwvjRFEB+lJakEMV6KOFh/B0hDntIDznBdNfLcMrza7HcvBTIi6VMCf0QCd19q35NmONBWgotqMo6x3CDKYMlF8j23InJ4T8SYvwt5sdfx1t3FZkehygMVMJJ5R0sjrwmf1wRrUmg2TaZ9k321yEr2oqqshBa21Lp6MxmYLCI8bEK3JzVOLDrHXJTrJkbyWC0NZiWYgdczdbjbbeTtBhd2fOMi7xATJQJbW2JlJX4kZVuQ3qyCUY6qzHR+gpdpXdICT6Fl+k6fM2/Jdx+I2m+u2jL0yTOfQ3htp/QX6ROdfwhfI3fw1HnbeoVBrK6JNRuYg1yZPc/+PqTX7Bp9W/ZvvZVDm/9G8e2/I0ze95C++Db+Jl+i7XqWxTHqXFzMoXeBh8sDNZwQWctFibbmL6YS19XDBEBKtibrackXQdxQy5JVpLBrgaFNn62qyjL0JSHCv+sR8hLpsYT5SEqMinionLrWqFczZUpTGXaXcg6qvIN6Kg35c5CvHTP/vSgjQcLFcyNxnPnahR99boMNejSWaJGZsBeSmJUacq6wEC1NUtj7tTmHKWz9AyX2i5wsd2MgXpDblwMoDTjLFUKHcSkRQB9XtwrQ+xvLw1G8+JONUXpxoh/n9GOELny6Kh0lGCGmaFwGZwSlq67S+nSDjM/GQ0/1vHgWrr0Sj9dzkEgCu/Pp7F0MZrJAYF7dJIfx3teghsEDUlQnASfVyjYBFtYnE+3F7LlzVRcNgRCkB8a5chXpHsXryQh0r4/Pa/h6f0SKSsR59utpRzuLuchLGDi483FbBZnU6V6Tox5xfe5eImazArBxRUHaX9PmHyK7u0KYXhAxJADqC6zp67SifGhaBkeuj6fLRfad67nI6D47Y1uNFRYy7GB8JoKT5wgJAkVW0+ztxxBTvSHy0NVPJWIGflQdyjdLX4IbZbAvI0NxMqDrL8ngonRROavKmRF5tGjRp6+aGN+qYjSKlc6+yK5fruCkYspcn86fjGD2blCurtiaW+L5P69RtlFFfsqEaRqEUXfiVA6G2yI8NtGdqIyVy9FyYBUicKc+koPChX2Ui/l56VEcpwmQZ77sTdejYnqRzgbvIQRKEJUcdH9DCvVv5Hks5kYj40yHTjS6MFEexB1xTZyrP3zkxoZpBKji65aT7n/EMxMYYqYGU+RIlyByxK7UzHWFHSlkkQ9guzWE++zncoMHYYbxB4sgHjv41iqreTQ2l+gufdVLFXeJs5xB3Up+sx1RDBS4y+Tka7624hwUiLJ95wUeCf4nIAHDTxdTKez8hy5sd+SFbKRZN/vZO9vcSSZppIArIz20NERzoMnLdy42cTCQr0siI+P5jPcny1BEF1tSSxcraGhIZr8Ak853p2fq6a7PYnBnnTG+7PpqI+kry0SMc7i+z56q/0wOPo2RkffxvL4G9iffItC78NkuuxjoMAOm7OfEWh3lMGWZGpKo+hqEWq0HMoKxANVCr0diTx/0M7sRDbJETp0VPkQ53kSD8NNeJ/fgI/BWnz0v5bBFLE/+2Exm4YCW9nlFBqutGQDIvwPY2v0BT6WG7HV+won0w342G8n1G2PdCpm+p+mMuG8tLN01TjQW+/ICxFWeFDE3HAw5WkapIceQxFzmlDXHRRnGMiJQ1WJI3m5VkxcymLhRjVT88UsLlfQ2hQgw29tDe4kxZyW4bbJMfEAGi0VbR0NTlQXm5ESJeQJpyW0IStKQ1YwcmN15FixNMtKgi4C3LaTGX+ctqrzKBIPEuLxFf72n5IcvJWiBCV5k6tK1aajyJKhajcGquwpjj1GvKdIja+nu9KQi23O3LgYwaPFNHhYyt25NNprbEmNOklptjb1Red5uJQEz4uZHfJiYcJLBkdifTfgafoxGYF7ac4xICPoOOWp+vTXeUqu9PJ0Onev5vHgar7U8cW6H8HTeBOx7sdJDz6LIkodP+sNxHjsoK/agp9uZcLdPO5OJpMWcBp7rbXEuJ7gYmsg5WkiT6BCRdoxcvx3kOi0iSir9STY70Bty6/R3/MnrE68iZ/+Kgx2voqb+if46n+D/r7XcNZaLVcg2eFGeNspEeSnTX1DPBMXq5idbWFosBgr86Mc2vsuGfEm9DWEsDCaCvdqEXt5P8fdxASpkJVoRmyEEb7e6pxQ+gJPrzPk5jgw2J9AXYU7VgZrUd79R3QOv47q7j+wc+UKlNatQG37f6J/8NeYKf2eEKuVVMTspUtxjmz/rcR7fEd5irpk9ApMZXaCEVu//S3JURdwtz7Cx6+v4ODmv6Bz/DPWvLuCE5t/j+qO/0J99/+hIOYUty4lyj31UFs481N52Fvs5ILuGim8rym2JtR7L4HOm4jx3U5pijL8XCk7ySd3/Qe+9hvkQ5PwjQq/8f1bZTx5WM/9O1WysSAyJWKHKlZvAsEa5X9Afj201RojOL3LM9n8cK9FHqbT4sGvwpCOSnWai5TordCir9SE6iRtkr0OUJKgwsKQG8+vBTPSoMtIvT6Xe21kvaq/3pT4wJ20VpjKPWZlvjFD7QFyBbY0k4GQrId6HKY825z8BD3EtKA03UAauuqKzGUIam48SrJ1xUEqkrkibCQO08kBf2YGghBwkTtXkuVLwBqE+k3cTMWYVxyiwnfaVmMvR8WC+DQuUIoX47m7lCtHvGLMK5LFgnYkOATfP63gznK27I6Km6lI8b54VMmDWy9BP7ev5cpbqeDXX50Wu1Lh/o6S/HpBRBKpXvFa0dMZLA9PcZi2t/jJl9Cidbb4MdwXwY3F/P+VpwrHmwgd9XX40lTjKF8CMTg1Ei4l4fOTidLILqzmAnQvaiPiVtrZ4IGAIog6xWBHEEVZxhRnmSL8lD89b6O90Y+yYnsqy5xkwKOzI5iWlkBZgr91t5qLUxly5Cu6p8+/7+Dew3qePGnl4sUM5q4UkpVpSUtLMM+etcobxO2bxVSXCzGuEdVFhmTEKiFGGj88LAO6pXfy1nI5/3zexc/fD9DTEUlqggYZCeeoUBjidGE19tqryA1VJ8hiC05aH+Fr9okclSb5b5I3AOGfFCMwAbXOiDkj2cAC4CC+EIXCKyNaE561SrLKk1sVXB5NlIqhAOd9uJi8xJAlBxylLkdUME5xdt8vObbl/yVXeCtT9VFEnsHL5BvO7fwV+odexUHjPbICjtGRZ0NNqiWa+95j52e/QXXHuwRbHcT83EdYanzIwmAs/bV2KOK2Ee31MYFWH1KdepaqVD3mepMpSnYiJsSQJ4/bZEfy2o0GlpdbuHOrXb4GezPJTneiuz2V50+H6OvLxt39LE1NsWRnOqF+dg0u9sdYmC5j+UqZVFkJqo/9+bUobf0f1r+zAvPj73O5yo/nIyk8HYijIuQMA/m2uGp/Q0G0EVdHC1i4XM/MxUpZUC/OcwUuMjqQLjungR6n5Ni4Id+FVL9zmCl9zJmNv2PHeys4u+H/YnTgz/jofU5nvjlPr5Xw9F4tQ/2xBPkfx8liDX4OG6nJOI8AOohyfoj7fnmYirpSnNtRWhUv+8RCqD3ZG8jV0XBm+gLpq3OkOEVDBo9yY88iXKKpkSoIO05nky+Xp7P5iUHuPm5jZrGc/tE0GUq6uZDPxFA4DdU2TAwHcHspgZ+e5jM7EUBrjQWZCaeI9NsvLSJ+jjuJ8j0ug25CQZUeZUCwhxJ5yedlkG+405XhLjuaK7TJSz5AXsI+qrJP0ZivJQ9UReRJGrLP05RlRFbQYVJ9t5Adto38qL2MNpkzVG/NxQ4Xro6EMDsUJFGZkSJQ5bmTGL89+NmvJcp7K5nRh7nU4yLTl/xcKjuDxfHKRDpuRBF2kpY8MwlNqMoxpSTDWJpTWipcuTmVRUeZK4oIDbxNN8vvkyC7XYidbpDtdxQnqPKTIDPdL+b+VDKDVa405VjJVPKN0RT4vonmAj0Kkw8S670aV503MDv2P3horcRVYyXqW3+Dzal3OLHq5efaQ+MrqQz01F6F+Yl3iHU9QrjTEcxUV2Opv4XsdEeGRwu4fLmZ2dk2mptSsTA9jKn+VmoLPUgP06Eo0ZhpITMvspVJ6pQINYbaYhkfysbB7hgHD31AQaGb5BCPDieTHKuL8v6/Yqf3Dc251hSEqrJv5QqOfr0Cs2N/xUPvI/KCD9KarUaSyxpSPdfjbfgeqX47KUtWQzC7+xr96GoIYP5iLjzpRawxju16A4cLOwl3VUHj4Ec46K7F6tzr5IbuY3EwmNEGD7KjNMiK0Uek8+8sVeDusBtzw9UEeu5CMHVz4pUoSDpFT7UZc4M+BNp/i4HKX6XPWdCOFqZSKMgylu/dF8eSuDyVxdhwvAx8ChG2uKGJAy7AdRs5iSpcmwnnzmISPG3hxe1Gbs8Wc2MqjZE2O7qrtGnKO8FYvSFD5aak+RwgzPY7wp02khu1hzvTXjyZC6C7TI2ucm16qw1pLdGnIkud5zdz4GkV4pIhwn/CvDPZH8NEdwQ58brkxGgT7X2MCE/x0LhXfm8MtHhK/KEA1QvGbnOlDWJvKl8z8cgdaY8fYu8vXoIA9ux2LoMdbox2eUoVnPg1ouYz0ObJWI+/pLUJdrzI8YhwrFjxicNQSL8f3i1GBJGePyqVN1IBaBAjXHFQCo2mOFDFJFZUQAU979+3UzHuFYIYSUdaEF5ToWRLYUVfd6ikEQ30hkt7i0Ch1de4yU+GeJoRfkZBq6gpd6C6zBbxBN7Z7MFAl7/8Qw13+8kFr7iRNlbY/a/FXOxMxe1UHKRNlY7/C7wXOrYykVYrsKEiz4ob8wVSmVVcYCMhDGWlDmRmGBETo0VbWzD379dJGlJzcwD5+TaUlDjS3x9Dc2MgqanGFBc7ERWlJX9uYiL1ZWXiXgUNNQ7kZ+iQn65BfMhhksKPSX7j83tlXL4kRts+dHdGcvdmLbevlZGRpIGPy2Zyk87gY7OBCKf9VCZfINZpDyFW3xLn8S1FcXsYbjSkr9qQvGhl6Z+8OZXITF+wvMWIkIPw9okunkjyXuyJlE98E31RFGYYS7C6IAQ5Gn6Dg97XnFf6O4F233BnKoKni6nEeO3kwuk30Dj0B+x0PsLHfBVBVt8QZPk1IqHbrjDmWn8UEw3BRDqdwFV/B0aHP6MsyoiMoBOEOW1haSRWYtNyonfQUXKaziJ1nl6OZbzOnZo0K/xtlEmNtuD2zRpmZvN4/mJQ3kxv32zj0YNe+roy5Ojs7o1u5i7XUVEair+/Lt3daUyM5RMfZUROqjW3F6oozbbF3Wozynt+j+7Jt7FW/wJz5U9xPLuKiWIPejOsSbXdTYLVDmpjdYhx2I9IL+fEmlGWJ9YImYz1CxdhAkszxdSV+uJsdQjNk19jcPobdn79aw588xtMTryPu/bXGB74M/an3yXCYj3hZhuIdtghYQICSXZ3uYyLI7E0lFogPKEDVU5cH4ljfjSe4nRDEoNOEO1+kIyAc4w1BMkRkyixi3FXQZoWRalaKBJUKUzWkvUGATgQcG5xmIhJQ19LADlpRghAxvxSBbOLFQyNpnNzuVI+nIlJzah4ch4PYHzAmekRYTGy4OZsOA8WE7l5JUFyoAVBqrnchZYqDyJ8VYjyP0dqlD7CCfrjoyquTcdwcy6ay8NiXXCIyqxTEhPYXWlEfuwJciOOMVBty0CFLdkhB+iv0GemXSAvtekt1yM9eDcZofvprrRgvMODxKADRHq/PEh9HdbK6kRm1BEivDaTGLyb/LTTNJacl2Gm0QYHRmsdSPc7QqrPYe5PZ3JjMoNbVxR8/6BOTlmmB2LJidIiyUcJX7PvUNn5Cvon3uSC8lsE2mymPucC8wNh1KTrSwJYfqS6DPI1Zlsy2uDF3akEbk9GcKXfhcE6I3ICd+Nr8DFumh+jvvXXOKl+RHeuOQ4q76O9/RV+msmjO8sGV9XPcdH4gnjXw5zZ+UfUD75DSYadlMnfutPBwkInV660U1Mdh6ebKpFBWlTlO9NY4EpfjT/d5a40F1hKxaKnzTY664Jk6C4iVA8Lsz2EhWpKolBWugmKdGM5PTq39y+obPk9cfb7MT3yJnq7/4jZ8dcJsVpPqu8+7DTfxOLUqxSE7qYs/gTRLhvxNF0l7TJiXCucrz31IbRU+HNi9+vs+vZVtn79G3k73bPmFfau/i9MVP5OVcoZloZCqM82QhGrjbWu8AV/SXutLyJA52b7HaHe++Wta6jdjbyk0xIoL6Dypeka5CepUlNoIjuawiVdV+ksp33jIwkynCm69OKBb7griIYyG5IjTuJqvopY/73Ul57nzmIKD68Xc3e+hBvTeSxPJjM/FiD36HVZx5hoNKJDoYvfhS/l3705R4+6nDOkhWyiKvMYBfF7GGk0RVC42isvUJ2nK2sq1y8nIzCtl/qj+PlRI6IPLqphQnOoiNGhNPUCfY3ejHYEUZCqS0WeiRwLTw+HS86uuGHWlpjQWmMj8wRCK9ff6CwhDeJ2KqowT25mMz0SJL+/rs/ESvlDR62dBDr0two9qKvM9QhevFBjirGt8JAKO4xg8cou6WK6PERFhefHZ9XygP23RU1MYcWBKka74lb6b8uaMK2JRK+gBC7OCbtM0svDVIx2BUC+uyOE9pYALo0nc20uj8nRJMoKrWmodpWJ1e42kZ6Llb+hMMsMdPly5WKMBN73NHtKFJQY8YobqqCCNFY4SNZiW7ULo12hiHBOZZ6gbTjIN5T8tAtSd/T8YQNzl7NlyT0n2xTxaqjzkejAq1fymJ7OkiO2mChNOtpCuH+3VroVx0eT6emJ5NmzZpkAzsy6QHKSDvGxakSGHifIa7d8usmIVSEq4CB1ZRZymfzP5/XMXclidCSeglxbslIMCQs8QHG2Bm2VZgQ7bibJ97h0PiqCleWepKNQjfkBK4abdCUF5NalMJbHIuivtmWmy4dGxQXSg4/jcv4rgh22y2rBs+ulEqwu9qjxIacJ8TyAj+1WaUFoybeUO79Qh/VkRxzl6mAQ92eTaSowlmEHwYn1Mf8CRfgBEjw24Gu6kjaFHo+nU5lqDcHV4DtOb3kNpTWv4HT2CyxU/sbJLSsoS9GjNFmLON/11OccpTn3FBVxxyiPO8tYvR9NeV4MNCdyfaGCZy+6ePykm7mr1YjD9PpCA/WVEVQUh/Dk/ggdrelkpLrR1Z4OP00zOphDWKAm9ha7cbPeK+0cp/b+Dk+zNQyKzliRM3GOx1Be81vO736dQx+v4NinKwjUX0OI8QZ8L6ynPMmYGoUzmqdWkxxlTGetD/1N/lTnOtHXEMNYeyZpoZaUp7pLApPnhS1k+SkTbfcdnrof4XDuTZzV3yHadiPZQSdkEGy4I5jbSwVcvZREd629fCjJDDhGQ5aJPAxDPQ4Q43tY7lCLYgxpK3TlUp/w+CaREa9GTrIWyVFnSYtWRcDPI7yPIm6QScHKMnkb7nGAnHgdBtuDJdno4cMmJqdzae+M5PHDZtk1FU+64/3+9LRY0d9iSmPpObLjd9FcrMGjpVie3kiTvb78VH3uLBQhRNZFubZE+p0lPcaAijwbSnNNqCkye+mizBVi+yPSjpMeeojS5LMk++0hPWAPQ9WWXOv3ZaHXDa5HMdNhQlHMbuqylMiLPkhe7BGqszWoLzAgL0EFwfwVcAFnk0/lrTQ17AAJ/jvwc1jN3cUkbl5JQhF3hpSAQ4zVupIZcFwmxi+2BEi9mBB8//ysg8vj6cxPpJMdrSXT1CrbX8VC9UN8LdbjYvAlkc47yI86S5jDNhkSa1OYUZNigOnpd2krsODpXBbPrmbweC6FgVorFFFHSPHcSlnEcWrjNdDa8VvObPw/xDvskGEkEVzjaQd5viqcXPUfnNv0a0KttuB2fg2KKC0WLmZJTZz4+r11s4/ZmVYqyyJISbCmNNeJ3ARjarLsuTmeTXmSIQm+Rwh334WJ+sd01gTwYLmRke5kokO0cLHdh4HWKvZu+x3qJ94iJeQsZmdWYnvuc/zOb8Ra6UNMj76D7r7XSPA6wGiTB7M9fryYT+RKpwudRecpjj/NgKiddAdKHOGxna+y69vfsP6zX/Dhays4svU1bPS3EuOrIR8WNQ4JNvbnlMSq0JR7gep0A1mJqsgwIcBhDx5WO3Ay2SwdrMJ0kxiuTHzoMTrrbLk5J9Ry4RQkn6M4TZOyHANcrNYTH3ZKZlEuDidwbaEIkSYXABFh64oMOIaV4edYnf8UR+MvyIw+yfylMMmyFYfp4+UK7szlSeHDSLMdNVmnyAzZTF7ETupSVCgIPYqv8VcUxyizOORFa5EG+bF76SzT4v6VEJ4vJ3B3LoblqRie3srn6sVYqaWsLbKF521cn8qkJNWIinRTSlIMEdkUIZgQqePhjkCprlyaTqS11kG+V5fkGlBfaiFHvs9uF/DgWrbUywn84dPll9UYUb95fCtT3q4n+r0Z7/Gmt8lRJn5F91QA8AUIv7/dS05Qxd7zxZMqeaAKut+VSXFLjWaw24/uVg+ZAxJj3dvX8liez5Z1HlHpWZxNl80UcYiKQ3VWSEzGoyTcQfRVBexhhUgbituo2Fn2dIbS0RrI5ESKDOg0VLkj7Bf1VS7yZtre5MnMRLycH4v4sDjJJwaC6WpyldB7ETwSOKiZ0WjmJ5Plk5DYKXbVe8hgTmOZ+Es6S2yfqI101nvLcM78TLbcl5aXOEiYfZ7Cgq4OkSKNk5Qj0e+LjdbCx+sYtVUe3L9TQ2ujKMyLse0AP/3czoxQJNU4M3s5XYL7hQ1nYTpBkm1So5SJCTpMUbaeTGuJUS8/d3DvfqVM9ApusOgzTQ578+JOBgl+wuryETaqH+Go+TExzhtoVigx0axNXc5eemvUuTcdSmeJEXlRJ6jP0KKjwJjJVi9ywpRx0P1Mko966zxkFUXo4Dpq3ajKMyU76hyTHf6MNXjIMa4AqosbqLHK6yT4HmS624+OMnO6yk2I8xLqrM0y7OBr+gF5EQeZanFnrjeczGA1gq33YXn8A9S/+xVae36B0elXGKl3py7nAjbaf8H07P+hKesoKd5raMtR58FkAv1VfsyNKFicK+bB/SYW5itYuFrFtfk6ejpSKMnzJzPJlStT9Qx059HelEZo0AU59q0qDSA5xggfl6Mcp7xBNgAAIABJREFU3Pqq5PCaq71HSsARyhJ08Df9Djftb1Hd9Ed5mPpofkOy7W4yBWZQ9yssTr1LVog6L5brifDWoqHElyDHPRJEMNMZTUepH+nBRhgqrSPAQpnKBHt09r6N+fH3UNvyK3wMPiPecTN+Rp/jpv0RzrorsdX5RJa+xVpBkaJNUYoqhfGnqEjQJCfsFB7m6+XBKJKoUV5HCbY7RLjbSTrrfbkyJfBh+XS3BRAacAI/z4P4ux7EzWYH4uuTRw3cns6gu8pV1kOeLBfz07NmuYO6tlgsaUh3btWweDVP9rIf3c7m5tVwlme8GWjSpSLzII2Fp+irNaQs8xxB7tvkjv3OtZdu0JICJ8L8VHCy2IK3414ZgIsPUX65Xw0+KdF+imhVEnwPkeJ3WGq/xGHakKXGQMV5rg26cP+iGwMVquSGbJLp0rSALZSlKsnVQU70UZJDDlCdqyeVWVdHguitsyLYdR3xfluJD9hFYsQxmipsKE7RJtJlFznBSkTYbpfIyuZ8W8mx7W8NlfWjvHQLyZgV2rPGHGtC7XYT7bZHEo88jFYR77lPTgR8zddhqvymvOEGWW4g1mUXM23ecK+UhzOpVCRrE+qwjWTvfRSFHqEo5BB9BaZkeR/GTfMTLE/+A8vjr3O13ofmBEP0tv+Bve+vkPvUTP+jlCVq0VniQF2hHbmZlswvVHP7Vj9NjWmkJTuhyHKhpsSdglRTBIWrtcCJQJttRLnuRtClHI1WkxNvREd1EMlheljorkfz5Efoq36GwAwaqq7E6MzHHF33K5Q3/DfaO//y8oH1xAfsW/ULfCw201hkJS0+TQp9Ylw3khlygJosLQbrnWgtspQVooYCO/SVP2bV+yvQUfqELV/9knUr/wML7U3sXfcnTu95nayQc/LfLNp1NzEee5hs82Oi1Y+hRh88Lbdyes/fyIzWk93wjhpvAlz3UFFgxFCnK0szwujiSX2hMePdAdLmJDIqQ73h1FW4MjIYz73bLycnApYgMKB2Rl8R5LJF3mgfLKTy48MiROL2wbUi5saSmeyLknLzpkJ9uTbor9JDEbIDb4P3ibZfR0nkSToKzzPb6SLJW2K6MDfowsKoJ1N9blyfCufh9QzpFBUMArHam7uYzO0rCvn5Sgs5R16sLtUZprSWOEr0opAJtFY5S1Z2W60zVUWmzIxFItzZIt0rJN/XphN4fENI6MMYafPip/ulMsl7dSKcW/MJXB4TnF9v5sbDWJyMkjfZmeEQeZsXKjq5Ox0MYXwwTOrVri1m8eB+kTxABexeHIxCU9ff6UdPmzcTQ5HyQBVrTfHQvXA5TR6o4ob6/78E1zdZ4geF3u5/D1NRShcHqjhMheKss1kg+jxpb/KhqtSehmoXrs6k8uJRtZwnC9dpc62DPEhFR6+p0p6GcltJ+2+tcZL/OOIfabDN/+VBkm+FeEJpr3GXB2pHjSdXxpMpzLGQu9K+7nAW5hTcvFGKwApeHE+lrsZLYvjEG1d6ygU83YT4+Qit9X401/oxfSmNq1czyM41IDJamcoqe549q+XieCyzUwmIfpOr9ToifPehSFUjP0ObqjILBgaCmbgYx8Jiruy3/vi8gYFON/parfnhfiYCoaWIOE2S5wECzNaQG7SH4rjtDNaq8HTBnWfX/OUXUojDGpI8t5Hut5dgy7Vk+B2iMdOQ7lJbGXbJiVYnL0FbAvQrc81kzSIz4gxVGQby93fW+RQrtfd5sZAjv4n0j4uU328xPvsP8mKO0ZSnQVnSIfIjd5AdspW8yL1Up55jvNmTxhwrGrIsKApSxl39LZy0/4dAmw9kp0+EmcTT4vygGTVpO8gK/JJkzy/ICtqOj/kGeuoCuLlYwr07dSwulDM8mEllaQARIeepKgmlsSqOucl6RgeK6e3IISbckjvXW+H7UZoq/UmN0iM/SVQVamTFRPhOXXVXcXzdL9HZ8w/0dv2dM+t+g6/uGupjNUl330uI6VrsVD/G/OxntBb7MNqRzpXhXErjtbk7FsODS8kE22xHdddrEsLvZ7IP9R1vor7tDdS+e40Tq36J3emVBJmsI9hyHT4mX5Hku5dghy2INOCN2Uy6GlxoLDKkPluLulQd+fkTLsSLPWFynCQCD0JdF+mlQn97uJxMjAwlcPd2LVcu57G0UEJ3a5hMTqbFaJMVqy2ZymKHHe6+m+SQE9II0tfqL7ulg30xzM3ms3C1QJK37l5P4858GNN9VvQ3aNBYcEw+eDUXniEhYIusLoiHzMd3a5gYS5cAjNiwc+QmGzA7lsS9pSJmR5LlS0ix43xVyI3QJdFXiYxAJbJCjlOfqS5Z0XVpRxmq1GC6+TyzHcZM1OuRFvAtJqd/S4DdZyQFbKcs7SwJgXuluHl20J++elt5Y63N1eTGpWCGWxyY6AuSTNniZF3JlM7yP4mz1uckex6lItWYlmI3lqZEirGMsYFE4kJUCXDYJ8UGhifewsdsLW4XPsNU5Q355+OfzXQXWVGVqEVxlArZgYd5NJ3Az9dzuNTkTnaoMk66X0vz0cNLWUzWOuB47h/Yq7xJUfBJauPUibHZSJz1ZhaafIkx24LGhv/G4vDreGh+SkXMOQoiT1GaoElllpncCf7zRT/jY+UkxDtToPClvipY1qXyU0zoqfSnKNaAvAg1WgrM6K60wtd2E1Z64qa+Cxvt9bgbbZNpeJEe1zj6hlxZOOiskusF06PvYnn8IwwPvMWpDb/HSPkjSRATCe+T+3/HzlUrMFH5q+znNudfoKPUmqzwU8T5HpOc6qNbX0HjyDs8uVZLrJ+6HPOqH13JucMrUdnzFio7X8Pi3CccWPv/oLb/FbrLrbk7k8h0TygeFt8x05uEIt6MimwXSS1rr/WmttyGqmID2uot5MF17VIM16YS4UUDfN/GxZE4Wuq8ZY5gbipTPiyW5lng5bgVY80PcDD6nFi/PRLeIVyf4tLx7G65rKqIHvpUbzCVmWq0FmpTnniEq532jFeZk+a9ndzA/bQXGDAkdrZ9bjJ09GAulBc3EuWtdOlSuOx+ihSvGKtODsXAD53MDieQHHaO6iwL+mq8JRozJ0JdTnxSIlVpq3WV/uuaYkvJ5hWVFmGb+eFxuUT/iQNxcSoekfSdHgrl2Y08ST0SqrepEV/G+7xYnI5kctCXhclw+ZAhUr59Le7MjITz+HaBZOyKg3BuJokrl5O5czvvJc1oKUNiAsX+VNCOxE5VYHNFrVMconNTyXIiKwQqw71BTI6+rM4Ik8zLJLC4mcayYrAn7F/p3UCa6l8enkLa3VrvQ1uDL+WFdkyOJfDwTgXLC4p/sXYtaW90kVdkYWEXPZ5/p6bqy62oKTGXrN6xniCujMXTUukkvZFFGUayNlKSZSL1Rk0VLvITHR+jKbumYmF+fbFQ3jbv3amRo96khPOEhaji5XGM4kJHSSsST6OizpKcoI9CYURrqxuXZ+KoqrQiMfYMdhZryU7SJDNRVd5IBfyYH2pZXkynutKWjAw9CgotuHQxUcrJRfqtp8WFpctCqOtLsMtGvMzWEOawlRiXraT7b6MqdT9z/UbwIILli04oovcS6vgNIdar8Tf7igS3HZTFnqMo6iwznYHcupjKreksCXAQzszEsNNkx2lKHJtk97rtl3vOKOc9VKWd5+5kOqONviiiz8oxrzCHdFca0JKvQnrgOnJCt0hsmOh7iX2Ul8lmzh95E/Njf8Vwz39ie/aXhNq8S22mcAUa8s+bSXx/I4LKpJ3EuX2M5v4VuBp9JF2pXfXBzE0quHennuGhdGqrg0lJssba4gjZGe60t6Rxe7mXa/Pt9HTkMNinYOFyNfeWG6gv8SAlTFMKkUXYKd57P36WG7DT+ppzu/7G6c1/4Py+t9n38Qq0tv4B44N/w+zYPzi9+b+wUl2Jm8lWvKwPMtaWTEmShaz+lMacpSJBixDrLdiqf4mJ8ifEOJzAz2gPzuqbUdv8dw59/kt0dv5D+lZ9zTbgYvgl5ak6lKUZMNTsy48P62Rfs6HwPIk+OyiOOkVVkvh5Q+qLHYj0PSFB5j7W+/Cy2cfMRDo//tjLrZs1LCxV0NsTz6OHbfR3x2KktxZP+71yv5MedoZAh+1kRanQWmaD4PnyvJlnD2vlU//UpSyePmqgtNCUtnoreptM6KrWZKbXjKFGHZoUSpJl2l52QYaAepu86WsPITn+vOwSutjuIDzgJLVlzsyOpXB9WkFDsTthrieJ9jhFtJsSqf6nyQ07Q5LXbsoTjjNYpctQlTp3J+yZ7bhAT4kK/WWa8o0vwmUNOZGHCXfZQJzvdjzMP8PfbjWZEQflbTQ1ZDddlUZwX8HyZDQWep8QE3BUht6SfY7ia/Qthgf/TqjlDnJC1CQXOTvWkPYaf6aHkyU9SPvEu2ge+DvGyu8iJitO+h9irfEOcR57uXspSY55y+LUKY45Q5rvHsZq7Xh2OVnWKi4cexO9A68TYXuQlmwrxiutsFL6Awa7/ptYq00kO35HvO06OjO0udcfjK/W55ju/zOJdt+R7rGNvkI9qpJP0VZgymOhuHvcxu2bzSiyfQgLNGbpSj23F+pIj9KnJNWEZL+zOOispiROS8q8g+03EeO5j3qFHQ9mS4lyPobhyQ9w0l9HUeIFXIw2cHr3nyiM0SXZQwnLkx+jte2vqKx/FZ09b3B88+/xc9hHdYk9Ock6cscu0t8ept8Q5rwdAdror3Hm+li8/H4WJqWNK1dIecXhzX/g0MY/sm3Vf3Noy9/lR+1D73Ny0+85f/xNTu/4DWlBR/jpVhELI/FEeByhMtNWhvMuD6TRVefPj49rpdasqcYYc8N3CXTfQX+zl8ReVuRbvoTHX81neb6Iof5oqc1bmMmUVUWxL81P0ZJj4cpsHUnRaq6wpr3WUU4PZ0fjJAVJeHO7KswZbbKju1Sf0rijjNSY01tqKB/mBmvN6a825WK7DdO9DsyPe0p7zPPb6XKHKQ6vjgZniZP9+Wk9L+5X09/iS0WOqVRV1uZaUplmLEla1XlW8v+9NJMmWyBDnf7cWshgsNNHVlpmRiIQwar713JkmKi/2YPv75fAk0pGu7xlwne0W2jYnGWvtbvBXv64v82Np7cLpDD80lCovFiJdK5gsv/8fQMP75fy7FGF7JoK+YnADIoOqaAciTGuuMGK26m4mYrg7cPbJTy889J1evVyshTBiOmn2JnOzyZyRdxMh3vCJb2lo9FHdks7Gr2lXk1IvAW15fJEKk/u1jDUHUFjlTuiViJCSGJ2LMa8whMqQki9re6yKNvb6kpdmZlMUg13+so5+N0FhTxMKxQWKBJ1yIhWQ9zUhL9OUJEyU/RlNaW0yE6CG+7eqpJ1i6aGANxcj+DpcRwH+wOyBtPTl0BSiimjY9lMjGdQnGfOxJDoATZweSyE2iJTWipspe/x8mgkceGHaG6w4vatbEbGIujri6SgwJbJyTRZaBaL+eJsE3mjFsaR/DRtWXAXIOj2UjMaFDoUJxyTJe3FQXsm2kwpTz9CpPsaUoN3keq7hzC7TYgdnRgrxnkeZKzJj6XxFGZHEqWZor3Wk+xEAzJjdXEz24KB8ofyG9jo5Pv4mm/B03QTOREafH+jkhsioTwYxbWxcPLjjtJacEZ2uYpid5IVvI3JZhfKEvTY/eV/sfuT/8DqxNsECVG24d9x13gFB63X8bZcTVWuAc9vZFOecoqeUkOpEyvJtKS2IpKF+VY51h3sS0Po21pa4qmtjyY5xQlvfwOq6uJ48GycywvN0lTR2ppEW1Ms02PZlGbaYKu/VsLtazONsNdfibHaexIrqKv8JWq73+XA5//Nkc9/w7kNf0J79+voHnpL9na9rXZjrPktYZ4qFEQZ4mmwEVf9b/lpuZKF/kTSAtVI9DqDyva/cXzdn1Hf/jZK3/4Zta1vcmLN/6C1800JQtc6/DpRnkd4slTMzEACTWWuTI4kSp9tRuRxRCq1IVNbjtydjDZiob8eb4eD+DgdwN1yOy4WW6Wu68H9Fm7cbuTZP/vl19PYaBbF+c7YmW2npcJdGkqe3yiRgmKRNLw9n4FIqgvO6ZOHtdy+USb3Ui8e1yMmNdnJSnQ0GNJUpkpHhRp1CmVGGiz4fjkdntbKPXqVworkcHUuaH6Bke7XUl5erLCiosiRQM/jBHucJNjtBNFeyhKnKJKyZUnacp1Ql3mGrmI1qtP2M1R7lpsTVow3aZEXtY2OQj2K48/gev5LLncF0VFiQbzXLkLs1+Jv+TKJHmi3En+blRQlnuD7GzksjkXjbf0toc5bCLH7DmetT3E4sxLdXX+hKESDTJ8zuOitw89yJ63FLvTUeHFsy++IcDlIiO0uPM6vxlHvI9yNVnLh1F/pr3FiujMUzUN/xdnga4JsNlGVrMrd8Qhacy5QGH5OCuid1FeT4HKYO6OxPJkKoyR8H9Hm3xJj/C1xZqvI89pKX54GP16JojVNm2CTL8j0XEdVzA6SPT4i2XcVIw1O8LCZhZkSFudqUTmxGrUTqxloTGSwPobeqkBa8h0xPvUhgTZbZNLYSuMDHHU/JcJpB7Fuh4l2PkSs20GMT78n/079tX5Yaa/h2NY/YaO5VnKlg832EmGxD7tTX2Bw4B3Udv+V7V/9Ar0zHzM9nEhzsaME4/90p5LSVH3MND6gIk2PjJATOOt/zuntv0Z196uUxutjo76a7z79T1QPfMS21a+iemglylv+wunNr3J226voHHoNtX1/oDRJn8Z8B7SOvce5A2+Rl2iIIDEJdF5y9CF6Wi0oz1chImCbDHMKWP/CdB6DndGy8rc4m8fspUzZ3+9p9ae23E7CdK6MR8sus3hvE3B7IagXbYT+Bg9m+sPljVRoFWtyL9Bf78Tj+WSZDBcwEAGGWBj2YarH6V+4SG/Gu2yYu+TB/LQvS7PBTI/68WA5i8vjUdSWWPHDoyp+elLDz8+qJUwhJVKJ7HhVWYURwb6GQmuayh1kV//mXIbkFQg2r9hzluYYUJCuQ6XCiMfLBdxfzGXxUqJE1t5bykZIwkWFZrTdk/ZK65cs6hQNiUWUv0d3oBzHysDQlVSpSvvhWT3375by6EEFzx5W8c+n1S+VapfFgZki4fWibzo1FinNYjOX4uRuVaACxQEqPl5fyuXG9TyWrym4tpgj5eCzM0lcnk5kRX9HsAQPC8asPEgF8agzgJHeCPnfq4ud6WgIoCTXhsoieyZH4mXXtK3BlaYae3mQih7Po1t5Uro61udHe709ojjb2+yOkIZfn0mXO1NhoxfiXOFzFGSZ/DRdGfxIilYjIVJV7q0GusLhxx6uL5RSUeZGZro5Pt6ncLA/RFV1AM0tkfQNitTuNAvzZRTlWtJZ70p/qyM1BdrMjwYidkNXhoMpTFfH32MD3h4bGR4OoaXVh/p6P7q6Ilm+XszyUgH3rhUi9gx3FhU8uV0qQyxCbi4W+hXZOoi9U3roHonsKko4TE22CtfGfJkdcKOxQJfKVA2qUnUpjlMnLfA4yX4naMi3orXClevTWbKqc3OhkMIMc5IiNDHXXovm4fcwU/kSW41vCLLbjYvhOpwMN1CvcJA6tMYCW4mMC7BdRZL/Bobr9Oiv0CbS8Wuyg49Qn2aKm94OdPa+h7PqF2S67qAiaBuJtisRkPu0kKPyoUX0GhN991KZokV5himVBV60tuZwcbKZkZEicrNdmJ4uZ3K6grFL5VQ1xBKb7IiiJJiRmWoWb3Vz/U43BUU+eLgqExWsKbVciYFnCHHYK92QbmarpFnj2b1mbl6uoS7DA8dzm1Fe8ydOf/snLJS/pCrFist9yfQ2hEoJcqDLSZK9TxFuvYsUPxUeXi6St4TrY7lSz2V2ZjVH1/2FvV/8DsNDn6Kx/W22v/8f7Pv8V+z9+pcYn/1cohhj/c/IvZhQwwlRwdRwNAtjIfKp+dFMJAsDfpKtKyDzd5bKuHW1iPHuCDLjdUiNP09EuDZpmTZcnMqnti6YIH81bM12Ym24iShhQ4lQJT3iLLGBx6TRoq7UWmYG7t4o5vq1Ih7er5chvc4mH7qaXFCknaZMoUJJ5jHKMo4x3GjGVKcrNydieHI1j9m+WEZagijJNMX2wreY669CjOFE5WvpSiHB3sryMHWz2IGL8RaEZ1ZQm3IjlSmOPcHlTntujbvSUXyCRsU+2ooOU5W+l/LkwwRYryLAaiNuF9Yy2RbAD9fyZDJXlO19TD7E3+J9knzXkuK/gVjvjdIaU6swIt53DwVxyvSVWVMRrU5Lqgn5AWcpCdEk2+cMJic+lCPdnjJXHlzOZaYjHJPTH+Jtsgkn7c8xV/mHHHMan/krYy3uDDa6Y6b+EQHWmyiOO8eP19JozNQkxn4LISYbMdz/D5zUPsNL/0tacnSkjakobD+tcTo0RagTpPUhUcaf0JOrxs0BD+qSz9Geq0Nr+jHyAr+mNG4tnSXKDNQ5cmUkg4uD2SRGm2OktQUTTcHNVicrzJhEbzUinI/ipPcNQbZbCbLbjLHKm+gc/jPeRmsJMvsOw8Ov42O6kSjX/bgab0TnxAcc2PQ/uJrtITP8vNTF2auuxfzkZxjufw/zk5+gse8NDm/6PZG+p+DHPhqKXKjItKClxEmG1UzVPsTw1OuYnXmTnJDj+Bqvwtf4G/KCz2Kn8RXbP/tPTu16h9P7PubAxr+hd+gDlNe/gunJD+QBr77vr5zY8justdfgZbmLzhpPBlt9cDD9HAezj0kI30l20hGsDF7HVOddqoqcuDpVRHtDKFnJppKb3d8ZwdKVfAluEF+bwt6Vk6SJIkVTJtfFbbS/0ZXLg6GI8X6dwozyDH3pB/a0XEdm5Cl6ax1YGAuTrGqh5nu0lMjSRX/mRryYGXRmqt+RhUue3FwM5vG9BCZHvehpdWC8P1CGfcZ6g3l8S5CLxGFaITGuA+2uTA2GEOS2U+obO6pdX+Zp6t3lvldgaUX6VgSGsuLPokjSINL3EA0l1jy+XsQP96okC16khEXd5e5ChpSXC8GAEDkIilJPg7u84Y50B8tb5fKCUK5lSSuaOER/+qGZn39s4fmjanlD/efjCsnuFTtT4TIVPdPh3gB6OrykfvTG9VzmZlOkFUYQzW7cyGdpKYf5q9nMz2cyO5vK9HQSU1OJrGir92KgM0QC2wVu6t/c3d62QMTPNVZ6UlnoSHO1t7yhPn9QK0H3RbkXuDQSyfJcqkzzXh4V9CNrGsrN6Wp82fNprbaX0vCx7hAWL6Yy0R0uD9K8JF35BiUCIynR50hL0KCyyIbKEjv5pH51VsHURCbzc4WMjaQSEqyOpcVu4mIvEBGuS2SUAd1d8bS3RNDZGExNoQ35SWfJjT/KQL0R6WHbXxbdU5WJDtyJvflXiASvCCvdXC7nwf0avv++kRdPKiQ2SsAmrkzEyYSWmJeLHbD4gutrcCDBfyfxPtuozjhLfswRFNFHWRjy597lOIYbnWgtFH5DUwpiVMkIPklFynmG672py7ORUfCr42mUK6zxczpIbOBZHIw2Y3LuCyzVvsbg+HsYq3woX4c3/RYD5Y+x0VlLkMNeguy3oH309xxcv4KKlCM8mgnkareL3Ds1pJljq7oOzV1vo7X9jzgov46ryh8w2L0CJ+13GKp35d58Pj217vharMbd6HO0jr2Bodpa/P2MSMsIoLs7i9LSAKanK+VhurjczsilMlq6MqluSqSoMpLekSIePBslMtqMuBhTxgfS+flxJ/NjGeTFG1CTY0FBkia35rK5MVdOlcKbQKuTnN//KUrf/BG9ve+TE6BFX7kPTYUuFKZaUJztREOxF72lHlQnGJIWcJaeKl8qM6woS7Gkq9yPcMeTuOrvwkx5DZo738f0+Fc4a3xHgNkBeWs9sfXPGJz6lO3f/F8ObXuF7kZfbi8Vcmcpi8leVyrSj7A85kh7qZqM/ve0uFGUa0yY71GC3A8Q5HmQ7tYQpiezSUwwRLhK/X1PYWqwAcsLm4gJOEO453GcjdfjYLyWSJ8jJIWrkJ2qK8MdV2azuXQpE8GFFuX47FRt8tK1aK01Y3bcm75GY0rTTlCepiyBHLVZ+lRlGBLnd1K+Oc4MxRMfrIKu2scylyACdcUKO/TUviTK/ywFySYoYs9L9rI4TMVoMtFrGyN1Zky1mlGbcZCqtF1UpOygs/gsdZmncTb4iAin7bgYfIH7ha9RhB2nMUuHqiQxat1JoudG4jzW4m36HmZqf6I2R4c703H0VFrIEn5Dpj4zjV68mMykIPAMERY7yA9Rp0DwdyO1aCuw52p/LDcn0lDa8jvsND/HXuMTdA/+EX/z1dSkqcKDPB5eiWOq04PhajtGqm1oy9YhwWkT1TEq+Oh9it3pt8jx20+o1ZeE2HyBsdIrhFmtYbzQkXvtEQxkGKFw302m1w5qEs/gb/oNtanqVMYcIsNnFe2KY/RX6ZAWpkRiiBahPqrs2/Y68aEXmOzNZrQ1hb6qCDxM92By9iv5sBpkt4MA280YnPg7R9b/Ale9r0j1PIbNmU8wP/MxPhZbcTffionmN5zc+yZayl/gbnmQxiIfol3PoLnnXbR2v4Wb/necP7mS4ztfkw89TeVeRPko0VbmQkGivuywij+Xvd6nWKu/R22aFv2lltipvcfBr1egd/AfnNz8R7Z8+l8o7XqfvWv+JHMBJsdWorr9NVS2/Rmtg28QbLePWO8TuJiuIy74CHXFRjiar8TXeQ1RATswUP0Hasf/Ivm/965X01AZgLfLceorvBntS2S0P46Rvlgqim1Zms2StpbhTn8mB0O5JXqUQ6HSw9pYbC7XJG2ldpSk6NFV5SDRifkJalIKLsJ8WdEnZQ3nwUI8399Jlcn0W7NB3LwcyO2rQTy4HQ0/5TM54cPY0EuMnxjxPr1Twj8fVDDeGygPUsEMHmh1oaXMinCPPfTUulJfZMON2WwG2wJprxEXIm96G90YbPVCEa9GeoQKi+PxEr+x3oKgAAAgAElEQVQpxsET3aGMdgbI22d86HFaKm0YbfOhs9Ke7hoXrk+ncOdqFpcGw+WIeaQvlInhKG4sCuVbmqT43btZxOxkkhzTijHv84cV/+qYlkszjNipip3o6GAo0xPxPLxfzp1bRVJqsbSQy+JCLteW8qTIYmE+hyuXU5m6lCD1pSvqyp0QI17xBNNc4yZHuOKG2lDpQlm+FfXl7gjl1mhvrNRuVRXboUg3lNJvAQ2+fz1PRpkFE/HZnUKEv+7GXBK9zW501DlJibSQvs4Ox3NtMl3ismoLrMiIOUd+io5MNwpYu0JoeBK08XHdR2SwCtWlLiwvlvH4fjPVlV74eZ8mwF8VH8/TGOhvxM72AHk59txZqqRbgLfrHaWwdrBej9TAbyhP2y9dipU5qnjZr5cIQ0FbEv1SwSB+9rScn3+o5odnlfBjo5yXC4ediDyLYJXwFwrQQ26cEmmh+yVcIT/6JGFOm8kIO05hvJq0fmSEKiHgC7kRKhTHa1GWpM94sz+txU6INF9XjQ/CkxjkdpTceEMCHQ7iZvIdbhe+k984p3a8Kse85099hNrBNzmz9+9Ya6+WuELxJrpv1QoJ0k72XM9olQVXOwMJMN2K0vo/EWp+iOpoAwr9TxBhKji4b8g30RuXkpkbTZKw9zC7dfiafsnJbb9m78ZXcLY/R1qmH9eudzI4nMfMbDWjF0tYuN7GxEwVV5ZaGb5UQWyKM4qiYMYuVZKY5MDEWAFP/j+e3jo8yzNb28/eM7P3t2ePdGbazrTTTl0pQwsV3F2CBIkbcfeEuLu7u7u7O8SVkAQnuFOgtLTnd9x3v9/vj+d4D1KOwsv7Ps+611rXdZ0PBpgZzqK7IYjOWl+y43Sw1F1GtP8RvE8dwlh9LUrr32TPF79nz7L/xlppObmh2vhbbeGU4Xf4Ou0mOcqAknQ7alKtaMm0xtdiE/ODiVwazZT0kSGhsAzVw91oG5o7P0RpzT84+t3fMd7/OeF2B7E88ZUEAnRV+tJZ7UNRqiGzI/EszqRTlHWS0nQleqvVGW5SIyvya2xM/o6l0buY6H1MoMdusuK1EaZ9oSB/9n2XnIKIAI8fHndybiKTSN+j+DvtwtNqA/4O23CzWkdyxAkZQiLsN8+/75De5wuXKpifL+SXF11yVNTf5spQlyuL4/70NZhJvFm4y7c4Gwq6yGaivXcR6raTofYgzo0lI5iwUcFHyU03ITvDDFvT9diYrKMk3Vp2O42FjiQHHpeCMQ/TL8kLO8BEsx2DVSepTN5FWeImcsK+ozJpH1lB24hw/I4A629w1v8YT9PP0d33fzBRegXXkx8QYPEFMc7fEev6NbHuq/Cz/UymKY21ufDwfBLdZWY4aL4rTfmIQ8lwEsPlrnjpf0OUwy4mWoKlT1MQfIQKU0QHau95DQeNT0j22E2y5zbyw3fTlKNMQdROlkb8WOxyZ7DYhEL/nWR5bmCywpR0t9VMVpnB7Wymm8zIDtmEq/77jNQ48/14Jne643l8JomfZrO40hNKS5YRfmbfEu+6jRiHldQm7Weq2YSy+EMc2/4Kgg/60RsKbF/3V1oqgrg538BYRxrdlaHYn9wgs6rFftfPfossFvkxaliceA/rEx8SYbUFm+MfY35MHC6+xEzzK1QOfICOykoKsl2JDzdG/dDnGJ5YheLa17DV+BY3w41YaKykKNWKO1frJMLNzXIjraVOZEdrEui4hazwo9Lv7XTyQ3xMPsdZ8x00Nv+Wkzv/RG7wCQKstrPmYwU2Lvs9m7/4X+xVVpLmdhQP3bWYH/4Mf/PthNjtxlZrOXpK/+TI9t/g5/I1dqbvYmv8Hu62q9BT/hcCUSiwcWe64inOcaSq2J2bl2vkhOOnpz08uddCUa45Z3pCZZylCE8QsX4/3K2U3aHwVZem6ZIfp0F5mj7pYcckrzbAcb0UaOXHq9JTY09/g4MsprODopP1k53pnQuR/HgvnZ+f5vL8cSa8LOPOjTSe3C+WpBdhQ+FFOy+/r5cFvL3Wga56BwpS1Qnz2CozsW8vZNNe4cStxQJOtwXRWCZg9L/WhbwkDXLj1CUwgCet9Dd4SrTlQLMP4irL0pdiw5vnM+itc6Y0VYeydH1m+sO4MJnI9JkIFqeSZWcqrJyiOxXFVKQeiWIq/KWC093f7YeYsIpnvrDMiNe+jl8bSpFJLwAm5xeyESFAgn19/WopV68IkWwlN29USHulqCVC8Do+GoOCGN2KwtlW70FrnbsMQxZFVfxM7E3rylypKPi1qLbVe5Odok9LrRvdrd7yDxYK3qnToTKcWEQ5NVVaUlVoSEetg6RVlGcbSdN8e5Wr5HqebvJjqjeMie4gitP1yEvRRpjnBTcyMUJZdhl97WJUHMLkcCp97ZE01voRGarFKYc9hAdrEOSvgovTAeIiDbh0royeJn9Ot7gy2GjKYK0ao80q3Jq0Y2nckXMDbpwfDeP7W1WIRfyCwMYt5fHyZT3QwPPvq/jlx2bu3y7m8f1ybi3lMzsRhcD8jPf50VNrS1mKGhUpv/rwkv33UZqkJXN0BbNUZJc2F1lLCoggekS57qI8SY/GXBtJ1qhIMyU1VEU+oMM8FDFTFyKcjRTHGUhOZ7T7HhmxNtUVQWe5J/G+x+XI19NsDfHeu0j03Izl8b9xcvdvyA3cRWeeBc5aX6K78x0yvdWZrgmkPc2IONtviXday9nuIHjSwe35Iokcq0tVpy5VVe5v1Pe9TWKMLZWVsdy+P8LweBk37w7IYnrufDOj05VcXOrh7GIrBaXhDA6VkpTqRmSUNUODeTy408f8TBljg6k8vNlMe62PHFlODSRw5Vw1NxeaKI6xxuzQMlQ2vE6Y9R7O9yVQnWrCYIMPS2fz5UOorymCaLcjlMUZEut+kCujqfCgg3MDSZSnWHPKYCNuhltxN9jKUFU44XaHOb7+DVQ2vYne/o8Jctgv8WvD7WF01rhy7VyWJFE0V9pzdSaUO+d8qExfT0rIZ8RHfENE0AZqyiwlqeKXhx0SDFBf6UpWurG0w5QXWHP5bC7CT+lhvRl/hx3SWC5SWsI89xEdcBjBXnzxvSBMnOHu3WYuXKpiaiqLieFoZiciWFpM4ecn5dy9mITwcQol7Vyfj8Ry+dp8TVmaLkvnMnhwrZyyXHOqS+y5e6NSipeEvzsxUouECE05wbDV/xYPy4342W2WI8hAuzVUJKgw0exAX9lJKpP2kBe6lkSPFSS6fUtmwA7GGhypTFTFUfc9gu1XSmTg2U5XeopNaEzVINN3G0meGxioMuJsnwuXRv2Z7HJhuMmeplwdjA69gvLG/8Du2L/w1V/BmVJn2rNtZDzk6RpvvMzXcfLwO7ibfCc5q6IzjXHeDkvltGefJDtwI1mBq4l0/ITJBhPmW5yYb3SiPGgHcZaf0pKwh7bkPfx8IRSWork76c7tqQCeXszh6UIhd06ncKc3ie/FCudWC9zvYK49DBHnmearKFOHmtNUuDroQ2eJGfYnV2GnvxZbg7W0V/kx3J5Aa2kgiYEGhLiooLr/E1a8r8DGr36LvfE3sgsabQsg1HErGttewVzxHUwU30H/4Lv42u4iP8mSEF9Vjh/5grQUe+m75qezlOd6cmT7O3Lse2+hRv4+LaXPcHfch7fzPqpybOisdKUk2QB7vS+w0viAIPvVeJt8jr36m/gZf0qE7dcEmn6Fm+5yrJQ/R3vvexxa/082f/479q1QQGfbXzA/9CE+hptx1d3AnpX/w86vfoux8vs4Gn9OQfJRGTMZE7RdjkEvTWeSEq5LebbYhSYh6Dcj/cmMn06hpsyN+zfr4echmXrULO6PC7ky+e3sSDQ9DS6y+xNg+pJUHXrrXCVzuV4ERqToSuat6BxD3beQGn6Q6X4/+L6cx9fTmex35eZiJD/cS+fZnRR4WQIvSnj+tJAfnpXy4lmVZIEKdTDPW2Wa0fX5dGaHwpgdDJJ72vZyG8Q11R0s8XhijF2aYUp5lhlDrX7U5ZuTFa1CvN8BeQBqLLCW0ZsiLaks3ZCafEvqisw5NxLFzJlQpvuC6axwpCrblI7KU7LYTg5EyHXd7Eis3McKVa5IKBNZuyK9SMQJQj/83CVpNiKEf7A7kPnpZGl/EYdmATAXFiNhDRXq6JtL5dy9VcvNpUqWrpRx8UIh8+dyEJS18dE4yQRXqC5xpLHKTd7cIoZKhHaXF1jJrlSMeauLT5EUpU1Znh0FGRaU5lnLTlagxwS9/efHzRIQ3lxpS2W+EQLMKuGy1wrpaXD7lQeZeJK8RD3Jq+yocJEkhoXhOJpLbOQ8XBRUsfcUhvaWSmeEYKevJZDmai9CfI4SF65NiK8yzg57CPQ9QXS4Dv5eJ/B0OYyP6yEp1xc8vsZCDbIjVpEd+gn16WvpLlGUo63WYiOJ+RF8Vejh9o1cbt3K4cWLKilcevlTIw/ul8lLpFnMz8Zz81IG5ycjOTcUTFm6BjkRR0gN3Eeiz16ZpJMWqsxAvTePr5ZKz1lS4CESfPeT7HdIesfCHHeS4neU3EhNylKMJeszN14fL+uNZEVpcrYvBkHf6K104eJoInP9sVwey2CoMYyCaH0CrDcTaL2O6kQ1ktzWE2W7ilz/3cQ5bsFV+ytcNL/FcM8HWBx4Hw+N5dge/Se+Jl/RXuzIeGcEwy1h3JjKZKTWjuYMdcLtvpOA7ZaacDIzvBgYKmZ8tppHT8eZmqtk8Uor85dambvQSv9QCdV1idy4PcLAYBGeXrrk5Hhx63oPc9PlVFf4c+9WK8N9Cdy7VMPt81WcGyvhwkQFyb5aqG19k4Pf/pFo5/0URGlTmWpId/kpems9ub5QzuJ4Psl+qmQEqNGSYy9HvWfq/JnpjCE9RBtL9ZVEnDpCjJsyqd4aBJjvRnf3B2z7/D9RWv9XPEw2UJ5qQU6MNn1NHjxcKoNfRri5WMjcaX/6anQ423eS+xdcGeg0ID5yJ34eO4jyV5Z0HTfLrfI7XZhjhrPtBgozjGScn8Dl+TnuROyEC+L0ZWBBtLciAc47iA87zlBvONevVnJ+oZiF+WIuXSrl6sVMKgr1aK6ykIbxixOR5MUfk4cvXrbJjF838xX01Djy86M67lwqlJMdoT34FXI+LBWX81MZ8t7ytNsu/w5CyZkdrkZaoBLeZqtI8NhCbZoqrbnqUtWd5LGSBLeVVMQeJNl9Aw1p2vSVmUu6UUXKcUbqbbg+EszN4TDGa+3JC9qLt/En5IQKMZERjy8Jy0KdXFnEemzEXuNt0n13ke2zF8tDb2K093VMD75DToga4y2huJmu4+jWV1Df/boEfTtqf4Hunr9xusKO+mQVZlutuTzoQE/hCQZLtBivMKMvQxunw38iwvhf9Gcr0pu9h/bM3cS5fEiM88fkhu/g2aUC7k7nMl3rx8OhdLjRws/zldyfKOBsa5T8b3cmU8kL3E+y60ZyA/ZREq1KSpAKPXWBXJrM4cp0HvkJZnRUBpEWZoz+ia8x0VxNuJ86EQEqJEdqUJkrVNZeZIcpY6P8EQ4nPsXm+Cec3P8ux3e8icqBj7Ay3cbe3e+zc/cHuLgpU1sbDpznyJ73MVb7mtoCNwpSrNFRXk6g1zGuLpRyYz6fazPp8h4Wqm8dxVdlMRWTAm/DD/HWfw8/o48Jt1qJi+bH+JqsIdh2D0ZHv5LdroCiWx95C52tr6K87m9s/lCBde8ryN2sxp5X2b1aAQ/rLynJ1JS83Yn+cIlwPHn8Czzt9nO6M46ibDtGB5L44XE3j+608OhOE/PTmfz0tIuF6XTGT0fz8lETgjktBD2NpVbE+u8hL15NdnONRTZUZRsT67cfX/v1pIYdITH4ABlRR+iosmJpLlbmOT+4mgRPCuCnUn5+nMOLx9nwSxVPnwiLYYV8rooAAxEWz0+d3LqYzdRAiIRJtJRZMd0fxGx/sDxY9tW60i8yB0qcZE5vSYqhnKT5OWwgwnMXcb77SQ1RoiRZj6xIdUSedXzAIWpyTSX3dKjTG5EfUJsnPndHWkrtZac73BHIlZl0bizmcqYrkMoCC+rL7GitcaKx2oG2Bhf6O73lblTwSm9fzpeEMwE/EQ2iyI2/OJfF/VvVXL1QIJMAp0YTWJjL4drlUukxFxnyM1OZsqBOjSchWOC93UEo1JU701LrKYtpcY65VOtKrFi2GSW5FqTGnqQ425q8NAuig1WIClKmotCOwixT+tv8peS5IEWHqjxjHl0vlGzGxjJLchLUJKNO/APE+ByUMu+8OF3pDRPhxuIU0lPrQm2hmYx0Oz+RwMsHjTK6raVC/NyBtBhdGbmWFq1HUtRJYsO0CPNXJcj7uHwN8DmOmdE6MpNNuHOhgEeXkumpUKYy+Tta8zYx26bNaIMxvVXm8ovR1+LGwztFLMzFcOVyOtDOix/qeP6shpc/NfMLbXz/pJqb13K5upDMufEwuTfNi1eS8YHF8SpypJsVfpy8WG0Zst5V60Zeog4x3vspjNViqM6H2Y4wqRQUBdHfZjNpISrywV+TY0VurA59dd7cOJvD3EAUE52BjLT6UpttRXe1F/01gbQWOMuEGf19/8Dz5DJCLVYS67Aaf6MvUFn7W3S3vYqX3lqOfv1H9i9TwFP7K0rCVJhuC+LKeDYF8SYEO+6ns1jsrIxozVCjNPIwkS7buTZbQWVJCK1tabKY3nt8hulzVVy/3cf9x2Ocv9xJd18+tbWJTE010NKSQXCIGd1d2dy40UdjfSSmxluJDNcnwFuZueFsTrfEEu13khBXNYyVvuD4hldRWvdnknyOyJBzAbQuTdAk1nMfDcVuTPal0FnmIxW9nvprUd/yOvnhuky2RJERpI2N+iqsVFex6bP/RGXzP7A49gVB5jswOvQhlic+IcHroBylfy8A3E3uLIwn8/R2G7OnU0kPVyLa/Rsm2vQY6zwJz3OZHgmiodSdxGB9cqMtyIk1p70+gFvXyiRsgZ/7EXvMcyMpBLsewNlsHUlByhIkLfamQa67yEnUldQLAWcQ0YViNCzGPiKPt7xAh5piQyrzTnJ1JpFL47EUxakSZL9W2pyCnddTn28klZRnRFJYkwe3rpQgVMA/PesATiO0CB2N3qRHa9PX6EtlprlEzEU478DP8lvi3bdK5XhtijJVSUrEnlpJqtdazA/9iXCbr+jIM6KryJR4941kBu6WHWlpzGFSPDbKrjTbfwcRDqtID9hCbvRezjTYcPtcLL1VlniYLMPw4F/IDz0ok4girNZif+IDtHe+RlOOHe1Frthor0Rpy9/Y8KkCX7+rIJm1ajv+gJXyP8gI2MTdmQAenwviXJstTSnHGMgzINLkC4y3KtAUu5Pr3SacLj5AT+EB6tN3E+O+ggTvTfRWOMOjLjlaPlvvw/PJPF7MlnJ3tJDJpkgun07i9kQKRSEH8dH/TNKIhH0nPViZpiInZvtjGGkLpijRjJH2ONLDTVBXXIaN0XZuXW6mKNuB6FBVgjz2kxapRoTLbhw1vsBdcwWGu9/EUPEjAh33Sz2Bm9MR4uOtKC4PIiHFAUPjrezd+R5H9n5AsPtxtn37B3as/SOaxz/llM12mqt9SAlXkQ/4tlI7/O03YKP1EXEe20j120q6z0YGivWojlWkPUOdJJdNmBx8k+1fKLDyLQWcT66lu8AGN81PsDj4rlS+7/jsP9i14jdEO+8lLfAwnlZfE+i8TuLJBGzgwmQmwR5HUN7/PlrHlzM7liVHu0/utfHsYSdXz5dxeaGI6dFkHt1p4PxsJkXZpvS3+CAQmX1NbuQlaeDvtE6OeUXIvOj4umtc6axykrg9oegtSdOWjgBBlqkt1me424WlxShuX47l+f0MWVB/eV4EP1Xzww+VPP/+12IqAuN50cLLx3XS0jLY6vlrPGeCuiyiHaU2Uj/QXeEogy2ivA7QX+/N0nQ60z0h8v7Ni1OlIkNPjp9zolXJCFemPM2QvHgtuqpPSQXyQKu7dF2IvapAGlZk/gpyF89jUVCFTkfYcTJi1aUupzzPRDo2hK7i/EyCtN5UFppQkm0ow4WE/1sgQ4UuoiTPVPK379+o5PrlYi4t5DI7lcrEaIK0G02MJsmUQEE5E1AYkWsvMu4VWuu8EGNVMdZtrnFjpF+oeyOpLLIlKVqdzERDyvPtiQxU+VV6XesnJfzlBbbUFtuTnaBDR7ULIuRdnHjEPDst+qhM5BAFUrzJtDAVGY/lY7uZ3FhtyjOM5ElCnIzuXs6RyRbl2QaMdAXIwpQnOtkkfQpSjEmL0pGxYDGBavi5HcTX5RDeLgdlp+rvoYSt1Q7cnfdRlGZMcYoq6cFfM1h1mMun9Zlp1ZKePMFUvDYTi+DjdbU6UVdnydRkFD+9bObHF428+KFBFtKXP7fw/Fkdt67nMD0WwuxIICXpymRE7pOpOnHemwlz2UBLoYX8IiQGHkVE1cUGHSbCcw8eFmvxNltLQaQmKT5KElEV43GABD8luX9LDDxGWpgqg41+XJlMRyQkhbvtoD7PnKEWAYXO4vJYFvN9iUSd2sfGDxXYv0JBUlKCjP9NistmXFQ/wmz/P3FWW8GhL/8bjfV/w1LxA8JttzNY7cNoSxSO+htQ2fYmWcHKsohO1lnTV2QkU2lON4bSXh9FT08Gze1JzJ2vpX8om4uXm3nwZJQbdwZlQR0bq2FwsJRqQXcZKGHoTCkR4Zbk5XmRm+tOXX04Xe1xuFjuIiFIDzOtTWgf/pID373C4TV/5Pjmv5AXpSXFWCJzVFg2UgMOMdQWzrnhTC6N5lOZZIX5oU9xVf+G3gIPqpOscdJZTZDtXnrLA6hKsaE2xYZ49yMkexzCRvkTDA78HWOlNwl12kBjnokspoKLKIDn9UUeRHnuJTVoO72VqvTUqnDvWhzP7ldIr94vD8bhhzkuDBdSnmMvBXaCRXr7ahkTA7EInmOU3zFC3Q+yMJSMOPyEuOySil6hErx3uUCKrcSf9/B6ldzLlOXrUltiQFb8UYpS1Dk/EsXSZCLnekNkvGSgAF+naFCaqkmE706pQhQTnYHOIDk2FgW1pz1AHmYF8zTIbQ+DLf50VrhIEovYwzdmG1ObKhKv1pDosYmS6EPkBO6gM0+XHP/tkgnak29CY/pJQm3Xkuy1m9HaU1wfjqA6/hgpnhsIt/03wTZfUJ1yjNosdfJiDhPhtkEGs6f678VA8RUS3beR4LwV432vEWG3SSZaDdX5c643iVMG6+TU4Gx3HM25tmjueo193yjgavQBWeFbOT/gwkLfKS73e1Adp0RHhh4nt/yWQP33mKjUYbJajdzg5VQkbKA4biuO+m9Tl20opzM/Xq3i+ukI5pu9OJNvR12sIWNVIQzXBNOaZ0tNsi6p7lvJ99+Hp9Zn5AUoURCtIbUGBTGaLE1ncnuukAsj2Ux0pzA3VEheiqPk8j550C3FjMLWV5pphrPBKnlIcDj+Cdpb/oa7wVrCXQ5L0VGAtyqJiTakZrowOlnG0+fjGOhtYO/Wf2Ktvw5rvdXcWqzkwlQ+NibrCfE5InfqgkgU4LARB/3l+NmsxtdiJV4mn5AbtJ25VhvCLD/GYLcCe5croLPzz7icXIXS+r9x4Os/YLT/LdQ2/A+uGv+WIIhja37Pp39S4Pjm/8JK/W3SQ/djofkuZhofU1fkKH3egkIj8HKmumvwdTtIY7U3M2MZXL9UyeJsLvdu1HHjchljp+Ok77Qs30paExtK7X71pGacJD9BnaneIEY7/EkLP0GY+y4ZgVieYSD3lSPtPkz1BdJYZs7iRAS3REzg+Tie3M7g5+8L+OVpIfxYwcsX1fBLCy+e1fDiqbCcVEmfqGBcCztZUbIWBYkaiMOGSH97sJjLTzeqZeNRkWJAdpQamVGqiKJZJYJWwo9I2MRQiweXxuPkz4oSteVuVxTb75eK6W8UXlIvuUqsyjOVo9/SDCO5cxV714xoNUSSmJh0ivVheY4pNcWWMqVPwMJnRyOZGgplaihMFtjxgVAJZRGuDhEbKIRLolMVdfDsZLJkFk9PJEsIjCiaAmsnCqmI4BXFVFDXRKFVEGpd0ZneXaqQBbUwy0Qqa1vrPBjoDJb7UlFMi7JsqC11o6MhUHaqiVEa5KcayrxdIXHOS9IiMfSQlCc/EMy3swIa7Y7INc2IUCPMbS+uZmsQ7bzoSsUV578P0a5fmk2kOt8EsV9tKXeUpz2RllGZbU1puiWJIZpUZDtQmmVHiPcJQn2UEWQRL+dDONjuxc35AAFu+4ny2UmU+wpS/T6lJGYVGYHLiHL+gvSQnaSG7aem2Jj8LA2qqkwZH4vg/v1K7t8rA7p58riaZ09Fl1rHzaVs5mcjONPtTE2BFg1F2pSlKJERuktGDSYH7iY5WFGe4mICD+FhtxF/h61ShSu6MRECHuuqSLznYeK9jkjOqHj/Qa67MdX8HCfT7/C03ShpJknBh7HU/kymnQw2BnC2L4HGHDvcDb4lQnhQDVZgdejvaK3/TxIcN5Lnq4jZ/jfQ3PQXlNf8EdU1r7DrEwVO6aySaTmxXiqo7nwPla1vEO+uSFWCKg2pKrRn6xDrupn0IFUaij3p606itS2O02cyaWiO4NHjM9y608v3T6ekOEl0pqKIlpREMDpaTVt7Bn39+Vy81C7Vv2eG8yTf1MvuMLcXm3h6c5D0cDO2Lf8tJ7b8Ff1D70n7TEbIccZbvMkOVqQx24h7IjFoqpCCREv8LHfjcGwl+lveJsHxMMmuylKx66i1hkRvFR4uVHJnqgBvk7U4aS4jJ/AwAeYCjP4q9pr/RNgxxAn67uUS+HGcCxMFXB5PZvG0L1dGnTg7aE5DpTalBYacaY+lLN2DKFcN8mOtSI/WJTzgMGJ3WpBlSWGmJedn8kkK18bZfDNetttlZ2qjs0w+KE83uTPa7i3HtedHopnuDaKpxIKuBhuaKk2JDdpFV40dz2+UMNsTRE+FHd3ltniY/hs30+VcFF7op41kxJzAy2WPHSQAACAASURBVGkTmUm6//8oqSTfUsLl0+M0EYEmtxbzmO2LIE8EfUSr0ZxrSmuOiUzYirZfg4vm+7hovSvTaErC99Odq8f5Tn/6S+xkELyr7leIJKP80MOk+4g93D+IcvyCvLBtxLmvZvG0H8+u5dNRak12uBJZIYclKWay0Y3TpXZc6AzmxlASozW+cKuNpbF8equCeHShlqbcU1weSuX2eBoxLpsYa7MlK3Ir16cDaS7UJs59HZ35xkTariHOcR19+foMlelRGLqG/nJlLg+70Fmpj5/jauL8D1KaqE+U83YqYo5wttGR8hBRiC0YKvelIOIkLbkW0rbjpPoWud47yHDdiavGJxIF5m2xioJoFa5PptGUZ0tLoRsT3UksnathcaqUyCAtbC23EhakQmaSPrGBRwmw3SwVvGK6Y7Tnn5ge+ogjG/7KoW1vEOavTn6BByFhBvj4aRIaaoCp0SZ2bniVfRv/isbB9xEBFhO9CcSEqOPvug9x8BejR1GMsqNUZOhKrPtWkrw3YbDvt3gZvEF+0DrygzZQHLZL7k5DrDfia7qVnct/x67P/5O9y39DiMVWSacpjjxBR4Gh9LY76P2DxIBNOBp9QlLQMYrTrDBU+wZ3u0O010ZyynovOqpf0N8ZzqX5QplqdnYigyuLImSlWAbvCFeG0AR4O24hL1lXNj2icSlM0pT7xvOjcbIjzY5RJT5AUUZYinGv6GDvXMrm4nQsPz0s586VNBBrsR8q+PlpMT88zOOnpyU8flAqp3m3r+fz0/MGyQR9ckfk8ibK/WyE5w4yI07w6HyhXPcM1npIRbgIbRDgieIkHXJjVRCCpzhBxkk4IUNnxAF0vN1T7ldFlzrTF8z9CzkMNLpRma0vi7wo9MI2c240nuYKR9l9nx9Por3KmcYSO6mnaCyzR8S5ZidqUJ5rLO2awrIp7DfCvimoZ0Iw1dngiogyFBnzgi4jYOL1lQ4MdAeyMJvOuelUCdI4O5PK/NlMrl4q4uJiHndvVbN4Llt2pwr56eYIL+mda5VMjyTQ0+onxwIpsZpUFtlTWehIaa492clmZCQYk51sSnq8oXz4COGP2FMJRWVS6DEaS23ob/ZkqMNH7kvzk3TpqnKT3DrRkUV47CfW95BUZg02edNR40hxpq600nTWOslfi3+I0gwTitOMyYnTozzTmlh/FQqSLSQFoiTDXipCw/1UiQjUxNP1OCaGG7E2XktauBLVGUrUZezhdPUxJpt1JZpqrs+LuTMhMjB5ciSI1iYHWltcODMYIs28L57W8+xxDS9+EN6jZh7eK+biXDTN1ca0VRky2ChgvMcoiNtHQexB0kJ3yTiuuIC9BHvskg/AaO+D2OqskOOnwmgdgmy3E+q4m8p0C7kvbShykqNEMcITPD8LneWkR6mzNJshxxRiwZ4UdJwgux24GX6Li95K2rLNuT4Qzrl6V5Ic1tOTaQCXSygPU0Zjwx9wOPEZ5vvfw/zQx1ieWIb5iX9jpfoNShv+gdLav5IfIsRHJ6WIqTlLC1+zL/E0/Zb+ugBmRzPpbI3gzEAqlRU+LM5XcetWD7/8ssily100NCYxPl5LRUUMdXVJDI+UU1YeTla2J7Oz1XKftG/X+5IpWZbmQm2eL4e3vM3q9xQ4sv6PmBz7GCG+qkozkfi3UJtvcNR4H6Oj76O04x/sWfsXqdj1P7mNAx//DrXV/8DXYCsZPprYqX8r30tWqA5OuqsIsdtKqs8BYp23EOW4lsqEYzRla5IasJ3k4P1Mn47hTEe0nGCIIjc/6MnCgAWTPQb4uC7DznKZ9I4KUcop/a2MtsRIMdRV0dE+bOXCQiHjZ5Ll5Wm/Gy+7XYR7HsbXbgsF8dq/ZuOGHyLQ7huywxSZ7/NnqO4UzYVGlGdp0FZrSVWOrjS6P76Yy2x3AII7Wpag9muXYv4lQY5rqC80laf16gJLgn32y7AUAW0Wu5nrFwvpafaR8Zs8a0OMsM/2BsuUrPzI43Tmm5Pmsxe7E2/jqvUR/sYrEIU11WMDremadOeZk+JxgCi73TJdqCBEnQCzb/Az+YRE91Vk+q8hM2gdBZF7JZjhwWI2z69XcqbOnZY8M/rL7OSei1sVnCmzpzJWV9piuNVBZ7EXZ7uS+eFKC3HuR9Ha9XdyAo5xeSCYWO/VZEdvp7lYi1CXb/Aw/YJ47x2EOW6gIkENIYBrzlanp1QbXhTDywpePigC+uSuWGAKI05twubEX2lJO0a29w5S3XbRW+TK2Y4oZgTKsdYBtfUKmO75PVYHXmPnxwpobPsvzJXfkJQaMQ4VAqlAh92khunSXhnEhZlShvuS6O+OISFWBz+PfYR67sdB/ytO7n8Tq6Mf4qj8OcGWW9Hc8xZ7172CpcE6/H3VGJ8Qf7/zEjm48vPfsGPNn1He8y8ObfobCUGqMp/4lMVm8lKMmOqP4vxogtzXZceokx1xgqKYE5LoE2G/jIbUAwwUq9KSrkhtoiKRdqswPfImmjv/QbD1Hmn50t7+Dto73kR/72uk+W7n6cV4fr6dwuKQGycP/w9Gym+SEHCcUPcTmGmtp6cpnluXWzHQ+gZT/W+4eK6A54865CUCG0S6l/iZGPdeXSxkbDCaUK991BXbyBFoerQyYpTbV+8iV23JIUfkvjQvXkPqP0rT9CjJOClXdxem4rgwE8v0UCA3LiSxdD6O7+/m8Ph2FksX4oFO+dycmYiSTFDhKRVg79Ptnpxp9SA3Ro3qLFMujyRL7m1ZkiFVaabyOVkUp81Yh68MiciNPS6hDOWpqhTGH6WtxJRzAwESjSgESzU5RlK5K7pS0YDNj0XQ2+JMe+0pWSxnh2Jk2t7NhVzODcfJa34kHhEYdHk2nb4WTxYm4rl3NZ8nt0oRgT4zQ2EyZUnkJIjAnuZqO6SXfDIBQY2ZGIpgqD9UilbnplIQlxAczc2mybGvAMRcuVjIWQlij0GhqymYpipP2Z32tgVwZSFX2mRyUg0kikiMeXNTzSnOtqMsz1G+iv1pfrolZTk2VOfbkJesJ7N4R3uDyE/VkXQDkXAkrpJ0Y5JClYnyOUKI+17J+hQ8T5FZOzUQhsDk9LQ4M9ztx2hvgDxR5MTrIParpammNJW4UpxqSUa0ARkxxiSG6hEZoElUsDahvhrYWytiZ7EXa4M1eFqvJjtyJ0N1uow165AXsZbi+APcnovnweVc+LkTcWrqaHamtcGRoYFALsylyvgo4S+9eS1PpmDMz/zK+BNjjdbyk0z3OtJSpEFVhhL1uerU52nRVGxIWsQhsmI1KMs0k2NcD/N1hDjswl4IhAzWEOOlxGxfAj896Pg1Jq7Gk9kziSyMpRHsvl8a98V7rc6zkrtkMQIXaUiOusvR3vUX3HU+k+Oy6sjD+Ol8QJ7XNm71h1IedgKTfa+RdGo3nloryQ0QcXy2+FnuRGfPR2jteJcj3/4Z/b1vU5uuLwHkXaWmuOl/gsnhN6hLN5EhDiIR6dxkLoOC7ThRKBFrd+8OcuFiG3PnmnnweIruvkIpRhK/rm9IoKYmivmztZQV+ZIUZcZXHyigvPtjcmNt8Lbai4fReiIc98j3rq34LzYtU0B12x9xUv0XVkpvYHj4HaK9jpEbZ8ZCXyYBets5uuyP2B9aRXGQEfGuKhgofkpWiK7sTB/Ml3HxdCLpfgfZuVyBde8p4Gf2OS3ZWtSkq8nTbHLYcYI9D1JTYMv1s/H01pxkpluPl/fD6G7V4+xUEEuLOZSkWZAepM7phgAWx5J5dk8ouod59qSTh7ebGe6Px9pgNR42O4j0ViLO7wgJ/ooUxqnSXmRCboQiA5XmPJiLo6/UhLZCQ7pqbCTC6uX9Ml7cLuL7K9ksDgbRWmBEU66+TAgqTVQhI+wgkZ7b6akVxI9cKvLN8XPfJXOvO5p95D1XVWiNEJjwuInHVwp4eqWAcz1BVCZrS3ZrbvBhvPS+IMV9JxFWa3BUfgfzg3/GTPFPeOsvl6lC+UE6eOlvxEVzJV4GXxFh9xUWR/8bT+M3yIvcQozHWhJ8diK8lxHue6WVK95zlzx0PT+fTX2SFg4q75DotpuOPDu418VMexwP56rhZgfcbmegzJXScGWa03RIDdzGbL8LIx1OkmM50GjPeJcnF0ciuDGVyP35NJYmomnM0+bSuB/T/R60VVtx82KhRLt9v1QuyUtnqo14MBVEY4oKJeFHuTORCbcaGa535UK/P3EO3+B0/HVMdv6Bk9v+Dwnu6+mrNMfVaLkk1+SGqxPjfpA4X2VSw/TISTAnPd6I4lw70hJOkpl0UorIzDU+Q2ffG5gcfFdm7aps/Asq2/+OrtKnNFX6UV3mh4HeOiJC9GlrjGTPhtfYv+FVGUovwlbKUi2oLzyFu81W6SKYH0mUYe2C+SrWPqKYiqmECNlI9vwGf+M3WOq3ZbRCnRT3L0lw/pZQmzWobPwzB7/9E06aG3DV3YS1ynL2fqWAh9FHzHQ4cLrehM5yPRxPfoiz8SqiPI9hpbsBvRNf01AewNnxfBJj9QgPPI4Iulmczebx3UY55m2t95U+6rnJTPo7Qnj5tAMBGRH7w3CvvTIIQfg4g102U5dvKj2dbeW2Mns60nc3ET67iA9WJDNWmYfXC7m/lMujmwU8f1jK3aUsbl5OYWE6nGsXU6QL4uVPLVJn8uR+OU/uFDM7EkxxhpacGgnbTV6spiyksR6HZJJWQ549GWEaxPkeor/emZvnEpnq8mLhdABLU1GMtjkx1+9LS5ExkwKj1uhKZZaBHBdnRB2VQqy7l7NkXKAY1c5PxEvouQhtEZGIl2bSJPpNhOeLgCCBebt8NhUBThfX45slMv526XwGSwvpv3KEB4PpaXGjq8mF+clYqf4VCmCRy3v9knB4JPw/5X6S7FAnxxMkIGZ6LFGO08VnoNBW509LjTeiQxUCJLE7Lc2zoCBTjHtdKMmxkYUzP92KggxrirJsqSg4RXm+EzkpJvJ01lT2a4B9a9UpqvItqMwXUmcTOQIRKt4LE2l01/rgbbeN/PiTVGWZU5dvKZWYV+aSGRvw58pcijwttFWeIjdBV1oThAikNN2a+kIXUsL1ZDGN8NcgyPOEhEgLwYCJ3nacLBVxNt+Cnf6/sdV+SxrTU3y/JtD2fYIdlpMbo0iE11aq8o0QquOsBBU6G08xNx6NOACI5fPdq4WSyypA55NngvjxYQkia3Kiy4HuSj2K4vfSX23MVNcp+WFPd3tSmKiOn8MmmXfrZ7uFzHB1imL1SQ1WJT1UExP15VTk2HJhOoc7V6vl7jnU+zDBngdwMFlLoOteKnMspQd3/ky8NH5He+0jPegQXkYrcNP+kGDTZVSE7ifF/msMNv8HPlrvkeu1S8KU3TQ/RX39H9HY/CqehhuJdjmCs/Y6xEl352f/IaHao81+lKXp0FNlS6zHZvKDDjLb5EVuiBKpISeIC1SjodyH+ZkSrlys58qlZrp7M5iYqeXug3G6evPo7Mnl7FyjLKRjw0U8vn+azpY4FibKyIy0INZbk2CnoyT6aeBhuA53g9VSSJUfa4Cl6jJOaX9OgOEXBJmuIMZ1N6Ot4dTmueJlvhsf7c3orXsHjdX/lMlJ0U7H8DLdSVW6A1PdCeRGGUgTe3aoKjmhx7FTe1+m7hRHH2Gg2prTAlJf7UJ3o49ULD67mUVVpiKDdSe4veBKdelx2putGOryJdRjL0ZH35N7s0CX7ZTlmkqbV22FEyP90dJPHRVwHKGo1Tz0Dmbqn2J4/F8E2K6mIllN8ipzQ/bQI8RGcUcYqrXm9mKaVK/fOZ9Ob52N9CRnhe8lK3gXnUUGMszg6mgY3K3gxnQSN8+lc/9KIbXFlqTHqbMwnSbXKQPtAfS1+kjj+Q+3yqWI6cVSobSOiID4X66VcK7Dn0yffSS6bMNF/WM8tD/DW+9TzA/+DcvD/5QhBC5a32FzfAVmBz/C9NA/iT31LU46r5HotYrc8G34WS2nucBM7mSjPPdzSv9Lkv32c2cmiReXc2jP0qchWVMW764CO56er6I55xQViZaM1oXC7Ra4VslImR31iaq05uly82wUN2ajuDAWzK3FeG4tJsKTeq5Oi8Qnf+5fyGTpbCQ8LkAoQvvbnFicSmVxMkPmtV4YDuX+XBiPFyIYq7VkpMaJOzM50tsa67FTJjnNNTsTa7MKjXUKBBh+TluuDvVZmlhrvE9+lCqXh5Kk3aw2y4HcGEMifY4TF6KKAAl0Nfty83IxTZWOeNtsxEH3Sxlxaaz4Hi4nv8HLbBPHdr1JoOsRbi+1cP9WF4kx5ny97LeoK36C7qFPcdRZjcmxz2XUoPi9HnY7mRxMYPZMPMlhyiSHqUiLx7nBaHhUz0y7C5EOy+R4e7JWnWTXD0n1XE5R6E68DD/nxIY/SMX75k//iyNrX0dp/StsX65ATvhBHl9Ior1Yn7IkVXLCT8h98LXJUuwMtuFhe4B711t5+qgbAVoYEUEGIyJ4vRQYQox5hUd/7HQCzbXeZCUbyO+2ALsL/GVqhLJcv91ZzKKp2BLxem0mmafXS2TOsCigQoF763wWN85n8kLk4D5tQCjTedkiRZu3r2Yw2OXGo7vFzE3HyaQgoeL96Uk1Ny6kSARadqwSkd47KEkWXlYd0gJVKE40kWzZgjhDkgJUCHDYSl2eMd8v5TLT4yUZvEIUd7bPRxZVgaUUXWlx8q+cYaE4FiPq/mZ3GV6/OB0nw+sFo/T+Uqk8MAvghbBBLs1ny4IqYhir8yxkB9tZ7yJfb5zP5sdH9Ty+XcrD60US9iC6U5EHPNDuw/RQpLTR/H8INlFMp0ZjGR6IYGI4Vl7CDjPQG8booECRxshXhfJ8R1lMhZdUFFNxghPxfqKY5qWbSEtMTooZKTH6JEXqk51kQW2pu0QcifFvabY1WQm6EnwtFtziZC1CGuKCj5IQepzhzlAeXquks9oLL9ut0h5TW2CDWBiLVI4fH9fwy4sG+KVTYndEVqOwx6RFqhPhdYggF0XiA9Ww0PlOftk9HRWl5H1xuozsNEfsTPfKHYKbJD8sx/TYP+XyPydkB1khW/G1+gQvq08xUXudcM9NMrGnKE2HoVYvOeYYaPGSS3mR/ShGTz89qqWj1o7Z035cnQmXdI2KNCVqM0/Ao2J4XM5Mjw/dlTaEuW2VX4hoT0VcDL6TD/0EvxOkCNpHigX2RutorfWjudZXquwEdSPM7zh6qp/hZrVNFtpbC8X8eK8JccItSj4p93NRblsJshKn2NWEmn5Mof8mUh1XcXKjAvZHXiHddQP+Bp/hov4R5gfeQmfH6yh++3s0dr6Fi8Z3WB78lP1f/I6CUC1e3m2SaKOEoP3Y63xIeeQRbvYH0ZCgSpTTJooSDOmsCWJ+opBrFxtkMe3qSWfmXKP0nA5PVlLdGM/4dA1zc/XcvdkHL+eYHMylJk+Yqc1JDdZj5bsKHNv0OqZKH0nxVFb4ScJcD+FjsYUA87UEGy7nTIE5N0dT+OVuO5M9yWjt+5gjK/6M9d5laG94W2bxuhvu4MSO9ziy7S20Dn/O0R1vsX6Zggx9EN7dJN+DBFitlaPj84MRXJ1M5sGVMpYW83h+r5InS+mcH3bmTL0G0d6fY2f+NmonXsFY6320ld7C1fgrShK1ZfSbq/UaPBzWYar7Ge72GynPtpBTg7kzSSSGnKA83UT64fqqHBhrdkFABuLd1lGZcJTuAj1ujkfCk0YeLBUz1uVNVbYYda4iyuMbknzW0l16khTfzaT4bJNElZzwY5wbjJQea4GEW1rI5Op8Dv0dQYz1RzB5OpJb53P48U4lSzNJPLuSx5PzWZzt8ILrJUw0uONruAIH5fcxP/Am/oZfYbr/deyOvUOu/xGKwzVx0/1Omv/1977DyT2vy0QsD8N3cNB8Fe39v5Oilqp0PSmqEnqGs72hVKXp0lVqLoMh8oP30F9sKqk7E42efL9YSozLQYKsdvHjxWrujKUxU+/BZKUtv1xMpzFDg9O11tw8G831uSguTYcy0uPO9YU0rs2lc20mlYsT0VyfD5eJObOjLsyOePPoerlkozaVO8h/uwvD3ry8niL5oIv9wVwaS+FMc4AUqAis4P2JOEpCFOWhrDFZHbG2cNARUHKRGLSDJJ/DeBivpTrNStqmanNtZQKZ8PSmxqgiRCbdjW5ykhRgv02uIkTAvc6+t/Cz3SZ3oe42u3G23cO56VKmTuehtPMD1nz2O5Q2vYn+wU9R+3/fRUvdbxntT+TcRDb3LldINu5gazDT/XGcH05krNWbtkJ9aWEKt3uHpvRtjFWdYLZFj+Lw7QRbf4WjxudYqSxn98r/RXP3e5grL0N1xyu4G39JgtcuPIxWUhitTbijED/aynvswKY3Mdb4hrpyT4ZPx0vilfA+P33YKMVsT+430NnsL1O1Ht8VSXUJ+Lruw8d1txS2xYccIyFYCfHME88/QUHqrv0113a8L0BGqJbn6DM5EMTVc6mIDFwB6hZNh+BWX5lP4YcnNVxeTKaq1IT2plM8vl8liUln+vz44WEFty6lMNh+iqIUVRlqUyC6Yefd+FhvIydSn+IEMzwttxHpIZCISmREKFGapk5ZioospiJZTo56k5SZPxPK/JkIhO0wNey4FEoJWIgAjl+ZS0NAVh7fLUes6XjZiQgRunetSF6imN66kC9tc8UZhojd6dW5TARoYqwvWBZTkXon7l1xH86Px8n/59xYPCKK8ObFfBk1OzUcx/nZDKZG4+WhZWY8iYnhOGmZGewOZ2IoQXam42fiUagocEJcv3pILWVBFXtTIdNPi9clLU6PzERjMuJNSYs1Ji/Vmop8F8rznGXHKpBMscEn5Lj34nQ6cyNxFKUbkBGrSWuVC9/frOXcSBJNJc5yB9pW6SoNuiIe6valPF48qoaXzTLDUXxoQ8Iq0h0q2XdixJsQpE5OvAkOJptxNN2CpcEGslOs+enZKI2VQRior8becDPOIhXJ4GuctVcQ5bCJ2mQtatNUyI3aQVmqImVpR+QYqlt4jYSqrcmLumwTuqtOIRRsQnJ9ZTaZG4vpUpXZXWPFwhk/JjudyI/dT02GKrNd7rQUGEkV4rn+cMY7ggh12oG7yWpZTMXpK9L9kEw5Sg7T5rjiO8REaCHJIo+6uLRYytjpJMmw9HPeLwUFvzzs4uX9NpkEMjsQSWroIWy13kVr5284pf46kVaf4Kn+VzKdV1Hku5Ec97X0ZGsxUW1DV44hqa57KAxSI8h6B0YHP8Zk7we4qa9Cc8Or5ASqwQ8D8lSem6yFtca7OJz4Ow1Rh2iMPoy37kekBRynrdyHy9PFzE8VMTaST/9gFrPzDTR1pNHQnkpZjUhCqmXpSgcLM1XyQZMbby25jMWJNlRnOnF44+scWvcKxorvMFTjQ26UIc7GG7HVXEWW3zHirdcymGtCd74dww2BXJwsJMzlGJaKywjU28pEZQTPzzfTVxWOj/0huusj+eXpKDwbp6XMHzO1L9m4TIGtyxUwP/Ex8Z4HEaO9C8OimJZzfbGARzdKuTEXw1CTObkRmwlyXIauyuscO/g3rPRXYG/0lRSI/CiSUC4WSoP3/Sv5jPb4UZlrhBDSCVwUD9toKXFkpjecO/PZMp5RjG7Hmk9REntYdmNLw8E8v5LzawBJb5iMZ+tvsJG5t1HuX5Ho87WM+SuNVcRZ5z20d/0J/YOvc7renbmBCNLCjkhdwWhfOMJYf7pTQIy9uTAZD49qOS84wTV2zHZ5011sxv3pJHqLLXFS+wA3rc/w1F6Oi9qn2B/7ELvjH9Jf6MD9yWyKI3RxUPs36ltexeLoe9iqvCUDHAS6bardhduzKdxdyJG7MSE+ubuYJWkqbYXG5IXvoyJeiaUzAcx3eTHR6MHt8QxacmypSjKFZwPcG0lmuNSaiqC9zNXZknBqDYleG5loP8XCGV+uno2gtdqcqgITiV5cGIvjxvlEHt+M4sYFD64tuDM15MxEXwi9jf5y3315NpEXN7N5cjmBmW532krMOT+SzN0LFVwYTZEZ0LMtvhQFH6YySpn6JA1iXNZhrfEvmbvrZ7kBPcW30T/4L9wFWs1kHaHOu6VzoKXKAUOt9wj3301diRUTvWHM9kYT7aZImNM+KZTbt+738jkzPZguFcBleZ5Y6GxEcfPbGB5dha36Wrk+UdrwOru++SNmWt+QFG2AjekGshIM5PsY742FH4fgSSexXnskSUfsiRvTd5Hq/RE18Wspi15DqtfXjNXbySCKjZ8osP3L/0Vz70cEOezD13Izpsc+QHvvP2TH3Fvmxf2z5bibbmPbV/+D3onldNeHcv9GEzMT2RL/J2hej+7WcnYyheGBSAa6wmisdmeoL4bKYicCPBRJTzhJpO8RnC3XkBqh+qvAbSCcikx9ilM1JN9UfAaCxjLc5UNM4F78XTeRnaiGIK4IZrWwlAgkmsCULczGU11mjr/XFhpqHGhvdGV8MIiLszHys89LPEJ6xH46K20YavAm2GE7DidXE+etTKyPMra63+FsuplI78MUJmrgav4FGWEHuDQaKmtBT5U1aWEHqckxlKIuX/uNFCbqISARAt15fSFP5r1/f6dSFtOfnjfyyw+tMozhzpUCiX47Oxwr9QeVeeaIiakQKT2/W8uDa6WyxsyORCPyg0W+gcCEnm73l7vX6aFoxJRIMFgvzKQzNRwv7UVinCuumbEUWUDFq7Afic50qC+K0z0RKGQmmpCVZCLHvEXZZjJwXtzcTdWuVBU7yJ9LAVKSBQnhJ0mLNSUr0VxeeWmW0mJQXWjPSE841xZyEZW9q9FD5uWKzFyRQZoUpkZxuhnJ4epyrCkyeh8vVcpTwdOHlVJW/fRBlYxlO90ZQHmeBamR6tIWIwgaUb7KBLsfxdliJ1rHV+Bmr0hmii2OVjux0V+HwbHPsNVcQcSpvbjrrEFv19uEWG6Q2Zhd5To0FR2hMmu/zOstTxaMSA2qzqZDdAAAIABJREFUUwypzzBFRIw1FprLoGehLq7ONZT+KmH+by8zIs57owT/TrW40FNuSYjjeoIdN5EbqUFBjA5lCQbEChqJ+Ua5Lw1zOUBNnoNEVtlZbET5+MdMjGfCL6O8eD7AwnQ+JrpfY6D2b4mJurFQwtK5AtmZTvWGUJGhQ0WqMi05aozXmpDvu5YUx2W0JShSGrgRL/XXaU46ytVeHzI9t+Gu9RlOKp/jpL1SyvzN93+A5f73Uf7mfymL1uf7m41ylyJSPuJ9d2K653/Idf2OlhhFgg0/kRi3BH81bp6r5Nm9XkmTmV+sY+FyGyU14dS1JTIyVcHS9V4G+7IZ6Ehmoi+D5GADbHXW0ZTnSUmilRQMqWx9nY0fKKCx4zW2rvgdq95TIM79GCNV3iRar8Vf62P0d70mCTKzpzMoTbYj1V0V9bWvke2rzYX+bAoT7YgP1uPKXC23r7TTUhUuU2gstNfx7ScKHNv6JrHux6hJs6O1wJXUYHXSI3UYaAuGZ508uJjFcJMjY4328LKDC5PpDPfG0VTqgYPRd9jpfCZjH0V4yOlWP67PJnJhLFze+N3Vjjy5Usrl8VQ6yp24f75AeoBbiyw40+jMUKMDsV6bSPTZynSrK7PdfjKIQkQE1uYb01JqSPCpZfxfmt46LOs0ff9n97v72Z7amZ10xhm7uzFQFAUDQUC6u7u7u7uR7kZKWrAQFRWxu8fJ3Yndff2O+97j98dzgIfwUO/nfd3XdZ3n60wNXkFLgRoXT9pxus4Kf7OvcNOdS1WKHo+ncjnbFUxVtoE0x2cn6RAVvJ+KAkvEjV8U028fVjLa7kVzgSF1WTqcbnTipzulTPcEk+a5nUTnLcTbb5YJLwLaYbD9XVyOfoWr1jycjs2jPFGfjEA1Qmw3YHX4Pcno5ZtWeNPG08u50tss7AqTg+EkB+8hL+oAp2psKIhU4mTJcf79qIDnU0lkBu7k3w8beDxZwMupUp6dz2OoxI6xExY0xeyhN0ud0jAlCkJ2ymSi3hpTro2HMdEfiLiJCURodqI6V84G8vRuAA9vO/PothunOvSYOZPE1/da+OWbXsTu6qeXVXJ9UpWpyckaJ9m1To1l8+ZBB89vVDMzlEhXgSUDZXYkum/GWXcOgkZ2QYAYEvSw15yHp+EKrA5/jrvwkdptojLTmBd3ymg4YUlK1H7CfRUpyzRitDWEwhh9fC02obf/I4zUv5T3mKGTifS1J+JmtxfFVX/D4OAyrDTW4GOyAz+zHRgfmM/+Le+hozYPB+vteLvv47j6F1joLUJHdQ7JoccQHbGH+Qp8zL9ivNmC9nwlfI0VyAv8ggfjDlTGK+Jj/BnO2p9zYO3/sWfVW2yc93s0dnwsR8npAeqcaY3ixeVKpvvTGW0IJzNMB3ON+ahs+wteTruYGMrmzkw7lyeruXIhX9J6xN69rytEvtYFNrWswA4rk5WE+R2QSmaRlORus1YWU3GgEM2DUPSK9URbhYX8m/U2u5CfokFxhjYi8evbp7WygIpxqCQGMSyjym5ezWZ6KpWGGjvSEjQkSF80Rd8+q6C1WmhAjOmps2HipB/C/hLruYe04GNkRxgQ7XkIX+ud+NjuoCrXhuzog/jaLSHMfS3J4jrq8WWwxYWuKnuKk49JN4hANZakGMuPPzeQyMu7DZJm9vN3vbIrFYwA0Z2KovrtyyZJNfr+WbPsQoVFRkxL704XSN+pyG1986RBhptcn8xETEb6WwNkxvZwVyinOoIkNGhmMpf718u4OV3CvRsViN+p6D4F83hyIourFwu5NlXEmZFURk8lMNQbi0J9uSiYztSUulBT5kRm0nHqyuw5kWcuo8mE/aW50p3KAnsKMiwRu9MTec7kJFvI0W9TuZcEuXfU+dDT7M9YbxSjvRE0nXCWRTQpTB0/l52yMNYVO9LbFChZuremCrh7rRARsCp+CV8/q+XSRCKtNS6Itryt0k0KezKidLA3XElcwBHSInXxsFXE0nAVDhYbyUs2RahkM8LU8TJdi7/FZkKslIi23ye9iZnB+xhpsSU/YQtx/otJCFjFYIM9nSXWnIg9TkOWBXUZRvRU2jPQ4ExnuYWc1wtikjgd1WZryUSNhhwtLpz05mSZFfEimcNpG7HeKpSnmZEfpYNQqIkItc5yDwaagijLMKc8z5axgWR++edpnj3p4NWLHmBSilz83PZQkmVJeqS2zFwUMU4tJXbkx6uTHbmX2dOh/HQviyfngvjlZjyznTZ0Zx4gz2s5flpvE2E6hyzPtbLLFJ5AoUzU2voXjm78A7YqH+OhMR+1JQo059jxzZMOOe7JSNTB6NAHHF6pQGXwDs4WGdIUq8ZojR9O+mvwttmJUEpfOl/Grdk2ZmbbaGhJ4OxkjbQK5GS50FgTzpXxYm5PVlCaZCGLmghWzg07LrNM3fSWy+e7OZLJSEss6aH6GKp8TqavKo77/06A1ucEGS0jO/goNXnOGKh+hbvOatSW/R6r/V9hcWi+PKWLzrQowwVLw81sXfsWB3Z+xq7Vb7Nz2Z9x1F5PbZoDd8dL4fszPL1cQXmGOU1lTggl39e3ivjudoEcy17oDuLqeBaj3QnUF7vjbauIEIkVJeqSFHpQKtArsvUoSdEgwGE13lYrpUFc/H9HuYsszqfb/OWOcaDOCRH+HOO+lkiXVYw3OdNbYcuVYYE0S6I847gcVcX7rqIyfR/j7dac6xAcWQ1yI/aQEqBEa6EFgw2eZEWp0VnlQGeti+QF+7lupaHcVoYf//f7Fp7OZiGuwauDwYxVOzDV4iOLWIaLIqGGy4iyXEuw0TICDFZgqvQRHsdWEGy+HlOV93HTX8TsWAqXeqJozDYlzmMrpfGiiz8mgxh6K50ZavRCwMz54STXTsczO55AdYYWNVka8HM7385mUZ5wULJ++eEUGYEHeHQ2m+9nTtCepUd94kG6Mg/TmLCbkrCtZPqspTpFFVfDj0gJ3CxvhtcnUulp9KC/2Y6JU9ZcGNXnyV1HZqYsqS5U4nxPgASYiD1WdOBOBlqdZIh5Q7GJ/LzTfbFkJhpRW+LMcGeEtAqdaQ9kvMWHEPu1eFouZajZh2fTxRREa3B89zsyIcbp+EKCbNcTYLOOyf5Ibp5PlV72ulILbAzm4mqxQoog43z24Wq8CgPVjxAB3kLk+MPTXrobIgl2PYi9/ha2CJX57nmob/6H5EQf2/UpvnZ7KMl2wsZSkZ2Kb6O29+8Eee+R+bfu1ptwNl6Oi/EiIpyXkxe+ieYsJSrjhRjsb5wqO4yf0fsc36lAQ4Y+XiZrWP2ZAmvnKKC09I8ozldg50IFymJNeD5VRU2KtdzTipQaU835snF5fq+DW9dbOD9exeO7/fR3xvDycQut9T4kRqnz6HYN/DTK9IVcvJy3yXuvuHdH+e2XauauWk/ZmV49k0xK6D5ONbow1OrKrclEqvP0ZZc60R8sJ4ViZ3rvWi63ruRwYypT7hFFpNnZ0ShePq7iu6+b6Ov0Y6DTn2+e1fDzN00IyEN/kxOt5ZbE++8izncPoc47yQo/Lv3vVseW42C4Hm2Vz6X9zN9hHY1FZnTX2JMWpiwPtWMdgpbmS2bUIeL89nFpNIXOam+aSt24MJTK7GQR/3rdww+vu/j6RYMMLPnX950yUk0ISoXY8L/f90qrTHuNK4MdgVLVK0AOAj367bMmOUEVgeQDncGM9UVyf6aU2al8Lp/LlAX08rlsblwukkx6wewWI/OpszkyREAU0InBZFlAz46mMTYghI5xKBRn25CbaibHFeV51hRlGFNVYCVl1GIs0tXggkh/aa12pCzXBPExuclGpMUZUF3iSnmBvcSgCR+XUP4WZVlSUehAZpwBiWHHCHRTJjVWj6J0S/LTRQG2kBxSMVaeGEr8nzLqQjpvnjdxuj+C9ioXKrNNKE3Ro7PCmbIkXVICVAiy20B1tjkC4ycS6EfagrlxNl169woSjsqMUBfDdbgZbSHBR1Oe5uyOLyQ+QIlY/62Ee62mMHk/7WUmdJRaMVzvz3hLCGea/Xh4LpHHkzFc6HHiTIcDNZnq9FZac6bDh44yYY3YK+0wSQGKErLQdsJZFs2+xkBqcm0kEmugKYDzfbH8+Kydkc4wchL0qCpxkOo6Qcv57utT3Lh2guRYLXnRiyBfT6tVhDttIjtoP4VR6jL1o7VQxFaVcncigMtdVnxzKRQeZ3Gzy5EM5yXEmH9BvM18kh0Xkuu3hYJwNWw1PpfZkqJjcRUoOJV30dzwG0rjRUzUeZndeVD5A8pzrKSS13rfOxR77SDPcxdTHXG4m2zG4NB8Apz3oHd0IacH0jl3uoDkBHPqqoMJ9tMgIVKfk/VhPL5ei8h9FIeHnx4005ptg7f+ckz3fsBIlQ/fXa/lh9ttvJptZ6wjlbJkS7S3vYWNynuEGC4gxnYdmf6qMhj8mNLHuOmuQaRm6G59iwDjDQRb7iLCRQ2NfZ+zcoEC29e9zeGdn6OxfS57Fv8ZjfXvYKHyBTZq8wgy30hFkp6cNOTHHObJdBavZzP59nYWQw0WjDTb01RszmBbEJHeqmirfEaI216G2yM5N5TAf388hQAwiB2+u/lqjI98hunRuejs/QB73UXkRmoQYr9e5tRmB++Ro8VYl5XEOC+nu0if1lwdxtu8uDwQwU+Pa3l4KZ0oj/WkBO2gMkODsnR1Bpod+fpeMY9n82TKRXHmcYK9t8jiKYKTxQs8zGe7DKd/86yEjgYzWip0pWfzSpcXHUk6VPqoUOy0lwIbJWp8jxJnvJ5g3aXy0OSmtQx3nVWE2m5Hc/tfZTzaSJMfs2NJtBSYUxR3hHDn9ahuVMDk4Lv4Wy7Hy2SRfFuXZSxtC+d7w7lzIZNv71cy1R8m1ctbFykgfqe/PG2iJF6bOM8dsiD3V1hTl6FOTeoBYt3mkxe2nBTveRJrmOa7iWDrL0n128iD8ymc63RnpM2I3gZV+ptVGDupTm/DQSqylGS6jLAWPbqeyrkBb57dzKS13FwqSAVbtbvZF+F1vzqZTX2lHRWFxoz2BXFuKEp2EyKDWHQSV08n42O9CnPNj/CxWSGLrOj6Rec7ORAh48uunknkwbUCCYWZGo1jrDOQ7JhDEhSQ7L9PjlbjvffKvbyYdIguyl5rJapr30Jv1xxctDcQ5XSQAxuE13QxLbUhMnDDzHQNxSXWfPttB9+97uDbZy3yuWtz9Ih2WU6K7wpasg5wus6A0shtxNgvwFnzPcrj1WjMOo61+ifoKX1Ee54nPUXeBBhtxmDnhyQ4qxBqvl0W1h2LFVj4gQJ6h+YhYA23rzby5vkY/d1ZdLUk0tkYzUhvItPn88lNNiA99hgPZk4wcz6HnITj/wtu8D2Ii9k6PK03M9IVzj9ftsFP/dy7ms3M6Ri5uhLNw8lKK872+nHzfDx3JlOYPZ8sO/v/fH+Sn153IHCsNy+LopLEcF8QQ72BXD4bLx9vnlbz7E4pfc0eUuB0ujuMhID9xPjsZXIwmcocW8y1l+BhvY1d6/+MxfGVxPgfxtl4GT21zlInMNzmg9ASiGxVQTXyc9xMcZohsxdy5XP0twTz4Fol187m8fJ+M98/70RQigRT98c3HRK4cOVsKqc6Auhv9ePCcBz3rhTICdStqSx5LQy2+8nRbluVI221rvR0BNJU78nt2RN8/00vN6+Wym5/drpMenevTYlIthxmL5fKBLWetmDODCfJBrKtzk+KFkWqmmDYK7TU+MmOU+w+KwtsaSgVo1tHuhvcpem2r8WVwS4v+lo9qC+3ojjLmJIscxoqvBBKYAF0EONgsVsV4caiexU71uwEY9Ki9SgvcCIlRo+kqOOSk1mQZUVliQtlBQ60Nfgz2BtBeaGVHHONnAzjn89bEafa+lxTiuI16RMvmgYPssMOkB91SJ7s+2pc5fiN77q4ejoSP7vlWB37CnezjdjprsTVbBMeVpsw15ovFcThXkokBStTmn6M3jpHKRCY7IlhpCGIjnwbHkzEc7XfnY4idaZ6nKhJO4gwXg/UOHJzIoq+GktKU9QoTDokofZTg4lcHEjiyliWzDXMTzaUwqorp9P495serp3JkPP9rjpvLp3Nkuq6xmovKQ4ozjHDznQpjmZLZScUYr0KD92v8DNeTLKnIjkhyswOBfP9jWTun/Zm+MRRLreYcKFGnyy3xYwU6cDtbEbL9MkN2EpxrLq00vgYLibWYT1ZXtvJ9FTE+dgcajKM+fl1L1XFLmxd+zuSwrXorfTGS28pKfabiLPaSHOuM7F+mhLk8PPXQ4z3JRPio0p5vgsuttvJTDDn3HAu4z0pRHiq0lTozI2xdBl2fKkrgkTXnUSIXbXeEmri9BmvD6UoxphYXy1SQw0xV1+I6trfYb3/PZIcN5Hmvp3icE1JNzJSm4fenk9Q3/BntDf9CSuVT3E8sozpvhye32zn2oVy9ip+gI+dCqneBjgeXoX2+rfQXPt7NNb9DssDH3KlJ5SZwTAKY1SYGRWG8ATGWi3przWUubPPr2ciOKBZkbqy+/Z32EtiyDE87DaRGa9NsPsevO23YaKxAGfTtXhabJR5qQHWm7HSmIvz8fkyJzTZazuJIkzAbwtp3uupiFFmss2F7lJzGnKNOH8ykIk2P+K8txPvv5P08L3UFRpw/UIMz+7myRHY5OlIhnv8GR8K58xILM8eVMvYqf42T149KqC/y5Yg74VkxW+jJFGJxtQjlPvv5XKxB+fSXTid5MjZTHeawvRpitTHYvcHaG58C9O9c3DTXY3aut9jfXQuzflWTA/EMFDrihCzCfuIt/liPI0X4KA9Rx7A8kLVCHfYTHOxPc9vVEg0pojsu3UhS2LdrLTmIJSp14YTKYjRpKPElgsngxlqcKK5UJf63GM8vhzJZI85r66F8p9HZdSnaeFw7C3C7BfwZDKFsRY7Zs840tu4j6H2g9QUbqGvSZMLp2z56Vk+r+5kMtJpw+hJB+5PJ3HrUip3r+bxzdNmbl8pkpnKzbUuNFTZM9gXKDMmpydTeP6wSlr4hLdw/GQwIunEweBLEgKUJDHn8bV8/vumnUtCndkdID2PAvPY0+Qqd9vn+kM41SQySL04ecIJi0Ofyj28v+V6knwO4G6wGuUV/w/1TW9zaN1bWKguoDLFnuJEa2wM1qO652M2rvsjKvv+QWmZLU+e1HJjWvyNG3gyk89Is4NM5ymO3Ex5rCKj1Ubk+G8ixm4pkTbLaczQlelOx3f+nwwbb8x0ZLg8iPxAHWz2f4XjkSXS3lQUYUx/bRjOJlsw011LUZYrPe0p9HSmMjZUxNT5KlpqIjgzmM3XDzslozzARZHWKlfSozTwst1AYbIJufFGlKRZEuOnRl9zEPw8Av/sZbjLl5psXRK8N5MXpUJp0kEZzSeKamORiVxdzJ5L4e6VXKmU518DiDXc0MlABnuCuH4p/X/Z1WdjpRhIqGSF3mWgNUgGmgsWuZfNFu5MlXJxJB0r3eXYGa8lxEOV3BRrLHSX42q6Uu5FBXC/NE2faB8lYnx3E+a5SzKxBQR/ojealgp3GVDx5mEb0xM5PLxRDT8OSzbC5XMZPL5TxcWJVB7cKJPXz61LubKg3p8ulNYYETIhCmlJhh6CmtRcbid/lrGROGprXDl3NoNXLzt4cLeea1dKmDpfIB+z0+WcHkxhaiKbs8OpsvZVF9kjJic1xQ6IgioewhGjMNwTK98R4d+ik8pPNSIlWl16kvpEGPKldMSLXSafl9tSmKFPUbYp9eXukookyDGChlScbSWVvyJfNC1On8RIHelLFWNkUUzjw7UozbVHfHO//jjGubFMMpMN5WhZkJYE53esJwLBn3x1u5L7F3Ikw1EU09EmH9l9+FmuJMxpC/U55og0gb46d/KiD0oqjThdBzhsxk5/PrlxmvjZr2f/5t9hfHgu/naKcpfR3+BLd7ULQ81+1OdYURClRXbIYSoSNKnPPEJF8h6mT7nLqCthzi9LUOdinx/XR4PpqhQxP4byc3tqfemtDWJqKIvSDGui/Q7Jka3wxZ7uDKe30ZfT3REyb/Df3w3w6w+D/OfHUfjnCI9vVMjTljiReZmtkAHL0Q6bcNQQN8QvibRfS0O6NqNV5pzMO0pV1AZKg5bSl7eH/tw9nMpXpSdLlVTnxdQmHKQsQZN4b2Xs1OfgovE5IcZL5R412HwNV/rj+eVVL79+PyxzX8tzbHDSXYryYgV8NL7EU3MBiQFHOTeax/MHnXzzvJ/ZKxV0t0bIqDXh5w3zUqezOpzCeEt8zRUZa4zkQkcsQaYbSPXch6/eMuLsFUl13YWn9iI8DARS8C0OKn6E8ZFlVGTYkui9H3etLwg2WsyxDQqYq3xIZbotjQUeDNeHY3pgDvuWKGC8+yO8dDdxd6KaiZ5s4kL12LnhXUw1VxNgrkyCkyo9efbM9kYwVudCa54BLbm69Feay31fTtgWWgvUOXfSliuD7jQWaBDruZFIV0WyI3RJCtCW35Op5nJ0D87FRn+lPC0bH52P0ZH5JIVo0lXpR2G8oRSnCFpUuMNWXHTnUZ2sI7/meJ0Dw5WWVCeq0pF7nM5CS8IdNhJqt54wx41EOG+kJEmd3GgV2oW3cjqBH16UcfdqEn1tTkyfi+PRrSI66t2pKDAnMmAbQV4ruXohjAe347l4xpNHN6KZOe3HRIMdp7LMeNAWzaUCPwbj7ZnI9uJ6QzQ/T9dyoT4UT62VGO76CJM9n0rfpJf+crKEKC1Vn5ywA0S5bMTs4Huk+itJv2pDthE/3KmAZ628uVnJjTOZ8loVoBTx2vv2UYNEfRod+Qh+HScn4ije5qvpKHbk9Uwpr2YK+e5OMa2FBvz6tISfn+VxdcSXmdFYnlzK4dIpP7qrzeB1E2/u5HJtwpmLp0357nkY3S2HKUhfT32FGlcv+DAzFcz5UXemzwVwcSxIjrm/f9Yqu46vH3bw9FYjz+7UyRsk/x2RyVQv7hbz5GY+p3v9qSs0kmLAWC9FAmzFCseTlzMlPJ8p4Zt75ZJIdbrLg7P93ry4lUlRqhoZkcokBOwiMWAfYU6KhDvswl1vjVxVlMUbk+CtSoTzbg6s/wPW6vPRV/4EiyPz8bbYSnqELvnJlpK8FhxwlMgwLfSPL+D8WDJCSDbcKQrCUeqyD9N9Qp2esoOkeH1Jostc3LTexs/gM0LMF1GfpiNFZZ7GCxEipIMb38Vk35c4HVvF0Q3voLr6LzgcW0lHaQAvbraTHW+Jk9VO2ppiuXfnJONjxZzqzaGyLJDTp3IZ6Unn4fUG6krcqC9x4txAvAxLEIxpL8st5MYY0lTiSbjnfqpy7eR9SeSHiuQVMX2Idd9Ckt92wp1Xy+u2Il1Txq/99KKBe5eymJ3MQLgsTrX5y+lkZaEZaQnqctzb1+7J5OloqYgVu0lhk6zMs5H3w9J0CzystjDaGcv5gTRcLTYRG3SURzON/PPFKH6Oe3AyWkZerKZUbQvfc2elm8TPinjHk3Xe1BXZyWLaVuXJUEe41JecH0zi7tVyxL315qUCWTuunE3n/EgCVybS5MRiSAj9LmRKkEN5rqksooLSJ/jEI91Bkogk1PO//DTA9WtFzFwv5cH9Omavl3N9upSrl4u5MiWyYUXweZkc6146k0NbvY/cQY/3x8j1p2gmBfRIRJUq5KUbS3C9+KDaE85UFdpRnGlCUbqhVOV2N7lJb+ZwT4BELp1s9WFiKF7yfMVYt6HSTRZTAcMXBXlqIleOf3taI7h+sZT0eEOyk03lWLijIVhaRF48aufGlRMMdEczOZ7OwMlQxNhztDtcvqBf36mSaSoRLtsIsl1LgvcuTiTpkha4Hz+rNeREHJFJAmLRb33sE5oLzbg/mU6Mz1asdP5BabqG9JVa6XzO0V3vYXd8NW2l/rSVeUsPaFmKgK4fkhSOPJEzmqKHiKu61OvC7KgvN0eDqEzVQDBLSxIPcKHHk/ZSQ/Jj1cgMPYyfzVb8rLcT43WYMHdV7PRXE+y0m5Tgo2RHH5NoweRgNQlIF2OVM/3xXD2TjZDPt1V4EO+/H2O1j7HRmIun/mJZUF2Pf4WH/gJCrVZJA36o6XxpiynyW06Bz1cUB8ylMX4FsdZv4aX9/wgx+VDGO6X475agB4Pd72Ku/IEMCz+2/veYq3xEW6EDP73o5untWnlTEhdjoO0mLPZ/RJbbbtLd9nL9bBG//nSOb14PcuNqNeUlrrx63MX9mQZOtcYR6a3BeEcqHaVBtBf4cflkOgkuBziy9s+EW22lKPgopWGa9OY74H5sgQw4DrDaTm9dNC0nAihNsSTecx/2hz4ky1sU3LkI3F1KoCZBDvtwNVqP7u6P0Nj0V5mC42esxLWBEjqronC2VJK2J50DC9k27zeyaDQkHWe604vBKgtq0w9JxXZh1C7KEvYQ6TxPCn+eXg7lyZUobk2EUpmmJW0Tyb6CYHSUQ1s/Rk91MTmxZpysCyU1TBcva0VMNZZwSPFddPd9ho3WUnkDFQIVc7VPcdSez1i9Fw/PpjLZ7s3ACYHHU6M9z5DqRIFAVCInSE3aGYJtV1OWdJSi+AP01lpwZSyAbx/n8uJOBveuJTPW40dBmhb2JovRPvguxZnq+LjOo6rkCKeHHLkzE8aLB8nMng1koNKcu31R3GyO5GV/Pk+7c7heH0dvpivtGfbcHszizqlsYmyU8NZZTbjFZoKM12C2731ctb/Ez3QJPsYLMd3/NpnBe7ncF8b0QBTPrxVwfzKLp9dKmB5Po6fRTwq1Xt+rk6Hy1flWeFuvg5/GKE7UJ9FXhfYiR55MFXHvnFCtDnCq2kEWVf7Ty73JFAbrfWU021ibO13Vloip0S8va6ku2E93syaXJuwZ7DaivUGTvAxFGqo06Wg0pLfdggtjfpwdCuLNY5HqdJ7/fD8M34/DjxNyJC/2200l1tTmGRDnvxUXo88wU39L4iSL4w+T4reL7hN2MmZZXEA7AAAgAElEQVSMl53U5Rgx0enDQLO9RBdOjXjw369LKMs4QIL/Rmy0PsFac65MZnHWWi3DvwV1qyTWROIShQ9aa8/fObDpDyQHHiI58AjW2otRVXxbgu6P7p8jxY97FN/B32W3vMkLtam39TK0dguv6HbeXA+WQRvxLh/grKlAQ6oKQ5XmRDuuJtFzC22FpkS6bEGsOrYu+j+2L/kjhza+z45Fv+fghr+jtuUDjA4vpSLXnfR4K0l6K8hz59KlOsbGimltTaKkyIeUGAuyEq3IS7LAUm8FPg6KUujpZLJGdoXRXmrkxxmTEalHmIcKk4OpPLp+go5aD9kJnjsZwrn2IE63+JAbqSpFivG+W0gN3UN3nQPCMvPNo2qKMnTxc95EiPcOakttiApRJiZsH+MDoTy8Wciv35xEuDnEKikzVpeKbDty4gzxc9gpHwHOu9FR/RxXi600nfCnoyYcnQNfcUz571LDcLY7kvJ0Y041+pMQcICiVEPGe6Ik8Kel3IXmcjcZkXj3SikXhpLlgYt/jcrITgE7OXMqRgZePJ4tl4IiISy6cyWfif5IGsrsOJFtSH6qNm01Tlw7nyozTyfHErh/t5J7d6t4+qSZ+/dqZSG9OVMhi+rF87lMDKchRr4iElRMGc+OJFNd6khrtTvVRbay5gnokbCWKoixY0WRjVTx/o+3ays/qCDNUOaL5qboyORy4d8Z6wulq8WbezfK+PZFO1cn87g2VUB9pRu15W5Ul7nIPL2EKG1yUs2pKHIhOUaPvHRLEqOOS9rOz9+PMD6Uyu3rIsrnjJQdC6Dw5TPiRBFMU5k9RcnHSfDZQ0OuBadqPKjLMkXI32PcdknxjzDeOxsuw8diDU66X+FruVQqH4OdFnN4hwKhHgtJCtmCj81yRIan1p4vSA0yoSTRkaIEC6qzbcmO0qC1yJ6z7ZGc7wjn+nAwg/XmjDRZ0V6iK0OWc8KVOVVjxXi7M8UJ+0kK2EFW2BEiXPfhYboF40OLsDm+HjPN5QQ77SEtVFOCG5ICDxDrsxt/+0342KzH0WQ5wW47iPXdL/cymjv/JnMi705kcaUvBgfNOeju+jNOWnPwMVwo/aNiv5jlvo4CrxWkO35Chst71EUvJNrqDxQEzqM1cy/ZAZu4NhQjA5s9dJdif3AuZkofobvlHQx3f4iP6QZe3q6ntsReHlaayp0IddzKroUKckRYHWvIoxv1XL1cwYO7rdyaqSEhUoepiTyE2naoNZ4TqY48vNhIb3kE9ZnunGlJpj3Pm4p4K0oiDAg0WU+s43b6Cp3wOL6EvSt+gyimgy1xpITpU5lpR7D9FjQ3/wZP7S8wV36LOCFIizMh0EmFlmJveisC8DRYh83hJcS7HePN7AD8Msvrx0P8+HKc3Hgr9q38s+xe7Q6/TYjVZ5xI2sn0kBuiG73U68aDC0HkRqyjJGEjlak7aMw/zE+Pirl3PlVOIIRHMMlPB1ej7ahs+gduZkpEemoS4XYQIYoIdlQhM0wPW+2VMgIuxe8oRgc+x1xtDmVxegxUuNFdYsNgtQN1qcfIDtpBZ4ExqV5KJLrvpinTjMyg/aT4KVGTeZwTKYepz9fi3sVovnmQDT818vRmOu2Vlox2+5ObqIm1wef4Oi+itU6Pp/fjuXrJj6F+CxoqNOhrMqWrzJhvLuXz67UaXo4U05fuzumyEB6OlXK2JZYrPak8GC0iyGgTKU77aU21kgckY6W3sT/0MaHmK7BR+ztpPjslLvCfD6r49k45r28LIHysNLOX5ZhL0eCbx80ypPn+1VJiAvbTWOoI3w+TE3Wcmmxbeit9Od0cLIMcatIM5OhbMJcn2oJ4OFnMq6t1/Hi3mdc3ingg/Lff9fLoUjY/Pyvh1sUQ+pvNmOhz4dX9NBrKtQjyXEx2sjI5yapMDAZLA73AKH7/tE3eNCd6Ynl2s4pv7zfQUGAhD8zx3pux0Xwfvd2/w1nnY+Lc1uNl9BWeBvMojjrMmdYAYt0U0dz5O4abHJmZCGS4xZjLo/a8uhVBSuhKQpwWYnb4XRy05xPnuh/7oyvR2PwhRzb9nbQALaoz7ajNtUd1658IctqGi/kqnExW0V7pyb+/GeRMfyLRAYe5PC5eI4WYHJkvVcE+5ivluDTOYzH1GYpM9xlwpll0ph9gfVCBm4Pu/HAjSzoMskL24W+9nD1rFdiz7m2U1n7AjlXvseIzBb58R4HNi/7E4o8V2LLqr1QU+pIQY05YiB7Hj68lNt6C3v4s+k5lM3gqh+Roc7rrYynLcJTWGSeTdcT6H5QrL1P1+UR5quJjtUMqaMNc90nNgLftZinYO98XQ0eps5w6iPusEMhdHY7m8mAY3bW2DLS4cbo3UOZSC2udQPIJcldy1CFiww+QGn+Ec8PRPLldhihiIuQ70vcAQa7KnKwJ4kSGLdkxhtjorsTw8DxMNBdho78Gq+NrsDfcjKEAYhydR5DDVi72x1OdZUFm5DFcTFaREKBGaaoYUeuRGa1NRa41T2arpcpbWKrE+7983cfJeh+pxBWK+uYKZ6n1EV3pg+vFMh5UiI8E+akgVZeqAgtyk48x2hvCP1+3MtIfztmJZO7cruD5kxbu3qpi+lIB164Ucft6BTeulErFrlDviq5U1LvR/lgZAlNf4Yxwv3Q1Bcldanu9v0iN+f8DwcM52eJPXakThen/Exp1N/lJm4pQ3T6/VyW/iYYqR/o6A6Qw4Om9Wkl/GD0VJ/eCoqAW5diQLlBRSSYUZFqTFK1LbpoF8RHaXJ0skdi2zuYQWVDvzFTy338N8cPLVqm2ujOdyx2BZxqMpj7fkhfXSuH1SV5eK6W/ypMLXZHy9Pu/7nAjroZL8bNcLcdZlanqBDvOIy10DcNtZnRVGdB2wlJ2kVaaa4n3NqIgxpGKdGcqMmzkclxgrqqFKCrqKC1FepztdGRm1J/JHk9EIW3JN+bqYKD0mIa7LEckgFSlm8i80SSfI7gbb8XPRhkno614WShKL1W8rwopwQekKjQv9iijbYGMCfpIhSsnUo1lxqn1kS+wVP2U862hPL9cRJj9BqzUP8Ro719x1vgED63P8NGaQ1nADhqjdpFs9Q9qw5YykL+NRIe/URm7grZcZQSCTYAmfnrUSlOGNaEWilgofy7h8aJ7FBxVAc8XIhvhrxJpCmIkbLL3H1jt/YS6JCue3Gjg/u1GmU0q0JKnexPpqg3i+mkRkxZJerABBTHWxHtrU5roQG9VBE35PuRHm+FnsQ17zUXkBByiM9uGcOvNaG1/lwhXFdmVpoTr0ljijo/FWkz2viWDp4X6OMZll/SmDrQk8N3DPvJjTTm48W9UJFrTXxlNVboPTWVh3Lgk0lxOEORygANr/oKD+lwyfTdLaHtJ/FZGW03oqzHkX49yGKjVx9/2A5L9F9BacpDmwqNEua+Se768qGM4667mbGcqvdXRWBxbh4HaKrSUF2KguhCH4+sIcVDh6lCB/JlLk6y4f65M7pMTvVQ50xLKmNiLlDlwvs2PkTpn2guMZFFNclckyn4jab57CLJcIceqYqJRlnSE2mxNxjtdONfvwd0r8Yz3eDDe7cPzm0WymNaXmjJ9LojxAQemznpw8Zwb+dk78HL5TO4R63KOobvrj4xX+/JouIDxqlD6Svy5PpDLrTPFzIzl057vzoHlv8Na9StSXPeS7aNKkssOwi3XEGSylNwAZSbb/Xl5WUAgqrh7Pg2xU7xxNpXKfHOqCm2kl+7VgwYe3iiXI8KDu/7KvSvFfPeoDWn1KvFkoDaQ9mIXtHe9jfH+97HV+Ixh4cXtT+WHm238ercHHvfA00a+v1kMzzvhSRtvrucy0ujIzbF4OQq+OhQmFfOTfX68vJXPrakMxO5z5kI2431RUrwnvOjC5/vgUj5XBqMYa/Vm8mQAeWHKxLtuJCtAiZP5ptQna8mkm0T3rXgZLkBL8XfsXKKAidqfuXkmmAt9dgy2aDM9ZsXdKeFd3EBq8DpCHJdhcehjHLWWcHzHx1gdXCTfau/6kJ3Lf4PJkS+ljerBtXLpIRW2Ek/bTQg3gpgwicJ6cSiNi6dSiHHdS6zTTsJt1lAcoURNyg7SfD+jIPxzrp/SoaNgM1mB87g17C21EN/eLJbXZIznNsw157Jvy4dsX/Mhm5a9y6Ylb7N91fvsXPM+ezZ/Qkd9PGlJ9sRGm8pUJ1FET/akc+FiNe2dyTTWRxHmo0VGtAWOxlvZt+Vt1JX+gY3eCjkpi3Dfj6n6Ahz11+FsuAHxbwHBEdqAkjRTufqqTrciM1idzODDpAercrrNl0tD4Yx1+XBlLIrHswVy5yxU1yLwW9hKPB3WER64BxG6/et33fznh17JHReTt5IMCyJ91MiNMybMfT+ladb4Oyihq/oFFlpLZWdqpL4EC+01uJkrEu62D0O1T6XFLc5nP/72W6nItJD3rawoLTKitKQ7QrhA3jxskQetk/V+zE4WIA5+ImHp/ECcxIOe6YuWyTEiLUaMsafPpEolr3CHlGYZST/po5slCFjDgxvC1hIr2bpfvxbhJs0yq/TGtVIZsyZIUiI8QCAZRcN4faqAkb4YmTQl0tVEBKlgHouJrtiXyjFvYbYhbQ3uTF/I4t6NE0ydyWSsP0FW4vuzlbTWedDfFcj50wlMT2bIal5RbEllsY184pH+WB7dqaWzLYSURD3Cg49QU+FJfrYNhbl2pCQYkp1uIQtre0MwA92xspC+etQhd3liYfxwtphvntTJDLz7l3MlLzLIcQMx3jspTjhGbtRhqeqtzTKlOP442eHqxPooY68zn0QvZU5VO1ORcoS0kI3MjHsze86P6pxDDLd6IIhE8d7HSPIzJsZDl9RgfdLDdIj0VJIdsNgJCUHTmzs58M9avr2bKY3jRTEHEYDx6nQNMoIVCbRbSIDNEjJDxKj3iDyNupsIscoWbHU34GG2FUuNRdhqzcPNaIkUooQ6rWeqPxKxzy2K0yLQdiMpvioEW65HX/FvmCi/j5POPAKsV0owuJveZ3jofIqF8h+w2/dnkq2XUBu8jXKfVRR7zSfHXUSvKdCUuZnGLEWa81VpLjKhLtuSSIc92KotQn3VO5jtmY+L5hqZl5geriEvqgsjMYR6bpORaJOdUWR5HSHH7xjDLVGMdsUR4CSg7jbcGM8lznM/J5LM6Sz2oijKjBjXI5SlOBDnp4217noifDQ4JdBy/55CGsuvlNOQaor1wTlsW6CAi+FaonyPSMhGfKA6OnveQXfHHzDc8QdJ74l330NZig1dtdF01USgs/9LnPTX8a/7PfSWR2JwYBm7N7yH9uFF7N/5D1Z8rsD6OQpE22/jTIMTw9VG0n6SFbmJFzMpfH8/l9ZidcrSthPlMZfOCk2eXUvg8kCgFM5khBzG02QDuVFG+FjtRnXrxxze/iXHVZZheGAxid4aGO2fh+6ezzE/tBC7YysoT7SgJNYYX7ONlCcZ0pJnQ0msJhFOGwiwWiozQEV6TXWKhtx/Ddc6kRu6l/TAPXLs2FxgzOVTwdLicnkkhDuX4uHHFr5+WEpZti5H9/6J5gpL6cE8M+TEvdkI+Hcl9dVHMdD+LTcvhjPR7UGMxxaSffZRnWjCvfEingqG8mgOPQ0h/9tFdSdjsPdTjPZ+hubmv2Cv/qVMGwqxXE2k3Tqu9YXz6nIur67kMXs6nsEGd5kHOdEdQm+zD9cu5vyPnvNK7MxbKcs1w0znS2mvmBpOldi3jhOetBQ4S3/wnhUKqG34f1ge/oTLJ6OZaoyB271w4yS3uhKZbvFlusWb292x/DxdxUixI93Z1vzzSh2vzpbTmWnDVGsI31wu4ulkDnx7SuoMRBDGiXRjJvujeXa9lCdX8mUXney/g+LYQ7QUGMpMVwH7LwhVpb/YlhORRwgwW0KgxTJMD/wN7R0K5ITvorfagGcz4Qy2HKOvUY2Zc5Y8mnbjXI8R57vtuDYcKEfgil8poLJcAV2lv6O94x2ET1p/38eEue4hwusA/k5KMkXo/HAq/W1hHN79FvqHP5FrnKzII7gaLMLbYJGcJIWaLyDLZzX9ZWpUxC8lxFLYX1ZQnbSCdqF3qNCnIvEIr2eKaS22JtBhPXEBahhpbWTLms/YvOJD9mz6kj2bvmDLqvfZvOZ92kSwRFEg6urLSc90kY/+AZEz3EBiojW6WqvRPrgY4cEOcz9IiKsqbuZbZScohJgCjiCK6UhrNB3lvpgdXSDH1d5Wm+WULNhplxQLisYgznMfDscXEOywnhgfRWmRqcg+Tl2JGfWl5tIDLVJXpsaTSIvVQJCl/vV1h6QKCSLR2VNxDLSFSqpbdpwh4R4HCHJWpq8hjJYTXjibrpfF1M18M1Y6K3Ew3Iid/loJdnEyWEmU+34C7bdjr7uME6nmnO9NpDLTmoIkY041hzLeHcPDq6L7jWesO5rr53I52x8LPwxy4VQ0/Y3eMiVmojdC4kWFklcAgEQ4+L3rRfIQINTI0i/7yxC3p/N5dKec2atFvHousokbZfj3w3t1iLxSEV8nvKWXz+dw81oxk+OpMiZx7FSMVJmX5VtwfSpP7k3rSl0kp14hN12H1PijZKfoyrZ1pDeOB7M1PLnTIAvrSF8UY6eiuTCeyMUzybIrrSq1lvzeU92h/PLDoMx2K8q3kdaPF086mZkul4X0+pVyzoxlkZX2v2DvtHhDhJpXzqEvn5Bts7DDPLtXhsi/66pzJtJrG6ea3bnQH0aY2yYsjn5IuMtm6Y0Tkn8hPiqK08HXZr3sTF10F3Ei7hhJvltxN/6EvOht1GSrEem2AhejuUS6KBHnfYRYLy0iXNUllqssw5qk0EOkRR6mocBK2hoeXYmnv8GYkRZrqd4Vwo3yJC3yo1Soy9KUIIXscGUKog/LguqktwgXo5WYH12Gq/EWRPRZtNtevE1XSTtFSaKw56jQUWZDdaY+AvTgabIMM7UPMdr9DmHm66lO0MNBZy6mh9/HWf9zfE3nEWW3hFCzL8lyWYW/xjuEar9LoetiXFUUCNb9I+Hmb9GStZPeE2rUZalIgLr4Gc1Vv8JadTHO6uvwPq6IkdKX6Ct/yt0L+ZKBXJVvLJMiHl8qIN3/EMe3vs+JaDNpITpZ5Uus9wFuns6mMcdWAiBCbBTlGMzy4Hxc9dfTWxMuT5Jm2islKembl0P8+v2YHP/9OFsnu1NHjXlYH/2KwaZwTvekUFvsRm68AbVZ5hKFl+mzg+KIQ9RnWFCZ7URVnjeVuV5oKH+B7r7P8TTejMa2TznblcWjmWZcbbajtvMD9m95C+UVv8No99/xN5pPmtcGWot0Od3mxOubucyeiSA3dgcnMvaQHbOJKyNePLgUz/f3TzAzlignAvG+B0gKPCpfyFoqX6Gm+AU6+xajt28etpor5UNP+QsMVeaipzxH5k066ayQ/lmh8vQzX4PN0U/xNl1MrPsmknwUpX/Uw/ATmnK0aMzSJsppNcm+2/G3XEKU2wYywpTpqbPj55e1zJyN5f61DEoytXA0X8Cx/X9l2VwFvJ3m0dFgQHmRKmMD9sxcCaY07wCPbyVLwUy46zpivXZwoTuK2xO59DcEyK6opcqD033xTA5lEON3SGaNWmvMw1DlH3gZL8NZey6lMercGUvg9XQ+T6ayZCRc5wlbxjr8KEwSkV5W8K9Bfv2hn8HuMMkGTo05QmachkQ0itDt1hIXZidy5LWR4n8QHaV3MFT5AHeDhXx9uYT/XG+FO318PVzIxXJvrtQ5MV5kQneSPm9GMhjNseVyVQCXyiP58Uw9/75cz6NTqcy0htOUbERtuiltxQ6c6Qjj5ngaI43eZIepIZi8dZkG8pDpb7lMMpltjvwDB81PUVqsgO3hj7HX+AwP/XmE2K3Ex+QrMkK28dPjHGYmXDnXZ8iFQT2mx425dsaU3jo1ytO30FpymF+eFFMcfYDdSxRkTqzgYOsp/QXtnX9DeZUCGjvfl92Ut90u1ixQQHnbO0T4qqGy7U8c2vEHkoL20JhvIr+mr/4cAvU/JddnHWVhGxipOER3oSIJLn+lLm0lWYFzZbea6rNBYgL5eZSGAhvMj83BQH0uO9Z/zJIv32LP5oVsWPoPPnlbgSVf/ZH3/qLAymV/ZcvGD1m06PcUFPnS2BzP6GgRVRXBGOquR3nnx9gbb8FSZzUuplvRVZ2HhdZyqQMQu1IX4/VSfPTgUgU/POwiN0YPe73lGB78HHPNrxBFLMxZhVj3g6QFauCov4Qoz510VNhx80IK/3pez4u7pQx1+PLT121y/3h7upDOBi+mxlP419ddCIWv2E0KOIoQHvk57SDK9yDpkccZ64pjqC1K7mkjvFSw1l2Krf5KGSogfO0id9nLfAvxPofwMN1IiONuPMzW42q8hlgfVcpSzZkaTpeuiY4qL2bPi69TIqcDoqAKpW9Doa1Mdmorc5A52YLF++J2Jfw8JOH3YixdU2ItYULiICDgNQ9nSyW04Z9vTvLobjX//nlUjnnFePfq5UJZTGcuF8kiKlKdZq4UcO1iLhdOpyCK6WB3OF3NvpJjL5LTRDEty7FGoaHGgcYaZwqyjSnJt6C/K1LSHR7dqefebCW3RHbbnUqG+sK4MJFE/8kgmfF2diyRknxziVO6daNcLmxfvzzJz/86TX9vHGUlLty+WUfPyRgqyz1kd5qbaUVOmhknCh2l4re9wZe+Nh+ZLTfWE8DtyxlMn46Vs/r+BlciPDaTGKjEP5/Uyf0Lvwzz35dtssuL8VYi0VeZYJuNpPnspTJRS97E0gJ3kB68C82dvyXJX4nKNGMpIgh12UuM90Hi/NXlHzox+DBD7cEMNHpJlW5PrSF1+Ye4NurH3fNx5EWo0VfhTHHsEeqytChLVKWrzJTJnmDqsgxpzDWRPkQhRLLUXIan2WaJA/O3XEdDjjF12QbkRKjIAGtet/HiejENOab4W6zESfNzmtNMeDNdTJjjeuJ9thNsvxpfiwX4GM/BR/9DkhzmU+K3ikz7L0g2/wibHQqYKSoQYfYRxWEbqUrZTVGcEkF2q+TXdTy2HPN9C9He9CnWKiuxVl2O0d45TPXFcWUkBoFRrMjUxVl/IftX/xbNDW9je2gxqUGaDDSGcLE/kVczlbJztj86V4aNV8QZkuZ3mGCbHVRn2jM1lEO49yEsDNdQmOvAiwftRLkq42e8mnjnXego/g1XgxWc7Y7n3GA6KZE6iFEZnOHbG4WEWiyVlh0b9bnY6q2hPNuD5DAT1i34rcQRimBxN4NN3L9Qzc3JMq6dK2TmQjH7N/0Fgz2forX5LXS2/AHtzb/FRe9LiuKPkhmpSqDjKpKCtxIfuJ5wz+Wc7fOEX3t4c/cEj6eLqMo2JylITXYC7ZW+tJT7Ee2jg8Gh5djrrEV/7+dYH12Ki946LA4vkoeHGNf9hNrt4th2ERW3SRKFBBO4Oc9UFszWAhN+fnSC4pjdBFl/iY/pHERhDbRZIm1VfdX2Uswx3uXL2b5A/BxWkBK5F2eR3GM2n7iQvfg6r8FM7z1OFBxmYsiV82OeXLsYzIuH6dyfSaSjxhRXi7m0lJrz8EoOQ63+CNP9YEcwI90RUjA4eiqJR3cauXe1StrahLjNy3IVZkc+xPTg33HUmcOImDwNRvLToxrEtTjQ5IGd7pec7gqSlgcR9CBWOYLAFOK1jZQIVX75up3OKhdyY45J/N6F7mjyojTZt0aMUd9HcIb5uhvudXC+2IsbtUH8fD6TsRwtkow/pcJjK0PJerSGqHGp1JVvB4q4WRvHuSIPXg2n8LA7mr5sc05EHeZksZWEGIiddJLndnKCD+BrLCwkpjw8k0O0oyL6yu+Q6rdPUp00Ff8PO63P8LNcjvnhD2RmrKX633h2PZaBJh2ujJtz/bw5A+2qXBoVhKwVNJcqU5evTG+1Lt/cTiXNfwPdZQbcHQ/m5oi/jD4zO/AO+9cosH2xAsd2f0asr4487BVnOdNaGYCmygfsXK1AhNt6Oa1y03sPb913SHT4gjjbT4i2fp/WDEVGKlW5MWDC7KA5heEriXD8EgPl/yM1QEW+xlKDD2Gru4B9W/7K8q/+xKqFH7Diy3fZuOxjDDV2YHJciW3rP2Hx/D+wfMmfUVb+Cg8PdTo703jycJDRwUJszXdyYOenuJorEuCojOq29zi04wNMji7Gz3637AqFRdDFbAMV2Ta8vtUod+C9dX7Y6y/FQPUTDA58TrD9PunNj/c5jL/tNjwtVpMQqExqmAr5CUd5erOYoQ5/ybadGkuWRXT6bCb3rpUiCqvA8Ana1aUxAVMooCrfHg+bzYR57ePSWCav7zZza7KQZ7M1NJY4c0jxLRwNVvJ8pp4rw1nYaC3Dx2wLfpZbJXpUYAeL4k1ICjxCXqw+M+O5PLteg5iSjHREyNXD7YtFXD6dIfnZAq7y6mYFNTlmNJXY8uBqET+9bOeXN12yGx3sCkKIZsU0tbzIQnpSf/rupCyoYiojMIyXL+bJx/07NZK7KxCNd26UMXu1kLuzZfIh3hd1UGSbDvSE0dniS2eTL8MnI2mq8JCQHoWCbEPqqxzpaPZBIKkEY1AEy/764wjfv+7m8b1qXj1t4PZMEbNX85k6l8rDO+XySSdGEigrtmNiLIXvvunn1Ysurl8t59GDFi5dLCYlyYhHD1rl+xWlbuRkWJIar0944CE8HXfI/axImKnIN2TmQjL//raN+1eypIqsLt+QjgprqrL1JQbtPy+amR6KZrI3nN5qF4KEZzHogBzzCghAovsuIhy3EGonVHlalCbocFTxD4y3BdFcbEukxy4CHbciTkjCApEcrsloVzgDzd58+6CYsQ4bipJ20VaqS03WMQlRqM80Jd5zGx0lphTHqRDlulKKS4SvUNB1Hl/O43x3kgRRe5ttwvbYAlz0F5IepEKcAKgfn0OQ/RpyYw8T7SHk+2sIsl5DgPkKcv1VqEvRlVzUijQdeRKPdt2Eu94nWPTynHMAACAASURBVO7/HVFWH9OcuI2RQlXK/Zdhtk0Bw40KWCv/Fi+df8hMzwsnfWnMNUN3z/voKX2M8d75bPtMgS2fKLDtcwUibXfz/EopPVWOJPpvx1HvC5z1FnB813vs+EoBF+01spjmJRiSEnSYS/1xjDb5EeeynSQPJXKDDxPtsJN9K39LvIcqZzoTpIf30K73OX5oLg7Ga/E0WYeV2mfYH/mC4zv+RmqgGmMdEfQ2h9Fe60tfcwCDTd7kh6ugt/03OGp8ipP2QpxNNlGY4khWrDV7hXpx8zvoKH2EscqXBDvsxt5wOerK72BntJz/j6e3jM7yzN63MzOdznSmU3dKcac4AUKIAPGQhLi7u7u7uwtxd09ISAiWBCe4u1agtNN2pr/2+K/7mne9H671wMpiQcLz3Pvae5/ncapseRODHR+hseovxEq37XBtuks8ODWUIkaEUg5jfqIaQS7Lifb7mrFOTwHzkFJLJN6xlFIkZcdKUYDXz1Tx3++mmOjLxFJnlXiYWKouwGzPl2K862awFm/TjcS4KBPrpoSN+pdIQHQpXzbKeROnBiO5cSydR2fzeTqXR3OuNsneK4lyXES0y1Kyg7eLS5G0Eoj33UBK6DZ66uxorjTn2rls7l0r4/m9RpFUJO1vpkaCuH05i3PT0XQ2mjPa58iFmQhmJv2ZHPJgeiyAY8MBTI+G01vvzGCrD90Nngy0BzIxHMeRiWyuXqzn8d1ubl2uFdD1M4fT6KhwICVQDh/LRaKQnh+P49WtWp5eKqc0SQsfy6XMTaXx7yfd3J2rELaO1EglvG2WUpikyc9PO+irdRP86UcXqzg5FEectyxbF8qgvV2GJD9ZuouteHGsgK54A/pS9Pn5ZAbfHwljLGs37RE7qHBbzelKS47kmXC+Opi5unAmC2043eDC4VIrYiwWEG29hCTXddQmahLrsIpImxWURKoQYLqEZM8dHG0Jw89sFfaaXxDnIYePxUp2LJNBS+7P9NW5kOArS1mKBrU5atw+G8a5o3acOWLGWM9erp62Z6hFhe6aPZSmbma4wYjxVkvGmyxoylXh0Zk4Hp6O5P5MKPeOR9OWtZ9A05WkeKtQGmNLkr8hvzybFdmmD69242n9NVb7PiAteAvl8XIEW7xNnP27xNj9k6HiPdyb8uZCvxUzncYcrFanKGI5Ew0m5ARvJsxhNe6Gi6lINhPdl7PxEoqSLVDY9AVbV33O5hWfoq28non+ai6c6EFH7WuWL3oDZYUF9PRk096egt6+1SjIfYqF0WZsjDZhpL5MiHkkopD+ni+w0F6CqcZCtOQ/FJ+vAMcd+DtuEzaV6eFkbpws4/R4BpK1rzBeHzudJTjoribIToFIN2WxpqrNs+bu+TJq8kxxMluAFG9YmmFIVb4lh3qjOHk4g1tzVcxOpgvR6PcP20Wmc7DHVnISdKnIsSE1UluoilurvDg+nMz9SzXUF9uLCM70cDU8LdcwO5rKb8/HuDCex3hTFIE2W7DVWkiI4w4q06xFVzrWFsnMcBpPr7TQXesrcIJ3L9QIqplExUqLVCc9TIXjvZGCkCXBfhpL7QRgQkqOkUa5k6MxnJ3J5vHdRnHu3ajh2lwpk0NRYrr65H4bx49k0VDrKTrSezcbODubx5mZXO5cr+X5ow6+fdrN0wdtfP+8l2cP28XXpII63BchMKbSc6612huZimJryousaKh2FV8cH00UiqaX3w6LNPHHD9t4/LCFu7frmJ1OZ3w4itlj6fS0B9BY40Zbsz/tbYGMDicyfTyfs2cruXSpjjOnKxkdSeX6tRbOnz1Ac30glaVu5KabI6l9e1rCePWkX+TPnT+WytWZLIZbPSnL0BFJ6qcnpEDvLH591kFbuTUdlVLGqbkgEB1s9eNAlhHpwcqkBShTGKlNgMUawuw2C6KI6vq/Emi1URBhpMJ7bjIBKZ0gzn8HYR5yRHgpkRCsKRi6dXkWzAwF01yiTVHSNjLDN1GVrs6Tc2X8cKOJA6k6dJWZUpOhTrzXasqSVEUeZGeZpRgh3pytoKcqAHejlXiZrSDSeYuQvEd7bMZG+wO8LJcigZozwvcKha+3+TKs1N8nxXs7HQUW/PdJu8itfHSulCuTaYzWOlEQupVMn0UUBX3FeJkig7nbKfFfLAhI2Z7rcVJ9T3g6p5pC+O1RHxMtYaR4q2KqMA+T7fMw3PqZKKideW7w8hBDta7kR+8h1nMjlybTuX28BK/9q4lw2MVAYzgPrjUzO5Yuis5AjQeFMep0FlqLziDZcyd7V8ngoD6fYKstwnfXlOeMdAwU3hc/cykbUkIaxjpv5ebxQn5+MsjkYKIwOOcm6YoHUIjNIvKDt5HovhHzPe8LpFhxmjPjnZkEO+/GUnU+liqfY7zrI3zMvxZRWRryf0Nl+xuoy/6dPSv+jOJXMoSbbibcfAuF4SbC0C7RjPKT9osPvOTzu3eplJZKW05OxIt0jHNH0xjvDhVpIS7my7AxWISH9UZCPXeLW32QnbzYl5runo+l6iL27/wEra3vYKzwGTbqCzDc9aHoTqULgJ/5SvornTk7EiO6vcas/RRHKorvqzZRna5CE2Z7AyiO242HyWcUJ+6mNG0vLRVG9Lc68vJJPfx3jLnZbPIzDLl5uYILs+m8/qZZgB3G+t3pb7PhyJDkBfTn+pk4rp6K4dRkEKcnwxgS+anBDLf7MdQaKDB7Umc6PpIqdAgXT5dycbZQ5Dk+uVHDybFYYnw2c+VoqkAiDje4kRogh4fxfIrjNAXX9tH5CtG9T3QGCXqQh8UCsqN38+RKOcd6g3lwroibM9lcPpJKR5k10sUvP1aJwvjdtBYaMVpux4OJRJ4eS+ThRAiDuYpCfV4Xupb6sK+pClzKUOZuLrf7ca7Zk2K/1aS5zqMzQ1lYvzy138dC/k1y/eSId1hNfoAcxWGKpHhtwc90IRbK72Ck8LYIlD7en0BLqZNQ2ZpqfUJhko4ANoS6raSpWINzxzy4OefFzYuuXJyx5syUBafG7bg+GyiEareOx3BuxJ/zI77cn43hpxtZPD4dyuWDbvCsBu418vR4CTw5zL+vHKQm2YuiOGcOd+eREWmEwZ4PsNZ6Dzej90h0X4C3vgzNmRvJDf6cnnx5XpyN4GS3NUdazSiJ2oCv2b9w1n2LSJeVtBRY4rR/gdATHO6Mp6faT3STm5a8zfrFHyC76nMWf/wG29d8hpbSapZ99QZrV/wDDdUV9PfkMNSfS4CPNo4WcuirrUBz55eYaq4QToKUUF3i/DUw2DsfU80l+NrvZLAlmopse5Q2v0mUnzKTvbE0lzuLXakUbZkeqim6Qun9722+leRAbbytNhLktIX+el+qci2I8d8lwA9JYSoidaau2J6x3kheP+tnrC9CcGwl5u2BAgvKsk2JDVQSXamk6JVOT0OgGM2eP5rz/9sFLxzO5OJUjgioqM2xEePle6dqKIo1wkV/BUH224SQMy9mPydH0vnv8zFunz5AabqZKKgSPlaK87w3V8upsVSSAhXIj1HjxwdtPLhYLlJxpLGzlBAjjXhrK+wY6gkWgJQ/fp3gt9djvHzSzcxkKtWldty/1chv/54SQJ2WOm+OTaZyeCyB+7caRIbpk/vNvHzRw/NHUjHtFo3l1blSTkylMNwXzrGDKfS1hNBc5YnMoZE4utsC6GkPFPR7aW58/04zP/84zo8/jPDq+36+fdHJsyetXL9aLgqpVLmPTqTQ2RbEyel85i5UiEJ68mQxz54N8c13Yzx6Msir11NMTmTz+NEAl+bqqK/2JS3BgMMH0/n93yd4freDuiJbwSgdavYW6S3lGXoiV+/OuULOHU7i9pl8QTU52h8qAN2FCVq0ltoy2OAtAA5JPgrUpFuQF7aPSKedeBltFDJ35VV/QWGVDJII6MRQKM1lpqSFKxLtt4vYADXSIgzF3q4h35YE362UpylzqNOWjnJ9YWs4fzAOvhugOHYvMe4rKI7fRXbENjJDdxLnJfFZt5EXpU5Djj0xnsp4mqzG12KtQJNJBTUtSAkf69UUJe0XnOFrp0qYO5JDbowWttqfEmS7itIETdEt/PasC14Mwk+T8GqYby8VcrLHgebMrQwU7eRUqx5n280FQjDcZAHBxiuE/cXXcC2lsfpMtUeS6LFb5JgWBZtQEWmFi8YyqmKNeXK6gkPSEv5kLi35pky2BDLbm0C6txo3j1YxPZIlxqkPrzZzsDNMqKglb295wj6OtAYIBW20/WbasuyYbotlojaM/9wa4MF0Je66S/HQWyLUwW775uNjtFjERh1sC6GrzldYciQ2ZnKwHFVJKtQmqVIYrkiqn6IYRRmqLUVbYR56Cp+J3aT+tr+jt/Xv5EVoCyGKREM50heNv9UGdsyTEcU02HCj+N78TGQpirMWauFwb3m87b6mItuc80ezSQ7bzdnJVPh1ggM5xrRWOdBYbEO0nzySLcBCZxHGGgvEg8jLTBY/8+0EWu3E32IHHoab8DLZRKDldkJsdmCp8iV+5hsItd2C2noZXPcvoC7DiJE6N9rzzXl4LJvvz5Ty35uNfHO2mP/ebhT2GUu1v+Nh+gkR7suwN/wX29fJYKj1JhnxysSG7mDvThnCArahrvRnooK20FJtycPr+fz2spGHVzO4cS6Wc8cCOTbsyswhbx5ezkQK3h6TlMT1XgxLRJiOaMa744VZf6A14n8f7CZ/kZIh4dNODEcK/cHNUznMDkWIlYO/1VLSA3dybSqDyxOpnB6MY6ojhKrU/UQ4fy3g8ZJP9vJUIqeGw3l9t0HksP78sEWkudw/l0NbqTEhzouQclt52sy/r5dypsedb87H8cPFKMYPqFISuIQczy/I8viAAxGrqAjdQq7PWhKcP6EmeSP3Z4LpK9HDbvfbmGz7O/qbZPDTn0d5pBKZvhupjFehMFKBKJd1WKq9x7mxVB5erOHi0XweX21iqC2UCO8d1Oab0N9gx7FhN46O2NBWo8h4jzZzJxxpq1Cip3ofd0/F89Ptcn65XcP3cwX8fKOMG4fCuDERJChjl0c8+e/1YnjQzm+XWvl+uolr/WUUB9uQ4KZHWaITAXY7hPrWx2IhwTbzKApbT4rHp/SUyNGWt4UEt4+Y7rDhTJ8Hw9VmeBq9j8XePxHluoLKVC2hlHU3Wo4UMD5UH8qzq+2EuCqz6AMZVs9/m20rPsVg70ZUdixh08p3kV3/IZ+8L0N5STBXLvYBt/j51VleP5+hozoGM8017FdeiIX2MoECjfZRx85gHc6mW1Hc+Dau5luJDdBAQ/5dmsrd4f9OcfNMpbCcJAepkRKoQXaEAVYaS/Ey20JLsTelKRaEucox0hJCW6UHEV7yRPgo4ue0FReLNQS6ypIRpyOK6eHhWIF87Kj1EPjZuxerBaXI31lWFG+JLFaZays6U+myG+S0kdI0fX550gc/HOJob4xgI8d7KdGY64Sl2pf4WW6kJsuezDAdarKlZ7En98/X0V8XSHasruDzSkW1qdSFY0NJXJ8tZnYknozw3fTVu/OfF71ChCRZYAba/YX46PDBWC6fKxIh36eOZ4hEmDPHsjgyGi+4vJJnVEp/OTKeSmuDF5fOlTA2FM3cmQIRBi4V0V9ej4iC+uqbXn56OciLx+3culrF6ePZTAzE/X8xpM7IVJc5IVXkrpZAJGWupGS6PFfBg/stPH/eybNnLeI8ftTA08ctIiRVCqSV4Mpz5yp5/KBTGF5fvhzj4cNurl5t5LuXh/iDczz/bowz5w6IDrUw314oe3vbI7h7vZX719vITTYSrXp5urEoOiUpBrRVOAqk2b+fdHKoK4in16oFMkyCkEd5ylKasp/2ckdqMs2EZ1LCvvlZrifGVZ5Qu+0466zFfPdCVDf8U1BMJCrK48sl9NQ5iGIa6r6TGH91CpLsGWiIpTHfleY8GwG1L06UpyhOnuI4BQEIb8wxoCJZhXjvVZSnKpEWvEkQbqRdrWQxCXeSJcR+K8F2spTFGxPnIS9GgtI4Svp3eZqv5va5Gu5dahAeNf44LeLCRluDiPPdjuP+z0kN2kVuhKqASLQV2nOw0VsA9VvztMj0W8xolSZdOfJURa7HR+ctLOX/RJjZShIc5Ak224i3wXIkwLyElHPXWUGM3S6KQw0pDtajK8eB5gwzSqNUeXWlSvgka5INqIjdL9S/j043CbJRRaYDrx8Nc/l4IdXZ5thpf4rF3neId9tMXbIxBSHq5Aeo8XSmkpmWGPL81DkQbUScoxzD5d5E2G3AcPubIvLr7Ggiz6418OBKHU9uN/Hj007R4TRmauKk8Xe8DD4jP0KNomQrcuIkE74hXRW+9Fd4YL37AxSXyOBrtJy2IlvyYjWJdN8uzPW++usIN9lGrPUOse9V+/ofhLso8vr+oNijSDd9aRcjeXlDXLYwPRTP4ytVYpIx0R0suM4Sf7ci3ZKaPGdxk3c23ICh0gJxzFSWYrdvLZ5GWwmyViDEWhEfk62k+e3j7HA2p/vTiXHZQVW8gYglQwJtX2viu1NV/N+VVrjVze2xLL4/U87rSweoSdYiN1SOmUE/Zob9SArbiIaijNiRHjsUws2L+fS3e2Ko+y5hfhvwdFjIwR43vr1XzNSAMzPj7syMu3JtNpiTE558czOXcxNhIpThcFso1w4X8uRMI1cOlzA3WcilqWKunChipCWIw73h3DiVL1JBJnsDxb78SLfUnXlTm2nAwAEnzgxEc2Mik8Y0M/yMlmO2659ICuArhxI51RfGudEoZvqC+eVhE9L+9+x4NEkBm5GiCc9OhlOVo0pF1l5Gmu2I8VyBjbYMLUWqHO82Z7hWm7YcBbqLlJnu0qercBcHEuQpidlBbsRqmouUOTPmg5X6Wxjv+BduGkswk3ubLJ+d1CVpIDF+iyJ3MFxjSU+FJZbq/+Jgsw8P5g6Isb6UG3rtdDkV2WYUpahzfiqS48OeDLebUZMnz0CTDmWpskR7fMVMr5coohLx6el0IY+OZnP7UCLtqTqc6/RmrseXEw1OTJbaMV3pw8XGOBpCzInQlWXt32RQXPRXzHd/haHyJ+gq/AOX/R+TGbCBkoiNpHvNpyxuBaUJq7HVkOFIq7PInu0ptyXOawMpAbI8vVzCt9cPCHSok8EifK034G6ylpzI/UJZrqe0AhXZRaz47C/oKq3CRGszuzZ/ho3pTnw9tAgJNBAj3quXegkN3I+zlTyRPrrY6W1CV/5LLLRW4GG5lfxEO9S2f4q17gZMNFeiIf8F6vKfsF9lHiGeCoz3xFJb5CRsM5b7FmO8VwJfrCYz3FD4rC00F+BjvVmAFn55Pg6/nOSPV0fJiTcW/lBHk9WEuO8ixEsOaWc60h0qutNTh9PFM1wa6TaVeZIYoimYu5ISOjlc83+2lq5wChJ0ifaW49FcDbdOlpIVqiGekY25DmQEa2Cs/JFwSBTHGQrl+M+Phrg4VYBElRttDRXCO+n9fWYym1OHMoX3VJpSXD2RK9YV0qW5vdKBrjpXmirtaK9zE7vSiZFopI6UP6aFnVPqSA92h1Ffai/AFYNd4Yz2x4gVpzSdnTtTxLmT+WKt+dvP4zx/3MJvvxzkh+96+PZZOz++7OPlN108fdDCrcsHODyUIBTMjWVuUjF1obc9DIkdO9QfLTw2d+808uJFF8+etfH6x15+/mWQVy+7eP2qX+xNpa70p+/H+fbZiGAZXr9Wx+PHvdy718GxE4VcuFjL968P890Pk5yfq2V4NJUDlZ6UFDlRXeZGfKS2SKqXltTxgSrittRb60tTsQODjf48uVInWKES9CA7WpPiZH3ay50ZqPchwV9BnMxQVSJdZYnzVBTF1NVgJe6GkkR+BdYqy4l1VxE3nhuzedw9V8BYp6+IX5JGvJInK8pXh6aSUIqiranLsCMzdBehTovwt/6czJAttBQYkuK/maPd7nSU6lKWokiE63IKYtUpjNEj2k2BQOutSLtSb7N15IXrEOm0QyTXBNttwVproZB9//rNFC/uDAh25r9fjPPr94eYO5FPVqyGAN1HuGzBTutzVDfJoLvzTSxU38V071uYKsmgsUGGnkItLg56UhSynjDTj4m0XESgwVfk+uymLFKfOOcdGMq/g4XSxzhpLELr679htO19kSaS47sbj33z8Nb7kqFSe7L8d5LqvZN4l+1YqXyOtepCkVYhKVoPNkSRE64rwpKl5A1JdWyr+iEt2VZUJxiS6bMHHo1wZ6IIN42FBBquwVt3CRcGUmnPs8Vr/wKiHNfx8kYjvzzp4cRYkkgdyk/WxmH/hyJUO9ZhER46HwkRSV6MCW2VIZwczeby4TyOtgbjovEp5jv/hYvWl2QF76al0EbYUqKd5LFRmIfZto+IstiKi+ZCtDf/U6j/jg8k88P9HsbbYwhz3kmkmwJ2ugvEbi3QYQ0Oep8xUO9Ba5E99nqLBRYuzFkBHwtZ3Iw2Ya6yHJ0dX2KktAQ77fXYSHYZ1RU4an2Ni470+2Uc60jl2kQZh5ujuTVVzA9XWnl9tYX7Rwrh3jDcGYUH4zwcL+Bafwp/3Orim1OlvJCSNo4n8sOdMn59UcvtC0kMdtjw6FYej24V4GD5ESX5erx80cLh0SA66y3orDUiLWoNh7rM+OZ2Eldn/Tg76cmTK2kc6fbgSEcAz0/X8MuVfp5NN/F8phGeTPDHg4P8cL2dy5PZ3D1VzE8P2+mrdyUjSomBBlcBPSiMVRF//uaRdMZqPHg1V8OJxlCKAjWojdNnbiAeXo7y6GQeD2ZyeHwmTwDrK1I0uTgVx1CDvShcvzyv48m1HEY6bBnvdyUneSdVOXt5ciWVF9fT+Ol+Pse7HSmJ38y5MUeOdJrz/fVinl0qoihJjnDPJUjpMFpyb2Io9zG6m96jLsWSi6PJZARsI9V3A6Vxu5g7FE5RvBLmqm/RWW4rWMEnhuLFiPvKbBEnJxIpS1ejNF2ZsU5HXt0r4tm1DL69kctooy2n+oPgWTc/XWng29NVPD5azPNjJXC7C6428exwFhfawzle7ctwpj0T2e78NtPKv480M1efRoyxHKpL/oLBtvcw3/sxtvs+JtxxJYURO4ixm0eK+1fUpG8lLWQZka6LeHm9ih9vtXC0M0JoNe5fKBaRgA8vFmGj+xGK62TQlvsHtvsWC/KXp7ksOgpLkV3xHusW/B35dR+xafnb7JGbT8OBaPj9FkePVjM1VcWNqwP4e2uhtO0TlDZ/iPyaf7FtxZsC+tBRGcrTa8OYa61l45I30VZYhKGaBEjYjqcUYrF/KcFu8sLqI9Ha7A1WY6KyCFPVxexX/BTtne8R5LiDzko/Qt13EeunSnulH6cPFRLrr4WB6pfEB2nRVuUnAlFGusKoyLcQKllphBvkIouP/VaifPcS4b2b5LB9Yo2Wl2hCQ7GLgNTXF9jiZracALv1QjWc4K1ItJucaEai3eRx3r8UF/1lYsLnbbaWkaZQrh4v4Wh/PMPNwUKHcW2mhKuzpZybyqUgyZC4QCWh5L13roTv7jQy3hNMYbouvS1edDR5ipORpMWUFIZ+LEt0pT9/M8jvr8eFP3WwNYj6SleGeiKRgtWlvNLrlyr57lkPl84VcflCIQ/u1PLrT8OigD550MiLJ608ulfPnevV3LhYycxEBsPtEXTU+CLT1RJKZ3MILY3+jI0kiM5U6kp//HGQ71918/hZPU+eN/D4SQP37tVw7UrV/4rubBl3b7aL7vT5sz5evRrnyZM+7t7v5vb9Lh4+HeTlj1M8ezHK1estDA0kkhivT1mBA1UlLuQlm4pbTE60vhiTdlZ6033AV6i4EgP3EOurSEWGKTW5ViKNhX8f5fapMlyMlpATpcWx7lgkqb676WriffbiarwSfcWPcTeUulRVUvy0SQ1QFzP13FgVOg84MdoRSmqYHv4OksBFiRgfI7KCrPA23kKA5UrhZZNUu015OtyaTqY2U4ParL10V+qRFbERJ/33SA1UJsxxBzZaK3E13Ei85x4sVOdhq7EA8z2f42u2Hlf9VTjpryY5RI+5EzXcuNDG41v9PLzRzdO7PUhy6uwkHZrKHDnaHUVznq3gx0a5byLIfiV+lksItluJr8kCikKV4Gk7T6ZTyA/YTI7vBvL8ZElyXk+yq6zIr5RyHEMs15PmvYdYhx04ayxAa60MtoofkCTtQIrsON8XSXmMJhl+Cljt/hBD+fcw3PkhKiv/wd5lb2G47WP0Zd/FSO5doc61UfkIo53/IMRqLcfbIgQU4uFMBWf7Uwm12oT3/hVYKX1Ehu8eRg540ZlnQ02SHucOJnBmPFmY8KV0iv5mD+z13hOdRpjlF0TZLme0zpvxtnjOTZVzZjybseZAppr8KA7eQ7r0obdcR0GYuqBeVSQYURlrirvGcmzlPyPcbB0mO99GQaI46S4UJCzJ9iLd9v0tNxPrroz0YQyy+ZpDbf5IPGfJliRlXJru+QxHnVXsWv4G8sv+gpHyQsz2rmDfjq+wUF2D/b5NaG/7ErVNn2KqtBwL5eVEO6lx51g9z0618v1cJ7/fP8gPlzv5v7uD/Hy5g59mGrnckMCNjgzuDxRwpCSQmboIZpvDeXQin2fnC5np92V6yJtrp6K4cCKQi6dCmRhxxMP5Y5zt5zF9JJoLJxMZ63Wj/YAeefHraSxSYKrXjJkRW84ccuX26Wh6KkyZ7Qrjp7kOHk7UMl2dxGxNLN8dr+XZ8Wr+e72Ln2+08+JitRDHHcg2IN5fFkkZf3I4krZiCx6dLYJXIzyYzof7PdwYzuJsSxz/udoGt7v59+U6TrT4M9sdzKEGD1oLTDjWEwCveuC7dl7eq+DZrXxePZJiuRIEU/jsTCT3rmby49MKrszEcP98KofanLl0OAIpT3iw3ozXd5t5dbddeMglRur39wcZ70jFSWctjtorOdYRS0ueDa76nwvbkdQVv75Vw+WpZFoLLTjWG0ZvjasINR/rHuJJEwAAIABJREFUDmByIJihdjeaSveTHr6eiU4XHs5lcelwHEc6/Hl8uhh+Oc6v19s5WhfChfZEnk2VC67x3f5MrrUnUuyuwq3ebG735fNwoJihBFdu1KVxoSyW6cIwrndkEWW+BUe1eVipfoSnyVd4Gn5CuPV8PPe9TYj5R4Q7fYK35XukB+/g5nQhP93tY7QpgsYCO85OJnN6Iobeent87ZdQkKhFnM//vJQ2GguFLWv9wr+gvPlzlDZ9xu4tnyO/8WNUlRbibKeMjeUOzp1rp64hhpmZBi7PdTPSnY31/o2YqK/C3XwHyhvfRWXbR5hqrMZCayPWerKoyy1Eds27WOlvwlp/LWb7luBjL0uMv6rwoTqbbMBBbz0W6iuw2bcMT4v1VGfb8+3NbvrqQzk2mM6ZiRIxhpZsZHu2vkeo+x4O5DkxNZws1jdxoYpkJmgKBrDUoET7qYiJX5SvqmDuSq8l6daCuBTlo8RgYyAPpMaqMQgv01WEO2wTuhYppF2a8NlpzyfMcSsdJa7iNcBuI+Nt4dw7Xy1iKqWcWEnYeKg7moMdEZwYSSE3QZeyVH3ayuzEeuyP1yM0V9lTWWBKca6xKKa3r1YJS6eEq5U81FLS0L3L1QL0IBXTieEEKovtuXy+TFhg2pu8kSyffZ0BzJ3N48pcET+96uXVt508e9TIs0fN3LxazqXzBf/jLowm09cUTEulJzISqSgrxYTaKi9OzRRx5mQRM9M5PHrUwqvX/Tx52si9+9U8fFjP1atlPH3cweR4Cl3toZyZLeOHl+PcvdPCvbutoqBKo96pqSxOnMhHsso8etDNuTOV3LjSRG9nlLDGJEbrUJRlw3BHjBi5FSeZU5hgQnGSCTFeikR7KlCXa0t7hTtPLjcDF4TdIilQFTu9xUS47aC73IMTvYlEOO8Us3bpNcB6M5K9QYpPMlT4GGuNLwXkISdaXYz5JBNwgOMuwj00CXJWI8hZA1/z3SR565AeqEJBtIpIT7h6LJ6f7tWLMY252l/pqjCjIV8fS413RdcjpZ3Y627E10JByMolo7+P2Sb8zDaT7KNKeoCm8G7Z66xCun1KqSzddaGcmsjj2Y1Oeur8MJUoMqaL+fZyPT9cbeD2dDbjTZ5IqLHM4F1UpxpSm2IsRp95Aco8P1nIuZ4QhsusmKh1Ict3O1n+uyiJ3EdLrj3OWguJst9GossuPHWXEGS8GmfVT+kvsOfaSAo3xlP59mwlfDNGXrAaTprzsdnzJVY7FxBvvZcgw62kuuwl1WMPOf7qOGt9JShNsa5yXDucT6rvbuLd5WnLdxS/dtFeIHalcS6yRDlsECNeKYz6YFOAGMW9uNMm0imunc7H33Yx/uZfYLX3DVpzjMXNPT1Ujzvnmnh4oZruUkf6Sx1I89iBqRj7LeZYazRlsSbYqi0gzUsdK/l5OCh/RbqHIrFOsngYLUdH/m0S/ZUoTzUWBdTPYhM+pusJst5CrPsOns3VkBaoKPbY3qarRFLN47MdNOX4kuK7n9wIa4x3r0J9yzz271yCrtwCdi55C+VV/0Jz/Qds/kSG+kQneHSUb042c22ogJujhTw4XMFvV/u50pVBc6AJTl9/ROTeNdxqyuRxbxmXm1KZqYnk8bESjrb5C4HbeLcHXQ2WnDjozanDvkwN23J0zJmff2xisNeVpgMGTI97cfd8DJeO+tFfr01z6S4uHnPhzKQzc1N+9FeacWsikx/PtPJg8ACvDrVwPCeI47l+tAQbcbMrhT8utXFvIpcjzdJFYi0BDivJidvLqbFYIST64VoNPOjm4aFMTteHcKo2jFO1EXCtmx9O1/BwqoBLUn7oSCJViToMVjoiQea/uV7B+alo/v28lhf3C7l+Po7xQSeSY7dw6Wwi186n0HLAhJF2F/ixj6vTGQJ2//BCDnNHEsX04NXdfjGSf36rG36+yIUj9WSEmvBkrpOnc81YqH4qOMq3pnP5/WkXr27U0ix1QIVW3J4tpKfaRaS9HOoLpLPOns56a6qzVRlvd2C0xYHieBVhZ+vMd+D3ewP8cXuAP671cqsvk19PNsGFHu50ZFDrqU2Czno6wiw5lB3IVEEEj/sraQu05HCiJylaG7Fc+haHc7wJN/wa2z2f4m6wiCTv7XgZfEGa5wayfDbiovU2XqafE+H6NfnRWnRIu8kfprk+U0VJijFXZvN5eLmYnkYHzHTeEaklc0fyBIlIc9u77F7/jkAJdtUkiSK47AsZtJWXEe5nyMHBIjpak8XJyHCiuNCbrrYkGirCsTPcQnNpBHNHG9i05M/sU5iP0saP0JRbiNauJVjs24y13laMNVZhb7wBO8PVWEuXX72l6Cl/honaEgJsFfG2kKM40ZKhRimcIIp75xrIipaEmhocyHElxG0v1nprkAqqveF6nEzXMdoVK2I4gz23Eeq9gyjfPRSn2ZAZY0RisC5ZMabE+GmSFKpDd12w8JlmRGgS768sOM93ZsvpLHXDWXcJUc5yYpIX676TgigdYtx3UptpRV+VNyNNwZw5lEldvh1SoyUhYBsLnelrCKCz2pvrp8rJjdUmL16DgUZ35k5kihzc/BRdwQ6WCqd0Xj/vE6Ijifks/XqgNQAJqyrRki5OF/D62aAIeJEwgbcuVwusriQsGugM5tSJTKSdq9SdSmrg+zdrxe5VAhhJKEKJvzDcHoY04pVUzDK5aVbkpklJMG6U5NoLtu7tG83MnSvl1s06fng5xOtXg0iq3iuXKnj6pIuX3w8xMhzHpYtV/PR6UhRTibj//Ek3Vy6Uc342X8zTv7nXxo1zZTy708rF2WIkGH5duQfJMfspyLQlPcGMlIj9IhKrONVCgAPCnbaTFrCXkfpg8mP1xVK8py5I3HIkzJ10CzJR/QyT3R9SkWhKaZwJHoar8ZT8Sg7bxchVKqI+pmvF6LW96H+4rCTv3aQHapEdbkSivw5BLnvxd1TGx2YXiUE6RHkqEe6+jWgfWZ5crRRm9rw4HYz2fo6V1hIc9JejvOEN7AyWY6+/Di25hRjvXYu52gp8LOQIsNxFmK2yoAbdna5grC6Msihj0rxUGD3gR3eRI2O13vQUOZPsIS/sJx56n5Psso7qOBU6sgypjdcgxm4Nqe6yRNisx9dwGXLzZVBcLCNGn2XRulybyKKrxInimH2E2m7ATOlT7NQXEu+sQKjlFiwVP8ZS8UOsFT8UI9PiEHWO1AfipbOAwWIXegqdMFN4HxftRWiufRMr+fmMFIVRHmaOl/YqPPatwlF1odjBWu75QnhVL48X0F/uR7i9LN4GS8WONN55CyHWKzFR/hsqG2XQ3iYj1IoF8YYcbI/l4rEyHl1pprfWG2+rFejt+gs9VQ7wyxEuH82jOteJS0dLGGvwpSHNkKtjGULMJPuFDLaqy6hLccPXaDumO+djvmsBUdaKhJhtI9tfC14cZnogDeX1fyLWWwEpi1ISKUleNQkJJ00k6rJs/+f7dd4mbro6O97hQIYDL2+OcKgtk4oUbwrj3dHYtoA9mz7DQHEpaus/xEBuHtrr30V33T8JMVjP7eF8uDfKr6dbudicyHFJENKcBucH6It2JkVzO2af/g21N2TI1NjBicRgTmSEcboqjutDuYw3BQqw9syRVCbHork1VySUuSdHXRho2sf4sAMVZXtprdPk4owPt04G8+xiLJeP+nD3XAgXTzhz9Yw3Dy7G0lKgxw/n6/lxuo2XY020eVmQt287hTpbaXfS4lpRKGfzfTlXEcB4sQtdBdbCInNnrpgfHrfz+4s+USTv9CczmWpDf5gBN9vieTCYyePRfH6/0snDw8UcqQ/hYIUPD2fKeHWlEb4bYrTZjbYqM57eKeDB7UymJl2ZmnRHV0OGoU5XRro9Ge3x4fXTVr6918RPT/u4d/EA395t49WDXp7d7ObiiUoeXG7nzFQZF6dr+e7eIZ5c6+fHR4cYaogU4pML41ncmSmhIcsCw11v4W6wgNPD8Yw2+gpxnLT/PjYSzZGRKCb6gxhpchR76atHkxmp96S/wouRykAeHz0At0c5nO/Lr0dqOJ7uzu0DMZzN9idXbyvuaz/kVF4YP4zVk2q8iwvVyaQZ7MDwExnidy8n10CWW81JtMRb4akrpSGtI8x+AyNVrhSGKIp0JxuVD9Dc9DZqG97BXG2+AA+kBWtxtC+R7+51cHE2mxNjYQR6rMTRfD6SSGdqIB0zrZWo7fiE/bsXobHzKzYs/htrF76J0pYvUdu5hDWL3sRIez1Xzvfw8PYoHs5KZCZacel0M8WZbvg5qzLSlkOElz5ya95m6/K/sXvzJ+jvWc76BX9FT3kpAY4qhLlrYK69Al+77SQGaZMcoo2r2Qah+rXWXol0Wgp9mBnIobXEh/vnG/Gx3YqpxlcEOMvjYycnsH/1JX7YGHyNseZiqvJcmOhPJtxHmYJUc8J81Qj02Eu4nyYJIfuJ9tcmwktVjHkl+pnka20tc6JPsqelm1CXbUlhtC6RjtuxVfsKSUTpbbCSdH9VpGd0sN0mmvMdhJJ3tCWc1lJ3agucmR7N5OLxUiS7jKRGlval2THqJARtF1OKo8MRtFc7UVtoQ1OFEw+v1osABynX9dXjbiSPrMR+rymy4uhILJ11nry424p06ZeS0sb7YpibKaKjzofDo0n0tQTR0xrE+RMFDHaFcmoqm6e3pcjELI6PJQt+fX9zAFKaTW2BvTgyafHGxIRqU1vuzeRIJqeOFYt4tMOH0rl4voLbNxq5dvkAly6UM30si9mZXOAkjx62U1vjyuxsAf/5z1F++H6Y29dqBARfGu9JsT2XT2Qx0uovhAK99f5i3l6V74RUwBOjDIgM2UdKtBHhPruFuVjigJ4fzaIp2xZ/C4kkpEC0127So/YLqfdPTw9xfChDFD5pYS2Jfh7M1lAWa0qE/Q6CbbbiYbgST5OVBFitI8xhC7VpVsKTWJVsSV2mg4APNBV6Up7hKMghbhayRHqpkhyiQ3WePVL26WCLH788H+H0oXxM1VcIhqup+v9udQaqX6C06Z/s27UEE7UN2O3bhKnKClz15XDQWo+b/irq0q3pL/Ym3UuFqmh9enLtaEjS5USzH/0FjnhozifYeAnpbpvJ8tpEns8mAvQ+IcJ8KUGGi/DQ+kIIMjTWylCTYEZ1opl44xnIf0C29DPzV0FSwUW6yKG27k2Mdn5CtP1OodANs9wixrxSNqiUIJLlvZuGJBOqYw25Pp5LSbgOqmtkMFP4ENXVf2HXlzL4aK9Dd92/2PCuDDob3sZBZQH2qgtw1FoiAooz/DXpKfGmt8yDIIvVBFkuJydwF16GUkcnI7yMwvMbpU12pCFV2S7kxJoJT6r2zn+hseNNPMyXc6w/hl+fDXJ8OJX8BHPq8pxEV+tvspD6VDPsNRYit1CGxW/JoLt5HnpbvmL752+gv+VLbJRXYKuyEsOdkrp2O+7GmzFQnoej7mIk8o/0KiEDpfHZbH86313rFHFaCd7KBNpsIsB6I7FeewhzUsJCfaUY7UoXoh0r3hXF1EJNEq4tx15tFTbKC7DZ9QX9Wa5wd5TeJFuuNCby22wL1xuSOJbtz+POQq5UJmP71TvkaSkyEexKh6MpjTZGnMqM4lpTBmfbEzgjWc1O5XLjWjX1NW5i1yT5RY/1OnK4y5yRXlvOnQzlwrQvl6d9OD3szJ3ZcB6ciRQkn+lxW+5dDefC8QARtvB0upQfTzTzsL2QcjMVBjxMOaC/E5v3ZYjZ/DmdrmqcyvPgZnc8d6ey4Mcx/vhpmHtXKkQ02Q8XauB8E8eS7egP0OPZQBbHSrx5crCAn8+1cGMkn99vD/Hf24P89+4A92fLOHcwiaF6V7qqpYeOOz//UCMK6eOHudy7nsfVs1lMDoYwfShWMKClGLV7l+pIidBisCWCX15McHG6WhTRylx3itMdOSJdNHpSuTxbK4rsoa4kDncncnIwlWNdMaKYWqt9SLjDeo51hnCiN5LjfeEcbA8Un8+RziBOTsbhbfUxZSk7eXG1gDOjkfSUOXGiPZpvT9Xxx8UejuR6ca8xCYMPZPBe8x7hsgsw+/RPpKptpdvflqn0IGzXfkRbqA3e8ouwWPxXiszlaPHaR3uYIRlOSgSZbiDYYoOAkhSGqhJusxoPI8mXvARLlWUYyM9n99q/8vU8GdZ+IYO7+SrGuyOQIsmun8/By3EJBprv8p+X41yaqUFHeYEQCK1fLIPq9nmMdOZhb6zAgg9l2C27EE2F5fg6a5Gf5o6C7PscKPZhZrKY6CAdbI03Ybrva/bumM/Cj2VwNN5Bb10Ce7Z8yqYlb4qCumfLx+jsWoCOwpdo7fwUXaXPheJXKqZSUZXGvMZ7F7L6Mxkk4Z2l+jKSAvbRVuqLk/HXhLopYaGzlH2Kn7F3+wekRpjiZLoVVbmPRIrN6ycTAhVqvn+5KKQxIfrEBusT7KmOt50C/s4KdB4I4PeXh0kIUBLRmBNtQfzncQ8DBzyRpkTVKRYi+s5C8VNyA7VpzLITzY9UTLMjtcVotyTZlM5qXxqK3ciI3I/UVB3pTaAw0YC+Gm9qcswoz9QlI1aJ3kZJvNckLuvSz7610hVpn1uaYSLqj+TNvj1XLli9U0OxwjcrsX2lU5ZlRnOFm8AhVhfZC0SgBGIY6YpiYiCB8yeKuDBdzMXZUiQu8EBLsDgHuyKRrDp1hQ4cyLVBpiDTntgwXSKDNESR626PZKgvnpHBeCbGkjl0MIlTMwVcnKvk2dNezp0t5rK0pP12gP/8epiBgWguX67m5HSuMLRKaDKJipEjIcFS9ChLMyLSR05U7q6GAJorfcTfkxxjRFqiORX5buQkmogAW6kTlRigNWlWpPjuFUD53pog4ZeSbrXPb/VRnmGLl/l6sazWkf0HDam2xDsrEmqzjQhHOdGh2mrMF7xNZ52FNGRac2+mnJHaIGozbURWpQRuSI/SQ5rrx/npEue9T6CtkgLVhfw9I0KNBxfqeX1/iAC7XdjuW0uA4076G8Lorg0UbzhTjZWobZ/H3o0foq+4CId9W9HdNo/dq9/EXmMRAUbrRaRYcfA+evMdqU/QozpGmxCjlWivlsFN7VOSnTZQEqzEwXI7RkvtOdkeREWEJi7qn2O26x30t/2DX+8NwL9PMdESQ0WqNXU5ToIQkhWpR1a4rhhrmih8IkQSLlpLibCWJdhsPeHmG6mI1CPbTw3v/csINPmaFHclXLUWURS2nxNt8dQl26C67A32LP4TIcabibSUxV5lPn6Ga8kP1hGpMHFOu8gN0mSsJoDfH/TTnmOFhdJbIo3ETfcjMZYOcVxLWtAemovdRdTd4Z5MBhvjaCnzx9loNTb7FuBhtkqAIfpqAxhsihBfq8lxFMpeKchc2uPuWf0nXHXWYLV3Oa1ZIby+MsVoeSpJzobsXvYh5rvWYCK/AqUV76Mnt0xcZCKdJUzjZnTl3sVK7SsMJZ+q6XrC7LeLC1mqvzLe5itFjJi0h1Hf+g+0t3/I3g3vor1jHvrKK9BXWomh0gr05Rajv30+NsrLsNm1iDujlXx/vJm+FBfu9xXCxQEe9+QyGG3D1epouDTMy84SyvSVsP/inxi//yfKTdS4diCdE6UhHG8MRgK7t9dZMdLvh7H+h6xbIoOX9TIhcpOQl5rKMoT4rCM/SZHj/R4i/u/5xXQRBdhbI+3cffn+UQ6z495MdXny+20JydfGk948RiJsOJXkSa2xIiFrPmTYS4+pGEt6Q3SZawri6kgcN6YzBRDlm/sNYlf6eLqIMzXBFJpvpdFNjdmyAEayXbnSncqvl7v58WIHP9/o5+mpeh6cPMDVyTx6ylzoq3IWftXBJgfOHI0gMXKjAE28etrA+ROpzM1k8M39JiSBx/ljuYJQc/VUBRP9SVw+WUVFjguzh4porw7h7JFy7sy1MdgqecnruTpTzf25Zq5NV1CdbkFJnB6N2ZZ47P8K7c0yVCZLUXsuTLT6cqw/QpCb6grMRac83KqHp7UMAw3afH83m0cXMjk9EMrhGi8utMVwoTaCAy7quKx6j6S9G4hWXEeyqjztnk6MxYZS721NjO52bnYW0B5rS5aNAm47P8VT4Quc5T4k2GAV7loLcN+3iH0b/4xUTNN85bDWeh8T1XfE/u/saCbfXW8WSvi9m/6MruI7SPi731+N8fxuHUUZOng6rOaX7w5yqDcFtZ0f42iyhS/flcFEex2Pb00SG2zFmoX/QHbNx6xb+k+SI+24OdePldFGPB130VDhT2yIHnYmmzFQXyl2onu2f4n8uvex0FmHm/ku/OxVxNh405I30FFciI7SfIxVFwv2teb299Da8T57N72NtfZyMsKM8LHcyX75+bgabOFwZyYtxf4Y7l0oiq2EKIz134evgxLGGivEBUB390JMtVaKDtTBZD0R/hrEh+kTH26Er/MeEZkYF7gff2clEgK1BDs6L05PiEhzIlSpyTQRPnwrtc/IDNDERlX6//2neHbnheoy2RLJoZYwihP16TrgIfykZyZzeXCpUaiMpUi3w91xRHnJE+WxQ4SJNBSbUZ2nT2u5DZK9UlJ8v7jRJHai3XVetFa6kBmjTkuVE/evHODb+63w23EBoJjoi2V6LI26YkdqixyQYPo9TUEcGUlhvDeBtmo/KvMcODmZx3hfnIDQSDYjifIkhZVL+ETJAliZa01FjhUyGYnmVJd6U5zjRGaSGTWVPpQVOdNQ40t3RxhtzYHMnsjj6JFM7txu5tbNRh4+aOPVy1FePO/n6NEsJidSqT3gInCEg10hIvQ4J1GbrlpPTo2lCPKM5D8qybSmocJXdKVpceaEB+0jPkyHA1IbP5JFcZIZ/lYSaUZOJJ5kBGuRFrqPENddlGXaU5HtiIvp18JsXJ5kjqnSR7jrLCfSZhsBJutx0FwkjhRQ7aj9Fa56i8U+sTbNAh+z1QJ1J+1bJZKJlG5w/1ILqcH6xHprCuqOJHqS/FDSeFeyUEjxYYH28gQ57EICNCeFaBLmocD+3Z+zT/FLlNa/zz65L9HY+gV7132C4goJtv0l7nprsFSah/6Wd4iykhVpHlFWa3HT+AzDTX8l1HgV5aHqpLpsIdpqNQkOG0h13UpNvB4ZnrsINl+DueIH7FomQ0GkPkO1wRzpTuLadCVHBzI4d6SU1kp/StNsCbPfgavuCqx3z8NK+QuR+Wki9wFm8h/hqrWEUCkxQn81jam2tGU7E+Owk+5ir/8lfTw4iJ/BeiIttnN9tICeXDcR0O2mvZAw64147l/KYLkXfSXu1CQZw09TvL5ag9HOP6P5tQxFEUq8vlUv4BkSVvBQRxxdlaHkxFgT7KxCnI8WtvuWsU/uXeRXybB7/RsiskqCcufEWJEeqo8EvZeUwL5GK+kt8ubZ2U6i7FUINN3NYGkyk9W5eGgpsGvhBzhrKmC9WxaFpZ+itPJLZBf+U4g4ajPtiPPYjbQzjXZRIMh6q7DTSHvw8kR9vEyXEGC9CgPFt5FfIYPalrfYu+5v2Ot8LTpU9S1foi27AGOF5RjsWIz17tXsWfI2gwXh/PfyQS535DJbHs23o+U86s6ixnUPI9GmXC8P4XSaN8O+5jTbalJro8HxFH8uVsVxrjEKnnRzYTKEnORtHD7oS2biHtTk38DBYIHYz0sKVQP1D1Dd+Vf2K79JevA2Rmqt+e5KLt/fyOP6dAQd1fvpaTAlM2o7cxNx8P1BfjnfKIpEd4gxQ0FmdLvpUmelxNFoK44lWnM4xZy55kCONXoy2elFQ5mZiNK6Op3JcJkLh4s9afTSpNZNnaF0J64OZHNnrAieTPLLzQEONUQyWhNCR4E7J/uS+f5KE4/OVPD6dhPXT2Rw42Qm3bW2HOrz5fyJNKS0p9dPu7l/pUZYoq6fqeDRtRZ+fj7Og6ttXDhewcmJQm6db+HkRDG/fHOU+5c7uTxbTWu5H8MtUQLeP9ERjZfJSjwMFxPvupUt82TIDNhJSbQqEfaracwxFhAJaf9rr/8pIW6LmRmzoKVqM0eHjeiuVSfOdzGliYrMdvhzcziJ+0MZlLvuochaiag9a4jes5EmT1saPOypcrFi/6J/YS87j0IPLbw0l5Lmqojachmsd75PuMnXWO58BxPZt4gw/5pgk1UUhGoQYLWGHStl2LRUBk/TeUx1+nJzOlMEZuRFaZIarMpUbyw/PRnk7lwVyRF70FD4u0DPDbZF4mi6gdxEa8z1vubdN2UE2H7zyg/+V0iX/It//kmGzaveISbYhO7mBJZ/JcO6ZTIYaC7B2nAj7jaKqMh9xQppqmS3FzW5L7Dct0EcXaUlGKutRnXbZxirL0NHuhSYbCAlSJcgh53s3vAPNLd/hKfZduykImy4Dc2tn+Gkv4VoDy387ZXQVZyPufYq/ByU+H8svWd4lfW2vb22HiuigjTpHUJICOm999577733kN577yGNQOgkkEAIvUPoRelFUQFBRd3q2Xuf/b/f6/n5fniuJQqRi5CMNecc4x75yY6EemgQ7qVFVa4fUb7aQmCldW58mD5ZCTZIk2lqtAUZcdaUZLgJXnCUr7IYkPrq/emp8WJTpBrW6u+S4LWWhmwbwmxXYCz3Dzz05uGiMxtj+X+IDdLYYCJHd2dxeryQry62COfuf346zsn9xYLrK8H5e6SO7FI3uqvc2dHpLyA/A01etJY5iI7WR9Jq99luKjeZidREV50rUydLRTG4tAK+cKScjhpvIYI7NseIDtb+lmDOHa4UBqszhys4MVbG7oEUuuqD2L45ge6GYDY3B4v7qOTclUR0c2OAEFRJTKUeV1lLfQSdLdH0dibQ1RbF1oFUWhqC2DqQxLYtiWwbSqK/N4aOthAOjRdx+mStmFAlc9Gpk1XU1rhTWeHMti2xNNd50FLrzva+SLobvNnVH01LuYtwfDWUuHLzfCf7dxSQGGkkPgGlBZ6U5DiyZzCN8e2b2FwTJFoM2ovdyX8cAAAgAElEQVQ8xKv0DdLbarHY4Vdk2TMykC4KvnOjDckJ06Upx4EQ8/lCfKRXe5X3kYwxo21RNGfaCEFK85anPsNCFGVvqfcT72gKUgyoL3WmvshNFFRHuK4n0XcdWZFKHNwax5uHwwKzF+OpxKZoYwoTLMiM0CXOdyPuFovRU/hIdGLmRNsS6aqF2cZ5GK+fjcWG2VgqfYqbzjw8tOfhqPwp4eZLibVbRkHgRmpidYi3XUJPth3He2LZV+tHS6oZ6W5rCTL8+8YZZDZHCIuNynsEWM0XLtUw17WCtdlY4k1LRSAPb+3i1ESjaFzJjzIWK95UT6kUeomIxQQYLcDfcL7IbKZ5KSM9dyYa+e93Rzm4OY3yRAva873YXOIrbqRSzq+vyJs4x9V4680gwGQWDqrviRaY7nxHJnvjKQhV5tGpGn690yMcuSXha7k6kgr/7yLd5W6UJpgz1BRLbrQ1aaHmBNgq4mK4FAedebgbfvk3rs9jA3Wb3Blsimdrayq7u9JpynEiN1iNAJMFFIQacGqojAwvA8zXzET5i39gufZLVr8vw2zNIlw1NmC6ZgkGKxehsfhLFOZ8iNaq/yEtWFvwdAOtVxBktYIw+79LykNtFwoogQRl9zL+RKAepV5cyegQbLMECWxvqTIPU8W5OOuuxNt0PS46K/A1lsd49ef0F0TB0wvsLYtlsjYR7hzgwVAB+WaLaPdVosJqKSmK0yk3XEmF2Vqa3NTZmeLGRFU4d0by+ONRl4iK7Oy34uHtIs4dS8PXYR6Ki2WkBitxYk8uIW5rUV0tw1rzfQJtZpLiv4gLI9HcP7eJl/dq+flpF1eO59JUZMHD8/Xw81F4PMrT/dWM5fuxP8ND3AIPZbhSZLyYYwWu/DJZwfWtMeytd2DqUAqnx5P49q4EDSlna6UHZ3qSuD2Qx6OdldzeVc5vt3bz191ReH6U7y4PcmW8mh9v7xCvL65vgZ9P8s9Hu3l1q58/n+7h5/tD/PvFPp7d7BDl4tfP1PPm2V4BIX9ya5Bfvh3nP29P8+PT/bx4tI/v7++D/97m0Y1t3DjbxQ8PRrhypkOI6YWJetFcdHmiltMjRcKI0lvuJvpjK+O1KI9VI8V7GeF2szi8JUqIVmOeCeorZPRUmzHYqsG2LlV29epzctyHI7v8OLFHytGmMtLoyW9S88e2LHpijNmT48m5phTy7ZSp8jQi0Xgdtivew0nxQ4yWyrBXfkdEi07uzmZiMIWmbFuaU80pClShPFSbFGc5IuxXYa32IZpyMqJ9F9Baok5ZirQqfZcYj/nkRCgT5iJVQbrw4Mpmnn+1jfRoTYzU/iH6Pl893Uu4jyL6yp+gsPwdbIxWs3rxByis+hSFVZ+zYeWnZMa7cf7oAHev7YN/3mGgPQUvB3nMdefhbLkKT7sN2Ogtx8tGiSB3TeKCTXGzWI/i0vfQVfxC3GGttBfgZr4KPYVpqK2WiTKOrAgjrDS+QGvNu+iseR8r1bnoyX0uTHhuRmtx1l+Bl+U6jJUlQpkumTE25MQ5UpDsRrinDmEe2sJJHOGtKda5YT4aBLhtJCbEgJRoK3KS7ClMdSYr1oqiVDvhi5CA9QWJelSlm4hikvIkQ9ryXXDWmYGDxgysNk4nO9SAcqlb1kue7koPnl7v5sHVDjFdXjtVyze3B8Wf43BnNAn+SlRn2TDSHc/erkhaC20FDW9XVzA7O0MYaPDm5f1BcYq8NFlIbaEZ/S2ePPu6k2/vbeb+tQ5xu97aHU1fa6igNI1uTRNgC6k04sxEFdIbnvPHG/jqah/je/KpL/ekrdqP/tYIMZXuGUgSv06KxHTW+9Nc6Sk+lmx4MJvyIm8kUa0o9qKuMoDO1kjGR4voaAmlvtaXuhovdu/M4M6tPi5fauPk8WqOH63krz9OC0GtqXbj8MF8BvsiqSyyFZim0eFkse55/XQPTWXuFGVYCdFsqQ4W+/WsJDty0xwpz3Ohrdqf0kxb8hPNaC/xpirDjtZ8T7LCdcV0WJ3twOkDFbx+NCpyibE+SsjNkQlHmIPKu9gryXDX/pBo+78dqL3FrjSmWyFh7ty0p9Fb4sLVgyXC2VsQr0tRmhHxoRuRpmUJUJ8bqUNVmi4RbnPpqbTnXy/3M9wSRUaoLv62K/GyXCSMSEEOa/Czk8PJaAmWmnOJ9zMg0HajWBF6mcjjb6VIgPmavwlMK9/BVmka5qtl2Mi/Q7a3PM0ppgTqzyDXR4HycBVyvOSwk5eR5LiKqih94uyXCzFzUv8Iq43vcuVQBU+v9nHjdCtnDlbRXhdGf3si92/uZmxvFXv6c6nNcKQi1oxk9w34GMzDW1ey7muRH6KP7YbpBBgvJStAl2+lPOJPl/jh2k4enuvlqxMdDFaFEmm9GnvFD6mMNSXUYhER1osFtH6w3JNL+/Joy7bmaH8i+SEbyQtZT5LrQiJtPqMuUZn6ZE1K47WxUf8IKbu5rSmBcBc1EvyNCbJXwkp1NqYK0zFVmIb+2ncJsFpJb1UEe7qyKM9wF2smCdsn/d7DrVfhpDKDCEt5HDfOxnLtDFRnyVCZ9Q7Gy78g2c0C09UL0Fw4A+sNqzGVW0qkvQFlSc4C3pDgpUp6oBaRjuuwUv4Ia+X3iXNbBb8dFaUFEkmnu8SeiiQ9skKUKYjSI8FjIx4GK7DTWIKT7jJMFGdgrPA5xus+xVZ5LoPl0Xxzeis7SiK4ua2M78cb6Q7XJ9toDhM5tuyI0qPDWZFGW3la3DcynufB6aZopobS+P5iA99eK+frC8lMjngwdSKOAzuCKcsyJStSl/0Dadw80yaewhRjpEL5smQNIl2nU5ejSHOBCpcOx/P22aCAmEg3ohuT1fxyewgej8DdfTwbqeFQUSBna6I4WxXK7iQL7vYl8v3+HM71+HN+OJTKNEX6G225djKfr85Vsr8tlL5se47WRfOvyzv46/Y+Xl4c5MnJLiYHMjk8mMloTxLDTRHs7Yzl+ZV+JvpTmRxMZ6wnnqvj5eKmKbkyb5+S3Om7BJTkzdP9/Ph4hF+/m+DR9S08ujnE66fj4nl+dw8vH+3n66l+3n43KcT04a1hIaZ//HCEO2c6OL6rgKPD2cKcUpVszOG+WE5sS8Rd7z0aMvQZ6w7m0fkaJoai6KmwozxVizcP27h4OJSzh/3Yu8Wab78u4evzWYLTe2QoiO8vVXG6L4zJVn9OtofwzaFSznTEYLtcRo30Bsx6GS7KHxBlvZAQyxmUJWqIm2xxujFNJW4UJ5ngpPa+2CRJU2qAwRyM1v19F7XQlLFrszt3z8dzZp87eZFLSPReTITzIkFeC3Veyd7NSRQlmRHuKUdiqLLo/JRaY6QGGkPVTzHXWYS57go0NsxHcfUM5JZ9wpJZMpIjHfj6yijju2vpbkikvjSYhjJpMkok3EcHdfnpaK77DHvDVRipzyfQTYP2ynh87VXQkPsUS+0lWGotFAYnT8vV6Ct+jJfFCuEx0Fz9DnrrPkJf7mPxd91KbREh9lrYaS1j49L3cTJcSYyvHrEBBtgZLBeuYEmo4wPNSAgyJ8hFnWA3ySm8hgg/LYK81AjwUBEwieQoSzYlOVGc7kpJuhN5SRair7Q211a8eUwL2kBxnD5J3oo4an1OlJM8jlpzKUu245trQ7x5uIfv7gzw6tEwT2528fsP+/j2q35+uL+VK8drRYxO8tVIZ6OSBGN6K72pTDOmq8yJ/b1RlKcbUpNjxusHQzy/083Ejniayq3IT1VnqMuPYwcyxfbk+/vDYtoszrT+u8pwooLdfckc2Vso3MqXjjfw9bV+rpxtY2R7NsU5dmzpiGbfUDrDXXF01vrR1xwiQBhSW4w0sW7vjUPWXBcpxHRkVzEN1UGU5LtRmOtI3+Y4hgaTaW0OobM9nGtXunnx/Rg/vZ7kwb1hOjrCefx4Fw/vb6OjPYjRvVk01HqSkahLV7Mfh/Zks7U7kgvHatgzmEpjmRcNJd5kxFuIQ3VChAmZiTZizVuSZUttgTul6XaUptiI+2VmqAGB9qsZbAynqdCdhnxXpPtpfa4bTQWelCZbC+pRmvcqEl2+JNNPMsUY4G34Gf6mX5DqKce+5hDyQ1TID1MWAPyBai+BsZLcV/GhKmTFGhDlKkdPmZugvTQX6BLpOleAGbIitIj12oiH6XwRsnY1mYuL0ZfoyL2Hl/kqYjw1sdGcJ+6lTnrL8TBeQ7yXLq2b/KhKdiTEfKXA+0VaLifMbCEZ7nLk+W8g0nwe24qcaYjVJNp8Fo7y/yDTTYG6OFMyPTcQYDwHO+X3sFSScXxHNvfOd/DnyyP83y9nuH9jmBdPDnH3+k62D+ZRXegngOy1iZYUhukL3q6PgbTqXSwaZCwVp6M8T0aanw7PL+/g2aVhvpnazp/PjvDPJ4f54cYuWjPdKQjW58q+cvKCNHBR/5iBUneenG7mzHAmFbF6NKaZkR+0AQ+t9zBdLaM8WoldtU5sKbPlxkQF25sjeXZ1K08vb8dKfQ5aqz/EUmUO7kbLMVP8FGuVGZjIf0Cw7Romhgp59fU4p/c3UpvtTYq3Diar30d3kYxMD00OtqZTH+dErLUi0ZYK2CnMIsZOjfoUP6wU5qG/7DP0ln+G5qKPKY5yJivYkCh3RcIcJNOZOik+angazSXCYQVbqn0ojdHE12Q6HfkW4u4W7rAIO7UPiHJcI6AVZoqfYSL/GZaq0h11Okn+6tjrzMDFcA616XY8PtUpTDknOpJojzAg22wBfaGa/HGogqtVfozGmTOSYMXedAsOlDhye28W/368hf/8MMzPj1vZt8WBQ3s8OTDsQ3eDPZePV/Hb94f589UxHt8cgD9PiX7RV1938+8XW3hwIZMzoz70VKly+Ug8l4/kc/1EHXdOtfPk4gC/3NnBoyNNPDnYxL3dlTzdV82xmlDuDmby7d58LjT50xS0hsEsLS5sC6KnTI+WQl3aK8w4tTeF+ydquLGviO8Ot8FXB+CH07y9sZOfbmzn3ok2/np2kO+uD3JkRw63j9dz40gNp3bmce1QNef2lnBzsoE3d3fz9vEBvr+zgweXB/nz1QnePB3n7lS/+Oe3zw/z+smY8DhIgvrTN4eEcEqvv788wvcP9oip9adnY3z31W6eXpOq8rp4cLGLI9sy2NYQwNRYEQ/O1BNiO4f9PSHsbvNjsNaV6nQ9zuxN4+pkAf/3426ef1UHvw1z4XCiELeBBhtBMxvvD+BwfyC7au3Y3+zC/3u0mWPdvhQFLiPM5H0OtnhQG6+GyToZKf6rRIXjWH8Q8cFrWb1QRlW+M48u9wtk5oGmCPrzXcUWTH6ODF15GaUpajy7VsSDC1E8vRJPS54a8Z6LSfVfT5Tr34zZTTEG2OvNxMNqIbGB65HQe1Ljj5fdIrTkP8TReA1aG+ejsGYGS+a+g67qEtFrameylrKcAFws16GxXmqWkYmbZWKIEcZqs7HQWoidwUrkF72DytpP0FOeRaiXHhrrP8fZVI5wTz10FT7HwXAZVlrzCHdXJjvSVDyJfrpkhJqQFmiEmdJs7LVWYqwwD2OleeREO1KU5EaIqwaOxqvwslHE3WYDWoozsTdei4PpWmwMlxMbZERqhBmh3hpEB+sTHqhLVKABkQGGRPkbkhJuTkGyA6UZjrQUe3LhYIWIM0q+CakuMs5THneDOUQ6KxDhoizgEX21YTy6NsCDq53cu9zGD/cH+c/bCe5dbmHqWAWbYnVID9NgU7Qu2RG65EbqiSFIuq8359sKIp7UTS3R8Z5eaxN5Zon1Pr4zlp19QVw/V8GlEyXs2RJPe60v2zcniiYgSRzHhrPFqXGgLYpt3fFcOFrPiYPVdNSHighnRYEzQ52xAts51BlDWY6dGBCHOiKFo1maXHtawpCVF/mSGGNGfVUwuZmOQlCT40woK3bn6uVuwdRNSzGhvzeOqYvtPHqwg9evJujqjGJysgL+O8XmnnA6WgNpbvChvNCOlhofdgwkkpdqQkulD09ub6O9Ooj0aGMhppnx1qTHW5MUZUpOsgUZsQaUZTuSl2hFW3kgRcn2BDnIEe6qKCzzX5/rEuteycyS6K8uujW/vbaD5jwX+socGe8OZKjSmZ4CeyLtF+FjOENMqdf2F/DwZDVHB2IZrnNnX1eIYPreudDE9XNNpEdri4yqBDGXqtv2dXlQELOeBO8VhNivEB2bUtG1BF9uKXYTU7H0e1JdLiPYcb1wxBkpforO2o8Jd1JlU4QliV5a5IWbUpviSFW8lbjn1sSaUB9vRIaHBB74mH3VHuySVuNF9kw0R9AqcTX152AtJ8NstQw3rY9x0PhA3BdKko3Z3R3Hkb1FoiP07YuTXL8wyK0r25ncUyXWtS0ZDmT4qJLouoFYBwW8DBbjoDoHs3XTMVr7MYqzpSleiZZcP/58eox/fXtS2OH58RzbKqMINF5KU6ojYZZLsZVKAjzkGSr3oSffRUyqDir/Q5DxF9htkOGm8S5tmcbUJKixvz2QC6NFVKbbMrE1l9N7KzFU+ATTjTOwUZ8rTD5ay2W46M3DUukT1BbJCLReJYrGh1tShPHLXWcRJivfw1NjDvl+2nSlu5IsBfkNF1MabEyenz6RVusJs5BH9UsZNkqzsVSYif6KD8kLMWdLbaS4y3oaLyDZV41Ip7VihVQaZ8TtI9UUR6ljriAj1mURSR4rMZKT4WMylxRvZXyMFmOu8CnG8tOwUv8Uf9vFnDmQT32BFcXJ2kidtKd2pvL4RDXj9YGc74rjRFUgx4u94N5uTuY6c6bIm3vdCfx4qIAXJwrhmwF+uFnHUKsjR0ciOTcZI8D1UqykNEuP85NVvH52QOA0f34xwteXq7lyLJPLk6lcO5bAhYP+TE36cGLEhV+/beTr81WiIk+KL3x9sps/7o9yvDeNyfYkHuyv4/6+cp7ur+DejlzOtoSwv9CKKt+lbMvXZbzFjpEOR65NpnDrZB4Xx7I4tiWROwfK4Okkf13fzYWBXI52pfLoaCuvb2zlr2dj/PpoDz8/2o0Elj++exM3jtdx+WClcEi//GoXr+7u48n17fy/t5d4cX+M51/t5fXjCX59fpQ3Tw7x+Pp2/v3mHG+/PYI0lf7f2/M8vjnMby8muXOhm7ffT/D6yX7xvLi3j7++P8ab+/t4dKmXiwcrmBov4+GFVs6O5HJgcwzfXu1gT1cw25p9qMkyoq3YhtpsY9F5LHXFfne3mZ3d3gy1urK9zZ2hRgda8vXZ0+bCRJ8fRwf8+fN+O1N7org5lkh1/DrqkxWJdvqMrHB5ChJVifX8kt0dPqKUwkjtPcy0ZqC+RiZue9vKfZDOHU05VtRlm3HpUBZPLxVweIs9R7db8fxaCkO1FoQ7fCkamYJsl9FR7MnYQDrFyRZYa03HxXyGKKt+/Ww7Pg6LUFvzPziZyKG7cREKq79g7dJpqCnMYeX8f7B++QdCSJXXfIC6/DQk44+d4WIcjJfjYLRSiLDS8g8F7GHdkneFicnPWR17kzWYqi9Afe10YUhyNVtNjI82FZnuRLmrEe2hToynBlnh5mxtSCEn3AbdNTMxlJ+D7rqZNBVGkBlli6vZWkLcNMU9NjbIjEA3LUw1F+NqpSDWyhJoP9pPR5iOgr3V8XVXxddFlVAfXZIjrMiItSUrxpLsWDOO7C4WXaojvYmUpZqSGaJOsN1y7NWllqiFmGyQYkWryYk1ITVci2hfeU7sz4X/PcmdqXrOHiogI1qNGJ+11Ofbkx2pTWaYtvDWSD6N3goPWvPtKE7Qpa1Igji4MtjoRW+9K8f2JXPlVDFjO2J4+8MO4CJPv+qnTdKnzSmMbs2hvzmCnvpg2msC2D2QiiSoknB2N0XQXBVAQ4U33c1hdDeE0FkXJCbUilwHwR3uqPOjoyFICOm+4UxkOemO5GY6U5znTkWxDy31YaQnWVBa6EpDTQDVlV4M9CVQU+VNc2MQV6a6ePJoN4cPVtLUEMibVwcF7L6s2JHx/fnUVbiTn2XFYE8sQz3xDHTGMDlaxuGRcko3uZGX6khOkh1FmW4kR5oKEZU6Mqvy3Kkt9BHZz0hvDTIjTYWYSlGLocYo2oq9iPZQwMdyKbGeKkR5qOBmMI8IhyWURGtQHqsn8pP+JvNI81YgzWsdQxXuHOoK5vJoOse2RgjBlL4Q/nq5R9jWK3IskAqgg8znUhYvcXelkui5xLgv4cTOfBqyXQh2WElGmAZ7Nsfy3zfHKU21oirLnm2tUUg8SzeTJVipz8ZceYZgvEY4KhJuv46iSBPBypUgCpleCgLX1pxiSJb7UkqC5Mh0nU+my2LqInXI89pAutMabORkwvBQGa1DrPMyvI1n4mr4KVWZlpSkW4mM3o9PJnhwYzfXzw2yozuTzEBtsv3UKAjVI8xqJUEWq/HQXYy9dAtc9xk6y97HeO30v53G8p9Qk+lBX3WkqB471J9HkOlq7Dd8jr/hYsIsVojScCfVTygI0aE0Up8U9/VUSZESXyViHZdhvk4meL/3j1eys8GP+2daxErc1WgumuL2NxNz1c/RX/cBcrNlaCyTiSyerfJ0TNe/L3pDCxOsaCrwJsZLBWfN2UTbrqV3kzun+zKoidBDf64MzS9k2K/9B4n2chgvk6G/7B/iCbNcS5Tt392tD4/38OL6DvTXyvCXMmteSjiof4qT5mfEOK6iPtWMVG85Iuzmk+C2klSvdSI/m+KhTEmEBS6a84WYqi6W4WbyBQcGo3nztJtTE3FcPJrI01slXD+WxtldUfw01cSrkzV8s7eQr7pT+GFbASfyPHkxXMj/nmzk+XgGV3eFcGZPMK3lupw/msb//b6Xe9eruH2xQgTKD+/K5sD2HMrznTgwkkVCjDytNUZ8c6uQ57eKmJoM4dJhL84ddOLyMV+xIr59ppTrx6o5t6+Mm5ONPDnfQXuOLUe7E7m0bRN395fxx5Vefr/UyY48K7ZmGtAQIcfgJh2GivUZ63RltMudPR1enB9J5+RQMheHN/HblWEejzdxY3sJTyYaeXy0mefnu/h2qoeLElbw91PcOdvI2bFCwWyW4Ck/PRrl9aMD/PzsMP98eZq/fr7Aj48n+fX7E7x9fpJXjw/x09NJ/nhxmt++kzKko/z07CBPb23n1aMRfri/hxf39vD2+UG+v7uTZze38fr+AR5NDfHL40N8f3sXL77eJVjDN0808s31PvF8e6OXqcOlfHtzM8+ud/Nwqo17F5q5ebqS1497+fX5IP2N9vTUWrO7y5PuClOq01XoLjFiW70tY90+7Gx04kC7J71FJkRYTcPP4B+E2Eiis4Rw78XU5xjiZ/Ep9pofiTxyVpQFkW6qoujAQeMjvE1n/p2T/nWE72+X05K9gnO77DnQY0BB9FzxJk269U6NVmCj9omgouVGG5AcpIanxZdorZdRX2zFP1+MiJJsc/XZGKssxEB1KetXzkB+6SdY6K7GTGuJmATzEl3EfVJr/SfoKX2Otd4i3C3lhZgKUpLSHPSV5yE5eqXpVGXNdLzsVNBXmoPBxjnIL5JhpDoLR6OlFKU6UZBoj5vZCjRXvYeR4ud4msphrb4InTWfobLkAxz0V2KrswRvG0X87DfgbaeAn4MyYd76eNptxMl8nXicLeTwd1EhzEeTIA9VvJwU8PNQw850FclRtmKiTgq3FBnXaF8NAax5cnWQy4erBYxHwq9KLHM/syV4Gi3BTvtLTFSkG606uQnGZMfq0FrhwqmxXNEEJWWV26vcaC93ZV9fvEhjxPko4Gsxn4oUc7Y1BYonJ0KNsf44ipL0RDtXXb455w5l89VUjejJ/vHZFn5/OSIgDbcvdpGbakN1kRd1RZ4c3JUnTHJtVYHUlXrTVOlPfZmPeJV+3FoTxNbNCQz//+5eyZQk3UmlYbGx0puuplA6G0OQFed5kp3mIG6mkqDmZTlQXuRJY20g5cXuounl5zdHhZBmpJlxYLRQVKo9ur9brIDPnqrj2uUOOttC6GwNIyvFhKIcO/o6ojk6XsnQ5iRuTw3w5Ku9TI5WMTpcTGGGC9GBeqTFWIiy6ex4UzG1poSb4GqxClMJbWe6TDjRQpzkGRvI4vbJNqQCWyPF99Fd+56ghyhJ3Z3LZajMl+GmOwtrpWlYKn5Egos8UtNJd4EN2yrt6MjVZmutGXs6HfnqbB7/+XknPz3fSkelI97Gs8gNUmZvixc9JaYcGgjjyLYEdjRFin5LI8V3aS50YUtzME1FTnhbLRD2bElYJRRigN0aXIwWEeuphqnSNMwUP8HLZDHehguQoAd+hnNE3rMySptNPmsZzLcQK6aK0LWkOX5Jsu0iQnRnEG+1CA/l9/DW/JhcP0UibRfibfA5wbYLyI3UYqAuhF+/Pcx3X+3lu68PcPJAo4j1hNuuEWYj6U6a5atNrJMKTupfYiY/E93lH6G7fBpaS97HWnkebvpL2N6YJG6bRbEWnBgupTnNC9XZMuwUZ5DgJMV5VmG34SP8DL6kOMyA/CAd+gp9aMtyojndHn+juYKe1JplzdML7fz5zRijvSkMNISKnODYYDad5QF0lPpRk+6Ar+liNoXpij8Pa5WPkQxT+bGmlKfZCRJMiq8ylbGGFAQoM1TgyEiVFyk28wnQ+phsNzkKA7ToyfFkoCSYBDdVJDHN9NGhNMKMsY4UqlPssFadhp/5ImE8kuz2rjozhZjWJptgtUGGh97HFEdqURlvhJvWTLQWyrBe/zlu2ovE3x0j+Xcw3ijDWEVGWvQCBrqMuX4+htsX4zm2x5OnFzfx1cF0GiOVOd8czu3OFHbFWZKwYRrFZouZag1hpMKEipgFnBsL5pv7Fbz5fjMvnw9wenITty828PT2gAAXnJ9sQG6FDFVVGX09bjy6WcSlyTBOjfoKfODJEUf2DxqyrUODsSEHrh3N5t7ZesEvfnqpi2uHisn0W8uwZCTakkx3lg3FARso9VtHiu1sqkPWUuK7hL5N2gwWG9JdoO50wnoAACAASURBVMeVA0lUJavy1dESru7N5+FEHd8f6+Sn030cb4rjUG0Y13bkM9oUznhXDM+vb+a3Z3u5cKiEi0fKeXSjl9++nxA9sH+9PsVvr07y249n+P31eX59cYZ/vbnEHy/P8frpYX5+doQ/X54Sgvvo+lax7v3pyQGe39nBn99P8sd3Ezyc6uXJ1QG+u72db67v4M2Dg/zx/BgPLg7yzfVhnt8a5s3DEd48GeXH+7vEXVYiB0ml0D8/2QN/nOVfrybEPe3/3o7x+lk/B7aGMtzqIqbSLXU2tBfosb3Bkb5yC3pKzBmssGN/hx/DVY6UhK0nwXEufiYfU56ph4WOjGjXBXgbTqcgVBcvo0UUxUmYO3O0pM/VEhnJQfKc3p8qcIkD9To0p8/j9rgbw/UaNOduJMz2C1HW8MeTMeoyHcSbcEe9mXhZLsRc/T30lGRE+qwUmUd7wy/QXT8NC42l6CguYv2yz1BY/glqcjOQJk1j1bnsGyzi3MF2bHQXEeSsgpPxKjGRSutdvQ2z0VacxaovZRhrLBDiG+yuS2lWABZaS/Cy2SjMSZbai3A2WUmA4wY2xdqQG2eLpcaXKC97D1OluSgvfg/F+e9gID8TE+U5Ipsa7KIqGmmkm6mfoxJe9sr4OKqKFa+1wQpSIq3Z2Zcv7rf+7spE+Ovh666Ot5MqCeFWZMU7Ex1gQqSPjhiMJJGUysqT/FXwk2D63huIdVegOMYCiUbWVxNDSoiRaL9JDFKnXTLzNPmzf2siDcX2nDyQR22BLRkR6uzojKS70odY7/UCki9hCSVTaVeZKxkhG4V5qShRn+IUAyqyjLl4tIj/fTPCv98e4J8/7uPWhUae3BngtxeH6WyIEGLaXO7HYHs0ZyfqhLBKm9KqQncxlW7pSmBzSxR1ZZ50NASzZ2u6cPgOtIcL41F9qSv15V40V/tRW+qBrCDTiYwES/raE6ku9qW2zJc92zaxYzCdzZ2xwuHb0RJBcb6zMCaN7M7n2tRmnjzYI1y/4/vyeXBniHu3Brk51cPonjwRr8nLtqOvK5FtAxlcPNnJg1u7hHHmztQ26koCifbTJj/Fjk2J5qRG6hMdpC0O2m7W67DSXYiU4wx1VRbRlMnhfJ5NDTBQHYy9zhdYqHyOu8kKrDXmkuJjIMwiG2bLMFw9DWetBTiozSTaYTm9xbYcHwzi6KAH4732HNvuxouvy/j9hw4e3qykepOOuKceaA3hzmQubfm67Gx1py7LEAfNT3AzmIOn2QJKUiyEmNZsshHvMktSzLglNRp0J+JhtoSMMCNGe9ORXMESDcXHdDlOmp/jpDUdD+1PSXZZJdB+vjrvk+O5mM40DbYXmTJS6UhpgCKJ1ovI91pPjMVcXDb+g2DjLwg2mUWIxTx8jWZhq/ohmUEanNtfxZ2T3eLmuLc3l+xwM3qK/PDQ+gIvvXnEOSoRZb9RrEGN1nyO9OiumI7m0g8xkZ+BtfIchmrjOL69mK21EVwcqaEg2BKF6TICDFfiq7cUD625Ii4Ta7+OBCcFIa7FYUYku6kQZbcWy/XvobFYhvEaGV1F7kyNVwnAfHaUHgcG0zk/XsmNE83s70sVDOMo57VkBWoIklKk0xpO7izkyeV+juzMI8x1NdnhKpTGqhNtO4eKiI0c7wzmTHcEl7Ykc31nHgP53nRke9Kc6UN1kjupXvq4ai3EdsMMPLTnE++uhKP2DCqTrbg8Vs1QdQjmCv+Dg+pHIrtqr/ourtofkCxFLhxXiDddzppzMVo9DZ2l72G2/lOac125PFnCweFgDuxwZWTYklMTLty7Ek1h8ly21ulzdyKNG8MJfD9ezq3uVI7k+/GgN5vA1TKag9azt8KAK/v94G0HD2/ncfxQAvdutQga2NTJWnHquHW+h5++O8z9231cvFDOtSuFXD+bxv2L6Vw/HsvJES8GmzWpzF5ES+k6tjQZcnRHKLdPFHH5YD4ndiTy1bFCSqIVyA9ezaWdSQwWOeCj9REBOh+Q7baUjiRNqiPk2VZixnCFBWMdHvQVm1Kfps1Xh4qZaIvkdE8aW7M9mOrN4e6OUg7XhvN0op4nxxqEmE6NFQtvwc0zTbx8tJOfvzvAP18d4ddXR/jl5VF+enmcn348wc+vTvHbj+f41y+X+ffPF/+eVl+f47+/XES6mz66OshfL4/xy5MD3DjRwp/PJ/jf7ye5f76bH25v58xIGU+mtvLyzijfXtvFreOdYkq9d76XH+7uFXdlyaAk3Zef3NjCyQNl7B/K4PrpVu5eklzB25HgDZ21TqILeWoim22Njoxv9mOsx5fBSiu6C83pL7OjKcOQthxz9rcEIm2IUhwW0JJuKDqSIzwX4Wk0TWxdOje5ig1PpIMSIbbrcTGYj7/dMs4cLOTtt1u4cjSB3KiZtGbOZ6xVkwenEnh+pYLNJbZIjOz8SH2Rd/Y0m4+9zuforJMR6bmGsnQT/OzmoyMvw053BtYaX6KxajpLZ8iYP12GlsJs7A1Xi8nTVm8h7harhatWaofJjrHH1XQdTkZrcTReK9a7jqbrhKBK9CRD5bkCIRjuYYim3EysdZdjprEQI5U5RHhq4WK6gihvLXLj7XAxXYXqqg8xUpqD0Ya5aK39FHO1BdhoL8bVRKpzU8RcYw4JwcbUl4SKFa80mZrrLMFAdR6+TioUZ3qSnWiHndkyXKzlcLVXJNTPkCAPXcK9DUkKsyEpRALhuLO3N5vmEh/GBjJ4PNXPSFcSkc7yhDvKU5xgy9OrO7h+opv8RAu8bZeQHasnQAsv7g7x7x8PiW7V3jo/Ev0VSQtRIzdGR0SPemu8BTA/M1yV9FBlNkVrC5hDVbYVdXk2gm+wvTuc66elOsN2fv1hLz88GubyqQbuXOphe18qjRUBXD3VTsUmZ6ryXMXT2xrN3q3Z9LRG0dUcQUdjCCW5DkJMzx6t5ca5dsZ3ZQsxrcy3p67YnfpiL/ExZLlp9uRIub/yQBoqA9i3PY8r57q5dLqNB7eHGd6STkyENscna9mxNZPaSl++eTzC04d7haheOt3ClXPtvPzmAD+/OCL+3fhIGdVlvpw53sbUuc0cOdjA2aPtPLy9l68uD9PTFC/s07lJNvw9lRoS4a+Br/MGcSuQjtwu5qsJcdlISpAOid4bRZ4yzl0Bsw0forvufez0FuJosAJz5flYKi9ixScy7DVX4G++Hu3lMjL9lJjsj6CvxIA9TSac2uHC08up/PSwnDMHwpjYHUxfrQ0Nafq0ZRjSnW9IuN00kry+JNB2BqGOixkfzKS12EeYCHKipbYaU3xtFmG88V0kR3GCn5pYN1tpzMDNeD4mSh8K96qd+iw8DL4U60apnzPNfS2hprOJs51LXbQiDXEKNMasp8BrMcX+60hzWkKhz3rSnZcTZPAZQUYzibZZRG6gqqg5i7RdKbKrA5VhHB8u5UBfHkm+ekQ5K7G7IYYcPw3SvP6e2uxV5qA6T4bO0mmYys1CbeGHpHib0l0cg5+ZHL4mK8mPMKGzyIv9HWkMlcWiv/gDgo3lCDOXI8h4BUkuG4mykdCC8uI1wVlZGJo89Rdhs/FTYWnXWSHDSXuGeLcZ4SonehClP5+KDCt2tEfQnOdEmr8yARYLsN74ITbKH4knwVNRmAjq8xzZ0RnOo8vtnNmbwVhXEN2bTGhJ0uF4ZxhXh7PZWuRNmocaSe46JLob4KG/Fs0lH6E4S4bJms+ItFMiyGoVTjozyQ0zoLvEh/xwfcLtVoopNMl9DZ7600T7zabgjXgafo65wnuE28oRYLoGF+2FyM2UIbGVt7cHcWYsgTtTKWzt1qa9To4bZwNJCf6QoVo93lyt4c/rHYwUutAcoEm08mcib9rkp0K170oOt1rx0+1N3D4bRXWxIv2dTvz16zhHxvI4f7yWP18f5+hoCXu3pPHq291cuVSGoa6MQJf3GO135vB2T87sD2Ri2I3a3LXU5cpTkSFHXY46VWmq1GRoCsh68yYtsoMWE2j2DpO9flwfyaYuXo/aWC36cizYUmBJbbQSffmmbCm1oDPHgL4iS+6M54soVnW4Nr2p9hypjRHs2Z5YSw6UB3J5KIfvz3YyXBPAWF8id0638M3tIf715oR4J//i6ejfRQ3Pxnjz8ghvXh3nxxdH+fXVaf54c06I6X9+uYD0/PHqBK8e7BNiKoFPfnqwj1df7+I/Pxzh61NtwsQkTXDHh/P47toOnk1t5cp4s7jj3z/Xz43jHXx1frOYan/9bpL/vj0Pv18Sq+LLx5u4dqqVkwekibmfry61sr07lJGBSE7uSRZvhif6ApjoDaIlQ4faFG0GyhxozbKgOk6Hg21h7CxzJ8VuITUx6nSX2hDrtQRrFZn4ujFeJaMrz118vW0KNyLBT0Nk289NlIiV8o2TaYQ5yYh3kaoCZSR5f0q81xwctWViijVR/AduxnMJtFuBidJ7eJjPx9FghqgHlL4+HPS/wNd6pTDqKS/7gI3Lp6O07FP0FOeiuOQdNNZ+gLX2PMzVZ+FiskwIqrPRKqy0luBuroCTsTy6ShKZaClqcp+xccVHmGsuFvVtLqYKmKotxkp7BcorPxaOXwksIwEcfGwVkKZOaY1rsGE2aqs+wV5/FV6WilhpLiTIUVX8HCkSE+CshKuVHJuSXEiOsBGrXg+bjYIbLJGXTLUWYGu0DGertbjarMfdQZkQX0MCPHXxd9XB31mTQGcN0qOsxL1W6m2tzHDg6I586jKdcNCaSaidPG5Gi8mPs+Di4Sa2tceKmJiTySzi/RV4er2X/3tzRPhFipJMxKlNckhLtZYZYSpkRapyaFuyAGWUZ5iSF68nYA6FSYaiRPzlgx3s7I0W8cyeRh8GO0J4+WQXd6/20FDqSUK4DmW5zgy0xlBT4E5Jpj35KVa01QYzvrtQDJMSGXB05ya29iYytjuXr6/18eLxbu5d28yR0TwkJ29lnhO1hR7iY8jKct3FLXNTijUN5f6M7Sri1qVevns8yttXx9g1lC7WthJuMDnGgKpiDx7e2S7E9eHdnVw81Sr+x1fPd3H9Yq+YRPu6kqmuCGD/3grOnepmfKSKsd3lXDnbx9SpLhHvkIQ0L9maojQrClKtiQvVE58cK8MVWOj/zayU2JUpAdr4mi8SYtpfGUhJvBX2OvPRWvux+AuhueYLlJZMR33FTDyMN+Cqvxp3g0XUpJqzu8mDrdVGNKQvp23TKrrLFNjaoMfpkVBeP2rn6PYoYh1mE+84i9okJbqLDBjt8uDSeDo/fj3Am/t7CbRfi6PhQhHNkehHKWHq2OrPwF5aK2vOEutmCc3VUuhFaqAOBuumobPyPWxUPkNvpUwA6Pc3R5DttR4/3Y+oj9lAY7wi5UHLyXVfQIDu+wTof0SEyQzibReS5rJK4AYDDecSY7+aOAc5Mn01iLRXEC7h9rwAkn10xMo22llJ/Dep6Ls7z5cUd01indSJc9LB10gRrcXTUJv/EWUxnlwb20xjhkSVUaI915Mbh+q4M9HMeOsm7BTmYLv+C/z0lxNiugY//SUEGi0nwHCZEFEv3cUEGK8k2mEjbrqLMN8wHc1lMkw3fsTxXYUicD8+lE5Vlg1S48+e7igaN9mRFqAkeL5B5gtEjtRK6QMqksyo22RPmNtKmsucBbf10qFSTu5IoyhCmXDTWdRG6pDjpoiP5jys189CfeE0NJfPQmH+NHRWzcVY/ks0F31IiJUicW4qWGz4CBO595G2E9rLZOJNTLTzSuI9VuGo9S4VSTq8vtPLk0stdBV7UBxrQpidHM46C8QtWW2ZDLm5Mmz1ZOzqdWBkq1Q3ZSCEsb9am0M9buyrd2a0xpMidzm2Z9gTpzWTlgAN4rSnU+W7jJM99tw6FEhvrQqNpRu5cCyd//w+zvXz9Vw/18C/3x7jnz8e4tKJKg7uSWX3UAgxIQvY1eVMd7k+pSlr6KnSZ7TPg6YCTQrj5egsM2JLvTVFMWtoyFIjL2w5iR6zKAxfwa4GK25PpDFUak9buhm9eTb05VkxKOXu8i050OLH0c3h7G/249aBXMaaghlvCOFsZwLb0h05URtNhtly9hZ6c6kvg5PdSXxzqkNEYK5M1oieWCnuIjlvXzwc5eXTMV5/e0h8T/jt51O8/ekkr18e46+35/nt9Sl+//EUf7w5xS/PD/Psq+1CSL+9uZX/9/okr+7sEA7gJxc2/11jd6aL3++OcGFXCXePdXBpXxX72lMY6Uhl6mAj9873c2GikfOHGoS5SbrR/iFNwT8c5cWDER7f2MbWjng2N4Ry6Wg9j65tFv21R4cTOdAVRE++CXvr3TncFURHtilNqYY0pRpTGKRMR6opR9vC6Ek2JNFyFjm+q0T8pjbFGClSt+4zGe35DmQGb6Q200acI6x1Pic+cAN99a5MDgfjrCvDQVNGZtBswpw+ZM0sGapLZRQlqLGzLZQj23NFxM9Y6UP01stwNpot0ghfn+0hN8YCT7OVeJmuws1oNSorPsFwwwKstJaivuoDvK3XCtetjdZsHPXni8SAkdIsMZV6Wm7E3mAdlrorMVBZgOraT1Ff+6n4PmiwYR4mKgvRlpuNq6kCzqbrsNZdJiZdc60vUZf7CJXV7+NhtV6sgFVXf4Lu+i9wM12H8cbZAkOop/gZzibL8bSRw1JvkZhCPR2U8XfVws9FGxcrJexN5XG2VBCr3wB3DWE6ksTUwXI9kUEWJITa42KxQUzQ3rYbiPBQJ85PC0/zxXiYLiTcUU5kzqXtnfT90lF/DhUZtpSlWZMepkWotMVzXc2F8XLuX+hkR1uMMIBKzWBSQ1hOlAZNhXYkBqxhR0cgU5NlTOzKQCoNbylzY7BFgjJU8++fjwuc5b4tSQIPKPF3J0fyeX5vJ5dPNpOXZk1Fvis5CWaUb3KgIMOWwc54tvYkiXtpR2MYrXXB9LRGsHtrBqcnq7l9uYdn94Z5cncLJ8aLaK32pjrPleZSf9oqgpBJOCgJUyUBi5urgsQHvHiiRQimxOqVWmUGu+NIizcmI9GU0Z15TJ1p58rFbs6ebBY/HuxO4NLpDu7f2i4m0WuXtrB9KI/ifG/6ezKYPNjIxP46zh/v5MLxdgY7k9mUaE1jqR899SF01QdTVeBLmK8O9hbrsDWTw8ZwpfjE2mjMwl7zMzFx7GmLo6PIj2AHRUxV5qK9fiYKiz9iyefSN8J1gpUb5qQuVgjG62TEOs9mf4cdW6s1GK5VZ6hGnYsHQvnx60aeXG6grdCSNM/F7Kl34scrdby53cjVgyn88rAHfjmEND3pr/8QD4tVPLu5HX4/yzd3+gWHMdZbmUD7dcK9WpbqCG8vc260RhBFfC3W4WGwCGetGViu/x/qE03J9VUhz3c9QwWmDOYbsDlNk4qg1fhoyvA3+BAXVRk+Oh+T7LSSMPP5WK97F4NlMmwUPyHIdCX2KrMJsVxHsMU6MVEluGuS6qVDhM1q0r1VKI00J95FjcJwG0qjXAiz1kBz0SeoL/gY1S/fF2Qfa6XZOKrPJtNfi/YcF+Kd5Ym22YDTxvk4Ks3FTX0+4RbrCDVbTZxkQtBZSJjlOiTHrXSHjXZSIcRWAUuVWRiun4a56qfs7Izn9GipENKEgL/LuW+eqGV7SzBuBp9iqfAOjmofk+SmgP4qmWAnS41AZelmVOZY01LpS0GKFXGeCuLnhhh/SazlSrRmybCRn4W14lLkvviQjYvnorRkLooLP2fljHdw1l3Dj7cmOLe7lmRvTboKAhhtT6Uh3QlblY/RWCIjwHIWJfFqRDjNJT9GiS11btw8Usm/vhvn6LZcPE2XoLP6I7RWvofJxndFw8rhXcHs3+LMcLsxQ02GHB7wYn+bG6MNPhxqDKYv1YorfWmMl3hxvC6QMtcVDKZqMlKtx/F+a+oyl5MZMZc9/b68fNLPi8eD3LxYy73rLQK3d+pgHi0V9oxsjeDYvnj29XiQ5DeH5kItBuutaS82pSh+I2FOc+irtGO4wY7BKlOaslXpLTakJHINhWErOb8rXJww+gttONwZyeVdmZzfliJer+7L4drIJqZ2Z3JqIJErO7MZqfbnyVgVPQmWlDgrMFkSzA+j9UxtTudMTxpnB7K4OVYjpsYXd3by8v4IPz4+IEhFb55N8M/XkuHoHH+8OcM/fzrF77+c5p9vz/DfP6f4/c1JfvnhCL+8OCwgDY+uD/LtnWF+/3YMfjnNw7MdXBwtZ09LDCe25PD9xX5u7K/h4s4Sbo3Vsb0mjN4iP/a2JHB5XOpj3cbk9iImd5Vw83Q3v3wjmZpO8qvk+n06jjSt3jrXzfXTbezoSRANIj9InNWpFo4MhFMaIU/PJiO6c4ypT9ClIFCifClSGKBMT5o1RxvDOVobxN4iF7rSjGhINODBiSZ+vD1MWaI+zXkW7O0O4ebJGsqzbHE2+xI3s1nEeC6lt9KcCMePMVeREec9m5yoZQQ7f0BV1kZOjsYz1OxDb42/YFS7Gi8UK10JPGOl8RnelivRW/exiNU15/sLRrSadIZZLa2DP8dW60u2tSTyzbVt5EQYYyD/oYiX2Wouwt9WFXfzDTibKOJtr4mx5hI05L/AYONcIcTm6kuEMKss/1TcYrXlZ7Fh2ftCOG30lmKjvxjNddPFStjBaI1YB0srYWk61ZWfgZ7iDDHBSrQje6NlWOguRl9lrqAzGWksxlhjmXgs9dbgaK6Ap60y/m6auNlvFJOptckagn2MyE32JSPOlbgAM5yl7Y/JcoE0jHRXwlZ7Jgm+qnSVBBDuoIC/5QqqMhwIsF+OqcoHJPgrU5hghLQiL022oKcygKIEM2E8lRIVUR5yZEWosacnnG1tPtTkGnNsJIu7V9o4c7BIEIzOHKzk2EgJ96/001HtT02hC03lXlw908T5o9WM7cgRYlpT4k51kQf9rZGUZtuRn27DvetD3Ly4mcJMO4o3OXJopIiW2gBR/nLjYieP7mzhu8c7eHpviGMHCmgoc6OrVuLyRrG5PhKZFFdJjTQkK86Mylw3Giv8OHmohkP7CsVhVcrY7N2WSUWhG3kZNhRk2dFWH8K1C92M7y3i1ES9cOqO7ynjzJEWLp/v5/hkC93tycRGmtHWlMCRQ01CTI+NNzCxr4Kh7lTh3h3uTuL4aKlYfx3aU0ldaShB3vpCTKXDutQc72W2nGDbFSR6bCDWbT3uhgswUfoMnfWfobnuc9TXzxBluraGq1Fb8zGBjhvEJ6AgRp0Hp4uYGglhZ4Muuxt0OdBhxY2JZA73RzDcGMzU/hK6NpmLarOXlxoYbfclUureLDTm/IEcojzXkR9nhY78RziazOXsRBn8dUxkoIY7Y/n/aDrrqDyvrG8/9aZp3EggCQnu7u7u7u4QCO7uGkKAQIgSIAYEEuLEXdpILZVUkrrMdNqZzjfvzFzfuk/f9497QShrRcrz7HP2/u3rivFVE6dM400ywp03ibZFiL2KAAD4m8mR5KEsEH+SycVP5w0y3NbSma7LngorJmocqQlfT6zta6R5LifM4hVCzV8nyXk18U5rBcnIfrMMB+XXcddcjKWCDHedpSKlm+Suw97GDPY1pZEfakC2vxZFUeZE2CripbcGO+UlOKmvwU5pFc4acugsl2GntIgg8/VUxtlxpDuNRyfbOT1UQKTVRvz11xJmtoGCYDP6CkPY4q8rbqXpHpqEmK8TM0opGSwBDsIcJTzgOkIcN2O0SUZneSBPb48IU8b8ZCWSd/DJlR4uHS2js9iFANOF2KvIiLaXE23e9AAVttf6I7Vj/BxXYWO0FHuTtRhskGGt9BpZ3npEW27CZt0bxNjo46qljPFGBVTXrERp9VJ0FVehvuYN7HTWMFifRkmsPR66SxmpS+LOdDdHtmWJGW1FkhH724MZavCgq8SKHbUOjG8P4dRoBpeOFjPSEo6k0tu8SCaQgn214dw718y781WcGovhyZUyTo/GUpuqwcn+OH57NMrJrkTOb0/lfE8iZzqjKHBZwVixPRe6/TnRacOnF9KY2mFPoreM3Bh59mwL4PGdVn77YYJ//HyIx3ea6a53JStaia4qR07sT2JblQXtxXriRjrU7MiWqE1kBG9EErTvawtiX6s7x/r82V5izHC1DYPl9rRmGTDa4s5osydnh5O5NVHMnaNlXNqfy6mdqUxtj2d/UwiDpR6cG87i7GAmz0538tutfZxtS+JyZxrnG+L56lgrn0y388V8Pz8/GOfyRA0fXB4SYSBp5eWTdw/z64sr/PHDLf71813++PGGuCFKhfUfP1/lH3+5xh9/vc6vP1/kl2/P8uPzk3z3mUQ8OsxPz6b545szfHprmHfOtHH7eCOHu5M4OZjLrYlaZrdn82CyhUczHYw2RHNqZz63jzVxb7adz27sFRmEO6d7hKD6//10lX/9fI1//nhFFHlpN/WrJ0f46/PTPLy+nZtnG7k8XcKF8UwuHkjiYJMLu6vsKY/cRGGQItXRelRGGDBc6MeF3i2cbE5kviOVzydb+ePWXp6d7ubedDvnD9UKgHphiiYjnb788Mk+BjuiqCt0ozjZmEiXxdRmqNJbZU6g82u428goTJVn6oA/H90v58mNcvLilbHVleFq/LagDUW6bxbdrUB7BWGYkohb0g52WpA+XmarReJda/VLmCsvEH5dyeLy+7M5esoC0Vkrw0BBhr32MjzMNuFpoYK/gy6ulsoYqi8RxdRCYynuphvwtVbF3VSRMFdDor1NsNNfi4HSm2J2WpLhzdyRTloqY5FCRD4Oavg6ahLlZ8aOxiySgyzwsFwvuL7SfmmQi7pYgQnz1sfORAELXTmMNVZhpa+Ao5kSDqaKeNioERVgjp+7FqEBRkQFmxMdYkVhRhB1JbFkRDngbatEsLMS7uYryQyXyFBaZIYacKA7g5nhUg52ZTE5nCdunl7mi8T4R0Kn1mbZUxhrQnuhD7Hum3AzeIsIVwXR6k0PU6IgUZMTo2k8shmY7wAAIABJREFUe9jHR+/08fOLST59OCIK5pG9+UzuL+Hda0OiozLUlUROognXz3bwx08XxdqLxDWoLXIX6y47u+LFOsyZ4/UC1CBtnkjz1N0D6RwZLWJuqhYpF3R2pp7LZ1q4er6F08crhdNVCiJJHRJJV7etLhKZBCWWbOzSk5NgRlNlAOdmGxnaliIiwRfn2gVYoTDLkcoCd1HBGyslH2ksV0618uTmMO9cGWR851Zmx2u5ena7uHkePVDBpVM9tFSHMdCVSm9rAsO9mQKHt68vg73bU5kdK+XR9UEe3pBEwxOcmmqnrCCIIG89HMzXIrUnHA2XkhakS0WKrUjXSoEACYllr79EFE/V9TL83dRxMF2Ng/EyEcV+cqWP5+8Mcf3YFmYH/alNXUtbjhJlsWtFEONIXwJTQ1s4tbeAvhIXUVC7C2xJ9FiG+WYZRQnKnJvIYV93NCWpVsK6oL1eRkWOrUjjXTlZwzuX+wh22SBOmgFSETNbjYvBYoKtFfExXUNeuClFUabi9ietmURZrMR+vYxQQxm5XssoC1xLhvMiwsxlbAmQWrqrSXRbSozdIpKcV5HlrUiQ0Vv4aC/AR3cJrmoL8dJZhbf+OoG7G6hMYnJHMVUJluLWVxRuiqvWYgxWyUQxDbZQxUF1BWYKC7DYsAA3ndX4GktwCzvGOzN4eLqHK2O1ZEmxdyN5PLSWkeSqzr6GJKoT7PA3WkGoxVo89ZYR6aBEvKsWWyNsCLLdhI+5PEWJzrgYLuOze6P8/vwMe7oS2CdFxhsCadhqJ9pktenmJLlLv6c+iW7rsFOTUZ1mxcXDlQIKUJhijbrCy+grL0Z73av4mm8iyGwzxqteESxeOyU5bFQ2Ya+tg8badeht3IjR5nWsf1uGrsKrBDsoCYSjkZRq1HgLb+OlpEjpauvlxLkrsLsllN5KF6qlwE62JhM7/Dk8GEZ1lj6ZoUpIs14r1Tcw3fQq9tpvCJKTvUSkitnM83s94pbTnm3OnYky/nZ/jLJALX69tZc7ewoESL4rUYfpei+eHs9jqtWG6W4b+ss12FlnIuTYMwcSuHwilw/utzA1mkBbtS1tVQ4khyjgZ/s6krS+vdSSK9O5zB/N4Mr0Vm7MVAtwwfXJOk7tyub8/nT2N7mK7sm+Whc6Mo3ZWeLAnmonTg/GMtefyJH2CA7UB3CgIVg8U9sTubBvKzcnyvh0voePTneKtO7FwS18OdfNeFkgcw3xfD7Txa/3xvngbC9Pzm3n4qE6nr83ydN7B/nqg+P88fMdfv/hJr9/e52/fX1VBIz++Zeb/Pu3u/z9l6v8/M05UUR//eECf/3uLD9+Mct3Enbwk2P88NERvn08xr2TrdyYrOP2ZD0nB3M4N1zAzfEaZrdlcbo/j7m+HCaa4vjoTC+3jtRzuCuVuzNtjPWkM3+knncu7ODZ/YNcmW3j8TUJ7LCPp7eklZkJfvv6DN8+PST4t8eGEihNVOfY9hB2lluT5bOMqhhlOjLN2LbFgbYkW/pzPNmbF8jR0hge9FfyoL+ciy0Z7EzzoD3FnTN7ynj3fBtpYQpIhKMdja7wj6vcPddCZ4kjTjoyopxf4vTBOIY7vRjscmVmLID7F1M5fjBQQCNyYtUw2izDVFlGnI8G0Z6bcTddLADzUntXshPZai4R4JfUICNiPQ3wNpfW6+SIdFVhV1M8//zqPMcGcoXE3kV/GeHOWlioLcNUZRmORopob3wbZ/PNlOWEkBfvipnaImx0VuJsvB4T5aXio4+diiimuoqvCLbuYHsmIZ7aaG94BUnzZqmzDt2Nb6G74Q3C3HQ42F8qkIG2+itEbkVagfGw3YyDibxQw5lrrxZF1dNOgyB3QwLcdAnw1BWF1NFmIzGhliRHOpAe40ZckI2YAUtQCmlUF+OnSWKQpuCsZ4TrEOywllMHqvjt83Pw+zt8evcAJamWBDqsoLcmgJpsB3IiDWkp8KU+y4MYt81Ee2wUISTJAZ0ds5mpfUn859c5fvn6GD9/M80//nKW7788LtK2U6PF7NmezslDUhcoluYKX4oybRjdmSXmpdKvpb3SijwnRnqTGd+Vw+Nbw9y50sepqVq+fXaCy2fa2bUjlaePD3LxdJv4+s2LPVw738n4nlz29KVwfLSE0R05bKuNFqucso6qSPISbdiaYsOWRHNy0yzoaAhhW0s0tSW+TB6sEsQiyVlXX+xLY4kX9cWudFR7cGo8n/tnmjnSl8b28mCOSG682S6e3tzDjRNNPL01yIFtsXRWeghwvCQAH92eyp7OaPZvixYL8g+u9PDe3SE+eTLG4zv76GyMw8txE3ama/C024Sz2Rohv3UxWSZONyUpduREGYkfUC15GWYab4vvk/Bc5ybr+PWLkzye7+byoVJatphTHL2RLSGrCLWVsTVqs5BGV2dYsqsjUkilpdmIBG2oSjMlwWstu5oD+MunB5g9kExNrhFV2eZUZdviZLBQvED8beVE/3+wKYbydEchlA6xUyMvwpKcUGOqUx3FGogktfYxeIt0T2WKQvQIM1lOoN4CAvRexkeCvm+QiVlpts9qUVCLwuRpztAh1l5GvOPL1MRtJsNjKWEmrxFusgQ/KY2rsRpPnfW4assT6axHa16w4OlKt9kE+/VEWG7AUWkJpmvfwF5lKZ6G67BWfhtTxTcx27QAJ51VWKkuJDvMnL6aaHbWxZHkoY+f0XoRvvA3kSPWSYUQq3ViBhnnooy30Up8TdaIYuplsJotwVa05AQT46QpQl+nDlZz6XgTe7oSGemIE7fOzFBlPI1eIjtwI5VJOqT5yhHrvAwptBRkvZQIp3W0Ffsy2JiEpeYKjJSXYay0Ao3Vb+Csq4iV6ioMFBZiqbwGZz1NzJSUMVBQwlJFEw9jA/TXL8ZaYyH99YmEOGigr/AKZsqvkCHJDvxVsdGUIY0HpENYVqgWGSGKSGScQzt92NftzNyBeOYPFQhFm7XGS+IQ5KD5JoGWqwVcvSzWiPfmmjncFs7stkT+9f5R5roy2ZXnz/MzA3w01cyD0a0crvUUieyjLR4c63CmY8tmOrduZnezKVM7fdheY8m+bl+e3unixfsjwqT0/u1esmLVGNkWzLZGd57c7OH92308vT/IoyvdXJ6q5upkLVeP1nBq1xbG2iLYXeUpCujuUgfGaj3E73miM4Bjrb4cqPbmWHs0+2sCuLq/kJtjpUxvS+T+ZB2PZpu5cqCY6wcruDBSwLOL/Xx4uls8F0eK+fbWPn779AQfXNuFxMj94O4Bnn88w/NPZ/nmy9P87ecb/Pbjdf72/VV+/e5/V2J+vMIv31/i2xdnef75LL//dJFfvzkjVmdefHCYF08mRNbgq3v7eXZjhCene7g31cyVg5Vc2lvKhZFizg7mc3LHFk705XBmYCuX95RxtCOFS/sruLivkgPNCZzbV8GdmQ7OHawSRf76VJNozV+ebODpzRF++WSGb987jDTffe/qdj67M8DFw4XsafVjR4UjfWX2jLcGcqg1hB25TowU+tMRa8eJmgwO58XR4m3LqdIsdgQ6UmWvQ7GjJv2Z7lwYyeH8vgwmekO4eiyPOyfK6CqxYbjelfpMTS5OJDCzN4jGQlV291rxPz938uL9Yh5fKSMxQB4rjVdwNVmDm6mcMLBE+0qrKutw0H9ZhI8kIbiz0Sq8bRQFmD4n1g5f2/Wi22amJCPaRYlHZwdpzPFCX16Gu/FaQpy0sNGWw9VMGWczZXQUF2GhswZp7ikp3Mw03xJoQUkM7m2jKsJIJmqLxIqNlfZCTNVfw0BJxqaVMnQ3vIqx0hK8LbUx2rwcNbmXBOxhoCOHYA8tIv30iArQJcRLHQPll7E1WEagi4ootJZ6ywj20sXfQ5uYcCtSk5xJS7InOtyEiEATMVNNDnMmwtOMEFc9/BxUifDWJMRjE+lRemKG2VTiToK/VBw3CO75+aPt8McHIg1rbfgSlXn2QiYiYVv9rBWI9dAmzl1V6BXzE3SQktdV+cbcv9rEh4/6+ebLw/z+6zlePDvCV58e4quPD1NX7C7sZC3lvpRl29PbGM5QZzw1+e4CcbitIYLOmiDh0W4p92G4O5bB9hiBGPz8vQlxQ33nxjBHD5SIZ+9ADmMjBdy7uouH1/cw2JHC2GA+g22p1OT6UpnhQUthMLLSTDexD9RZG05vUxS9bVG01wdTkOlAZ0M0aTGWVBcGUJkrgRXC2d2dRFWuLc0l9tw9W8fB7mh6SjzY2xBNT5E/rVs8uDXVxPx4IVODCfSUO9FZ7CxO22dGSznSn8784RK+eNAvwNvSm8jzp+M8e2+UybESMuItSI02R+I8SgVV4lA6mcvhYroKL5t1goxUnGyNtMPlbroUb9tNAq/lar6MwbZIxneksrM+iIFqf8rj9Yh1eZsI+zcItVtAWoCiEIi3FHtybCSDB/PtNBW4UJhgJlrD5Wk2XJmugz+ucfdcDfu3h5Ebqy4SvK6GS3AxXImv5Z+nyOxIUwFsiHHXQXOVDGedxYTarqMwyojKJEu2SyJeLyWCjBaR6alMhNlysj2V2eqrSqT5QgL1ZVREqpAfIE+K6yK2F5rTlatHutcbFEesoCNHjaESM5oSNUm2W46b0iu4qyzBU0ceG6Xl2KivELfEKNvlxNguJcVZiXR3ac6pgavGGpy1JFTYBtwM14g2kenmt7DVXC6WtBN9jajP9WNHXQIxLjq46crhpLGUQCsFKhKdKIm3JchqjQDBS7JsR42FuGovozjagZwgS+JctNnbkEWcm5Y4mX3x5DDP3h3n0eV+rs82cvVYlfBR7ih3Y2eVKxH2bxLlvJhY99XsrAuhs9iHOC91URAtVZaKImqruRFnfRUcdBUx2bwCW205tNe+iZPOZuzVVTFdvwnzjUqYrVdAc/nr4kZak+mDn6UaGWFOZEZYEe2jiqSastd9E3cJu2a8QpCNJIj8nk5vOsoN6SgzECozyav492ezYn83L8aEeA81sfJjIiejLcuNnaV+HG2P4bd3DvLjjT2caM/m3fFW/vFgkivS7WpPDlNtgVzdm0ZXrgGjzc6MdzqyvVSLxpyN7G6xYnyHN0d2hvPkajvwgNF+KTDTysMbXWxv9REz1Mc3t/PO1e3ckw6Asw2cOFAomLiS1H6iJ46pvmRmdyQy2xvLqb4YTvaEc7DKmW0ZunSl6nCsNZS9VX7cGC1mqiue2d5kvr87wrvHGxlrjRbAjU+vDMA35+Hb83xxaw8/vX9UwAXunuzgh4+O8/H9MT68NyqK6I/fXOC7r8/x/Tfn+fUXaT56jd9+uipmptK89O+/XOdvP18TqzE/fnuO37+/IAqphLz85bMZfvjwmCAlScD8F7f38fHFAd6d6eD6eC3XRqu4eqCS+ZEy5nZsZbo7SxTVw21JHGpN5NpYDXODBcwNFfLFzf08PNXLyZFirh9r5uGZ7bx7dhtXjtZza6aVT26McO9UB9en67lyrEYcoKX92Ifnm2krtCHeYwUt2Wbk+Ciw1VuRcj9t9uQGcaO7nPmGIo4XZvOgs5nTeZl0u9uSrLactjBTdhW5M1TuTFehFRO9YYy2B9BbaselsUxGGpw4tTeCa8eTmOh3oKdGkfevR3JoQGphLhRtWTfj1cT7mpIWakmYmxKR3utJCFhPe7kky7ASzlMrTSlJq0y4uy6ZUZY4Gi9DZ/2fIaYYV2XmxxspiXcQ7yte0rzSUB49xYVYaa/Fy1ZLtFitdeRQWCrDSP0tbI1WYaa1DG3FN3Ex3US0j7lYlYn2NSDCU4O4AF187eWx0FyAucbb4jbqZ62Dm6mymJk6m67F10kFVyt5vB03EuC8iSCXzaSEGBDouIGZ/VUC+iCtK7ZVRuNstQ4HK3mc7dfj5aZMgI8mmQnOZMe7kx7hirPJZtwtlInyMSTaT4eEcD1SIrVpLHVnW32A2BnNjzcU2Ng4fwMaS8JoqQgiKVyLqnxntiabi02OGE9tXA2Wi3VDyV/dXGTHpeNFTB1M49xMKQ/v9fHiyyN89/Vxfvx6hkf3hrgx30lXfTAZ0Xrs3Z5CcYY1tVtdhQ+1KNVKfC4VV0mcIiWIhzqiKcmwFKzd89M1fP54TMz9zx9vEJ3YfYPZNJQHiPHkhdluJoZLGOrMpK8xifr8AJryAwVRqibbG1lOrA2d1VH0tyXRWOpPU2UQ29vikVK+EvavKMud0hwfGopDkcDqkqOyvtCNnnpfBluC6C7zpCzRlJmdeUzvzKU514mj/ckMN/kzUOcpim1FiimVybY0b/GkeYs7/dWBPJ5v5r3rbVydq+bxban3vZuJkS3CkXfueCfffHKemsJg7E3W4GAqh6eVApZab+FuuhzpdupjuRwJ2uxnp4KRylu4W64Qap7x3mR6K7xpzLamp8iR+gx9Un2XE+m0iCQfBVoL3NndGS92knb3xIvbpRRoSvDVJ9BuI9VZnuzuSBI7kLH+G0XrwVLrZfysN+BtroiniSL+1sp4mSmgpyDDUELkeWiyszZWUD2ctV4W+6WSTLgyzoRk5/V0ZruQ56tOYZCmSOtme8mR7bWKsghF8vzXkOm5jB2FFlTFKJIbuJSWTFVKo9bQka1Fa7oOqS7LiTBfQryECTRYg/G6lzBUeBVXvaVC8h3rsIooa+lmqkKwmRquWuvw0Fcg1l2fQFsVbLSXo7X2FXTk38Bo0yLy49052FfCpWPd9NekkRvhQH6kPYVx9rx4cJTP7hykJMGaEAcF4j00iHPXwEZlAY3ZgQzWpBHvrs+O8iRi3LVwM1tFW0UwI12pgpksuWYlsXteuDoJnnKk+8qT6b+emnRTTDbKCLZZISQGw81JdJZEYrF5KS66ijhobMRi0xo89DbjrLkWTwN51BbLRIDKSU0BW8UN2G3ahMGKZWx4SYa3wQb6ylPJjfDi2FA7x4YbKU3zItpDg1gvTTHLlm4J7iYLcTJ4iQDb13ExlAkzy/7OMGrTLTk+lCt2XrMj9IjzUhWc3+JYS3ZUBNGcYUN/sTt/ezTOR3NdzHXn8vGJHfx4fZTLwwV8cLyGyfZgcSCqTVBnui+Y/iozesp0Obk/hIcXC7lzrogfP9vH3Hgu9y91cOd8OwUpxoI9+vVH+/nq/T1ij25/TxwdFZ5IO3J7u2LE3E5q9753uUOg9D652sn1w/nM7IhmrNmH/iJL+gtMGav3ZKIphLkdaeK5c6iC72/v4sFUrSikkj3puwcH+PeLM3z/cIKnV3fy8GyPKHbS59INT9rnfP7hNN8+m+Mv313k15+u8suPl/nLT1f47a83RDGVCuo/fr4unv8rptL3/e3HSwKNKNGN/vLFnAAtSOGl5w8O8vG1YZ7d2M2zq7t4NLeNm0eauDHRwK3DTVwba+DsrjJm+rZyeW+lKKrHOtI5v7uMibY0Znbk8+H8MCeHS7g72817Fwb46Oouvn9yjBvTrcwdKBfdLwnkcutkGwe3JwuhtDSWuXe6kauTpRTGaGC2XkaM7RI60m0pD9SlP92Lncm+nK/fyu3OembyMjmemsJoZDDlVhr0JzlSFaZJa6YxHUXWnNybyvXJMj6/PcCViUKSPZeJ9bmRJgseX0jl4DY9rh635+JRZ6LcZaguk+GouwgnvdWCMCQxvAuTzJA8urVbbJEO8VLr18VkJa4ma0kINKE0w12ozrKizEgJ0EVaq8uLMCPCUQk3w1VIxdTHRhV7AwXU5F9joUyGu7Uqgx1FpEQ4sHm1DCfzzRiprkBDYQFmmhJtaS0OhvJiXhrhrU16lAXJoUbkxFmTGmaOi+laQp21sVRfirnaIhHmtNJcLNLEpqqSIlCPaE9V8Zrws1hJTpghAZZy9FZFcnW6Gw+LNTgaLcfVei0eTkrERliREedKoKs+iUH2ZEa4kRJii4eVogDi5yVbkx6lS2qkJnmJRpRnWDHQEM7Y9kwSAvQIdlGmIMWeCC9lHI0X4e+4nrx4O0IcN4nMTHqIFqnBm9ndHSYyK8/eH+HUdBkfPd7DH7/O89mHo3z0aLfQp/W3RzO5r1DcPKvznOisDkBiJEtds8M7s2ku8qAu300wg9sr/JFMNF01voxIaMDOaA7vzhF1qK3an9Ice7EuU1PgxeT+MkYHt3J0dymj/fkCmNNdHU1fbRxVGe5i519WnPYn+kkyqUvzUwFPiDWjoSxEUIpSIi2pLQrh7LFO5qe6hDC2pzaMs0cr6Sj35r0rAxzsSebYQA6zu/PprfISEtixbRFcnSzm9P58Oou8acrxYrgukaYcD3JCNZFi7J/f7+XqiUpOHS0S5nIpeVWW48Tl09v47fubtNfEiRNTYaoHQ+055Cc5Y6z8iliNkdRe0opMiIs2pqpvY67xsmjHbqvwpjrVlAy/DZTEqlOeqEpTrhGdxTZsr/ZmvC9dJFClE8lQRyzZ0eZ/4rPc9XE2lifEWZ0oL028rFcg/c9oq/DFw3IZfnYbsNVZgbX6UiTTgrHiazjpLsFIQSZuck/O9zO7K5+OfA+SvDbib7SAKNuV+Oq+QX2iBQ2JFuyvDeKgkIS70pWjT4rTq8Ray8jxWkxLijopLm+S47dM3FCLwtZQl6RCebSkcFtNabgaNfHGRNmswXyDDPONMiEij3NeS6rnZgKk5N36N7HcsBSLjUux11hDlJv0ojDEyWAtpspLsVRbjavRZvb3lPHiyVn+54d3mN5VT21mIHXZfiR46/DN42k+vT1Ksr+WCFUF2W0g2E4RD+O1NG8N5WBnIa76crjorBLzn7RwM7LjLSlIsmO4NZGh5mjGtqUIZ2Go7WIy/TcS77GGkjg9whyWi3bNjuowylIcRTHeGumOv7k2eisXYr5+JS4a69FdJsNeeTEaiyUW8EZ8DdfjoCSHg5I8gUa6OKluwHD1W/iZqKK9egF22htw0F2PmcoSwUmO8VIjO0oPN7PX0d8oIylQgUDbBRwfyeCr+9Kb8kHunWhhb2u0YMEOtUYT7bGJ8lQHskJ0aZXsKxd6uHW0krtHa/jb46O8N9vDbE8uc315HO9J5exgGoVBG1CUySgOV+bCgTS6i005NhQsAPffPd3BnYuVvH+vm6un6xjujoZ/3eXQcBazBwu4c6GFka5QQW/Z2xbOSGsoE/1J3Jyr4+nt7Tx/bzd/+/Iwv345ztePB3n3fK2gc412+DFS78LBFi+O90Vxoi+R0zszmd+Tx3d3dnH3aBW76wK5PVnL/ZPNfHp9Jx9c6hNF9It7+/j4xjDvXx3k6nQjEuZNSuxKad2fX5znl2/nRQv3rz9fFYX07/+79vJ/xVS6mUprMH/9/tL/PvP88tUZvv14im8+PCZQgS8eH+HjW3uFlejplV08OTvA7akOLh5sYH60nktjjeLj6d2VzO0s5fRQCRd2lXK4I4Nj3dkc6criaLc0K67m0LZsrh5pFpCRC+N1PH94SMzaRtoTeXhhUBTU6zPNzO7LF4eQmhwbarIsmNmdxal9W6hONmKsOZIre4qZqInmxs4KOiIcGYjzYroojbNleVwrKaNYU5MqKy3e2VXJ/gpfzu5KY7wngtGuKHFRkNbIprenM9YcxkSbDwVhi5nd6cDcbgsenHXnHy9KGWkxxtdShlR8LJQXYLb5DSxUXxd8b2mlw9X4dSTOt7Tqpy+h/vSXkxJqRlm2JxL5TVofyYu1xNdyDYG28oTYbxIaw5JUb8zUFouthfRoVzxt1UkIsWN2vJtof0s2rX4VbcWlmGqsxdtOl3AvS5xMlZBurqLl66AqundOxqsIdVP/M7EbYsrYjmKqcwKw11uF0nLpz7OacDct0sMsKM/0INpDnSRvTbF65qr7Ni46C4lzUyErzBQ/a3nxHimlfqOCzQj1MyHE0xg3SzVC3YwJctQlxseU+ABj4UXNjDUmLVKHcE/5PxVqUlo2x5n8ODNKMxzZEm/FxFAhf3x/k8aiYDTWyohyVxPvJ9MjW7l/rp0TB7KZOZDFv389z4uPJ8SqylfSfP6rKT5+uJuz09XMHaoQ9rGxgSye3t2LxAZoKnSlIMmQQwOp/PrlcY4OZ5McpEZffZi4VHVX+3BwMInd26JFQZUITNINuq8lTKSAq/KcBaVPMuDUFXiztzeTnpooanK9ODxYwL7ONGG9qc50QSaRKvKSnMiOsyEn3kYY4NMizSjMdCU91krodsI9dShIdqM8yxupLdxVE05XdZBQpk305zDcEkd3RQAj7dH01nojueXOjmcz2hPJYL3kuvSkMcuHvrJYGrM9yY8yYGY4mZndiXRXuVCZa0lHlTdZ0huu90YK0uxor4rEyXQ1UT76HN1dy7uXRxkfLMfTQh4z1TdFojTJ3xBb7dXY6awi0H4dPVV+IkFakWwowOYh1q8QZvcSNZlaNOQY01HizLaqIFqLfWmv9KM8xx4Pq9VCrutvr4aPrRpJQZbkJTjSWOLDk1uDYgHY23YJTsYL8bVVED/g8T56+FrJC52YZCqRkIZteW48PruNOzNNdBS4iURunKMcgYYLiLJaTqzNUrpyrGnPMKJ7iwGDxUZURK4g3EhGttsrJDm8hJuajAzPZfTkW1ISuZkM75UUhG4g3WM5RaEbqYnXZIv/BmIclhNouhhrJRkhNtJpWQV/k3UYrnkV03WLMd+wDJMNi3HSXUuEmx5eFkqYq61Cf+MSMSeRTo59DdlcnRlkZ2MWedEO7GrNJMZTg+HWZPobYgiwWyuAFAm+OvjbrBeJVx8LRYJt1fC13ExmsA2pgRbixRkXqEdhsiM9VREUxJuLNu6eliiyglSQ9j0lS4vkZ5UcohLF6vpUCzdnezh9oIlYD1P01r6N7uq3sdm8Fv2Vb+JnqMjeujQkWESI2SqRaPbQWSVa3GledpREB+Guo4zFplU46G5EW34BRopLsNddjYvhcnEb6GtwJzFoKU2FepydSGOw3otPbuzgxydj3JisYXowjZHmYOrz7Tg4kEJGuLZIDEqpYr11Mlq2OnLuQD5p9lA2AAAgAElEQVQXR4v54+NZ7hxtoS3Lg9MDBdw+VMOpwXS6cm1wUJFREq0jjDRTw3G8e7mGD+61cWY6m1NTuRw/ksfje4NIWqcb5zrZ1hDKmSMVzE+Wc2WynFN7tvDoVAtPr/Ty0fVevnw4zHdP9/Dj56P848dJ/vjpGD98vpev3uvnwXwNs/sSOTIQwdH+CEbbA9lTH8ijuWa+vj3C/IEiJren8PCMlIgd4vLhKu7MNvPepe18eH1I7APfOdMpCFXvXx9CogtJSrS/fntBhIl+fHGGn7+/IFZe/v6rlNK9LNZgpLCRlN79/cfL/PrdvKA4/fT8jNg7/emLUzx7NMF7N0b48PZePryxl3fO9XNnbht3T/ZwY6qTi+ONnN5Tw8ldlcwOlTM9UCKemYFSJrflcW6knMPtWUx253JqqIyp3q2cGCrlxK4yzo/WcelQM1cm2/n9qwvcO9vPmcP1PH80yVcPD3FytITje7dy71wnH90aEo5YybZ050Qjc7tzeXZliPHGWA7VxcNnl7nQVUC+vQalznp8dXCI2dRM0uTXMxTmwXxLFsXem7l7rJyLBwsoiTPih4eTvHd6kNY0V8705/D+bCUZ7i/RkrGC9y+EcfagAffPuNNbIXlOZbjpvy4OpVLXRlIQuuovIM5zo9CyBdosF2xxqaPmZbUOG91Ff+50Wkk7okuEJk0qpMH26wl3UkZqc/pYb8bTchOlGcGMDzeSnxZAuI8ZfS257O6tIC8lCAOVVWisX4S5jjwOppux1FuL1sYFuFhIonBD8b7mYCDRl5ajukZGda4/Xz6eYV9vPj8/u0VxRqh47IzW42GjQqi7Dv4OyiT6GZAjeUx9pFyJJUFWGwmxVxJfj/czEso3C0M5bEwkCL4JMf42bInzFoU0zseEpGATwj1VSAzRonKLAwlBqqSGaFCb40i8h6JYeazOcaQg2Yrm4mD44ymTI7WkSK97p/Uc25XLx3cHhE7twcUmZg7m8P6dQREWenR7Lz98eUpAGC4cr2agLZqGQg/6m2No2OrB7P5iusr9yInSor3UVVhlDklFsyOCthIPWos8xS1V0sPtlOD422OZ3JdNf2uwKKpzE8WioNYXugi7mNQq7qoOobMqWDiwJZiH5LmWdKGVqTbUZNgjK073oirPn9aKKBJDjJA0P911sWJWmhFnTWaMjXDYVecGUrs1kLwEe1LCDMmJNWNiZ664kdTmeYv+d80WR1JDlWgvc2JmXybtZS6irTpYF01hlI14DvfmsqsxkoNdYUzujCMnWpnSdGOmD2xB+oNHeCvibS9HpI8m/k6biPLV5fThTu6e28f03iZyY51xNlorEnFSC9NWY6UANneXh/DJzUEO9yVQlqhNdpA8YXaviNBAS74B6cFrKUsxpLc6mB1N0Qx3xZObbEaQ20Y8beRxMpHHRnct7hab/1dxJEfVVgfigzbgaCIjPlD6e/myqy2J7spwkvw06a+PpDbDDjf9VwXppyXXSRTS4khDkt0VyfFXZ4uvmvAghhi/QZzd27ioyIiylualKygPX0y0hYyqiIXUxKwi2kZGlO3rJLiswENHWmeRsSVQkTSPFWT7raAwdB2FYfKUx6iQE7ARb4OXCbRcTLLkAjVTEMld682rsFdZh/mmZUjzSC/pZmetipnyCnQVFmOjtZ4gR0PSwx24ObeLngoJ0bietuJQAeyX2ujFybbEeKmImbCzwVKRmpUShYG2qoQ7a5MRYkNJoo840SqvkpEUasy5I6388e01zk/Us7ctnp11YUQ4rBJe0UjH1QRYSnaWl4j33ERHkS89FaGkBRvjarwBU+XVYjZqpbQW3ZVvEGiixP6GNDq2eNOQZid2dd103sJVZwnWqktw1tuAnYYCbsaq4pBgorwcc5WVaMq9zIaFMsLcVrKzzZnGEg36myTjjw1bo5UIsHqb7WX+XBqvYk9zKHP7smgtdaal3JW9PbEMNocLsXOw43KS/NYzP1HK+/O9HN2eQYKLIg7KL4t9yCPdqVTE6dOUaYWH7isC9yiNEKSkYW+TF2O74zg9U8DdGx3C83voQJ5IBU4fLGFbQxgPLmzj3fkebhyv48ubQ7y4M8yHl3q4f6aBD25189OXo/zPryfgn6fhv+f446/H+OHLfTy53S6weYd2xnCwN4zhJl/O7t3CT48OiqJ/uDeJL24PIzF8pQCTlJp+eL6bL97Zx3cfHhWKq6f39vD1R0f5/PE4zz84wt++vyjatRKgRUIFSkCGP367iVRMpcL6f+svf/witXqviu+XCrCkVpMcpd9/OsvHD0YFxebehX7euTDAjRM93Jjp5spkJzdmtnH5aCfnxpo5tb+emZEaJneWMbmzgtldlUxvlyTe+aKQnt5ZxsnBElFMxc11dwUT27Zw9kAt58Yb+OKdI1w41sq1Ez18cm+Ch1eGef/WsFjLksxKJ0eLBFD941sjfH53L++d387Xdw6wfasv/Vv9+OnGOPf21tMSbssWaxVud9dSpKNLv5c3t5vL2ZPuS5aDPEfbohlvjmGg2J9f7s8wP1RHX1YAe0uCuT9RwNmBQHZVqDI7YMjxYU1O7DFibr8nddkaOOvKiHJRJNFXR7Qo0wLUacpzojjOCH+rxaQEqhPrrSrg7g6GUrhHCTebdfg5bCDaW13oyEIcFMVlwcd6A5Ge+uQlulOaHYq3vSauVirCgaqv/DYxgdb0NObj7aCHm7W00aCIpf4arAzkUFd4XYSUbHTl8bPTI97PjtQQJ5KCrLky28+3H52memsAR/a0Urk1jvFdLXjYauLvokdalBNxAWbitmqntVTctCUcqZSvSPQ2RjpU+9uqEuikja+TDt7OenjaaWGusRJ3800EO2uxNd5ZsIBTwvRF+KirJlBA/8Oc14pQ4JZgPcHsTg1SJyFQTbSO82LsyI225d6ZQbEdcPl4JR/d6ebamXKun6lmfqYKCVL//v1Rnn0wzTefzTI/U8dQRyQXpupEUe4sD6Yiw4naHBdOjZbSmGcrDq3fPN4tjD8J/goCR9hTGSDyNQe2x4lCemQ4lV0dYfQ2+jG1P4fhrgh66vwZG0xnf1+yYI/Xb3WlNteZrsoA0kJ0hC2rpdBD1Ljhpkhk0vBXMqpLDrr8FCdqCwIoSncVKayceFsyoq0pSncXt1KpLREfoE9FjifNxYGUZ7oKgHJLWSitpcHs7k4RS85NRc5iKb8s3ZLcaEMG6mNo2uJNTborc7tL2NUYznCDH9enS6nOMaMoxYAT4/mUZloR6CKHo8lCXC1XCqxViLs6g23ZnBhrZ7Bli7hpSW1LO60VhDlpYa60GHutpdRnOzE9lC5k1XmRmyiJVWG0w4vjI2EM1NlSkaZJXZ61oG20lPqJdkBatJ5Imnnar8feUA5TteVYa60RuC0Hw4WEuK0m3GM57RWOnDyYx9mJEvZ0xLOjLgzpRRLuJEeUsxxbI3TIj5RsMZvZEqhJQZg+ia6bCDBaQoDBQiSakURAqk3QItn5DbK8F5DsJBNPTfTL9OWtZKbXlpYMJWLs38RT72U0l8qwVJSR5LaRTF8F8kPWsiVoKVm+b1MQsoqtweuIc15CrNNqYp03IgEZJOKRjdJqnDQUsFNfjaPuajEzlYqgtdpKdOXfxlJNDj9rLaI8jDi2q46B+gz8rTZQnOCIldqrmG6WcXRnHjtqo0S7KdJFlXAnVdyN5XHSWyN0TYbr3yTYThtnQ+l0vQwdRZkwUlycaufWiW5unWzn4uFq0YFI9NqEn/livE3+hNEPNUTyZH4H12daODSQjxTh11FcgqbcW5huXoOr3ia0lssEM7cw0oTRjji2hKthoy7DQfdVrLXfQmWVTMT6LTXXYaOtgLuZGkaKy9i8VIa5yqtkRKiwq8uVY7u92VajR3W2MnlRytiqydhZHcHl8Tp6SrwojtdjbEc83dWeDLWEsF+CZreGMn+0jJuztaIoze7KJdJpHY7qr2Cn8jIdW70Zqg0XZKuqFAumB7dyfqyag72pdFb7cHa6nKfvjfD//rjI//zrKv/+1y2uXOph9mgN8yfbeHJzhDMTlVw6Vscn16Ui2se7J1uQeLhPrnbzzcf7+Pfvc/Cfef7591l+/32K3/56lOfPRvjgnR4B7z6yK1kIkce3xfLXj49yfrSEA+2xPLmwTbR0z42V8s6Fbh5e6uXDm8N8fH+vYNs+uNzH7fM94mT/1YdH+H+//glgkCAM0vzz1x8uCgCDVECl26hUYP/vc4luJD3/+OGygCZI7eEXH07ywycn+eLRER7MD/HOxWHx3Drdz4Nzw9ye6+fu6UFuzO7gytQ2Lk/2MH+4m7Pjrcztb2ZuXwPS7fRYz1ZxQz09XM7xvgJmdhRy4UCduJke3p7H3J5KZnZX8uDcEFN7Krl8vJtbZwe4c36AE+Pl3L/Yw/x0PYeGc4SQW/r5++LuKJ9e38PX98a5c7SN+eFyzuwoZLYti5G8IJrDbdmdEUyzkw3N9rYMRflyKD+SuZZUtqc5szPXj/ujLZR6mTJdm82lnlKGsjwYq/DgwaFkZvpsaMl5m/PjNlw84sb7l3O4eSKXvGgN7HVeEa+jcJf1BNstpy7HSrSfrdVluBi9hq3Oy1hoviL45GE+mrjbyovQT4CTomivpgQaCICDNMe01Fwq4DSmmitRknsZrU1voqu8kLVLZGhsfB2ltTI2SvhQYzk8HFXwdFDG0UIB3c1voa34FkorXsVcXR57XWU8zbUJdjKiKidUBKQMNr+Gue4KzPRXExtmg5u9KiFe+kT7m4pbZ7SXAWlBloQ7amKvLqE412CvtgxX/bWkBdoQ6KAjFHLm+vL4OukR5W1CpKcBZqpviblwWpgR0nvt1iRTqrLtBWq0INZIvC9IQdX6LEfBL5acr2khBsS4a+Cg8zZ5MUaUpBoyM5rKu9freedGI9Kc9MGNHXz8aJznn5zk0/ePcu18F3t744XR6/fnpxnry6IoyYayNAe6ygORzEOPr3Qx1OpPR4W92O1uK3WkqcBBBE8laP5YfwIXp0s5cTBHzGQP9scytSdTdKz6GvxFtmb+WDXnDpVzbGgL1443iaco0ZzCBFPBJa/Osqe3OgjZ1mRn+lvTqSsMpqc+kYot3iKBJX2UGI0p4aYiySsxG6WwUkGKoxhmb02woSrXmyO7ytnRlCpSaSUZrvQ3x7GrM4nGfE+xLtGQ505RoiX12S5Up9vRlOfCUEMwlw6XcuZAHt2VnsT6yotWW1eNPwNtMUIUHh+sS5SvNqkRFqLVm5vgJvx/GxbLcDPZSIC1GsF2mrgZKJDsrS9uiDHuKwi2eYPKVG2qU9W5c7KA3W2OZIWvICtCntpcCzor/OltjBQYw7wUc4LdFQlyVRY8SzPVlRgrLRMAaD87eeJ8FYn0WklPtSt99d5khamgIycTb8oehm9ipy7DSUsmWpgZASo0SnaEEH3hFC0KNyfabj1+BosIMnqbLT6K1CVqUxQiR67/IuLtZLRnruHmQUfKw2WURshI9ZRRmahBd5E3DuoL0Fstw1nzDcKsl5DsuYRkj9dJdnuJHP+3KQyVIz9kvdjjDLVeg7PGYqw3LcZBZQ0OanI4qC/HXX81wXabcTVYjY3acvTWvYH6ipfxMVcRIar0YCuR+JUA+E1b/IhwVCTadRPP7o0y0ZstZNlRrtK/szJhDhrorn0V3TWvEe6kT16Em5AK58a54G23EWfTFUg/E0EO8uL0PdwYJZavo13kcTd4kyDrFVipyHDWfU2YI1KCVChNtSXYVQNLXTks1OXQkluAvYY8brrrRHrYVvklGrPtuXyklM5SJ6qzLSnPssfJbBlW+isxUFmEh7kyQY76WKmvITXYmmtScvREFf2N1rRXqLOtRoe2Eh0atpiI1u2FA1XsbojlnblOzhwo4OxYAecOF7E1XlPMZZ49GGT+WCkXj5QyM5JDiO1KTDfKaMn1oDLZnoYMZ/org8kO0mRrpAEPzw7y62fnBKnn7nwv//n7db59Mc0nT8d5+nSMz59N8dXnszy6f4AbF/q4ebaH26e6+ebJUd4508PkQDbTO7O5OVPP5++O8P2zcX7/5Tj//c8F/vPv8/znv+f473+k6P8+nj7s59mjYS5OVQh+7pf3d3P2QDFDjWF8/XCUp9cHuTnTyLP7e7g4WSNg8NK6yifv7Ofp/b3cu7ydJ7d38fmHh5FYu3/7cV60dCWakVRIJba2RDKSWrlSS1eQjn66LP6bdIOVmLuSCPxvz8/x49MZpPnoJ3dG+eDWPm7M9Yrn2ole5ic7uXmin6vTvdw6OcDVqT4uTvZy5fgOrs0OcGlqO2cmOpg70MiV8TauHGxEKqTSrXS2v0gU0xMDxRzZlsv0YBFTg0VM7yzl8cXdzB2o4/zRNubGGkUx/ejeXiTqzenDlQL5ef1Eq/j3lQD6H1/fy1d3D/H7x6f58cFRzg4Us7ciirJAI2rDLBjZEspETgIR61cQrLCQfFt1it10yLTaxKO9rXwysZ2xnFie7t/GVGk8vXHWDGZbcLjZkUuj/uxr02Z3qxaV6UsIcZRRka4qLgchzqvxsVzC3q44QeyR3sBrso3xs32TAIfFbIk34shIEcf2VmKiswAD9TdEmMdM43VxWPS3UcBWaxGmKguw0FiCqeZSNNa/hoHaYuE7TY914uaF/dQWR6GtsgBTveVoqbyGvuZbWOgvwUB9AQYqC9FTWoTamjcxVZFHc81S9DesxERpFToKb7L6NRk+tpuQVmgkA43iShnmOsuQTDPuFgrY6izB22wdsW7qZAUak+CkRqi5At4GK3HTXiIS/jYai3E0VcRCdx3W+utwNF5HWrgVOTHW5MZZkRauJ1K0BSnmgk0s2bcK44yJdVsvDqRS0K8i3RYb7ZcE8Eaa0UpyEWlFqCBJhX19PoztCubRnVbBsz41Xcel09v47P0pJHzt8PYkTh8u5bMHI9w42crkrgKqslzIizWnPONPlvqV4+WcmsgWa47SbuqlqWLKM03ZVu0rlG6XZ8q5d6EBqYge6IsWLuPuGne6qjxoLnTkwpFy7pxuYWdzOBP9aZw+UMK1qQZO7CmgJd+NhjxXYb/qkYppboqjcItKUGJJu5MVa0tdYaC4pSYEG4gEWFKIIVuTbKnO86Iq15P8ZDvx9boCfxERlgwDeYkuZMXYk5fgTEW2H7V5fuIUOTVSSIizHINNIfzy6RFG2sNpyXfi/ul2jg5k0LDViXi/TYzvzOCD27t4//YIHVWhBLhsFCZ3T7uNIs0rtEPay5F6/4abFuFprizWIpx115Diq8tIUwSNueY05ZpysDuQ/Z0+3D9dyNz+SMpSN1GfZ8jU7jTRS585WC4whrGB6gL04G+viquJCo66SlipKeBpImG/3ibUSZ6kgE2kBm4kP1qLjEBVLJVkuGi9jlTAsgI1KI0xJNDsbWIc1hJsvgJpN7NzaxClkbaCHuRvuBQ/g4V050qL9l6URWwgx3cRxSFL6cqW54NTAZzYocnWYBmxTjKOD8QI7Jqz1iKR2jVZJ0HdZXQXWJPm9RZZvm+RH7SUPP8VIpiU6bsBT4MFGEoOUIXXcdOUw017LW46KwkwX0eozQZSJROE7koM5F7GaN3rOOmsJifchvJEV0KsFHHTWU5nQQi16a4keqpy/1QvvWUheJusINJJmVRfY/xMFXGQJMKbl6G75g2iHAxFV6AkzYeEYGMqt3hRkGwj5hVSK+RQfxaHB7LFLMHXfBn2mq/gqv8GFalWYhdVYmy6my0QMG/p9G2nuQozxcXYqazEWW2VAFQYrZbhqvkySR5ytORZMtTsK26SA60RIrQQH2BIjI/xn/YLlUVUZ3n9yUVt8Wag2YrOCg3KMlZyeSqR8xPp1GSawPfzwlG5sy6cDy/v4LNbA/RUuFKepsfOJh+BkWsrsqc225LqDGsyg7WQAlNTOwtIC9AWN1F+vsU3747z/vwg3713QtzC/vLlRf764gKff3SMLz6d5MG9YT54f4wXz09w7/Yuzs11CBXhD5/Oce9sH+Pbczjcl82VqUakEI0083vv9gBfPD3AL99P889/nOW//73IH/84xX//M8+7d3r4y4spHl/tEczS5/cPMDOcx6G+dBEClGDyEonq9ukOnlwd4LN3D/DJg32ikEqtsY8e7OPTRwfFIxXSv/8s3UQv8MsP58Xz918u88NXJwWL9+ev5vjLi9P89uO8MMVIthjpkeTeP39xku8+PMbzh+O8eGdCBIEenB/kzql+rkst3ckuLh7t4PyRTs4f6RbPhaO9XJzs49LUDlFIpWIqFVcpTX51oo2rY03M76vl1FCJSPhOb8/jxEAhc7tKme7PF0GkYzvyxcrI9eM9nB1vYnZvDacnmsThRCqoj28McX6qkbnxKsH2lVrCU8MlzO6qYH6sgQ/nR3h+fYyPTg9w51ALI+VhRBqtJNVckWpfcyq9zUky2shoXgwljvr0R3pzramUvTF+fDPWx1iGDy2BmpxsC+ZImyujnbYIFVutAanBb+JhLiM/UVnQrXzsF7JpmYwYn7Xs7g6hp9aFymx96vLNqNxqxWBXtIDimOi8ib76q7jbbSDQXYUQVxW8rdeJ14S0qxrmqomV1jLB4PW2V2fjKpkoqBdmB/nnT4+5fekAt68cJCXWAVtzOQK9tfF02IyF/gqs9VdjpbcWqXtjpLQShbdk6K1fguHGxWiskXar5bBWX/T/iXrvsK6vbG2fFBNNNLGLXXrvvfdepPfee1eQYgEFFVFAVBRBRbGAKNIEsffYe9doNKaXmcyZmTPznrl/1955z/v7Y19Iohfty2fttdbz3A8B1ipoTFHATGk8roYziHLTJDfMnEinhcS7LWLbsmA25rlRHW/ByjgjqhNMaC5yYdfKQNk8CLqSn7OupCqJlBpXs+lSTLW9LpGiRHNWFbuzaVUIQ/vK5N5+aPcStiwPoXVFOMWRpmRHGLIk0RZf8ykk+Qja3VxcDRXIjJhKSsQXjB7L5MbFWk6PrOWrizt5cKub7s4KtjYmMHBoKecHa2SClxAR5sUay/SZpen2ZMcaUpIuOmMnvjq1Sna5G2vc6O1IZu/WeLasCWKoq4jXd3fw5KtGenaksLrYjg0VbuxtjqGzKZbKDDMpDBQRb+uXuLMkwYjSBFPJVahKs2brqjBEfdvdlEHrugQUitI9ECc9yvr/FdOKPH/EiDcp1JhIH3XSIoxkanpFrjsri3xYvTSQ/ER7Yv318HWYT26CI2f7t9C6voA4fws5RlhdFEXtknCaa2JYme/C7TP1/Ph8n6z4guG6qTII0bV2tWSSFqHD9vXxPLu5h6OdZcQGamFt9BlRAXoEe2piqfclpuqfy+BbMZMXpmMfSw2C7XUQwIRg2zky1NfP8gO8TRUoT9Hk2cW18PdB/vJqO7VLDEkJUaR2qTPryhdTI5JyClyIDdT4M54owp4AO13MVWZgozaHQFsdXPSnSDDz2mJXEn3mkOK7QGLqRGaq+TwFwm2m01Edxao0GwLNJhFmPQMf/S9w1viMUOuFuOtMxn7RxzLQ2lv3E0rCddhU6EBjoTVLw2aT6fEprWU6PBkJZWyXKe016myrMqR9tQ9liWZ46E/Gz0SRIIvZZPqp0VzqTJzTONI9x5Pt+zk5vlPIW6yIKKYRttNxVPsU20XjcdeegY/BbHwMp+FvOoUA8ynyrXhfeEX9TecSZq9KtKsamQFGxLlo4qU/jbJYR6qSnbFRUqAkxpLiaAtC7eYS765JrJsONsoTZccY6WBIlKMRdblxBFprMmOcguxMRw6t5cpoC317ytjbnM7NE40caMkhynU+/pbTiHCeT1mSFffONvP7q8OcP1Yhb36RLvOwVPoQo1kKGE5XwG7BBIyEmnf+p/hqf4HNXAVq063o3hTFxiV2rMmzlEKy2mJPGTAu0IYqkxUkbDw5QJMN5Z6syDWga7MXJw5FcuJQOHfPFtG7I5T9zeHw0yjuBgJ+7yEVrqmLF5DgIzr4TyiJV2fDMgeK4rSIcJ1KhMtM1hX7UhxrycayYJoqwrjct44Xl3dxua+eR2fa+fHxcfj9Hi9uHubmhV08vLWPh3f3yW70wb1OLpzdzMunh2VwxI0LO+jrrGBXQzo924pkSsrogRWMdq+Q8WK3Lm7m1eM9/PDuMD//eJSffjjC778O8PDOVvjXJR5da+XF9Xb49QInuyrZuTqO7x/2yCJ6Y2wTV080cO/iNjnSFWzc1/f38+TmLh5e28nTW3skgP7bl0dlYfzn7+cRBfT9NwP8/P0o4v2fXg/wzcNDUp0rFLrifVFEf343LDvZ71/2yUxWUUzf3znAuxv7uT7UKPejZw/Xc+JALSNdaxjpquPE/npGD4qC2iiPKKinDjfKc7KnQRbZUwfXcW7/Ws7tq+b0nhWc2FnGcGsJg1uL5BGe06Ob89hbmyK5y6IoDu4s58TeGrmHPdJWzsneWh5caee3b0S+aQ+DXcsZObiaN7d7ePHVQcYO1HJ4yxK6GrIZaq/gzvAW3n91gG+v7ufx6Dap0N5SEExbcRQ78mM43bCcrbFBbA3351ptFetcLNiX4MNqN3V2ZdnzcrCSLWXmxPkqMHQghlUFOuREzSE1dBbrKuypKjTj0ugKbl9YR8MqD2rLbGhYIaZ5s6itsOPsUBUrl7lhazYBB+vpLMn3IzfFhcw4ezkRFPY/kYgV6Kgs4fNORrPwtldFZ+GnKM1SkPjU4kx/HnzVyx8/3qR1YzHBvoYSNC/4uLbGs7AzUZTJMmHexhKM72K6UNKTRIGf/akCWooKOOlNxdtMkexgC0znKcjfQeEzD7Wfh5veBNx1P6UgRI9D6xLYVxPB3pVh7F8V+mcIRaQW9dnWbCgRIj9TPAU20F2HKB9dIr00iPRWoTjRikDHGaSG6dBUHS6za/n3Ha4db2DrynA2FPvgbz6ZYId5MgtaPAcEalTkyoouvyhpFrnAj8kAACAASURBVEsy53NwVwz3b26WHPgblzvp2lXFzpZcntzZxf6d6VTmOUjL0bIMO1KCNWUBX1PqLVkI+Ul65CVpUpptIL/3W+v96NuXweCBAo525nLt1FoeX21itLuYymwzWusCJff3wNYkTuwvpibflnVLXKjKtKAsyYT6Je7y2bwiw1YS1sTIur4ylIYVUWxcGY1CVryTTAcI99UnJ9GF1HBrWRzFWDcvwY5wL2XiAjXIiTcjN8FcFlVRTEUeaaCrshSfiEK8sjCErCgnEgNsKc8MpzI7nLrSWETa+oWhtfz9h0E6t8YQ7T+HrBgDcmNtyIy05Hz/RlrXJbFpZSSjPaupLQ8iIdwQZ8vp2Bp/IZfzploTsNadIkNxRWcqkmL8rLXwNFkg96UtK2PpbIijsdKD3Agl6SXsa0vij6/38e3dZtmVxvhMoyTFhPwEC1LCjEiPNiI5TJe0MFNyIm2IcNHH02QR1oLEM01BWl5W5TjRsTacFZkWpPkvIs5tHhG2MyiNNpXiImF9EbYUoeiMc1WiMMySNLFzcNREqE+DLObhYzgVL73xpHjMJ9t3Phle08j1n0GG5yQKAyawo0qJnk26tJSrsHGpLjlh81CeqICHweec2FPNnroUcgI0WRarx5JwJYqD55DsMp7CQEUSnCcSbjdRhmG7aY7HZIYCpjMVcFKZgJ/hZBmEHWY9VSa2iDzSWGdV4l3VKQi3JNplobx9JguvqNaXpHrosGlJCJ76k4h1WcTKNDcSPbWIdlaVtCNPPUUWmyrhbaiEg9pM8kPdsVOfTkNVCl3byqnM9cfXfi4pofrEB2j8Gf5d5EuY80Ks1D6UOyQ348+oX+YjfZQD+7I5tCWBNK+FpHsoURSgR1WUNc25AVQEW1HoZUiBpz7lwcY0ZDnTXuFDY6ENG/Ks5aVkaZQOSV6LSPBWoyrTleXZTjIwWADKD22JYEedM7sbnGhfb0NtsSpbV1vSvyuKn560c/5IhTT8hzrOoCLVlKzghdI6dW24gm2rvdhU6cryHFsS/VVIDdTFw+QLCmIs2NeUyZXBDTLZ5Nnlvfzr/SW+ezzM/YtdfPNwgNeP+nl4cz+vHvfy+P5+GUcoRqnfPO/l9PBa9u8okA9/EYj94mqXhLkP7K/k+OEVnB6o5dKpjdy43MLD2228etrJ21cH+O37fl492MXrB/u4fa4Z/nOfm8c30r4mnu9uH+LbB4e4c24rV0c38uBKG6/viyJ6QAqMRGEUHakopP9bTGXXKTm6Q/zwzSDvXvfx+48n+Ndv53j/9DAvru9CpL28vbdfvi94pr++P863L4/wzeNDEmD/5tZeXlxq4+HJlj+tKwfWMNpZLaMB+9uXM7C7muN718qCevJgA//vHKpn7OB6Thyok3vT0f9rkzmzp4pTuyo41V7KWNsSRlqLGNqSL/m9gpJ0sC6FgS2FjO4s52hzESMdVZzuquVQcxEXhwTsol4iEAUQ/+XNQzy5uo8XNw4ydmgNV4aauDLQyPG91RzYXEDXxhwONuUztq+ap+fa+euzQU7sruLA2hzWJPpQ4GpBhbs9tV6unF9RyjpXMzrjPGiLt2NzggmXOzMY2hlFuNeHZCXM5cGFeikc271JNA6eLC82Y2dziGQwL8nSJSVsNofaYrg8VkHLel/iQueRFqdHc0MyRw6upqwogMgAET2pSUKwEd42cwh0WiSDuoNFgpOfCVlxrlJla6o9Re5K50xWICPWid59dVKQpDZ/PG7W6lJR62ymjIXODAyVPpPPS6HKFZaYxEBDUkUmcZgZO+rS5M8qP9oSX/NJ5EXqU5XlSHaE8NurSp1LVoge/qZfShGku+YnhJvPoDjIhFUJTqyIcyDbVwRXfIruvA8xUv8Ma90v8bRSlFD7CPdFkm4kRDoJgZqUZTpy6kgdr28dlL9Dm5YF0FIVQqDVNHzMZ5EfZUN+pDFhjl/KKLuKdGW6W/3ZVu/C7q0RnD+5lu4Dy7l4tp3RgSa2N2Ux0reCHRujpIe0e1suPa15FCeZy7xp8ZwXDpHKfEvqqpypWWZPZ2s0PXtSOD24jOd3t0q+QeeWOBpEqEFHFivzxSTLg63ViylJ0GdZsrGcRjZX+tGxNpJVwndeFcjqXCcqUiwpTTCnrtCTtDBjqgr82VybgkKguzZu1gvwcVAjOdyOIFcthBUmJdRcmomrS/zIijUhOUybtEgDcuIsyIw2lwIlsdMUuCgR2xPorEJurAvFyb7SZxToqE92tDP5CQ48+qqd57fbWLHUgQj/+YR5L8LbVuTz6bJ2WRTrKiLIjLakq3UJG6rjJCzCz2UhDmZTcDSfhrHmOASlw91yPo6Gs2VnKsa8biZ/WjbWFPrL0fHSJAPK04zIi1SlLMmQ7q2J9LTGsSRVm8TABWRG65MSYkhCkAFR/up42U4lPcKIKA91vM3n4mEyBx+z+QgeppfJZyxNNCYzWEliBuM9ZpPqq0JWoCabSxdTl+NAQaim7BptFymw2Gw66b4GxLvoyISWAPOFZAWY4ar1OX4mX5C1WJUk95kEm31EgtPnJDp+LjGCOQEK9DRasG25PjtX27OxzJ7FVuMpiDSUpnUx+oqxV8RHV4FsnzksCVtEpPVHFAXPoSRSmUiHL2SRD7GejYva5zirfkaE9QKWxVrSUhZATYaN/FxXpdoTZDkNW2UFPPUn4GP6OaF2s4hzUcdu4TgibRbSuCScKMeF5AQZ0FwWToqPLhEOSkTYq5HobkSQlZqMQ9Ob+QmxLqb4WqhyaHs1/O0ZB7dXygdBaboLNSV+DHYu59bYDhorYvA2mylTZuy1x+Gk/xEB9hNZvcSWg5ujaMi1Z29lIIfroti3Ipj++iR2l4VQE2VLkNYkcl3VCTeaRGmQOnXJJhT4L2BpiCpV0fpk+yhLReC6pb7UFrpSlWFFz5ZkyeMVnNadde40VlpQW6QlMYJVOepsqnKQo+JEf3WmKijQtiYMX7MPJDLut+cdNFY5S7tWaaoZQU4zsVRXkBah7rYS7pxr5em1Pby518Pvr07w+s5RXt7q5erYdh59dYD7l/fy8kEvXz/q5crpLXL/+Or+fgQr9MCOPLnC+K/3p/j+UR/XhjcjUIzHe1Yx0FMlz+ixGkQA8d2vWv9MqHh2iG+fd/PsVgfXTzXy07Mjcrx6sDmTdzf38cP9bs7113H3YqtU5v70qp/3T3tlMX15Zx/iCDyaEBu9vNfF2yc9klgkqEU/ft3PD28G+Pn9MH/7+RR//+EkX9/qlB7UNzf28M3tfXz/rJe//3SK374b4f2ro3z9YL8UMz0+v03unC9313CycwWje1YwLIrozkoG25czuKuakb1rGe1az9iBDZw4sO7P01XL6L41jOyrkcVtZM8KxnaVc2LnUk7sKOFEa5E8o1vzGGzKpK8hlYHGLI41ZNKzLoWe9en0NxVwrLmYg/XZdNSmcG2khZNH6jh1dC2Pru7hl5ej/OvHy7y9f5SuLYWc6l3HxcFGuWft3lHGgZZi9m8uoqu5kANbCnlwfifPr3Ry/2Q7reVJWM8Yh++iGZQ5WXN5/UraYnxoj/ekvzySjfEmLA1dSF9bDOtX2uDj/AEF8Tq8v9vJz8+7ONAaK/nLBalqqAhthbEC3jYKxPhPYefGQKqKLbExUqA4147O9lKy0lywMJoi9536Kh/h5yg0GuJZZYiXpchBVSLYRYtQD11cLOajOkeBnCQPju5fh5f9ImZNVEBj3ifYm6sQ7mODv7Mx1nrz8bDWIsrHXD4vNecoIMae9VUBDHctY1ttNJWZTtwea+XuqR2Up7nQ2ZjF3s351JYFS02M0L4UJjpKRXGw7XwCzAV1bTxmcz/EauEn+BrPJspZUz4vJRfYYDrGKh/jajqVOF9NRFrOyjxP6pYsJiPCVHareXG2VOZ4y6QtYZ9rrY6kKMZCUuWi3bVYlmxLit9c4j0+5+DmAG6NlbK7OZDXjzvo3lfCujXxHDtSz4/vz8m9aVa8EanhmjJ1RoQz3BxpkAHh4tmyf1sC9y6sl5OB3S1R7BRRnDuS2NuaQM+eNE73l3F4dwr1K9xoWR3AljWBMmg8wn26VPGLYiriIzcs9ZDPB+HTbljiRVmCKRUp1vKsyXNldaEXJSku1C6LZMeGfBRigiwI9TGWBuD8ZD9i/MxJi7CXvlKRzN7ekMnaZQFU5DnL7jQxWFcacQNcVAjz0pLYKW/rmSxNc5Vm3/gAE9LD7UkNcyDW34KcOCdqlgZTvzJYAoI31ETgaj0LFwslYhbbkhJmS36iq4QxXxhppXt3FeVFfsSFGVGU5UaglyqWhhMl6kpECXlYLMBCY7JMUQh00MBc+VMJvhexPanBSkR7zSbI7gvyo/RoKPOirtiRzHA1wtxmE+6pRFqoBcUpbmREW+LnoEiE1yISg3TICDWV3lFBLRH+oZpCJ2n2D3H8HD+rTwi2+0IuzgXBJytInfwIdVammbEm0wl/oy9x15mEn/EsXLSmYr1oApYLhLdyFraqHxLrOo9kz7nEOE4h1X2WTIcJNFJgebw6eUETWJGqSH2xHk/OVnOyK59YD0WKo4xYle5MU0kQFbFWhJhOItr6S5bH6ZHqMYVVKZqc6sok1n06EU6KeBtNxVbpE3lEN5y9WJN1eS5sKHRmfb6jfCHkhujgZzoRw9kCf/iR/Hep3no4qHxOtKMa5fFO+BpPIcVXW2anFkRakeSji5fRLBI9jfEyWYCt2jS8TJWI8zAj1tOMAAc9akripfovxEODJemuLM1wo1eY8vfVkhFiJTFrNpqfEeaiLEcxcf7zKUnVZf1SGzblWbGjyIHuWl9OtsbxaKCCp0M13Du8hh1Lg0iyX4C/9nhyvFQoDdEl1XEmpUGabEhzojrBhgx/LRkY72MyCWftj3FQU5DCLesFImVHgSVxmuRFzOPozih626LpaomRY9HdDfk0lMcwum8ZezdGcvZwIWePFJAcPIuG5W5srFpM19Zczg9u4u/fX+KfP17g63sHuXNhO2/uH+bnV2PcPruLB1e6eHrjELfOdfDi9mHJ7rxzcSe/fzPG1bEmOjalMHSgXBahH54f4fGlds701smuSdzWhw5WymLb27mEsSPVsjAKpNnre13y34hABTG+fXq1nV9f9jNyoIJrxzfw+mYnl4fWy9XIt0+P8sub4/wgFLZPjsjz5mEPz2+Lz203L27vlW/fPDjIX78dlWkrglokulTRdf7Xjyf5y9thnl5u4+HpFkTuqLCWfPdIJLMM88s3g7x9fliOjO+ebeHG8Q1cPbya8/uWy25R2FiG26oY2lnFcPsKju9excju1dJHPLZ/HSe61soiKrpXUUCP717O8O4Kju9axlh7qYTfj2wt4PjWXEa2ZDPaksVwUzoDG1M4ujaRY+uTOVgdS0d5GAdqEjm6IYeu1ck0lYQwdmA1t8+0cX1smxRACbvMq9sH+fZxHy9vH+TMsfWM9a5ltGctg/tr6N+3iuEDtfTtrWFPSxFH9yzn2Y1DvLnTz9fXjtJcmsSKOD+KfGxZE+7BvsI4Ch006atO5N2pFjkZEa/bzWvdSYqYg5OBAlurA9hZH0xFrj5LMzRYU2pJaYYe5dmmcnwY7DoJax0FTNQV8HH4krRYY0J8NTE3nIybyG52UcHfRYVwb23CPTVkBmiwozI+1vMQY14Ho5nYGyuiqqjA+uUpfPvsNMWpnjK820QID43m4utoiL2xKiZqc9CaNxEz9S8l5KZlTRR3LzaydpmzFEcJsIWj9gcIFrXZwk8xEAxs7flYaM/BTGs2uipT0Vg4ETNtRSx1FCXn189OVT53fW2VcTVTlDx0Z7MZMojE3nAGAo5vrjGeMHdVytKcEfnOOZEik9efUFd1vG0WSN+qgEL4WCoS7rKI8nQHqjLd8bdWwll/GrEei8gOVmFVhgH9O+IYO5DDwe1J3L7UQn1tDHv3lDM00MC5U60yGzsjxlSiZdtWJ7FzdQJN5QESgBLjNYX6CgfeP2njzEAp65e7sqLIhoaVPnK0e2BHsoxuW1NqTWWuMR1NMVQvcZIBHYJElhOuSWmSCWvynClPtqC53J/7J5rYUOxNSbQx1ZlO1GQ5U1/iw7JUR5pWJlG3LIaVReEoiAQA4RUSzMdwbwv8HXSJ9bcifrG5JAOJG4XoNEQIqhj1xvhrkRpmJhW2AU7KMuvT02oqy7Kc8LSajCisG6pipE9psaMWeQnuJIRakJVgy65tBZTm+2BtMpNgT3OczdUpSPGnNDuQtGgHGusyKMv3p2pJIBvXJVOzPIKMBBuigvQkeNlSbxKOhjNlfl+wkxZeFgtxM5pJR30WR9oKObQtk6XJljjofih/OLHefwKVfa2Ev3KcTJoJcFAj1E1Helj9HOZIhJWr6WSCHRfiaTYdF6NJsiNJCVpEtPdMQl0ny+LsYzYRL5MvcNcfT3qAOhlBSmQFKbM8yZoQixksNp0pC1KMsw6hdmqyAPmYzpAh4fGeC4h2mUGE3Rekec8hymYivjoCaP8F5XELZeBzScwCHp6p5cyhUvwtPifdX53mpYFUxNpQFGhMprs6eb4a5PovIsZ5ApXJShxqCSYnTJVot3m4G3yJk8ZERFSah+4X+JtNItZtFkURGtTkWFOdZcv6Yg+KY4ylQjXBaz6RzrNJ9tbFVnmCHEkneGjJopzko0VVmiuVqW6kCPGS0UwSfUxZbK0mlcCCh+uiP1d6O5ODnMmM8iDKx5Q1pTG0rsuiPNub1cWhJAeZS9Ww0fxxGMz9EB/LORII0b0jk31bYjjYEsmBOn/q03VozNdlYIsfXx1O49zeZF6eqef+8AaJlysINMZd7WMcFihIxnGWpwopjotIExiyKGPSAjRIX6xFrJsKmf6GZPgZkuKujYv6x/J7UJqkw6PzNdw9V0N+vA4bV4Swf0sFo10b2L0+kbIUI4ri1VhdYk5cwDSK0/WkII5/3pIRZL+8PcOZ4QaO7q9guLeaO1c6ePN4gG+fj3DjfAe3Lu6WBfXtw37uXujg9tntXD+5mda6GE4eWs6zqzt4/lUbJw5VcGz3Ei4PbuDK0CZ6O0o52rmUkZ7lXB6p5+75bTwWBe3idu6d2cLtk81c6l/Lw/Ot3D+/jde393K2fw33L23lwlAtbx8dkp2moBAJz6coqm8f9/LNo8PyiML6/FanLKav7nbJrlUIiEQh/f7pESkm+vnNAH+8H5UBES+u7OTJyRbJ0310Zgtv73TxN/H/3o/w7kUvDwRhabSBK321XDq4knN7KhjZUSaVuMd3/FlQh9uWM7RzOUNtKxloW8GJzlpGO2sY2bOK47uqGO4QoIoyhneWMty+hLGOEsbaihhtzed4SxYjm9MZbU5npCmN0U2pHKuLpbcmmqNr4tlVGszWAl+O1mdyfHMhmwoXy3Hl7TPtfDW6jcvDzdy7sJNbZ1q5c76N5zf3c/3UVk72reXEkbUITOlgdx0DB9fKSLK+rjo6W0q5MNQqz+t7Qzy71sf9M/vZXZtPjq8F9akBxJktpDbRlV+u7+fCwWWM7s+jrysVMcZNDVlEot8cgh3HsTxfn+X5uuQlLKS62JqcaEHxiSAvRpcgx8mS8Z0QrEGA6wLszWZiYThNiocCPLSJDzGnJN2DUDdVwj3UiXTXJNpblwgPPax0JkvVraHqZzKU++i+WpJDLTHX+ZzcJFdphxHWFGv9BXjZGGKjM08KoDaujOVfP4/x3z8eo293Ejkxi/Cz+hTTBQqYL/hQ2udUpnyKkfJ8zLWU0F40C9V5U1CbPxn1BVPQUZ6Ghc5cjNWmojb7I2m3sTVUxNlyPp4OyjiYz5aq+lAPbSI8tIjw1KAs1ZW0YGOJ9QxwUJHIQhFmISaKAj7hbTUfL/OZCEqZ+LsiPs7VcBau+hMIsp5ITZYpu2oD2FzlixAVJYbqUZDtwuHuGgaOrWfD2iSqlgRQmuHBshQPmsqiWJ7iQkG4PtcGqzncGktB3AI2VNly6mgRjas8WV/lSePKxaxb5s6apQ7sagyla0s4q4rNqVnqxOWROn582sNfXvezttidnHBtNpX5UpvvRlm8OesLPclYrEFRpBEVSdYURhhSmmBBZrA+jSsSqcwLRrgaFHyd9PBx1MfJVBVvOz28rMTtyIwARy3EN8PJ6Es5ChUBzuliru2pJskWCUEWRPsaEOS8iJIkawno3rwmRPpMa8sCcbNUxNtWWUKZI/3MCPc3IirEFLEkd3fUJCbYFQczLQLcTAjxMsHOZA6OVvOJi7BkR0sRY0NNbKhLpL42gTVVERRnumNvMg13izkEOWuy2E4NJ70ZOOhPZ6nY7y3WINx9Lgn+6vjbziTAVqjCvsTLbDKuxl/gYjiZEBct0kOdSAqyIS3cmuX5/tSUBGNvMBlHg2kEO6vLF4S9wXh8rL+Q6QYCPRXmPF+G9Cb6GhFkvYBg23kE2EyWQdelceaymIpuMMxmkdwvJnoZSdFOnJe2fJGEO86UAiaBOMz0W0Cc8zQCjMbhoalAuv8MimOViPeazK514Qx25MuClxWgQ4KLElk++rgofUKGqzbFAYY4KSsQbKVAWdJs4nw/Jsp9Ct4WX2KrMR4HjUnSDuNpMAVXvY/xNP6IZF9FKtONqS1wkEo0cREQL5aCaF1iPObJ7tlObRKu2lMQxT/AajYJvlqIfUpWmBnCZxriqEa8jzHhbgaEuRrioDcba83p6MwZj53eAipzYsmJ9ZY/b+E7FTfRvFgXEhdbEGCvLZXXtsKaM1eB4kQ7OpuSOX6wkOsjVTw5s4L+LYG0lOvRslyLpioNlucu5ExvLj882Qd/vcZXQy2UxNphq/Ixjurj8NCeiLPyBKLsFpIbqkVOmAZhdjMIs51LSZgtEdbK+Bsq4qgyTkIjypJ12dcYyND+VM70LWNHfQKmKhMId9elf9cSgh0m4miowKXjZTy8toEN1R4MH66QiL371w9w4+JuTg1v4MndLr55fpRvXw1y5+o+bl3u5NalDp7f6+H2hXZGe2rlvu7c0XVy/HTmcLWkD108upLhPUWc7K5EWDcGO8sl43pAJKL01XDzTCMvb3RITvCD01sQAPobgxu5O7qZWyNNiP8mhUbXOxjuLufl/d38+y+n+fGbY1KB+/3Xg4jzw+shmeEoulJxRHH9VnSqj3v5/c0I//zhLH99O8LPL/v565th/vbtCX57NyxHvH9/O8Lrr3bJOLY7A/UIhN6PD7v5189nZA7kz++GeHW/S1KU7p5o5KvDqzmza5kUDYldprS2bK9gQMAYtv//Z2TXKkk/El3rUFs5gzuWMNhWzPCOYo63FXN8RwGjO/IYbRUJMpkcb07jeFMKo40pnNiUwuC6OA5UBnGwMpSOEn82JjtKeEL/ukzaK6MZbK/ibN8mCQ0R49yn1/ZKm9L5oXpO9NbIS8aLOwf56ux2Loxt48rpds6NtXGsu4ED7dXs27Kco3vqODPYypXTu7h5pYs3T47z+Fo3Z49upmlZIuVxnkTbqcjVR39bIW/vdfDsxiZOHsmnLMWAknhNihOVyIicTpTPJ4R7fkqc3yyS/Rfy5nonNbnueBpPkDFiwa7zsdH7DCfzOVjoTcXPXQtdlU+wNZpGQrAJXlYCkzpXglISA4wJdtaUAd/BbjroLByHxmwFDu6ooqkmDc0FCqTHWRAfbizXdIumiVSYL4n1syMtzFY+r3dvjqNhhSPb1rrR2RwixTSuep9jojgOB9XZuBkoY6o8HQsNRYzVZmCqqYiB+gyUFCdgpjUXV3Mtwtwt8LPTx8FgEZY6c2XRtjdRwlDtT6Vx7GJjcmPsWWy/iIJYO5Zn+8mJlK+1srxwC9ubjc5cXE2UZIfrajJLNi/FCY7Yak/FzXQOnsaT8Df/jPwQNValWbE0zpKiBFuCvdSoLAuidVs2hw5W0tm+hNrKSErTfEkPtJa/6+XRtiyNNGJ0Vw4vLq/nbG82BXHzpLq6KsecnrYMHpxvoW1dJK11wZztW8LqImP87BQ421fFv34+xcWBOsnvzY3QQ5z8CH3yIwxkF1oWb0FRhAnLUxxYneMuP7fcUAOygo1kFGVenKt83ik4mKjgZqWFrcFCXC00cDZTw99eH3cLZZls4GM7nxh/HWmHyYgyI9htEX4O86QKNj3SnGgvJVYXe3DycAXXx9YjlFS+9rOkfzDIXV9Cl8WtydFqIfaWCwhdbIGduYq8/Tha6mBjrISB6mSMtCeTlezO2ROt3LzaKX155041cmJ4HTu3ZFO7PFymyaRGWMqCaqn5JX42KgQ6qmKn9znRXiqkBOmy2G42HqbTJdVHCItKEp1IDhDAdxUiPfVJD3WQhA5Pi7kyUSHIRRXxNaaGWBLlpSeX/7a642X6SKTHQhbbzcLdZCou+tPkPtVZdzr+VvMQKTLBdjMlvD/ZS5MQm3kEWy3A33yeTDRx0PgcR60JOGh9TLKvMnHuikS7TCPNdy5+Rh9IJGD3pgRW59mSHqwkb69ihHb79GbJelxXFEB5vDPpXkbE2ahRnx5IscAnLlRgTbahjPgqiptFmPOXBAokouFkmVwj4PfOOhOkB9ZRWwFxxGJfLM6rs50oTbJgRZad/HiZYTq4GHxBjKu2zGH1NZvJYps5kskrGJzxPtrEeOmQ6GeMl9k83E3nSTSh3txxuJktwFprhvSHil8WwfcU/jVz1Ym4GItsRj1JSpn3qQLW6l8gQtNtNT/F32YKpakmkpD19HI9N46XcXO4iP5dQWyrM2ZtmQolGTM50ZvOz6/3S7LJmb51bK9Lxt96NlaLPpBKZW/d6bioj8fLaByF0drythhkOQt3zS/w1J5KmrcxNos+lPaRKwMreXN3C6f7imX2pRidLpysgMo0BaoL3Th5uIwjnRm8e9bOX77v5fzYGv7n71f5ShB2bvdw9+ZBrl7ayZ3re7hyvpVnD3u5e2M/D24c4OXdHr4aa+HKSBNf3znEsV3Lx1EpXQAAIABJREFUELaAG6NNnO2t5uSBcq4OrObskZUM71sq91Z9u0oY7Krk1pmtsog+ubxVqpzvnG7kwZkWHp3dxuNzrfLtvZNbZHcq0H/nBut4/6IH/nmFb7/u4dfvh3n38qjEqv3ybvT/4f1+fDUoR70v7uznkSiQX+3ih2fHEPvan5/38f5hN7+9GuCPb4b554+n+M/vF/j396cQsWm3hxu4dLiGW8cb+OPVAP94f0L+nb8JW8zX/TIV5v3NfTwaaebS3uWc213FmY4qCa4XrN1j25ZKEIPABgoc4HBHJYM7y+T+f2B7CYOtxQy2FjK0/c/TvyWbYTHe3ZbD8S0ZDDUmM7gxnuMb4hlpSODYmgj2lHizJdOZlgwXNiTaUxNhTmO6B4dq0+huKuL80U1c6m/i9OG1HD+4Soq8bp9v5cn1PZw4sppvHh3h7bMBvjq3k0untnPx9E4un93Ng+tHeHStj12blzFytJHzp9u4ffMAd28f4vqVfTy53cfre8cZ62mmIiuAHXXp9GwvZnD/Mo7szeVv3/XRviGCRP+ZVGbpEuj8AYlBU2hZ5U6inyJFMXr8/rSPXx73SYGPk8Gn+NjOwEL7U4y1PsNOAOf99PF1UcXRbAZ2hpOx1p4gO1Nf27m4mc7E23qR9Ne7WS3EwWS2LJpVheHSE6o+VwFTnY+x0P8UkVsa6KyDrc5cAh112bEuFzEx9Lf/jNa1vnLqUpSkQUmSKWIP6qg+C7P503DUni9/h11NVTHTnCFJSrFBjljqzkNPaRqBLub42ptgp6uMleYCjFQU0ZwzCQOVGZhrzZQxa0LFK1Kb/O0WkhhgSpSXgcxfFaEazkZK+NrqEellJaPZfG3VZAPkbTGbjFALmecqJl+uuuPxM5+Ih8EHBFpPJjfSnOIUFzmlbGvN58ToOs6e3chg3yq695SzrS6X0kRvfAxmIcSXoVZTqEg2YXW+OXsbQ0kLm0NS0Czy47TZXhcuAQ5NKxbLUfDgnkwqMvS40LeEn18cktaarWsi2VItqHy5co2xMtNRIg9zQ3RlElhFoi0CIrO+SHDmPUj2USMtQAc/63kEOYmGSwsFf0cTPKy1MVafiZedHiGeljhbqEm0lKe9Gh52yvg5qxLipUV+kgOFybbEBqgSH6hKaqgqSUELWZVvJ1FeZ/rqWJLmhretEr5OOpjpKaKx8DNszBZiojcDV3t17CyUMNOfR0SAC0Hedvi5muFoqUawrzGlhYH0ivHRqQa+fnGA79/38sv3fdy40sjOrWmsKPOlvMBPjjZEoRbUojB3ZUTRC3dbSOJiHVyMpxPmpkVigLnEDq7IC6Iy209mCDroT5Z7CJH+7mulSKyfDvnxdhQnO8kT6qaCo95EOer1spgiF+lBjvPwtpiJi+FUHHRFhzsVEQYe5qLCYuu5LImz50pfI8vTPVlsOZvFFnMJsJyHi+4kCaP3MprE0M4Sbg2v51JvFaUJ+rjoKlASqyGpNyIC63BHBU11ybx4cJR7Nw/Q2pgjx0+rCyJIdDch2dWY5twoqmMdCTD4WPpLuzd5Uxw1h0x/FbnndNb8lDh3ZULsZ+Cs96EMunbT/xBHLQXc9caRHahLeZKtTLCvznVkaYoxKSEq8hKSE2Eh8Weimw93USbGU4MYD03SAk3JDrNCRLaJgpoZaku0t6GcCvjYKGOmNlGGdNvpzEB39mdYqM7AdOFErNQmUZHmQ2NFHFuqEkny0SErSFfi/ITaek2BBY0Vzoztz+f7+zs4vD2Og1tDGD2YTEWWMjE+48iJncPOjYtZX+HK7sZ4mQ6yPMMJW+UPJNTfR+sLnJTHSVuQ4BMneyySnXy0/SKiHJTkrnpJvCVCeTq4r5hLIzW8e7qX754foru9gL495fz9u9Pwf67R2ylillxoWh/CpTMN/PDtME8f9XLv1iFuXjsgz/07vTy618v9WwdlIb1/fT93L+3i8uBGXl3dw9MLO+nels+ejWmMHVrF6d5qju+vkDCBi8N1XDv5p3Xl3ECt7EbF+2/u7EME2d871cj90008viTg7W3SJyoYuuLvXj/dLL2hP7w6xpUzTfzx00m+/6afd6+O8N2bY3z3epC3L/okqejHt8d59fAw75738/X9Ht4/6+fh1Q7+eH+S//x2ma9FcszVdllIf/96QCIG/+enU/z87DDfP+zm9ulmOWJ+fLVdip3+5+ez/PvHk/z7hzH+88NJ/vX2OL886OHNpQ4eDTVzdX8N59orON9Rydj2pVJxK+LT+luLOdySR09LNv3bC+U493hbCX0tufKIPx/vWMrQ9iL6W/IY2pLH8JYcBptTGW5O4nhzHMcboulfGyaL6a4iT7ZkOLE6wkQW0g2JTmxIdqO9LJrBHcu42NvA+SP1UrUrpgJfndjM0IGVHNxRLEe8p/vX8/zeId6/HOTauVYun94mVde3r3Ty4u4xnt3t4/qlvZwZ28rlC7u5e7eX+/eP8uDuES6d38PzRyM8udfPSH8zgz3rGRvYxKmhRukbHjxQTqinwOh9TErwfMozjUjwm0G48ySuHFvBSGchz662wu/nOdVXQ1SgOsZ6HxEZbkTgYi1cbRVl7FmEvzZ+jvNxNpuKt63Qd2iQE2uPCNgWOaVqsz9AV+lzhnq3cu18L3YWC1Fb8CHWepPQX6iA5iwFjBeNpyDaneq8MPws5+JuPIlwt1msyLUhO0qdWJ+5LLaZifGCj7BWnYmt5nx050zGWHmGbKJE2ozoNq0N5mKsMQNVxfEYqc1Gd+FMdBbMwEh1ruxW9ZSmoKs0Se5x8+LtCXFV/lMtHGKJ2K/a683GTH0a5uozMVaeiijUAoC/2FEHHxtBYhLjZiUyg20oCrPHaKYCXobjMZyjIElngpyXFWdOdXkwXZ3LuH5tJ998c5j33x3h3ZvDjA2tkULV+vIYVuf6kxNiTEGEMcuSrcmJ0iUnRofSTEuZ0FSYbEpWpA75sQZ0t2ZwaEsyS+L1WL/Eke4tCQzvK6Iw3oDsSB0ZwtHXVsCxHYVUJtmR5quBwB6KQprkpUR+mD6bK4NJ9BaiVGXyI00lhznSTVuCbRQMlWfIm0awhwUBrqa42+vg42KIqb4i3q762JjMIzHKHk87JdxsFMlPsmRFkRtrylypyLagoyGcBP95UqJ8pKOcnFhH6YkSPxBLw/k4WquirzkVOxETpK+I0pxPsbdQI9DLFldbA2yMVbA1VcLPXZu8DHcGjlZz6/pW6bETZvV//DHIT991c3pkNc31sWyqS6KlPoeSrED5Ofk7KBLjI1iRijLOR+zpkgIt5F7VXH2SxHG5mM7CWutzSeYoTXFB4LrWFAVKPNmrW91UF/njYTENd/OpEjYt4of8bRXxs5mFn/VsBOw9L9qGWG9tnPQnS6BDoJ2yhN4H2s5nZY4Pka5qhDsqyegkYSmJdVXDUWM8JrMV2FYVwfPz23l7vZ11RfYE2YwjNWAWdUuduX+pk57OGlqbi+RD+/TJrWxcn86ulqU0VCSTFWhDRYwnW4tiWJPgwrIwXbJ9Z1IUNosM/2mkei7AVWMcrpofEOmsSIqfEtlhGhTFGpMTqouXwURZgEKs5pIdaEhRlCmV6baUJBnKF11SgCZRnqp4m4tEnE8lzktcEsR4N95bjwQfQ/lC8bNaIG+R4nsb5WlIsIs2TkaKcifiZ6mCvuJnElgv7DKBNiq0rU7lYm89l3rraVgSSEmsCcF2n7Myy4iupjC2rfSltsCesUOlMinl6vEVDO/PYn2ZNWkh0ylIXMS3D7fxrx+PcvvsOkTXdqQ1nwR3Ndw0P0MUU+FD9dAeL7GL4TYzqUqwZ3miA5mLdUnwVEYESe9YF4uj8Uf07Mrl/YtD0mLy9f29PLi8na/vdrK5LpiRo2VcPLWO65eEJ7Sb1y/7eXTvMDeu7ePC2XZu3+jh+uX9XDizk1tX98mOVIx3b5/bwY8PerklItraS+nZksOJfRWcP7qG4a5yKTw6P1jHrXMtPL7WzovbndJaIj7uvYtbuHlyIzfHGmQhfXSuRX6NguQi9qLXTjVKwc93X/chRqw/vRvm8pkmfhW2lnfD8og/f/d2mHevBxCQ+h++GZZRat887ePZrf28fnCYf/96UQqn3j7o4cXNTt7c6eIvr4f48Wkvf7wZ4D/CY/rNAP9+PyrtMD+97OPXN0P890+n4Y/L/F18rAcHeX2plXtD9VzYv1wqb4805LBneRydyyI5sDyO7toUBpryGG4tkgXz8OYs+rcX0L8th+G2AkZ3lnB8h/CPFjCwJf//dqdFHN/+pxVmZFue7ExPbE3h9NZkxpriGaqPZF+ZF91VwWxOc2BFsCG1kZZsyfJmR2EwGzN92b8uU9pcxGvt6mATJ7tXS7uMUPieOLyGA23FdHcs5UhnGaJT53/u8/5ZH2cH18vv0c2z7Vwa28bj2z08f3iMi6d3SJGLuERdvdTJ48cDXLzYyd27R/nu3QVu3+ilYW0WSwqC2Nu+jCe393H1dAOril0J95hJjLci6cGL2FjmLgPot61aTHqoCrdON/C370fYXB+L0nwFFGcp4OU+HzP9j7Ez/Rxflzl42M/C2XwyHtaz8LBWlP5tkdfsZKKIs/k8pk1QoG5FBm+eXyLQ2wL1BZ9K//2tU7tYUxiBu/FsOfoUqU7O2l+w2HKm1BNkhWqSEqRKSqCGfJYJ0Y+4+GorTkR37hTMNOZgqTNH7kbV545j/lQFVGePkwXVWHMe2otmojF/GmY6C2XD5WqlhrDpGKp9SlKQoXx+ZEZYkxhogYvxAszUZmCiPlMqi8VYWGXaR+jO/4x4f2uCnXTQnfUhTrqziHbRwt9gMgXBOvRtyWDrysUsSTZiU00g25uS6ewo5MypBllI//GPMf72t0F++6WPpw/aOby3jA3LI6ku8JWK5NJke3KiTEkM0pL2x6WZdqRG6LI0w4byHAeqsu3YujqETcu8qSt0ZPfaCGoLnEgLVCbQYQqxnvMJd1JkZYYzW5dHsCbbndxgfdL9NMkJ1iHRcxENJT6018YQ5jCDnHBdaY3JjbQk0ddATt4UrHQWkBsfJNVgojsN87chyNsCU705sqN0tFTB3UENX0d1IvxEjI4aSzJsEVmgFdniJqBJWogqJcmWlKQ4EuWjT6CbDgmhDng766GtMhnFKQoYaM7AynghlkYL8XI2xt3eCAsDZTSVvsTKZD6eTmrER5ox3L+Gt697+Ntfj/Pv/z7Jf//XMP/51yke3Nwuv8Gb16Wyt7WcyoII7AymE+2jIdW3ycEGRHppSmqIp+UCHA1nkRvrypGO1awqCpVqMxFuG+uni53eRESY66vrPdw520FRkj1uZlMIdJovX2wiD1MIkkSeXojTIoIcFhBovwBvi1myOxWoLxEU7mk2C18LRSKclGT3lR9mwWLzWdKrKSwm6X7auGqPI8hqikygqMm2Idj2M+I9p7Iiy4iqHEvaW7LpaC1hf2cVt2/u5/yZrexuLWSgq1oCwbeUx7KrKomBxiK2FgWwuciDtVnm5IXNIdrtc0IsJ2A6W4Fgy88Jsf8Sd8MP8LX4jCCbqYQ7zMVO+WOc1CfIfW68qwYir7N+iS9C1ZcUoExaiL78+oT4SiSuuBpMll+TiF0TF4UwJ1ViPHSJctdB4AczwuwJcdbFy0oZN9NF6M75BEe9eWjNHI+D7nwKYlxYkeMjk4R6dxRI2EFOmBGxHsITrECS7xwGduVyYu8ykv1UWZpqReOKQDn6TVg8m3VLbdizKfBP/GOBMW31AawtdWLbmnC6W7IpS7CXKTK28z+Qe1Mn9c8RO+IMPwN5WRB0qhCbaTL279fnfWxfG0tBkpksZiePVlOzxB0Rs9S1JYmxI8v44/t+fvu2j7PDNVw92yS7vBtXdnHt0i7ZmYoCKkZ+YpcmdqQCzHD1TKvckX5z/zB3TjTJotG9OYuRvWVc6hPQgnLJiBWFVIDYv3vazS9vjvH9i8O8f9bN6wed3L/UwpXR9XLEdO9Mi6QYPbnSJgue8If+/PUAf4jA7fcj/P79CcnJvX11Jz9/OyqLpiicohMVb0UhFbvcdy+P8c3TI5Jf+t3zY/zt+9NcGN7A5eMb+eHZUd497Ja+VDG6fXf/gBRF/fbgAD/d2cuvjw7y7FIrPz3pRXStf3k9yO8v+/nlUTfPzm/lWm8NZ3eXMrqtiOGWQvoactlfncSRmmR6q5PorU2VoiDhFR3YmsfR5ixG2ooZEh1nSzYDTdkc25ghLS7da5NlhqlI4Dm+dYlM4hFK3tFtWZzekcXZ1lRGNsZwtCaIozUhbMtyZHWYMSWeaiwPNKQl04vtBUG0L4tkZ3Ui/R0VnOkRGMFmqZIWaMMLQxu5PNIkBUjnBjZwqK1EdqriAvT9swG5VxUCsBsntvLgfAf3zu/mzvld3Lu4hxvi0nRxD68e9fPiUT+3rx/kxtUurl3Zx6P7/fL0dq9jw9pkNm9IQtifHl5to60hThLTUgMX0rYmmNbqAA5vTZEY0uxILRqrgxk+VEnTumj8Peaio6rAproI8tIsSArTJdBtvsRy+tnPJ9hVTeZ8etrMJspPh5ggA7SVFGhan8e5sb3oqE5Bdd6nMqBjb/NSVuWGkB3uQLyXKQ5aUwi1U8JW7SMCbaYS6SoaAhV8LCfjpP+FzGUWjG6NGRMwUpqKi7kaNvpzpcPC3VYFC73pEpov9DTm2vMwUJmF2uw/R7uuVhp42mlgbzobE83xCMRsnL+ufO66mMzBcOEkDBdNwVh1Nuaa89GeIxqaubibqRDooCPtjI6603EzUER/hgLpPvO4018J73r5+tpmTvaUcnBHJnu2pdHRmsJXVzby229H+T//Z5h//rOP//x7hB/eHqK/W8St+ZMZLvjB+mSHG5MXY05auL48eYlmiIK6otBV6nhKUy2ozLKlOtuBjWVe7F4bRXG0gZzkhTjNJtlPXXrWU/10yAw0oEhM6zzVKI02Z0mksQwyKYjQJi1ACV/zcTRX+nB4WxYpAXrEeekS4aKJgoeVLrb6Srhba1NZkEBipDu6qlOwNVPGTH8uztYaaClNJMLXVEIdRMJKfKA2VXkuRPstYlttFPs2p1Oe7UyIuxJrlobTsCKFhBBbjDWmoTpvAiF+1jhYqmOgORNLIyWMdeZirq+EnvpMyosTWVoQQVq8C1EhhhzcV8oP7wf493+f5Y+/DPOPP4b5x19HuHVlMy0b4mTO6qqlEQhRk9osBQ62LuXWyVZ2bsiiIN6JCC9dCaq31Z1GdVEEb+4N0d1WiZf1XKkA62jIRyz2hWVjU2WcjA6L89eW8AYBcBDWmP89opCKP4tC42o0RarQnA2mYKU+XrIzRcSS2IvaqX9CsrcO/ubTcdEaT5TjfOnndNL4UFpRRFRaiu8iyhIMSfWfR12RHcN7smQM1/bmDHoO1XD29DYeP+jhzIlG2poz6dycQ3dzDm1VkSwNMaCrJpbmQk8Kg1RYm28lu7vta7wpilSR3a8I4U4PXIi36UdyxCtUx646E/ExnEG4jQqpXkbEu2pRGmNPTbYby1IsEHaiBD9dhAz/T9GDkuywRVcqjoyB8tSRMUwJviYyWGCxnQYWalPQm/cZRosmoz93EhYqihjMnUyosxEtq5I5tquUq8O1PL60RXKZY71UcTH4DFMlBam0FqSiygwPEv1F7qGW9MEVJZpRnGhAyyovLvWXsanSCQddBTzNFFiWYcrhHTncGG7g7ug22qtTCTGfh9nsD3BUm4y/yQLp6RUoR8OZCuSE6kiG5qMLrZK8Ijqy13f3s7zQTXapYo9UV+bA5ePL+f3tEX5/18/T2x28uLuXt8+O8uiWEB3t4szxzVw7t5tr5zu4e2Ufd6/s5fqZ7dw6u53HV/fw5HIH3Zsz6WnJkpeDM90rOHGgkmO7S+RuVKhuRRf66zf9/PX9MD++EkHcXby40yGjpB5c3sZXYxul9UUoeb970su/fz0P/3WVf/x8RpKHBLHo+zciuPskj27v5f3XA3K0+79FVPz3X96f4NXjHnkRePngkCymf31/kp+/HmK0exXfPurlf369IBW8YrQsdqV/fTPE21t7+On2bl6ebuTx2AauD6zh54eH+K/XQ3JfKnem4uPd2MPzsWYe9G/gds86bnWv59ahDVzfV8epphKG67PpXZ0iVbai2I6IneiWPEa3FTLYnMOgKKT1aRyqiaezMoL2ZeHydFRE07kinq6aBLrr4hnYmMTp1kwutedwvjWDsU0JnGpKoTpUh5VB+uQ4zifHYREbk13YmOqB+PdHtpbIAnrhWIO0x5zt28CN09u5OLyJ033rEIX06onN3L2wU+5SBSHpxyf9/PFmjIFd5eyojqOvtYSxvSu4cHg998/s5O7pdgRj+MJQM/cu7eXl/T6+e3OGe7d6uHJxL08eDvL00RC3bxxi/ZpY+ft691IbQjF9YGsWm1cF0rLSn/TARazMsqQm1/b/Y+qtw7JMt7D9d/bM6Di2Ikh3d3d3d0oroFhYKDaKKAYiKIqFioRFi4oidnfHjDo6xoTTtWfvPefvuG+/7zt+fzzHq4LMIM/7rHutdV3nRZzXEHKitalblSaV4o1bJjO/yJu9W/PISNIhOkCZ+OAPxTTIWZkoby3CPdVwNv2EkqmB5KfZ4es8msIcPxKjHFAepsBMe6gUJImA7/w4Nzk6ddYdQlaoneSVh9iOlKPTCNfhpASqE+k+Rq6pRCi4g+4oLMV711iFAGcD7I1HEuyuz7hYJ4RdsiAjgNggG3ydDD50oy4mBLiYyHSYhDBbspPdyE50lHvN3DhbQl00cNQfKmMenYxUcTPVxdPCAH87E2K9bYnztiLcSVeq+yOdtSXeVIgGF+fqcrguhnMHJrFnbTzLpnmwbIY/1StS2LgulXs3N/H3Hz38/Wc7f/1xEP53jNdf7qStaTrrl8dLvvfkVHsKEq1lkpmA8kxMtaEww5a5hV4UpFgyN9+NggRTqdTdVZElAQyTYwyJchwiEaFJfrpkh5qyZGIos9I8SHDXlIfzKXG2zEl1YF66A0sKXFmU50huuCoT47XYtDSUynnBjAs2INnPkCRfIxQeNnpY6SkhxrzCZzR2hIJQXysigxywNRuLo4U6ztYaxAfbEuyuS1KIOfnJTkR4jCU71kzunnaun4gwtQs14+GmFfJzrPQ+I8zblB2blrF8/iQcLTSxNBgjR7tCdm1lrEJeZgQPbp7gUPN6ypbkkpHqxLpVmVy/XMcv3x/lj5+P8e/fTvD6xT5O9qxg09ocSqaEkhZhjZu5EsKQ7Gc7mqxoK6kki/bSk5FF48JtCXbWlIq2H1+cpad5lTzprV+aw63+BqkESwmyYl5BJHkJTnJ3WpjmyoQEe5KCDEkLMyXBV1cqgBP99EgOMKAgzp5JCY7EuGvIjm3jkmxeXD1I/aqJ+JsPItx2BL7GA6RMu35FLonuyqyaHkxBlLDJfEqi9whETFd+jBZLJzvRs3sKX93eyZHOVZzur+PWjWZuXN3Dgb3zKS+JpmxGsCRurJrkSbTVR6wscGHlJGfSvD9ncqIGhxsn8fW9Lby6soGckOEUZxgyPkqFYFsFsR4jiXFRwtfkc6Lt1Qm3UCHCcizB5qMlpEF8TNhpRBzU1DQ3xkc7yEW6lKyHmJITaSF3pykB+kyItWVSkotMjbHXGiQLqRgRORuq4G6qiZe5AU76GhKiLZjJrqafEhcwhiVFrtIMXV2axO7KqWSGm8tQZBfDT3E1/BwPMyWpDA531yU33o4lU0PZXTmedSXB8qBx49hSVs/xoGSCJS0bc7h/dhOXDq/jxpHNdG1fRKq3AX6mo4lxNZfZrSYjFHgZDpAq5lUz/TnbukQGfz84v1XmbL573C5JQffObpIJEcKLtnahD1XLo+Sb8sKxtbx52srj643cvFDPxb46Lpyo43L/dvlAvXJ8q3y43ju/k69uNnP1aCUHN0/h8M7ZEjbf37KQnt2zpciov3Upl45U8OTaDt4/b5fF+ufXXfz4upPvX7bxxZ16rp1Zz8Xja7jWXyOhJsLa8vcP5/jn9yuIuDORF/r6WacslG+eC1rRUR7eauKrJ+1893Uvv357ml+/7ZfF/8Wj/Xx5v1lCGP6v5/S/P56XmL2Xd/fDb1f543WvVPCKIvpGdL5PDvL1jXp+udPAnfalnG8slmHofzzr5J+3x/n71TF4d5J/f3mYN5d3c7djDSe2zKZhSRZbZyWxY844ds/N5FDpBLpWFtK+soBDFQUc2VTEia1zEL7R/1tEeyonc2RtIR3l+bKL3bc0l93z0thcFMuWOYlsnhNH7axIthVH0LQ0np7KDE7V5nNuyyR6Vo6jKtuF0nhrigJ0meA8lmXJztROjaY004u9awvp2r1Iio+u9NZKr+mTa808vLyX66e3SZ/wuZ4NMrZNFFohUhL71a+u74e/7nH7cBWH1k/mYGUhB9dPZfP8FFoqp3Lu4Gq6dyzg5oltnD+ykTuXGnlyr53H9zt5dL+T69f3ce1aCzeuNVG1Jo9tNVN4eKOR2+e2yp34yYOL2b4yhcUTnZmbYyORpMJONy54DCV59nK9caR5NueOlZKXbkhMgJLUooS6jsHHZhhBTkpy9SS88YkhWgS5jZDK3fR4O3TVFLIrNdX6HBfTUVJQGeVhgLPhcLLDncgItcV4lNg/DpJ70zhvFdxNFBKYUJjkjo3WZzJlKdjZhNQIV6IDLXC1VpIWm+gAE8SVneCGj4OGBNkLy2RymCuRPpb4Omrj76xNWrQ9WSJ3NMiQ5CATqU8RgiMbrRFYaYzCRlMFF0NtPM11iXA1x9tCnURfU7LCrPE1GywP+ileQzmyM4yj9X48OjmL+pXhRLsMYUKMOWsWJFNTns7tixt5//YAf/7Szn9/b+OX7xp5dr+as70lbF+fwuIif2bneUnyWka0CZPS7Zgz0UvaONMi9ZmQKOxL4nmuItdbwh+aFaSYloxNAAAgAElEQVRJjIOwEX5KTogZ0c6axDprsWh8GNPj3Yl30WRajAMLMr1YXuDH5GhjlhW4sSTPgYliejbLjV2rY9iyPIrcKHOS/U2kX1bhZqWDWCjrqwyUCi4x5hVEDY0xH0uhkCimTpYa+Djq42g6msRgS1ksfWxHsG7RONYvyUB4UY+2lHPvQgN7Ns1kWo43jVsXcv9yBxWLC3G20kRj1ACMNEYgZvAmOqPxdTPjYGMNLbsrWVs+jZXL8pgxJYINa/PpO7YWkaIuCuo3rzq4dKaKxh3TWVeWIb+22CFY6wzCy0oFnREKGfkj/EsZEXakhlpLBJd4SCcEmshCKiANQr2ZE+coY8fifEwQopl5+THkxjoS56crR8Tjws2kmjfYWRkfy6FSFRzvoyONxvFeIhhXFy/Tz3EzHMDUFFcO1RbTXFWEr+lA2ZFaj1EwIcxYztpDrT/n9tEqzu4vlZ6lzGB1YtyHkB+nw8QEPXauTub1wxZ6D6/jRO9G7t06wNXzu2neUcLaRUmUTQukZkE0s5KNmRqtzuopTpQWWLG00IpFky3ZujaSq8cX8ebWRipmONJWl0X5DDciXAbga/ERQVaf4230GUEmI2QhDTNXxl3zUxKc1KS9JN59DLkRxkxOcZMh34IA5Wc9XBZSIUhKDdQjyk1FJt6LsN5wZw2cDIbhpD9KvhGdDMS+VAtHPS1MlUfhqK8qMY8BjsNYWRLC+Z4lXO+rYGa2G9MzfaSfzEFvCNban+FuNhZXY3UZDRXgqCcFFkJWPzPTnQX5rvS3FPPDwwbOHZpLcZa5VCMXJpoxJdWWZdMiKZ8Rh7fZcKxV/4X+UAUuekp4mYygOMubumUp9O+bz5eXN/PqRj2iOxUd5MmDZcwr8GDnuiw2l8cwIVaZjWWhPLlex77t06XQ5+2Tdh5c2cPlvs2c6qrixul6rvXv4PZZkYpSIycgIinl2rH1NFcX0FKTz/GmEo42FH94bZrHqbZSOb691LuG+5frePv0gCygP3zdxXdftfLyUTM3L23kcn+ljJR69fSQtLSIlJa/f73IXz+f54dv++Q499s3x3j/7iTPn7RLO47AFH79ZRc/f3uKn96elIIakQAjSEaikxUg+md3WiS84e/3Z2VotwjslnaYp+38/vVR/v3uhBQefX1nL/f71vPbnT3cPFDCye1TuNhSwt/PO/n3V4f57t5+fnrcxo3O1XLfuXNhMsVxNoQaDMTucwVOwxT4jVWwIM6J6skRssiKYtq7ZQ5ndi2gb1sxPdXTaF01gbbyfNpX5NG2PJ/O8skcXlvEsfXFHNswl/6tizi2ebbsXPcsiqe+OIy9CyJpL0umZ3UGPSszqJ8eTJ7zaOaGmjAz0IgpvrrsmpvKqrxAyqdFsHv9ZHr2LqW/bQ2Hm5fJQvrqYQfP7x7iysktkhl9qnMdl49t4mZfHUebltG9axEPTm2DVyelMvnM3qWc2rOYw5vn0LVplsQWbivNZvuKPA5tLZGAjkc3DnDvxkFuXd/P1avN3H/YKXeqH3QOeRzvqpQHMaEgfnJ1lwwrb60rlLY0gSRdmGcvr9ol4aya4UntskheP9rN+rIochL1SY3UJM5/LLF+qqSFGzAlw0l2WUnBWhLrKkAzQghqqf8ZJpoDcbZQpignjOL8aIyUFFJpvyA/VkYlOusNxFxZgZWaQuo/fKw+l/milYvG42w0CsPRn2KuPoRof0tcrMYg4A+hPvrSN2qpNwAfBzXsjYcS5mVEaqSz/DwRNu5mpSxVxRlxwpNtj1idjY9zkHGMpiofY646FPOxIzFVHoH52FGYKA0m1t0KdyOxl7QkI8iYQMvBzEi2I9VnIK2bXLhxOIaXF+exNN8cP9OPpPYkJ8KSysVptO6ezdX+Nfz2TQf83ce7Z7t49+UO3jytY2d1EnnJZoxPtGJyhhOz872ZXeApdT15KVYkh+kwLcuFzAgDIlxHkhWqR4LbGIlJnJ1iT164maQ5JXoYEe+iT3agDbGOOnKSVxTnwqwkF5bl+ZMXqsukKG3G+Q4j0kHButnu7K9Oork6g5xIM1ICTInx0Edhb6yCj4MBVnqj8LTTwd58LGZ6w4kKdMDTQR8Xax1MdUYiPk+ofEXkjovZCCmJrpifQXqkDQGOymxYliNpIu0NS9m5YZqMdYsPscBY7UORzkkMxdXaELURAwjysGH21Awad66Vi/QJmSEsmptBfo4/q5Zl0tVazpWzm7kroqQOr6Zh63TK5ycwY4IfwiBsbzgYK81B0reUEelEZpQjM3JCKM6PlGqyAAc1uU8VxKQJyc4S0yX8j/MLY+jYvYr0cGfsdIcTYK9NoKM6Ia5qsnMVEIog57G4mQ+RgqV4PwO5GxWjXdGRZoWZk+qnJ20oYrzrZz6YULtRRDiOYWaqG+76H+Gio8BN78O1aXEiYqwgIrIWFrhRPjuIltp8SgqcWT0vhHM9FZzs2cDxIxv58uERbl5oZv+ORWxbU8j6kgRqlySSGzyWVVNd2LTIl1WzHNhXm8De6hhqVgRQVerDrAx9yibb8+paLR3bC6R/VHhgo51HEuEwikjr0RRG2DE53IEwi1Hkh5pL9GGcmxJB1kMlRlFIuyNcNAmyHy3HvsUTBDXKVoq6BM1kfIw1GRFWUngkMI5WmkPlvsVYaSiuxobojxyK0ZjBmKkPICvWglvnNvL3+2NSZCOg3ZqDFWgPUeBjpYfJ2EEYKA1Ef9RgLDSVsdAaja3BaCw0PsVWS0GS11i2Lkti04IwygpdKcm1wVlXgamSyDMdIA3holu20fgI/eEKVs4ez52+g7y7e5S/X52W9J47J9ZxrGEms7IsqS1L4nrvem711bB3QwHHmkskFSs5YAgbFoXIPde5I2sky1Z0FZdObOTGme0yL/Nk+zpunt4pC+m13o08v7aX2yc3cqB2Mo1V4zlzaCmHG+ZwZG8JZ9rKONtZzsWe1fLnKkREN89s4u6FOl48aOT1k4MSEXj/+k7uXNvKswfN/PDuqNx7is5TeFdfv+jh7cujvH55RP5a/P71i6N88bCNb18e55uvenn5uJPvX53gu+fHpMBIpLvw2wX45w4/vuyRXa4gHongbwFnuH/hwx5W+EpFRyrUzX++PsIvX7bzxbmN/PVwL4+7l3KpqZhrhxbznxdd/Pm8i9c39vL2VhOX2lbS37CQzg3TqJkRxQRffYJ0BxCs9xmxFqOYHmbD0gxfamYksm/VJE7tWcq11tVcai7jdP1COtZNpqU0lz0lGdTPSWdjYRwVOSGsK4hhx7xMWtdMl9Fo5+sX0F83kyPrxtNWnkLb8g9K3lMbCtgxNZgUs8+Y6q3FskQnpvnrsyY3gJ3z09gwN4GOHfM427aakwfLaaqdyaXeTTy9uY/H15v59e1pvn7Uyd2LuzndVcnR/Svlz1Ok3BzdW8r7u638+bSbW93r6KiZKguq+B66NxXTv2cZJxrKaFg/je1rJ9PZuJzHt9p49fwEN24c5OatVnk9fnKUvXuX0dywmLMnt3Di8BouHt+AuK/e3G/mdNsSdq9JY8EEO+aPt2bFFCeKknW53VvG6Y5FtGwrYGaeLZHew8iI1CA1RA0f64+J9hxDarAuS4siKCkMxUxTwejPRHLMEBkCHh9qQ06cO3H+VtKaJqxqoju01x3M9HF+eAmAi4OSJI856H4kp3hCSWuo9C/pLQ1zMyfMywR70xG42yoTH2pFfLClTIBJDrUmNdwWd4sxeFmPxVJroLysxGHYcrT0vsb6G8kxb8W8NNLD7LBUH4iNxkjcjbXwMNHFSU+daFcrgu105R5X0NTS/LQIMP+YpRM96N2dQ3utM88v5NK/N5lgUwV2ygr8TYfhqvupPDjvXJvP4aYF8j7+9os2HlzazJOrG3l8tZKaleEUpFlKsMPcyf6sXpyEeBWgB7GKFFdysL7kDggVs4AsJLipEOusxNLxvkyNc5DEujRvC1IFtMjDmEhbDQrCHWWHOjPZlQnBhrIzFcV0zjgTcoNHMT/bmKpid5ZNFtYeY1lMpTXG1nAMnra6spCaag3B29mAEB9LjDSHYGM8FiuDsThb6mKho4QYCXtYayGCahODrKX/SdhT/O1VWbMwi6bNxezbXkJKuAke1kMJclEnIdCGjBgf4gPdcDHXw0h1BC5WeoT52sgdqoejPgXZkUwtiMZUfxBh/kasWTGenbUz2LGpiC2VhaxaPI5pOb7Suyqi2Cw0P5MPdBEMHeVpip3eYNmlpobaSWFMlJchfg6qBLtqEC5wdL66MqPPz24sKSG2uJooy5vJyXC0NBGnhApQhTm+dh+gEKKoih2A8E0J9W5asCmzs3woGuchxUaxbmoURFmzINdfRpRFOY9lcoIjhYJUFGv9IXXB6jOmpVhLkHSs12gC7QayuiSc91+0y4euiCQ6f3StFLOcPraJF/cPc6l3B/VVs6ivLKJuxQTqK3JlSkH1ohD2bRzHvs2pdO3OobE2kabNSVQt9iHJexBLJzly5uB8ZmSYE+b4mexMRYaov6A+GX1KspugLmkRYjqEqTE2hFsNIchiEO4G/8LfWolYIS4LMJUCK6FeFvuHiUlWhLuOJC1Ej3GhhnKUXpwXLk/B48JciHS3JtjJCgc9LYzHjJSqQCvtIRIlKCg73z/roKYsQ3qBC5NDSQn0wkpTGZ3hA3Gz0Md47EgcDHWw0FZBT2kQ9nqjcDceJlGGpRN9cNVSEGCqIMBCQZjDp7gZKrBUV2ChocBOTzBRfbnR1wA/PYJ/P+flzTYuda6Th5frR8r54sJGZowzJd57KLHew6WasbEmj+bqPKJdPyfRexg5EZqUTPbi1tnN0pN4pa+GG2e2crJzrRwP3jqzA0HX6TuwkruntkgqUWNVnuxIrx4ul6Pkyz1rZAG9cqxSWlkEK1cIj/ray6QiV4hT3n3ZhuhAH99t4MsHLbx+3sbbF528/qpTFs2vnx/m1bNueT172s7TR4f48kkbL5938/ZlL19/cZhfvj3L+6/7uH+tkZcP2vnhpUAAnuD1o4MS+ffH2xPyQPD1wwMIRq/ACIpiKoRH53vWIMKThehI2G/++f4kL6/v4krbUn68sY0nPcu4emAelw8t4o9nrfzxVTfv7rbwzYMD8M0p+P4c/HId3pzjq1O7OV2/nOObF3Fqexndm0o4WDmTfWumc3THEu4e28Lj/u1cb6/kzN5l9NTMonHZBHbMy6BmWgLTQmzxGPsvLAYpcB/7L/x0PqEw2Jhtc+M5VjOFk5unSGBD16oM2pen0r++gO1TgpgZoEe61VBWpLiyNsuHQi9dNhbF0FRRwIXW1dw+XisL6v4tsxE/t9ePu3hxT4ix9vPVow7ePT/Kmy97eHi1kXNHqznTvUEGmh/YUsTPTzr435s+rnevpWfrHI7tmMfxnYs5Ub+E7roFnNpXQeu2BbJhOLi7lAe3WqUI6c6ddm7cbOPBwyNcubqPhoYlH/QPJ2r/T+RevSyoT69s50L3MnatTqFmYQgNqxOYl2XM3GwzapZF0d08SyLtIn2GsHCKKyvmBJAWqklhqhVr5yeREWaKCAo3V/8IB6MhhIukrGBrRCqM6CzF1M1g9Ecyi1kAVcS4V2eIAhuNj+X6xt1sCGaqCjwtR0t/uLnGICkSCnE3l8AcV2tlLPU/l6Hj3mIt5G2Mv4MmvnbqRHmbyMvDYgzeNqp4WY3Bw0qJUHdd7PQ+k8+FmuW5zMwJxlF/OJZqQ3AzUsff2gg/C11i3S3xMBpOTqgl6QE6RDsNxVVXFEwFF1unsH+DM2dbIumqjSHd6zMEBjTY8nMZ9DE50Ypd68ZzcOtMdq6dyJ7qabTUFkm4wuZVscyb7MTUbAeZMibyr8WVEKJHZpwFgomQGCy0IGoEOYyQTY+IlssMNJK89IIwC6bGORLtqEW6r4W8JoQ6kB1gTVGCl/Spz0pxZ944VylASnIfxsqpHsxI1CfDbygbir05VJPL1CQHssJtiPc2QuFqqSmRUaKIBniYyq5U7EhtjJVxttLGyUIHU+0xOJpoY2ckQmD1mD4hjmg/a1wslPF30sfBcAQhbtp0NZXz/HYr60szZfsvdpvBLroEuZqgO3qA/Pv2xupydyoYkKLznTAujLRYHxwsVEmN9cDddizWhp+Tk+JOVpIzkzL9mJDqKX+AgjfpZa2Bg4GSLIZmYz/HVG2g/O8LyESYu4G8CcZF2stiKuD4sQEGJIaYyNBbK50BGIhMQN2Rkkcpvo5IoUkNE7AGY8I9tOXBwN1iuNy5+tgq4WI8GDfjQST76Uulq7mSgnF++iybGMy0RCfi3bUJdVCRwp1wByXyoy1x0lFIXmzNogQZOyY6Lit1BRkROnQ3zOPi0XX0HljKaRFou2u25L2KHU93Y5mMrWraVIIQStUsz6Eo04ltq9PpaiiitT6fM51zudCzgI2lwRTEqRNm9y/i3YdTnGXP4kle5McakeQ/lijXYQRafYK/mQBEqFIQqk+GtyrjvNWklUac0NL9DSQX09loCGLfnB5hzopZ0TLd4ccvD3Ng63Ty4s2l4jclxIgJ8c5EeOiTFGhLvL8DfnaG2GirYK6phOnYYdJTNic/lM0r8xDAe+Hv3bVuMaVT84nxdMXDzAgrzTEYKA/GSncszmZ6uFoYYa07Vu5aAm3UyQ01Z5XIRk22lpD+gmhdMkLECPpTXI0/YlKqIycOreXVvcNcP1lPl4CmNy+XwHJBmxFh2d/dbeDO8ZVsXhZOxWxPgh0U5EapcvN4hcykFd7bomRrmqsKuHd+KzfO1iIEJFf7N0mW65nudVw/uVn6FRtrpvP2fpvsbHesyuDIrtncPLaaM4Jm1LqEvoNLZWLLma7VHD9Yyu0zdRLbJ8Q/f3zTJwk8L+63cPPCNm5f2S4FRN+9PcrLZx08e3IIUUhffNnNF8LO8rBVXs+edvLqWQ9vvjrGi8dtvHzawXcvj/HLm5PSO3rn3A6unNgkwfs/vzyCsLOIYil4vs9uNciDzFd3mqV6VyTACBiIYPmKzNO3dxr5/uF+bhyt4OnpKn6+tY2vz67jXNNMrnWW8terbolW++f9af758Rz8cI7fn/fw4OQWTjeXyezR/l3L6dpQzL6KIhpWTaV18zyO7l5G/4HVEp5+/+R2LrVXcm5/Bb3bFtJZM5uDq6ezeU46ZROimRBoi63yxxh8psBssAJfMZGwG0FZpiuHyjP+H/3oyOpszm2cQmWmG9N9tcl3USHfVY2a/GC5N12e7s62eSnUzkuie/MciSrcvW4ipzpWS8WusAYJb+mj281y5/z03n5+eNvHv3+5xMWTmxEM5UO7imneMpVn1/by99t+Lnaspn3LTE43l3OsfjFXOqo5c2ANvY3ldO9dTuvuUtr2lnHmxFaePOji3r1Obtw8xL37XZw6Xc/evUvZs2ch9+8e5HB7Od2HShF5srfOCKjEfOpWxFBZ4sf4SCWaq8exszKNglQTDm6fTFqYIIuJYAVTxoVosWFxErFemmh+rsDVZJhcaUV4mpAV70mAix7mWoOx1BmKnaEgGKlgqPwx9nrDZGNhozWAUBetD7tMvQHY632Gt7WytK54WmpKcpkA9YT7WOBioyozSb0dtFAfrsBg7L9wMVVCYADF81EAWpwNBcpVRY6SRUMiPmY4RoHw7k/L9ET4+YXKX+1TBd6mGtiqDyXcwYBIAf9xUuOnx0cQ9Ch3fQUluRZsXx7OkZ2Z8G4nZ5szSHZVkO49kEXjbdhVkUj1oiAEZ7dyUTDrF8cwPcOVygUZ8hLC0LRQLXITjEmJMCDUR5XEEENE/nZmrBWT0l2ZmOaMv+MoKayck+sr6W7pgUYsyA2QOc9xzmrkBJmT4KZLgps+aT6m5IbYkhNsw8wUX5blR0ks6ZRoazL9NBnnrUKM42eSXpflP5rKIi8OVI0nJ8xMTvei3LRRhHtb42Grjbu9jrTFuNlpy1Gv2JO62uhiY6SGr7MldoYa6I0ZgonGCGICnAj1MMfLVgcr3RFSVi1OLcUTw2mpm0fNilwmp7tLBa1Q1QY46hDjIxRWkVIZZqEzAhPtYXg7GWJvpo628kDGxflSW7kAD1tNxg5V4GQ+BnOdzzFW/xRXSxVczVRwNVWV2CuTsYOlR0qE3oo/tzcYjqPRSJyMR8nCKk5TbhajPgCibUaTHGpBZoygN5kjbkZxM9nojJahufb6QyRMOtrbUKbaW2t/iovJMBwNB8sRsKfFKPztlPGzHCGh7yXZvgRbD5Vio3WzE3l1tY0Ebz1s1BW4GHxMmP1oHLUVkkqU6D1WSq/NVBRSABDsNJjiPDfqq/JorS+mcXMhB3ZM4fzhMq72Vkp6zomDH4KV23Ytp6Ysj9LZsTRsnk7voVJOd5XRd2ihPOWebJnLkkluknQ0IcKI2qWp1CxNYmaWIwsmesrdY4C1glDbj0j2GMrkKD3SvcdQEK5Pmpcqqd4azMvykahAceoNdlIj3F1NdqFbyrNp31nMhiXJBNoPJs5HjTDhe3PXxFRVId9EllqDcRBCJFMNDFWGyDGvhdoQAuw08LMdIzMTPcxHEmClK0c+ekM/Q2/4Z9jpfRjr2uorS8m9vYGmHPfqj/wYN8NRZAaYs2JyGCXZLszNdGTmOFsJoXA1VrB5VQ6/vTnNFzcOULe2kIpFyWxcmcHWtVlsr8hk38YC+hrncvNoOc1VadQs8peQ++JcQ441FnKvfzXTUkwlIuzCvgpeXd3HnbNbuNS3Xh5sxFhOdKfne9bR07xYBv/+8EW3jF0TZu6+pvmyCN04upLbxyp4er6Wu6dqOdtRwanWclnchHL2/bPDCMHTi7v7uHN+G3cubOf+td189eiQVOJ+9aSVF48P8earIzwRQPpHbTx73MHzL7p4/qSTLx+18/RBK+Lh//ZFj4QwCCTew8t7eHHnAO8ed/L44m76D62QYIhTbctlwXxwvk5GqH39YB+v7u2T6uB3DwVztJtfXxzm+fV6Hp/bzP/eHePHx/v5+WET7y7XcKtjPke2F3CudSF/vj7MTy8P8/u7E/z9/jSi4/3m0SEkienQSs4fWCXHn9218+moLeF4w0qON63kYvdG7p/ZzfPr+6S4587xOo43lMoOr3PTHNqri2mumEHDyhnsXDGdqpICNi+eyMJMP+YmOZLpocp4HzWWZzqwqySK3vV5nKop5GTlRGrGe5NhPYxMm+Fk2yvJUe/GghBJQdo5N4WWFXm0r59G3cI0Ni5M4eqRan54fpT7gvz04oN9SIAtHt1r5lhnObev7JRj8Rcil/VpK6d7KmjbNZfn1xv5z7tT9O9bxu6KPB6c2EZ/8wrO7F8lwRAn91fQVr+YA9sXcOzgaqnyFgX10aNubt06KAVJ127so7V1NZ2da9ldP4/mvSX09azm7NHV3L9YS3/bAjxMFQTbKRgXMoKzXUsomezGxSPlnOtaQUm+u1x32Gkp2Lw8m9Vzk5ie7oWvjRKqgxQUJPmRFuYmn7sC/6c96l/y18HOxtjoDsNM9VM5nRPj3EB7oeDVRzyDBTHO00oFdwtVnEzH4m6lhaDfWRmNJNDThIL0EII9zNASQeFGo0kKtJfrMG9LFbwslDBRVuBiNIwgBy1pbxH7USutgQh/6eFGoUcIJzfGBV8LVTyMlYl0MiDByxg/sxHkR1tz53g1Sya5kOzzORc75nK5YxZHdmXw84MamteGUjvfnfoVIXRtG8fbO+tp35HCjGx1JiaqyZSpEKdR0p43PtqJzDBrBAtA5KaGuI+VwSnhXhpkxFiRn+osm6doH10yI60pTP7g2gixVybUdgxL88OZEGZNqqchE6PsiXbUINnTgNwQa6YleFIY48rkWBdmJXuTG2xGYaQl0+NsmJ1iS6rnGBJdhpDsNozpMXryWTouwIBg+7FSU6KICrInPtyFvIww0hO8JbVIwBYczNWwMlSWnam7rTGG6qNwMNORRAwHEzWc/k/KgGA5Cvm0GP06mQzDy3oUScFGrJiTwLpF6dJ/lJfozsRUPxKCHbA1UpK0JdGZCgakraGKTDuYlptATmIgBioDZeqBsdrnGI79DCPVQdgaKEkTsPgzW10libUSZmNRVA3G/EuepByMlWRRdzEVae86uJqNJthVm7gAM9IibAl01pQKYAH0D3QxwVxzBKaqn8vdq+i2Jo3zlWxZkZgzf0qcLMZi9ypGoELc5GM+jJJcf2oXZUoGrEiKWTk1goqiODICTSWsQRTSIMtheBgoyAk1lPu/ULtBuBsqKIgzJjlAlThvJYmw69xdzMFtU1k115vGTWkcbZ5F247pXOqp5N65PfS3r6e2YhL1G2dz+uhmqSwV/rfrfXV8fesAzy7sYk6Gs8wlrVuWzbWeDdzt30pv8yJpzdi+Ok0yZ90NFMweZ8iRbZOYO86cYIuPCLMaSLyrsgwHD3VUw1bnEwReMd5fj1CnMST6a5IRbki8rzoRnsqkR5jIRAhxc4pIKPHvFellTGKQvTwVG40djLuZjhQV6Q5TYDxaIW/8fZsWkh/tTYybBQ7aw7DTGSLHRHYGn2OrNxRLneH42pjgZKgpLTYC+CCCyyuKYiWmMStEG2sNBV4Wn1C7MpNfvu7j/fNeuluWsbd2BkcPlNJcN5GNK+O4fLSMq0fK2FedSX9TES8vV3F4RxZ5UYOpLHFi64ogZqbrs3lJNN9cb+L5mb307SlDjGcvnVgrFZgnWkvlSPRMR7kkGImA87Pt5YjRbtf2mTw4Wc2d3rVcbFvCxYOLONlULH2lgsErYPQ/fdnF9487eHmrRT6Y756u492DVoSi9s3jNn56dYyfX/fxw+sT8vr+9XHefXVE7km/fXWM796c4Md3J/nlu9P89v4sf7w/Jz/vR/H3vu7lt9cn+P3VcX572cu/35zkn+9O8+MXHby9/2F8++hinYThi7SXv94eRxCMRCEVoqNfXnTy8tYenl6o4+enB3l7czd/PUagTXMAACAASURBVDvEN1c38eDoMi63LeRs2yK+f3qIv9+f4vdv+/jPj+f55+eLHzCEjzskFu/nh918e6uNN9cO8N2tTp6c3cudvp08udjEd48P8/tXJ/n7zWl+eNTFte4q+vcspadOMHyXcnjrElqq5rGjYgbVS6ewqXQSnVsWyeLcuXEmwn96sCKHrrU59FVP5Oi68XSVZ7GpwJ94w0+Y4KjCFE9tFkRZs3t2IjUTQ1g/IYADy3Klx3VPaSZbF6dyoXUV3zwU8XgNPL7ewMsnB3l6t5H//HaBW5e2smZ5IudOVPLX+1N886xd7rPFoer2KQH3b5Lh72cPrODE3qWcaRHFtFzCRy62V34IQm8Vmazl0gt+sruKJ/fbePKgg4f3Onj1qp+LFxvo7q6irm4WC0riONy5knu3dtPeMpdH17awZVUCcb6DSQ8X4dnaJIcp07FrJr++PMKTC7slE9tESYGFingfGTIpyYlpGd5SWCnyoi01h2GqPgILrTEYqw9Fd8ynOBgrI56BbubKRHgaEeSkiZ+dqiykQqgZ4qJLsIs+TsZKmKh/jo3+aDxsdLAxGYONqbJsbIR2RkS4+dnp42OtLbm63mZjpJ3Fz0qZMCctJiV4UzE3h/QwJ0xVPiI7wpbdlUVMSnRjVlaQzJj2NBnN5EQvAm3GEOWsggj+rlkUJalDTVVJ/PVqL398tQt+OEB/03gW5+twaFM0BzZF0FIdzO2TM2ivj+XFzZUS0xjvO5yCRFtJYYvzNSQ72pYoLzWCXUdJuIWw6IhM7XTRRUbbfJg0+hhIPKyj7gBiPHTxtRC6Fx1SfYUAajSp3iaSox5oLvQl6iR66jM+3FZeAq9aEOnAlDhnSjJ9mJ3mKiMtcwK1GB+kxbxxtqws8GJSpJFc+4mQ9QhnDRTjx4WQFufJxOxwgrxMcbPTJCHCWXaqXo4GmGqPxtpQHU97M2KDPbHUHYP26IGYag7HXfyDW2jJMbEokm5WY2XCQWqYOQ01M2WGoLCaiG8+JcRKCodEp+lsoYaZ7ggMNQZL8ZPAGEb52iIAEi5mmoiuRfkzBU4m6ghCk6n6MOwMVLDQGomdrgr2emPRHvYJJuqDcbNUw85ohBw5i8gge4OR8mQlRs+hbvryxspNcEOMfoWPKsTdBF8Hfax1lbDQHk6gky75SZ5kRDvKRfum8ukcblovx9PWugOx0x2Ip1iIGwwkwVNTAhlMhJLR6CO5e3RQV+CuJ8apQ/A1GUSYzXDcdRVkB+nKRJMY5+Gk+6vJEcfxvfPYWZEu93aXuys431XKpFQtecMsmeJA6VQ3KWgRySHH9q2QgbM9hyq5eqaBS/27uHG2gee3Ovj6djtd2+cT46KMvaaCxYWBHKqbzbXeai4eXifTFhZMciUrSg2RmHJgUzq9uyczJUaLvDBNmcEaaT9CytPdjYdgpfkxkR465MbaS8pTeqiJ9NfG+2oS7a1OeoQZUV6aMrM2I8qW9Ag7hEAhJdRO8jmFSTvMxQofC310hyjwNVdiy/J8vrnTRemkaAJtRsvxT7DjSObke2OmoWC4QiGhDzZao6QCMNzRmHhPE3LDbKhdlIVgEyf4qOOor6B8bgz/eX8B/r7DsUMrZKcuCDcCt9d7aB5H9xXx/NpG6srCyQ0dQeVsV651zWJKvHijKNi9OogLrdM40TSF93f38MWpLZxvWsmLsw1c7ang1ql1XO9by6WjK7nWu1Zycl9e3yP9lreOreebO038/bKHP5628vODffz5xSH+ftbGr4/28duXHfz2ZRe/ftElOawvr+7h1fW9/PG8h1++6JIF6O29g3x9ex9fXNkju1cR43a9fwt9HRVcPVPH5TMCsr6Jc8erOX10PaeOVMqUGkHpEUKW/s5V9LWu4Fznas51VNC/bymn9i/nYscqbp/YIGH64vsQyTTPr+2WMHoR7i1GvB+KaS8/P+/gz5dd/PLFIX56coAvz2/iu9u7+OnOTn69X89PDxq52FUqFaj//HyeP787zb9/Oo+w2Pz3/Tn+991Z+P48fH8R3p2Hr8/A63O8uXGQHx4e5vfnvfzz7ix8c4a/vjrKm+uNXD5Uzomd8yW393zLKq60VXNi72r21y6mrmImVYvzqZqXTtPaybRumC7pSEc3TaV302TO1s3gZPVk2kozWJXmQoSWgmzb0cwJMmF5ghN756ZQnRfEdD99lsTZs2FiCJtnxVI5NYzGilzJNhaUp+e3Gnn/oktef3zbC39ckMK4jobZUk3/86tufhR2oPen+d+3/RLu//uzbnjXz7ubzby8vJtH/Zu51FrByb1LONm0lDP7yzi9bzm9e5fQe6AMMXZ/dLWFhzf3S+TknZsHZbcqulQx8p1eFELDrjmSK9u4Ywr3L2+ieJIjWdHq5KfqyeSS7oY5EuX449OjstNfURQvHQOBtiPwMP1MeuNz41xwNVFCY4gCJ2MdNIcNxEhtGDpKAxCNhkh3EQVT7DqttD6VB9cgJ21C3QQAwoYYfxs5TbQ3UUas93ycjXASazNLdTzsDfB3NsXTWmBCxyKgDqFOhsR6GDMhxhnhMy9M8qRq4QQudu5gTfF4DEaJadxgLMYq5DUrK5iscHuZAhPpoimtOXnRZlTMDqalOptrRxbz7Mo6fn2+ix+f1PHNvQ0szNNlavIwNpc60bY9micX53G+O58541U53JDDuoUBzMp1kLvj2eMDEaJQ0awFuyoR7q2Kv5My6bGOTMn0l7mvYsKYHeMkOexBjuqMj3bG31oZC2XBKR+Fr8ko/MxGkRFgRZidGr6mQ2XYR5jdWJK9DckMsiDBQ4/sIEtmp3mzINufSdFWFMXbUhhlTGGEEcvyPKmcFkzJOEe5g0300f+AEwzxMScj0YcViybSsK2MrdUL5O7S2lgJUUzNdcdgayyKqSl2Jlroqw6VAiIjzWFSoCQ+LhS/NgZKOJupSN+TWHTPzPWlrjyPyamORHtrkhFlSX6KO9H+pljqDUNHZQDG6oPlKUl0KGKE62GhibOxmhzBCqCyOH1Z6yqjM2qgpGl42xrJomqsOgR/RxOqls+ku6Wasvk5pMe64+9igI+9Dr4OuoR7mJIe6UKMrwWpYfakRTkheL7Bbsa42wgR1QeElrj5ClJ8ZeHVV1IQ5WchgRPCvyVGxeFuOqSHWMrOVKTFFMZYk+apzoQgPSaGm5LqrUWo9TAi7Ufha/wJnjoK0n3UWT0tmJlJVuQEqJEfqknXlsmc37+Iw1unsr96Akfqp3N0TxEV83wozjcnyv1jQh0VrF8Qwpn2pXJfWb+hUPocezuqZEG9e2WfTLM4113NwomB+Fl8Kncr9WtzuNizRtJzrp7YwMbyVOZNdJaBt4snObCrIp5FE6yYm2EmO6q6xfHEOI0kyVtbIsjE+MbXWkXuV0QXnh5uKdW7IlZJFNG8RAfEASnSS1ceilLCrMlNcGVyhj+eVqqSouJmrIOV2kh0Bot9sQrTUuwpznLETV+A9keSHa7M6mJfbp5cxcq5QTgbfoShkkK+Yf0ttckOdyHUXkOeGkV6jZD0e1l8Rlv9AqnG5L8PePWwjd7WcjoaF9CybToHdkyjZUsejy5u4E5fGVuWBbGjzI9ZKaNZkK3KsolabF5kz42eIu73LeLcgZlc2D+PQ1UTuLK/DJGO8v5hE9/c3yNfv3/QyDe3G+T18uJ2rneu5Pz+JVxpK+PY9pk0lKdRvyyJukVRVM3wZ32RH4tznFk12ZfSCR7yTbZ0vDuzU2yYHmcmd9VZ/hrkRxoyK92e4mxnZmU4ML/Ak7UlsdSUjaNqeSrVFZlsW5/H7k2Tadg8Vb5ur8pn67ocmYcqwfgN8zhYN10iFQU96mTzYnrq59C9YwbXjqzm2eXtkqH797teXt9t5IcvOyTJ6PGlrfz19hg/ftnG9w9b5HiXb4/x9mY9NzqX8cONbfz9RQv/vOrmZu8abvXX8L+fzvHr2z7pd/3z25P853tRaE7xx4sj/PSwjfe3D/L1hT08OLqRCy1l/PqwE16fhHen+edlL28u1/P4WBW321fSWVVI14YpHN86F1FQL7Vt4EJHLee66ug7WE3//jWc2LuMjs2z6d05l3N7FnKmfg7ndsymt2oi7WVZzArUJ1xNQaLBAGYHmlKZ5c/O6bHUFoSyJsODDeP92FYUJYEQVdNCWT8zjJb1+TSszaZt63SaNkyQ1qW2rZOlberRmRpOtcznYlspwh5070QVD/treH5xG++u7+H72038KgAaLw7Dm+PSb4uYDDw8xNsru3h5fhuvLmzn1cV6rnaulocaMVoWgeTP73dw/WKDRIOKferzr06we/cCVq7K5tzpWtpa5nO+by2dLXOZmmNJ76FiRLJL647pHGtZJKER3buWsGFhBlUL0tmwOIPi8X7MyPaTug6h2HUwUJHF1FRtDBrDB2Brokqwu7mE1Ae7G+JlpyaFSt62KlI8JCZ1nlbqcrxroz8KG8PRMq/UzkxFsgSCfayIDXEl1NMWNwshLBqDu4kqAXZazMwMYnyUvWT9Fo3zoq5sEjsqikgPtsNK9RMcdQdho/EJZsoK4ryMmDEugEkJrrJIOWkrJMP22eWtPL1Yzd1T5Ty7Vsmfrxt5enEV6+Y7Ub30QxHdXiGSx+J4/3Q9DdUREtjiaaogLViT3BgLmTct4ulCXMcS7adNfJA+CcGGiGdRlI8RSSFWUn2cHmFPSog1/raqMpFm+bRUpqb6Snyhl9koYtwMiXU3IM7DmHA7DUQRjXfXRRT/VH9zssPsJA5VxGhOiLBjUowduWEmlGR5sCDLhUnhhsxKsmJKhD4pbkoSG5sZbEKanxGKcH8rphfEMGVCJLWVc1lbNhUbk5G422sR6GmGnamaVPQKPqOuylCsDVUJdLdGdcRHUkhkbayGo6WOPB2J/an4odnpDWLaOE/6D1WwZGow3pYD8bUdSnqkBf6OauiMUUhPqxgRqw9TYK0zFFu94VLAIqKAPC11pPr3/40yVEdgo6ciO1bRpYoRRXKYG+vLishO8pSybkP1f6E+QoGphhC3jMDfXp+EQDsyotzlac3dWhUvOw1crcZib6KEq5UGAo2VEevO5PRAkoLt8LPXwsZgGKaaA/Gx1ZA3osjbS/Q1wt9qJKk+uizM9WVJrg9Lc71YlOVOjP1IOVOvmBxKgtMoHEYrGO+vycoCH6ZGGlA23oVZcYbUzA5izRRPVk1yo3K6DxvnBbGuOIBdleksn+Ujs1NFEPmcbHNqFoWzcqY/ezbk8ehKA31d63lyp5Xblxu5dHIrdy7spKo0hQj34WRGqFG5OJzzR8olJODuuTqu9lWxb0shRZlWhDl9TFbYGKbG61BTEsTRHdOYnW5DgoeypH54mwuP6FDsdD6XexFrzU/xsVKWggfRsXqYD0eMVmL9DBGYxoQgc8I99YgLEMHw5uiNFgrboR+k8NqqOGgOJTPIjJVFAVSV+ONhpGBhgQE3emdxqWcap9oKpYjq8J75BDso46QzGHcDJVL8LIn3NJI3cJDtKOl53VNdxP9+us5/f73Gf365KiHljXXT2be9iIM7Z9DTOJfW7VN4cqGGU/uL2F0Ryq4VXkyJG8i8jGHsXO5AdbEFvz6q4Yuzy9lXlcyKQkemxemxKNNGosxaKsexZ00ybZtyObJjCl2bC2jfmEdDWRLlBe6U5rgwJ9GCGTGGzEu2YEmmPUuzHFg4zoriRDMqJnqypzSJ/RXZHN44Sb4KUlXdvGi2L4iTAHdBA2qvmUz7xikSPdi3dwFfnN8ulbIiDeb3b/r59/dnEN7Qv8SI9+1xaXN5/0zA6A/yx6tj/Pebfkkl+uZOC+9uNvHt7Ra+vdPEmxt7ZOcssH+Cryug9D89a5cdqQA0CCWpyGl8fmUbL65u5/XNnfzzpocf7u7lbPNcvj5Xw3dXt/Lj3b18cb6O59f2wG+XZTH99/uzcm/63+9O8efLI7y52SizTh8eq+HyvuV0Vk3m+Yla+OESfHOav+4f4PWZLZxvKOb09ulc3DOH4xsnc2b7HI7VFtFbV8ypphVcaKvi8uGtnO3cyMXOGkkeOtm0jCsdFdxoXcm5hvmc3TmbI1WTOLg0g0nuamRaDifHZhRLYx2pmRDC6nGerExxY32mFwcXZ9C2LIfmJensXpwi0YWXDpTSXTeNUy0LJfe1c3Oh/LnWzY9gzWQPNkz3ZUtxCHPijVgxwVleC9IsWZbjwJopXpQXuLIk244V+S5UTvdl2/xI9i5Pork8VV77Vqaxb9U4Tu6YSf+e+RLcf/1IFY8vN0pi0vXLTVy9uo9Ll5t59PgIra2rqK6aRN/RSroPLeFifxUVSyLYszmH0tneNNXmcfJQKa9utfDl5Sb2Vk1n+jg35uUFMjHRkcQAE2x0BmI05mMsNUdgq68mM0i1Rw3CQH0IIR4WJEe4SCSgs/loaV+00x9CpJepzKiO9LEmQHSi5qqykAptjJu9jiTTuTroypWelZ4yVjpjENMie52RslgunhhDdriV9Kwm+epRszhHhlhYqf0LG/UBmI1RIOIVRWF10P4cb9NRhDmqSa9opPMoqd349kGDnBx9+3A7vG/j9d1N0okwMUmJZ9dX8OLWcnoak7neV8Sji6WUzXCiOMeOWdkuCMhLgr8h0vtvO4JoPx3iQ0yICTTFzUqJzGgXqYMJcTWQz+vcWE9ifc0k5lT44oW/NdHHnNxIF8YF2RLuqEOwrYZ8FUjDWFddUnxMCHfUItpVBIUYE+GkTby7vkzTinVRI9lbkylx1pLRWxhpSPkkb1lMg0w/ItZVRa74BL5RkZXsw8zCeKbmRbF4bgZVFdOZNTmBOYVJ+LsYyWJqpqMk96V+LlaI4mmmNwZN5QG42unhamuAvroYNXwmI9yCnIyk0mtCrD2Lp4TQWF0oub0iODzQeRSR3nqE+5owpzCF9BgfTFQHyOgua60hhLuZMT4+AHdzLbmDc9BXRXvkZ5hpjMZUc6QcLRuqDpZpBha6wzHWGCCVvyI9wdZ4mCyS3na6stiKnE1RUEVxF6Kj2EBrInzM8LLXlMkItqZKBLkbS0Oy+LiV9udYag3CRn8ElrqDsdEdIguFrfZAwp21yAgxlzFrAWaDiHUYRX6IAZNC9Qk1H0i2nwbTo02JtBxArPUgcn3HkuwwhFkxRlRO8WZZth1NZQlsKQ5i/TR3Ns32ZeMsL+ZnWrGmJJbiib6UFgVSsziaJROdKErSJ81/OIsLXWQaz7HWUq5f2MrJ3nWc7l3Lg1s7ad4xkbRoFYJdFEzJ0KOraQbnj61EkHyEQlVgzYQqMNl/JL7mCsaHjmVuhgVzs6zJj9IjM1hLBopbaXyCjfZgXIxG4aA3DFfj0Xiaq2CrPUiSUsJddWXKQ4iLtoyDEidBHzsV3C1HIcbgOiM/ZCg66qphpTIc/SEKHDQF0k+XpvURHN2TxNZyGy4fTqdrTxjzClRYWGjClcOr2bFqEhajFZgMF6PyIaT6mjIj3Vsm1gi5/ftnffz903V+/uYcf/9yVY5Ed1ZPpHX3HNp2z2R3VS5n21fIIrG+RNiEBDRDQetGH653ZFC/wpbju+L559VOrnbM5kzLdB4cL+OXh3v449Ee+OEo/37WzG+P9/L7k0Z+e9TEuytbeNy7hsdH1/Csr4rLTQs5u6uYUztmcax2Ch2VE+iqyudw9UQ61uZyaFUmrRUZ7CqJYc+CGLbOCmNHcaQsIj0bCmhZnkrn+gL2lKZQOS2Q2pJo2qoncvfIekkZkmSi18ckWOGnr3r4/1+iGIrd59t7+3h2eaf0ff4qotSetMnu6c3VXbKYPjm3SRbCF1d38uZeE++fHuLtgxa+e3JQFlLhdbx1fC0/PN7PL18c4K8X7XJEfe9oBQ8Pr+Sr/g28OL2JZxe2yp0hf1znr2/P8ue3p/jt1VG+fXiI55d2yv/nqwfKuNxcysltc9hflsWz7kp+FaPQ1jKu7J7D1T3FnN86lUs7p0mK0emNhTw6tJyLu0okQel88wout1VyqWujFC1d7K7hSk8Nl7squdxZwem9C2VY+Jn6uZzYNI2NEwPJdRhNkbcucwKMWJvmzZpUL+aHWzI3xIyaXD/aSrOpzPFhUZwNm2dEcLh6Cg971vHVmVqenqjizcU6vuhdx7uztfxxq4Hfru7gz2v1fNdfza2GEm40zOPBoVIet5dxvn4mXZU5dKzPors6l9bKDOqXRLFxph/VRT7UzvRhY5EX1VPcqZ7iSXm2Pavz3FmUbi9FKrOy3OhsXCZZzhfO7uHB/R76Tm6XY9+WpqUyBaW7bQWX+jfS3jiXdaXRbF2XKlnR65dESa7zo/Pb6D9YxqrZsSybHs2MDD/8bMbK96mZ6iCMlAdiqa2EvspgeWmNGSAnbRJAbzICC50B8r0pJm3imeZhqUaIu5lMhhHrOEu9EYjnn52FMmH+NjjbaSO+hspgBaqDFVhrjiTWy5JkP0vyY53ICDHFYowCVz0FMzI8WD4tlmDB4dX4BB/zsVioDJCH6FQ/G8ncFWLMklw/KeTavCyRIw1F3Opbwe8vm/njVQunW2eRHaPEvrpx/Piinr7WSfS3TuTF7bW01Y8n2nMw44L1JKYv0lVHBqSHuqgR5q4h7ZFiXScQuKLBEs95IZjytFCTkZDBDvqEuxpiqzVUPs+c9YbjqDOUUAddYj1MCbDWIMhWizBHHcQ+WBRRcYgPFc3j/8fTm4flvK79//eaB8sUUWme53meR4VKSqVCJU1EqEiSBhShohQqiqiUBmUoMhORKTPLsuZ5r7XXXnuvvZ/9PK/fcV2+x++P67jLoeS+7z7n5zzP9/v1tlKTJ8hWgyhvE8nbnW03lUiPGSzy0yTSfSoJfqrsWTub9bGWLHCbLLUnCaIz9dFDETPPlcQYX6p3ZpGVEc7K1BCK8hJYuzySiCB7FoS4IcRCgl4kYAvmutNwdzAg0Nsazekfoa8+UY6Ck2NC2LAiAVdTYTiewZrEABlndu1kOVd6S8lL90SQPASKUHSngqahP/19dJQU2Gh/RrCHqVT8it2p2JOKJ0pz0kdY6apJW469sTr+zubYGamiPuldPG115c/maqWKpd547E1Evp6KLOiicxVKXwuN8XLhLrrOeb4WeIony0Xkt+phY6iEqdY4OfZdPNdV7k4Npr0jPay2ehPk/kH8vQWBdiSEOrJQjIhFmK/tVBZ5axLjoUKCvxazzD+Vn6+OsGKRxzS2LHXhVHUK21McKU2yIytUl8zZmrQURlCfG0RpkhU70u3Ym+VB4RJrOe4TMXAN25Zy92wlrTuXUJBkz3zXT2Sw95rFJtRtC+dYfQp9x7MZ6i+g/WAqpXl+LF+oR4TfR+RnWEvO7K2BUs4dL6SvOV/uGLavnYe/5QeyuEV6TJQUj6bSKA6XxZA+z4BwV5W3AevmM/Cz1pJF1M1kiswidDWehCBFCTP2LBdtAhzU5aMgYLmaT5bWI187dSn6EvtnY+UJuOiq4W+qiqf+OxJx2Fzuxa3ehVxqn03/IQeqCpRprXHi6J6ZPL6wjS+Gmxk8vI31ScEE2qgS7KRGoO0Uov31eHO/C3jJD6/PwX8e899/3GWgt5yW+ixOHF7LwaolUsD1+Mo++GmI/BQL4oPe5+BWRwabgmnaasWp/TM5tt2Tvz+qYuTEGnbneLAqXJ0LTcs5uXcx+/L9qV3vR0W2F6UZTpRnelCx2oviJHt2rvCka1ciu1f7c2hTOO1lcZzcncyFhlUM7n8LZb98KIs7rQI2kCEDrV+e2sZfD1rkudqwhvkW75LkPpmDeaEcLYpk8xIHypd5cXJ3Kp9f2APfDfKvL/sRwdz/+vosf355WgqKfhhr483tg7y6vp+nl2r4YrieFxdrGDlRzK22AsZObuVJfxmjnYWcOrCSrtrlnG9Zz8n6VfQdXCOTaN7cbYI/rsniKoKRBV5R7Ev/fNXJv1538derEzwb2MFI2wZZTJ8N7JLjTkGM4tcr/OenixI/+PuLXj6/Vs/9nu2yiF5tWs+1g7mcr13Dia1LGKhcRl9ZErtTvKhfHchgxRKG61dwrTaFAyvcObpuFjf3r+T0jiW0FsVytmY1lw4XMXxiJ3f690jh3N3TVQz3lHGzcwvXWgu4cXQjw80b6NuWwvpgM6KMPyLdWY01PnqUzHNkXYAp62dbkh9iRU3qTA6uDiPNTY3VM/VlgW/dEs/RLQsZrF9F564l8vVrKYmiozSOg+uD2bfKn4Y1ATSs9qctL4yhimROlsZyKCeIQ7mBHMjyZe9qD1qKQmjbMo+WzXNpK4ugZ2ccx0sj2b/Wn4rlLlSku1K93IsdS5ypy5pF1apAedGtL0vm0fUWRi43cWWokadPT3Hz5jFaWopkd3r9yn562gu5OVTFrsJ5HN6TwLpkB+JDNOg5uJqHF2sYu7SP0YEaifPclruQKH8Bk7eVSl6xH9WZ8rHclxprTWLuTCeiZrviYqmGld543K1V8HHQwMFksgSpiEmbsNCIY6k3GSdzFRwtZ2BhoISvmzGzfK2lDVJf5VPZ9S6Y6czymAB5bRBktHAvHRy038NgkkJyydcnzyZjgQfuxpNkMQ2y0ZE2GC/jafhaKuNl/hnpkdbcPruL13caeHJ9Nz89P0prbSKZcYbsWO9DWuQMvhvbx1f393B8Xwyf397BqzsV5Gc4Y62lIMh5+tuc0JkW8tojoDt+DioydtNE/RMstAS/2Blva21MVN4nwE6LmXa6OOsp4WOmgaexGm6GyviYquGiOwkrlQ/xNlVmcZAdwY46OGh9LMe9Ip863P2t8liMgEVRDXbWZoGvKaEumiwNsWRdgif5Sz3luibWcxrFqe6sijBhWaghS2ebkBXrxrJ5dihSFgeyfnUsq9LnkpcVQ3FuPBlLZrF2WTi7ijNYvXSeLDoi205gBwV+UMSmCTuL2JcKoIOwzMSHz8JYbSK6Su+xKNgVNzMlUqOcJcJLWCw2tlZSKAAAIABJREFUZviwLTeEbXkRhHlrojlePGGaRAZYSrm2k6mqvLvyczWToicD9SkYakxFT22KPDoqE6WiWPgTRb6eqfpkOZIQ5B1nIw15BBhiro+jFBeJwiqk4oJyFOVvia+1Gn42MwhxN5Zeq0BnA0J9rIkL82SWuwlG097FRPVd2VW7W6hIi46IoxP2n1Avc+Y6GxLlboCdioKkIFPWxLmwJs5NekwF21EwHgPNPmRttDFdFVFcOZRCd/l85pkqyAo2YGu8M+VLXciP1qM81YKSeAN2rXBmuHsz5TlhFC2bTd+BfKkw3bkqjIwwY9LnarJmoTbp8ydTvNKI7noRXhtNdpwu4c4fEB8wlVjv8dSXhDDcs4G+xhV01WZx8sAmyrPiWBbuymzr6bjpvidh+AGmCnIXGdJcGiZ9UivmmTLXURs3g+mEuRnjZjSRAHsVLNQVkmqVMM9WBgeEeOnLN3GAo+hORQE3JXGesxQgiV9IcVfrZqEvd6YeOlMIMhtHuL2C9GAFd7oiOXfEle4DmlzrteVWnz8vrqbw4PQq8hIsiPTRpqtxMw8vNsuEHkt1BQ+vNsB/H/HLm0H+9s0l/vxpmDfP+jl+uICKrfH0Hs2nvz1feiq/vH9URoW9Gq5g8GgSwz1JbMtUY9PS8TQVW9FU5EjqzHfoqgjn93v7+W54N19c3MmjU4U8P1fGq0sV/HjvIP/5oos/X7TDt/3wwxlG+0qoKwjhm5H9/OtVB3x/hv/7+iR/vWznny/b+NeLNtnJfnW5gsHaZLrK43h1dhs/XKvh5+E6HnWXkOQ5mQ1RJvRVLOHqwTV0lsVRl+3P/rUz6atMYEi8XtXJHN+TRPvuJXSIG4SqpbSWx9NUHMWBvLkMH13PyNE8rjauZlOUMftWeFOT7sqOxRaUxdtwqCiSlm2JnG3I4erxYq6dKEbEuf30uI1fn3Xw6OIebp0s5YeHR/jpYQs/PjjCP5518NX1/fz5uJV/PTrGw54SHg9s53LHBn56dow/v+mDv13gt2edfDPcyEhrIZfr1nD70AZuNuRxducyerencL5mDUO1axmqyeFIfgz7MmdRt8JP/oyHs2dyYLkbzWt82b/MncPrZtNbuoiTO5JlhzrStpXbx8u43VHCjdZ8bncWcaV5HXc7imUXe/Pgeno3LyHTU5NEy8ms8tClKNSOzeEu5IfYURDmyIGV86jPDGXTfBtWBOgw3LyRk5XLOLgxms6dSzm5N0NOAcTz2bU7hTP7VtC3J02O48WUoW/nUtoK5nN93yoetGxgS5wZ9dk+tJcE01EWyvGyUNpLQ2jfLgpqKCcqYujYEcehwnkc3bJAniMF82jKDWb/qplUpHmxZq4RW1O8+en+Ccn1vXethRuXmmSM39BQPUUFcQye3o3IUh0bPsTR6hSyFllKOEtBqgctFSl8ebuF+0N7pTr/SncFOzYsImOhr0Soms0Yh4WWEvrTxmOiPgVvJ2NcbbQlF8BEZ4LchzpbqCKaDAczJWwMxjHTXUemvFgZfCaneUJbIsa94utc7XTwdTMjNMBRXn9FioygwwlLjFj5CD2FWAMJBKijgTKuRtOICbRhZ/4SGYhtqfIeDpqfsXy+PxGeJrgYf0ZOsg+bc4O4cqaYf/xwkm+eHKXz4BqCnD7D3+ZD9Ccp8LVS0LQzlGeXirjasZLbZzZSXTIHIQxLibXGwexjwgPNmOWhJ3fAwd7GkiMgbJCCNTDf34k5buZ4W6pIP22YmyFBdtoEWuviZ6aFs4YSHrrTCTTTwEt/Ct56kwm2ViPW05gIJy1CbdWY76pFsMM0SbeLm2ki4QvRfqZSJyMUwDEzjZntqMzhHcvYkR1KrK86qaGGLA83JVH49gN0qFy3gNKVYfL6ryhav4Tw2XaEBFhSvCGR3WWZrFsxn5z0efIEuRvKRAF7k+m4WmnIzlCA8QUZSZCMxAtqPEMJtfHvv/UNGqhIc7FgsNrpf0RLTRZX+splMfWyfBdPi3cRifPLFthLMMHm7Dg56hW7U4E0FOhC1ckfYmsm0mX00Jw+GW3VKWhMnYja5E9RnzwO7SnjsNRSwcfOlJiZXpKuE+hozkxnC+wNVdGc/I5MjRdz9LmeptIXNdNGnXleRtIH6Wg4keggOzauWkSon438f81yNiTIURdL9Y9x0FeSf6ap/L70w+pNeQ/jKQrm2M0gPdSOz68dlaMpwe11NBiHWGx7C1uQ/juUJNuxet40NsSosnulLSnek0n3VaUs0ZnG3DmUp9iwM92KijQLTu1dxLcj9dRvWSgDbvMSAti5OoZNS2eRs8CR3EWWLAkaz6IABaujP6OhxIXW8lnkxmizwPkjUgJViXb+hM3p9hzbFSVxV9EeKmTFeJI214UwJz0CTJXxNR6PUO/6mSkIc1CwNd2G8hVuLPZRlcXWcJJCjm2EatnbeiJG0xVYaivwtJogJedRs4TKb6oc7QY6acpiOs/HGNHBa0374C0tS08JlQ8V2KooSAvWoHmrO527nRjtieBe/2y+Gglh7IIX3ftMOFZhxfmmaF5eKSd5nqUUNqUtcKKubCki1UMAD8Tu8F9CQcpL+PMBg71V1FYsl+zi+9caGLtZzw8vu+DPW/A/d/jji1au9a6itsiB/oPBDDaFcOnIfJaHvE+S/3tsitfn5O5FPOov5snprQy353KrI4/XV6q52VnASFchI12b+PJ6Lc/O76S+MIyqnAD66tJo3RHLwZIIGovDqC8MpS5/Ng1FczlaHsWRreEMNS7n7L40jpVGcax0Af01KRIcP9pRwJWmLAb3LZePdzs3cv1INg97N/HFue2c3Zci95ZXOvIY6Slk7EwZT8+W8+DkFllEh+ozOVezjJb8MI4XRrBvhSedBWGcLo3m/sGVHMoO4OVgJd+NHOaHOy08vbCXJxffFtIfxo4xenYHd8/s4PfnJ+CHQfjurCykbwTi8EotP9yql8X00ckSfhxt5OH5cn581sJ/fz4Df7/Iz2NHeHKqnOHGtdyozWKseRP3DhZwblcGXZsTZVLM2d05XKjdyLk9OVysyaK/NImWnBBObAzn1NYF9BdH0lsUxdntCfRvT6C9MFZyeK825HPjSAG3WjdwtTn7/+1ZV3Hj0Dqu7s9m5GA+R7IiiNb/iCXmk4g3mcjmeY5ULg4g3VWbFV4GlMZ5cmRdFAXhVmQFGXC/bQtHiuLYlTGTgf2ruXh4PdePF3Kjq4TbfWXy3OzZwsjJUm73bOXqsY2c27ea1qIFdJUt4uCGORKt+LR/EzeOLONiQxL3OrN4crqAByfzOVG5kOG2PN5c28ulI3mMnNjMzfYCrh9Zx/P+bfJnF3veg/lRUsX8+/MzPBo+KiPc7t7t5N79LiorM+jv2YEIlxfgjYudxayMNmO+xxRWx9pwYMtiTh/Jl2Pe+xf2caZ1s7yG7i5ZiriplTf65hqYaShJcpip5gSMRdepP0WGkgiVrhCDGql/jJ7Ku2hPUzDHxxAfJ3XsTSfKHFIve23ZoQowj6udHo5WWgjv/9SPFLLLk95762nSX+ptLZjbytjpTZMqXx8rHUI9zCjImC/jFt2F99RaVY5HnfQ+lUEh7Q1ZnOnI5falcn7/poe922MJclGSosPCZQGsS7AnI1KLRQEfsXT2eK62r6CzLp7lMUZEzFRjprDjRdgyx99I6mFESo0gPYX4CBGkGV7WGsxyMSF2lpP00grdh9iFhrkY4aatjM20cbhoKGGv8hm+Bsp4609knt0M5tmp4qXzAclBpmxNn0OE4zQW++vIqMpIT01E7GSUnwFxQaZE+urLoBM/809Zn+TJQn9NBII1LcyUtHAzshe5sTLage1ZEVSui5FpM4q0RbOInG1Pcqw/uSuiiZptL20mAim1MMxZ7hRLNyTLDs5wxieY6ihJmIMgI2lO/ViKksx1VTHTUZGoQAcjdcTe0tFoElba71FZuJiWvZlyJxgTpE6Yh+C/GpCT6CltGDY6HyHIRmJPKQREBurj0VYZj8a0z1CbMg4jbTWMtTUwVFdDV3UqutMnyw7VxVxfipSiA50luEFX+V35BrLSnyQT6W0MJso3nrPRFAlXD3bVJ8LHRIZZe1tPIzHCmTUpoczxtpSqYnu9KXJEYDnjM0ymfyIFVRpTP8BA41OEeElYSAKtJ0nYweHyVEpz5uFq+gkuBp8R5qqHt+E4HNUUFCbYEOf2LuXpprRvnU2S5ydEWSvYFGfCnkw3tqdaUJ5uTuaciZSlWXH2YAZbV/uzJNiAWD89FvkZE+Oti8hDXTJbUzI8l0coS5tHYao+ldkO5CzQJFbkonpPxltXQZijgi0rrFgVrUWE62QZBzfHThW7Ge/hZzZZ0j9ifDRkMZ3v9gGVOd5UrZlJmO1nkiUs5PebV4e9zWx1VSU3LZCy9QtIXeBEsJc68/x1mD9TT0rSZzpMl75UW+2PMVP/CAPVT+TzLvCRMXPU2VM4k4FjcTy5spTeekdOH/SiKP0Dyta8S91mkTOqTMNWRw5vn81C/6lc7d4p8YkbV4ZwvCGXz++1ya6Uv+7x6zdDPBg+wp1rh2g5kMvxpo1c6q/gzaPjMu/z51e9/O+v1xC+SjFK+vd3bewudCY3WYWyNYbc7lvGkfIgOioiKF/hJLvxo9tjObo9ju7qpZwTauDSWHorknnUW8bzM+V07VjCgfXB9FYmcbezkHP7V8hCeLt9I/dOFPKgu1h2cuLxXncRn1/ezdX2ddzsKuDL4Vr++6aX3x4dZehwNp1VSzhSFsOllrWyWF85lktPTQptOxfRvzeV3r0p9DdmcLxmKYfL42jaFkPL9kU0l8ayLy9UCl/Ez1Ge4sL6CH22L7HhaH4we9Kd6CwKoyLVUXZ1X480S0HS2Pk9PL5QI+0d3z88yv0LVRLSIAqrLKrPOuGbMzwe3MXnl2r48koN312u4dnpUv4+1syN7ny+vtcAfx/iv9/289O9JrkzvnUoj/uHNnGvcSPnd2TQXZxI//Y02ZHebCrlYt0m+soz6duWLveXbesj6S2M4+yWxZzZvIiBbYlcEdzb6kzO7FzG+dosbhzaxOXGPM7XreR83XIuHsjk2qFsqeK9si+Lq3U5FIVZE2v0KWm208jxMmCdvwnpTuossp4icYI5s01pyZ5PUZgVqS7TadsYy77VIXRuX8qbS/t5dr6Gm92lXDlRwkVBHDtRInfs59oKJLlq5MxOvrh5UO6ChWK7MjuAhoK59FQt5s6JXF6dK2X3and2Zbrw/XANfNHD/f6tUuV9t28bD85W8vrWQe6c2sG11kK2LvWkbIkH3TvSGGraxOjAPu5ca2JsrJsrN5p5/PIUxzs203IoV0bD3RvaK61MW7OCmGn3MasX29Nas4K22kxpg3pyrUHCQ04dK+RsWyn5K0IJ9zWWgRK2OpMxUf0EnanvYaY9QRZQMTkUvn1RUEUCmJH6p2grv4O/ix6G6u8hRJr2JlNkNKb4GiezGXjYG0hXhs60dzHV/JDUaA8S5tpJqo+P9TRM1d7DRnsCVloTpWpfdKeC7Su0Ff7WKjJwwst0PGFummxePY/tG+ZTvSWWjsYVkqMrFPfhPtPQnaCQ+NKcOEcZ4DHSU8CubDeSZk7geNUCls5VIzlCj6Qoc8Jm6uLnqoqt2QRmeekTHmQlXRZCTGWvN1lyiN3M3makps/3Yb6nCb7G05lproGvoRqzLHRI9Hck3MGA2ZaqBFkoEWD8KbMt3l6jl8zUoi4/UvpE5ztOkqrclGATUkLNCXdTJ9RFTRLvRIGNn6VPaeYslkdYkDhbh8Q5+iycpcP6ZF+yEzxkuMaOnEjykwNQJEb5Ej/fm8Qob+YH2eJtrynb6hAfExIjPUiM9CIzKUQCF4QCVgSIi+7RTHcKQpgkPKhqkz7C2dIAI42pOJpqMsfTUipiIwPNWRppL8n9xatnSvWp/mQFs53GE+mjLv1TKdHOlOXFEx1kg6rgSQpAg4kGmsqfyUKqozoNcbSnKaOnOh3DGeIoY6OviZ+TmfQ5Gqq9K2lJVkaTsDSciLH2JxiovY/wnYq7qCAnA6IDbGSHKhRxwZ560tqxeL6LzOibMfEdzFU/xUrtE5mKYj5jHBqT35OF3Ujz7Q5CZpgafSBxWHNdlBApDE5GH2Kh+tYK4qH/IXbTFaTPUmOR+4eMHFvOq7MbiHNSkOr3EXtW21OSqM+2VFMa873ImD2e5SGT2ZXrRXqkHkvn6ssXSuwxhUJsgecM6U9dEaFLzkJ98pcYsW6RNqmzJxDj/j6JfhPJitQhfe40NiUbc7I+hm3ZDvhbKqT31EpFIUcYXsafMNdZhUgPVZx1FMT5K1G20kPaOGLc1ciYb42n6Ucsj3ZktpPIIRQGaQ/KNyRSVZxMTLApC4INCfFSIchVGX97JbytJkvIgxihC7uShog/sx7HykQLdm/yp3y9DdXFluwuMKJjdwBPzq9i8Ogc6kpMKc00oDrfm2M74rFQVqCkUEgblQhDv3G2mmundzM23MyVgT30d25l5Eoj5/srpYpZsFYf3jjIH9+eg7/uwD9HZLyY4M+KvdMfX7fxy+cHGOhIpu/wIq73r+LC8ZVcas/mTFOmpCOdO5JLV206rZUJ7N8UJsekr4f2SAVp+7bFUo27f30oNdmzyI+zpjorSJ6qVQFUrPSjdu0cDm2aT1NhJLV5oRIC0b53Kdd7ihlqy6O5PJ79WxbQWpXMmaYcTh3MonPvMuqKIjlakSR/hpMNK+mrz+DS8TzOt63j/PH1XO4skN/jVp/onLZwq6uY4c5CTlQlkx1pxLpoYymIGesupDE3kJ2pjqyPNuJ88zpZQF9dr2fsQjXPru7j85FDfH67kS9GD/Hsxj6+vtvMzb5SqfoV1p+hw2t5eGo7L89X8Ly/TI6mf7hZx9EdMTy5VAH/uCS70m9vHeDm4XzutmzieVsZD5uLuFS5iou7VzN6uIhHHbsYbtzKjYZSrtZt4uLuXC5VZHNtdw7XKldxungJl3ZkcG57OufKl9G/LYXWjXG0FSZwujKTof1rpWr3gthBV6dxYf8qKToabsxlpHEjxfNsyHBRZ427NpWx3iRaTmGe1vssdVJjofUUCWzYGulAQbAZuYGGVCR5s2WRCwdyxbRgHeImg58vy130F3eP8HK0CaGQ/u2r0/z4qkfekH39pJNvn3TAH8N89+AY54/lsndDsLzhuddTzKuhCjp2LmZv3hyen6+SSuf/vDnDlzcPSVDH6KVaxPf415sBHp2tpm7dfFaFW1JXuJivHvZw40ojY09PMnD5AHefnGD4ZhPNDVkcqkrj5cghGR7fdmAlwR5KJEeZ0Xs4j46GNRI5Onx2F6MXqrnQvYXRC3Wca9/KtrULmO9tJAU01pqfInQelnoTsTNUlms4oTdxMJmBhc4U1CcpiAhylNoSoQ8RupJAd0O5M/Ww1STA1ViqgAWTXXuqgjBfA/ZtSyM9xglbrXew0nxf4gPnuBrjI9S/Ziq4GKtgPP0DjKa+h4XqOwQ5KBPlr8meojhGz1VzuDqdhoolkk/9bLiecG8V3IzexUkEgIhpl66ClFlaPDi5mW3LnchbaEz1en82pjoSG6iOjZ4CZ8txuNtNJcBTl2BfEwQvWHhlBTLWTneSHEOL5sdKfTwBlpos9LUj2FaPEBs9wh2NCbXTJdbDjDB7TXyNPmXdIleiXKewJFCdTUudKF/lQ+XaAAqW2LEvN4TiBFdKkjzYnBogPaXRnlos8NEiykuDUMdJlK4KZHvWbDJjrFky10AiVtOirBEhIPFzTNm0fPbbYhof7iVBBoL1KOwgM520ZWGLCrRmYai9nFOLDLu0hTMlckoCFzQnYGkwFXO9qRhqTsHWRBv9GVNlMbXUV5P5qGLXKGHIeu8T4adFaU4IG5Z5SW6sn/WHhDhNojAjkMu9leQun4O94Ti0pijQnPIOWsqfoDVtPHpqymgoT0F9qhJqk5Xkx9rTldCaNhFTLVW8HMwkoN/CYAJWRkqYGyhhpD1ewiCEh1WwJ42nfYyXhRazHI1w0J2Mvd5EgoQEOsCSReHueNsboibumoynY6X2gYQOiP2p8KEKybk4goHpbzdddo4BVp8S4aUm975Oxp/gZ6vCXFctIt01EISM9QvMSPafyIMT2fx2ZyfFCarU5lhwcvccipdqsjlZn5q1jmTNn8qOVTa01cSSEqlB0lwNMqJNSQ4zYGOqJ1V5YezImSXVvTvX+tJZvZDmbWHEB3wmIfDx/hPZk+tDe2UE5w4nMjaUQ29jDJsznYnxV5YFNcBmAsHOyhJ+kBFlxdIQPQqEMCrDi5IUf7KjXeTMX8jb3QzG42uhhrXGRCxUBa1ICR9rdVxNJ8mONC7YAJGtKKD3qfPtWLXIi6RQN+KC/FF+VyFtNeaqCqxmKKSiV/sTBYKBO9P0A7avnMnaRfpsSreiefti5jop46bzKW5642RG7LJYZxorl3P3Uj13rzTw8sEJXjw8wf/98z78dZ/XT7r5z+/DEtogKEKiiL5Vup6DP0f56nGHTH/pb13Nywc13Luxlb9+6eS/v/VxsSePsat7pKiGv13nb8+6+eVpJ78+Oc7fnnbw+8sujtWkcqQqRRYgkTDTVJHI+eMbpXhHdnc39vHVvRapqhWPInnlp6edUjTE75d5dKOOsrwQ9mxZwOj5KgTOT4h4+Pco/Pc+gnZVXRLNw8t75YVdgBREcssvL0/ww9N2fv28U9pZfnzaLgO7pSr37mF+edLK17cb2brcXV7Me3YnsTvLny3J9pzcs4SHp8t4cbWOlzcP8uhyrTxf3j3C69FmCW54cn0/Dy9XS/LRN/cO8+3dwzy9WM2DgV28ulzLnRPFfH5mG3+7WceXFyvZt3EOwz2b4I9Lsrv+/EIVDzu3cqcpn1v1eVysWEnrumjJxs0NsWC+2XjCDCeQ5KjDxlBXNs/3ZOt8D/anhNKzIYmzJelc3rGGCzsyubE3l1sHNnJ2xwqOFSymt3wZ15sLZAG9ULeCM1VpDNWuZLBKABuy6NmcxAp3ddbPNGG9nxGbgm2It1BihacuK30NWGinzMWaHHo3J7FrkTst66Nk13u0MI7qNcEUJLhyoXUTlztKEHv1b5+cYOzGAcaGG2VM3euHb0PU37zs5fL5Pdy5eoAvxtol7enLuy2ca9lAbUEk1blh3OvbweWjBRwojqGnLpOvbh/m318NyO85fGUfI9cbuX2xTjKcf33cy76ieFYudGZ4sE7mnd59eIKrtw9z62Erj590SnvMgV1L3gbDD+7i1oUqEiKNiQiaQY+42Wtey8WTpZLK9eBqDUOdm7hzrkqGLXTU5bB+aQCp4U4SZu9mNlU2DUL46WiiipXcp45DT/lTjFQnSNWrp7WepCQJ8ZHAtYrpnbA+CougWHOJKV6Q2wx2FcZxunUTyREWiJSZ2S5aLA52xMdaU9oXxSRKWHPMZ3yCrdYkqYZNjrBiR8E8hrqLON9VQP2ueJmaJOD00X7aWExTEGg5kUCLz4h2UaYmJ5SeymRGOzaxfNYMnFUVzLF+h666DKqLYgh0mYan3RQig63wddYi1NdUZqiK2qQ/RYGd9kR8rTQxnPK+FBnNsdEnzsuOMHtDYtzNSfS3J0Jw2s2VcFBRsCzUhCfnqti5WvjP9Thdn8yt7nU0lQazd70PD7s2Ub9ujlRjb07xpjxzNluWB7E8wopZNuOY7zGVomXebM+ZTWKwDomh+mQvcWVRqBHzfDRYPMeUvNSZ5KUEoIgPc2NRqAsbMqJJifYmxMsAQQxKnOckiRLCECs+X7E4UI59U+MCSIkLxM1aHTPdyYigb28XKyz0Z6CrOkmOYB3MtBDMX+HZXDDbgtVJ3uwsiOZQxVIyF9oS5DCOwmU+nDiQRdGaOUQF6eFrNxU/hxkYzxBCpymI0bG6kvh+auipzUB7ugpa05XRmDJZ7k/tjHWJmOVFsL8NLjbqGIi7K9VPpE3HSGOyFCE5GEyTL/yWrHi2rIpjrpue3JkGOoqoNX1EaoK7tb7McrXX/RRPs/GIMHB7g4+lKk7wg4XIytfBgIWz7VkW6YxgMQrknoflRDytlSXsYPEsS5LmmEiykPAjZs3V4FjJLEaPp9NfHcixMge6q32oWmvEnrXWFCfrsTxkPLUFnrRWR5MZr0dushlFKx0pWuFMW00CQ23ZnGxM52xzBn0Nqdw7vYmxwRLKV7kghEQRzu+xdbk9K+dPp7bQncsdiby4WSQX+cUr3UiLMqZldxrpUZY46CoItP+UaF9lcuKtpc903UJPEgJMWehngLWKAn/L6cxxNMDHTBsvM11stKagPVF4SN9ltpsa8WFGpESbE+6jjKuJglC3KWREOyOUfNaqn7DAzxBnvffxMFIi1MkIT/0phNjp4m0wFcNxChKC1MldYkecnw4aHyiI8jDhZMNW3oyeoPtQPncu7Offv9zgjx+uwf8947efrvHTt0MSqyeYtn98P8ivb/ok1F0UI7Fr+uVlDw+u1FNTtpjWAyu5fGYL37xs4eXjekaHd3H8yEoe3qyTXQh/3uaPN4N8O9bB94+O8+RyrVRNVpVEcbhuGQJO8ODGPvZsjeVifxnP7zQxcnGPTF95PXaMF6NHuHd1P89uN/PT637+9uUZvnp6nLKNYXQ0ZXN9cBf/89sV+OdNfvy8j//7+zD/+H6IW0PVXDy5jeHBKpnwIlJdHg3X82asle9fnOCX1718+7RNQuq/ftgis0YFHlB0lkJIdLWrmA3JjhSlu9GwJZJzTWt4PLiDRwPljJ3b9Tav9Ua9LJ4Prtby9FYDz28f5NlIozwiDP3OuV2SjvT8Wh0Pz1XyzZ0mfhg9zPPBCl70b+XFyWLE3rR1+wIGGle+FWF9f5ZX56q4dWQj1+vXymJ6dW8OnQUJ1C6bgxixBmq+i/90Bf7K7xFjokyCtTqxBlOIN5vGKhcDiuc4stxei0QLZTI9dNm52JcQuia5AAAgAElEQVT6zDDqMudKwMKZ3SsY2LOMwep0Tlemyo8v7l3FcEMeDZmhrA0wYFecJxuCzMh01yHb14g1fkasm2PJvjURnN+bw560mSQ5K1O1fCYtxQtp2BhFY1EMG5a4cmDLQuq2LOJ4/VvdxsPr9by638brh8d586iTb172MzrSzKsXvXz71QB3RZbtxX28uNPKjy/6+H6si6sntrFj7TyO7EjhzKE8OmtXyiMQksIb/OZlH6O3Wxi73SJvBF+MHOPexXoO7FzG49E2Hj3o4vL1JkYfdTByr5U7o0d4+rCNk60baK5J4/rgTl49OkrB2iBCAqZz/FAWnc3Z9Ldu4GLfZgY6NnDlZDF3zlVy/eQ26suSpD1FoE2d9D6WOaaCSe5tpSEDQMxmTMBSYwo22ipvcYOqk3AyEZCat1NFV6sZ0h4YNddBWhQ1lRQYTFdQkhPGlw9beXPvCBvSfYj01WHJPCeZBKMzSSE5AMINIQqagK046kwiLtCK9gPZnG7L5XJ/ITfPldJzZBVH9qSyNMwCo4kK/E0nszLCkbRZpmTPt+T7awf47vJeTpQuJMlTSXq5F3goEeE+ReYnh/vpS21GmL85M131pfNC/LuR/tZytCxwpRZqn2CjOZFob1vmWOnhqa1MiIU28b7WxHmZECPgMm4zCDR7n4rsQH6810DdxpnkJRgw2LSUl1eK6N0XxYnd89id6cLeNb405M+laXMsh0vjaSpLYPeGcPKSXBGisKq8UPYUzGPtUkdWxlmTusBCcoGTo21ZsciN3GR/1i31QxE3x574uY4UroomPcaLuGArMhP8EPQbkVO6KNRKilBczScS4mtIw+61FOcuYra3AQkLfPBzN0dLdbwUDFkYqmOiPV16Uo3VJ0jbhKPxeLl7O1CeSkN5kiRaBLtMZFO6N1kJjsz3VWPZQgfiw6xkZJux+ody1KunOgm1yZ+hqzIdLeVpqE+Z+rZLVZqE6qRxmOnOYJaPIyH+dkSGuOLrbI6juS7i61Q/ExDmidJyI95wJ/avZ0duBC4G72KtocDVWAl/ewPcLHQRlhvhWRXRXglz9Wnft4LZHlPk/tZMbxJ2JlpS6ORmrIa/xYy3Fhk7NWx0xzHH3QBH/c9Ii3AmM9JWchuTfVVo2hhCU34Ag3XzGTm+gLYd1pxt9GPgUDBnD0ZSmWNL3mINdq11ZGu2PVtzXWSkWv3OYPaXB3GxJ0OOKPuPxEtRzcWOFQz3ruX+YBFdexfLtPc5Vgri/ccz31VB+54wHl1Yy+Or+dRtDiTQTsHWbH/476jkAPvafECI+wQZRZYQrIafuQJvo48RYebOOu/Iu0cP43FE+5kR6W1BsIsxkf62LAl3I0SEogfqkpPqKn9RBo5nU7DCgTCP96QiT0AZshaZ01IZR5TPVKxU38FFdyru+iqE2OkT7mJAgPl4jlYu5khFrBRbnT+6madXD9Neu5ZAh4l0HVrP//02Ajzjb99d5q8/7vDnb8P87z9v889fL/L3785KReDI4HYGWnNpr0ujckOoHGf2Nedx7cwuWTDHbh7gXL+IyBLFdK+MPPv6VY/k24r8zx9fnuabx13cPF1B066lFGb68ereEf7z96syNaZqWxwXTm7jy2cnZILM4zvNsoCOXtvPo5sCVN/Fb1+f44snJzjRnMf6VYHcvFjDq7E2fvryNN+/7uPFg2P88eMl/vvHLc73ldPTuokfXvXz5w+XZBH+7kWP7IDE3veb5518KTJGx47Jx++edciR49MbBxhsL5DdcmN5AkMdBdwd2Mn9czt5LuD6QxXcPlUqu9ixK7XSVyzCqMUNwMPr+2UH9mK0ic/vH2H04h55IX5+o156VcVe9dFQtbTb/DTazLP+Ldw5tpbbrbkM7E/nZHUy39/cDz+e48ebjYy0FCDGrqPNmxg+kMfJramcKFrC0bxFlC+ZSYaXMfHW6uQE2LAl0ofScG8KZjmRZq1FtNYEglXew2ucAn8lBUmOqmyOcaFmxWxpYbnSsJYr9Vlcqs2kf1cqXWWJXK7N5u6RIvamBbI/fRZbIxxZ7anDGi99Nobakuw8g5xgS9q3LmV/biQb4hzYnRPC/b4djJ2plOCHV9cbpCL2r2/Oc6lrG/U7U6gojOF4fY5kW7++e5wv7nXw7HYbL5/0yGI4fP0gj+4fl5+P3T7G3WvNPLnVyh/fXObl7XbOHithe244DduX0Ll/FftLFyHi9v767SYvnvTwxYuTPH9wnDtXG2Ts26kT2zh/dg8CLXj5cqME4d+7186Na408fdTBneFG6mtS6TqWy4Nb+2jYvZTI2eo07U3j+KE18uawrzWXvqM5jJzfIUEsd4f2cLhquSx0OQl+bEwPk8VUZDs76inhoD8VZ0M16WwwnzGFGZ++h4OhFj62ZgS5Wkm+ubDPiMi1UH8TokOt0JgiUmIUVJfGSrzizTPbyU/3YslcKzl1M5n2AWLtNdfLivgwD7ysVPC3n0Goiz7CItPRkM3Zzg0cP7QMMRlat0x0sh8QYDmRCBddbKcoCLOeTqq/Pome0xiqW8756hS2LLQmzU+Vp2eq6K3LktnK4tocJmhGgdaSCTDTxRBfO20pCI0NsmfFggDcDKdgqyEaAxvi/O1x15pMkPEMssJ9WB7iQKj1VMLsJxJs/TGzrRSUpNnRtz+RqnWutFaEcP9UFp9fKaBtVyBHtvlTkmxC/954ng2WMjawjasdBZw5vJb+Qzmcbs6hKn8utcUR7NscyYn6ldRujiEx3Iil/y+QvCRrrlQvr0pwR5G1JIgl4g2b4C8zIovXzGN9eqBMCYmfa4E4eRmzWDDbiGWL3NhZuJi1GbNYnTKTVamzpenX1lwdPw8bbM21ERYWGxNNrAynv5Vpm0/FXPMdEsKt2LVpAdvWzWXxHB3muk9ly5ogmiqT2bgygIgAXRnQLYJoBbRZe8qn6KtOQVd2o0qoK01Gb4YqRhoiZWaytMvYm+sQFuRAZIgz9qaa2BpoYKGtIkcctjrj0RwnAqkVtO1dzIYUCzxNFXhbvIej7kc4GU7DTE0JLzsjzHXGozdFwTxvJcpyA7DUVaCvqsDaeMpbuL/uDKxmTMJadZzsvAIdtBDAfGGpEUG8sQECjGwu1bHBJu9wuGAem2IN2LXciLG+eM41+/HqaiqfX1/J1Y4l7MlzYkuGKXnJ+pSuc6GrKYE7Q+tpr59Hx8Ewnt7O5d6lDAaOL2CgLY4HF9dy/9x6bvRmMdCUTmGqDSE2CkJt3xbUtqoI2veE0HswlvPHV9DVmMaja7v5x7f9NFQs5mRLNn99f5qfXrRyqTufcI8JGE9WyOOip2CW3QTme2uQnegjf0FSIt1YOt+V5CgXhD0mXPhpXSeSnWpH96FkTh1LobrEk4xYJeJnKTi6y5+Bo/EkzFHCWvXt93XQ+hRPwwkIpFhuojM7crwoXePBTw87ud1fIyOVbLUVHKtZAf++xz++vSBDr//z9zu8eNzNhYFKvnzRyUD3RoYHt7710Z7eRH9TBge3RdO4LZZvH7Yy2L6Jv364KDNJR6/UMHq9lq9edXJ5cCd//O0yz8Y6ZBboz18OyRzQ5j0Z5KZ7c7GzhN9e9/GP785z8/weKkpiuHtlH7+8Oc3N8zWIlBYxuhMxXg+uH+LV/eN8+7yPs52lbFkfQUtdDr9/c0EWapFI8v2bfv7xyyX+9dt1Ht5uprttE9eGqmVR/f37CzJCTcSovXzYKs93n5/k8a1DEoAv8l9F9ujdy3vpbMziwI5EjuxJo1dAEAZ2IYqrGD8/ulLDgwvV0kf69Np+hIBGwNyHBysYGdrN0zuHeDzSyIMb+xE3FiKYXASUi2717tBunlzdx28vuvmfrwf4/VknTwZ28dWlPbw6vZXb7XlcPZJFX00K93pK+N+XPfxHwBrO7uZOSxHDDRukWrdnawqnypfTv2MlB9fGUp02l7JYP/alR3Bo1UKOZSfSmZvCjuhA0ux0WOlqwKYQR/YtC6W7ZCm9pckc2xTH8S2Lpfjo9M5khqozuLQ/i4E9GbIrHajIIMLwA5lfGmP8KYvMJ7DCTVuiBNeHWJMZZMKyIAO2ZwRRtykawU/+2/MueX56eoLnNxp4er2R75528fOrU3z7pJvRof0cqsxg2/pITjTm8fr2cX54cYbXT0Sm7ADPx7p5dPc4Lx718PpZP2OjHdy+foTLA3vl2uHv31yWiT0te1ewuyiKozXp1JYtkpzoX74Z4rvXZ/j8SaeMexOF9f7tIwyeruLe7TZGR1oZHWmXIPzbN49y+9YRXr3o4+ypcvbvTmJ4aCcDXUWkLrSkpW45Z44X0NawgvbGlYiCOnCigJMtuXxxv5Vr/VX42k5mQaAZB7avYndhGqHuhpKTK0agnmbqMlHLSHkc7mb6uJnq4WKqh4+dsSymYp1nazweR4sJRIUYsrs0huQ4Yw7siuVUWw4780NZHe8krwUids1U9SP0ld7HVG2cjLsUsWvBbjqEummwLNqRXUXR/P71aV4/PEhj1UKstBQYKClY6GuE2UQF7jM+xnGqgjVhZmQEzqBlUyjna5ZSm+HDyllaHNmawMZkP1x03yPCS1/yhGPnOOLroIu/gy6rE0IJ8zTFZOo70voigAuimMb42hLlbkawuQZRDrqk+lsSZjOV7ChbumuWcXDLfKo3BHCgKIj+A4tpqwzjTt9qnl/I4+n5tdRssGFbpgGj/Vk8HNzI7VP53B0o4Yu7B3g1so/rp7Zwrj2Pm6dL6W3MoGLDLC51bKR1bxrLYiwoz4+gcPVsarYkyrjJzHg3FMuinaR6c/emeA6UpVK7JZG8NF/iQ4xYtsBanpLsOeQt92Xbhvk07cmgvjKNys2LWZ3qT2ZaKGGzHHGy1sbSUBUXG0MsDNSkbUbIrU21PsFE4z1me2gwy02FkuwQdhcuIGmuKcEuk1mf5kFxVhDLFjoR7KGJh5Wy3AEIOIPm1HFoKE1AZcJnqE2agOZUJQzUp6MxdTzTxn8oSUw6qu9KubePUG652yCoSUJ95mr0IetSbLnYmcalrkWsS57MyrgJLItWl3FowsZhoa6Em6UBxhqfEOQ8jUMVSdRsmY+jiQKtqQoZT2Str0KgizUeJpoSe+dnqUq4tymWOhMQ3lhBDfI0mUCEmyqxntPJDjcnxv4j4l0/oCHPkb5qL55dSIAfdnCzJ47Bw3Hc6F7B0V2h5CUbsm9bCJf7shi5kMNg92K6W+Zw/0YyIxfiGOyaw/F6L853RjE6mEn3gQW07JzH5uUO+JsqCLV7n1jPz1ifYMz6RB2yE7XoPZjM8OkiXt3ZzxcPmt7mKPYW8N3zFvjvNYa61rIt15/EUEMpSLLXVMiRe+EKXxYF68icwDAfNflahfnpyNfNz16ZmFkGOBorSInUoq9lKbWl7jSUu9DfEMCZxkAq1uvLnW2U1xRs1MQOVoGTrgJvYwWNpZF07U3gfHMOO9ZEYzXtXbTGKcjPmCMB6oL9+tfPV/n+i7OyO310r5UzPSXsKJ7LzqJAWmqiObhjNte6M7l5cj03uvO4e7ZMZnP+308XZdTY3UvVjN3Yz+PRQzLySmSAPrh1WI7f4DkPbjazKStExriNXtjLd2Pt/OvbQYY6NtPZuI4Xt1tktNmj6wd5daeN57eO8vh6My9vt/LDs9N8PtpBXVkKVUXx8uN/fXedrx+LAGqRmdnLb9+d4+evzjDYW8pAz1b++PEC//jpoizOIvXlt68H+PmLU3zzrAuxr5Od6bMufvniFCND1XQfXk9F8QLOthcxfLaSn16e5MXtJgQe8v7lWplo8uBSDQ8v1yK70St18uMntxplxJsYQYvMVJGKIs79mwd4dKuBWxd2y0L78FqdBN+LfbGAQgii0bOhKn68dYDf7x7kflcRl5rWcLpuGSerUxCiLN6c4vW5ah52lnH7aDGDe1ZxpiKTi7XrGNiTzcXa9TSvjeNIbjyH1sSyf9l8DiyPpDkzlqaVcexPDWfv0hCaMqPo35rGUNUq+suT6SqLZ6AmXap3RVd6fs8KBvdk0rcjjUftZRRE2ODymYKAaQriTCaQZDNN0o7y51qzKzmAdRE2nKpZw72+Cjr2rpAB0iIn+KsHx/j3dxf44XkPr0aP8eZhBz++7Ofnz0/zz++v8OsXg5zv2kH5xlj5Op5q3cKru+38/PlZ/vblBb543MvTex0yAebFkz4e3uvkxrWD3L9zjPs3j8iJxJ/fD8nXo6lyKfvKFsk0o+ON2by8dxTxOoubpS9fdPHNq1NcPl/L0wfdXBw8wMPRbu7e7uT2SAf3H3Rz9XoTz5/20HVkLScOZdJSm8bG1T4ylvFUWz4dB9fIUa8oriK+Tbw/Ri7UcudiA5UlSTy81k5lYaokIx0sz2LVQn8i/SxIj/bDUkPQf6Zhqiqmcyo4G2nhaKgqXRaWup/ibDERB7OPcLV9n+VLTOg4nMa9Kzuo2hyGmGIlzTOjIn+xdD+IYircDcIaY6D8gexKhY1t43I/spY4UZITyraNEVSUROBuqSButiYJwUZof6jAQ+czHJXfJchwHD0V6RJaU7PKnW1LrdkcZ0Xt6tnkLXQmKdhcsn8DHdVlduqCWYIF7oSt3iSC3UzYlZ8m4RBmgsKkN0EiSOfYaBPupM98ey0WuuqQFmBE+fIA9uWHceHwapq2zuV6RxY3urJ4dqmEgaZE/nrdwMMzOVTmWLJmwQRu9abxxe0tPLy8kdf3Khi7Wc63zw/xzfNmXt07IEfX1/qLuNJbwLE9CewtDmP3xjBqiqPZWxJHTpIbG1cGsi7dl+wULxQC+Ve8Kpiaknj2bl4s8XYlq2aSm+xKXqo729bN4vj+DFprl8tor6HuEs60b5SKs13FseRmhrEoyh0xEjXUmoifmzVmeipY6Kmiq/qpFAg5WUzFy14FIzUFwZ4zZCUvypzDumQvQjyVWZ/hy96yJMrWx0rmq5HKe5hqjEcEiZtqKGOuMwOdaUKE9CkzlMZJmIOx1jTGvauQJmTNqQp0lT/A1URLciVNVd7Fy/xddm7w4PlwNk+uJtPV4Majq8t4M7pdturelmqYqEySAAitKe9hpq6Qi/fUSAscjN7FQucjSQgRnloRS+RnOUOipxx1P8HLQoSlKyNUcGLE4qTzCcF2U1nko055uh8li20pWmjE4UJPDhVZ0Vxqyb1T8Vw9Ecfd05k8GtrAhWOpdNQuoG3fIp7c3M7DGxs52xXL+ZPh3Lkax8jF+Ryrt6ap2pKe5gAeXFxJ575wKnPdqVjrTWqwBqF2H+JjoJAFNc7vIznejQ2cyByXj1gWa0J7/XL+8+s5dhaFkJ1qS0XJLNYsNaJojQs78+ayedUcRJq9UKmJ13lPSThJkfoEuX9G5Cwdgr00ZOi74PHO89bHx2oc7qYKtmQ5cKM/nYPl9mxdOYH9hVqc2OtJX0O0DEY3maogJ9Gc7WvdWBevw548V2ry3dmUZIPpRAXKCgUp4S48uXEU/ueBHHHy7/v89NU5uSf9718j/N8/r3HpdD7tB2I5UT+fs03RfDFcyLd3yhkbLOZa10b++aaXP7/q54enHZxq3cDtoSq+fd5N97F8hi/s5e6NQ4hC2n2skIwEV7qbN/BqtIWfXvZIgdDpoxvk6O+bJ928uHOUrx938e3Tk9y73MCXY118fu84//11hKHunewrT2OgYxu/vbnIr6+HeHarjb+9GZLw/f/8fp3PH7VzoiWPkcu18K/b8ojiKi6wIoFFPIoiKkQuovv9/mWvFMM0Vqaze/MiupryZPbp//x8RSbLPL7RyMs7R3h8o56nNxt5frMRkSY0dqVOpos8Hz4k/y+iEItQ8ztX93HvRr0soqPX6xi5UsOty9Xcu1YnC+r9q7VyLysEVC+uH0Ck4vzz816EyOjrqzVStTrWv5VzDZmcqEjkwclSeH2Kb6408LCnnNH2rdLK0l+VSe+uDM7VrOVxVyUP2so5t2cdxzct5WjuYlrWxXM4ayHNa+JoyVlMb2EqvSWpDO5awYXq1fTvSqZ3ZyJnq1OlHeZC3WrOVa3k0r4crtbn0lEUT4zlZ8zT/0CmweTNsaJqyUwK5tmS5KpGaYIXW5f6cO1YCS8u1fPFrSb5nJxqyaNhVxJn2gr59fUp+PsIv305yJdjnTJQ/fuXpxDn59fnePWwi+6jxRTnhFNZEMv1vkp+fjnAN0/7eXy7jSf3O3n+tJeHDzvlESPg+6MtPLl3lCcjTf+/LevqyTL2b1vMtry5MqNY7MLFhEFMBgQ/+7dvLzM20s6VoUO8fDLA40enuXL5CKN3u7kzeoLh64fkNOFQRSJleXOo3baQnsNraa/PRBTU7sNrGewuRuBEh3rL6Du+mWd3O7h5sQkHk4nsKkxBJKME2KhQvm4xnfsKWRruir3uZxIHKBoGfaUPJZ5V+DJFkbLUfg8ni0+IjzIjaaEhKYu1yM4wY0dxIAerEogO0iDo/+Ppv+Ny7v//f/w49+nkPG2SiLT30FQqSWWUkpCdRGVFJCFly2wp7aGlpYwULZJSimSv095OJ+c+X+/r9/J4nJ/f74/npXLUcRw6uhy3x+1+vw2rAcRF+xOy0FXG9Okq/SDD9e30VeT9b1kxkZxDCzlbHCHft/1njGa0pgItJQW+rmqIQhALlW/kiNdx5A/MtxtJxaGlNGau4tHZXVQemMvGGXqyv3aB0yhEZN84g35SfzLVXg//6eNkUI5aXwV6Q77B19lYZndbqfZEr59Cro68rLRwNx3G3DEjmG+rQrCbOmu9dVjvq82SKQMwGaxg+hgFJ1IX0FAYTHLkOLqqN1Bx2JsDoUaczZ5J17nVPOzYxo32aJ7fT+Lp/WTePDnKy4e5vH1SRGfTPs6fiuTVnRxZ0JG6azoRAZasX2Qhp6oCTAXJXO1vx/L5Vih2rJ7CthA3Dm+bQ3zUDLavdpGVOdtXObJxiRXJ26fRUBLBpRPRdNbu5XZzAtcbDyL2V2L0sGXNVIL9nOQcftTQ77ExUZO7S0drQ8kcRS+qqVZ/7M1FyHw/jNW+wXjkl/hO0iVsiTNx2xewcqEtM9w0CZprx/ogDyl2mjbBTBqJRXSgSr9vGdjzC3RUB6Km3JufvlWgpvyjrHEb1FOBiXp/7A3VsdNXx0R1INbqvbFRFy0GXxAR0J994crsXNufY0fGkbl/Mou8tNBR+p6hvb5jWL9ejBzcU3qnRISek5HIexyEkywuF1GFfTHT6i0NvInR8zmetkE2OIzW7idvExm+JsO+QVhQPM37sEsowgKs2TxLnc2zh1K0x56VXl8SFTCYA+v1OZXmy6XyVTQUL6exNITLNVt40BnHlfpwKvK86GpZyvlqTy43eFFZaENhqhnnytx52B5O+h5HAj37s2+NA5sXWeCgoWCGTR8CJg5l8eQBTDJX4Du+H04mXzHR+keSY+bx8VklRelB5CYvojQ3kIPbXdgX5cxib028HYew2F0fEUi9P8ITsS+JDHFgnMW3eDgNxclKSYZHezjoYaXZRxqaJ1n9iKu5grQYR8pSxpOxcxRnsuxJ32WGh41CqqG97QdwYJM9+yOM2LtWg6xdIlTClgD37xnxvcjtNae7KQf+7ubXZ2e42ZbBs3vHudd9jA+v6/nz10bePC7k6GEf4raMZmfIcNKiDLlbu4K/HyXSdiKUgrh58KGe/3t7lurCCOkbfH7rGC1nYylIXc3LeyfgjyvUlO1k10ZvGk/t50ZLBq/vVkgwzTwUwJniLYgRrFALCyYhRCTna+Ll55/fNnGrs5Adm2dQkBkumcnrx+d4fOckD24c5+WjGh7cKIN/u2g8tVc22bQ3HObvD43w52VZOv351Vn+fFMnhUfPb5fw74fz/PP+ggTN3MPL2bfFh8qjm+lqSpf+WlHL9uruCR5e/a//VAhm7rTnyOd97fwRrjYmIz52XUjhamMKgmGL8vGu5jSutaTL6+qlNAmqV5pTEFfbhUQunTtIW10c3RdTJJu9UnOIB5ezZDbwh+v5PLqQwIvLqby/lsOrtkzu18dz9cQeuk/u5ePVIu6fS+RaeQwt+dE05WymPj2cMwlrqD2ynlsnYuks3EN77g4683dz9eguLqVspi52LWcPrOZ8/DrOHVxJfXyIVOnWJa2kNnm5DMJvSF1FffJqGhJDaUrbQH3SWsLcDZk48gsWmA9k2wwrTu4KZtfssfLrAPvhZG70JWXDDGqzI+g6GydLy59dK+KPp2d51nWMkzkRJO1eQE3JDj49q5W7alkQ/nM1v7xs4OnD03S05dDZlsfTe6cpSQkjbqMvR3b5SxGcAFuhJG9vyeHG9RIeP6mh62qR/JmrbdnydyvG6eL1FIcycdA5c2wz+zd5sjfCg8aybby6UczjrmKuX8zi6d1q2poLqT2XQUtLCd3dZ2i/UiZBtaUpm8fdx2Sxe2rMfA7vmE1lbrgc9Yu/TaHsFePflLjFNJ09REvDEU6W7Ka9OZ+gBc4Ez3dm6Qw7VL5XYKXxnSwRX7/YBQej/hgM/UqmGGkP/BpLzQHoD/0O4ekfrfkVqwNsyUkOYEuYLcX5i9iz1Z7QYGOqSzcSttQe5R8Uso4xePY4GQ2rOehbyUydTNVY7G3F6gVWJG73oPH4JsqzIzHT+F7mmAf4mOProoVOP4XsAy2MWYOX2WBm2wwh0G0Eod4aMtRky3xTZlv3Z5JBT5ZMNiTAczSzXQyZbKOGt5ORDGXQUfpWThiFw0B3gAKNXgocNPowyXgo0200cNYdLNOMfMwGstN/LHlbZxHtZ8LelZasmzOSOeO+IcC9n7wEO604Mo8j0eNJ3jKWvH0Teda6leu1a7h/bSt3ru/gwZ1DvHiaxoc3x3jzooBf35bTcTGG1tptvL2fS0P5eg5tcmVToADT0cRGestVzLpAe1b527B8oSWKAxu92R8xjZRd84iP8mHPWlf2hrkSs3Y8e0LHkb7Lh3MFa2gRXYfn9/O47e1VllMAACAASURBVAj3LsZz8/xBOU8+nruBsOVu+EwyQMRVaav0wmDUYCwNNVAd3Ivhg3rI4tmxIg9Rr59M+hdCJj9vS1xslFnobcryBWOZ52mEm62KrNTZu9mf+F2rmONhy7xpjjKHd8D3Cgb0VEi2qzLwGwy1BjPVxYIA34k4W+oyasCPqPf7CbMRQ7DTHoyj3rdMG/sdE0cr2LpyCPFbdNm+RovxZgpUeysY2lPBqIH9GPzTdwiWazJiEBZqg7FSH4KDoRqutiKvchj9vlPgYD6QCaN7SaZ+eJsvvhO10VP9DvUh38lRhMHQb7DR+J6Jxj+yfqYREbN0WO0xhEX2X3F0m1iMf0eU/wh2rzIge7cbp9IXcPH4au5d2sffr47z7kEO7bURxO+05nrLSjqaFtFSO52iDAsqjtpz+ex87l8OJy7SiiCvQSRtniTtLY7qCnxt+hM4eQRBHsq4miiYatMTl9E9mDNpBJ0NiXx+UU3H+UOylPh/n6qAJn57VcLKecaMN/2Bpd4meIwZxIq5plLWHhZsjaPltzjb9mWS43Bpb/JyMsTJTAVLze9xNf+BJd7KbFmhyc7VqjQUTeF0hgvFCR5yl9lyMp6q3Cgilxux2OsbNi3uzeHNapxMtedgmAYRi/Wkcf63F/XwZ4csbv78tpZLDQlSlMG/Hfz65jQ32/azYu5A9q4bSf4+Y9Ij1cjYokl1mgflh72pTF8MH85x69JhKrND5W7x4um91B/fxbNbpdy7ks/Rw6uI2z6P1nNxvLhTLv2pQvBTkinUkhv5820jT+5V0NqcjhgtP7p/Av7XzeePl8jP3kBSwjIu1B3m2eMzPLh9nNs3SmQR9I2uIt6/Os/fv7WTlxbKueM7+fX5WangFQz01xfV8hIF28LTyG8t8Hsrd69kU5i6muS9frLYXARU/NxdxusHVVLgJHa1L+6KXWo29zqOcrM1k24RMC88pM1p8ut77XmSRd9qyZYg3Nn4H5iK/asAVMFOhWDq8oUkWhoTaa47xKX62P//uLe9Nk4yW2GnedSezZvuPG7WHeBxayoPLxzm5tkDPDifyPXT++iq2sfrK3kyXel+XTItx7bTVryD7pMHuJC7maJdiynfH8yZw6GcSw7jTGyIHAOLmMELyWHyEqlINQeXUxu/goYjITSkruZ8+mpErnF9Sghn41dxPmkddYdDiQ1yYfKor/CzHsIqZw3C3Q25eGQTgXYjWGqvysaZFlJ0lB49l7M5EbzqKuLT/VO8ulHKy+4SPv18hn9fN8oxb31FjFxHCcuLKGD/5c15KRIS4p+H909wW3g+z6fw9l4V1xvTyTm0XCpa85LXyQPTh9cX6L5WSKtgj93F3Lx+jK4rudzpKuRWRy7dLRnc7TjKy7tlCOGYsERl7vMjYct0agsieXQlj4dXi2mtT+P29RNcu1pJ59UKuq6f5GpnBW2XjnH2VDztDcl8fHyatnPxpO1fTFZ8EEVpovg+kuqyaAmm58TE4MQOqo7v5MLZwxJQXz1qoLbyMHb6fVg01ZRVc+0ImWdHWWoEm4LcUB+gwEztWykiErtPO/1+TLZTYba7OuuX2RK1biwbVptx+3os5ccC2Rnlwq0rKZwu2sJozS+w0ftBCkInjlGXsaxW2kpMMB8picTudZM5GutLdeFaWc84pIcC8RhLptngaqaE7v/bmR47uJriA8ulQGyllzZu+gpmjumPk5YCZ+3v8XPRZXfIdNYtnICI8RPvMaJiTkf5O5m6NLSHgoWTLdm1chamg7/EbMiXzLLTZsYYTaZbqzPdUpUJagrWT9OhcOcsKuMW8Pj8Hs4XLuNJy35edMThP6kfGxbqsMClN1aiEs71exa6fkPyZktuNqzlVvtmnj06wMPbB3jxJJUPbwt5+iiTpw8yaW3cRsu5KBor17NpuSkr56izKdACf68RhMw3kQeoFQvNCZ5vzrIFFihiN04nbpMP8ZunszvUTVZn7VrtRMwaJ7L2zKQ8eTE1uSs4X7ye6+d28qA5jpv1e+k6u4v209s5mbuOoLlmLJpuKiXNoqvUVFsFM92RjLM2lj7USU5ipzocA62+WJsoM9FJh9meVlJRNs5yKLPcRUauKeMsh6ChrMBMuxcLhB1noQsHty2TyUyeE4wZ2l9Bn+/FLrM/TmO0JZiqK//E8L49UO7VA41B/TFVHYKeUg8Mhyik+GWO04+k75jImZwlpO+ZjofdYExG/oCWUl+G9++LUt+ejFTuh+7QAZgMV8JEZQjmaiLAXQNTHSW5rB9j8iMORl/h76XGEm8dxuh9h6g5EipgveE/ylPfeMNBzLBTIdRbjzCfUUTOUWfV5H6smjIQL1MF62aMYJnXEBa69GLRpN7sWDWaswXLedmdxv/enuC3Z/kc2DKGhuP+3G0L58bFFdQcm0Z1gRdVed4UxbsRFaTFtmBTDoVNYLHrcGyGKZhjO5Clk1Txdx0kwXSyeQ/G6n3FeNNeVORslOXOCbtms2iGBjs3TqCuMowTBSuYMUEJv6nahC60Zom3Lj7Ogwmeq0/UWkeW+Rnh4z6CyeOH4WqnirOlCl5OmvL/PWeiMqdzA2ksX0p+vAslia6sXziM1XMM8HFUZ4KxGgZKXzHR4mviIm04GKbF5kW9iF0/hMTNmuyPsGTX+vHExcyl4Wws90U+7C+NXGxMoKkhns+/NMCfDbx/mMrmQGUyd+hQfcScY7vUOLp1JCmbtEjYZMblqk28u18oxVVXz8fL1UN51jrutuVIu8zhXQulglPsHv953ygZ8JMbRZzI38TpY1Fyh3n9cjY3OwrkaPne9RJePzsn2WhK4goZRH6946gE29vXi/6fsOS4ZKPvX9VJwcne7bO53VnIh+fneHy7nCd3ymQH6P8+t/DH2zp+Fn7T/7uKsNaU526QXaVny3dJcZPY4wmF8YPuUq5fzqX6+B46mzP5/d0FbnXkcastm/tX8yXrFEB5W8QFtuXS3ZzN1aYMrl3IoKspk8uCNV5Ml7eJ77nRnktXaxZtTclcrIuTY2cxer7SmIQoJb95KU323t5vy5LCpnutqTIsQthwhGdV9HreaUyUQHqjNpbus3F8uFHCu+vH6Di1j6bCKLqrDnLnXIIE1rztfpTuC+L4gSAKd/qRFz2P0l2LOLU/iKpDQcgxbsIKziUul4Kjs4eXS2+paOGpTV7JxfQN1MaFyCCHOWb9sR2oIGSiHqtcdNi7yJnoWWMInWRA29FtFOxYJPdiJfHLpIf0l/uVvLxRyodHZ+T14tZxKTj6/WWDHPE+uFZE0oEACrPX03k5i98/NvP7p0vcvlVMa0uaHN021x7m3aNz/P7qIk1VCezY4E3E6kkcL4ji9c9VvHhwWu7euy7nIv5GblzJR3wulLvitRNWG3HQeXm7XDbsNJZtZ9+GqeTGBsk1weNbJ7nWVkR7ayHd109ypb2Uq1dKuNV9gvPnUmg7nyp3oULw1lqbSGb8MjLiAqXdqrZyOyeKwinMWCH7T4XyVxyUzpTv5HprHo+7K1kx156Dm+ZSmrKBgsRVVGSul4xJ5KGHzB+Dg8GP9P9KwYKphjIXfds6F9YFjiZg9jBS4rxIivUhepMTURvG01p/gLaGeFb52+I4ui/Go77CTOMHNIYoZN5AkK8D8dHzSN4xm4MREwhfbCbTiERRiaVGX0RDi9mw7yWYCgV/SrQv1dnrOBLtTewGdxa6jsDdfBDjdH/CVr2XdEaIujahORlvPJjJthoYDf9BVmEmbFuFhXofGRN4Km3nf8rgQQo8TYfhojcQbys1ZopYSTctfM17Ej5Dh9qMQF62xLJvjRVV6Ys5l7uMRZMHMc32e4I9h7N/rR0dJ9dzPGk6F4v9+LltE5eqgnj180Ee397P8weJvH+Rw8M7R7h9NZbu9v3c6TjEjUsxJO6YyIHI8STt9GT1AkPWLDRjy2pndm5wJzpsIlvWuqKIWevOIREBtXk6ByOmkhg5jYRNHhwKd6Po4Fyq0oM5nb6UmsxgLpWFc/3MNq5WRXOlcrOMH6vIWk5u4hLSDyzF1WaYNACLSCuRhjRp3BgMtYZJpa+FsRqOQv1qqMzQgQp0Rv3I9CkWuI/Xw95sCHYmg5k5xQTPCdpoDxPhDQo0hyqYMdmY6RMNCV44QQbwO5iroi7Mw8N7MEq5B3ojB2NjrIWlviaq/X5A9aev0R38PVNE+ITDCNxH9yZkppH0C62cbYGV1n+F5MP6/8Cg3j1QHdqPQf16MPQn4dnqh87AAegpDcBIbQiiIN1Y6wfszX5k4VR1GUpde2wri71MZRuDiD8U3amii1U0DYjkDD/nIQS5DWK7ny6hHsqs81JjmslXrPXWInyuAZH+RqyeNYI1c0eRtHUi54pWc61hN9cad5K0ayJNlSHcu7yd282RUsV7viyAgxvNWezek5UzhpASPZmdy+yYaPAVztoKxqkpWOWpQaD7kP+YqXVvZjkNx9HgB5bMMOPSmVhW+lnh7aLM2kBzotaOYcNyC5lGNctFVZaLL/bSYqbLEAJm6hC5xongRaNxGyeaJXpgP3oQY4z74Th6AC6W/Zk9UUU2P0Qs0SZ5mxONJStY6auBsYqCId8oZCrJLFdDwhYZkh83mbI4NxLCNYkNUyEuYhSFiZ6cKlxN68Vkyfh+fV/Hv3+28O71OZ48rIC/WvjwtJiq/IVk7DQhf6c6uZEDKIjuT90RY8rjLDmT7c3vT/Oor9zM+dPbaTy5i8q8DdJE31ARI0VuVXlb+PN5Le/uVsp6szcPKjhVuImz5TvkaPflw1NcuZghwfDN4xrZmfroZjm5KaGUHt2MuP3zm0ae3DkuwfLqpQz55gq3OFu5i5TYQHk/IvJQjIhvtOfx7mkNv7yo5endcgSg8kcLNWXbOVEgnuc+KT76/LKep7fKZcqTSHoSo2TBesV4ubUxhecPT/LwVilCIdzVKp7fUck4rzQeofNCKjcvH+XOlQK6L/3na7xxKUd23orQdHF7x8U0CabXLmfI2j7x5ivqvtrqE6V6WNhn5B62ORWRCvTyTgndFxJlsMPfz6r4+8lp6UO9emYf12oOSBvN25vF/HK7jMeXs7heE8uN6lieXEzn8YV0LpfspjF3C7WZG2gUxd6ZG2Te7ZnEFRIsmzLX0Zi2RjJSmXB0eLlkpKJirSEllOrYlaSsmcrm6eY4KSsIsB/Bllk20v5SuMWPDZ5mJK6cyt83TlCVuIakDd5cPhHDifS1dNbF8/HJWbm3lralF7X8+rxWsvt3P5/h/35rk2Eftaf3kZa4jLMnY3j1uApxGLp74z97irDDnK2K5dL5NN4+reNeVzEZcYKlusupxtXzqXIE/7CrRFpebnUe42pbHlfbC3h45wSPb1dwr7OIO21HpZjs9xe1iFQksQs/sHWujMO821XG1Uv5tF7I5s6NSm5cK6OlKZPuq8XyvhrOxEtPqlgbiL8DYadKOuhH5bGNnKvcQmVhKNXlEZw/vZWKvHXSSlVTuo2CI2u4e7mIk9nRZO4P4mh8IEfjA6SIsix9FakxC0jasUB2SgtR2/awiUxx6MXSOSMIXjCc1Dgv1oXYMG+2NutWjSUuxpeocFf8Z+kzdbyKBFS1wQr5frx8/jh2bZjBlhWiLHwk3mN7YaepQGeQAieTYbIsw15nKPr9vsBRpzdxETNkJnJi5BTWzjdk4+Ix+NirYq/TV+pPRHqRAGBjla9wNOjHRIthzHM3l8UnwjcbushDhthbjOjBgglGWCh/iYN6L2aNGcUE7T5YKH/NDMvhrJioTeB4ZVkosXGODutnqTFmpAJv6y9lveMUi68pPLSQhvx1tJRv4OPNVLrPhvOwaQNnsr0oSnaTgNp8ZgXXLm3h5cNUfn1VwMPuwzy+dYRrzbt5fS+DurI1FCbPI37rFMIDzYnfNk1O8nZv9JBAGrbMHkVCpK8MVy6MDaQoLpDypGVUCMHRvnky4Ls83o/yhAWcSPSjKm0pTflrJJC2l0VQnx/C6ZwVNJ/eJuOxxpsPYLSG6APtj5GGCrZm+pgbajJurBmWZlpYW2gw2mQ4dlbqGOoMRE+9r+wU9fNxwMNJD2P1HzAc9R2OFkr4TNJjlruhBFRL/V7YGPUlfNU0dkf64zvVEsFURVP8VDdrqSJW6f81IjtYdPcZj+ghX5yZDpp4Wqoww06NqVbDcTIaxPDe/6UsqQz6FvWR/VAd1ochA3swatBP6CsPQn/IQHSH9EN/xACp5rW3GMKy+bb4e+njYvIDfpP05P3oqfTA1ngEouBc9OmJIP0JBr3xMu9B6HRV8rdNJm6FDW7qCqwHKljsNIL1s01ICHchOtCExR6DWLtAi11r7QhZoIur5Rcsm61BXuxcsg/MID92FmUpC8g76MNSLyWm2XzB9mWjqU5fRlqUl2SmiyYMJ8RTm+Ox/mRs8yBkhjrznFVY4qmPz7iRLPQ0ZvF0MxkFGDTXhPyUYEqzlpGT6Cf3HtOdhjFv0ggWT9Ng+vhBzJg4jBmTRmJp+B0WBr3wmmSIiVYvxlmoSCGS8+hBeNgNwdW0p/SqrvLVk8v46eOUsNL+FldrJSla2rBiLKv8hhDq10cG3hfuHktcmDqH1mtz6+I2+FwL3OT9h2Z+/dDIh3fn+PTLeV49q6K7I43U2Oksm9mbQ+uGUbZPjbPxatTEDid7Y28KY/R40rYR/q6mKG0pzef2cKZ0C+2NCTy4mk/ynkWcyovmf2+a+Py4WgKqqBMrzQqV3yPEQtcuZ3Gr65gEwV9fNUpgO3d8N+mxQXScT0HkAj+/U8HrB6d4/7hKghD/XOXv9xcoTFsjQx1EIMPt9hzJUoQVQtgjxDjxtUho+ucq71+c42j6asrzN0umKbynb59U8/Ot4zy5U8mT2ye501lM15UCLjdncer4bu50C3ZcQ4cY2V7JorMljRsdOQhgFGxT+Fs/vmzgr19a+O1NM+8fn+XF7RM86S7l9uVcBOC2nT/CtZZMBPhfbkyWwqTm2jgpUhK7VTE27hAstSFR7lCFx1WER4hR5Zs7pTwVI8zaeH5uzeTTvQqZ8yvSnp5fzZNxe0/asrnbmMzPTWmI0e/LtnxuVCdwsWgrDTmbaMjaQH3GOtkAI/KMRVG4GOk2pIdSmxKCAFlxiXaXwq3z2evvKBW666YY4K71LZnhvuxf4kr8cnfqksI5dWAVaetm0HFsN8cPLufYgaXcbEii6mgEZ8u2yt/Xq5dnefW8Rl5i5/753XkJmneviZSjAvj9ivT6ZsQFk3owQO4pReBCZ0sG5+oOc+vhKR4+PMMlcTg4n4oAztaqWJK2zWdT4Hiaju/lQVsB1y5k8eTuad68aJRK38a6VK5dOsrz26elqKntQhpCRf73b5flODg1bpnUlHQ2ZPLnq0vSt3qzvVCC8IXGZISwSYDqza5y2ltyud55jNvXS7namklB1hqKc9dQUbCGay0HiQ6zZ/ViQ7avdyL1wGw2LhtDWMAYYiJmkZe4ltLUdVIkerY4nMLkxRzZM4NNy21J2TOP45lruduazoKpqozRVxCySJ2t64ypqQghLMSRKa7D8Zg0lFnTVHF1/JHxtj3xdB3GrKk6zPEyYpqbJjvCfYhYMV4ewh30FPi7DyPYWxe9wQpMRB+y2kBs1Aej9aOCsPnOnExfy/71E8jaO50dq+1ZMdsMFzMlzNX642ikIRXGuso/4mY+TOYAm6l+i5V2b4Jnj8dM/UdM1Xpip90fG/UfsVXribNOX2ZYqzLTRo259lo4qffGe/RQ/B2Gk7rOg9aj4UQtNCbcV52je6aRsMEZZz0FAe7DKTjoR1SgNX6TBrNqpjIbF6tSmepOS+UC4jYbkLnPgVO5vlysCuF681Y+vSzgUfdhnt1J5dG1OG61xnAsZT75h+dwYIsLESusKUpfJm1Lh/fO48C2GTK8RSF6NJN3zKMgNpC8A4vJ2+8nOxJLYxeREjmFkgNzqUxYyKkkf47Hzac6dSntZeG0Fq+X4Cqqv3L2CcP+IMxGKrA3HID+sB+wNlCVgiF3Z1vsLPQxNVTDzkYPfR0lzIxV0VDtjfZI4UkdxMwp1hIcRXzUeBtVHCyVGGs+ALvR/dm1aa481S1b6ITHBB1WLp5IwBxHwlf64DRGE5WBX6E2tIdU3oqYLNHlZ6ndV9auzXQyxNVEFU8bXaZYaeFqromRWj9ZVzRqeE9GDv+RwQO/RU3lJ6x0VRmrq4rpiEHoq/RGtDEI/6kQTTmN7o+7rRJW6l/gMUYZ59HK8n6EcElYeIxH9cNGewA2at8yy24gGVEevGlN4GblVtw0vmCO9VD2BLoSOsOIVdNHsNS9P2vnjqQ4cQ4/X4nnUWcCiTsmUZqykJ2rx+Cor2CxuzIxoeNYM0ubqRbfsGTSUAr2zpENJ/l75hHsro67iQBuHWKWjSVk+ig2+5uxddk41vvZ4TtBAz8PQznecTTtiYmagmnjBjB9fB9muvQnwFOdmHVuhPqZsmyODp5O/Zg/bRSBc0wZb9VPjt1Lc3ayaIYdOkMVMqHKzVoJZ9O+TLUdKgVX7paDGS/Co9UUjNZQ4Gr9E+PMv+BxVyy/PtrLlqABhM3uy5ZFw1ju9aNksvxRz18f63n55AxvXzfw+6eLvHlRxV+/XeTzL/UUZi/j8F53GssDaC7xoWDXKAp2KFO+dzh5W4dRk+ZEXYEvbdUbaKzcSH3FVm63ZvDwWgFpBwPkaZ1/rsux3x8vGxBMoSRzHXc7c/jtbQMPb5Tw+E6lBLKnd07xx5sm8pLWSBYiGOP/PrZIZvPpRR1vHp7m8Y1i+POKtLUUC5Z1aq9MP/r5epG8TYiXuq7kyfHvx1eN8FeHfDPMTF5JW1MKn9428uZpNU/vV8qRsUjdEY8vIhNFQs6d7jLamrM4UbaTezfL5O9FCF3EaFkAqrgP4V8U9/PP51Z+f9+MeJzPry/y98dWybzEcxbWoo/PzknAFqz6dmc+zfWJ8ucFA7/SlPof0F5MlYImwZ4aT8ZIxtzdlsWFqv2ILFgRvff559NS7fzH49P89fQ0nx9W8LA1TRaQ32tI5M65OF42p/O8KZWXl7J5057Pm8tHeVSfzO2qA9w8sZeucuFd3SRZqdiNikuE2p/Yv4TCrXNIWDmRzTPNCPc0pOrgcvIi5xHkpE55zAoife3Ij15MY0YkJTFLiZw3hlNJq7ledYjm8p3cvZRJ88kDlORu4tGD09x/XM31G2VcaErjQmMKN7tKePX0LB9e1MvDhzi8iLCNfz40yz1z+qElHM8OR7DXjvY8Gi+k0diYSueVfG51lcixuxij37qYSUH8SsIWjeXQJl9uXczm+W0hVCvg+pUi6U29e7WUC9WH6WjN5eHdk1ztyOPu7XIZOvLp9XnKMzezOciN2qLdvLtzhpstuXJlcLUzl4vNadTVpdDWUkBDbQq3rpdxWexoOwu53p5FWf46ao5vJHn/TGa7D2bW5IFsC3XAZKQCK00FcyeqEhPmJce5MeGexG6bQcJOH5L2ziTt4BzWLbVk3VJrFs/QZsksbVxsvpWTqZX+mlgYKIgMsyIp3p+ARVZMmzqKLZvdycsNJScrhJzMtZQWRhEV7o3/7NFErZmM/3R9xmgqmGzxHVFBVkT4WzHFaghGyt9hOXIAxkq90Ov7JYvcDJnvMlROrNYu0GHtQiOm2atgp9MX81EDcTLVxc3GDFO1gVJ45GEzVAKqRl8FjkbCbthLKnun2Wtirvodjlo/ETDRlIi5zkwzU2Gybl98rVTZs2QSQeNHkLjKjYfVB8mO8kZEbv77qJxjBxcyf/xggrw08RnbD2/rHxArv9mOXxOzSofkSFN2rxpOTIg6R6KtaD+1iq76CKoLArjbFsONi7t4dTuFZzcSyDjoQdBMZQ7vnMSRmKlsDrGR/dKluSFkHw4kIz6AzISlKA5FzyL9gD/5icEcSwyWodwlsYsp2j+fY/tmy/6+jMjJZG+dwukkP+qzgqlO8ac6NYCm/BA6yjYSGzqOSD8L1vmayWQdi5HfMmH0CNT6fcl0tzE42xkzztaYMeY6OI41QkdzMPo6ymgKH+qo/tiaqeE+wQwPF1PG22pgaz4EC6N+GGp/z5J59jx/VM/7ZxfxmWKMvbkyni76cuQrwvlFn6YA5LFmIxFN8yIuS5THiuJxfZVe0l/lZKKFhcZQGbM1WnMo4yy0cTTXQm1oT1RVfkSp7xd42xmQGrUCq1F90Br0NQ5mI2QrirPZUBwMektbyDjj75npNoIZE3URpbwiPtFQY5BUExsO64mjXn+StsyRfspbZ/bwqjUdL5M+TDXqw4Y5Nqzx0WWllzIivWjVtL4cibLnekMkx1JncOn0Sh62b2W9/zAil2ixN8SGzfONSY2YykKHwUwx/BJ/5yEsdlPG164vPjb98LbqwyY/cyqTAlk1U5cQX2PCF44hyNuI4OnGTLUdzBTrAdjrf81cl+HytY3fNIniuNl0ndlMUvQENi0bzRLfUSycPpSZk/vhP2MUqxZaIPJyo0OmMXeyIa7mA2R1nmj9mTdZncnWStjr/XdqHKfXE1fTHixyVyXMT4/oYG1ayxdRvN+KskNjyN1hR+ZOF5pObObxzUL++vWSfKMRqUEPbhTw24c6+PsSH16d5n+/1/Pv72epKAji2c2D3GvZSOYeczJ3GtBQ4M6JI87k7nMkaZs9lVmLaD0VRVfNAR41ZyCEdAJMRYyfGLX++4uI86unIDVUshMhNHr24IT0sj7urpBvbH88PU/agSBOFETzy9Pa//fGe1yOb0XAwnMhSPq9Xe5DTxZvlWxP7EfFfutuR74c14od5f0bxRLEXjw6JUUiovhZPJYAvycilu7Rmf8e9/5J+bUY64qdm9i/3b5axLmT+6k9dUD+2/MHp7l7o1QCtBS8dJfITOK/PrdJAc2Lx9V8eN3I++d1fHp/gXevzvLueTWf3lzgt7dN/PqmgX9/a5HXi8dVnDsTSuo/GgAAIABJREFUz6ULWTTVpUjBzfmzBzlffUAqTUUCUFdLHrevlvDyQTX83SXHpHxq4d93jXQ1xPH2ZgEvr2Xxsj2dqxVbEbVybfkbOBu3hFul23h6LpF7pw7wViiSTx/kWe1hbhTvoDNvC1dyN8oeVOEjLd02j8PLXdg+z5woXxO2zR3NjvkWbPIxInHFRLbPs2OZiy7bF7pwaKU3dZnbaDq2h2dtuTxoTuNMbhhpMXPJSwjidP5WjuwJRBz2GhpzKCw9SPbRXRSXHaSiMo6KioM0NWbw+MEZ3jxrQKiwxSFG/F3836+t8nWrzI/kcMwiCW73O0vovJjNhbpk2i/ncq2zUKp5RfDCrbY8Lpw4yM417mxbIUBxOw/Ec+oQAqMixN/SlYtZ1NUkyJ+7c7eSWzfKePH4rPSu/vPiIm2V8cSETKUyJYyXN8qlcv18wyEut2XS0pLD+fNZXDyfKUfHFxuEAjtNrgqEyj1qrTNTx/Vn9hQVJlh8g7tdb+a7j5BqfQNlBXvXTiJktikJ22ZRlr2e+tN7yU1byYKZuqxcYsWOjW7Un9hCSIAxLrZfE7nOjpWBRuzbNZXgQGNWrrDgypUjFJVEk5oZwdHiPYRF+hK+ZQY7dy9kz855zPXWY/4UHan6nzr6R9bO0mXNzJGy8lFUlGn0VmAxtA/6fb7Bw3QEsx3U8BnzE0vcRQral+xdM5H5rjrSH2qjpSRB1EZfVaYbmQ1X4GrSGxej/sxxMsBOvQ9jtfszxWoYY3V6McliCOP1++BprspiZ2Nc1X9itpkyUT4WpIa4kxE2jYjphvJwtshxqIws3LF0PD42A/Ew78NSDy1Opawic5s3qZtdOZ08m5zt9mRsMiM72pKti4eRud1Bjn6z9rpReyyQ9/dSude6h8dXDnDzQjS7Q00oSvAmbfdEls8eJonP8dzllGav4GhKEMeyVpGfugJFZlwAuUlLKUldQWnqMgrj/MnbP4+SQwupTFhE0npn4kMdydk6VQLplbJwWo6tpbV4HddPbeFezS5ET2Nr4UZyt83Gb8JIxuv1kpVlohfTxUYLv1muuI0zxUBrCBMcRmOgMwwD3aHYWGqjM3IAJrrKjLXUwMXBANdx+jjba+FoMxxbcyVUBipIPLCahuo0AuY7IZpefCabMX2SKXamKjiYj8LZWkdetiaqmGoJX2pvWT8kCs1NRilhpqGCrkp/TIVS11QDJwtNrPSGMrTfF5KVigxenzGa7FsxCzczFUTfqbXuQOyNh8iaIdG47jK6P+PNezF3qjq+U/Rkn6uohBPjYGHNEZ1/yt8qZHhDcVwQTQUbiQ+bIoOc7Ud8RfAUPdb46LN72Wi2L9EizFeJzYtGsGzWYCKWaXHsiBd58a4UJkzm+rkNHAgZg7vRF0QtsMTd4GscRioYN0rBYrchLPNUw26kgikmPZjlOJDZToNZP99S7ilmj1fD3XIg/u46LPMxIXSeNVNtBjLVoj9pUb7Er3djd7A5u4J08bZTYGegYOkcNcKXmxDoq0rAjBHMnDBIBlvYi4Je24G4WfRk4RRlVs3XYZGnKgJUvR1HSpBd7qNL9HIrdq+14ej+iRQfGkfVkfEkrFai5rA9x2LGcuf8Fv73i2h6aePX95d4LZKDHlfJ5BSxVxRxavdvZHOvO4PPbyrovryfM8eC2B0xmtgtFlxvWMv/XqfDb8XcOr+FXaHmVOUESVW5CGwPctciY7cfP18r5PfX9YhRrth1ClATrEwAkMj5ffLglDTm//HqIr/cqyExeiF1x/fCX108vXuC+9f/Y4BiVPfhZa0EQwGK+ZnrJJsQ/3b32jH5vWJvKXaeQngkxrct9YepLIqSTFCMej++rpe7TwGOr36uls/h2aMqHt8/ycM7FRIwRTqTeMyqsl3Untwv3/BFko4QuFzvyJfP998/OmT+q1Abv3xSw+8fW3j/qkGKpT5/aOLxo3LevjzDXx9F9GKLHC9/fF3LH58uSLHNzw9q6L5WSUdbIR2Xj0rGK5Ka/v3Qxuv7NfzzSyf8eZ0PL87z/nmDPDzwT6eMWXx9r4QP90v4+fIRHl1M4HlzErdO7aI9fz0tmaFU7fOjKXUVtQmBtGeH0XRkFdfyIrl4ZA2VOxeQE+bFocUO7JpjSdQ0IyKnGbLD15yY+TbsmmNO1AwTNngZsnKSFpO0f2DMEAVJ6xdxp7aAV1fP8PRqJY87i6U691pTshyxJ+xeRP6RDaTuX8PJkkSOpG6jqCyJxotltHWeprm1jHO1GVSfOUJtzREeP6jhl9cXJaAKAdHbJ2flLlW8ZkJJeyhyNhWZG7nfUcy962U01ibJZpeOzgJOV+6TO0wxSu84d1hGkobMHk1WjB8PLmXIkAjBNMW4vrUpg9rqeOrqkrl354R8TAHSH+7VwMuLdNckUZ4UypGd87klxFAfGqip3ktHez4tLUe51JQtG2bElOJqSzZCHCfUwsK7mpsYSHjwWDli9XUbxpxJqrLWbI7bcPaHTWJzoC0xGz0pywnn3Km9VJZvJyttFQmHFhK/bxaVRWtYs9SYDSstSY2bQ3ioHYcT/IjZ7UNc7CwyM4NISlnFpu0LWLLai8BQb+YHjsd67CAW+1kzz0sfN/N+eJgPYL7jUILd1YiYq8XK6Wpy5WOt3gO7Uf0YO6ofC50NZEfo0inD2exvIpnhvrWerPAZKxmsrY4yno6m2BmPwMl0uMwZdtT5BguVLwiYZMEyz7GEz3NjiYe5jCScbKnEoklGuOoPwmnUT8wwUSHEWZ8Nk3XJDZtKQrAz66bqsMRRBU9RQiImZ2Z98XfRwtdhGFFLHcjdPY+oxWbMcxSTvIHsWDyCfYGqJIXqcnidEXHrTCk6MJmkqLHkx3pyoTyEh5f38uzaQSpSZlCVNZfu2g00V6wkdrM9O9bZkBU7i+KMpeQdWUpx9koK0pejyE70Iz12HgVJiylNC6QwwY/ihIWcTgnkVEoAB0LsiF83juL9vlwuieB2zW46T0TTfjyS61U7aC/ZQFflFrpObJdt9ntCXAmcZih9mePMBuFoOhQH85H4ejowfqwhdpY6ONubYGOhi66mMkZaKuiNGoSBhhLWpmqMG6ONg406Y8xUsDZVYsxoZVwc1HF11MBI+ye8Jpng6qAjgVRz6Hey3UU0vwimKUbLNkbDGG+txYQxOpKtWusNR3SsGo7oL1tkREyVpd5ATDX7oCGUZ+oDGKn0HRZDv2WWjYaMCxxrMARj9V6MNx8uRxPTHTRwNPwJW/3vmTVJHS9nDRmAL2w1Gkq90Vbqgb3+METJ9iSz3hTHL+VEUiAzx/TFfsQXTNTrTdAUI0KmGcisyFPJc8neNoFjsV6cL19H98UYnl5P5GH7PnhTSkWaP3Od+hHio0WQuypeFl8TNkeDUN+RxIY7ErveBWedLwj00CVkuiH+EzWYZq3EHCd1ZjqqsdTTFL9J+sxx1pTX7PEauBr0kWW4ThoihvArwnzVCJs/ijV+ung59WKmWz+2rLQmapUtq+boMsdFSSYYGQ1RyAzexGhn8hOmEzRTCWsdBVZaClwsFQTP6MfBTSbsDdcnM8aGooPWVMZbciD4Bw6u+JGMKB3unF/Lv+/LgDZ++3iB149rZAi88JgK68jJoo1UlURysz0V6ODRzXT2bB7Hno1jeHs3Ef6o4N+XOfC/ah63HSRjjydPO45wo/EgYQssSNriK0d/wmcoEmpE/q2wEZyr2s/bF3USwIQ3VLzp/f2ulTtthSRt9+d85SH+eXcJUe327uk5Pjyv40F3sRQe/fa+Ufo0K4u3SOYnvIqChYqRoVBx3m7PlyEA75+d5WzlHk4ci5YALvZ1gqEKEBZCIsFKBUAKQH/+8xkJjGKcK677t4TIKEea8YXwRHzfz7crpN9V7GF/fdfEb7+2SGuGYKvi/yIOBYKZClAV+0EBpELE9flts7xEnOEfv1zg91+b+PuPK3S2F3O96wR//XUT/u8W//zZzruXtTy9V8Uf71plFvIfHy7BX9ckq/3lVR3/frpES0McNy6n8epuMS9u5vGsM4s/H5Xz8EICLUUR3DmzV/a85ke6c2LPTBqTAmTXamaoC+khLiQvc+KA3xgSl44nbrEjcX6OxC0Wn4/n0KJx7F9gT8wCB/YudWWNpzmxoeKgt4isneuoK0rman0pd6/UcPNyJQ+7q3l0+yxXmos4WXqIhup0KoriqK85SlHpYU7X5dPYXE7V2RwKiw9RdGwvNdX/jU+bz2dyu7ucty8aePO8nke3KuXvWDB7weTvdhRSkhVBzuEQmav75O4pKUZqOJvIg9uVUsl7uTGFO1fy5G66NDWUMH8b4jZ5U1cYzfPrpXz8+RydF9I5c3wPF+qPSDtNV0chb57U8vTmCT49qeP9vVPyEm0q2XFB3Gj5j31KNtySK1mp+PxSfbIEUzGWFypuoeoWcZEbgh0w11Tg46LCnClq8kC7cKoaE216sG2dM5GhEwhdbs9akROwaw5Hs9cSFenOiqWj2bjGlrBlQsE7CisjBb7TVMlICSYnYyXboiaze6c36zdMIniVK0EhHqzbNIfE1A1UVB5inK0yNgY9cdDvyYIJo2QHaMCkEQR7jGC6XW9C55kT5GOOi+lgXIwG4mmjJD3+sycMJmSOAd5jB2Mx8ktMh32PteZgfJzNJZiq9v0aEaC/L3ymPGT4uRpI+8sk42EEedgQ6GlJgLspS7zMpH1m9UxHfG008DEeyqoJBmzxMiEjZAq+xj9IZhrmqY+Hwfd4mvRkna85hyN8WOKuyQKX4cwa2xtv668ZM1yBj6WCqAVD2TxnALGrNDkQokNsmDE7luuyP2w0qTsnkHvIQ04Muxs3U5k6k7QdDpQkeHCvKYrjqbOJCR9DWYY/aYdmkHckgJKcFRzLWoGiJDuIghR/yrOWciInmLJUf9lSUnnEn+ydXiRtmEDWVk9OJy/hSkU03Wd201q2hQuFG7hUuombZ7bTXLiW2uxVlCX4czojhIrUNaTFLObMsV3s2ThfVqtNHm/EvBnOONroMs7WEDODkVLlK/yoIjFJY1g/KSSyMlFltIEyJjoDsDAczNzpY3Gx18bBaiRWxkMQ92NvqYaTlbpkpdoqfTAYMViqbwVLFLtOkUykofytjAQU3aqiik1HpSfGo/pgodtHWm/ELtTKcCBjrTXRHN4Tc+VvcFT7ERFZZW+ozGjtPow1VWKq7SjWzB/PrAmaTLZVlg03dkb9EEH+Iwb9iNaQPqgP+A47XZGQNEy2se9eYS/7EEO8tXFU+wrb4V8z31GDoCl6MrmoPGEeOTsmU5URQFX+Gi6c3sr7hwX89bKcG037mOs2QPb7pe30IWjaSDxtviYy0ICtK4zI3e9NZWqQHF+snmnOjiBnju4KYLJJfyyGKfCxHYn/ZGPmTdDF23YEXjbDme2kxSx7dcLm2JO2ZR416aE05q8mb583a/10me+uhI9zX+ZOVmK640+snqfD4ehJLJ81nHV+o1g5R5n4SFs2BWkQPKsvUSGa5Ma7cDrPh+SdZiRG63F4qz45+82JDVche5saR8L6krD6J/av7EfsRi2OHp5KZ/Ne7nbnyKg9wVJFlZowvgv/Zf2JPby4VwZ/tpASv4Dswwv59Xkx/FvPH8/yedC6j0/3c7jVuJum8ghuNR4ierkDIq1LmPa7ZAVWCfzSzMnCSM5U7JLiFAFKN64W0taYzj/vL3Op+jDbw7y5Up/GL0/qeXLzuMzsFUAqWKcATTHabb94hJOl0Ty8Vcwvr87JXeuze5VS0dlxMYN3P9dIEBYCo5wjIbQ2JPHnh4u8fVbDo9tlElAFmAqAFKNewYpFYIAAUCF+EmIjAah1pw5wunSnZNACSMXYVzznT+8v8vHtBR7eq+Txw1MSWAWIivsRIPu/Pzt59bSa3z42SuD8+OoCv75u4v/+aOfPz818eFvHp4+XePSwnvcfOvnwSyenz8TLnd4fny9L5vT5fascD0sA/e2yLBYQn4vx9LMHFYgDxctHFQi/7PtHlfzxvJo3t48h2mdEhd2f90vpKI2gaLsneVs8KN8zm5N7F5AT7knySjeObphBYrAbCUETORw0hYTAyRxa5MbeBc4c9HMlftk0dgR4sHHhZCpT91Bfkk7C9vVsWO7PqiXz8Js3nV3bN7J/7xbKj+fQ0lpNXW0xF5uOU5gfS2bGHk6cyeFUbT7VdYVUVmWRV3SAowUxVNekcu1qBTevV9LUkM61K4WyiUj4gx/dFXvrk/Jw88+nNu52FXM0dS2pB4Noq0vl9f1qHlwtlUpcEeQhwhLEJf42nt86jgDUfWFT2b1mMtW5kby7fYr3D6ppOXeY6ooY6msS5BRAvG5imiDuX9iW+L1DKs5T9/iRuHWWZNxijNx1OY/WxjQpfhKP01yXxNVLWXQ2p0sR2av7lQg/f+gSO5nydDw7jPzEIMICbZlk35tzldGU5oezeoUjAYut2RjhQVbmalKSl7IzagoB87VZ6a+Pr8dgPCb0JjV2LutXj2WM1TdkpAZyuSWRiA0TcZ00nPFuIxnvqkH0Vn+y06OIiQrA1qAPE4x6M9H0J8brfcVSD02WTdNlnstw2R61wF2baY7DWOfvwOqFFnIEHTBdS3rdzdW+xFj1G8bqK8lmG2eLUbhaa2IworcE00FfKjh/bCeFB0KZ66TPRCNlSWwEMM90UJdNXaFzHJjtqMtkAyWm6PRnxXg9gscOY5F5X9a7a7PEURn/sYNx0/qCyPlWVCSuIDrQgXkTlAmeNopxegoWTexHoEc/YlboUxHvTtJ6Iypi3TiwRoeUKEs2LxnJ/g3mZB+YRHyUHady5tN5NoxrNWvJihlHTowzN+vCqUibQ/L2CbSc2UT1sdUcPeIvwVQAqqL86BJOFAZzrnQN1UUrOZG1hDM5QVQkLyQp0o249U6kR0+l8vASmos30V6xneayKC6WbaX1xFZu1cbQcWozN2t3ca1mO9dr93Lt3H4uHN/B9aZUNq2cjLONyOrtLzv0nMfqM3mCFVYmWrg4WGBjoouR5jAZEaivPgRzgxEY6wzBRFcJB2tNbExVsTMfwYSxOrJqzdxAWap4rU2Gy05VHZX+aCj1QW/4IKz01LAxHIGZ9iCZuiQaEpyttGVwvkpvBVpDv8LFdjj+vpaEr5zM2mUe+E63Z6qzCbPstJhioIQIaBfmZDuTIbjZjcLZZBBLp1viZT8SoWZ1MuuH+iAFw/t9ie6IQdKvajSsPy4mo1jgaoidukJ6mjpORFKXEyrHDeaDFUwxGswiV11m2PcnOdKd/Wvtydrjw9bV44nfMYvfX52ku+kQ29c6krZvFtBO6p6ZTLXtQcg8TfauH0OQzxBC5oxi50p7fGyHYK/xNZbDFMx2HM5U88EEeZqxzMuShW4GzHPRxtdJXTJTB50fcDXsL8H04LppRC+xJWKhIeGLdNkcaMzOUFsWTB6C74T+RASYyBjALcG6zJv4FYs9v8d/6nccijAlMliNpdO/Z4aLgh1hKjSd9KG9eh4pOw2J36LF0YPmJGxUJS1yGLlRQ6lJMiVvuyY7VijJAIbghaMI9jfk1LFNsqj5ybU8/n1Tz4dHpxEWhA9PaqRi9Vh2GO+enZK/g5d383j3IJ9Pjwp4fjWV2+cPycaUlG0zWetnKcO/hTr1al0y/7xopL50F0WpayVIiDFqe2sWN68V8eebS9Qd38/WNZ7y429vLsmQc2GFEKpYEZQgml3+eN9EVdkOak/H8EL0jv5yQapqXzw4yb2uIvl9Qpx0ozWXspxNHMsOl9GF4jahthXWFsFMBTAKy4wY84rPxXhXXEJwdPNasfwoxC7/vxFvd3ueTGISQCv8rn/82oqoBXv1/Bwvntbw+kUtH96elyArGnUE2AqGKXamgoX+9u6SZKbCS/nhTS1C4frrp8t8+LWLzq4qmttKyS7YwZXOQv786yp//naNTx/a+PyhRYqaRJXY7x8v8/dvHbx8WifZ3B+frvDXpw7++NAq04NeioOBYNSdeTJU4tWNYzxqSuJa5XbaSqKozwyj/GAgx/Ys4Uj4TGJDvEgMncnBFdPYF+jJ/uDpxK2YTdyqOcSvnMOh1QsIW+BFfsJujqXFUpqbwvHiAlKOJBERGY1/4EomefniONGTmQsWEbg6hOWhy8kuSKW4PIPi42kUlKdQcjqD03UF1DeV0tBUTP35Ai42F9DeVsKtW6e4fOkoImD+xrUS+f968rCa10/refygils3Snj7qla+RnlHQmVw+c3mHP737rKcYDSdS5KHsUtNqTTUxnHzylGZ+XuxYh/Co787ZAo5MUu4dymHj0IRXB0nJw1N9Uny4NL9//F01mFdpun7/uzs1M4Y44yOnYgIKopYoFIqttjdiSAIKgoqSnd3h3R3N0hJiYWd2K2TW+fveJ75ffeP9/gw7ji7x8hyvfd9X9d53cjkzt1cnjwskk5vUawg4loJngcIOL2eh93p8oZ7sdQP8ZImIlZ1JYHyDnu5JV5OqiJ+I8S1MNWOyhxnStLPSYbvxqUjsDgwh7QLJwnxP8T2rRqsWzOR7Ts0sDphSFDAHuzPLsLm2FxczuoT6r2W/FQzrrX5UVdhz9XOUB7fTefR/QwSE8wIDt6D1aklLF+uzMY1M1BX6ishCurDvmDfiinsWqzEgklfsWH+YJZO/4GZYxVMGapg1byf2b1qgsQhutuuxHj7ZCwPzMVg5k9MGKxg7uTBCIrauJ8UjOinkIZG8blGX4WF0/qyd4UKB1dOZc3sUWiP/o754/qyRV9FDgIiu262QYsNc8ezRnM4B/RVOb12Dkf0R2O1dALGOkMwXTQKK6OJbJjxD8yNlHAz08N49RjCHdfw4moUF7zWkRa4iVjXxZJAd738OCmeBhSGrSIrcAkJXnoEnNUkyk2fCFcDfGxnkxy4iu6qkxTFbiTNfzHxLrqE22vhZzOLGPcllCYbU5RsSmL4HrISzchJPooiKWK7FNPqXCGm5pQmmVB84RCpAVsIPWeIo8kM/E4uIMV7O5WJJ2grcJb5s1uC9dkWxa16Hx5e8ufNjWheXo3gbrMf1+u8qMqwIdJjOwe3TMH6iCHTVf7BtAl90ZujzBI9TdYs00Nz8ngZn5k1ZQKTxg2VE+q0iSMlhnDqxCEYzFWVYIa5ooZnyjCEgOrMFL9nHNoaY2QzjciDiljL2IH9pKAKlq7KiO8QK2ABkBCM36njBsieVMGz3L5GAw+77WReOEdqrB1HTddyYKuhbGWfP/JrefxeOmcCBrPGsG7xFBbNGMIKreHMHP/t/yeKDGTWhD4oDfma8UP6MGbAd8xSGsGqOWrsXaYuwe4iwvKwyZviCGMs1mmg8ZOChRN/ZIeBCuu1B3FqlwZn9mkSaLuKPauVObBxEo2lToS4r8XxpC5d9Z68f5CJyVYVtiweRF7cEbIj97HFsA+G0xSsndsfg4nfyJJwcWRfqPaVbK2x3b8Ik3Wa2B40xPPEWqpSHIj3MJb5rrnj/s6Saf3YqjdcCvrZfVNIDdhMdsQu4rzXSpbutsU/ssngH2xZ9DWnD44mzlsfR7OxmKz/B5ZbB2Kyri+WO39k21IFp02+I9RVBSMtBWH2GhTFGZEbZUh6wBziHJUJsOhHkEV/Im1Gc7vGnJc3A3hyK4rOi77880MNn3oLaCpyhQ+NfHpYKqk+Ytr716c2BMpPuGI/vqzgt1fl8Lme17dSaMw7T2epOzWpZ2XzfUd5gFyDibD7k2tZ1Od6EOt9SOYCn90rlv2UYhIUgtZeHYm1sSFFKU7892MnDVXhMqLw/mmdXNEJ/KBwxV6sCJA5v4e3suREKmIpr3tLpYlJ0HREjlHA7TNibchNPCcjK01VQfKHrDAtCSEVWEQxjbzprZL/3cK9KyZKIVhCQIWgimYckVesKfHjYoXIGab8b4IVTtTXL2okkend63opokJMxfOLiBO9bfz/q95mPr6t5ZcPDVJIP79u4tcPTfzy8SIfPjby6ZcOnry4RFS8B6XViVy9XcGLd5e4KaronjXx/k0bb55d5L9/XOOfv1wG7vPpbQd//tYDPOHff9zhX7/f5tcPV+Cft/ntQyeP74pJu1hOdiJC0loeyOPONF73FHKpJJQEv2PkRTuQHeFAYsBZgh0sCXE8QbDDCfzOHcPntCWe1pa4WZnjYGmCj50tVQV55KQkkZqSRGhkDHbuflg5+nHkjA+HTvmwbOtx5izdgdrsxcwwWIR3WBDJeQnEpIRwISOMtPxosoriyCmJo7IunY7uUrqvldDekU1beybd3TncuJov78bNF+Pp7hKUmyrevLrI81c1PHpcLF90xAtS/oVzJAUe5VJJCH+8aOLB9Tz559TSFE2nwBC2xMsXKiGCV6rDifPYh6PpIsIcdnCzPpo3twupyfMgNdaatpZYrl1P41JHHC9eVvHp/UVZw8d/b/C4JYFQ283EeO7jweUU+XLS3RjN9dYEmqvCab8YS2tdFDc60+kQmdSOVHo6U2iuCJSUJH8n4fAdR5DnXrycduBguwHjA/M4ZbWClOTTlJW40lQfQHK8CafMZ2J+QI3MCwe42elPV7M7vXfiaKl340pbKJ0tQTQ3elFWco4g/52YHpzHkvljGdlPgc6kYazWVpZJhZkjBa50NCd2zGXHkkmo/axgr5GGJC652awiIfQAQR4b8HXdjKPNBhZojUJ7ygj5rNCbiLrS39m1bgrGWzUZ1kfBjpWTiPU8yIpZA1g542c0h4r+059wNF2H/eE17FuugZH2aLYvVGPXosnsN1Rn/bQh7J8/hmOLVbDfqInTjlm47NbikMEQjiwfxdkdUzm7V4Ojm8fJwePT/QQqUw+THrqBcCd9GjKNed/jT0e+KR0Fh6lO2UJF8iYa8w+SE70Op+OTSAxcTknSDjJCVxFqPwtvq0mk+iwkyGY6x7b8TJCtNtkR20gO2UpC2G6yk8zJTzuGIiv+AKW/Zc/wAAAgAElEQVSZFlRmHaMu7ySXSmyluSPUfgnOR2dhe3AaXlb6JHpvozLZis5yN263hPH4chzPryfw68M0fn2YwtPuEHovB/Ow3Z9n3WE87golM/IQ9fn2OFktQ2P831i9SBWBFZRA/HnTMdSdjcFcTXTnTENDbQyTlIeiPmE4E8f8xKTxA9GdMwFD3Snyc+FcNZYbaLBAW5VZU0ZIOpGm2nAmjf5rMh35w3eM6P8NKsP7yslUY8KPUlAFAF/EYYSg6kwfxv4tWvg67yEp0poQb3NOWmxmm5EWukrfM3/kl8ybMIBZKgMxmD2WVQYT2blSg/X6ShIovUBjKJsMJ7N5yVRmqf6M0uB/MPan7xCTqa7aUDbpjeXAypFEOS0h1nkJToens272j0zup2CR6kD55rVFfyRbDIZgsk4Fp6MG7Fw5TsIS7I7P49hBNfKSDyK2BYe3KLNj5Qj2rVbm1H4t9q4cJW3pc8cr0B6rQGuEgg1zhrBh3kDWzOmP/+k1ZAUf5dQebfauUGbLwqGyHV60amzUG4z6EAWLNb4lyWcv12u8edQWwKMOH/zO6WC+cwy7Vgxgjc7fWW/wJcf3juTM4dGYbO7DsZ2DiPdeQnrwRg6uHsjWRV9gurkPYa5TMd6kYNUsBZWJB/E/O5ej2wZy3ngYNru+J9lpEuUhOuT66sAf+Xy4d4FfnhfwrrdAiumHJzlUZZ3m86MC+LWNf71plJVmf75vk3c8Ab0XeU2Z52yPpTDBisqU0xTHWpEeaEJ2qDm93Wm0VAbJW1dmjA1RXsaIqeJTbw0lGc4ICIOAmjdWhGJ1aCEVWR68vl9JXVkwd3ryZb5T/OB6ea9ERmSEOIq17aeXtZJmJKAJogWkpzMBIaQC4iAC+nFB5pRnu9FSGUJ5nhvZSWflPVVEUv6PlCNupSI203u36P9PpmLFm8/1y+lSSIWgClDA/8EaBIlJTLLiJipWg08elshHoAw/fxB53CZePBV5yiqEwApB/eNzK39+auLXdxf5/LpZmojePK/is/i1Pzp496mDR887yC1LJCU3ksgkL5q7c7jXW8/nP25y81Y5j+/VcPd6KT2XC6koisTHzYKi3Aiqy5II9D9L4gVvygpjKC2MpLwwgtKCYCqKgmltiKe2PIL4qHPY2uzE3nY/CfFe+Pnact7WHDOzPTg4nuHYiaOcsT3LWTtHTticx/KELcdPOWBpZYfJEWtcXXxwd/PBwyOAgPB4jtl5YnzGg12nfNluFYThbmemLz/OjGVH0Vp1mFW7jhKSmk5URiIeYe6ExPsRnRZIYlYYGQVRlFQmyem0uj6F4rIorlwtlILa3JRCZ2cmPT1FXL+ex7XuXG7ezOfhk1J6n5Zx52aONIPd7UyjNNlB4gXL0pxlFEa8PFy7nE57a5zESwq4hridv3tYRlOJD4XxNgSf30yw7SbaCsT/txKpyXWnOMuJ+/fyaG2P5cr1VP74s0PmUF/fLYLnDby5koX3qVVkR1ogiFSC3tVRF0l3cwKtddHSgX35Uir1lWFcFuax7nQZeRLgkbQoC9zOGCGys0Ge+wn03I+7w2YiQ47QcjGUy62R1Fd60HM5CqczCzluosGhnUrYWs2Wz4WI7ezaMhKLw9PJTrEgNnwbe7aNZqVhf9YYDsVw9hAZURFVjbsXa2I0eyQzRynk7XS+2j/QnvC95Jgv0RQmIgM8zqwmWFQjBu2iONsOG4s1TFX5UZaVLJwzUbIDFs7ph5fdCtKiDmG8WYXFs77DZP0UVmsNRqQChn2hQFelL/uWa2K8eg7We5dxas9SKaabdZQxXjmdjTOGcnTZFM6snY6p3iisV0/GfMlY9sz7kRSXLfgd0+PM3snyHOZuNYdtS//B7lV92LP6e07sGUFp4g56O1y5UWPDzdqTtBYe4GHbWd7e8aWp2BR362mUpu+hId8E5+OqnDkwDMut/cgJXkaCuy4bdRSc3DVcrnuTAjaRHL6XvFRLijKtUOQlmVKQYkZRshkdlQLSHENnmQMRjitxNp+Dm+VcQu2WkRm6l7qs03TXenH7UggPuqJ40BXJm1vxfLqXKEX0zc1IXlwL5V6rFw/a/MgM38WlMmdsjLUxmNFXEpLmTBmM1rSxchKdo6HKEn0tue4Va9+pqiOZMXm0XPNOnzSchfMnSQzh2uVabFw5D93Z46WQLtVXl6KqNvYH/u9mOn7wAIb1/YqpSoNYaSBs4BNRHfUdk0f9hOrwHxjz09/R1RzJ+RMbyU1yJi/ZDQ+7A1iabmD9kuls01PGbNV09NQGMWaAAoPZShjOU0Jj3FdoTezDyrlKGEwbxgKN4RJ7pTnhJyaP7idrjiYM/Ba1QV+wfMZA+eKR5G3EsY2DSffbxLnd2myaN1bisPRVB7B3uSq7VozHxWIxqcGmsp1H0DT2rR/OhsXfUpJmTFvVOTIjD3CnNRzTDZPRU/s7+1eOJ8p5G4Gn17BZdzBG038kwGodwWfXscNwGC5HDekq88PJfBHLZn7Hitni+Zbti4cxf6KCOUoKdNUUOJrpyFxwRZIpt5vcCXdfzrG9E9i79me2r/iBXUYio/sFK+cpsDEex+lDSjhbzuDMwakYzfmS1doKdi79moDz0zGapyDWZSWhtisY/IUCk43D6Wk4R5zLXFLdtYg5PZmqqA3wMZ8LPlvorPXnj7e1fHhawsfeXNor3bhS68fvvWWIGjYRWxAQBTFh/ffPqzIneLszkdiAg4S6bOVuawyRztsJOb+RZ52pdFeFcakuQgqSn+tu2mrCJW6vqTRQVmsJp2VBsiPHDhhQmeMlYwzdzYkyI1he7E9jXZQU2ud3iijNdJGTpgj6C5yfAB+I+I4sCG+Okutf4bCMCThCdb6X7DgVv6eywIuaYm/5Q06sgsWNVJBsrrUnyan04c08KaqCliMD+e3J/1vx1pQHyUiMmHZEVEZMsMJk9PZFrVzx/p94inWv+PrD24t8fNfI21d1cjIVU6qAQ4hJ/l+fu2QM5PqVFO7eyeHt+2be/NIl74kVTUWkFlzAL8qFG48aePiqhSev2mhoSuPty3Y6WzMpzQ8jPdGL/Kxwmutz8HA9gbXVXm73XIR/PafrUiHXOgv54/MNfv9wFf5zj8/vOvnzj9s8edbGs1dX+eXPp7R01ZCWl4itmx0nHew46eTKcQd3TE67cuCkC8ccQ7ELSMXa4wL7j7txyNwOW0d/bF2CMT3jwXZLJ/bZhqC74zwrzEJYuD8QzXVO6G53Y8VBd1bstcHGOwT7EH+8Y/2JSgslLNGPuLQgsorjySu7IN29KRkBZOYGk50XRG3dBeobEqmtieOi+KyNoaYmWrpob98t5PmLvzYB8rbeEMXt9hSaigPwd9yJqGkTgI1HtwolYEP8PZcao+Ujth69d/IlZzk/9hRRTjsJPLWWznxvejvTKE6xoyjbiVcvq7jRk8Gvv12ScaZH17N4fauA2xejZYPPiV3TKYg7KftXrzfHcbVVFC6EIoS0rVmYk9Jl16qodBPfJ+KWmhJpydmji7A7vpRAl+1cCD5MUbotrdV+/3uuXQqnIO0kfi5rpKPXdO8kEiL2EBW4FasjmqxZ0h976/nEhGzG3no2wZ4rcbLWQUddwXzVr5mj9C2zRPH4yH8gfnbNU/mOzYsE4GUCEwaJrGs/DCYNxWbfcklbEp2oJVnWMvJ2xnIjU8YPYobKKHRnjENpqIKDWyficmY+vuf1aS+zJ8ZjMytn95PF4JMGKjBdP5Oc0DPSybtBV4Xdy6ZjvlkPs026CADPdv0JHFgwkeOrNDBbOAEB+nDbPY9Ta9Q4ZvQXRN/FeBY1yebwJpcw5wVSRD1PzyDURY/ipF287PHlabcHXRUnuFZ7it5OB355FMCbu77carPjQtByCpK2U5K2Ew/ryTgcGYPHcRUuuM3H/9Rkzu8fSUXibl5fDaQ+9xgpEfvkv9vSHGsUItybFmVMRcYprtb78N9XRTzuCKMp5wwNmScpiTMh1X8bdZlWdAiUYK0HN5r96Kp158HlUF70xErwQM9Fd55dCeZ1TxhvesIkyH3nsr6cPTSNsybauFobsVpfAOTHs2jeJDQnjUF1zFDUlIaiqjQYdcHznTKWyROGMH5UPymoQkxnqo9g3sy/XL4bjLTYuXEBuzYZsGvTQgx1JqE6si/KQ/uiNnKwrGtTHvq9jMcIgMPogV8wcdgAlH/uzyq9mexaq8/6Jeq4n9tLeXYITjYH5D9nulI/Di6dRKa3hcQQao4fwJxpw9HRHCmP72LFO1dVxF9+Ysmscayar4r66O9QGfYNSj99yaRh3yECx1OHKMgI2i0nNSGm1juV2b1gOPPHfYXBxAGsnzeONfNHsNlwDGHOO2S5QFelPx0V7jhbaWN9eCL/fpUKb3NkxdiT9jj2Lhsvn7uCzPOsin8+KKQ06gSzhyqwWD+VTXqD5cR5cLWqfMvbbjgag6lfsU7/J0y3qEruanb4ERZO/VKK6eJpX7Jn+VCi3YyI91mP6XZldhoNYf+GUTIaY7pjDGY7RmO5RwlnKy0Jdz6wZhT7jcbQlGtPXYYNxuuGYbZ1CEe3DqeryImQc6vxsVnG69uJiO8DPuWQ6KJHgKUa9yvP0pZ9AvOtE3l8NRU+t8lKsnePc7naFEBBvMjXRsPHBkRJ9m9vxZR1kT8+tPLb+0ZKMx2I8t3HvfY40sNMCLBdy4PWOG7UhtNZGUJTeZBciRVkuNBUHU5TZZgUzlutKdKtu3ftNLLjbCWl5mpbCnUVoVy6GEd9dTiVxQESnpAZe1Yi5MSaT5SAi2lXGEYEok9QhX57VU97bYQ0qNQV+cp7aVWut5x+hXlIVGOJKVg8/2ciEsF7YTy6fSVLrkWFkD6+VyIBDeJrQT4qF8D4yuC/kII3cuQK8XKbYIPmSzEVa93XL2u5f7eANy9r/1rzfmyRU6qYVMXfx++X5T3z4+tmeQesqw6muSWKt59aefymlYLKFOo7awlJDCU4IYCCuhRuPWvh5S83yC4M48njJrnK7WjN5tnjVrrbi/H1OInjORP+/fsT3r+6RnKcGwnRjjy5W8u/funh08sWPr1q4vePHfQ+rAAe8OZtB73PL/HoWRdX77bSfLUZ76hQTrm4Y2bnioVjAHtPeWF8LgSvxFpM7OMwtYvGyjEaJ79krFyj2WXlxVYrP4wsfNHd64H2bl8WmcSiusIB3V1+LN7vxTozF84ExuISFYFTmBfhKSFkV6SQXhxHUnY4aXkRZBfHkF8aI81IpRUxNLWm09qeRV39BWrr4uWk2t6RRUNDLBVlAbx4VkXv4zKJt7x6OUW+4Ij7pdg8JAZZEOFxkA+Pa3hyo0CuXHsfllNVHcK16xn03EiXZ4DilHM0ZLmQ7mWMywEDuvK8uVIeRGWWE4JA9ep5Oe/f1fLrp2ZuXUmVpK3bbRdkt2xHqScORxeRE20lu1e7GuPlZNrWGI9wI3e1pdLdloLIoIoXL4FOFLfbTctGMbqfAqdjehResCAj0pjCREuqs8/IjeCVi4E0l7nhbLNUmpSW6vbD13Ujxdm2BLht4nKTP3kpJvg5L+CM2WRcbeZwxnQqmqMVaI5QYKD2LQYT+7N94WRmjfkWQSlapT1aIlkFlnXDQjVWzBqL1Y4FsuPT3nI+VXm2NJX7EexuyexJo1EbIVq3BjBb9QsOb1fGz16PqnRjMoK3URJnjqPZQmYrKeQNtiDqLD01CZzeu0Rye49uMWCzwSS2LpwsBXaX4URMlqtzzEiDffNGY7FUjQO6wzm/ZTpWaydyfrcGJVGHeH8jmg93oiiI28mDTneuXzzH69tBvL8fwuvbAfA2iSs1p2kpPsLH+/788TyUJ1dduNFiS2PZUdprT1KbL7aqB0jwW0CsmzbJXroE2qjjZalGe9FR+G8F+XF7ifLdTFa8GYWpJ1CkRR6RvZfZMWbkxZtzpdqLhpyzVCafoC79pITcR7mupizRjIddofz2NIsXt2KozreW6+HOakday85xo8GNp91B/PNpMrxMoy7tMEc2DmPpdAWFMWaI+5bJNm0Mtccxd9oopioPR23sELnaVRo5gFFD+qA0sj/T1IahpamE1vQxzJgynMnKPzJr6ggW6aqyZ9siLA+vx8psMyeObJKiajBbGV1NZWaojJY3U1HZJoR0yXwV6eod91MfJgweKI1Ck0b+IP9gtxnN5uzRnWwz0pWT7ugfFOzQG0OozSaWTB8mozMCBDFj8mAM54xEa2I/2Vs6dVQfFk0fi5HOZOZN+VnGa/Q0RqHy8xeoDlKww3C8vCGLyh/7Q2pkBYjc7Sj0J3zLdgNVuf9foNGXmUoK1uoNI8JtN/95UQG/NdBRep7CuH389ugC12ucCbRZgonROMzWqBJovZLqhJPSLV0cZYqjsRZzRysIsF7HhvlD2b5Emc36Y1EfpmD6KAVzVb7A1kSPO62R9NSHSubytGEKDCZ/JSfc0/tnymyozYHpWO2fxdYVo1m3aCCblv3Mgc1jMd2pwt61o9izZhRm29VlznTCTwpWafXj5J7p7F0xDNONo0nw2cCDxgBu1HjLar5Pj7OpzrKiMG4PAVaaFIWsw9tcHQ8zTQLOLuM/7+v5822DBCs8u5XJ9ZYgBNv5+kU/Xt1O49OzYvizTZZsf3xRJUu3q3KdENVqIc6bcLVaTGeFHzcawrlcFUxHRTANxYGU53sjogyFOe5UFPhwuyOdwkQHjm6fS2a4NT3NSTRXRdBSH0NTfTRFeV60N12QJJvkKGvCPI2pLfCTgllf7MfV5ng5eYoyZnFLFajBpPDjUjybK4LlZFqc5oIQ1OIsF8pyxQ2qUIqpWO2KdZwQU/G1qPMSsRxxKxVrXkHKEV+LFa8Q08aqEDltiHWwmHTE8+h+0f9WvK/E7fR+kbyhihWvEFFxTxXNNmJKFXfZDy8a+Py2lV8+tPFUIAt7y3j3aztP3rbx4NUtKlqqsfV2JLk4jazKJLruNfDuX4+obk6nsioG/nNX3kk/vevmenchz5+0yOe3Tz28f9VB16Usei4X8MenK/DbdX592yqdw6LSTKziRdtO7+NKnj1v5MHjZl687eHZx0c8fNuLb2wspuecMbH1xMbvAntO+WLiEMNhhzj2nQ7HxjuVo45RbDvujZGJM4aHXJi/x5m5e71ZZBaDzsEIZm71xWB/EOqrTjBjtTGHnXyx9vPD9PwJ/GK8SS2KJ60oVj65pfEUVSXJqExtUyYNzZnUXUyRU3hLWyZt7Vk0t6TScDFRwhKK873/+vctoPZPK3n4qITmxiiEgai1NlwWxRclnCfR34KnPYU86imQgIY794pobIvl+s0MXjwvkz21eTEnac/1pC7OFteDC7iY7CCnz4pMR1mh9upZmTQidbbF8funFm53J8v17ourqVSknsP9lJGs5Ou9mS+dxGLVe7E6Qj5X2lPldCpuqeLOLtbMIjqzZ80YXI7NJ8ptnawlFA1fHaWONBfYUZ56ko4qL6pz7SlMOcPR/bM5tEsDg9nfsW7JMK63BtPd5IKz9XQcT2gQ5mKIv60eJ3Yq42g6Fx+rlRLC43FsM0c26yHOXEtnj2b8Two0x39DjLcli6cOlibHPUajOb5/Ck6nFnBk10z2rddl2pifmDjke0SrjIj1bFnyA9b7lUkJWIeflQ4WGyagq6pg2awB7Fs5EZu9eiR4meFvswPbQ0bYmaxj19LpaAz/Eu1x37J7sSonNmlxfK0mu7RHYjTxH3gdNMDtgC5uh+ZxeNlwBP72/a1YrlTa4WihTkLASmJ9luB1ZiYJAcu4Wn+aJ1c8aCmy4OODUD7cD+DDw0Dudjpyp8uZng5nPjyP4kNvBO/uB9JWasoFbx28j0/A01KYKcdzas8QQhzm43N2HuEe66SYlmefRlGSbisLafPjrUgNPUxlijWlicfkBFKfZU1VsgXZ4Xu5Wu3Mv17nwn8b4GMh11u9aatx5HKtMzdbvOVN7ElXAG+uhfChJ5Q037WYrRvCweU/k+C5jTCHLSyfO5R56gMRcAW9WWoYaE+Vq12VsT8xZlgfpk8exa4tSzlnbYzpwXUs0JnExLH9mD5piBTTA7uWcvrEds5Z75afxruXs27JDNl7Orzf14wf3A/9mcpsWjGHlQaTZUXahME/oj5qFCP6fovSoO+YPLoPc6cOxVBLVd5bxw3pw8TBf+foOnUc9uugPlyB+rg+qI75C3U4Y0If5kzsxzTBn1QZzEKNcSyYNhqD6cOloBpqj0dj3PfoTPmJM4cW0tseRXWSGU4mGtQmWeB5dInMfx5ZP4d1OqOlhXztAtEoP4B1+sNlZVNB9BG5Abjf6A3Pc2lIPU6y62Z8zfWx3qxKZYwJV4rOcK3cltdXQ4l1WcU2vZ/wObla5kktti/g8Lq5GE4fypZFaqzRGSUF1v3kKjbpj2CpZj/UBytYOKUvm3RHsm3BSFZr9WXfKiXWLxzHUu2hLJs3iGXzB0gg/s4149mybCxbl49j3/opbBDT9eS/yZ7UXcuHslbne1bM+Yp9qwZTELmD/OidVGRYcK3Rg9d34wlzWcIOA+FgVmC7ayint4+gLuMY/NkkId0fn5UhgOv3uuLIjDKmKPEIL24m8suLYp7ezuT1wwLZC3q7I44393PorPbG6sAMsiJNedmTRmOhO11VwRLi31gSREmWB6X5PuRluMr7kvhre8vVeJzaxJWaWG61plJfGkxteQhivVtdHsyVS8lkXjhPqLcJQlBr8n0RAlmb7yt7LcWqWFRoNRT5kRBsIadbEaupyPYkO/4c+anOFKQ5y6lUxFuE01XkTwUYQN62uv+CANy7nouAowsBvdGdwdWONG5eyaaswJeKYj8Jt793PRsBdBA5VBGfuX8nXz5CRMXz+GGJ/EEvqsPEilesfYWQiluqgDX859fLvHxSI6dEMcm+ftfAxz+6+Pjv+7T1tBJ4IRKnYF+ya4rIqkyjrquU9pu13Olt5enzetnZeetWAR8/tnHvThGvXzbwUbh8f+nk14/t/PnrZf7z5zV+/dgm85oioiNWzAJxKOJC/OcGcJeXvRd58KCB3hfdXL/bzt1n97jz6imFDU2YnXPBwtEfK9dIjrtFc9w9jjP+aZwLyWf7SX+W7LPD8IATuntc0NrlwoLDIay2SUHvYChT1zmyYL83Rube7Dzty9mgGOxDQnEI8SYuO1aK6YXsMDJLL1DdlENdax6NlwqorE/lUmcBdU2pUkw7u/O5cr1YTqkNTSk0NSZTXhgg1++9jyvofVrFy9cNXLueRU1loHTSdtZG8vx6Hmmhx4nxMZEr33u3CigtD6CpI4Frt7PlJkCQvcQtNCf0OC3pbrRnuGG/ez6tWW5crwmjrtBDng3gBjeupnL9moBwlEm044POBOnwTQoxw0lwZqvDEILaeTGOO91ZtNRG0VwTyaX6GPl9K2I0wpAkKFx1uQ4E26/CxXIeUc5ryAzcQUm0CRf/fwd1Q549VxtDEC+luUnWOFovY/G8fuxcO46eS8FcqjzDsf0jcTk+lRj3ZST7rCXOdRVxrmuIdt4kwS97Vkxl1bzxzFX7mdkTfkRj7LfMm9SXwxtnsXzWYBZN/Y7Fs74gP/4w4e4bJdxGe+KPTB7WB6UfFOio9Ze+D+N1I9i/ahC2e6dgsnw0i1T+xrIZ/dm0aDSihMRkowZ+NluIcztCiJ0xzke3ylLwtfOUmav0D9bPHUmc4wGqY+0IOLqONZP742OyhGzPAyQ4bMFq40QKw4y5Vu1MWuAWjNcPYtV8IeJfcHzvCHJjt0gxvX7xrGy9en7dm/cPgnh50487Xa48ueVP7+1A+Fch/LcYfsng6VVXCqLXcGrHD1hu6kOcm450/joeVZMvH372y+RmtzzLBkVyuBmJoabkXrAiM9KM0mRrShNOSLNRZsh+Gd8Qq95n3RH851Uu/C6MIdV8eJTM3Y4AmYu8VHKemw0ePO0K5re7sfx6M4qquP2S9mNmNByztUo4HlkgJ4Vl2mOZpzFSloiL+6gQUuXRA+SjP3cKjrZHycuIxN/zDGtWaKGuMgjNyUMlzGHnZgNOWmyVYiqMQwd2LWalgbrsUJ05cTTiWa47lYVaSqiM/FKSkJR/HoDK4MGM/bEvWpPGyFYbUewtCEhCXEcO+IpJw77G1XQhwdarmK/2HdrqPzNZeRDjR37P+CEKNJW+Y8oI8Q00nIXqY2X4WF9jGFqTBqCh/D0GM4axefEULLfPpzzemkj71ezQ78+Jraqs1OjD0mkDWDlrsAQ/iIl0jcFwNixSktD43EgLEn12kB92gPsNXny+EUNl9EFKQ/fTdMEcy1U/43JQlRj7+TRnHuBFtw8BZ/VYNFUwMgegozZAti8smTmeZTPHsX/1HA6smcW2xRNYpT0Y24MLCT63EyHmSzUGoTXmCxZN+Z4VM/uwe5kSS+cMY8X8MaxdMI5Fs39k/tTvMJjRH12Nfuhr/iD/dwrurqigO75HQ0ZohCX+6DZVTu+bgo/VdIJsZ+NyYgbHD0yktfw8Tsdm4GiiwoHFCo6s+LsU1KZsC/hXgzQhvX2UR2dtIBeLnblU4URG1D5utAbw6Focdy/H8fvrCl7fy6a1wos3t9M5dUCTeN8dPOmOp6PSj8ZiT5pK/GgpD6atUnQwupGVZC+FtDDbg5Pmy3A4vpZrFxNoKg6mNs9PTqZCcAVer7MlkexEe3zsd5Gb7Eh1oT8ZMWfJTbCTYioEVeRQ26vDCXXfT2GyPQ1FAfJ+lh59mtwEe/JSnMiIP0deipg6gnn1qFzmVGWmsDtd0nTEildMpdfaU/53LxVCeuNyJjlpzlSVBsj/TEywYmUrhFRMpaIv9fbNHB49KKaj7YLs3xSCKmIcQkzF+lfAHISYiqaT39+38eJxrYy0fPrQzNPXNdx5Usnle3VEpUdj5exAakUZQUmxVHfV0Ha7UQrQ538/4vGzOm7fyeHmrRx++72DD75lSmcAACAASURBVO8a+e2XNj6+b+KXT628elHH7792SmF91lvNk4dVvH/Tyu+/dPPLx074zwPev+6koiSKmpoUmlqLuZAaQUZRJpd6LnPzxXPuvv9MZE4xVu5BHDrrjYl9IGaOYThE5nHMO5XVZp4s2u/IYmNP9Pa5o3/Qj5UnYlllFcdyiwjmbLNnzbFAToflEpxTTXhuKYEpqcTlZZBSlExyQSwx6UFklyfS0FZI/aV8OZlW1KVwsSVLTqeNLRm0tGXT1pkjH7H6vdiYRGNNtFyhPn1SJV8qnjyt4sHDUgSIXnTZivt4V00kr28VkRp2gmg/Mx7dLZaCKyD5DwUX+HqGdI6Lc4CIaKUHmNNdGEBNvC32B/SoTrajpzFaCqqAenz+0EhH5wUe3suXgnilIYpXgsDVlUqYxz78HbcjiuJFz+2Vpjh5umiri5aC2n4xjsstifJrYay715kgyXXhzutkZeYFtw2y7as8wZLq1FOUpZySk+m15ggJRon234O/8zoJzC9MMiE9cjNnTZUlMs/fRouwc/p4Ws7B7tBUjm+bxPHdc5g0RMGciQNYMH0MEwd/xfwpA1k1fzS6k79ng/4o9NW/RGuigoSA7RzfN535k75CfeiXqPz4N3n+mq/6LV4nF1N2wVzCgIyXDkd/tALt4X+hBMNc9pIVcQw7s0UEnNlCks9RYt2PYb13JWvnCpKbvszNW2zRItnLlIooWwp8rQg6up6RCgX2u7Rx2j+fVM89pHhu59hmZUw3jCDJf73ckp06OJbqLGP4Twm9Vz3paTpHT6MtL2748OSKF3c6XLh32Yt3vbGyNYZ/FsF/S+BzOg87nbhSc4x4Dx3OHRrOBS990kNWEuI0j/SwjUR4riUrzhQpphHee4jxP0BBkrUsWa7NtqMq1YaSeAvCHFbjc2qB7DR9cCmY33sz4dcq+HcdL27FUZ1zkp4mH1qKbGktPMOjFl/u1bpxu8KBx/XuNCVZ4HJwJvb755AbYknguV0Y6SqzzlCTpXpTpdloooiyKA1GZewg5s5U4ZTlPlLiA/F2tWHdyvnMUB/FzGkj0Z2jzOplMzA9YMQZq10cN9vEwd3LmD99FOrjfpRrXtURA5kkAPojv2He9KHSgDRxqOgqHYJY905XHoTK8L8xeczXjBv0JcqDv2PMT9/RX6HgxBZ14p03/gW0nzwQEc1RHvkD08b3Q33M1/I2MX3sABZMGYPOpBFyMtVQ+lb2ry7TGc+eNdpsWTQZR9OlGK9QZvYwBfoTFLJzVHOYAh2Vb9Gb0odtS5VYMKMvy+eNxNlqPe1l/uSEm3Cn3ov3V8J4dzmAJ3UOXM2xpDRgHXG2WvhZqBDnOJv8sJUyROxzej4G0wQU+ntmq/wgb7aGM5Ux1ByH0XwVdq/QxGb/Ik7t0yPk/A58rTezYvpgdMb/g9Uzh+BhYUSE/RZ2LB7D5sWqbFysxqYlqn9NqHOHscFQmZU6IzGc/TPzp/yDOaoKORkGORpxaN0oNur3IcplPfbG07DZORRHUyVMNg1ixngFdhYzWamlwM1sIqYrv2SvngL7PUPwPaFBT52zPBM8uRHPw8vRdNd5U5NrQ3PpeRkH6u1J4PmtVHqvJXC/PYo7raGEOazB+agOV6u86KkPpDrLnq7aUCpzPWirjqK9KoqsODuqCwKpLgrCwWYzpy1XS5NZc3kEF0uCqczxpqrAj6oifzoa4ynKcMPr/A4piiWZXhSle5Adb09xmitFyc7UFfhxqTyMAIfdZEadpiLDnfwEBxKDT5AefYa8RCeyExzldCrEVJigXj4s42ZXqryRChF90JMvvxZieuVSEreu5tDVmsTdG/lyOs1OdZKraYGwk+D961kyniHE9Fp3qoSlCwEVJdbipiceMaWKz+tX0+V0KoRVGGNePa6WYvruVSOv39Rz70kJV+8UUnUpm+AL4dj7+1N6qZ2j589x+eF1Lt/vIKs8mQcvOrj/sEJOvR8/XOT33y7xpLeUd+8b+fCxmddvG3n3oZX3H9t5+/Ey7z9d5/Pvd/n02z1pOLp1/xL1LZV4Bnvj5O1GSkEODgH+bDe3wMbHH8eIOFziUwnILiO8qA7H2CwO2PnjFJuPXWQ25h5xbDjuy0pzb9ZbhbDKIph5u1wxPBzIBus4VlqEsNzchy3WQRg7hXPEJZgzARG4R13AMTgUxwBvolIjSMiJJD4rVIppaW0axdXJNLUVcvVWDfVNGdQ1psvptL45TX7WXExGPBcbk2m+mEBDTRRPH9cgXhbu3ivi5fNaWQxeXxUs1/C1hT4Il+/jazlE+5sSH2bJ8wflXOlIQZCO7t8ulFsHsZH476d2elriifc25l7zBbJDLLA/vICqFDtut4iXxVTZaPPLxyZ6H/2VRxYOcRGJEe0/nbXheNpulIIqABHiaa0Ikt6AjgYRl4mmveECLfVx8vtI3PlFaUFJ8mkinDcTcm4V2aEHKIu3JCP0ABVpNpSkWdPTFonb2WU4ntTn3NFZHN4yEqt9SgScny+BLJGOC/A7NRuXI1NxNZtOdvAO4jy2sMdIhalj/sbsiT+hpTYYceoSJsy1OkryhX3B1D4sntkXfQ0F+9crsUzwwk2WsclgiiTCaQ5XMFdJgahi+3wrmca00+zUGcwenTHs0huPvtp3EudYnnJe8rUjHPfgeWIDnlY7ObZtKbuXa7NeV012JTuZraQo8jT3auOojrLHUOkbHHbpEnV6A1pDFazW/B6j6V9jf2gWZ/ZPI8lvE5WppvLnUYznUv58doHuahsuV5/kat0pfn8azZW6s3TXn+d2uzfvexN5+TAW/iiBfxXz7w+pUnw7ys3ldJrgrU9qwGJyo9aRGmpEQeIe/OwNifBcT5TXZjGZHiE92oLyzPOUptjQVOhEfdY5yhKOIQg84Q6rJV7wcoULb28m8PuTbN7fT5VGpPx4UzJC99Kcb0uX6DgtsqUh6SgPqt34960E6mNM2Kb1PVu0+8k16p5lk9BW7c/S+Sroz1Fh5tTRqKuNkqxeIaaTJwxj9TIdTlrs5diRnaxfpccM9TFozxiPvvZE9LVVWL9SW4qomFI3rtaWrtv5GmMluEFt5CB0po9j9wZdkqPsEc7h8YP6oTl+NBOG9Efp56/QmPAtS3XGMPh7BeMHf4OAPvRTKLDZPo2aBEv2GKkyepBCTspTVIajNvp71IZ/KQvAdaYMx1BTGb0po5g/5WemjfsGdeVvWTJvHNuWzWLlHCU26yhJkMIC5b/hbrYEq83aqA9UcNBoGtuWqLBk1g/oTeuD+ugvpCvObMsMRJVZb1sg/7wfTVfeYVqSt1MTvooQC2Xst/cj7vw0KmJWEXJ2KvnRW3E8Pod56n9Df/oAWXmnMXYABhpjmas2hBXa41kxdzSGmj+ipaz4awWj0Yf547+WUIczuw3IDDhKSYwVWwyGsnO5GluWqUoBNdD8kfnq/aUtXmeqaNL5hqljFPKt0+m4Lsd2qbDfaAhmm5U4uWsK2/X74H10KuZr+mO1S4nEoC0874kizGkx2YGrObPtR1z2DsHXTJkdegosNg8h1msNCYGbuVzrJM8D+Qkm9PbE8eBKNP98W8adtgguV/vw+UGWvLWf2q3OVWHxr/GlpcCFzqoA6gp8aCgLobkyivqiYMoyvWiviSXM05TjxkvIiLOjviyMkmxvGqvCKcvzpiLPh8sN8RSmOOPvtJe0CBuqcn3IS3YhM96eolQ3chMcqc7xoTLLi1DXg4S47JdCmhd/nszos2THnpPCLYRX/L7CdFdKstxlqbfItV5vT5ICeqs7U4qp+BRiKcRUTKRCTO/1FNDRnEBJnrcEqwuxFUYlAZYQWVSxwr11I0tOo2IyFeIp7qbiU9z0xKq3rMRH/rAXpqSPLxt596ye549qeP6kmnv3C7nzsITed6309F7CNcSXgPhEEgorMLdz4OK1SyTmJ5BdkUZqbhi//naNp08qef+2SU6gT0UH7LsmPv/ayfvPnfyLB7x63y2NRY9e3ODa3Q4qmypIzE7CPyoMU5vTuIVG0XrnAZk1jVi5+3HaP5yjHoHsPuvKfjsv+Zi5h2LpHckJ3ziiiptxicvD0iueRQfOscE6BBOvHHbaJWOwzwvDQ35sPh3HJutwdp0PwyWhCP/MEuxCo7EPCsM9Mhq3sDC8w4NJL04loyRBiqnIm4qbqTAg1TVn0XW9gvbLRX8JalMql7ryaGrLorwmnoraC1zqyKa+7gIlhYHcv1POmxeNPLhTzJsX9fQ+KpWO3brKIFkQkJ/uKLtOn90uJNz7ELH+5hIVeLkpgYuVYfTeL5f4QZEfFu5qcW8Pcd3N65u5JPocIujcJvniLJqMHks0ZJXcMPQ+KPtrZdudJc1vz2/lU1vgjvPJlRI7+M8XtdzrTKKhyIdLVRG0itq39nQ6W1JpaUiQ30sC+NFSGUBGhDmRLpvkz+2M4P3yXJcXe5SKrLM0FDnhYrOIaJ9NGG8Yxoo5CnYv/459q/pje0CFoDNzcT4ymaNrf8bliAbd5U6UJ5/g+P75LJw1FLVR3zJ+8Nf/E1PBK183d7TExupO7csSrR/YsVyJM8ZLaCuJwXzzAkZ+qUClvwJH0/myrjPCfil64xWc2TaT+PP7UO+nYO74r3CwWMGNhkgedSaS4n+EU7v1cbXcytYFGmwy0GC/kTb7jaZzaLU6LubLKAw9RazdflZO+oG6GDvy/c1x2qeH//GVRJxfD7+1khm8TzZvHd06lm2Lv5OQ+s6KU3RVnuJRlytNhSb0XvGgPteca02u3LsSxJNbkdzqDuTz60w+PU/i8XVfXvT4Up25l+TAxWSErSDGQ5/CC5tpLT1Ga/kpYnzXE+O7kRDX1SgSIw6TGWdBSdppcuOOUp159q8/hEgT4t23EOu2UT7ibach6yytRY405J2nPvccNdmnKYo3l2LaVniOxvTj9JQ68O87yTyocMV+xyQSHTYQcnIlHuZLKRa7bvtDbFw2A23NMdJspKo8FFXlYUwYNxil0WIiHIWu1hQJxF8wf6qE4+tqqUpQ/uxpo9DWHMsSfXU5qc6dMZaJI79HbdQPqAwbiNLPAhc4DKOF6hKDpaHSj1E/fMOkEYNQHd5PYg2X6AzH23EXc6YMQHnIV/LOKhiRrqbzuJRzGrNtmgwbIMT0J5RHDWTMoL/JVa+exghWzZ/Ekpkq6KuPlhPhbNX+aGsMZPaUH9GfNgq9ScNYoTGCKT8q2Dp3FHWJLths02eJ+iBiXEywObiIhdP7sUpnBLpTB6E3dRA7V0zg8AYlKpIP0VFgTKr3LAIsfibs+DD8TH9ix2wF+b7zqU/axP4VX3Js51i2rxjK7ElfoT31J6ZP6If62H5/9ciO+oZtK6bKxpd1+kOZPlrBNsPhnD00j3MHDbDaoSXL0tdq/cBOwyFs1BvAJsNhbFuhxN51kzHSHcmimQNZpTNS3lJ3Gk3AxWqxfOucN0nBNEFbMuwvIzKbdfoSZL0EL+MZbJ/7Ne5H5/HudgoPO4JxsZhBhO1crDf2x23vcHyNlfA2nYTxir4cXPMjR3cMx/vsLIJd9CWX+GNvDk9vJvDri0JuNAXLHLOYRA+vGStNVy+7YugqcZWwELFGK890p+tiMnWl4VQXBEshzY61w95iLTG+FlwsC6eiKJC6qgjKiwMpzPaiviSUmlx/gpz2EeNjxsWiIDJjbeUEm5vkSmGKq5xOy9I9iQ+wlFuD4mRnsmNsyYk9R3GKG6VpHlJMM2PPU5DqQWmWN7XFAVJERXxCRBrEVCqq1YSIik9xLxVier0rg8uXkrlzPY+m2igJjRDuTMF/FWSkKx1JctUraEf3budJI5GYTIWgCgEVn0JMxa81XYyUVCRxNxVT6dundbx8Uidvnb1PK3jQW8HDV410P2jinLcb0Zl5eEYlEpqWRXlrPR5hnsRnRxOfFkDvk2Y+vG7jj89Xeff6Ep8/d/Of/97n3ccrPHvdwZWeWqqaCiiuLSK9KAfX4GAs7ZwxtXFgl4U1x508OecbQkBCOsecvTCz9+BsYCSm9l6cDojCyjucc0HxmNn5YOkUwFF7X2zcw7ByDuKkZwzLjO3YfCYcc78CzHyL2HgqjhVHgtlwPJTtp0PYesod27B43OMTcI0Mxz0qAgc/Pxy8fQmOiyK/Kofs8mQZjRFZ2vzyBHJKYimqiKekKoG2rkIppmIqbbucT3t3ARdbM+TT3p1HY1MyxcVBXO3M5t2LJp7dL5dTp+inFWaw9tYY8nKdqKzwpbk+TPbRXm2MI9b7MKWJjjzuyuHqxQTK833o7khBAPIvtcVz53Y2OannyI4/xeOuFNIDjuB0xJDnV7P5z7tmScuSRQe3CmlvSeLe9Tx5j316K4/HV9PJjz+J3dGFsrf1SXca1xpj6KqLkrf/1oYEySluaUymqiqcxoYoutpi6LoYQlmaNdGeW4hy20BqyH4SAveSn3icjOgj5MQe4XKNKxd81mG5ZbicRE9sH4OL+XQS3FcQcHI2HuZTiXVeRlGMCU7HFrJrjToLtUYiTmMzJw5m2ui+zFMZyOo5Y1g0ZRBbl0xjpvL3aI7/isWzhnBq33LCHC2YO/5HmRsVaYOrlW7Uph5hk+7fZWOWKJbP9T+GWh8Fs5W+YPuyCbL27/feclwtV3Bylx5eJ3ehO3EIOqpDmDthAPqT+0tYRH7ESQJPbmSh8j/QGqzAZrMW3keWcr3Qn7YsV8LOrifT/yDmGydisUUFcacVYJqWwlO0Fp/gRt05Pt0P5VbjWdrKLOXds6fFmzcPEyXQoq7Ulke3InlwLYhLVTZcqrTiUqk55SnbKIhbj4O5MgEOs6nOPUxV7hHi/TcQ7b2WAPulKATkPjPWlJL0k+TGmUlbdX6cOVnhh0jy3Um85xYCbZfjd3opF7y2URBtTm3GWTrLPOiu8uRarad0+goEYUnUAVrST/CwzpOeYntuljjxz9sZZPntZ4veEDJCTxDtY8maRVNkrGWi0g9SLDWmjJXl4TOmjZfT6YQxA6XLV0RlhNNX3FLXLJ3HLPWxqKsMlkB8gRycOvFnWc4tHLwzlEcxov/XzFUfidbUn5k7baDk685UGSYbY6aOHcjIHxQs0h5BfoorawzV+PErBUqDvmXcDwpWz+nDsW2qaKkoGPC1ApFzVRouis4HMG7QF8ybPIJFM8ZLA9LSGUrMU/kRHfVB6GoORWmwglF9FUwb/h2bdCZiMKEf62cNI9R6G3pKX2E042fM1s9imeZPrNYZxmq90Wip/sDCGcNZqT2MTYsGY7x+MIFnp3Gv/jBv28342HGElw17SXYYBw/s+f2mLUc3fsH2JX9j6RwFutO+QWPc39Ce1A8t1f5SnCcNU7BkzmBMt2hydLsG63V/wNNqobx/Rzltlg0zBmoCtPAdu5YOo+TCcdYvGMQ6w2FsXDpa3kpnqXyNeNMUDTlGBv1IDtvEqcPjWDBdge5kBdFuS0n0Wcul/JP8cT+BbXMVHFral4oLJvB7Pcn+Wzm8bih+JzQxXfkN1hsG4H1ElZdt3mQGbMJ6vwq2ppM4tmcEFntGcVGYqh6m8/lZHm/vpfP0arzEBdoZa+Nuqc+tOn86i924WulHS5En1TludIh7Zl089SXhtFZGyFWv04l1eJ3dRl2+P40VYdK5m5PhRnGuDzXibloQiN/5PUR6HKEm15eMmHMUprn/tbKNt6c0w5PavACCnA/iZrOVggQH0iNspJDmxInJVPxgtCc/yVn+3pxEJ5oqIuU9Szh3H98spFs0iFzJ+utG2p0pmaviXirEVBiPRLxBrHtFPEfGHuqjJIdXiGl7c6xk9gpYgzAgvXxeLeMaYip9+7qe1y/r5f1SfIoOzz9/7eLRvRIe3Cri+aMqHt4t49GDMnnvu3ozl7br+VS35RGeHEVWZRlOQUFUd3bQdKOdhIJk4nPi6L7dypvXN/j3Hw94+qSdxoZMmpvyiLvghafPGS62leEX5olPuD/RaSlywj1i+/+Yeu+wLM9sbZ9kJzExMcbeAFFEmogI2AuKvfeOBRW7giLSe++99957770j2LBjN8ZJmcmetvf8vu/8jvt2Msfvj/t49CWIyfvmuZ611rXOy4uz1p5SCIUYXvcI45KTLxYewTiEJWPuHc55Z3+sAuK47hNFSFYFLuFpmLsGE5ZWioNfNM7+sYQk5HDSwoVd19zZeT0QU7dMboTVcMm7mD3mkWw558Xea16cdfLHLT4F99hoXMIDCUyKwT8uEv/IKOIyk4lKDSelIIa0/Ci5Z1pen0FBRQKltalSTGubMxEAh6a2bNni7R4oYvB+JQN3y+nqzeP23RIaGhPp68zk49t2PrxoZOR+iYTUi33fe3ey6WiLRRCQigvcJT/3f3/tZqAhjig3UzqKQ/jwoILuxji62hJ4/LSMwQc5DD8uROz8xgScZaAujDt14fhYbJVw/L+/rUfk4YoVF/GQ9eZFvWzbCrOa6HAItOX9jlhSQ8zwsdoq3ev9dcGI2ar47Hc2xNPZlEpfZzbd3en09aTS0xlHY5UPVXl2sq0rzHohTtvJjDxLeuRZUkNPIYLDe2vceNjuK+MXW/PNsT2jhcslPSIc1mB/Zi6xrhvIDD6IhYkWBqoKKI9TYL7qKOZO/0KCagQdbt1CZZmuZaQ1gW3L1RGrhfpCUFVHs22pBlsM5qL0lQAwjMXr2mZqU69zdttkdi5SINXrCK86EjE1nkN2wDXCnU+wdO6XWJxYyqWDC9myaBLHNulwcusS9qyYz4YFszFUGcO6+ZNlgIfPtR1c3j5fCukWDdEZ205ewAU6clzleE3kSV/aJdzIK4lx2U1m0FHeDkZK9sGP98J5czuAj8MhPOl0IdFvI6d2TOB2gwf/+6dSHvaFUJ1nycjdaF49iGGwxZWCxKM0FV6gJPEwDblnJW4wKXAzlVmmpEXsk4HhaeFHifHeg0JiwGEywk+SG3OW3FgzmdIurgVxF+RpKXKgKuMGNRk3aMqz+VSdlrlyt96PR63BPO8Ooq3gBvVpF8kOOiBBBZXxp3jY4MqTZi/S/fbieE6fW6b6XDMxxPLceo7vWcLRvavYv2M5B3avZOsGfRbqTEdj9njmzZ3MrBljpIiuXKwtRXWRrhrb1i9nntoMVKaNZaH2LGZN/0GK3cwJo9BTnYzuTAG8H8MSzfFsXzuXU3uXsGTeRE7tW4exoQbzVSYxY4wCqxfOItTTnMXzJjNr4meojv8cxVEKRLufwtxEH43JChzbPg/ViQpozPiWuVO/ldCH1bqz2WO0UGID1+nMYIueEsJlpjX1C2aPU0BPeQzrdBXZtVyFjfN/INnjPOkeZpjv0mSb7igOLZ/BqQ2aHF03h52rVCRMXwCf1y6cxh4jRcnFvXp4MrVJu7hbdpifuszgxS1qIzW4W7KSDM9xWB1T4PoRBWxPT+H6MVU26H7JrmUTsDBZwiaDcSxWUeD4JlX8bm7D4ug8rh5UI9JhI135N8n0O4CJ8Q88aQrm/WCGhHS/u1fARRN91hh+y6YVE1ml9z0blsyQT6ML5yhgdVmN9PhlVBcbkxo1H/NTn5MVvp6csE0E3lKnvfAw9+pOE+M2n+rUw/B7GZUp57EwmU1qwA48r+tgtmeMfBr814+5/PVVDl2VrjQX23O3zZ/3T5IZeRDL3Z5gRu7E8vZeEvxPN+n+x7lxSJueEg/uN4Uy1BBKT22QDLNuLvdHrKcIQENHVShv7xYS7X4C6/PraC4NYLg/m5oSf8SCu1h8by4Lobsmmni/K8T6XKIq24fKHB+Kc33JS3WRs1DRxu2oCCPS8yyBjiZUZLiTHWNLaZo7ouItEy1dUbmmuVGQ6kpZtjc1hYGyddzXlihXXsSNUFBqBHf32cMSeRW/FpFaYq9URHSJPdOB7lQJQu9ojpXrMQIxONSXwvNHhbx98WklRqy+CHepEM0P75v4869d/PpzJyPPRHXaxF9/75fzvRfPq3j3ql6+JqPWHpQw/LCCJyMNDD2ooK49i4qmLGq7yrD1vsWj9w/pethLw0Ar+Q1l1Pc08dvffmTgTis1DUXkFqTiH+SJnbMN565coKS2CvfAAC5a21DXO4hndCp2IYmE5zVwxiGMy+7xnHMIx8IrkVO2wZi5hHPGJYzD1r6cdY/GxCaQc65RHLziyjmbAMxu+XDe2gsHv0jsfEOwD47jrEsUB20i2Hs9hJvhZVz2yeGkXQyHb/hz7KYPHgk5eCdl4BYViVtkKAGJ0XhHheITHkxMejxxmZHkliVTWJVOZlE8mUWxlNZlUtGYQ2FlEnVteXT0ldDRV4SoTkVVKkRU7J0O3Cnm9mAR1dWREoj/7mUzL59Uy4eTN89r+Pi+WQZ+372dTXN9pFyJqSkPlHhB0Q3oqI6QEW4vBnL47U0DlSU+9PUkM3Qvm8GhTBlSINjPCYHn5Grg865krE8t4WlHPP/9upJng2lyL/nOQDaP7pdIGL9IuBEGJwENEV/3vrWVWO8jPO9LoK3UU85jxc8dHiikqSaGAbH21Rovd62HepJorQmkIPUmRSmWNJe6EeF+gCjPQ8T5HCYt7CSlqdeoL7KmtsAKAewRoxmHKwvxuL4YG7N5XD6qSlbUaTLCzdhuNJn5sxTQUvyMBbNGozd7DCt0pmJsoMQavSns2zAPQ41JElo/T+lrrh3fQlV6BIpfKcig8P3LtQi5dQzLY0tkwtX5HZrcMlnBStXPZTjH/3nXQl95OGnB5ugpK0i63K5VGnJctV5fnWUayqzQUmGdnipb9VTYMn+qrEiPLZ3BIYOJnDVWJsBiMx/vZfGyK5FLezS5aaJHiM12kj0O0ZZjTW3KJenuHen2581ACM+6ffjzswRGev3oLL0pE6iqUq9Qn3WdvipXHneE8moolg8PU3g1FE1j3g1ivbZLZr0gHlWlXyAn8igFsSfIjDAhzu8gBcmXCXXdjUK0+27Sg00oTrxMdaalRLx1D61XeQAAIABJREFUVLgy1BzAo+4I+ut96KnxpKfKg84KFzpLnbhb78vLnihe90Vxv9Gd9kKxSnONYOtlxLmtpzX7Eu15lyiJOUyE8xpqMy8R67MXk50qXDczwvzsRsyOGXNozwpOHlknYfPGq7TQnjsetZljJbRBzE9XLNJi6UINVhhqs2Pjapbpa6OmPBmNWdNQnjIW5UnfMXfaD8xTHofSGAW5H3pk20JZdR7eqseJvSsx3b+OPRuWYKiujPr0cUz/7jMWaSnKmamW0nfMm/EtOjNG4XnzMCd2zmeN3liCHE+yYdFMJn+lINvE85Qms0RrFovVp6OvMlbGtG3Smco67UnoKX7DliVz6CpPIy/KiUPGcxCZonHOpribrWP/oq/Zoq3ARs1RbF84ic0Lx0tgvhDSVXoq8sO5wXAa25Z+z0Y9Bc7v+IJU9/n8ZciCfz2+ysMqIx5ULqW/SJfHTRt433eGwnAjnM5qkeR+kGuHdDm7U4N187+R0UeHjRWJcT1MpOMeouy3y5CC6oTzpLrvYtsCBUJsNhPrdhgjrS85vVuH7WtmYGayCNNDBmxdo8ymZTPZvVaV9Yu/lvtn5bmbiA9XIzlMi7yEZZQlbiXAWo0gWyWiPFSJ952L242JlCbtgn+W01tpJ6EOtue1sDRVYdcaBQYa7fifPxVyrz2AB12RDDQF8+5hJve7w+ls9pSc0Mf9ETzri4KPtcQ67SH45haetscyUBtMb10wHTUh1BR70dUYgWDxCv7pi6Ec8mMscLq8jppcN/lE31wdIhfbxT5eW00Ew12ZpIZakOh3hcoML6pz/MlPcSM71ZWiHC/yE+1oKwkgMfAy0d5mZEVZkR19S7Z1S1LdZFtXzFJFJSpmq0JQhWGpvjRIGpqEmIo5mRBMIaZi/UWgAgU28P5gDrd70uRV7JcKkW1rjEaQj0SLd7A3VaIDR0TKzOtqmXIjTEXCpftHJSpcpmKHU1yFeP74toU//9IrXbVijUWYZt6/b+bVqwYePhIu00qG7lXK1mZxZSydQxWUN2eTkBvJ4x+HaR7qoLqnjfCsDIKTk4jL+jT79IsIJy4jk9D4RPwjo7lkaYPplRvccvFl/d5jHDhnQVBKETmNg1h4xXPcKpDr/hncCsrjtF0UZ51iSai7R0LDfU66xWDiEI55YDb7zf0wtQ3nklM0ppa+XHMOxicuC6/oZGyD47AISOO4QyxbznlwyjEec79srvmkc+ymH+ZeUXjEZeKdkIpXXCx+cdGyKvWOCCQwJozk/FQKKjLJK08hqziBjMI4sksSpbAKQRVHzFCFoIqd04a2LJo7xM6pcPlm0d2fR319LAUFftwbKuLd6xaZf/ruVSMjTyrkqpFYOXpyv5ietiSJ92uqi5TkrOePy/npVT0FCTZkRVxDcIpFdq6AZnR0xstK9snDQgnUaCz2ITP8Ku+HcmSiVpDtTl4PpPLxcSGCuCUYzQLCf+d2HnfuFPBypBrRAu5tiaSvIVhCb8pSLHgxkERXRYAMdhcPdHe6c+hrTqavJVHCJERIeXdTtERclmeL0YQ9LcXulCZfJ9H/GGFuexCQnpIMC5qrnGmvc6W+2AqX60txMl9MaeZl7K4uxeKsHrZXjFik8RnaygoYCHSggRKrdKezYsFU1i+dyWqDqazUm4KB+kSWaE9nmfZUti3X5KbpPgxnjmfWNwps1FFmq96naMgQq0Nc2WPAGvFnaYwh1esCQ1XRfLhXTmdZBDtWqnJ480L2GeuzzkCdtXrqGC/UQn/WFDYsUOP8jtXYndjC6TVzOblyJufWKOFmupS7Vb605NkTareT09tUpJjanNLH4+JKnM0MJVs+ynE9BVEm9FXYICh9P96LlKL45+dpjHSF8KwjhPKES2QEHqOtwI73Q4n89jiL5z2R1GVZUpJwkaY8K+qyrlObaUGS3wE6Sm2pzblBnN8RcuOvEOZxAIV4ryNkhpyR/8Frs21pyLOjPteW2lwb6vKsaS93oa/OS2IEBxu9GWrw4HFnII/bA+ivcqSlwJz86MNy19D98jzSfDfxqN6Oh/U2jLQ5867fBz8rQ8z2TmPHqm85tU+LK6eNOH1kJWdPrOfIvlXs3GLAzi2L2L9rBRuMFqCpOoFZM8bKlu9yAy0MdFQR6MFFuupSSGfPmMCs6eNRmvitzBPVVBor+/n7tyxix1otNq1SY/9mPZmjemyXEcZLdZj8zWfMmz0N4fjVnDkB5UlfIdrDahNHM3PMZ7JS1Jr+GRsWKZIb78rVE9tQGf+lxGHNmTJWzlaXaCnJD8zu1ZpsMVBkudoYNhvMZM28KUS6XOXGiQ3sXDKZI2sVubxTh/Nb5tCYfBXrw1ps0PgC8/2LsTFdy9ZliqxZOFOm2QiHnIHqN2xd8gNWJ7RJcF1Je/Z++OjL73fM+NC9m6d1Rrzt3s4v90z5ccCcVO9VXNipSKL7CezPrmeT/kQMZgoE2NfsXa2I1cnl3DhqSKTDfsJu7STR9QhJrocwUlPAWPvTHHWJmkhz+Iz1iydyfLeuTHhYrTfxk7FK5RtEy3jhLAWCXVYR4KxHdtRGEvxXkB64FqeLU7h15ksa8jaSGDgPl+tT8LqpyYMWVwZr3QhxFJmAB2SywoldYyhMOg5/reF2kzePemPoawjk/aMsntyO5c2TFN4ICEiRtYSFDDcHEWa3nepkS0Z6EhlqCqenPpjWykDaakOkkIpQ56HWOAYao7hxarmE2wthFaaPluoQ7gs2akUI9zrTpKEoyvscpakuNBT4U5ziKtu7+Wmu5Kc7U5zqRHm6Mx439xLnd4H8eDvi/S/JqjQ9wkoGUWfH2ZH575Mr56Xe1BT5yzmZEFNRgYrzh5iKnVLh9BQ3SXFENSq+LsS1ssRPiqmANgjT0SdQQyGvnpXyZqRcmlIEe1eYgn581yjF8unjMl48q5Hn9etGPn7sRFyfP6/i5ctaXr6uk67ch09rJeC9s7eIsvoUMoqieP7TPXKrMiluLqNxsIvUijLSKmsJSM7CJy4D1/BkbP0jMbNyw8Y3XFaNHqFxOPqFY3LxBnFZZSTmVnP+pgdnLN1xj8jBISgLv6RqrrgmcNklEQvvLE7bx3LGNZ5zXsmYeSZhHpyDmXsyN4MLsA0pxswumvM2YdgHpuMYkopndCah2ZU4xJRwwSuNzWdc2WrmziX3VGzDCzCx8sclOpuAtEK84lPwS0okJCVRVqVCTGMzkiioKaK+vUKKaXJOpBRTUaV+qlRTqWzKpaAikZqWHBrbc6WYtnXn0tmXR2dvjjxiXlpY6M+Du0V8eNeKEFJxXj6plKaiD28aZGSbgCYIRq4Q0/rqMBnkLWLvRobyiPQ0lThKsWM82J8mDWLtLdGS9yt5yy+qZHUqHKt/e1GJ1/WNpAaY8rtw8z74NBa4LUYBd/K4fVusRZXKRBsR6yfiCXOiBSd2PYKWdq8lhvbyYLrrYuhuSKCzPoa+tiQppuIBcqAjkf62WJrKfChKvkl/XRCtJW6UJpuTHn6a1IhTnyADJba0VLvQ1+hFWuQJ7K4u5mF/OMEeO1m35CvWL/kOAw0FVCYooDFdFCoTWKozhRULprNxuaocb+mrj0FPbQyL1MejOf1L5kz4DM3JX2OgPAH1sf/FRh1Fdi2exob5o3G9uIFrBw1ZrPQFxprjObRSgzPbDAhzOoO/3QmM5k9mvYEKW0QWtcFclqrPYN3CuSzXmM4aLUVOrjfA8cQWTI3VMTNWxev0alqSb8H7GqqSruF51YhY132keh3D2mQBnpdWydznFO89PGz04GmHH73l1jxo8eSvrzJ50R/K2ztRPG0P5NeHKQw3+VGdcoWOQlvu1HvxtDOE591hsnDsKHKgMuUybYU2CPZCWuBhRnrCaS92IDf6PCUi7s73GArJvqdICzhDTuRlKtNsaC5wpb3UXeKoWkoc6a52p6vahe4qcZwYrHflSZc/jzp86a22lUil4sTj1GWbkeK7kfYcM162OfCuy4l/PgmlOn4vPhba9JTfJDXooIS6O1hsxcxkBcf2L+X4ISO2bljAjs2GHDtozK4ty6TLV2P2ZMQxnD8H/XmzmaM0CXWVqejMVZZX8evZ035g1pQxaM8cJ2ENJ/cbY7xktgQ2HNq+WOaUqiuPRUN5IhO+/pwFajNRV5ws497EazPGjWKBqhJifWbWD18x6UsFNKeP4uyh9TK6TTh+Z08di+L4b9BQnsRKPTWM9VUxWjCNTQbT2LViFkvVvmP6VwrMm6qAxgQFVmt8Eqy9i3/g6m51egpt8LhoyHa90RxYpcg+o5ms0h2PCClfaziHxRqTJFnk0LpZ2JxeSOBNQ2IcdblTfoDGJENqYzUpCJ5BVZwO+WG6+Jgrc3LjKCmK2wwnYaT9A3uMNDi9c5GMi9toMJkTW7Qx26lLqs9Fru1bxNb5P3Bw2XS2648nxsWEd4PZVKXbcnK3lqxCdxipyb/ThsXT0VH6Al2lLzmzazEXDhiyRvczrE5rkx68l1nfK3DQWIH0oFUc36pAScoagpxVCXSaR5T7ah53+sHPVfz2NJu/jGTyy/MU0sL2Y31Rm+Euf570hcvVlw9P8ng6EM9wTwR/+1hKRbaFJCEJM1t64AkSvQ8z3BTBg9Yohloiaa8KoLHUV7a+2qqCGGyJ5fW9fHzt9uFlvZvHfekIpmlLRQC3W+Nprw6lvSqcobZkQt1MKUh0kIYjsfYiqs26wkDp3C1KdaYsw5UAh8NyDSYl5BoJAZfJiLCUbd6kYAvSo26REW1NWrS1FFRRnYqZe2W+DxUFPvImJqpQcYSAispUHCGiQlzFa0I4RYamENWi3E8rMaLtK4RU5JqK9u4fR8SsCWPR+7diHUa0e+t59qRcVqIjI7U8e1bNjz+28eZNE89Garg/XMTdh0Xcf1TBg6c1DD2ooq2niLKGDHIrU6ntrCYiI46ytmYyq2vxiU/jhlcoZ255c+SaK+ftw7ngECFRf7b+yXhFZ+MQEI+lewgWTv5csPLEzjsGc4dgTlx147J9BJYeSZi7JHDcIgj3qCpcY6q57JHGKfsYTjjEcNo1kUu+mZx0iCO57jExxUNcdknmmmsy9sE5HL/hzWlrP1yic3GNr8AytJCjVmFsNHXi6M1gboXkSjH1iM8nOr8C77gk/BLjCUmNxys8AP+YYLLL8qhuraK+o1yKaUpulKxORZUqqtO88iTKG7Iprc2gpiWX2qZsaprSEGLaO1gkW70tHenUN8T9u81bwvs3zbx6Xsur59VSTN+/rEe4bd+MVMvZtBBTsacsUJRVZYGy6/CPj1101YQT6XuGzsYo6ciuLvOjrTFSzsAF/u/Xd41ybzTc9QgfHhQwVBuCy6W10gPw4UmZ3E8WD2UP7uRzdzCf2/2ZUkwFzKO10p9Xd7MIcd5HqMt+3t/Ppz7Xk5GhAlorwuT+tIA5CEEVMIfBrlQZLi7SZSqyHSnPsKWp0JWuCi/aS12pzb1FSbo5RelXKck0p6bAhr5mXzzt1vN0KJbBtiCJGrxwXA+zIwbozPwcbaX/km5egQVcYzhTJmotmTdeZkMvnDOaeUpfofSdMCh+x1LVqWhPGo2+4ves0RjP/MkKnN+tQVbwOezPGLFgsgIrZ49Df8q3rFGfzmqdSXJdcqnmeFnQrJ6vKDcT9JR/YLnGNBbPHsca9cnsMlTh0nZDTq9Tx9FkGTVR1+FdPW+7Y7hb68vLjkj+9bKM113xMoLNbKsiATfWUhpzmr89S5cd1Mcd3oz0BvH+Xgz/eJvL0+5gWvNu8rjVn4FKV4qiz0hBLY07R3uRLW8HY3naESZpgEJAq9OuUpZ4gUiXbfSUO1EYe47kwONSSF0tjFGIdjkhF2WDbPbJfL5wl4NEuh0i1ucoSUHHSAs7QVb0KcozLtNcYkVnpS19dQ701NrQVHyNtvIbPOrxZqDWmqLofRIscL/yCj/12POxx54fu2x53+3EkxZHXK4sYPPSrzDdr8mpgwZcPruJQ3uWcXjvSg7tXsXuLYvZsXExuzYvZaWhFkqTRrNAXZm1SxegpzELrVnTMZynxnw1ZdSVp0hRnDnpW1SmfM34bxQQUW2CqaujJuapXzN9wmcoT/6GOTPGSw7wfDUVFCd8j8q0ccycPAaVKT8wafTXqE2bxqwJP6A+dQJKY79CS3k8mkrjmKs4HsUJo//9/VNQnTaWudO+ZuX8KexZoybTZDYbTmftvIn4Wx3H22I3R9ZNYueSrzi2ZiIXd8zE7pQG2/QV2LdyAjdPLOPWGWPpuF2sNYVFmlNZqjVJAh9Md+pyaM1ULuyaKrPzXnVeoyRiIU1pS0j2mE7IrcnEOmtjZTKdHQafsWnBaBbN+oJNBorYXTyA89VDGKp+K+HTx7bqsVl/BsbaE+ScYeHkTxFwBlMV2LtUGS/z3The3MwG/Ukc27KIvWsXsEdkCxpMYOHsz9i5YgaOl7Zgfmw5qzT+S8Koc8NPs2v55zLG6PWgKyZbFfC1no2PrTotZef55Wkc/LUe/t7Ov36q4cPDNNrK7STcIyPyKFXZ1xjuCae/yY+HPdFSTH95mU97uTOBDhu5XetFTZoFwbZbaciy5klXPPdahZD60VjqTWtNMKIi7WuI5E5rHDVZblw7sVyK56tHJTJG7WFfBn0N0RLm8OJOIdmxt4jyPUdjSaDcNa3J95WVanGKM8XJTnI2mhZmgev1XaSHXycj4gbxAZcpSXWRYipMRznx9vKIilS0eoVpqTLPT1KXKgt9pblIVJx/HFGBCmH9Q0zFVYipuCmLOWlhjpts9YpZ6sjjEp4OF0oSjhBTUZ2KealYeXnzokbuL4qqVLT9RDU6MlIv8zlfv2nh2fM67t0vpW8om56hLPrvFjL0sJKB4Rpa+8upaiuirKmEtLIcsqoqya5txD44huOWrhgduMRGE0uZwrL2oBWbjzuw55wrZrahhKZX4x2Tx2lLd646BsoYtP1nbDhy3pVzt0I4axnCCfNATG+E4BRaKsXUOiBfsnav+mRyxS+LMy5JmLmlYOaWxknbOMy9cjhmHsIlp2Qcw4o57xDNBaco7MLysIsoxjGmHJvwIsnl3XXRg6veSZyyDcQxIo3I3BLco2PwjoshOCUOv+ggIlOjKawukk7ektocKZyizSsqUiGmOaVJ8gjwvWj1ljdmynWZgrIY6prS6ejNpbEtjYqaaBoa42loiJOVqZg7i/bts0dlcoVJiOi7l7VSTP/0vlm+pyK6T7R8ayqCEfPTl8Ol/PltI+lxlqTGXJefB1EhCmEVQHwhpnd6Uvn1Xb0Ut7SQC/z2rJTyxJsy7ELAHF4/EPD6ZPngdX8oj96udPl3ED+7vy0eEc3WVu6Hw+U1NBd68kI8oFWGMtSaRG9zgiQkdTTFydGBeEgT7eae5ijaqwMpTbOmLtdRFkjdlZ60CcxggQ1l2ddlu7c824o7XeFEBRyhThRPjX50NQVjfW0dWioKrDaYLCvRZTrTpQHJSNxj501m/uzRiEhLke3sb3+aCLcr6Ez/Bq2Jn846nZmsmPu9JCgleB8l3GkPa7S/YM53CpgfELv4m1irOZulGpMx0pvOmoUzWKunxBL1SRjpKLJo1g8sVvmeFapjObhyLkdWzeXCVl3M9ywg0moX3dku8GMddyo8eNsbA28r+HkohZGWCKrjrmG2ZQZX98wmwn4Db3pDqUo5x2CdM39/lY1o7/7yLJ03Q9Hcb/Difp0HrTk3KIo8yaMWP560BcjW74c7CTxpC6Ix6wZdJU7SIySq1Mzg4zRmW1GfbUVWxFmSAk7gb7sNBafzm3C+sBEv8x0IQQ122E+Q/W7CXPcR53eICI/dJIcckWLaWmYtxbS/3pEHnR4Md3vx7HYQ74YjGGqwo6f0Kq/aHblffoF3LTcYqbvIh3Yr2tIO4H1JjVTfbfjbrWf/phkc2KbBqaPLObp3BWJn9MheI7lDemj3ag7tXoPx8vmoz5woq08hpuuWG6CvpYqB9hx0585EdfoE1JUnsVBDEQNtRXTmTJDJMksWKMmKdNb0r5kjskzVFVGdPo55qorMU1VGS1UJnbkqTB47iukTxjD1+7FozlRBadwEtJWUpKiKfFQhnLOmfc98NUVUFUVLeQwzJ30nAREi63T7qllsMBR4wQnoTFXA2/wAfjd243xhMT7mSzi04jvMtkwl2nkd2xYpyBSXCwf15NrK9tWzJdd351pdjBZORcxMD66by1aD8Rw1nkSK1xYeNVwl1kWN2uTV+F+fhImxAifWKbBJVwEBgdi44HuWz/1GtohFNTlf+Us0pwk370y2LZ/FYtWv0ZmkwLzxAh7xDWZb57N/mRLb9CeyY/EUdq2YwSLVL1mpIarbySxT/watqcIEMBVvqw3YnlvBcjUFaWoSuLBEr6PEuG/ndo0VDTknObFNgayIzUT7ruFxvzf8rZZ/fqjgw3A2f39Xw//9tYG395PprHLm2UA43XXu/PXHUt49Sme4O0rOTH96nEmc7wGS/Q/KJ0Ah2PGeB3naGcP9tigGmyMk6F7cFO50J8lW76u7eRJw73JlC5mR1yV5SMae3cuXe3p3WxMZuZ0roQuBziYSei9i1kQlKXZN6wr9KUlxpibTk8ywGwQ7H5fzUiGmQlizY6zlDmpG5C3p4M1NcECcPypSIabiCPCDENOHg7kSWi/A9aIi/aOdK0RUHDErFRWpMJUIfGBxnoc0R4lZ6rOHRXI29vp5GY/u5XDvdrrcMRWrMU+Gi+nvTuXuUC6vX9Tz009dPH5SLQ1Gz0caGRwqpqMnm96hXLpvZ9M9WEDv/VJ671XTMlBFVXsZJY3l5NZUUt7ZjWNwLOuOnGfxthOs2HNBzjFNboZw5Fog+855sMPUjvUHr2AfmEpMbj1OwalcdQrhjKUfZlZB7DvtzFmrcE5ZhmNmE8M19xTO2cdwzjaa8w6xnLgVxoFrARy6ESxnn0JQj9tEceR6OCaW4Zy6Gc0tv3ys/Qs4cMWfHWauEiN4ySNZCqlHch2Wwdkcuu7HJfdYzjuFYOUfg39yFm4REXJeKrCIQkhTC1MprC4gqzSVgso08is+iWh+RSriCFEV1akQ2OKaTFmhinZvVlEU5bWJcm4qdk2Ly8KpqY2msTGe+3cKZfUvgsNfPquS75cwjAlBE7Pun942SgOZEFLhxhZIStHubawMkTF7T+7kkhZ7AxGaIJzdQhyFoPa0x0tRfXQnS7p3Q91N5Nzz5+EifG5soSDWnIfdCTy7nSVFUDi+7w3m8/BesYwJFPCPrsYo7nUkInCDzlc38PPjEvqrw+iri5J7px31Im4tWs50hRlJnJ6WWBnS0FLqQ12uk4Q6NOY70lnpQVeVO02ljrIqrcy3o7HSQ4Lwa0tdKMiwZGQ4i4ZyP9Yvn4Km8udSTEUnbaHaRPTmTGCB6ieYjcCoakxVoDDBjZaiOGZ+p4DOlO9Yqa7Iao3p7F2pxoe7BdieXcaaeZ+xUFFBRrlZH9/NqfVrWDpbkeXaM+TazTLtyYiqdJn6ZNbqTGeV+iSWzPyG4+t0OLdNT25HnDRWxc5kKUWhF7lT7ssvt1OpT7hKfuAx8vxN8DBbQlGwKf/zvFBiBUNuGtNVYMur7lB6ymypy7xCb4U9f3udKw1Gdxq8ac65QXeRDf1lDlQlnudNfyTvB2OkiPZXuCCq1FS/g3QU2ksxvV3tKSvV8sTL1GVYEuG8m0D7HXhbbULB8dx6iZxzN99OpKsJKYFmpASeJtH/OIn+R0gPP0lm1Emyok+QHnGEvISTdFRZMzIUwtvhKF4NR/N8MJT398P5+4t4+CWLP/W48KzqAndyj3I76xB9WUe5U3aFvzyKJsJlG7vWTsJkry47NmlgdnwjJw4b/7sqNUDErW1dZ8DG1QvZs2W1FELduUpsWGmA4TxVWZHqzFGSYipEUnni1+ipTWK57kxO7luHiGXTFm0ErWmIFq+oXNVmjJcCrD17BtqzxfdOYvw3n8sqVWnSBGZPncbY//qS2ZOnojp1MjqzFeV8deaU71Ce/C0zJo5GTXGSfE19xli5nyoCwoWYntg2n9VaYySqb9+KqaT7CZzXfrbpKWC+X4WTm0azd/XnHN44BcHkXaTxJXOmKaCp/LV0GwtRXqz+FTuXq7DNcDLbFo7h/I4ZJHutozpxN//nTRD9ZafJCd6B41ldVqkpsGru59IVLMEMmqNYrjOaxRqjWD7vE1lJe4YC6xZ+x03TJWQEncTiiAbb9T/n0JqxFMWc58O9TF4PZpAVdpWDa1XZuXw6mwy/ZcvSL7l1ThOfW4uxvzBfIgu36H9D4K3t5EWclp0F0c71uaVLoN1iPj6KpqvGnjcPE/jnh3JE+/btvWz+52MT/KOXf36s4ePzHMQeaUu5E/VFtjzsjeRuR4isTFtLnUj2PyznEu2FDsR77qc8yZxHndHcaYukuy6IuiIP+tuiZcqGmIm+GMyjIO4WPjf38OFROSLi7MFQtow7u9+dyuu7hTzrzyYh4AIi47RfwO0bY+RNr7rYj6pcLwliKEtyJMThGBEeZySMITXsOmnhN6SApoZZkhZpJVu8OXGOZMc6kJPoKM1HojoVpyzHk+pifwmyF61cIZz//3av+L14XYimeF3MUUWLt7TAS85MhcgKk4lYixGz0gdDoi2cIv9dxGs/vWviwZ08Hj8s4a0wxIzU0z+Qx/0HFTx4VEN7V7ac/fUO5dMzmEfX7Xy6hkrovlNJc38l5S3FZFbmE5aWikdUHJuOnGHtITN2nrnFWbtQbgVnYheSjXd0ET7ReXhFZWFm5cE1J38SCmopb7+PhWs4GRW3ic7p4NAlPw5fDWDXOU8phMetQzBzjuGycwxnrEM4YxPORfcEzrslYmIdwQGLQNm6veSexhGLYCw8MnGJqOSCczJbTV0xOmzNtrNu7L/mK/+cm0HZuCVUYu6dyjXvRC44h3LNIxifxDT8EhIITUuQ7eplZBmrAAAgAElEQVSEnATyq3Iory8it+zTXLSoJoXcsk+tXQFwyC5PJqM4idTCWCmuVc15VDRkkl8eT1lNEvWtmdQ0p1BaFUVNTRQtjXGyvSoeWt6/buD1yKfWrhBTcURAgbiK+al4TwUGUrR6xfy0osRPurN/+7FVrq3E+l/gYU8mzwbzEekvXa2x3LmdQXNdGM+H8+UDoQiwfzOQTU+JH4HWO2nId2FkMFsKsEAFPhku48GdQimqw3eLeHyngJ6GKO60xeNybSNi9vpmIJMuEZRQHUlbbYwUUwHF72iJk2IqMlf7WmPorguhvsCVygwb6nLtaS93k2LaWuFCY6kztaVu1JS60yvoYtXeFOXY0FYfyNP7uUQEnGfa94JVPlp20SRBbvpo5s/6gRW6yjI5a4XWeFZpjUdn6ijmfK8gzULzJn/L7G8VuHLQiLpML9brfceZ3Zqc2q7FsY3zZGyb7pQxGGnOkljXJTozpIlprZ6Azcxm/XxFdhjOZN+S2exfPJONmmMketBk9QwsDy0g0+8kbdkOtGbeIsfnEP6Xl+NqqofVAXUS7HfytiOKxiRzahMvw8cqCYyoSjnP3QZ3GrItGKzzZLg1gMFaD4Zq3Hjc7M1PQ9H0FFvzti+CkY4geYYbvCTmNT3gMGXxF2nKtqKnzJXBGm8ppOWJ1wiw3or/rS3yKIQ5HML58kYcLq4l1OkghXEW1Oc4fsJQZdygsdCWjkon+urdGBCD3P4Q/voul3/+VMibh3H8/DKTt48S+cfbHN7fDuafT2PgeSR/7XfnY7MlH1oseV5zjY897tSnnuXsTiVsL6zihtk6dm7QZMMqdUwOruH4wXXs3baUAztXSkHdtm4x+7atZrHuHNQUJ8hWr77WLFkhispUiJts8U78CvFmzBz/OUYGc1gyT1EmwQhT0gL1qeipTWOlviYL5irJKld3jrJsF6tMGsuU70cx9YcxzJo2hRljx7FgzhzmTJvC7ClCYD8JscrUMagpjZc/T3Hct3KXVYSNr9adysp54oM0lhNbdNiqP4U9SyYRYb9OJsas01Tg2gEVTm//FLq9adFXnNilyXYjZfm0J4LKt65W4+qJVRKUsG7BJFaof8fuJdPYpj+aM1vHkxW8ncEqC7ICtzFQ7ki6nynLZitgpDkak02aEk8oA7F70glxO4nGNJHm8F8s0/qKY1tncvWYFlcPq3B21zgOGimwZ7kCrlfmU5V2no/DKfz0IJULe+ewUl0BI20Fbp2ZTYjTYi4cHMPpXd9jqKKA66XVxLgeIDvsGCGOK+TXb55RJMzFmPcPkrjbEczdzlAe9cfzoDuOJ33JvLmfJ+c8L+9myJ235LATNJc5kpd4gdcPUngyECO5vKmhJ+Qu86/DmRREmZEZYkpnuSfNRW7c64ylsy5Qzoxud8RSX+wtn947KkJws9hOdboL//fXXrmnKfYyP76uk8Hd74dL6aoQcIaTiDxTgWATSTItNeHUlwfRUh5Cfb4vsW6nJVRbzEczo6xkNSqoSLlxgnTkjAAzCONRXoIzufFOiDavcPKKI8RUVLpNVWGIlRhxgxXz0T9aveLXf8xLhZgKd68Q18wUO8oKvamvCpFfF1WsANy/fFoihXSgO1HCG0Q4uNgjfT1S/ckU866Fu3eLaWpORsDa7wxXy51Jce25XUjPYAFdtwvouF0k3btCTEsaC0gqyiA2NwdTS2vmG23htJU79qHJBKSX/9vcU0JGWSPlLT10DD4iJrOQ0+bW+MemMfLz/+Aelsll+zA5Iz16zZdz9lGcsQ9nv7kbRiZXOHLTU+aPmlz3wuSGLweueXDA3IcTdmGcdojmjGMMO8+5yRayQ2gRdsEFmFiGcdImioPXg9l02oV1x21krNoxqyDcE6twjS3Fyj+FC45BXHHxJyg1m6jcbGJyU4lMiyEpL4nShgLq2sqpaCygta+Skro0uRIjCEj51elSTNMKE5AnP46KxjxqWwuks7e4OpnqxnSqGlIor4mRYtrcEEtfdwaPh8uki1e0eQVMQ4io6CgIERXXj++a5GvCid3dnkRdVSj1tWFkpTnI/eK/vG2RZCSRWCTGDA8HcuQDU3dHPH3dSVJYXz8uJsLzBM35Xvz380o8rm0gI/Q8j3qSediXJoPBBSXr/lCBdBgP9ufIPFPxUPh8MJeKNAfcLTYz3BTJ895UGdAgaF+i/SxOZ2s8vZ3J9LQnyni/ngaxY+1DTa4TtTkOUlDr8+1oKnGmvdqbxkpvWmoDqS3zoLbcnYd3UsjPuEVnU4T8f0Zf4zu0lL9Cf+4kjPRVmT9rnMSyrlusjvaMbwl2vMgt050smT0R022rWTF3BoYzJ+J04SjDLYX43DjK+b2LSAu8hvZkBbQmKWC6zVBGt80Zp8AC1fGyEDJQnyLZ5xsNVDHWmcqpDXq4nd2O5f6lmO82kPukbRlOlEVepSH1JkMV3lJMP3RH8aDchaaEK5SFnCLSaiOupwywO6bD7VJn/v4sR7ZwS+NPw8cy/vVjKU+7QnnaFc7zrghZhd6vc5Ot4Ls1Lvz+OI0XncHcrXGjJfs6DWnmVCdeIs3/CHHue8gMPkF1qoVEwKb4HSPa7QCRLvvkUUj0O0VmxEUK4s0pSrxOZboVrcXODDYE8KAthI5yZ+63BckM0/sdgTIQ/E9Ps/jpcQYv7yUieKqP+6N4MxjL356l8b/PEvnvu0H81u3Gz+2OPCu/yqt6K5oTj+N4RpszO5SwObcam8vbOLRDnzVLZ7N+tToiEebs8a3s37GC3VuWsMlInx0blmK8fIHcJ52nOh3jZXrozJkhW69i5mmgpcIyHUVWLlDCUG0S4g1eoTsTAw0BahiL8WJNuSNqZKCBjsoU9DVnSjevENYFqjOY/sMopv0wShqa5kybhNr0qejMVGTezGloK09CacIo5kz//pPJSWU6QoBFPuqciaOQaEEDZfYZa7J39RyMtcexUWc0t46pkea5hR36Cp+AywcVWaKuQID9LkrSHNGb8wUzJyqw01ib3caCiztXzipF4ouR1ngEpmvPiinsWDIKf6uV9JbbUhxzGtPNKqzRHCXRhCJBQXxA961W4dSO+Vif3yjB04vURNv3S5Zrj2LL0jHYnzekKuUszTlnedntSH3mEdm6XaCowJld33LTVIlrR8dzeIMCFsfHE+ygh7vFHILt9Tm1bQx+lkbsXTaOK/s1edDsQ3bEblyvqxPuuZK+Omf++raEn18W8+ZRLiP3MnjzKI+3DwvkDOiNeAqv8CEj+hK1hfayrSQ+L4/6Ink+FEdOjBlxPgepT7fkQUMQse77qUm/RW+NHx1Vvgw0h9NQ4iXnpOKGMNAUy9vhElwsthNof4gPw6X89qoesacpWLXCNSl2/US1GuVxiuHOVASpRuykDnYlU13sI4H0AmCf6HeRAKsDZIdYkBJiTkq4paxCM2NsyIqxl5WoEFAhpFnxjmQnOMn9UtHqFWsx4hRluEpUoUAG/iGmQjBFu1dc/xBUcVMT8zYREVeS7ylbvSJ6TQipuGELuL2oUAW0QRwxR/39lw7+/ns/f/65k6ePKqTp6PHjKl6+apFu3Y6eQvKKwukZKKW+JU1i8nrvlNLWX0Rtew4NPWU0D9STXp5DUlE+Bhs2senoKVwjEwhMzSMgPV/ubiaWVVLS1MSLP/1IRVMjRXV1+EfFYXbDDlvPUAJiczG1cMcpOB3fuCK84/LlnukFVx8OXL/J3svm7L1gyd4Lt9h/2Z5D1904fisAU4dQzrtEcdEtBreYYs47hsmUGPvQHCx8UrDwy0TMVy+4p3D4RqBs7R657s8Z+0icIwtxisjlskso1v4ReETHE5aZTlx+OhFpkeRUZFFSn09bXz1l9TlSSHPK4sgsjaeoLoPSxlzyKjPILEkhqzRFCmp6cTwltRlUt+ZSUpdKUXUCJbUJlFXHyqDwzrZkGmujePuygdfPqv8zLxWB7qLzIXCPb59V8fqJmGtXSkEVM++qsgCqK4PlEQ9Jor3768sG3C33yOr0Ya/oWKRzdzBTUqtEgEFbXTgNRb6kBF3i/VAeXSXe3Di5iP7aUF7dy+dOewqvHlfw7FEFQwO53L9TLFdmOhtjpaHu+e0svCy3UBB5mT89yKe/MU6iNVtrI//jNm5tjJZ7zX1t8dJL0FEVTG2eKxWZdlRn2VGf5yDh9y3lXtSWeNJU7U9nUwjNNX70dUTQUutPQaa9nP9eOGnMtLEKiKhLkR1tMHcaIspyqbYymtNGc3zrSrQnfc1mfQ12LdNFdewXGM6eiOu1U5hsWcGC6d9xcK0uWxfNYu54BdbqjsPx0lZcr+3g+HZd2TI2XqwuK9Sty7RYrTWNg6u0uLpnBWab5mO5fwmDhUEUBV7iRWssD6oDGSj1YLDcg7fd0bxsDqA8+DgNMRfIdN+H43FdmbRlbzKfgpATss3bkW8lZ6F/f5XL7yM5/P11Ae/uJPLnJ9mMdIVxr96Tj3fiZDX6qMmHJy1+PGrwJt5lG205VvLPqEi8TJjdViKcdkmTZITzXkIddpERfJYU/1PEuB9GISP8k7W3scDpUwugwoPuSnc6ylxoLrSXgeFCTIea/bnbGsTzgVhe303hxWCibNW9efBpBvaoPUT2m38ejOIvg6H890Agf+n14XWdLc+rrGlKOkOQ5WquHNLm0tHFXDmxluP7Ps1MVy1RYbHeDBmzdmy/MedO7mDXpuUY6qhIMZ03ZxoqU77HQHs2ojpdqKkiDUTz50yV7YbVC5RYojGVjYs1MFqoxloDdZbNm8WmZboYqiuyc80ils2fzdzp3zN5tAIL1RSlmE79/kumjftKhpOL1q4QS9WJY9GaMVEGjiuP/wJd1SnME85i5UnMnjQGPZWpLFSZzL41+hxab8D25aqs05+G7rTPWav+DTcOzSLSZiW7Db/k5hFtLE9osX/dD/zr5xZ+e92EofpohANutd4UjBZMli7aNQsnsWWJChv0FFmjM5Hl6l9xYZ8mjzvC4Pcm3t9JJdBqD3uWKbNc9VtsTbdQn+XP1cMrWKY2WmapLlYdzeYlyqyc9wP6KgoySs7xwjLaC27RmnuZzMBN1KcfoavEjFD7BbhbqBHpZoDfLWU8r08j0lkHbwtVbhz7Ac+rGlgemYnjGX1WqyqQ7H2Mt4PRxHpvID5wPT31VrKt+8+PDfD3fj6+quR+XzI/jZTwrz+38def6vnzmxp+fFLMx+cljNxNZagtCAG4723wltFPDQW2EgrSVeRCfboVWcFn6CjzoLPaj+YyL+qLPWmrCpDmC3Ez+PCkgowIC2wvbqC12J8/v6xHcFIFz1ZwVN+PVPH7+2a6qsLIi7vFjw/LeNCVKm8mAkQvVmZudyRKFGGU+2nSA66QHX6DP1q6wrGbFWv7qaUb5yirUVmVJrmQm+Qiq9HiDA8EGF8YkASX93ZnKkJMhYD+UYn+IaaijSuOEFohmhXFvhRku8qrmJ2K14TBRcxN790Ws9VU6f780/tG/vF7L//4t5j+/ls/v/02IOEC+UXBxCd7UF6bTHFlPA1tObR1FdJ7u4L23kLa+kto6i+l+XYVLYONFDWV45sQw85Tp7hg74xfYjoxhSUUd3STWV9LRm0FcfmpNPa1UtZcQ2ZpMYHxSXiExnLNzovLtl7YeEZyycYTr+hUcmpbqBm4TceTB5R1NxGRnynXVkQFeey6MydveXHCypsD5i6Y2vhhHZTCKSsvuQITmVfPaVtfdpyz47JngpyTnnKKwyo4h3MusTLPdO8lN845ROAYnoNdSNJ/xDQ6Lwvf2GDcQz1IyksgPiuS0rpcORstrU+nuDaFgpq0T6c6i/yqTHLK0+VMtbgu79PvS5PILoknqySGnLJYKajVTck0NiXQ2hQvsZN/uHjF3rB4f8SsdGT4UxDBm6eV/xFT4cwW77MQrc72RMpK/Kgq9Zcjhd9eNcrPWLTvuX+HiSfKqlSEFzy8n0dDRSAdNWHS8Dbcniiryyj3I6QEnWOwOYbXw8WS1StEXTh7h4YKZYU61JtNb3M8Twcyach1xc9yC49aY3jQkSLXZISbV8xyRbXc0RIvTW7tTTG010ZKwElvfYQMKheYwpJkSxlsUpFtT32ZtxRTIaSizdvbHk6fwBKWesuc4ITwm8yZ/hl6cydKv8hK3dmsWqDKIg0lFs6agu6MiSxWVcRAaQqzv/8S7Skidu1zdGf8gNqEb5jzwzdoTvpObgJoT/6MM7v15SpbUqAp9lc3Yqg5Qe79b1mmzY6VOqzVUcTJbA+uZrvYqjOBS9sW4H9pG/6XNuF4fDHFYRf4x9N8XnZG0JlrjeVeFSy2T8PpqCb+F5dREmJKb549zSnX6S92JMphC71lDtxt8OTnh8nwt2Ze9EWTEXKCNwPx/ONVEfcbfHjVFc7DRm9ZkYouYGeeFek++xApPDVJV2nOtibWdQ/hjjulmIbY7yTYbge5ohCNviKPQn7iNcoyLKn9o/Qvd5OOr4Y8GyozLLjfGkxvtacUVmGt7q/1p7vSW9I4RAXRWu5FZbYNYqm4JtWcpvRr9ObcYCj/OrezLtOXdYmK0EOkue8g3GYLjufXcOnoMswOreLskXWcOryW3ZsXslxfGUOdqSzRVcZ4mSZ7N6+UZ8e6Zaw21GbKmC9QmjAaLZUp6AoxnKvE2kVaLNaaxsr5M1i7cDY7VumyabEO25brsUpHDf3ZU2XSuxBYcQSfd9aErzE2nIeRnhb6c5WYNEYBTdVJ8mfoqE5HABoWqav8J55NQ/F72SoWWalqU76XYqozYxx7Vhmyf62BjG8T0Hvd6aNYpvIlB1Z8w/VDM9m7aDRWRxYSYL0Z44VfkB17Q+Lotq1SZfNSFbSmKfx7UXkB+9bpsE5/JqvmTWaF9jiWqY+SjODuCl98rbeQFmxGpNMJjhqrs0TlazbpTsNsxyJM1uuwft5Udi1TY7O+MhsXKrF3tToH1mpKU9T6+d+xTf9bzm2biXDymhiPhg/Z8HM2LQVmmG5XwMNiPFam/4WPuaIMv/W9poX53ikcWvYFK2cpsEpVgbY8J97cjiI5YA93W9352/sC+FsPP4/U8P/9fluCvZ8ICsmjXP70ppzXYvVlKE1WqWJPbmQojeHOMH55niPXY+63B1OZfp38qPM05ziQEWhKTboNfbWBUkjba/ypKXBjsC1GGi+GmuN53JOBzYX1xPiclTNR8bN/eVUn540CeCCzNR+XkBVznfudSfz4uJzHfZk8uZ0tEzcGW5Pkk70AlEe6mVKR4kxW+A2E0Sg9xobMOAdZhYpK9I9qVFSkecmu/xHTP1ZixLxU7JkO3xYh4Hn/qUbFDfYPYRXtXXFEq1BchYtXzEvFnqm4yf1haBEiKlyfwkT144tq/vFbN3//Sw9/+bmTXz+2S0DDr7/28/pNm2zxVtUlS0xeRkEEqblh5BXHUlT+yVxTVJNMdXs+JY25ZFVnEpOXhFNoIJecnLH2C8LczQuPmFhqbw9Qc7uH/JZq+l8PE5YVj32QDzc83bls54ylqx8nr9oQkpSNlZsf+0zPklpYSOtgN6lFGWSUpdMy1MCTj8/pef6M9OoWfJMLCEgrwTepGKuABCw8o7ANTsTEwp6gtHycwhI57+jHRfcwzjqHcdU3FevIYhyiirnunyYBEKcdwjG5GYC5ZxzWgfHYBEQSlJZOWmUpISlRhCaHUNZcREp+HHnlaRIhWFybSkVTJiUNWTIcPKs8lfyaLPJrsskqyyCzNJ2s8jT5PXKGWp1MXnUiOWXRlNbE0tScSFN9DNXlQdJ4JPZLpZgOlyBWU8R59bhUJvt8ulYghFX8M4LF29ocS2nxpzxdsSr1fKhAPjR72R6UM1RhUBMOW2FOE9/TWhtBT1Mc2XE2dFeH80G8VuwtjUXlGfb88qJazjpFGpBw9oo2r6hO7wqgQ08GwhcgyGXCvJQXcZk3Yre1NUkKuRhliMzeztYEaY6SDGiBrmxJoK8hVlbElVnOiJ9TkHiTlPCLFKfbU1XoRm2pO83VPnQ0BXGnL47+jhiy/h9b7x1V5Zm++zOTzCQxsWNBBUQERRBsYAMs2BWxYFfsXVREQHrvvXc2vfdelSZFxN57j4nRZDIp3zkzZz6/9TyOObN+5/zxrnezxZLFzns9131fRXGO/s4cls6fgMbIz5k0diCTxw1htq46k8cOY8bEsczVHo/ZND2MJ01gkvJApqsPZ9YEZeZoj0Fz2ACmqoxGd9RI+Ws6I/+C6dTB7F43iaM7prDdXIOZkwajP34483XHsUBPldVGWhxaM5/Fk4YxW+VP7F6gjfPOBcSe3ci+xeMIPrlEtntFOyynPMqKQ0uHcNhsMAeXDCXW1owfLqfC80ru1geSF7yNnOCt3G0N4klvFN/fTuPf31Xz86NC2oududceyd8eFtJf58ubq6k8643lbkuQZKLFEVZk+W8iP2wXuSE7KE84IplptOtaMoN343NqCaHnzIlwXkeS73ayww+glJt0jLzkoxSmnZCByLJhoMqDzip32spdyI7aQ0rQVmK9N5Lov4XU4F3SOhPluZmkwF3kJhwnO+6wlAjnR+2lMGI3NfH7aUo6SE2MFVXR24mwmY/nwZmEO6wm1NEShyMrObJzsQTTzWtns8ncCLP52pgaaTB3uprceS6eOwXTWZOxWDqfTasXMddAW17zp0+WQGqkp8l8A01WzJ/C2gV6bFpqhKXZXFbMNmD1vJksmqbDJJUhHwvB1YbKEfCCGRMkY11sqMcMzXHMmKzOmGFfoKk6mAWz9eSfO33iOEz0J6Ep0pVGD2TMoD+jpfI1o75SYuLIr9EZPUieuCwXzmbPmkXoqg3E3GQqprqqrJoxBvsdejJ1yHbTdDbMGcXmhSqsXzCK9Ys1ZPuCyPM9tnUhB9YZsn3ZVNbM02bNfF3ZFWg2cxym+srMm/IVK+Yos36BaLYfykrDYWwwUWPiYCXmanzB+rnqmGgNZJn+SI6tn0+QzQ6cDpjja7NV/pmag5Xk9y7W/QadIUokuu/E44Ax5jM+o7vUnobsg4SeM2S9qRIx7hNI9JpInLMeDtuVcd6lzj6zAdhv0WCv2VDEh/ZikRMNmSdICVzP+0e5/Pyqih8e1fPqdjVvnzTxr1+u8t2LWu7fzOLBjQzevazk8Y0crrQncKc7hQ/PqrgtYrqup/LsehK9Db5UKKxpK3alPNGaqpTT9NWHcrE6gMYST3paImirCZaCi96GWD48qic97JhslxA703uXcqSK96e3bbx6XMXLR5XwWz8Xm6MpTj/Hr9+1IWwyD68WyD1Tb1Mc9/vyaS4Nln5SodotT3UhO8ZWstG8FBc5yi1I85D3/wbTT++JJhrRFCOAVHShigSkhzfL/lDzCgYqdqb/DaaCmQqGI0a8QnwkrBSClQoWK8BUqHx7OpIlmIoe1L99184//naJn7/v+FjC/a6Ln37o5c2bTp6/6ODG3QZqmzNl20t+ZRLlDdkUCUVrdTYpOVGk5EeRU5lGUlECoYpIXCMDOOrqgrWXL06hMZxw95Nj04qLnWQ3VBKdryCxIpvI/HTKOtoobbtISkkNWdXnZXhDhCKXqrZ2AmMjef7+Jb/xCw/f3OHZuwc8fXuXOy/ucO/777ny4jv6nv/A7Xf/4NHfoP/F38k/f5mg1CL8E7O4eO+JDInYZm3PQddAWcNmHajAOjgHl7gyHCLz8UyuxiWuhFP+Co54xnLcMxzn8ATCMrOIyEolTBFLeGoYJY0Fcnwr4gNFZGBxbRql9QoKalLJLk8iuyKVgtocCaQZJUKElC5Hw1mlaeRVKWi4KCxDeeSWx1NSFU9rWwbnmxJkabxQ8QqhkRjvio5ZMeIVzFSAqLg+vlclGapgp+KgJHynQtkrSudFrV5LTQQ/vWnnfHUEMUGH5OhX5DMLD6hoCLrZlyfXA6KYvqM2Wn6WH17OIczFksSgvTy9lsetnjR5uBLCtSt9+ZKZXu79WJIgCsOFWKkh1wXXYwsRv1fsUrsaY7hQFyUznzsuJMl/U+/FdDn6FSNiEfLQWRtNa3kITcW+lGc4kRl7nMy4k5RkO1Jf7klnczDN1d70tEdw+0o62am29HdmcfLASiaq/IVpE0ci41vFqk1jNDO11Zg1QQ2dkcPQHzsK7RGDUP36T8yYMIIlM3XQUh6IrooK8yZPZrGBDgZqg5g4XImF0wewe/0E9mzUwVB7MLMmjmLe5DGsNJrMjqWzWWOoxRzVAexapMf6mWOx2WCEraUhNut1sTIdgaGKElYLhpDsupKAwzMIO2aEx249Yu2WUBV9gCTnNSS6mhNsY4qP9VyyQjbTUerA00vRvOhP4B8vK3hxOZkLBU7caA6Vva8vLiXxtCeON5eT+e5qCk0KawpCd3CrMVA+/7pK3UjxsSTJewslCccJsF1B4NmVhDmuJdlvBwUxR1HydVqDj9NK/FxWE+xuTqT3BqL9NhDjs45obwsi3FcT6bGGaHdz4jw3EONlSbDjahnALIzEkd6bSQzeSW7MAQpiDlIcc4DG9FP0FJ6ju8COCxnWJLqvIeD0QqJcNxDpvg23U+s4ZrWEPZtNEGC6YZXYnU7ExHA8pkaazJ+hgdFUNZlUJMIVxG7UQGusvBvqTpAguMLUkKVzDFg0ayIm09SZP3U8OmOHoTZ4AFojh6OnOpqxg/6K+rCv0BjxhRQnLTLUksEL0yepoj5sgFQET1QdzqjhX0qbjRAYaY0exkzt8Wgof4MAVkMdVWZoj0Z9+GdM0xyO7thBTBn9DRsXGGG1ZrH8NfNFM5k/WYM5GoPZu0KdOEdzXHYvwny6CmZ6AzmydTYbl0xi4bRRzJowiP1r52K3axEmWl9Lb5Y4yS0xHM/K+RrM0v4K46mD2Lx8MivnjmaPxXS2Lp3EPnN9jCd/gYn2F2xfpMlh8xmyn3STqRrr5o5i5wotkvwPEeVuxeldJlgYj8NgrBIWc0aTHnAIj+xXiHgAACAASURBVMMLZMB9a4EdXtaz2LN2CMVJG7C2/DORDpooPOcScFQHjz1abJiphN8RPbn7PWelyektajgd0CXafRW/vq7ml9eNPLshml7q+eFlO//+x03ev6nn/k0Ft/rj+ecvrby4W0BtkZt8OPz9dT1XL4RwpyuKR32xdFa50lLgQF+tv0zfutkWzd2uJJpLPWmp9JXpLZ31EdLo3t8Uz/v7tZyxmk9uzGmutCbLKiyxVxSM9NsnVfz4pon3rxrkQ+FGbxo/fdvM7ctZPLlRyMP+fDkKu9eTK60vIt2oPt+f1DBrsuPtpIdUMFAxyhVXQZoX+ame/3W5IwBVCJAEmIoy8ZIsD9ne8eROpWyGEUD6/wdTAaRidypiBoXgSLDS+qpQ+Vooe8XuTYx+RWLN3av5fPe8kd8+dEuW/+5lswTbn37o5u2rNt696+X9h6s8eNLBhc4SCiqSyCyKIzotlLzKbPKrcohODycowZ8wRSihmZEEKqJxDA/hhKcfxzyCsfWLkWENEdlF5DS2EC1iBHMVFLY10XDjCldevqXt9hMSixpILm4mrbSJjhv3KW1pJK0ok+9/e8u1x310Xr3A9z+/5vsf33Lr8QPcIqLwiEnFPSodj+hMwtKrSSpuJURRzhmfKLKqm3n56z9QlNex4eAJ1h2yZZutj+wytYsuwSOpSrJTkXpkH5GHS0wxdmGZHHUPxSksHq+4eJzDAsiuKSKrIpP8mizZX5pZlCAPE8UNCvKqRadpPFlliRJMs8oVpBYkE58lOk5LKWsqIbMsjfSSZLlTLW8WbFVk+KZxviWNloaPqUYiQlAAqQBUAaQCQP/7LoBVMNWPZe7VMohDNAF1tqZK8KooCZCHJrFPfffyPL7OWyQLfXq7AlHk/ehGKeIz01ofI5uMWuqi6WlK4NmNEgRj9HNYK5W3755U0tceLz8XIrdXAOqNq6VS4XvjUq5sjxFNMsJ3WpJsy+s7ZVw6n0BbXbSsZBPg3tGaysW2NFobE+g+n8q1jixZQXixLoa6Ah+qcjyoL/QmJ/EUhYozCItMd0uQ9Jq2N/lz92o6ZbnOZCU74HR6E6MHKjFda5T03xtMUJHPYJEmN3nUEAxUVZg6dhSTVZQxUBvJLO2xMgt9qvpI9NXHMXOiBiZ6WphMVcVspgp7NhjIarfDW4yYpv41MzWGYzxlHKvnTGH59Iks1lVl24JpWM4V/tLJeB9cjfseM6qiTuG+2wiv/Ya0pJ7gbp0P1dFWdGWeJNt7HQnnlqNwX4fDVh3yggUQ+tNe5EBHsT2lifvklRe1i+K4A7KrVRG4nfosewpiDnM+z5nKpBN0Fbnw4+1sWrLOEOu8SgJpf5WXrIDMDtkpxZjVijPEem0hxHGtZKYp/jvJjTyEkrezOZ6Oq/G0X4HXueX4Oq4k0HkVUV4WJAVtRhRCJ/hvJDVwC+kh24n33YTf2SV4nFwoR5Ai+SHEZbUMUs4O34Po0WvJseNGvT/3zgdzrdabxuwzFMYeIjnIigCnTZw7vhKx2N69yZidliaSma5ZYoDxLHVMDCdgNn8y86ZPYO40DaZqqqCjPkL6PkcP+jjq1Rg1iDn6WhjqajBHT00KjmZqjWP88IGMHzKECcrDmaquxiSVkagO+RJNlYHM0x+PvtZIpmmPQVdjlExCEhaZCaqjGDroC0YO/opRg75Cc7QyempjGT9sMFPHj2G1qSGmhtqyJ3Wt2fSPQQs6Y1g6U4fZ2mrS57pk3jSWzjRgzoQRLNX9KycsJnHG0pija+ZhtWIa21caYKw3HEOtQUwe8TnTxvyF2ap/ZtW0EWxcOJ25k1RYaqSOxaKJGOsPZcU8VfZtmMPONTMxUP1C7mS3mmkjvJVO+0yZNlqJbabjWTLlK1bNGsjWpWOxMBmBif4XUvzQXReLp42FXPI7HTLjmKUBK6Z/yRrDr8gO28WJrZqyEWL7si/wOaZOkLU6brvHEXxcn2yf1QQe1cdllyo7FyjhdXgi2aGruN7kye22MPj3Df7140Ve3SlDeOt+etvJP3+7wt/eNfH6WQFXeyL54XUZty4l0lzhI5W9r+8K36c/9y9FywqoutzTEkzzovbLScermznc7k6ivsid7qZI6oo86W6I4mZnKm9ulFGR6sTJ7bO5fiFZps2IcajIsP3+22Z+eFkvbTgXmyOpKnTn7z+0IkbOgq0+vSmSlvJ5ca2Yi5WR8rBRne0tW2MSgo/y34z0/wWmAlgFkJZk+vwRcF+R54O4hFn+qdjL9n8UHAngFIAq7p+AVDALAaYii1fs1MSIV2TzCiAV7wvPqQBT8ZD+IALt37ZJUH31qEY+0IVF48P33Tx+1CIzd6/erOfy9UbEaLOipYCq1lJiM+JlM0xEejSByaF4xvnjHhuIW2w4Rzy8pL3kkGsox9yjcAhREJVfQ3JZLRHZOSiqKonMyZavQxUFpJa1EJBYgktwGn5xWVR3XcIrOpSQlHDe/uNb7r25TfuVTvIqS/ELi8TOPYCT7v6c9ArlqEswe2x92G8XjI13Ii6hCpmkVNzYQevVWyQVlOIWGc9pv2jMD59j+X5HttqGYR2YIdmpYKinAtNlkINLbAHHvSI4GxyNW3QMrhFBVLTXU3K+lNyqDFIKYmVTjAhkqO0ooKw5ncLatP+MedMlcCbnJRKXGUdaYRpphSnEZcYQlxUpgTinIhFxCRFStfCa1kRJhnnvVpm0MH0CUwGkorj9Eyv9BKbyfq9STh1ePWmmoyVZjlWry4Oprw6TwiQxkagrCyIt8iSPrhRx82Im9/ryeXSjTKpum+pjqauKoK0hFiFUutOTQZDzOhKDrfjpRQ3XuxK5czWHW9cKEaxU9K32dGZIm8zN7gz5/1VB/Clcji1GlI4/uJwjc3lFMIiMO+zMQPwdovO083wavefTuHExhysX0miriqCpJIgLFSGUZTmSl3KS4kwbmitdOV/tzuX2UO5fT6erJYqkCGuCPA8wYoASYwf/CV314UxRVUZ/4liEH1+svqTGZORQJo0egc6Y4eipf2SwQvQ5X2+SJDZi5bbGWI/dFkbsWjud1fPUmK01UJIJI80R6Kl8zQz1oSzQGccstaESUKcO/5xpI/7MoVUz2LNYmwzvvZSGHKIzy550DwsqI60oCdnC9XJnCa4NiUd42hpJbdIx7l8Igx/q+fujfH59ks+L/jg55n1+OZ47bSEIT7vPyQWyUD3eawu54QeJddtArKsFl8o8qEo4KuMI69OsKY3ZT2XSMTJDdsnvTw7cQZCjuUyl8rNdgchajnbbiJKbgzkejhYEuFsS4buVuKDtKCL3UJFxEhEn2JB/lrqs0zLwV4TctxY7kRu1h9SAbRQmHCItbAcZkVYUJx2hJstGpkL01fhwvyNSSo+vNwVyrTkIkb5Rmm5LqOcOnE6bc+rQcvbtWMDOTfNZs0RUrM1iqclkLNfMZe+2ZczWV0dPU1mCqQBUocSdMHoQM3XGM32SmrwEYxVeUgGWk8YMY9zQgTJ4QW2YMhojRqE2fCgaI4egL+TaeqoyxGHy+OFMGDMY4VUdpzyUcaNHMUJ5GCOGDER1xDAmq41j0rgx8veqDR+M2KNO1RrN2mUz2WIxD4OJQ1gyW1sGMWsMH8DoIX+RKUnzdXSkb2rVtMFsNR7FCp0RzFcdJtnq6rmaLDQYK9M9lhio4bhnDSmeB2jNC2TnyjmywX6VsQabV+qw2lSNJUZjZcygGH2smq2D0cQhmOoMItp9JxdLfTm5ZSp+1kvxO7GcoxunSA/XQv0v0VdTIivGjktNKZjNGs7BTTPZZDaWDQuU2bV6LKd26cr76vkDsDAdxjxtJbYYKxFyQoMkx1n4H9TGcroSVqZ/wtVqLK57RxPtaMAPt8P59WkWPdWe/Pa6jg8vKnn3tIjbIlv3YTW//tTDLx+EcKaJ+zcTeXovg94LYTy5mcuvb1r4+VWdZKYi27k26ziJfmspjhOj5pXE+Wzm1c087l9OpzLPie7z0VJ8JAQTd7rTeXa5AOGFTvTax8trZYiT9Yc3bbx8Xs9P79v59fsWfv++hYpcR671JvPTDxe4dyuP5w/KZYj44/4C2SyTKZhoxCku1cUjEpBEPKAY3YqR7kfm+X+Y6UcQFUD6EUwrcgOkJUbsTAWQisAGUQr9+HaFrFv7pN79dBdgKsa9goGK9wQzFSxUXGJ/KoIAxIhXsFUBpgI8xYhXMFKhSn77rEEyJMFKHt+v5drVcqniffH2Cm8+3EGoV6PSgohMCyW1JIuUkhySy7KJK1bgGOnDES9Hjnh5Yml9FotD9tKyInJ0vROqSCztIL6kCf/kbMIy8sisqKagvoXEvGrCU0rwicjHL7aQcwGxhKRlkllbwknvs0TlxZFQkkZl+wVis4tkvOD2oyLIwU/2lDqFpuEYnMFZvzRsvJOxdouSvlWviEQCExSEpmQQpsglPLMcv9QyrP3T2WwTIm00x/0VUogkwPRsSDYOEdmc8I7klF+YBFOP6FD8E8IITQsjpSCe+OwI6jvLOX+pmtKmDMpbhAApQ455UwsTSClIIDEvQap/Q5JCCUkKJjI1XIJpYm4USfnhpBVGkVMaSVFRoIwGFJ5RsaMUByIBpp9Yqfh8fxr3ChAVrFTcxchWXC/u13PrSrEU/jTURUqrTINQz9aEy4L4KN999NTH8fSqKHrI4lZvAUJM1FQfT2VZCHUV4fScT+Lp9UIKk0/j67CKa+2xPOjP4OYlhbRKiXjBOzdFt2ouIiNYWG7u9mZyqz1JljzUZDrJ0oc7l7Llwa2tJUGKqloaRQpTDm1NybTWxEtAvdmVy5U2BZ11sbRUBNNc5ktJhg1FCus/Mnv7O0O50RPL7X4FJVnuNJRGsW7pdEZ8pSSJjQBS3fFjpH7FaIqaTIybPHaEdEIIQiP0LLoaHwN1hNhzqsYI6bLYsWYu+zcas2SWKnoqA5g65htmqA9hruYIZqoOYdqYgVjM1cd0sipzxo9kvoYyK6aOY+dCXVbqDsZtjymX8r1oS7fFeZsOqS4r8dmvT2GgJb0F57hd48Pb3iSaFKd50hnNr08K4W21FB7dbvXnWV8M9zrCeHszjesNgUS5mMsRrZiYpvnvIiPIinCHldSkWtOR70hLpi3XavzkvU5hI8fCZUnWhAoCenoJwU5riffZRqLfDhJ8t6MUH3aYzMTTiJaBC9X+nK/woanETYYj9zcF01XtIwGyvdSFB10xPO6Np63EmcYce642BUpx0sUaT/oa/Ll+IZQbrWHc64ziQVc0dzsiuNISyL2eGO5fTqCtxpe0qCMEuG/F4dRqDu5ewJZ1RqxarMv2DSYsnKPJUpMpbF47X3pE5xiMx3iGtvSJms6a8jFLV1sEKoxm4pihzJ+uJcMZdMYPRmvsUMSYdoa2tgxfGK88Es1Roxg58OMIV0dj5EeLzUQVKWQSftMxQwahLqIEVcdJMBWe0/EjlVFXHsL4EcNRGTRA5vJqjxvCVgtT1i6bzvAvlT4qiKdro6H8NWOGfsnEscpsWrqUNXMMMNUewNIpAzHVGMqSyaqy4Hb2xOESSM2NpyC6UEPs91Ia48ixdYZMH/cFk0YpsXzOWJYajWKe3mDmCf+qvhrWu9axznQGJnpjsNmzjGNbjNhipsZqw0E4718gy753r5woR7yr54xizqSvWGs6EXMTTVQGKLFnnZ70m25eoswiAyUOb9Jko+lgti4biecpE05uV6U0egkuu77G58BYrpZYk+Rgwsm1I9hr9hl220dhbzWSV/2BNOYeJcJ1KT89K+GfHxr5x4da+jvCeP6glN9+vMj7b2v47cd6ntxL497VOCpybLnVkyDHtz+KsVWDP+2ljhTEWeF5wpAol1V4nTSWYPrydj5v7pdQmmVPe12QVPFeaoqivymWuiwPWQ5wpS6e+105cu/z6/seWZQtmOk/P7Tz8HKGBNN3r2p5fL+Y7980cKU7lbtXcqRYSVRk+Z2yoDzFmZut6SSLIPs8fwqFCOk/1pf/ZqafwLRQ4S13qJ/AVIx5hSWmriSIG8KXeP1joL3YgQoA/XQXr8X+VAhOhCBEMNDiPE8JnuJ9sW8Txn8hSrrZl8v71638z0998pAgXv/8vpvXT5sQO69r/cXcvlXLZVFy3VPK1butlNZlykJsMb5ML8snKlNBeGYKQYoE9jnbsdH6GPvdvdjh4IWZ1Sk2nfLjmI8Cu9A8/FKqCM+uIyCtiFBFER5h8Zz1CMHaKZiTzmFYWXux6aAdGw8cJ6O6koTCNFzCPOTdIdiLc0EhHHcNxME/DYfADE57x3AuOIWzgWky41eEOIggfM+IHBz94onPqsAtKI6AuCzC0ksJy6omtaqHxIpegrKbOBOayXa7IHbah3LQPU5GCdqH52Dtn8Bx73AcwqMJVKRwxt+NqLwEGvsaSK9QUNNRSXx2FPFZoWSXJ0ggFQeMgFgfwpNDic6IITw1gsS8JAmqiTnxJOXFEaUIJUoRTFJuBOkFYeTl+UowFSEMN64UyJ+jzON9WCsBVYCpANBP491PICuAVHiM7/QX8/uHflqb42WQg1D2XmiKJT3JnofXS8iOPYuYhjy/Xs61tnSud4ndZxU1lZFUlAZTlOMt96uPRKl4S7R8SBcnn+LJ1WyudSZJW5cAeREsIdhpd0e6LJkXZQ4vbpWQHnqQaI+t3OtKl4AswiG6OlMl0xbf21QbJ6vaOlpS6bmQTl9rJv2t6bJ/taMpjq6WGOrLfKjKdyIz4TDl2WfoqPOVz+o7vSlkx53i7qV8ovyPM26wEkKQKXalE4RNcOxwOc4Vqt6JI4agqTwUzRHDmKGljuqQL2RmurDSCH/q+sUG7FlvzKZl05mq9jXjvv4T09VHYDBukExOWmygwXTVYeiNHshsjZESUGeMGcQKfXUWaQ+Vyt49i8djt0mffYuUSXRYzv16X86nHSfTaz2Xip2kVea7/lSuNfjD31rgfS38WCfjA6+f9+G7Oyn87XE+vz0r5f3dfF5eTqe3OlACqth/KoJ2E2K3ktzw/VzIc+ZiiTv16We40xrJq/4MnvSm0JjnIsEz0mMT3meWkx66D0XIXlICrVDKirGmOPUsNbmu1Bd40FjkQWuZD51VAQg16cVKfxnicKHYk+7qQK43R9Ih1F85Ttxtj+VOp9iDiWSaFB5dTuRudwy3OiO52RHO9fZgbnSFcO9yFL+9q+Knb8u52hNDRuIxrA/O5sDO2awym8T2DfNlHdvqpQYsW6DHonmTMDJQRxSAL5qrx7wZWszSU0dD5Rum64xDsEsjfU1WLJjGcmNtjHRHMHPSKPQnfEwvmqKuisrgQagpD5fgOEFFWdpetMYoM+QvoglhIOIkpTN2NLoa6owbNkSOeAWL/RjM8JVkumKvOmbg5xhPm8gey2UsnKWN+tDPMV8wg5laY+Q+Vvmrz9DTGMvm5Ysx0dXAUG0Qh82NWaqrJkcVBqMHsHrOJGZrK6Ol/GdMdEcxW2uwtLMIA/N6Yw2WGChjojOIeTqDWWOsKfeny+dosXTOJOmhFU0NO9cZIQLp9cb9GQO1z1mgr8wqI1WsVuqxUHcQa+eps3jaaNYaT8bhoAWhLntkkfbxHVM4u9+AnStGstHkGzaZDObY+rGk+C4iL8yYingjisL1cbX6Bt9DmvzzUQ5tWTYUhO4ixducJJ9VPOwOwGa3Ok7H9GRoB1ySHuPellC5q/z9p07+/q6R39/X892TXG52hVOUfJi+pgC+v53LvY447rVHy+QQsbMIc1hEqIMpfjbG5Mcd4dnVbB5fzaSu0JX2mgA6aoNorQjg0aVsvE+tkaz0wcVcrp9Pk2b4v393kbevm2VlGf++JT+/N7pSePeqnpdPReNGhUybudaZwruHdVSmu0g1dLL/IRoLPxaCF2V6k57kREG69x8MVOxOP12CrYpLfF++woOCdHfqSkOpLgqitiSEG735f4BpV0eSBE/hKb11pZArPdncvV7Cw9sVZKe5UFHkT1meNw0VoQiVpigQL8pyobZUBOVn8K9frvGv324gOjTfvW7jw/cXuXe7kp6eXC71FtHWlkN9YyYNLblc6CyntbuGxrYKyuuLSMpLxzs6goisDFwiwnGJiWGp1T5UjEwx23uCDafc2eMazrmYArzTqnCIyuGodwyH3cI47hbOYftATjlHcswxAnv/ZLlbPeMfwrlgf6ouNtB3/xJt/W10XOkht6KKvacdOOkWjE98DkHppRx2CsYlMhuH0BzpEz3lo8Azqhi/qHwCInLILe3g6Nkgth/z5qhrHE4R+dJzGpFZS1JZKwnlzXgm57PXOYS1R9zZeiZUpijtd49nwylPjgdEcMzPn1NBvpwKdqesu4FksSMuSCEsXYBpLPGZUWSWpKIoTCE4PpiwpDA5+o5OjyM2M4GItEgJrgm5HwFVUZwsFb6yUaY+8aNqti9XHl7ENECMe58/rJOHHjGSl4KkB9VyPP/sXpX8+QlL1KNbZTy+Ucmbx808u1vLxQupsoy+vjKMxooIaZ+63JJGsMsuHvWXcrsrj/72TG72F0kFcW1lOFVF/tQU+cvGo6c38smMOIK3zUpe3CyUSvbr3VkSPIWq90pfocztvSzSs26Xywq46xcS8Tm5kkvV4QgP6uXuVM43R0tgb6iKpLUxibbGVC40ptDalEp3czqX27Lo686mtzuDC03/acKpjqA6z4eyDCeqM52oyT5HVeZZSaqKUmzorI2U49nhnythpDUWXZVRmE7RYdb4URxev4wZqqMZ+fmfMdLWxmC8KhNHDGLquGFS2StElhtNddi4SJcF00TAzp+YMPobTKZNwlhfg0XTJ0j170L9CSyeNpEVs3TYYDydGWMHskxvLBtmT2DjHFU2GA5ntf5f6cpz5re7+by9lMDdpmAqYg/x4WY2//tNNW+vK/hfbyr413cV8GsD/N7Ir9/m8/p2Ir++LuS312XwfRM/PSzn3Z0iXl7Pktm6gmFGe2zCU6iFww4R5GCBsCyFOa/nSlOkxMI7HQmIknYBpIEOFvidXSML3FND9pIu1LyBThsJcNxAhOd2WROUFn6EhMB9pIUcoijRhpSgfeTFWlOZfo7ChNPkxZwgPXS/PBEJlO6q9uLqhWDZffqwL0H6UJ/eEGEOmbx+kMmtS+G8fpTB//6lCf7Vwc/vamip9SLUdzORQXs4fXgVW9fNZYnpZIyNxrN4/mTWrTRi9ZIZGOqroTdxlIwW3LZ+CfNnTWTB7CksXzhNvjdZfRBL5mrKuKuZ2sOZOUlFhjN8bIcZzZih3zDwz0qM+uavjB365cfd66iv0RuvzATlrxg94E+oDf2KSWIHoKGCyjefSbYpvKWi91TsCFQH/5nFhlqIztSRXymhrzaUdWYzma6hjNqQz1Ab+iWGk8ezet405uuocmrbGgqifFg1U4vxA5QwUPmaRD8H7A9ulCXiumM/Z8mMMViZz8TvjJjVn2bD/HEsNxjBkmmjWDlbgx2rjDDRV5F1RyuMJzJNeyB6E77CUGcopgajmTlxMNPHf8PmJfpSvSuCHiwXTmK2DLofRtC5fRQnuyN+thsWDuGg5Xj2rRmL9SYtHHbpEWE/n+Pr/0p18iIyAibyrOugrH2LspvOz7fSyA7YxpUqP/jXZb69kUxy4GpZxeZwRIvWSluqso8T7LxKdi3ev5LB//q5E37v4sktBXcvRct4wfo8Gy41+Eov14d7BdxoDJN+0tL4g8S4LifCaaHM+i1JtpYRhCKHt6nEg9YqP9oq/bnaEkt7eRDHt8yiItWFV1fL6aqKlmD66w8X+eHbFj5828Jv312QMv9H13KlovjN0yqePy7nVl8mt3szeNiXhyL0KCI+UIBpUZILzWXhpMTZk6NwJy/tk9joo9DoE4h+ugswFZeobBMgWlUYKB+Ut/oKuXPto8f0cm+6BFMhPLnZX8DV3hwe3Krkam8eueluVBYHUVnox/naKKkE7b+YTkGGk1R4/vPvV3n1sJHbV0u43lcgmYcQtPR25dDbm0d7RzZXr1Zx6XI1tY1ZlFelU12fR25hMoGRPsQLRpoUT3ByMvZBwtsZy+wNOximb8yCnSfY7hjK0YAUTgSkssMhhM02Pux2CuWQRySHXUI55hjCIbsgNh9yxTMmh+TKRso6L1LX10rT5WYau2upa6ulve8S1U1tH/ekLr6c8PThpF8QVjbu7D7rK8MaRDrSAadIth1355idP1GJRfgEpRMQVYRPbAU2flkcchM5vuEyACIgJU+2wiRXNBOZW4ddcDpW9hFssQmRoLrJxp+ttj4c9gnBI0XB2bBgwvIy8EyIICovnZh8BQk5ySRmJZCal0J6cTqKogxSCxQk5aXKX0srypCvUwpTSS36uD/NLs+kqK6AsrpMrl4pk6lHl7oy/lDAivYWCaYPav+Puvc/YCoOQ4KRCiAVubmPb5bz4m4dT+/UyAOWiPZrqoyksSxcFsi3V8Xgf24bF8ojuXupkBvdeXLMK0Iiyor85IGqqtBbek+FDqEhzx1366V01oTJ3lIBpuLzdK1P2GSKuHQpl17x9TVR31cp/dQiU70o+pQ8fIqM5/bWeLmbb6mLpb0hidaGFM43CpFUKhcb0+htzaDnYibd3Vl0dGTQ1ZFNe3MKTeUR1OX5UZvtQVW6PeVpp8mJ3k9O7AFudyXLlDWtEUpMGvEVc7UmMkdzAlOGfsPeFYsw09dBb/QoNIcPR23QIAw11dEUrVyqgzCfo8k2Mz12LDdg1XxtZumMYqaumky3E5qXhdM0pKJXb8wgCaqbzQw5tM6MjcZ6bDbWZfdSfVbqD8XGcgaVsdbwUyf/flHJg/NhNGeclWXgLTkO3GgOpr/Bn19elsA/WuEfzfzzp3J5vX2QzIen2fz8vIj3DwskI23Jd+Xa+QhifS3/U6K+Xe6gU4IOSKGsv505zkcXSewTIPqkP5OWIm98zqzC19acQIf11b00uAAAIABJREFUJPhZEeO9lQT/nSgFuGzG22E9vo4bCXTdgrfdOuyPmHH20CKcrZdhd3gh546Z4XpyOXaHFsjL4cgCzh1dTLjHJrJiD1CSfpya/LNU59lSnmkjRwWijaCuyIHbl2L4nx+FSET8x3Xw64dGLraEkJV8gqzks5zYt1zuSsWI13zpNDnmFYreRfMmM3/WBPZsW8muzcvYsm4hs6epoTtRGSMDVQmoIn93u/k83Gys2LPRDPXhf5FsUfhH9dRHIVS745W/ZPK4b5is+jWmM1UxX6TDga0L2WluxA6LuUyfqMy4IUpojvwr2ipfoTpESY4z9NUGsc5sGoe2LOHYjmUsMZyAofZQCYjqQ5TQGf1XtEZ+hvaYAbL+bZmRNtPHDyLC+QjP+uo5YGGM5iAl2X5wYtsKjHVV0B7xJ0QX6s4V09izagaeR83Zv0qXpXoDWaQzEIt56iyfOZaDm0xZPkdDgqfe+C/ZumYG28xnyvGvCHxYaqjGCqMJ8s8S7FTUsM3T/hrzueNZNmscM8Z/iYGaEhpDldi4aDgmukrsXDaC83l2lMbupinjAKc2fU2Shx5N6SvJ8J1OtJ0eVguVcLGaLEOif7qTw8POCPJjtnFqlyond4/Dy3YaxSl78LE1oSrDlp+e1/Ld4yp+/LYB/tXH2ycF9DT5yVD7csVRbndGIPbnT3uF7DyFB52xlCYcJth+EZmhlrKSry7HgRfXc6WKsanYE3G1VwVwpzOFOB8rbHcbc+N8Ki/6S2kuDub7Rw388q5TAumvH9q53ZNGQ7GX/Hd8+6xaAuqzR2UyGF+MzpqLA6StpqsykvTQE2RG2lJXGERarD3ZaW5kJTmTk+Tyf+1OPyp7BTP1pDTHh/I8P8lKKwsCaK2L4+6VEgmcYrR7rf+jclfsQ4W6U1yP79bQXBtDjsJVlpDXlYk2jmTJTFvro6ks9ObNkwZeP26QFhth0n/74jwP7lTIKi4Rb1deHkZBYTAFBaHU1CnoulTF+bZicgviyMyNpawuH9+IAM4F+OIZGSltLyLPduryzUxdsYvt9mGsOxnETqc4DnqncjokG/vIXI75xrHXOYgjHiHYeIeSUFCFoqKF8zcek9PQSnJZKWWt9eTXFpBfmUdOcTbnOzt5/uZ7bj1+wa0XL2m5dpma3m7SKuoQoGgXkoR9hIIzgfHstnXjlIsvKbllJGaVyQq34x6xnA3LwSOlkqO+SThGp+MYniStM7F5VVJFHJRail2QgmMe8RxyiWHfuQg2HHLDfJ8D1h6idSaI426+bDhwBHs/P+JyMqXSWABoQnYSiTnJZJZmoyjOJDk/jYzSbIrqSymoLSa/Ol8G5Av2mlOeSWFNDvnlydy9U8fr581c7cuVYCr2jX3dmTy6UyknBWJ/KsREArjEXbBU+fpOxR9gKgBViNGEUlcAn4iZFD7klqoILtbGkhZ+Ul5iTyn7Ry9mSOZYkOMhoy4rC7xoKguUY9v73QrEQzw79qTsShWdvFe7hWe5QIJpX1+eBNNL/1GL/+15CyWJ9rKk5GpLPA/vFMtichF52NWSIsFUMlOhXG5MpaM+hYuNKXS1K+jpyZbTj76eAi51ZnOxMUmK85oKfGUdZ4XChvy4Q2RE7KO3MZILFWEI+95AJSVM9SYzf5I2RuoqzNNURXPIN2gNH8q08eOZPEZFKnv1VYczdczXsvN5g6k2yw1VmaH5DbrjBzFDdyxTJozAcPJolszUZIXRZOZNUsFkyjjMBWGaNgEzndHsW2nIma0LcNq9iEetyfBjtwyyr4rdT8jphXgfMeHA6gmc220kR7RJvltlNgI/N/Gv99XwewP/876Etqqz5CftoiTlAA05ZxA2zooUa1lLV5xynO7aAK63xhDvu0valIRVye3EEkKcNhDrs43CxJPUZDuS6L9bTg6EKyXedzeBTuvxP2dOiOsGlNwdNuLntp0Aj514nNuIyxkLnG3MOXdyFbZHl+LtuAn7EytwOLaccyeW4XxqJU4nV+BpZ0Fm3AmK00/KOp+qPFtyEg8T5bcZYbfxtl8p1cF5qSf49nGhtEv8+/cO3r+u5kJdAAkR+7A5upizxyyksGe1mb4E1dkG46Q9RiQhnT66hRMHN8q83gVztJk1dQzTp4xiznQ11iydwZol05mrNxafswc5e2AT0zVHMmOiCrN1VZkw4i+MH/EZFmZT2bxmOjvXz+Ts0ZW4223Az3Ezx63mY3NgCUe3m7HCWJvpEwZisVCHk7tXcXrvKhyOrJfXuWPrcDu5CfdTm+VltdaQ5bPVmK87DLVBSih/qYSWymey02/MACXO7FnF9eY8DljMQ/VrJYRRWYx3lT9TwlBzMAv1lDGZNJjFU4awXH8IMU7buFwZyRGL6RJQTacMxev0VsLcDspGmbm6Q9m5diYn9yzl8DZTqQqeqTkAs+lj2WKmy5rZ41gxcyQz1T+XYfmiSk200JzYYYLdwUUc2aLH0S06BJxdDB8aeHUlhleXQ2Tmb2HEMjJ857NrkRIe+zUIszHklKUq/VUeVCQdwmGfDja7NajK2Euk1wJq8w6RF79TitL4uZu/Pavhp9f1fPu0gn/93Mbzu5nyYJWTsJfKjONcbvKXe/abLWH01wbxsj9NmqVTAzaSH72dQLuFco0ghBQVmY4yP7Qu3xWxL+2pjeC01RwpGhLCoytNyVwoC+Uf77pkndWPb5v55y891BV6cLMrhR9fNvD6UQXv3zTy7H4JT24XI8A0LewY54sDuFAURF7MWQoSnGR8YGmOH4o4BzLiRFep0x9gKkIaPl0CUAWYluX6SiCtyPdHXOIhdf9amQTNvq50GWQuWKnYlV7uypQikUd3qinO9ZE7sbICfzqbE6THUIx4hcqztT5SKngf3izlw5t2fv6hh2+ftyBaS96+uiBjBLs7M2huSqG0LIKcnGAKiqJpaMqh/WI5F9rLqGkuJloRzXEnW854eRKQnMGGI/ZozF7Lwu12rDsWzAG3DKyck9lsG8muc9Ec9UnkiFck9pEpJFfWU9jSRmVnF3mNbbRcf0Bj/y1ab93mwtXLlDRWkZSVhrOnO+ecPUhJL6CospHOqzdpvdZP76N7vPz5Vx68/0X6TFtuP6WgtYfg9Bw8wsIJio0nIDaZ4y5+OMXkYB9bgHNyOa5pFfhmleIWl45HVBqBibmEphYSmFyAT3yuLA8/5ZPIXrtQrE4FYmZ5EvNd9qzdbYvVSVe2H7HBKSCY1OICFMVZZJfnShAVjDSlQCHBVACpuNJLsmTQhGiaSclPIiknnuwyhQTT3NJEerrzefXsY/WaAFEBplKMdKVQgqkY8woQFftvcYlUJHm/VSbZ6ZNbFTy8/tHy8vJhHQ9uldPTnkZzdQSN5aHU5PtRl++Pn8NmacUSzUUifKG/O4v8bHcaKkIozfagLMtV9vT+8KCSpIA9hLlvlf7R2z05EkzFWLb/UgGXL+dLdtrTkylBX2QA325LI8h+I5VZLty+ks2VPhEEouByRyYdjckfx7xNaXLU21abRFttHJ3nU/7DTnO41J1L38UcKVDqqoujrSJUhu+LLN/qLDsSgnZJT+rja6X4O+5G+XMlDNRGMUdLg5nqo9EaOgAjwUSVh6I+dAgGGmpMGD4IAzVljDSHYTFPi21Lp7LCSI3JKn9mwqjPmKknmr5GYKA+BJMpY9m4cAYWc/UkkK6Yrslc9SFYGE0g9Mwugm02k+huxc93ynh/LZfmdBsSnFZgu2US3scX4H3CDI+jC/G2XiItK32NIfBTy0cC93sLP73KpyrnCNHeywl3WYwixJL04M1UKU5wvVVY9qL5+8tKfn9Tj0iI8jq9QrJP0dAT4rwOL5tlRLhbyvGuOOgEO4qmmK2EOFkS4bmVMHdLYoQAyc5mLW5OW/By24GroyWuDpvwctmKp/MWXOw3YH96DbbWK3G2W885W3Nsji7h5KFFuNmvJyftLP1dUdzqi+FalziNuZEUvg8f53W4267E9exKgjw301Ljz/3rmTy/X8jlzjjpX0qJPsLpI2YS6LatN2bDKkMEoO7YuJBThy2xPriB3VuWsHWdCXu2LmXRXG2M9FVYYix2rCbs2mSK+WJ9mXxkoqsqTb/iB6M14q8YTh6BxUJd1izUxs1mvTwUHN1lyOmDczi53xDbQ3PZs1FbMu6zB5fhdnoTh7eYsGq+Gid2LibI2Yoz+5exd4MhK+aO4/h2UxyPrGGPxUwObZrNmb1mWO80xfbAclxPWbJx6RSM9YYhRiBLZ43B324Xa4210RyuJH1UplNVZIv8iplqzNb4itOb5+N7zJxj5lN5dCGVJ+2pWBgqM1tNSe5PbXcvI8x1P5ZLpjBd4wspTrKymCH/Xce3L5QfSuPJQzDRGSrB1HjSAFYajebYlrmsM1Fnvel4Tu02xWTq16yao8w+Cy1mjVdi86IB+J6aSX7EOuoUu7HZOlqmHLnt1SLMZjaH14zA/dA0whzM2LtKGfu9k3G3NiA3ZjMFSdvwOD2D3WtH0lrmDL928+FxBd8/Lud/3l/g+2dlXKjxoDLnNB21npKV9tb7SDD97lYO/fWB0lfaVuREoo8FsR4riXBZyfXWWNqrQqjMcpL5oc2FXpKVFsTbcHiTAb21sTzpK6StNJS+pkT+KcRHT2qkBUb4SfOSbWRqzLundRJA379qkvcf37RwuTWBOL99XG9LpS7bW4Y0iHLwxJATlOcFIKLSPoGpSEAS4Fmc4f3HJUBVjHcFKxUjXnEXYNrXniHBVDwQxZ5UMFPx8BIs9dO+VIxtxYi3pixUegpvXc7nwY1SmXcqdqWi41Iod//+oUcGqP/x0L5bwb1bpTwQTSVPm2VbzJWrZTQ1KSguiyG/MIqCkjjKq9KoasznfG8TEakxOPj7YO8fhrHFHnQXbMX8gB/zLB2Zb+nCTvtkTgcVcS6qBB9FJRFFtSRV1ZPXfIGilhYis7Kw8wvluKs/J1wC8YhM5JSrB67+gRRUVOPlF87J0+44uoRy1imIgKg0YjLyKL/QTnx2IQkF5SiqmslsaCOutBL/lFTic7OobW8ls7yCvWed8c+qwD29ijOxBdglFGEdlop9VBrOYSn4xotmmDwCU3PxTczEIy5DpifZBiSz2zYEi/1umKw9wsRZq9mwzwbPqETicnNIK8klOV9BenEmBbUl5FQWkFqYIV+XNJZ/ZKclwpeaQ05ZttyppuUmkl+eQUlNLvkl8bQ0p/HyP20xYlfa3ZEmlbli7Cv2kp/GvQJQPwGpAFNRXiAORgJMBTMVym7JTu9Vc/tqkTw8CdV3Sbobl1qSCXDcSlzgYelPFkyzuy2V7HRnKgp8KcvxlGBaV+DF+4dV1Ga7yDFiR1W4tM2I77/UmSn3pYKZiksw08s9WfSdT5Z51NGeu+RnXQjvxOdRdOhe78mjqyWN9qY02poVcmcqwPR8VTQXGuKlD1WuE7pypIWmt1VBd2MCIhilvepjup1IucuMPYq3gwX9HenUF0fJ56uW8gBMp2ozV1udkZ8pMXnkMGZpTZACJOHVNxivgqHWaDmRE8/Crcv0WbdwErO0hqCj9s1/ajNHyOf2Il011s+firnRZDbMn8qWhdPYNH8KdjuXkRV4hgT3vQSdNqco6iiF4fuoST5GTeJhbLdN5rjlFLytl2G7y4ijm/Xxs11NcfJpbncmyJrHh1cS6bvgS278TuL9VxPiuID00I2UJOympfAML2+k8Murct49LOR6axRFSackeAoA9bNbhe/ZlRJEU4L3EOS4Vk4NxGEnM+IEpSn2ZMeeICPqMLnxJ1BycdyK87ktuApAdd+Jp9sOXBw34+xgKd87d3a9/Nrf2wo34RE9a4GHyxaCfPaQHHeC21eTeXRXwd3rqbTU+ZMcdRgv5/W42lrgbreeUJ9dJEYcpTTHhfM1QdQUe1NV6CnLnhsrwzi2Z7kE0nkzVKWad/uGBezfsQKrzWbs3baEnZYLOLZvNUtNtFk4R4N1Kw3Yv3MxOzfNZYWpFvOnjEaqZbVEFJ8Ks7WHYWY4loOb53Jitwle9mtxs10mgynCfTfIYAoRTnF011RO7TPC9dQadq2bho/dZo7vNGG1sSq71hqwfbUedoeWY6j9hQyPP2g5R4KozZ7FnLQy4ez+pXjYbMDDxpI1phrM0vqS6RP+gsYQJQRznKr6V6ZpDJA1RXN0lBFN8mInunu5Lknue7HdNJOd80dzfLUW241Hss14DCv0BzJb/TMWTBnMoqnDWG40jhWzx3Jsh6kMfdi6Uu9j3KDOYJYIsdE8DSlgmqH6Z8lMzaYNw1jnK3mtnjeOdQs0ZGfpIoOv5ah348K/EuE6n5wICwJOGbFymhI2m9XpyLelOHIn2xZ8Q4TjUpbPUGLHssGc2z+FjDBLzh2cQn7CTvasG8GuNcqEuizj52el/P5tLf943yKB9GJTAPXFTry5nyOD7K+cD+L51VQ6yzx4fjlV5gtfbw6VPuRo19WkBVqSHWHF7Y5k6vN9pGn9Qrk/nZVB3GxLlPsIj5Mr6G9M5HJzEm0V4dzoVPD+eQNvH1XyPz+1c703mfJsJ37/rp3X9yu435/Dd8/qeHa3lL9/e4GqHDcyo05ysSZajogV4Scpz/BC5PAKNipGvJnxjmQnOktm+glMP/pKhbfUR7JSAaIN5eESSMXO9GpXzh9gKhnp5SzEXYY3XM6XQendbQryMz0oLwyQgCqA9N61Yq71ZMmUHGGHEUENP727KJmOGB/+8G0br5418lxYM57Wc+9OOS9fXuDOnWru3K7j3r1m2trySE71JT7RW0YJFlRmyBGmb2Qoe06dwWjZJpZtPc0hp2T2OqRwNqgC9/gmvJMacI4swD40Gf+0bPJbznPh1lU5zs2qLCGrsoa4nGKCEjKIzSzELTCU9MJiFLnFOHuFYGsfiIdvMnbOkfhFZRKSkE1SQTlVrb3EZBYRrChEUdNKRv15ksvKab9+hd+Be2/ecNTFC/uodJxTynDNqMMtq5azsbkE5FThFJmBW0wmnvHZeCVl45eWT1BmMUEZZfinlXPCK4mdNiGYrD+Gir4Zy7cfwS8xlai8TBIKFHLMG5+VKEE1MTeVuKwkihvKqOts/MhMizPJKsuiqDaf0gZR3VZCa289Pddb6b5cS3tbFi+eNEl2+vBuJdcu50l2KvJtBVN9cq9aAqoY94qfkQDUT5cAVOEblez0pgDXUvmzF60vAgDF862lPExaUUTpfLjXnj9ydMU4+Hx9jBSntdRE0t0YT1GqPW9ulcrDZNC5DQhx6H3RSNSTRW9HBpe6sui/lCfZaZ84uF3KkaEQL25VkBFpjddZC3ra4rnSm0H3hSREwMOltnTpM21vUSCvukRaKqNoqY6WWb59AnC7suWuvrct9T9JSZF01IbQ1RBK3/koGe0ZF3qA1tpobvYUc3TXctQHK32Ma1UZzFoTQzSVBzLm68+ZIjJ6Rwxkto6aTJ1bYzIZiwWT5TRv4TQVZmgOkWs3kas+RW0YhpqjWGowgXVz9FhjOAlLk6nsXTWH3ctmsHvZNE5vNcXzyErcDi0k4NQyQs4uI1mk8bmv4fA6NU5tN8D/7Brs9s2Th2+xy0wPO0J5xjkZdXuxzo/WcheKkg6QFbWdJH9z6rKP0VvtzK02f55fS5AM9vsHeZSkniA7+jChLuslkIa7bZT70NLUM3LMK8A0wH4tyYF7ZYBMbbYbBUk2ZMUcJTv2GErnzm1GXM7O2/DwsMLTczdubjtxd9mGu/sOCagODhvl104Olri5bCY0+CDR4cdIij/Blf547t5K5ea1VOqrfYkLO4yLw3qcbNbhenYjXo5b8ThnSWTgAaKDD+Hnuhl762Uc2zsP6wNmHNyxmFWLp0rbyclD67E5asnmtXMlS928djaWK2eyxXwWCwzHsH2dIfu3m3B0zyIO7jRh29oZbF8xDesdZmxZasCCqSMwnTqUlfPGcmLnPPzOrSfUYyMZsQfpbwvn3dMS3j4q5OnNLCK8N7N7w2RO7l3AFHUlzIxGYntoGfssZ7NusRa7LGbIMH5n63VMGq3EnMmDOL5zgQS2HWumSua6aZkO86YMYfV8DdYYT2Dv+tmsmqfBtPFfMG6gMDkrsWCmqmyRF2Nhy4VahJ7dRLbfPpZNVMJ61QR2m45gy+whFAQflmo1Y82/yED7GWqfsWquKivnjJN3kWnpfnIde/8/qs46PMszW/fZM7sznRpSKC7FW9yKu7sGAoGEEMHiIQlJiBtxT4i7u7sbCQGCu7W4tFRnZs/e+3eu9TDtOeeP5/q+0CRAePve77rXLVtmsWD8Ryz7qp8KhFg3e6jalcrrlMEabFkyHK31E5k24j8Qyldn40xWz+yH/o6xWB+WWC8NtizUYNUUDTZM06Aw3JCUM3vxt1yhKoYkIcnddAE2elMwPzCRQ5sHsX9tP0Ic12OrPw2/U8uxOjSJtmI7vr0cyy/PS2mv9qaj5gxtVV789LRYVayVpJjx4lY611vDaCpw4kZbOHe7opWtqirNgpKEEyT4H+BctYge3ClLd6KjLJDzVcE05XtiqbOAjHBTeqrPKiAVf2lvW4JKNZI97d/fNFKUfkpFFv74tJ4X98pUhdWrBxUKcJ/dKiYu8AjFyY4UJTnRVBT0vq800VnVqyWEWSsAlX3p77m8Sr2b5KZA9PeqNVHvyjQqohIBUtl9SiSc3DjfC0PSVZC5gKl4SkWAJDdgER3lpLkpQK0tD3v/+Z2pKuRB8lnfPKnn17cd74P6H1by8kkdUr327Lsa3r1t4/s3rTy4V86zJw08fdrMo0cN3Llby4MHLdy500RNTRLhkS6ERrmSkhtDQFQgx09asWLrHmVtMT4dgZ1/DhYeKZi4xikbi61vNObuvnidPUtJeyNXvr1J181zSoyTkJtGQU0V1e3t9Ny6RV5lKcl5WaTm52Hn5o2xtQfWjqEYmnvhEpSCb0w2/nHZxGRW4uQXp+wxwRllROdXEZyaTXppKV3XrxKZlo6NTxBWAXHssfZlr10ox/xTFOVrFZiMS3Qh9mHZKvXIJiQFp+gc3JOKcIkvxC4iB4eofI56xLDbzIPZW3RYq3MUx6iz+GUkEpGfpHy2Aqai2o3OiCM+J4mcynzKmiooqiui+XyTmt5buutp6a6loa2C+rYydWobsmltSePB3Soe3qtWr9IlKpSqCotvjOHqpRxV0i0T6sPb5erB5/+le+/05iuaV2xS8rAkCm75PHnf3ZJAQ3EQdYUBFKe44m6zW5XTn2uKU9YnmWDl2uhpS+LhlUISQ47T23CWVzcL1W5ORKF3ejK5ci5Nxfr1nEtXYKoAVUrnu9IU0F5pT6GxNECt36qLfN4Xg3ckK0Dv6UijoylJAWl7QzJttXEKTEUgVVsewrn2tPciJNmhtiQoy4wE8UsCmQSotFT4q6Lw1pow9fd5eqeOpHB7xg38E2P6/4lPNDTIjvMnPsSdMV98SJ8/S//pAL75aghSKL53/Wz2rp/J8plDmTX2M6aM+kxZZiTKddb4EXw16FOWTR7NlnlT2LVkBprLZnJw/Vz0t8xn5+JxrJnxOQZbpuJguJTThouw1pmFrd4MPM2WEGC3TiXyxfjoEOK8Fyez9Xjb7iLCU49I70Okhssu1I87XbHKmifxuK2F9jy6EKGyem93BPLgQgS8q+bVnQzy4o5RmXGKlBBD/Oy3Id833H2vKgbIijImzG3vH/tUoXlFgJQbZ0VS2DHig43QOGW9W4Gom9shBagCqu7uuri4HMDGZieOjvs4eXI7Tk77cXHZj4uTFme8DhFz1pKKch862kLovRTNxZ5Yyos9CPE3wsF6F6csd+Jkux9r4204WO7C1/UQsp91tNqOrckGdHbPxOjgYrR3L1STqUyhJobbOaS1SlllhMbds20u2jvmKyp48ewv2LNlGnu2TMHEcIUCaBvjDRzTWojJ/sXYGK7Dy0aTU0fXYqqzkNMinjJahLHuLI5oT8bqyDzsTZZzxmEbQqeEeuhy7MBCDu9dgIOlJhNH/gdL5w7GcN8y1i36EqP9yzm0eyFLZg5hZH8Nxg3UYPfaKRjsWcy6BaPU+9H934t89HYsRGv9TIwPrOHU0R0YaC5lxdxRfD3yw/eK3AVjmDPuI+aO/g/8LbdxrTIIz8Pz6clx5EqhJ9tn/JVTWrPYOPVjfM124HxkEyum9CPATof7PUW4mO1SoJoQYIGV7moWT/qUheM+Ydnkz9WEOnnIn1kxdaCyy5w6sgF3y93KPrNh3ii0Vk1j84JhHN42jjD39excroGb6XRsdafjZLiYH65l01Pswa5FH6O/eSgpAVrAObwsl7B31Wds/ObPOByZQ4jjRoy1xmNxcBIn9SaqabW3yZPr58LorPWBf3WpBxYp/n73XaFKPBK71PPr6SqwQyr97nXH8PhCLB0lLiQHaKu6P8kJrcz2ojDeTu1Je6rCyIkyw3DHFKXmvdaWotJaWspD6WmK4VZPGq8elvDDkwq1UhBgfXm/nO+/reHOxQwFpP9408at7lSC3Q5SkeFBWqQV1Tk+5Cc4kpvgpPJ4BUB/Fx797jX9f8FUOktVS0xBACI6qisNVVSvTBsScK8o238nHnW2xSK7UxEgialebqgpcfZkp7qqvalMFSJOkSd/sVQ0VISooIZ/vOvi2qVMvn/ZjLTFSAPO969bePmsnvt3S3j5vIGXz5v4TgL9v2tUsYKvX/Xw6FEbd+40cO9ei1L5llelkpkbx9n4SIzMTDlieQo9Ewf0zV0wsvHC1juSwLhMPMOjsfP0JCotnqq2Kkob8mnpKaO2NY/c0jSyizPwDvQmMukslc1VKu0oKS8L16BgXAKjcfRPZM8RB47aB2LhEYaxcyBWLiHYe8fgEpKOS1gajiFxeEfHE5+dTW5FCdmlZRQ2tBJX0ohfRjV+mfWc8I5TPlIda28sfJMw903+v8c/DcvADE4GZ2Edko3i1mV8AAAgAElEQVS5fwpmfkkYe8ewWMuAhZoHcI9PIKokn4C0OMLTolXKUWZpJiVNpVS3V6sIwZyKHCpayiipL6SwJoeKhkIa2supay2lvrmIhpZi6ptzqK2JVT2mAqbfPZKddZ3qD5W+0ramWITuFXWvPCCJKEmCOCS9StG81wu5dTGX25fyFHj+boeSyVRoXwFUESKVZnjQUx+Hs/k2MmNOqV2qXA/lhdLUEqlA78mdCoJcDyDTzutbRapFRtT4AqZXu97vTUUdful8lgpvEFuL/Nlk+pTQB4kqtD2xhqw4G9pqw7nTm6dA+uK5DDqbk2ltSKKzKVXRvvUl4VTlByi2pbUpkcbGeBU/2NWaqBTmHXVnVV1hV1MUty5lUFcWgCjQKwp8udiaTlV+CCvnDGX1/NHM/XoA4T7WvHl8AXszbb4e9THrFk9ixrjPWPnNSJbNGMLWZZOUO0FyzMUVIQlJs8ePYc4ECbOZpPz54tGXJq6N8yYpe5+VzgYsddawZeFwDm+bhrvZRmz0F2B6YBo+tutID9OjIO44kWf2EeymSbSvLr4OO3G32kaQ80GVwZ0YdIL0sPeAWpJkSVKgDuXJZnx7MZYH5yK53R7Ms+vxPL0RjzBpmVEG9NQGqCJ1sb+I3UUic3OiTdR7Ue0GOOwi1EWLvBgbChLsqcp2IyfeitQIUzSExpUp1N3lIC6O+9UkKoDp6rwPZ1H3umor8PR0P0hQgBEebtqEhRwnNdmehvoQmpsDKC11prTEjURB6ThbfD0NcbY/iIuDDjZmu7A23YGnsy425ls5ZbYVO4st6GjOwcRgDTp7l7B323ysTuzmmN5G9LVWcuTganaun47O7gXs2z6bDcu/5JTJFkqyPMmMt1OZl56nNQk/c1ipjY/tn8nhXULLLkOUxvJE4mmzBR/7bZw8sohjB2ZgsHcq6xcOVOXcLpaanDTcypxJ/fnyCw21fzU4sIah/TWYN2Uwh/euUoqz8UM/ZNSAP6koraGfvi+y3bhkChOG/IVJwz5E7Djr509Cd9sy9q2fr7yk25ZPxdn8ICeP7ObgjkVobpjNrjWTWfjVp6yY+gnNWS78fC2Ly4XOXMw7zfP2sxhv+ZIDi78g4tQertfE01Ucgeby8ZhpryQlxJb9G2cwb+KnCpBXzRqMsfYKFk74DKfjO6nPjWLH8inMGv2J8q/OGfs35VddMLEPq2aOYO3MkUqYdGjLWBryrfG3X4jj8enorh/OwtEaOOsv4lKZD52FzuRHGrB90X+SE3EArTWfsmiSBqePzuZBdxQ/PchDJsoYrx3sX/cph7d+Tl60ruq3/fVFmSr9fv0gR5UOX2wK4t7FeFXRJyEPvU0BtJW5vvcht0fQWe5JSvAhqrNOq4uxONWFVhE95Hpyuz0JL/NNeFluQdSJMpF21UVTnOWqMnnlf24RPV1qiyQ58ii/vmzkzuUs3jyqUvGBD3qz+efrNkpSnNTF3lAUQGGyE/UFAX9k8RaItzTWhZRwOyU2Kkj1JDvBiXSpYIt3VMlIAqZStSbKXfEMyjQhXlEREslNUqZTmUblSL2W7E6F5pWbruzD8jM9FaCW5vspZa9MH/I1l7vSONcUqyZTiar78U2bAlIB1F9+6OTH71v5/nWTOm9eNqlwirev23j1ooU7N8vovVDA1StlPHzQxNMn5/j+7WVePr/Is6e9PHp8mVt3e7lx/wadvRfIqyjnbEoqxjbWmNhYERoXTlZBCqU1OQpQahoyaT+Xzc07tVy93si3310lISkMv0B3iipyyC7NIjg+kvC0NDpuPsbCIwI9Gz9MPaIxdg/DzDNMhT1EpZWTVd1FQFIBLmExOAeGkF2ST0F5AQHhAcSmp1HQ2EFe03nSa7tIrz1HWHohziGxmLqHc8guiMP2oejZRWDkGIfFmSxMPFI54Z6I+ZkkDJ1CMfeOQMvcnvW6RzjpH0xwVg4+8bFqGi2uKyCtMFnVs6UWJKms4tqOKiqai6lpKVVHxFqyY65tLKCuMY+a+hyaWnJUNq8kC0kxuIDpk8cN6ud8sTtTUZ8SZC+7SSkMl4o2+fe9LZTutSJF6QqI3b6UqxgHCeRQYHu9UAGuNAr1doh/2hu5xqWWTRKR6kuDKMhwVRm9wl4ogVuON0mhJoS5avPtpUwu1YVjobtAqdHvXcrjYlsylyUkvzkBmVAFTCXU43x7Mjcv5apS8YxoG+XGuHEuVbXIiNBJ0pbOd2RwrjWdzpY0Rfk2VZ6lsSSUuuIQaiojaW9PRcRuLXVn1bXZ1RxHe32kOhc7pNQ8Tl3f4pe+I/2qHVn4OR4iL9lT7WM9nQ7j6XCIhHA7uhtTyU3yYNf6KexY+zXL5w5h2pgPGfSRBvOnDFdNXZNHDmb2+PEsnDKFb8aNZuO8GRzYuJw1syey7psJaK6egZnuWsUEHt4xmx0rRuF9agcOxqsIddciKdQQf4ctxPhrE+y2A1frVYqBDHLbg4fNNjxsduFpvYszp/bgab1D2VyyI40JcdpFgo8OuZHHqE6xoSzRnIZ8W+5dCFcVox0V7rSVeqpubxEc+ZzaQqirJrkxpsT66pIcbEiw0x610y5LcVKsV9bZk5SkOZIaYY7GSfMtnD6lqQRIitp12KOA1N35/RQqgCrgame7HS+Pg/h4HyIjzZFayU69kkFPTwwlJS5kpNsS4GdAeLAJHs56nLLag43FbqxNd+Josw9H273YmG9XACpRgpbHNqK9cy77dy1AV2up2osa6a5R4feH9ixCf99SjuutVp9vZ76NJJkuCv0oSHciPvwE/u77sTVepqZNS4N5WOh/Q1KIEVXZTnTVBBF1RpfsOEuSQk+gt2saO1eNYePiUXwzsa+iH9bOn6xCHsYO/4hJY/uy5JsJjB/5GRNH9WfpN1+p6ML+H2kwtO9f1PsJw/szcsCHTBzRj2H9/6w8rZL3K+rh+RNHMG/iUGaM7KsEUfs3LuTwruWcPLqTw7sWs2HRaBZM+oj9a7/kel0Y766l01t4mvt1Ptyp8WPfgr7orRrBo9ZUnvYUEOagx/IpYmn5nHEDNJRyWGrbhEKeM+5j9q6ZyorpQ9i2ZKLyr0pa0vyJg1RS0spZw9g4fwwLJkoV0mcsGNdPBUTobh7DhTovIt3X427+DVorBjF1oAaLR2tgrzuLyiRTHp4LxcN0Lmbao9HZ2If54zUojDNQJmiJEqzPtlFN9eUpx3EwmsqR3UPpbfblWmeYSrj655sqGoqckT3F05sZvL6fp0I8pDHmXJWnAtXehkCaC11JDdFXwSACejV5PgpMuyvC6CoNxFZvMfE+BoghvbM6UiXEdDRE8eDme5Wu9KVW5zmrkIcfX9Sr2EARIN29lKkKlt8+qCQt3FxVXJWmy5OjPY0lweTEO6qe0vxEN/IS3MlP9HgfzJAksYFSAv4eSKUEXMBUukvPNSao/ZKAaH66q7K3SFuMTKcyicpEerU38w8wlalUAszFEiMCJAkal8QbofwETNX+qzlORQdKLN3P33fw9kUT7163KjD94U0zb1428PZVo3p986qZp9/VcO9OKXelTPxxE29fnefF0w7u36nlck8BvecLuHaxjGtXqrl+rZE7d7v49tl1nry+zbNXd2ntrKKprZT7jy7w5vtbvH59leff9vDwbgM/fd/Ff//jKs8fd3L9Yi3XLzVTX1uIr68TNU1lxGUk4B0RQWRmIToWLpxwCeG4awiGDmew84vAwTMI/8gk/KJTlIjJMSAArxA/MvOTSc+MJiTMi+BIf7xDA5WdxSU0nPDUDGIy0sgsLSYkNR3n0GhMnAPYbWjLVh1b9h5xZf9xD4xsAjBzCeb4aS+O2rmw8cAh1mpqccrbl9icQhLz80krkCq2WPLK06hoLqK+vYKS+nxV0VbRWEB5Q76aRs9dqqf7Ui1NraKEzleK6PrGTFqaUxSQXBW69la5AlUJzLh5VSrWcpSyV0BL0pFkQpXpU4BUplQ54jkVIZJUrUkW802ZXGVivZr/vnbtaoEKua8v9Cch2IRg90PUFfpTnCm1Z4Fqny77eFWgkGiPn90u2kt8eXQhXSlKs6OtuX85V4GpEry1CoimcK4jSR1hPSQoRK6t4jRX3Cy30lYWrGrZZJqUrxHw7enMpLs9k86WFEX1CpjK9V1eFKymUpnE1Z64NYHzrQlq5ypVgSKskyo3AXK5ri+2p3HzQg4V2d7qz1RRFMiQzzUU89hQFoKDxVaCvfSxPLqG1QuG8M3kT9m5fiprFo5TZSED/qrBugXfsH7hQuZMmMDquTPYsGgWm5fOVmUlW1fMYP/Wbzi6f7latZkdXo7Rvm+wPbYaC/3FeNltw89JHBlbcLZaxZnT6wn12kmIpyZWRgs5cfAb7E6s59TRdVgbrsbJdDOhbjp4WG7G8fhKUgOMCHPcQ4SzlqpOK0w4TnuFM9fbQ3h+M43rbZFqEhWKV5rRgpx2khpqRGKgPqUptooxKEqwIcpTjwDHfYR76REbcBR/p31oWJxYh/3J7Uq9K8IiUfF6uGjj6bIfV0dR+Wrh4bIfe5vt6r23hzb5Oa4ItfXwXjE3b2RRWuJBfKwlMr2GBpni7WGIvbUWVqY7MDu+BWf7A1ibbcPZbh+Wxps5ba1FQpQ9xw6vZf+ueRw5tBqjA6uwOLIZy6NbOLxvMdrb57Bu8UjWLhqGmeFKovwMiQs+SqTvIaID9VSOsK3xUqyOzcfl5ErSo4/x+Fom0p8pdonDu6eyb9Mk9m/6mjXzBzNl5H8yop+G8pJKDOAXH36gQu0njBpI3080GDOsH5PHDWXEF58xanBfRg7sS/+PP2BY/0+RQPzxwwcxYsCnjBvWn8ljB6v+U8kLnjzyC7V8H9Pvb4zp/wETB/6VyUM/ZOXMEVjqb8Zg90I2LxnJ9uUj0ds6QeU/ZgYcoOqsITwtoSLqGJun/5WRf9Ig8rQ2ofY6ah86a/RHTBn+ATNG/40l0wYxbdSHLJ4qLQwforlmGvs3zGXuuP7MGN1XtdksnjJCycxnjemvQHX26D7Mn9Af8XeN6aOBrcECrjUFYHFgLBvnarD8Kw32rRyMldZUts7+Tzry7HhxJRqno1OQAPw4n3Xob+tLjPdm7ncHc73Fl6K4IzTkWHOnI0SFOcj+tKPcmfsXohWg/vyshPuXErjVHcuD3mR+eFzED98WcPdiDM1lLjSWOFGVZUtujDHpoUdoL/WjKMVR+deaC/240ZJISYwNVtpzqc90U3GCIsyoyDuj8lC/vVusBEY/v6glJfwI1zpjeSNAczVPFYULJfb0ejE3O1OJ9TuiDO0laa6kn7WmKteHlChbVf4tpd95cW4UJHkqIZJk9AqlKwD6Pq/3tIob7KiNVVSZtHy0SCxglocqBBfVpkynAqYymV6/kq1AVQXbXy2kNN+H5Fg7inN9VHDDjd4CBcLXJdChMwV58n/1ba36O8k0KkD601sB03Z+eNXE2xcNajIVQH39ol7tUN+96VCWGcnqvd5bpHyHkrsqftfv7lTz5juZcDt4/aKLZ087ePqskxeve3j34xVeve7h6ZMOnjxu4cnDZh7equXG+UKVxvPkVpHaQ5+vS6QwKYCGolR6GiuIi/SluCCd8poyjK1P4hoYiXtIHM5BcbiGxVPU0sG5Gzewc3bE1csN7+AA/CKDyS7NobKhgEsXq+loyeTWjXqu32ym+VwV+ZV51J1roOdWD1fudvP65wc8f3ef20+u0djVRExqCp7+oVif9kLH0AwdwxO4+vhh6WDDoSO67NbehcUpC2KT48krKaKstoz61nLK6jJp7CijuqWQlq5Kuq40UtWYT2t3FXWtxVTUZtLcUUJnd7kC0s4uCcGooKoqifa2dITq7L2Qo1KnJGno8sVcbl4rVm0tEq6gQjRkCuxMQRKSROUrk6raj94sURYZoe9vXslTYCpqbAHVG5dzla/4mgiB6qLJjLbB3/kA5VmelOV4UZZ3hqqSUGrKwtV1JyzKGZvtKoHn7c0i4n0PE+y0X1lkLrWn0N2WpKxX0lcqk6kC1JYktVoQtXhzWQieVtsUBXm1PYnO+milTpbJW0IfLpzLUlm9skNtKg2jPOuM8kBLhq+AqRwB4J6299OogGhHUwItDbFc6MqgpS5GTdNSA5cebYGjxQZcT+9hQB8NnG13knzWAgvDJSSEHlcnL/U0qxZ8wbqlozh6aAOH9q5l2rihLJw6kelfjmbKyBGsmT+LjUvmsHHpLBZMHcG21TPQ3DQDg31LOHpwCXZmm7A1XYeJ3gLsJI/cfjsOZmuI8tMj0u8gjlbLEWFpqPc+nCzX42i2kdOmmzDRWYKVwSq8bTXVg7Wb+WZczTaRFmyC/ylNwl10Oet5kLRwPa60+vPsRiovbmVypTmCzMgTal8qSl4RH6WEGClRkih6w93eF7n72+/B134PZ+z3It21dsYb0DA/vvYPMBVLjIfTfrxdD+LlcgA3oXmd9+HnraeAVIDVyX43yQnW1FWFcuNqDhcvJJOT5UxkuIlSA0eEWhDoZ4yb4yEcbLSwNt+Jg80ezI5twOmUFpYntiraN8TXFIODKzhhsJ6TJjsUkB7VXYnuHqF2Z3JIcx6G+xeya8MEzI1W4uu0h0A3LYI89qofnPzwAtx3EuylyWnLFYR4aVGa5UB80FEC3Q6wa/VYJgzRYOIQDZbMHMT0MX3Uk5EEL0tI8+BPPmHc0CGMHNSPsSMH8+XwLxg9bBDDPu/LwE8/ZsTAzxk1aCBjhw1h2Of9GNKvD2OGDmLcsC9UddvkMUMY1v9vDO3zN8YN6se00YNUKpJ09n095APmjPuUbcvGKxXuyln92L1yJJsX9OHQhhHsX9kfq73jaUw2I9FtD9kBRhhsnIivxU5sD69j1si/sGDSAJbNGMGab8ayYfFXzBrfnwVThih6WaIG921YwKLJw5g07CMWTRupYrnGD/pIVcTNHjtAAfqCif2YO+Y/WTL5A9KD9SmMPcqyryVIQoNF4zU4uGYgJWcNMd87irfXYrlYcQov02lEuCwhym0Ze1f/iX1r/oLO5s+I8thIe4k9z68m0FbkSHmiCXc7Q2kvc+LpjUSk8Pv2+Rgut4bz+GoaPz0p519vG+BnCVYIp6fRj/u9cTQUOJIefpSqdAd6akIpz3RTpcVtJYHcbU8i2lUbD+O19NZE0F4aoDofy/PP8ORhpTq/ft+m1LxxAYd5+6CUJ3ff12TJ0/vDy3m8vFlKS5E/WZGW/PashabSYFKjrVWFWkyQmYoLLErxVGCaHeNIdqzTH7RuadYZynN8kVdJg+lpTlZ7zt/BVMqf5aYl+y6ZTCWsXpSTN6/lKvGRCFNuXSmgMNuTzGRndfMRi4zsuiSwQb5GblRC8wqYvrfGdCiqV4D013cdCkwFUIXulSD/334+pwD1zs0CutoTldJU2kPu3qjg7fN2fn19Dn66xK+vO1Xt1w+v2vjlXTfvvu/kh7cdPPm2lp/edfHsca3KAX50o5Tfnnfw07fNPL9ezO1zcXRX+lMW78jFigRacmMpjQ/iWlsZt3sbqa3MJTYunKKKMiLiEzGztcMz0I+O3k5qm0u5dqWVW9c7ePzddR4/vcGPvzzm1asr/PDiPM/u1vLDs05+fXeVn399yNO3t3jx4wPe/eMxb95d59f/usNv/32Lf/GQf/7Pt3z/4wN++e0lP/38mgcPbvDw4U3gF3759Sk3b7dx41Yrv/z8mF9/e8aLZ3d48/Yhd+6f4+qtZnou19LcUUTruRLaesppai+kvbuMtq5SyqpTkb2y0No1dRm0tBVwrruMlpYsmhqTqK+JVgB673aFAlABVgmWl5SguqoImuqikY5QObKnlKxcUf7KblTiBSWnV/zCMo0KkMq5cSVPgalQvbK/vN6ZRnmmB76O+8lNcKC2wE+lYhVm+1CU46tYEekbDXbSItBhF99dyKAs2Q6HY6u42ZWmREjCbojoTe1ypQtXptO2ZGQv2nsuTU2jIY77iXI/pB4oW6rC1fXS3ZnGpe6c93Rvu9hmUmmrjFLhJQVZXlRXhKmp9PedqXSvyqpCFOlNtbG0NSbSJaEOsluVbuAL6SSFHWHX+mHs3TaJgX01WLvkC3yddhMToEdFtiPpZ43JSTiJveUmJn6pwYI5gzA6tFEVkwzr91fmfzWO5bOnIt3SaxfPYN3S6SycNUqt9zQ3T+eIzhJOmW/CzGgZZkZLsDZeRVKUMRkx5pw2X6usly7W6/E+vRUfp+142G1WQG5+WAKF1qvjaaOJn8M+4vyPKiA9fXwtIU4HCXc9RKLvCYIc91GWZqXER2/u5XKz4yw32mMoTLBCIgJlb1qdJferY0rVmxFxXKUAinUp2lufYJcD+Dnux8N2N3bGG9GwNN6oBENup/fj7qiNl4sOvh6H8XHXU8Dq7LAHH89DuDpq4ea0DwfbnUSFmZCd6aoaEkoLfYgIMeaMh1C7uwg4cxxfzyN4ueqr4+6kg43lNqzMNitQtbHYhcnRjRw3XI+B7kqcbLU5ri/q3tUc2DUHo4NLsTq+AYN9C9REGualr6bS+JBjJEecIDn8KFG+Bwlw3YG342bcHTZzQn8uhgdmc3D3VJbN6sum5WPQXDeVbasms2reKGZO6M+CacNVldr44Z+rurUh/T6j74d/oe/Hf2XS2FGMGvoFQwb0Y+QXAxjStx+jvhjE6EGDGTt02B9gOnHUcEYM6MOQvn9TE+qXg/uooPsJwz9n0tA+jB8oAQ0afD1Eg1lffsC8CR+yf+NXrJz1GbtWDGPZlD+hvXYYpw7PxvXYAs46bsVJfz7ni/1pyvKiMdMPW/1NTBz4H8z8sh/rFn7FzPEDVRer7BvGD/kbQz/TUOApEYfyJDd1TF/mTRnK3K+GqPLeVXOnsG7e12pqXTDpMwb8SQPTg9O51hRIatABVk7RYOlXGuxZ/ldCHJaR4LmGRK/VtOcdw9FoDH4nZ9CQY8hxzf6YHxxGhOtKTPYNx2DHF+xb+wkxntu53higFvgPz58l++whavOsuN0VoZ7sKrPtudwaCb908vR2Nr1tIq2341y9N8/vZnKhMZDceHM1lfbUR1KW5UZVnpeqV7vZHIf7iTUkeutxuTaS1mI/GooDlZVE7AgCqP/6pZurnfHkx1nw9xf1ygYjlWy3ejJ4ebdCgWlRgj2N+T788qSJ9qoIkqOsyIg/TVyYJUXp3lRk+VGQ4EFW9GlK0rwRWleOKBzPN0l2aTJtNVHKEyggKDVZAqgiwJCiZ5lCpHpNdqQCpjKZylQqXkRR8xbleCG7UnWT687iXEuSonlltyVTqdgWpBlGatekl1X2ptK8I+fHNy38/H0bv/3Uzs8/tKjYxMs9KdRXBSOpNo/uVKiAh1++7+HHl+389rKDX1608Oa7OkUdy9f/9EMb37+W6bZBtej8+LaJ273pdNQEq/zWnx/X8kLqxlqieX01VTVkOB1aTFmoDdfL40j3NqEhzYee6liud+bQ055L7/lKbl4TgL/Hu9c3efeql2f3m3hxp5EnN+p49qCT65cqudJTQlNlDK3locgDktQBimjlwb1Wbtxp5cKVWu486uDhdy3cf1jFs5d1fP+umTdvW7l3r4oH9xt59rSL59918/MPN/jx7TX+9fd7/Pi2lx+/v8T//vMev/10nR9eXeC3X2/z88+3efvjDe4+bOPdL7d5+fYa9a3ZNLbm0dxeoF7V+9Z8WtvzEWq3rCKBhoYMLl8uVzvTuroYrl8p5rtHjVy7XKCO7FAFhGRqa6yLVhm2tZXhyoMqdOgfkYO3St8nIV0vUntSNZFey1dgKpOq7MjvXy1UMZgynQa56pAUZk59UYBqIMpOdVdJXLJiECo43s9QgemFykB6KoKw1V9K179r2oR+lXQt+f0ln/e9CClVAaoA4Y2uDFKDjAm01VQdvtJvKt2m7S3/BsOWZFpakhSYnquNpb4oWKnOq8pC1L5U6ts6GqLV+R1MxU7T3Zml9q1yHYsS/VJrNEnhBpy2WIX50RWsXjoUF9vtCui0t4zG/PBc4oMOkxVvzpXziargoTjPn+rSaLatm8XkMf3YuXqByjzfsGQ6axZPZt2yKaxePJ5DexcqPc1RnYWYH1mKm91WHCzXEeKpTWmmI+VZTsQE6ONuvRXf05pqwAp024+vk5YK4tHfPRtXyx34ndbGzWon/qf34+ewF4cTQvuuUB8nBZsS6qzLGZudZEUdozzdUj3ki5JXcukjPQ6o7F1RCMtUKsAq+1K550isbk2WC7E+hkroFOiso1Tap822oWFlskWBqauDtgLTM26HCDxjpI4ApIfLQd57TN/Tv+I1DfQ3IiToGNFRFsSdtVKfc9p2L8ZH1uFkp62Ou9Mh/L2P4O1+CAmGcHbQUsfN8aCigA10VuNoexA7S030tBdhaiiAuhwbk81YHFvDktl9WTK7D06Wm/Fz3kti2DHSY0yID9ZXNXGhXrvxddmGu/02nGy2YWq0koM75ygl7rLZw9iyYjLmhjvYu3k+a5dOZvWir9mwchbfzBjHuNEDmfDlMIYP+pyBfT/hi36fMqh/H74cPoTxw0fw5eAhjBkynGH9P2f45wPUhDqoz6eMGz6EUV/0Uy0xQvcO+/xDdUYM/FBFEk4Y9CdmjJap8iPWzRnA+m/6s2vFCPau/xJPq02qDm3l9A/Q3zoWR6OFBNpu4ui2iRzbMRkb3WWEOemzbtYI+v+HBpNHfsaSmWNZt2Qm86eNYepYAfcPmTSyP/OnjGbS8L7M+mooE0Z+zPSJA5g7ZZj69cXTZLH/JbPH9FWRgsun/5mSZBPV4JMSqE1W6CGywg7gYTaD04ZfUpGwm6vVxuSHrcfTZCyBNjNI8VvH4S0fccZqFo7HvsZYaxiuprOxNfiabQv/zK6lf6PgrBE3WwMpTDCiLPUEF+p9eHo9jYYiV1rLz/Dt9Szaq32UZaahxImcxGOUZ1vTUeVNeaY954taEE0AACAASURBVKtDOFcdSkHKaRpK/FWu6MWqMCz3z6E83pbz5cHKKiNP8LK7uXopm4d3Svj5dZuqaGst8VZg+u3tIjXlyWT69n616i4VKkdu5G/uVanw7qigEwpME6NtkQaY4lQvNZnmJ7gi+1PZHUkqjICoqshqT1exb63VkWqiFDCtLQ1Sk4S0vAig3rj4XmwiYHrlUoai+CRmTm5qQvMKJXalJ0eZ7YUqu9iRgtC8MpXKDUtqvX582fIHmArdK2CqgPTHTn79sY3vX9XT2XKW8x1x3LtZqP77//7jmgLTx3erlaL476/blZL551fN8I+L/POnDl4+reLJ4zJePavkzVMB7Sqe3S3g8bUspRR9eTWPR+dSeNSZwN2GUC4VuBNnvRvb7bNJsTtIdag11VGW5AUfJcRhJ7E++rSVh/PiTj0/ftvO9fY0mvPP0JDlSkOGB3XpXnSVx1CXF0pDYSilqW7UpMp/c6M++wz1BSFc6SlT1K8oaLsvlnLtViW9V3K5eSuPp89q+PGnDh7cK31PX7anqCnqxuVSvr3fxD9+vs7f313l1dN2nn/XxNuX76fvH9528ux5J7/8/RaPv23lH/96wE+/3qKju5Ce3nIaWrKpa8qksTWHlrY8znWXqCOlAcXFUdTXJ6sEpO7uLNXI8vxJqxIfCcUre1Mp5VbCnEbJto1CQEcKwKW3VChRESNJPu/vDTK/07vXr+b9Aaby0PX4ZilPb5YpQI32O4ocAdOCNFF7e5ESd1qxI2UZ7mRGmBHitIf6DEfutMXiZrpB2cakC/ViR7KieSVY4sL5dDU5i7ioozlZ0bECptUpbvhYbKOnJhKxs4iAqqHhLK0NCTQ3xNPUlEB7SzJddXG0VkQqRW9laSCN1REqz7etLoqOhhj1ACjft00UwC3pylojDMu5pmhqCt2wNJiNheFcdPfOIinKhpoif3wcdrN92ecc2TOJo3u/IiH0MLHhRvReSOHBvQqefdeCr8dx1i6diNaWRWhunI90REsbl84eqeNcwFHd5ep7Hjs0jxOH53HSeKkCbWEePU9txsJgPq4nN+JouoazvvqKNnc9uZMzDvtUQI+E8LhZ7VZg6uOgpYA03FOHAKe9+DvuUeufOP/jOJttJdrHkKyoE0R6adJe5kVlhj3SERvmuk8BaoS7tnqN8tJWoCo0r2TxJgcdec8gOB1QYRz2JluQo2FxfMsfNha30wc4465PsN8JQgNMCPQ5ho+HAT5e+rg56+DrbaAUv55uun+EPAT6HlETp63lTo4cXq1oXUuTbcjHro771TRrb7ND7WHtbXZhb62pxElH9NbhbKfLSZPtCkCdrHeriVRPax7rlw9XYHpw13QsjZYrbj7K9xCJoUZE+hwgNkiXpFA95RV1sNqM/sFFrFg4gqVzhqlUpHVSdbZkKvp716G9bRl6WutYuegrZk0dyrw5Y5k2ZQTjx37ByOF9VTn455/8haH9+zB+xFDGjxjGmKGDGSEgOvALhvXrz9ghg+n3V+kt/ezflWz9GTXwYwb3/TNDP/8zk77sw+KZwzi4Yx5mh1ZgfGA+ZgfncURzKsf2TsfxxCrayv0JctRky6LP2TT/Mw5sGIXZvhlqP7hjwUDWTOuD0c55qlVGJtxZEwarIvNVC6azYOYEViyYxurF01k2bwpfj/4CKUqXzsBpEwcwZ9pgFs7+kunjhyjD9NRRA5j15acM/0QD7U2DedQbQUaYNjOGa6C1si82ul/haT4Vb4vxuJ8YiJ/VMFyPDiDFbwm+ll/jaDSWM1ZzCLBdRHuxDRdrnKlOO6HydJsLTlKVbkJdtgU32/y5ez6YSw1eVGWdVE939YVuKl/3UksE5xuDuH85kUutQaRE6ZEcoUdLmaeKDbzaHEtnZRh5SfZcaI7lRlsCTTnumGnO4FyBD13FAWoyrcn3VWkuUpIsawWpwMqOt+JKcyS/flfLk/ulPL5Xpnam310tVNFqQnPlx9jx9HopBcnOhPkdITPBkaSYU8pDKgBamOBBTXYAZRk+dNbFKRCVEHJRTUrxd2d9zL9rqqJUQL1MpbLj+kNsciFLhdtf7klTcYK/G/nlpiStIaKilKOSa9pSlIVBbAwymQqYXutJVw8BkoAk+1ARIr0/MqV2INPks2/L6W6P5eGdIv7x83n+69cLPL5drva4Emf42/fd8I9efnvVxN+/l9zrFp4+KOPZ40r1PWS6ffawnF9eN/E/7zr47XkDzy9ncaU2lLZcd1rSnEg4vZfOJFcelsbgsWcpNmunk3xSkzy3/RT56eBuMFdNrvzXFX69W0VlzCnaMty4UuRLQ6wV+T6GlISYc74ojLacIDoLw6hN8aAm3pHaBBfqUrwpT/ahpTqLcx2VKgaxoSWX+qZUWtvSaGhMovdyCT+86+XFiw56ewu4JNT4+QK6O3K5eaWOJw+7ePOsl1fPznPnZoUKtPj7b+d49bpRBRjcvVdH17lsei4UcPFSES3tWXT1FFJVm0RDc4Z6lff1Tem0t+fS2ppNRUUcGRm+amd68WKeSpp6+rSVR/fr1O8hYCqipCuX8tSEKnVmoqStLg9WAfXyKpSrCJB+P7/Tu7+DqdC+KhD/ejGPrxbx+n4NKeEWRHgb0FgSRH6qC/lZvmQku6vyeQHTvJiTqrGkLP4k1xoiCHfRRspHBExFvCYTo1DNAqYycSqlbkuKomQlx7erKATPExuRfN2O+kgloKqri1R0bVN9HI2yA21MQCbTjur3ofzlxf7UVYSqh1a5NsXCJdetgGlzfZI6MqHK9Xy1O5XzTWEYakmT1jh2bZpImK8Iq/SI8TUiK+KEyu0+aTAbPc2x1FV4cbU3lebGSFqaYvBy1WP5ghEsmD4AzU2z2Ld1vrJCWp/YqUSp5karOHZoAS4nN+JivQ6nk6s463+AjJjjeNisY//mUZjozMZ4/yxczDerEgEzvbVYGW7E7sR2ThpsxFR3JY7GW0kMMlFlH7H++ir2L9pXDwHWQKf9uFvvJMpbn3j/Q3jZrFHCo/w4c3xPbUcCM6TopTDeWrX4xPvpq2QkmVIFSFNDjhHgoMmZU7vxsN3LyWObcDDfiYbpkY2cNNuBw8m9Sih0xt1QAWlkiAVhgabKMiNgesbzMGHBJkrpK8ENttbbVFqSpCZZmW7lpNk2jPRWYWG8VYGqvDc5uh47650qrlB+iEIDC9CKOMneah/upyV68ACi1hUQPXF4BTamGzmhtwR7881E+BtSmunMWf/DhHsfJNr/kALTuKDDhHnuwVRvHgd3zmLnpulsWTON9csns2bhJNYvmcxR3a14O5mQlRSAl7Mx2ntWsXbVDGbPGs3XXw1i6rSRjBrRjwljhjB8UD9GDhnI0P591a50aL/+9PngL4wbOoxBn37G+GFD+fyjDxj1RR9GDviIKWO+UJTxgV0r2bBiCru3zObgrvmYGazF9ug6rPSXcfr4aqz0FmF3fBV71o1WZmIz3UXs3zhBga2F7iJMtOehu2mSqhnT2TSVrUvGMndcX8YN+E/GD/kYSQmRAvSFMyYwf8Z4Zn09Sn0sAf5SWi7q4mkTB/L12L5MnTBAxXSJQGnv2q85uGEc4/prUJ5ylO4qe9Z+o8HkoRqkBupxxnIFdgbj8TYbT7DtWKwP/hXjXX/Gx3ICrscnEGS7gO8uhPHLwwy+v53C/e5QZXQOddpAtOd2euu8uVwvwdC+6jQUnqI29xSd1WeoK3CmsdRdBWN01ftRV3RaTaS5iSfU+/bKM2SfNaG7KpSaHC+KUpy5eyGLropA5AZisW82V2oiOVcWQm2ut3rilR2O+PoEuK53JZIcfpyb7fG8+/fe8c6VXN48quFGR4r6ukD7vQQ7HuBRb4EyyceHWiLdpSnR9ogNRibTqmx/OqtikW5HAVGpxlKCo5ZE1VV6vjmB5spwBaSiuhQgldenYo+4Uaz2j6LkFZAXNa90lMpkKkZ4UT2K4lOiBcU0L6+ya5VUHPm7yA3rfGscYo2RiVSo3vfn/wqRRIT04HYhb543/kEDv37WpH5fURaLovh/f7vML2/a+e1tC//7azc/PKvl7pVM3j6r4+8/dXPnej7XL2QoH+7PT2p5e7OA77qTud8cTWuGEyku2lQGmlMbYMX19EA6I5y4luxF5klNvPZMo9Jfl7rII1RHHaMj/TQFgUfJ9DxEbZQVma4HSDmtSZjJehId9tKS7EJN7GkaEt0oj7SjKsKWuhgnyqMcyQyxpyg1lMbqXNo7KqhtyKWsIonOrmLaWgvoaC/iwYM2bt6spa01nQs9BVy8UExzYwY1Vam0NOXy8P453n1/nZ7z+TQ1xfHdkxpevGzk2o1i2jsyqKqOob4hUQFpbUMylVI71pJOXWMaFdUJ1NQnUV0dT0lJJC3N6bS3ZVGQH0RxcZCiPm/fKOfpt828eNqmYhzv36lEdqgCqiJKuiKipKsC8MmUFPhQlOetumpVDZsoekXBe60AAdJrMnFfyVO0r0yuamd6PpO3j+rJOmujwFTEQnlpLuSke5Kd5qViK2vzfZXf2tVkPUUxVrQXniHJ/wihLge41Z2u9qbyby/5z5J+1NoUrwRFXa3vE5JEpHSxJhrHY+vJS3BQLIhkDTfUnlVgKiDa3JyoJtS26ug/wLSswFddt0Lzig1G7DaiAFZWmqZUutqzlLVGtdBUhXP/cibOFis5dWKZuv8O66vBoR2zuN2VzqKvNVgwUYPaXHucrVZQUeDI6+dV/M9/XeDR/RJ8vXXYuWUiKxYMYP/OaZgabEDcG5bHNnPy+DocLDcptjE+1IDQM3tJO3uU3EQzov0OYHdiKZprR2C4Zzp62yZjsPt9ZrnN0a24W2vjbr0fN0st7GRAPLKBSC+D95NogBHO5uuI8DqowFVCHZJDzHCx2MhZHx0cjZdyoz1aiY0k4F7yd7MizfntSR0NeR4KPAVIpRlGwFRa1IIc9yoBkre9lrJtep7SQsP8xCZMT2xWIHfq5F7sxcZir60m1IgQUzxdDxDoa8DZcFNcHHcrZa+oe308dZGJ09FBE9MT6zE+thbTExsxOb4JG0tNbMz3oH9wFcf1N2BnqYWV8U5OGGzE1nyPenWxOchpy71YHd+ChdF6JTZysdbE23G/CqL3c95HRY4bqVFm5CZaE+mjq26izpZrMdWbqxbcgS7aKn9Xe/titq6azoEdS1ixYAzauxZjbbaXwtxQLvdUUFudgpXFAebPG8+MaaP4Zs5Epk4exed9/8rIYQMYPqQ/Y0YNVTTvF3378vmnfRjcpz8jBgxiaN9+DO3bh2F9P2HQp//JgqlfYm6wGw87QzwdDmN9fLPa75oarEB35wz2bpzEMe35GGjOwXDPXJbN6MP8rz5k/YKhaG34WiUnHdu/hBPaKziitYjj2ouxMliDhf5a5Alr56opTBz2AeMG/YWpX/Zj5vhBTBz2qaqDGycdgDPHs3r+FGaMHcqwzz5Q1O/EkZ+yeOYoxg/SYNIgDTJDd9Bbbkmg1QwuVp7kcqMzaWd1SI0+io/9Psb11eDkvq9J8dxEVtBmatN06Cwy5nyFFYH2izixdzhXm87w5Go8T64mqio1KX3PjT7GGZu1Ks1IUo3unDvLtZZQLtT701PnR2u5B0Vp5rx6lMv185HcvRJLe50nV7vCuXYunLuX4lVtW2WGAy2F3tTleNFcHKwyd99ey8PRYBFxXrpca0lQdhkJCpeoNRHt9LTGcftCKt9eTifOT5ebXSk8v1/Nd3cr+PZ2idqZvrhdQk2WGyHO2sR4G6k6qfMNCSRF2Koc3uwk13/7St0py/REWjway8JprTr7PuS7NlYlzfR2Zig7TFVhoKJ2q4r8yUlzURYBSa0RS4TsRq9ezOLuzWIudKUiQCeCJCn9FpWvTCXiPRUFpiQjCd2nVJKNUviconZpYveRGrl3L+vVVPl3mUhfNamJ9c2TRn561c4vbzr55489qkD8Snc6jeUhytfIrwKk4kttVyrgf/7YytNbeXx3I4//+r5DTa0PblWQdPak6qL872f1POmM53FTBP+8kcedyhCc980lz/kQ9f6mNAdacOGsHQ9z/Khy1yPu6CoaA43IcdxNhb8BKfZ7CDffTOTJHYTb7CbO+SAJbgdpTDxFfaw1dTEnFchWhZhTKuXrfscpDbSgONSGnNBTJAU50F6fQ0lhAq3NJZRXZFBYlEBtTQad7QVcOF/GuY58JQoSYVBbW46aIuvq0mhpyaG7u4QLF8rp6CigoSGNxoYU2tozaGrPpL4tndrmdGqa0qhrSldHplAB0pqaBJqa0mhsSqa6Kprysgjqqs8iU1pTfQylRQFKgCMq6Qd3Knl4t4ofXncoT6koduXcv12matoELOXfur05ltrKEPKy3JR15MGdMu7eLlFAeuduqVLyyirgu9vligaWAgSh6eU6lfWDqEovtcaTlepIQY43mSlu5Ke5U5zmRmmqK4H2+0jwNqSjwJeMoPfqUym476qNVPGBcl3J3lSmU4kYlCOTs9CwPS2JeDpoIWI5WTUIPd0onaZC6zYk0NacRHtTEu2NiXQ2xNNQHq4+V3pVZTqVyVdETWKh6WhNoa05Ramd1cdNCSqkQsL34wKPYWmwAgfjbayYNZADmyerIUHCbdbN/xTrIwvVNBkbfJjrFxLgX+e50ZtETZkbGammHNGbypZ1gzDYP08NIfZi0TTfiN6er/A6vYm0mCOkRhtRlnWKvERLLA0XIfd7UemKO8Li0GqVOKe3awH6e5cggOp7Wg8vmwOcPrGN2DPHMdVehL+dFpkRFljrL1NK53A3HaK8DYnxPcpp4/WEeWgT6X1AsWXZMWYEOu8h1l9P5YRLQbtEBQrgpoQdJy7AQAVDZJ41UzWlQc7ic9XF11EbD+vdaJgZvwdTsxNbsTTdga3VHk7b7VfiIaFw46NPEhJoSHyMBeEhRkSEHsPRfgcONtsJ8NFXYOrpqYudzS7MTTbjcGofFibbOXp4PXZW2rjZ6yOBCFrbF6lwhAM7FrF55VeYG23hxOE16OyajaH2fPZtm4L2jqksn/MZG5YMwmj/LE4Zr1RWmKTw48QGGuBusxkT3fkY68zDyXwDvqf3sV/Vk81jx5rpHNNdy/qlY1XhuPmJrXS2ZvHoXjMdbbk42BmwdMlkZk0fzRwpG58xkbGjBzF6xBeMGj5QgemoYYMZNnAgo4YMY8KI0YwbNlJRvQM//oihfT5mxOcfMWF4X7WfXDlvrKIpdHd/w84149HZPlv5WGeN+xtzJ37CN5M+Y+38kXw19M8M+0SD0f00mDj4z6yYNYKVs0eze80sDmyZz651UzHSXoa+1mIsDDdhZ6LJ1pVTVBPNsM80FKjOnTSIeV8PVcKjjUumsmT6GL4e3gfpXZVuVtmljh/8ARsXD8Tn1AyacnfyqN2Ue41mVMTvR3fzANYs+ohJozWQct9ZIz4kye0AEbarKI/XozrNkNYCM/73VT7poVoc2PQ539/PVJaX30vf//lSGhWsOGOznv95Xc/TK5lcqAvkRnsUz2/ncL0zkvpiZ8pyrHn5KJvOJh9qyxzp7QzmyrkwLreHca83iYuN4bQUnaG3PgKxw9Tm+KvIwIetcdjrziEr3Iw7PdlU5vuqfY4IgOTGdLUzmdvdiVxrDOWsl5aKFpS0ITHNP75VrOwDDy/nqPDpcDcJtTYkKcScS03JKjYwIcyWtNjTKsS+ONNDWWV6GuOU6EiERzKVymmrjUE6KSU6UMz0BRluqsA5O9VZPbGLYV92ZdJlKp5D8RRev5zL82/r1M6pteGson/FFiE3PZleJQBfwFRsByI+EjAVyk7A9Gp3Mi8flfPb2zYknF8Uvq++refn1538410Pf//hPG+eNCklsOyzJA3nt7cd8I/3U+lPQhO/bUPsQlfaovjXm2b4sZtn96r5+5seXtyt5Xx1BA9bY/mpN5X/vp5DT4o9ue66lJ4xwnbtBCo9DDkfaUuF8yHKHHWI1F2O3aovidZfQWfESd7UxvC2KZE7xSF0Z3jRleXNpZJQzuX6UBl7krJwE0qCjlHif4RSvyPq+5b6Hqck0JRcfzOyg2yI9ragpTKVyuJkmppLqajKp7A4lYryZOpr02hqyKS+Pp3a2lRq6/8NhPUp6r3sOOXX2tvzaW8rpKE+i/raDJqastRe9D2QZlDTlEFtY4bakwqQ1tenKjBtqE9ETm1VFFXl4dRU/HuXWBOh9qDV5aHcvVnGo3vVSqX76F6lAlApaZeghod3K3h0r4J7t0rUv/WVi1l0dyQpR0NVWaAC2Fs3Crl6LU8duSbkurx7MVcpei8KmN4uUmB6vjIcYU5uXMggN9OV3EwPslLdEVVtfoobxckuBJ/WJvHMUdrz/ciPsMLbfCvXmuK5UB/NeQG71vg/REi/A6mAqfhPJQoxMtQM+TuJCrmhOvr/A1MFpE1JSqEr6lzxuErmruxJf7fCCJ0te1U5EuogE+2FznQVji8q96byCCoyvchPcCbI6TDfjP8bK2b2xcZopQrPObTrK9ysN9BdH6L29D88qeTJbRHfhZIUbUhC9GFyM0w5abpQsZCuJ3ejt3smlkaLOXpwOm6n1lCQZqE0McJC+pzeiZHWXIwPLsVoz2J0t33DjhVfs3fdDA7tWIjurgXYHN2Cs5kmx/ctYfOiERzVnIfOpsmEOeuon6eb2VZ8bffgYbGdCE99FehgqrNY7VEFUCWwPjH4CFFnDpIYbKhAVMLr4wP1Ve6ugKkkLJ2x205jkQ+ZZy2Up1cwyNtOwiJ2oWFhug05AqYmxzYrIDxlvUdRvrLzTIixJi7anJREGxzttxHke5izYSfw8dDB/8xh3Fz2q5QkSVCSwHxzk62YG29Tk6m1mSbGhpuQMAbDg2s5oLmIHeumsG7pl6oU/KjuUlxsdlKU6URUoCG2pqvQ3TMZf3ct8pNt8XfZo3xFVkeWYH1sBXqaU4nwPkxpuguGe+ewd/1EjLQWYX54HfqaC9Hbs5AV84ewbcNXHDm0iqjQk7Q1pFGQE4LxkV3MnzuGqROHMHniMGZPGcf0yWPUzlRsMYrmHdifwX3EYyr2l2FKfCRU7xeffMzw/n35cnA/hn/+ERLm0O9DDSaM+IQoXztmjO3LxxoaDJbKteEfK7uKCIg2L5vON5OGIZaVMf+HsbcOrjJN134ze6SNxhp3d3eH4BAIhBjE3d3d3d3djYQY8YQkuNNKG+3TNrZnenr2zN6zf1/dD5Opr06dqnP+eOpdawUSIGFd73Xfl8x4RRWOL5/5OrNf02DJ9NdYPvNV1i58RVl3ju5agP6ZrdgbH8Pk4j50T23l0sktyg6zb+M8ju9ewY7VM1TX6s41Mzm5dxWrF7zO/Cm/ZNnc11kxRwNn882MdVqQ4DedcIdXyQ1ZQ3rQfg5u+AVbV77B1pVzObljGzr7t5DuqUV+4DE+u5NMa5EpUW5b+e69Il48zsbFdAUyupWowOcP8vnmeQ389Sa9TYEkBJzi63ereXs0W4HpD59c5c+/vc6DkVTVY1uZb8U797N5OJ5Ce4MnrTXuNFW40lLlye2+FIbb42mvCubGtRR66mO5Xi/AWsK9q3H4GW+hvy6Sz99uo7MxDmGGMh4V28HHTxr59HE1N9uiFJg+u1WuFIhSnvz8SQNfvNOKpB9Jnm9utCmFifZIuPit6/mqDaY8J0CNedtq4tTn7r+ajGSainpX2Ol9kf8Pl6m0IwFSqV5rrAhXQQ3S7HG1PlqZ4yV3dQJMBVjFAiFvtKLk7WxNUExF9qei9BXDu/hQBUzlhkAEJLIzFVAVQL01VMBobyYfPWt6qcb9Ykh1nP7+m1HFLP/x58dIebjYHrpa4mlvjOLDZ0384y/3FIP9LxEq/fmeGhH/9O0Aj4cy+d8fR/nv78fhPx/z9x/uwU9v8/07rTxujeVaohkjOU70JNvQkWTPcKYXWeZHSTc8QJOnAd0h5pTZnibb6CCJF3eSqr+PwRhHHhQE86AohKEMb9pjHehMcqE7zZ3yEBOaUhyoT7SmOdGGzlRHejNc6UtzoTvFhfYUd6pjHKhJ8SItzJ6BzjL6++oZHL7G9b5WWjtquN5TS3+fMMgqevoq6RuoZnC4Tp3ewWr6hmpo7y5RR5S4N29f48ZYC4MDdQp45df2D4vt5eUREBXmOjhYxWB/JQP9ZQz1lagjwNLfnUtPe7raawsTE9Dp6cxQI1ypvxMm+v7bosa9ioDpt18Nq1q8rz7rUwUEn0p7zHMJdbjKw7tVyL5RRD5PH9fz0fN2BabyM/Hp06sIg5OfgycPahFr04v3WnkyUEBelDmff3BNsVsB0+a6l+rv9ro4rtfFKg9kYZQVA9WRXC8LIdLptFpfSPvRo/GXHlARIU2oecdHShQ7lav4QduvJikgHRkoUGAq9paxoVIFoGJz+fcZLqGnNZVbAwU8GH8ZzjA+VKy6Tu/crFZgKrVvIlwS4BUh3Tt3G1QZ+js3q+mqjUH74GJ2r/gNBseWE+ZyGml7ejxSwJfvNPH8XgX9zTGqWu6eRBw+rqG/NYYwv9Okx18mP91SKXBtDHdiobcJf2dNEkIvUJRhTkLYeVKj9PCxP4ir+T6cjPepRCSTc9uxMziM+YU9eFicIcbPhAivy4S4XMLh8iFcjA9jcWErNjrbMT69BhudrbQUBvKwr5DcKCu8rY+q2Fkno70kBhoS63eBshQbdcpTbZVytyzViqJkC7JjrqhqtdZyH1or/dWqMS/Bkrv9uTQU+RLueU4lLcX66qnPqcDU10sXb/dLuDho4Wx/VgGqv5ce/t4XlSWmuSGcJw+rKch1Ij/LiaJcSTm6osA0LspUxQ7GRJqpdhlhusJsxWfqaHNKeUk9HM9jaXQI7VPruHxhGxdPrcHR4jB2ZnsZ70/np98NqY7T2lI3rtb6cWckg5GuOOUpTY00xMfhkALTy+dWkZdgqwpsZYyqd2IVVro7YpyPmgAAIABJREFUyE9yoizTk2A3bTR3z+Dc8SVKXi0BEXHh1oT4mXDp3C52bJ7PxlWzWLt8NtvWLmHX5tWsWjybleIznTdDCZBEfCRn/fKlrFq0gCWzZjJn8psKTCXAYcFbk5Dwhrde/wUzJ/2SZTMnsWjaq+xctZjtqxaxdPobLJjyCitnTWHX2uWsnTeTJW+9qcpyl8+aysZF81k4ZZLq/pOmBRnnylh326qp7N8s9pbJHNq2AEv9w+rYGR1l78aZXDy+AXdrLbQOr2THmsns3zyTTcsmqTHwrnXzmD1Jg1P7X6Gx7AQ2hhpYaWvgbvxrwhy3cHTbVKb9WoNXNTSY/avfMFtDg0THYwyU2PHf3zTzxeNsFQ3Y1+jGHz+vZ7AtgK56L754v4L//uMA/HWU33/eQmedF6WpJjwZSeHDe2J/GedvP/bx1Qf1jPfEMtIZSU2BDR88yIefhvn83QpevF1Bf2sYOYnGNFd4M3Y9TYVyi2VFAK2nIZH3x6voKvDE32QrdzrT+ORxM221USpcXgISZC/1+but/PhJOyNNoVRlWKmx7o3+PBWbdn+0SHlMP3lcr4QDWRFGFCTYUZnlSWt5hAqyr8gNVC0xouYVoJbwcXmz+/jpNXWnLTskGfdKQ4zUrslRo7fGWLUvlb2SgOhXn/Ypf+G7j5uUp1TeVL//ZkSx0ZryQNVpKu0iMup96UOtVq8JmAoblZ2pGltL4sxQgVINy2hOAtO//2xQ2V3E8vLnH16OaiXjtbk6jI6mWJ7cqUBGwfzjKd+86FDjXdm5/s9Pj/j2eRt3uhLh9zf54d2r8NNT/vHtbf7+5Q349gZfj+QSb7IVvzNLqPXX5W5pKG3RdrSHWRNycgOphgdpDTAj01iTDKOj5Fqeod7blL54Dxr9zShz16fE/RIFztqUeupRG2REgedFkhxPkuZxjrKQK7TG29Gb6sz1ZEc6ExxoSXCgPMKaigQ3UkKs6e0o4cbIVfqGWunsu8rVzlr6B+uRUW7/YI0CUrkqML1Rr1hmd18FnT1l6giwiir31p02Rm80KwBWoDlYocBT1LnDg9UMy7W/nMHeUoZ7yxi4XsjQ9UJu9Bchez8pKxBBmQjFOttSEMuLBDFIr+mXL/oUK5XEI3ntt18Oqde//WoIOdLoI2NdAVTZl4uqd7A3m1vjJWrU++FHHTx7VM+7d2pUfZokIz2VMf/bjeqmScA0K8yYr593qPF/17VUWurjVRKSxFfK2qMg1ob0AAPa8n0Zqo0mxlWLsdZkpQkQZip7TYk4vHNLghakaLwYiT8U8HwZ0i9jYCkDfzni/X8DUzXyHS5RmdNSYi56gL7OdEYHChXDvX+nTo15ZRwuoRYSPCLqdPFh5yY54Wi0l92rf8PqGRpcOrwYH8sj2OttJ9FfV4mfxjrScDXdS06MFXd781QsaGm6i5omyjhXcgN6mmPJS7TjwOZJmOtuVL7UtGgDFciTEHpRMVX7KztwM39ZdykjXOmTFjBNDrYhxscYf8cLqgbT3/68CsiJ8tTHwXC/qqIUII1wPc+10lAGGxOJ8dEl2PksRckueFodUysvufFuLfFRxQICpmKBkf2osNKmYg9u96Qw0Bql+lwzo03UqLkyx5O4AH0VDhHlpaM+r+TCa7g4nsXbQwdfTz3cnM7jbKulUoskbMHPUwcnO00l/YePaK4LISpUl5R405cMNeflTjU9xVEFNsioV9TAYovxcDyHu4MW5pf342h1QvlHzQ12YmG4C8ML6ylMd+bBWCEPb2bz8FY65QVWjA3E8tE75dwcSqS+3I2yPHuC3I/iZrUHFwsZiS5F4qUyY2xwMj2Itd5OrPW3EeF1nsRgA1Vcrn96JeeOLuL0ofkKVFU4/oXtHNy5iE1rprNh+XSWL5jE2sVvsWnVfNYsnqOsLotmTmbVwjksmT2dWW++yuKZb7HwrWksnDmd2VMmIb7Ut954VV3FIrNgxjT1+ioJdZg6mYVTJjPjtVeY+8brbFi6mC3LlrJ05kw2L13KyrlzWb9woXq+dv585k2ezLIZM1T338bF01WTgoQy7F43m7ULXmPj0jdUUP721VPQP7NZHTPd3XjancXN+oRKhdq0/Jcc2DKLHWvmsGbhG0z5lQbnjk1iqNOE8uyNJAcvwMN8CjXZxnjbHSPY15yIAFdO793BTA0Nkh2PMVLmyPsjiXz+JJ8/fVbPo+F43rmdzp3BOB6OJsM/7/L3P/bDP24pgBy9HsH49Sg+elSgjM5//PKq8pGO9caq+jVpjumo9VRsln/eU+lHkoj00cNSuhtC6KgL4UZXGt3N8S/3NA0JyvMpYFoZa6Y8t4/kLn+sXHnwJMrvm0/FAnKVL95r4+8/jCgwvVrsqiLWbg4Xcf9GiQr2ljzS+4O5FMRZUJ5qT2mqM6VprpRneKqKtcq8IDXmnWCm49dzkMzTZ7frEEYwEdggQiUBUsnh7RC/aHO8evPt78rg6xf9fP1ZnxIayRhXtYc87+B3342pcW55kY/aowpLnRjvyr5MgFUsNbLzFCAVQJVza6jwZTDEcJkSQAmwf/tiiN9/Pc6fJFjh+7tKMVpfFYKIQ775vFcB6F//fIfn79bz4btN/OH7cf7518d8cLecxmwn+GGUL+9W86y/gH98eYO/fNDBX54184ebRQylWZFttZfwC+up9jeiN82XrjgXilwuEXFpHwkmxyj2vEJdiB3eZ3cRqneEIk9Tsp30KPS8TL7bJRLMNUmx1KTI/Tzl/nrURFpSF2vD1UR7OhIdaY+xpinUhLrgK9SGmVIRbkFhlDXZ0Y4MdpUyPtZKz0ATbT0NtHbX0ttfw8BAJf1DVfQNViqxUHdvKdf7y+kbqqK7r4yBkRr1sfauQqXClZ2q7E5HRmoZEiAdKGWo7yUDFRBVTLS3WIHocE8xA135DHXlqpxl2RHKCkG6RqWkXcb3kigkQCrMVM7339xQDFXSjj77uFsBqNwwyfdZKvJkEiGvC0uVDlSJGxwZylfeT6nNk/XDMwnWkDHv40bFTGU0LH7Td0ZKSPS99HLS8rxDpSu1quCGBPUzeOt6LqVJjqT66dGa78tIQxzJ/nqMtCTzwT0JtS9We82J7ODbYxIDWKaiD2WsK+Aq4qH/P2AqLFSyp6+3vFxpSPeu7Fnlc0ibjLBTOQKm8mvl4+W5XlQX+qkxb1t5GPE+epQmOhBoexyLc+vxMD2Ag/4OdTQ3TaYyw4u6XH9SQyxUP7TBqXVYXtqOo9F+fOxPqKjP5CjRvsyhON2W0kx7nMx2EOR2EuMLawlwPkOgszZ+dudIDrbC3VyiAnXUY0/L09jqH8DN7DhupsdwNztKSrA5lzRXondsJaPXsrhWHkmgw1mcpQzF/jRincmNcyQ1zFIVtjcVeNFdFaTaYARMJZhBBJICpu1V/sD7PB0vJDnUgHBvLcLE5ul7SeFQqIc2Ye7aymYT4XEBDVurYwigymhWRr3ujhfwlDGtpy6BPno42x+lrSWa957WUVboTkayJTnptmrUm5fpTFqSrVL6il1GVL+i2vV0OYedxRGcbU9gpLcDs8u7sDeXnekWzh1fjK7WCpqrAnl6t4g/ftfFu4/yGO6J4KtPavn0/QoGu8Mpz7ejPN+BEM/juFvvVTtUK4MtqqM0PsiIrFhb4gMMlY9Iqnd8bA8R6HycMA8t5U21MdzByQNzMdBaj/Gl7WqXemDHQvZvWcDGldPZsmIGW9fMRRKRRBm7fNZk1i6exYp505g79RWWz5OR7iQFtAtmvsniOdOVfUaSkMR7OnPKFDUOXjl/ATNfe43Fb73FpmXLWD1/PoumT2fZrFlsWLJEPRdQXTVvnnpdrgKmS2bMYNFbU1g59032rJ/P1hUz2LJ8OrIflbGxhPAf2DIHvdObcLU6iZP5MUx0tuNscYQwHx08bE9goLVZBTasXfQ6W1b+WkVrvX0viPE+CyI9l2Oq9QbW+mvQP7sBnXO7MNE/QWFyGCHWF0hx1GSszIXRJj8+eZDLz9+08/NvO/jh0wa6m3y4O5gAf73BVx/W8OXzat65m8UX75ar0a/k8X72tJD7AzHK9vLhv+IEJaP3YX8Cz+9k87uPGnjxsIgvn1bwv78f4bsPW3n/bqWywQx3ZTByPVe1sEiAwuOBIjJ8zpPieZInA3mMdWWqto33H7Xw2xf9Ckw/e+cq/OkWg/VB9NT6K6aqdjyDBQpMn4yW0F0vZmprZanpqomiPMOdikwvxUyr8oMVM5Xyb3nzeDpeyZfvdXCrv0gFNqh9VV0crbUvO0wlh1fiAwVQ+9pTlXLz2y+GFJhOKHflKkzlu6+HFVsQ0BPhkbSKTATfi/hIGKoAqbBTGfHKqFf8pgKmYssRJfHD0eqXj29W8+K9Lr7/fEQdYQuSqCTq0N9/P86f/3ibn396wCcftXNztEB5Lv/w21G+fd5OfowJN1vi+OJOlYplfNCexsdD+TxoiOBemSePSjwZz3Ik3mAnKRan6Ez2osjXiATr0/jq7CXT7TLDZYl8NFBPiqsxQabnSXA0pDjEgaGiGG5VxnO3Mor3W5P5vDuLL/vzePdaGg/q4xktCFCMtCXMhBo/PXVqQ42oCDMm3VdPvane7C/n5lgzfYP1tHRW0tlbQ3dPOb29Jar8fHCwQj3u7i6ku7dYKXB7B8oYHn0pJGpqSqOhPpnr3YVKkSv1aTcGShnuK1bMU0Bz4gx25jDQka1Of1um2o0PtKcpdbcEz3fVx9DREENDVZjK3f3x2zFkV/rio27ksQCq7EpFYCagKaxU/v3le/3NFwP89stBdf3ofSlzb+PmWAl9PZmKLYpI7cOHjWr3L6ENMg4Wdip+04/v1KgdqAiQRAEsKuGe9kxV89dcGcZoRyaVaa6kB1/menmoAtOMkCt0V0WqFKV7I/KzU6ICQSbsOgJ+Aq4SeyivCTsVkBVwFVYq4qP/55hXmOn4UCmjskduTUaqBqUOTsBUmK7sSQVIJxiq8krfreOde3W8/7CR9+/UMdyaSmdFOP11sRzfMoXDGyYR6aZNWpgpiX6XlT3F3+6sEl2e2DEP7UMrsDc8iI7mavX4yrkNqpKzsykcH8cDBLgeUWs9B5MdmF3aoEbAYR66SqUb4XGFKC9j5JoUZImr6XEl4hRGGuSsrca73lYnyY1xwEpnJ9I7/c5YDRHuOtgZ7lFqY38HLRyuHMDX/iwJQaaKoTYX+tJW4qMq3MTyIiPeMmmLiTJUAUHff9JBd2M4sYE66s8qQBrqdQlPu5NEeOuqpKUgpzPI0XCwPokcYaSezjrIntPH/RLebheREHxvt9NYmuzA1+MkzfVB3BnPIydDQNOQ1AQLstIciQ4Xxa89WWnO+HtewMXuOG4OJ7E03o2DxQFlwjXT34ST5R4SIwxpKPfhw2fV3BxM5XffXuPrz2p572kBbz/K5e54CrdHkxSYZiRcIdz/DL4umrhY78PWZCc6x5dirL0BkSRnRFqoZAuROEd5nyPA6ZgKQ/Z1PIaH9RGMLm7A1foIfs5a2BkfxEx/D2aX9qB7ZguXpPn9xFY2LXmLjUtnMv9NDRZO+yVLZ77CivmTFNAumPEKKxdOZ8nsyaxcNEsB6py3pjJ72jSl+F00cw7zp01VI2BhsnMmT1IWmmVzZ7Bh+SLFctcsnqeyfdctnceyudORq7BgsdnMm/qKEhCd3LtWiYt2rJ7F7nVz2bB4kgLT85pr1Vh357rJnD28XKme/ZzPK0C9or2Fg9tmqdb7DUteZ+EMDbav18DJYhkZscc4slmDo1teZc08DXZunMNvfqHB3Bka9DTk0lUSRbHfORqjLzFULW3zZbw3nslH9/ORfF0JV6jKs6K20Fapc4vTjWkpd2K0K5ShVn/uXA/j++cV/M+P3fDnYfjpBvz3HYSN8odB/vp5M//5UQO/f7+GH96t5Z3hTLoq/RntSOTRSJHKDL09VKLsKoOtmdzuzCLGQZPSKEOeDRWoSrYREYW83a58lTLmffF2ixLXXK/04WZHDN99cl1ZBMb7clVd1OMbxbSU+ati4LdvFNHXGK/6S+vyAxSYCjOtKw1TPtPBjnSeP2jko0dNKqyhoz5esVOVz1sfrUC0uTpcjXdFFTnSk63Sh777akhZYBSIfnKdL8SI/uWgAlQRhfR1pamPSxqSgKkAqezMJsBUsZQ7VUqEJPYYGfOKn1VZGsarkZAICYiQhhkJeJD4wZG+fJ49aFQKU/75AT//5SkvXvTT359Hfr63Chv4/KNefvdigM7KYFL9L3GnLZlRKSUvDmCkMph+8f7FG9EeqcuNdHuaRODib0ac9Xny/c1I9tAnO9CKhvRgShN8aS5IJNjBiGR/F5J9HciP8KAlM4SunGBGyyK4Xx3FcL4HI7nujOX70JPiRGuEGc3BhjQF6KrTHKhHQ4ghlcEGRNtq0lEWyqORKm6OVClh0NW2QjXa7bleQG93Hn3X8xkcKHkpFOovYaC/hKFB2bEWK+YpSty21nSaG+JpbU6irytHAYWIxeTGTPpmZccuO0A5AhByhIFKLvP1xjgFoOLl7KqLpKMmXAWG9LSn8v7bbYqZTih3haV+9/WIGvEKwMrrctMk7FSOAOoEqMroX5TAEvDQK/vX7nSVUvT5O+18cPflaF9lON+tUqKkF/frSfLW4YEEkTxu4Pm77UpZK4y5qTSYgZZkqjPcEQDtKg1WYJoaaKBek4mN3ASKKE/SiAREBTxFhCRMVARI8lhel6vsUCfAVI11/7UvlccCrmODMtUpUmsOaUbq7chgqCdf/R5R/QqYimhLHt8cLlHeU/Fh3x4sVGPb7tpoRlvTeDJYwuYFGiyfroHu0VXE+l3B1+Y0J3fPw8XkKBlR9vjYnub0voVc0FyF/qkNSjjq53iGCP9zuNntpqrIGXm/1z45R73Xu1kewtPmqBIWpYTZEOpmSKSXMdHeJkR6XlZeUl+7M3hZnlD1my7GBwl2OkderCNuppoKND2tTmCktUn9WhfTI7iaH1eOiSBpMnPSJi/BmavF/jTleSIBDWJ7ERCVVprEYG0KU8xJCdcl2l9C9bUQBh3gpqWsnL4u5/F30VZM19/+JIGOp9GQIHp7qxNIiIKAaYCX5Onq4uYo+9PjuDsdJ8D7DGFB50lPNqGy1IOMFHN1zU6zIyHGnJICX9UWo1KOAg0J9dfF3fEEdpb7sTXdg5PVfpWvmB5nzPD1BEb7kvjsgwa+edHE83dK+Pj9MsaH4+m46setkWSePcgnK+kKSVG6ZCYaEx+uQ1KkAZkJ5ko+7Wl7mAjvi4RKRKHzKUKdTyllVZjbWXzsNPG0PoSf40n1zbA33af8S07mh1VwsovlMQWs1pf3KWB1NtPC2ew8Woc2orljqRL2CMhe0d7H9vVzmDdNg/kzfsXy+VOZO/115kx9k4WzZzNr6nRmT57C8rmzmTPlVcViVy6Yqfapc6b8RjHatUtmqxxfES1J9OCCGa8hmb5rlsxk+7qlbFuzCEkzOrF7HQKootTV3LFcMdStK6YpQN2zYca/dqbr8HO6SKCrLqcPLGPJDA3Vs7pxyZvqz7128a+YO0UD7ePTqM61YcsiDdVpev7IFpbOfpNN6xdQkBlOUrCDGvP6nF9FR6IxHw1LbFkst9rD+cMnTcBDbvZEU1tgQ0uFC2VZZiSHnaUo9TKJQceI8z1MRugJYr32URinTVmqIfF+R7hWbMfbQ3GMN/pRk6xPYagWeUGnSfU6hpvBGmLdjvN4IFPtfSQiUP5D9rWmMd5dwPi1dCJsDtKQasXbw4XKeyoKQwlxFz+lSph51szP3w7SUerBk6F0/iyey0eN3OzPU2AqzPRqeQAlSTaMtiVSne2pxrz1BYEqzF52pmKNkZ2p+Ec/fNjEoxulqltSwFRC7lVrTHW4UvAKMx2+nqWSj0TpKGNbAVPxkspOVABVrvKmKuxFxEayy5IMXAFQAVMZ8cobpoiQhJnK/kyER6LoFSCVI6HhD8fK1BFxiTDW0b4cBeCjA/lKLCOMQ2wKTx638eB+M51dubRdy6SjM4cbo1V89skQj8YreP9urcodLUl04H5PHh+OVTBSHcJAgRu3Cl3oTzanM9qYthgbGmPdsTq2mTgXfbKDrQmx1cXVSAsXI20ivR0wPK1JUrAPiQEexHrakeZjS66fJbWR9mp8W+p1ga44K1rCjKjzu0S15zlaAnTpDr9CZ6ghjb7alHqcojxAhyCjHQzVRvLO+MtyagkAaGvN4sZIJT0dWSp6cWJ3KSxKAGCot0AdEQwJcEpGruwABfxEDCaiMJkYyM2U2IWkUUrWBwKa6jTFqJ1ce224iqwU0WJrRSCtFcG0V4dwrSqYxlJ/NTJ99+lVJUCSHekEOxU7jDwWUJXHsiOVEe/E7lTYqXz8t5/L979LtcxIiEJHW4pSxX729jXF3uT7LjdVd2+WKSX2J3drVdyfBJXI6P/Dd9rVLlLaWCRgpK85gZpMDxXG3pDprsA03vui+r4+GinhPeknHSlWY1cBzAkFr/zbCCMVAZKAqVwFYP+/wPTejXJELyA3IFIb2N2Wriw0wkgFTEV8dO92rWo/Enb69t1axIMtbU69TfE8vVHO8zuNnNo1D+3Dy1RVpNhV7K8c5tCWmezb/BZnDi0hL9lZkZrju2dz6fhq9E+tI8Jbh5gQbYK8DxMfcY6EiAvYm2/FxngbJhc2KA1MkIsOOXEu2BkeIcbXjFBXPQXQ8QFXVECOjG+druzH3ewIiQFGJAWaYqO/h3APXUJcLyKAaqm7C2fToyrYwd7kCIFul/CyO0dGlK0an4uDQMIapPxbwLSvOUzlGRQkm5EUfomIgLMEepxSYf5OVocI8rxEZIAxIZ66CkyloUZ2sRou9mextTimjpsYZ//FSiVm0NddCy/XEwT5apGWZExOhgUFmda01PpTX+FFiP95ldubkmBLVooDwb46CkQTok3JS3MkM9GK+DB94sN0SY01pKHCk2d38ijPteJ6SyB9HWH86Ydefvyum6R4PVwcd5GRZERMmDbxkTrqayVG6ZEUrU9eqhXJUYbEBF8iPc6U1BhjEkIMSAszIdHPAB+bYyQHG2F+cTMXjiymOM2F9CgLLA13YHV5J6a6W9TV6vIOrK/sxMl0HyYXNuNpfYa0cAf8HXTwtj/P5XPbVGuBdKlq7lvC1rXTWbHoVQ7uWsHqpW8xZ9prClCXzJnFrMmTVCrS4llvMuON/0BAVFjskjlvsnrRTAWaMi5eOncyKxZMY/v6RRzYsZb921dxZM9GFfB8ePtKju1ey75Nizi1fz2HdyxDelTXLHyNFXN/zZqFr6Bzcgu+TgY4mWuhuWsZG5a+qT6+ZKYIoH7NuoVvsn7JJNYs/IX6NzG7sIaFr2uwfu6vWTl7MrMnvU56fAzWRrqsnf0Gq17XIN/lDO1xV7hTH8CtpmDuXovgL5+2wO8H+McPPdztjedalSd1hbY0lzlRnm5MTvR5ShP1qEg2oCD6HHmRZ9WJdNlJc5YJHYWWpLjtI9V9LwUBJ0hy2k1hkBaxjvtI9T3DO8PZqlZNskYlp1QYw3hXrnrj9zbcQluOIzevJTPamYGwx/ceNquuRhmPSlzgn764TlOuA89vFyhmKiIgUfPeHSng3duV9LfEUhhvSUdFEFVZHtTk+iDMtKYwmJrCUGpLQpWyV0Zl8mYnIfjCXmTs29EQqxJpxEgv+9LrrUkKTAXwpMxb9qACnnKVMa6w0q9e9PKHH24qa8RwX7Ya8QrITuxJhZHI4wk1r7x5ys50AkjvjRbx5HY5T26Xcn9UxtVZjPZlMT6Qw+hgnop4k4qta83J9HUXKG+ldHD2DdVx50EXnT0V9AxUKHCVKrYnt+t5crOO8kwfEoPNuFoaQldJALWxJuS6HCHOeBMlHmfwv7iVK/tWYnRkM9Zn9mB34SDO+qcxOL4PT4sr+DvYcu7QIWwNDbG8cJ6q1ATKogMIunKWHDdDMm3PUupyjgJrTfKs9lNoc4C4C2tI0d9EnctJyuyPUGC9nyqvs+S7niLW+iCPu9J5NJDPzZ4ctafrvJqqGlPEwyu7Sxmny7+5tPMIOxd/8fhAvspEVuKYtmQV4NHfmqDAUQCxvTaU6/8CzY66CDrrI9XPgPRLNpX4KsCUx3KTJeApikwBVKlmrMl3paMuTH2Nwes59HVmKoCSKYAk/YgV5N3HLaoZRnzFX37Sq6xQEmggKu5vPhtQArRPP+jmxYeyR+/l9ngFjXXRCpSkDPyTRy1qrC9gKjdjz6UqbaREiYtu9WUru9QzqeW738Cn73Yy3J6uwLQu20uF1Tfn+yjhUWGsFYl++tzoSOfdO7WID/rmcBnS/iKAKjdbApzyWEBURr4CskN9ecoWI0xULDGi4p14rJ4PlyFgenfopUVG7DnSYCNB+AKgYo2RsH+JVBRmKmAqN8Gyt304XExnTTQDLal8/Ogakd6XWTlXA91Tmzm0bR5H9yxGS3MVolmJCjLA3nwf8eGX8XTQ5LL2OgzOrSXE+xwhPsewNFpBcow2I70x5KdbEOB+HBvjHUT46RLseolI7ysEuVwiNdyWAKcLysERF2hIiOs5HC7vpjbXh8woayK9dIn00lehDU7Gh4gLMCbc00A10AiIetieUSDq46BNiIcBOXGO1Of7qmmWRAhKh2lOrJFippK4JPnDUqgiZC4y4AIRATqE+urg46aNt8sFgjz1VIxgqNt5VfyuIeApICqgKt5MeS6JSL7uF/D3PE98lJFiolVlbtTXeFJb7s7Ven9a6vwozLJDgFPCG6RpJj/LhdqKIJpqQ6ko8KQ4x4ncFEvS4i4TH36RnBRjxvviyErQpSDtCjWljnzxcTPwjC8+baWtOYTcNCviI/TIS7emqtidrGRzMhJNKcl2IDvJXAGzsFQ5GTEmZESYE+hwDhvd3YS5X8JabzfnDy8jJcySglRXgj0u4u14EherwwhG26tiAAAgAElEQVSQyujXRHeDmslf1lrD5bMbMTq3Fd0TazDX2cH5oyu4eGK1up47tkp18Z0/uQED7b1sXycNMr9h6isaCkRF3SvjWgnPnzf9FeZO+w0LZ76u8noXz57EollvqEB8ucrrqxa9perb5CpMd8W8ycqusmvdAlWce3DrUhVsv2z2r1WA/b7N89m8Yrp6LNc1CyYx900N5kzSYPns11i7cIqy3Sya+ks2LJmummVkD7FoigbTNKQH9RWWzdDA0uA4IT72rF08k0Wva2CwezlXI8wZTLcl3/cUOQGnaUw34+9ftMOfhvnwTi7XKtxpKnJUCt7GQjsK4/XJijxPQdTFlyfyPKVxl0jz16QuVZ/BSifqEi6R4bmf/ICjFAYcI9f3KEVBZ/C/vI5UrxO8uFOq/KUP+rJ5e6yMa5UR3GjP4sbVFLwMNtNd5K7AdKQ9TTHGJ7drlS1ELCUSZP+7TztoyLbj/Zt5Sg0pcW5SbyURZ5IQ01UXTl6MmRp3SpSYCJCqsn0UM60tClNj3uaKKBUXKGAqvZISDCGAKurhlqpwxXhEdCSJR5LHK8B3ozf732AqgCq7LhEiCVMVZvrgTiUj/TkKZCfAVEBUzoSiV4BUWIrsTIWZynl4s5Snd0q4M5zN3ZEc7o/mMdqfwY2+dG6PFqrAB/FEPrzXxLXWXIoKYxgcaVIF1w+e3OD5Z4945+Nxnr3Xz/Pngzx92M73X93jq0/H+eDpdd6+00xbSTDi4f3+ThElfmdIc9DE8shSLh9ej432Eex1juFmfB6L8yfxsjYjxs8XMz19tE+cxcHUEntjUyLcXAiyNMHpnCZ+OofwPLGBDLNj5FkeVkDa6q9Nvccpim32k2eyiyzTnRQ7HaXU8ywBlzaS4XVOpVrdEYDszlI3SjIN6GtLYbAjjf72JFVJJjtMqdsTlikF2sI6e1uTVLm2KD8HribQ1xxDd10onTXBdNWGvHzeGElbZZACymvVgQo0W8p9aasKoL0mSMVPNhR7qqKMusKXITCyEhhoS1Tf77bGl2paGalLU4rcwEicnqRXCYiIp1gAdXyokObaSKQkW5KuRJBTVxGBhNXLDU9bSzKVZcFIBvRwWwYvnrTy7v165QuVGysRJD3pzVPMdLQ7XU0qBJwFuD97r4P7YkvpzVUxeDLabSnwZaQ5QXVnxnlfQhKSHo9Wqk7RuyMvgxcEQAVIJ3alAqRPHzYqYBW2Kkx/wgojo115PgGoAsYi8hNLmIzK5e8zeD3v5cfHKhUzFSCVI9YYCXR4CaZFCkzFGtPXksLHT7uID7Zk1fxfc/GERJ4u4dj+FZw5vlqpg//04y0e3ytnuCeZzpYI9fNdmuNKaY4jAZ4HSYm9QFuDF7dHknlyp4DBzgQFuqIN8bQ+rQIZQtz0FGD7O57DzVKTcK+LpEWa4WF5hMIkRxKDjIn20Uf2ovZXDmB0bjMeVifwstfCwVRTXf2cL+Ar6l9PQ5LDbanODaA42UklTMn7hnhJK7PsKU6zpLHUlYH2CMrybBXAJ0YZEOqrjbfrGTydtRSYBrhfQgLuRYQU4XkRjUAfA5WnK0CqwNT1osrqDfHTIyxQl/QkC2orvRjpi+fOaCpDPbE013pTnGtNTqq5qmmTLyCj3YJsV9obY2iuFlC0IT/DhtjQC8pTVJlvR3KkNilRFwjzOaz2ct+9aObLj6/y3Vd9PH+nkYpiT/w8TxERrENepr06FYXuCpRLcp2Rv1CI7xmigs+rExuiS1KwCd7WZzDW2oql7h4uHV+H5s756m4kKtCEYC99AtwvItm/tqZ7MdHbjKvtEexMd2Glvw3906s4sWs2J/fORef4CtV9qnVoEfs3TVaq2QvHV6F9fC16Z7eqHeuFY9sViM2d8ktmvvELNHdv4uiezWyQWMLprzF3ym+YP+1VJWYSYdPSWVNZMO0NFs+YzLLZ09RZOH0Sc958Rf269YvfUnvaNQsEWGeye/38lwrdBZNYt/hNVs9/g2WzfsP6xdPYuXYh6xbOYN6bv2LRtNdYv2gmGxbPYs386WxeNo/F037FlqX/wZHNvyDcYzNZMfsx1Z1EeOBBDu+byuzJGuxcPoUMT1MqfQzxP7sci/2TSfM4xO2mAPj5Fv/8tpu+Wi8q0kzoqvHkxrVw6vJsKYw3pCjBgKIYXfIiLlAcrUt14mVV4daeZ0l1gg7ZvodfAmnQcdLc95ItXYPuh8gP1qIs2oD7nYk87k1Xo9wnQ4V01UQz1pmjxBU+l7dyozaIW+Lba0tRb7SS0CIRfAKm796t4uv3mqhMMefZSKYSIEms2gePGpV/T+rXhK3If4rrNWHqDUl8pmXpHgpMG0ojqS8LVwlIYkURMO1tTlBsVBpipNhYBCAy3hW2JKNW+brS1CGjV2Ghcr78tJuP32/lu68GVKm32CSkGm1sKF+peyfAVNjoBCMRQBUhioCpfE4RIImaV6wuj24XMT6Yxu3hDO6P5TA2kM7YQKYCUxFYyZv099/c5dq1Auwd9QiJ8MQnyIWACF+ConyJTPIntzSO0soksnPDKS1PorA4jvS0IJxsL6B1cAltxX7857MG8n3OUhSgi5vOdux0DuFwWQtr/bM4mOmhf+4UthamhAQEYmFmzelT5zlx9Aw2pjYEuLljq3sBN4NzlIW7kumqT6G7AS1hpgzEm9Mdpk+t2wlqPU5T6XqSIqeTVPnrUeirS5T1cZqzvNVevL0qks46KWQPU2foWppSc16rCUMymCX8Xa59LYnKNiUF1PJcQGSwNZGRtmQGr8ap1o7eujB1FdbZWOpLU5kfzeX+NJR4KfCU1DTJcK4tdKeq0I36Ym8qC9y5WhlId0s0Mv6VsXBDeRj1lZF0tKQoIVBXa5raG94dq1IAIiAiO+nPPuxBGOxE6XtTTRTNtdGqPq2pOo7qsjBElTvYk6+8yoNX0xB2KpanWyPFag3wwf16HnZnK2Yqqnb5eRCAEuD+5O02xTplVC+tJqL47aoIZaA+RoGphA3IvvdWbwEPxip5MFatdq0y0hWxkVxFxStgKqXmMvIVq8wEcAqgTozQJ167IwH5QwKmFYz3FysglZ2p+HEnxrvCtgVM5Wfx7tgEMy1CRs7XG2JVjdsnz7rJSfBg7aJXVfuL5r7VHD+0ilPHVqlVYUWpD80NwTTW+tFQ6U13awTRIReJCb2gcGS4N4aHtzIZvi72rwKGu5NwsT6gVLOylwxw1SE+0JwwD30CnM7jY39KKYELkh0IdDpDtI8uwg4licjb7qQKAhJNiYPpYawM92Ohvxc361O425xWjogI3yukR9pRkuZJYaIDsb7SMqNPdZ4LbVV+dNYFMtotyW153OiLpb0xQE1Jo0MuEeh9gRA/waHLL5mpuw6hHhdVyL6GWGAkL/clOz2jLC1BPnqqQUaCGarLfLg9ls1Xnzbzu9928PWLJm4OJ1FZbE92qilhgcJitZRQKdjvIsXZLtRXvGStpXkONFV5k5dmSs/VIJoqnMlO1CM32UBZLwRMH9wsoLzIi+Q4M9ydjuJgvV8BtJSThwfpUVHgTWWhF9XFPmQmWZAUbUhmkpn6ZkhprNypyF2LjGtlRKt9dB1ammtUL56j1WmV+2htcgQfZ23OHVvB8f3zcLQ8iOWVnRjrbMLaYAem2htVDKCZzmbOH1nEhaNLOLrzLY7tmsWRbTPZv3E6h7fORv/kZpxNTrF12RTe+o0GC6dqqBqhUwe3c2T7OnauX8rmZXNZMW8qq+ZOY9GMN1TwvADp2gWzWDV/trLDLJ4xlUVT32T1vBksnPoKS2a8qmICD21bwe71CxWYrls0mQNblijV8YYlU9m+ei6Htq1i+6qFLHnrDZbOmMSW5fPV7189bxqbly1QI9+9614j0GELN9pMyY1fRXvjSdITt7JnhwarF2uwdLIGhYFWVPtdwWnfLEz3vkam1wHuNvnx00f18H03D3tlXKpPW7kL/U2BVGZaUJJirPydpQnGFEUbUhp7hdIofZoyzGlMu0JzhjFV8ZfI9tUkyWUXaR4HyAk8TkeeDW25NpTFXeZGYzj3u1IVmD7qL6S7NoZ7vUW0FgcRYLKT+20xipnKm6ewxbG+At6RMdjdapV49PHDSopiL/NoIFWNfSfA9OuPu/j2wy56m6KVmncCTKtzvP+t5m0qj1Zg2lQeqSLXRCAib9qN5SFq3yh33PJYdnEiAJIeStnVyteWMfMP34yolKPffiEjvWv8+Nth/vD9qPIa3hkvVQKliX2qMFIB0gnxkYCpfB4B1AmAlnHv07uV3BvL495YDreG0hnrS+PWcBa3R3IZ6c+i/3omTx4287efn/Ps6QDJacGExfjhG+qFf2QAF4100DXTxtnfGp9QJ/zDXHDxtsbESg9Ta300j2/F1PAgbRXh/Ofza+T5nVchCyFWp3A1OYuLlQFO1lewtriCk7MdTi7ORMYkkpCajYm1M0Zm9lhYOODu5Ibe2dPoHz+Av8VFYh31yPAwJNXuFKmmuym0PUiy0TayrA6RY3+SOPMjBF0+gInmKjJDbeisTWagPY++jjwGuwtoqoyhpjhMpVGJ11huavpaktSovakilGt10Wqf3tucTEdttBonCpB0VodzrSJEpVxdLfZW/sD6Qi/qiny4WhlMS3UQNQUelOe5qvLqinw3BaA1pd40VQZRXx5AZ3OcGtvLTb/cODVLNq4wy6Yk9bi8MFA9FqCRyD0Zp0onrTBWAc+6CgHfcHWki/TeWC3jg+UqeEH8ohIOf3OghKbiECrSPZXyVawyMrZ/MlaumGlGgAG3erJe7s5HXlpdRCUrQfVfvddBU1EAaSGX6auNorcmkoI4KyI9L6jv46CkdQ2VqJG+MEsBUjn/94h3AkxlzCtsdCL1SEBUnguwqtdGyhWY3h4o5UZPwb/BVG4IRgaLlZL3prBeYaeSvDRWxq2BfCUgFMGf7HevNyYqZlpTEKFWTQd3LuPI3lVo7l+J5sEl7Ns9A83Dszh88E0u663AxW4X0SHa2FvswEh3Nc62OykrsKO52oucFFNa6wJ4MJZPYYajEo9G+BoS6iUl3BZE+Rip93tPm+N42x0nNcKM2AAD/BxPqZOdaIev01kV7+podkQJNsUJISNeH8fziPAo0s+I9Bg7NeItSHQiL96OWH89kkIMKUi25Fq1P+/eL+Sbjxv4/rMWvvqkgbs30qkr93yJP7HmxEeaEx5gjDBTAft/t8bIbtTD6SzONqeUH9TF9jS+7ueJDr2i1Lq97bF89mEjP/9pkL//NMR//WWQzz6qprPVn4IsKxIirqiZeKDnOfzczqg9qfzwFmXaUZhpTVm2rUqzKMuxJC9F6LUWuUl6XG/25cb1aFITTQgOuKBKyMOD9VUYRGK0OT5uZwnw0sbT+ZQaNydFmZEaa0FKjCmRgZewMdmJ4YV1yB1IsIce6dGOeDmcx+ryYdVCoHVsEwYX96kg+mMHV3Lx9Fa2rpvKhpWvceH0enWkhFzGogKouidX4GiyD+NzG9E9vhIjrQ1cOraC84eWcmrPfA5ufIvdqyejfWgla+b8gtmvaLBj5VT2rJ+nGmrOHNjAyX3r0Ny+ip1r57Nj1Xw2LpmtSsNXzpnKhoVzFHiunjOTNfNms2TaZCTEQQIe5k76pQLhLSvmqE5SAVSx7hzZsUIB6ublb6kuUxnl7lq3iJ1rFrNp6ZyXzHTZHLavXcip/bKrWMDiqRpsXayhfKZlmUspylhMR/Mx6qt08HLcxMF1GlTH2FLifhHbndO4vO0XpLrtpjPXnK5CK757VsyL+7kUJRlwvdGXphJnyjIs1anMsKEo3oTSBFN1ckJ16CpxoSnDlAy/YwRZbCTcYQdtBVZ8fi+X331QxZ8+aiAnQps4n5O8P17I7Y5UlU/67mgF4lN7NFhGY54vgaa7eNgex0hz3Mv/pC2JKh9XCpGVL3O4gPduF1MYY8jjwTQFpjIie/9hA1991MnvXvQx1pWqQhvaywMpS3OhsSgQESDJaLelMlaBaUNpOLIzFTAVIZR4DgVIZdwrb+Lytb786GWmqgiGBPSkv1QC58Xn+e2X/aqlRoD0+68HlYdQxCUiQJrYqQqYCpDKkccy4hMglSMCJGG78nmFmT64WcSTuyUqvGSoK5k7N+RuOJ3+7lQe3avhx+/u8OztTm7f7WDsTqfyZ4YnhuEd5oeumQEFNXnkVGYQEu9PcFwA7sGeOPq54hXuh52bJYEBNsiNxLfPWsgNvER9kgMRDtq4msr/ezPcPZywsLPCxdcHZ19/7L0CMLB2Zv9pHc7omuDqF4qLhzeBAX4EeDpy+exBEvysaM4Nw/Twcqz2zaLA5RTRl3dhtX8BlodXYXtmO2ZndnFgwwIuntmLs4MhXt6WRES5kpzkS0FeOM216bTUiiUjRSmpRRh2tSaWxopomqtiuVoTT2NZFNeb0+lpSVPjxJ6GeLrrYhEVaXdtpDptVeHUlwaqU1PiT2m2O+X5HrTVhdPXnkRjZZDKwBV1dlVJgIrtEwtIa0OCYqTCKuvla9bEU1UcRk6qBw2VMQogxwbKXnpUe/IV4Bbn+lJdGqqOjHf7OrNVd6sEQjRUx1JfFaNYXXdLKoVJzuRE2yKq9K8/6VVgKvGVj3tyVUXaA0m/6stBvNKKud4o5fFoGd9+eF3dNGRHmqrQ++7qcNWdGeV1UYFpd0OCGsk+u9uIsGdR7AqYToiPZGcqY17ZmcqKQARIApwqW1duECSX91/7U1HzCjMd6ymk75qMrdMZ6M5Vwi8Ja5C9qYTpT4CpAKoUjgugiuBvUNTSDXE8f9RGR10am5ZPUasw0Zfs276EA7sWcHjfPEyNtmJntZ2woLME+5xEhKg5yVZYG23H3eEA/h7HsTbZhPapuZw/PhcLw03EBhsSE3iFIHcdZDwb4HKJSF9jJSJyNj2CWGbCPHXIlUhM17PqFKa7qNB5CQTydDiDt5MW/m4XVL1nqJce8SFmpEfakJfoSE6sHfkJ9qSGmSP719xEawpTrWmr8ePL5/X8z5+H+OfPN/j5j32897iIrtYwtXbMSbElMlAfUfNKrryX/Rm8HU4rENcIEM+Ms9a/wdTR+piytYT4XVLhDELJP/uwnv/68zB//2mQ//rLAN983kD3tQCSY3UJ8dUi1PcisaGXiQnRJy5cn9iwS4T6niI2VJtgzyN0NwfQ1xZCarQ2OYm6ysd4fySR+zdS8fE4RkqiBcUF7ipRKTnWkqiQy8peI6PmQG8dPJ3PEB10hdwUZ3JTHQny0sbMYBs2xvuwMNxDQrgVnU2pVJdEEOprhrH+YXV3dOLQBk4d2cSOjfM5tHsFe7ctZtuGWezePIddm2Zz6sgKjuycybnDC9m38Q2EmUqqkoTSXzm7HjEYXzq2Cv3jazi3fymrZ2mgd2Q1Zme3sm/Vm+xaMYmj2xdw5uBqju1eyvE9y1Ts35HtSxBw1dbcyp51C1k9dzLrpEB87nS2LV/AvvWrWDFzKoumvM6K2dOY9dovmPPGL1k5Zwr7Ni1Dc+dqNi0Tr+pvVAH4rvVz1XN57cCWZRzdtYbd6xezVlpvFkxl3rT/4MjOxerPf2SLBntXaRDpOoP20n24mmpQX3KM4etuJEec5mqBK9/crFQjOr+TSzDYqsG1zMsMV9oTaL6KvmonfnxewdDVQIbaQ6ktdKSu0IXaAmflvypKNKMi1VadwpgrFEbrkRWiRVrAKa4VOfDFoyL+9/d9KjXpv3/s4fsP68iMvkRC0Hme3yvjZlcGvQ1x3OsroLsmjvsDZdRmeRJktpsH12IZaoxRYNrVFK/GZf0daWpnOd6TybOxfMVMnw5n8InYT6QQ+aGIN64qML3dm0lRghXXygKUmre5JJi2ikhlhxEwbSiPQMBU4tNePGtDmjtE6CRAKh5EqV4T4BQLizBIAT7Zl8prApyff9ypwFRKyv/047h6LsHnktMq7FPAVNipjHhFxSvsVI4A6gQzlc8pe1P5/C9fq+Lx7XLG+rLUkbze/o5kFdLwn7+/y99/fo+e3kKV+vO3//mOP/ztt0SnR3LJ3AAHXxfqO+sprC3EPzoQ7wh/3EID8I2NwiM6Etcgb7r7mrjRW8mfPh2ko8CX5kwPciNs8bLVw8nOGCd3Z9wCAjF3csE9JAoHv3B0zJ0wcvDmvJE1Vi6+2Lp44e7ujr+XGzZGF8mP96c8NRDN1ZPJcD1PdYgx7uc2YXF0HaE2Fwl3NcfT3hRtraMsW7mIPYd3s+PQTlZtWs6cRVM5cmwbZqZaGOlrYmmsidzAB3oZkBzjQEFWAPmZ/mSneJGT6k18hKyH7EiNtCct2pbMaDuy48QHaElquAnxISb4u51XXcjSaRzur0tOioMSM0l2cm15MLWVIchYtqY8nNbGZLras6gui6Qwx5+y/GDKC0KoLgmnNC+QvHQv6sqj6OvIVafnWjYdzWmqc7SsIEDtSKV/tKEqSllLRnuLaa1PojjHn6baeAVUPa3pL8NCsn2pKfJHUqxUrOR4BbfbUol2PqMsYrcGc5UASppgbg8W8GC4WMVitleGkhdjQVOBDwKmpcn2SGSdjMmvVUcjSUkiNpO2GPGEyr50Qngko94nDxrU2FdiEmVkK4z0/wZTYabCUEf6ChWLvtGdj9wACDuXGwQVjC8RgmOVCkxl1CtjXgF+UU4LoAqY3uhIVXaj9+81cqOjQMWdSjnH/m1L2b15Aft3zufQ3rlYm+3B2X4f7g77FFjaXtmqfp9MJWQ/nhhphMWVzdiYbifY6wyBHmdICDMm3EdPKW8FSANc9Ij0NcXbVkvFxyYEmRPkckGphKMC9JX3vjDTlVAfXXxdtJTiVoBUANXd7hTCcOOCjUkINiY5zISUUBNyYm1IjbAgzPMCWXEWSAb8wLUofvdlG//z1xH++fMI//3TMC8+qOZGfxJX64LITrZ52WxmdUxVxonf1MfxjFIqa4QHXlHqJFf7U7g5nMbJ5jiO1poEeJ8nLdGctoYgnr9dphjp//xthL/9uZ/vv25ifDiG4lxLIgIvEOytTXy4kVJrRQVeVN6hIK/jhPqeJCfpCs8fFzN2PYa6IjvuDSfw8dMixnoiKcowJTvdgvqaQPJznAkJkA7UywT6XsTZ9hj+njpEBBmp0bOXszZRwWZkJjgTHWSKvZkmjhaa6tcUZHlx50Y1o4PlxEc6cln3IKeObubYwY2cO7mH/TtXq6O5fz27ty5lvYh6Vs1g79Z5nDqwiLNHFnJ423S1Mz29dwFaBxajc2SFAtBTuxZwbs9iBaJrZmjgbnSY8iRXDI+uZP0cDbav+LXarx7YNE35qLQOLuPIttkKZE/uXsbedbNZP/8NdqyYyfblszi8eRmndm1g/bypLJ72KvPefIXVc2exZflCDm1dy+Htq9mxZp7an8rOdPuaWRzctkiFM0jS0dpFk9i6aobare7btESVhk99VYPjB+YQF3KG7OgTZIfvI8J2GVcOahBstQHLs0vQ2j+XNXM0KE+woyrKhLjLO7DZ+RqBegt5u8uP9pzLXD7yK8oSL/LV20W8fy+HxlJHZNfdXOFFQ6kHZZmynLehJNVOjVOL4s0VU82P0qWv3p+fv+6CP4/y07ed/O3HHv7wdTt3h5OpKrAnK96Ie0PZyp/W15SoBBp9Tanc7C5QYBpquU8xUymdFtWiMMahrmwVcyaANtKZyoPBTPIi9ZQ1RsBUmKkIkD54XM/3H19nvDuN/FhzBhqjVe6vqA07a2IVmDZXxNBUGaXAVKwxHz1qZqw7Syl5ZaQsMW0fP7uq2ONYv7zJ5SmWOtSdgdRoCTN98WG7AlPZlwozlUo4yV0VQBUAFTCVXN4JMBUQlaNESP8CTwFQAVS5iihJ/KSSiypCJwmyl7+riJPkc/3XT8/UqK3lahrPPxnn7/zAT//8gazyNOx9nGgf7qKhq4ms0lx8IoMITIgmMjub9OoagtKziM/P4c6jUZrrsnh/vJbBmihKom0oT/QkwtuauKhAQsJCCQiNxtLBA6/gGFz9ozG28cbOPQwtXQvCYzMJCo3h7Ikz6J45jYupAfG+jkQ4mWB/bjet6d6kuF7E6NAq4j1N6KzOIzspGi9vN3SMrrDtiCYXLSy47OzICYOLbD2wAwMzXUzM9dDVO86JYxs4fXwtB/cuYe/OBRzYvZRNa99i9bLJ7Nu5lCP7Vqj929mj6zl/ch16ZzdjoLWRC5orOLZnDhaG+zituYIt617n0J45OFgdVSuq6tJgBSrlRUFUlIYo1lhXFUtbc4ay5RTnh5GV5k1hVgDluUHqlGQJsw2griSS1ppE2utTaK1NUGy5siAYOTKersgPoroolI7GFG4PVdBYFasYbU15pNqZdjQmKTCV9J+CNGcGuzJU3KREDA7WRpPqq8vD4ULuDOcjQCrqZWF7Aqbv3amiPt+bqgwXbrQmKTAtS3Eg3t9AsfLmsjBVJC470/s3axQzlRGvjHYFRCfAVAC2uz1NscwJEdKEAEmeC2AO9xao8a4w0962DAWmvR1Z6mMy5pUjzFTAVNizWLUG2lMVoD4dK2W8O4Pu+ijevlXNvYFK9m2aw/rFUziwfZkCU2nw0ju/BQujXXg5axLudx5H0904meyluSSUD+9fRYLze8QX3ZdDkNd5jC5txNf1NDKyzYq3J8RTnzCvy8QFWRHiYYSX9TlCXA2UTSbGz5j8FBfyUhxJj7emstCX9DhbUuJsSIy2Rvq5IwOuEO5nSFK4uQJTqUqT7tWsaKt/g6mv82lSo82RtcBgVyw/fn2Nv/6hl59+f52//qGHD98uoa8zkqpiV5KjTfB1PYOb7XEF1D7OZwlw1ybE+xIa0aGmSrkrQCoMVUBVwDTQR5us1P/D1ltHV5lm6dvMTPdMd3V1AYW7u1O4u0uAAAES4u7urifu7g4kgTgxIMESgjsUBUUVULiVTXf/eq5v7YeqXrNmfX88642cOkmo5Nzv3pAEalYAACAASURBVPve122sVmAunEnm5ZNjvH1ex/PvK3j2+NN+aHuLhta6GLKS7IkKPkiw9x71TeWm2BAbuh9n6yVc6Ejg6rkkynMt6TwZwYfn1dy7mkb7cX+qyhw5VulFbXUg8TEGBPrtJi7SRFWmtuZrsTFbp+4wpA0teEI/9/0UpvtyOD+UEC99zA3WYGG4htAAI2qrEqg6HIe99U62rP8Krc0LWLt8BlvWzVPXhV+NY/HccSyZN169r6+zDrODGzHUWYyxzgJFF9qxejzrFgzBeNdCdq+dwsYFw1nz1SBWzRqgxHTEX3qoAO+SeOd/ienKr3qx4qteLJz6Gavm9lMGpkVTe7JqziC2Lh/HV2P/yvQRn7Fi1nCWThvG8hkjWDV7DOP6/Ynhvf6LAZ/9gdED+jC8z1+ZMW4o8yaNVHmp4vCVX8zxQ/7MwulDVcSaiOjMcX2YM2kAC6Tanj2ameOHMqzfv6OrPY1gzzV4284kI3QD5XH7yAnYw7aZ/RncowfT+v+B6QP/jZJIG1x2TiPVchW+20YSdHAsF6vsyAteg9Gmzwl3XkBe9E7ONvhTXWxPRswByrKsKc2wJSdehNSE5FBdYn32kBSwh5Tg3UR5rqezIQz+cYF/vGnl11ct/M9Pp+lo1nDnSj7xEfsJ9dzOldNZdIrZ52gsZ+pTFTe3vSaJsiQnAk2XcakuinN1sXS2pKuKUWamKqT7VBZt9bGcaYwh3luLy02xCmr/e+v0emexcveerI5U4b+SlXq5NZ0TVdHUlYRRJW08afUWhajVmBO1SdzuKqO9LvGTaNfGc+U3Yf5d1MQkJMImwvr82xZ+ftOpKtFX35/g5dM2hDp0rj1LVZ6/m41+F1OpRqUyFRGVI2sRUo2KiP7+PYuQSgUsM2FZT5B2tgSLC/FIslB/ftfNE8m/LA+j43Qx8JwnL6/Sda2Z/EPJZJWm8Csf+YUfaThVj1eIJ54hPoSnJpBYmIe9vw8RafEkpkeq+METx1K4d66UknhHjqR6kxhoS1VxJuFhIegZmWFm64xvWBwOXmHoGDqw86Ad5g6BRCcW4uYRyvo1mzHV1cPRSA9nfW38LXRI97ekKtmXcMf9GG5bSoSXLYlRwVhZWaiWsZmrF0t36KBlbst+Jze0TC1YvXs35m7OGNlaYu1khanlfmzsddE32IbOvvXs37eelSumM2/uGHZoLWP3rjXqY4YHN2NhvB07i53Ymcs4Zyk7N07F122/qm5XLh7Djq1zCPIzJTbamex0X06fLKSkMJiCXH8Kc/zJzfChrCCcivIYcjMDyU0PIC/dj6IMPyWiGXEuSlSLM/2VoB4uEoNSEAWZvuSlepKX7k1Jtr9qB8v7OcnunGxIQ9Z8pOotzPGlJD8AqWCzom3JjrEjO86W7EQ71UG51VVEY74fWSFGSJtXdqSFZnTqt9bphbZMulvSyIuz5mieN99cOkRdoR8ippJ4Im3u0hwfCrO9EDevCKqsxYiA3hA05qXDqkIVURUxFe6vEszfKEhSpcr+rlzlyGxUMItiPpLr7yas3z8vwAbV5j0t0IZM9fspa0xCMJP575mGBAXAuNKRz+VTpSybNVy9Zi2fN46Fs4aybvkY9mvPxtxwKQEe2moGum3lKKRgkRWWu10VyLxWKsmiLHdiwwwJ9txNWoylipGT+adAamSMFxtkgYMEfxusI9RdT63MyOyzIM2ZyhI/irNdqSjzJz/LVZ3UeBuiw4yUyEYF6xMdpE+gy06CXHep9q4EtEt1KhQjT/st5MTbqvn6sRIPvrlVzPsX9fzyroWX3x+l+3Qixbl2RIfuUyNGT8etOFluwNZktQI4yLqMtKR7hPgb4uuxH3cnoR5Jcsw6xeN1stuAn/dODhV7UXXYl7PtAoMu5dqFbJpqQpRKiyEoKcaS2AgzQv31Ff3I3203wd578ZKQVx8tOloj6eqI5ni1F+9fVvHuVRXXLsVztj2Ek80BXO5O5lRbBFlpQlAyVCaBtDgrnK3XY2O8SvWiIwMNiPA3IFFjRW6KB+Z6qzDWXcUB7UVoa83HwmQzvp4GBPgY42C9m33ay9i8bjZrV0xFnGWb1kxn7bIp6i5Xb+9KQv0tCfW1wFx/A3u3zkF2SvV3L2LH2imsWTCczUvHoLVqIpsWjWLNnCHsXDWJ9XOHsWxqX3ysdxDnbYTWkjGsnt2XzcuGsHH5ELTWjWHtosGIkC6Y3JNFk3uxceFIlk3vx7Rh/8nGRWPYuGicIhxJokyfP/ZgZJ/PGNxb6EUCzv8PtUYzdfRAtZM6a8IQpozqpxJhpo/rz/zpw1T0m8Igju+rxHXtwilsWjpXUZwG/aUH+7eOQeOzAXv9qfhaLWfj7F6M/nMP5g/7nKm9e5DpbcbhcEusV4/Eb9tEAnePx2HLl5SErcPfcAzG6z6jPG4PEU4LyQjZSnWOBQkBW2gsEbOHHRWZNuTFGpERoUu8704ywvdRmqBLmOMi8uMOcKLKm3vd2fDxLC8eVtNyNJRbnbkKEh3sspVb5/KQ5Iv26hhFKJLZlwCxC2MtcT8wj85jkcq1KzFmUj0KuOFcUxqXZH2gq4iaw8HEeuyguzqa57ePKTShOCIl3uz2hWKajoSRGWVCV2MC109l03E0luOHIjic46vEtK0mmdrDUQrdJhg/eX4xHcki+uM7dSqrUcRbwN/y9eUq77990s6PL86pRBeB0b8T3Nyj1n+RisSwJLQimY1JS0+Sbn5fhZEKVAxMslN6/UKRCuu+0JGlrpLFeul8kUq/EaKNGEbkRfDtq06ePD7B8eOp6sD3fP/kDD/+cofWk/mkpHvy3dNOPv58n4+/POL6rVOcOV/DtZvtyqTk5GbK83ff0HK6ityiGNIyAikpCFNVlOzdJvoaUJcpa0QOuDpZYmFng6OnN2aOrtj5hKJr48kOIxe0TT0Jjithq7Y5B/Ss2L5pGzpb12OxZwPJfuZkh9lRlBjAvq0r0Vq/jKTEGJzcXHELDMbWL4yDLv4s22fCJjNHDrgHoecRyGpdY3Qd3Dno6I6FuxfW7u44eLtj5mCBsaU++3R3YGaly6RpI1i+aj4bt6xm244NmFka4OFlj6ubGV7uJni56WGqvxZvd138fEzZsmkxS5bNIkwTQJjGj4TkQAXQLy8JIzfTnewkJ4WTLMsNVG3d3DRfygvCKckKoCDNh/QEVzKT3NXn8jN81cioJD+Y7BQPMpLdSE9wISvVQwmpVKAisNmpbsqIlJ/pQVaaCznpHuRmeKqWcN0hDeeb09U+9bnjSYhh5/23rarSjPfbr9CAshbUITd9x5NVN0I6JZdPZJIYdFC5jh9eP4yskWWFmxDhskv9Lhfl+5Kb66X2QW9cOKKQgRcEV3n5EMISFrPT1QulaidUdmeFvStw/xPHUxV4QSpSEVTJdBXRlJsBEdP24xmqMhW0oZioVHxbc9ontGBrploLktUgAWW0Nyap/W5xJIs7WoT11rmjbFwyBdlKWDR7BJvXTEBv3xyc7Teyc8tEdm+bxdbVk9m5drZ6HRQaUePhSJ5+fVxRqiIDdNW829FkpQLzaHz2kRxuQlqkOcnhpnjbbcHiwEJlPAp20yYyQI9EjRESjnK8JkBtmdTX+NNQE6SKs/ISDwrznNSGiLRmIwP3E+V3gGi/AyQE6pMabExSgAFBztrI8wmEPyFUT71Wvf2+gUfCvr5cwNnWBM62JpGZYEWI1x7V4vVx0VKVqYwbpR2t8T9AtL8ePUICjfD30SPA+wABPvtwtt+Chcly3J23Eh9tpoD2QjoqyXejuiKII8VeZCZZognSUYIp6EB7y4242Grh5qBFuJ8+8eFmaAJ1SYo24MyJaK5fSuXmlRT+/ksTr14e5u6dNK5fTVLn1o1MujsTqKnwoiTXgcNFnqTHWypbtI/TdvXNymBZeuHmB5fj77YPW+MNWBltRn/fStXS3bd3BQd112KovwEjvfUc2LOCnVvns3ndTLaun8Xa5ZNYtmA0q5dOYMfmuYigHtyzkr3bF7Fn81w2LZ/E6gWjWT5nuGpVSErL0llDWD5zEAsn92HN3OGsnD2ExVP6YqC1UKUWLJ3Wn/Xzh7Fj3Xi2rBzFzvWT2LZ6gqpGNy4exaLJfVgwsTdzxv6FacP+wLr5I9m0eKyaqW5aOlUZjAb89d8UB1jYv1/+WXZXP2PWpOHMnTaamROHqb3UcUN6qkp19qTByJH1GTlzJw1i4bQRbFw8m7kThjJ9xJ+YPKQHK2f/mYPbx2Knv4BZw3swfWAPZg/+dwzWTFVxWC5aM7FZM5JUyxWE603DeMV/4nlgGI67+uG8ZzBxrkvwNZlKS7EdzSUOZIcJyHov+VG61Oc7khOlR16MPgVxhqQEbifYbj4XG/04X+tHQ6kztSVuNFcGcv1cNm3VGhXHVJhkQ4DdBi63pnL1RDqdDfGcOhZL06FQxdEtT7TGz3A5F+vi1brAhc4CJXDSPpK7XmmF3rh2mLOn0tVd/anSYH64WcG109mq2lPC1VmsWk6p4QZcaklRDNSTlRqqC/wVlFuwhaePZyrDi/B3pTqVWakkyHx9rYofvmnmmxvH1NxU1mRkXabjeIpy+n744Qxy5DFvvj+lznd369XnRDhFTO9cOaLE9MHNY0pMRUB/X4WR769bfa/53LxYwo3uYr65VaXcwmrd4FQ27W2fmKjfiVi/7uLEiWzS09345ddbPH9xnnfvL/P02RmOHAnn6tUK/vn3O7x+fYF3768pju2Hd7eBZ3R3HaP9VDF/+9sj/v7P73jy/JIKy05J9+ZIWSR1h6IojLOnIsGZqlQfAj3MKS/P5vF390nNTsfMwQkLV1+MHHzRtfTExCGArbsM0dLSYcfmzZjqbCfC1YTKFG8yw2xxsdBlyviRbNu6kdLDh3ALCMI1JArbwEi0rN3YbO7MKn1bzEMSCS+qZqOpIwbeYUQVVWLqE4KZux92vgGYOztj5miNsZUxUYmRmFoZs1tXm43bN2NgaYaZjRWuPq54+jji7WeLJsIZC7PtBAdbExzqgKmFPpt3bMXZxxt7D1d8g905XJlJUqIbiTG2JEdZUZDqpghYx8oilVhmp3gird3cZE8yEt1IjnEkNc6ZrGQPctK9yU7zIj3JVYloboa876liHZNiHdQ1J82d/Ew3qspD1N6pwOAvnivl61u1vHh4gvfft/Pz03Z+fNzC6/t1vH94nMYSf3JiLLl+Jk+NGUSgpOo735bBuaZU1VFJ8N/HsWIf7nQX8ehSGcXx1iT7HlDEoZISfwpLA5VZ6Or58k/mI4GDdJcqw9rlzmJ1gyZrZYJYFPauCKrs0EoijBiSVFXalP6vVq+IqVSw4k4WMRUns/w+iqAKq1d+Lvke5XuVtTHBa149V8jJhjhqy/wV4vDqmQoFnRFfx6ZV0zi4byF2VmswN17K1o3j2bZ+mlqb0dm8mK0rZmCms4ysWDu8HbdRXSYrPymcrInDeO8srA4uINRzFw4mSz6xBEJ0SQrXJzXShIRQfaL895EcZcLhAjfaGoO5ciGRm9cyuX4lndu38tTpknzllkhKClxITzAlIcKQpHBDpCKVrOOMMDMlpiHOuxVwIS7wIKHuWqSEG3DvYiEnazUK6tF0TENqtAUav4MkRVioalRavO72mxFRjQrUU/uucUH69Aj00cXfSyLT9JD8Uolds7dep+aXCTHmBPvtUeCGhGgTUuItEDdTfIShcvGK8UjMQdIeliOtYoVa8tyNv7uWWmGpKnejpcGf65eSePG0nAdfZ/Hd4wKefl/KqxcVfPuwhDs3ZSE4Tu0flRe4k5FgRWKEKSlRFkg/2950Fd5OQqHYh+yOOltuU2K6R2sB+vvXsEd7OVrbFrJTa7EyNejprFHXPTuWor11EetXTGPV4olsWDldvb103hjlNhML97qlU1k4cwSzJw1k1sQByugzbXQvJVhfjZc9zi+YPOxzdSYO/BMLJg5ULsVZo3qzZemnNZxVC4axdvFo1i4ay5YVk9FaPZM1c0eyfOYQls0YyNzxUq32YtGUviya3p/1i8ch4eIThv9VwR6G9f0LcoZ8+WeVZCOUJBFVSbURMZ0wrDeTR33JtLEipAP+dWaO7c/iGWNYPXcii6YM5IsePVgzpw+NJYEKqzdlQA/Wf9WLZRP+iPWuGWhsN+C4fRLBB+fgsX0Mtmu/xPvAaLx0R3Jg6b+xbVYPLLb1w/3geDqrvTlX7YPGeSVFcXpKTCvSLMiPPah2TqO9NhHnvZGaHDPayu2pzDDhYquGlsoAksL203osjHPNiXS3plCa5oCXxSo6jkUqoZM27OnaBForItTHDiXZ4G+0gnNVkeoO/fzZXO5dqVBzTcH+Pbxdw707x9R+56FEB46lOvPk2iGun8lRgqWE6zcxjQvYR2dDLPfPFah/BzE7XW3P5153FVfPlqnIKYlZa5S9QtlhrI5VaR5Pv27k/tUKOk9kKpCA3H2L0UL2WH96eY4335/k+cNmPj4XUW1SNBvVGr4ood8F3L1a8f8rpuLaldbupbO5yr1761Ipj+/V8Oxho1raF2OHVKPiyBTG6//84y5PvztJa2s6165V8o9/3uXpDx08fdrOiROZNNTG8+P7S7x/28m7d918/aCVy9dq+Pmnu4pjKy3Mly+6+fHjbR48OMWrt9d4+LgDmbumJbtSVRJGWbo7mcHGHEl2pa4olOaqZN49uUpBRjR2lqa4u7phYmqJrp4Ru3bt5sB+HfR1duLnZEZGmCuNuRFUJnjiZbIdLwdzMtKT8QvwJ1ijwcbdW4mpY2gs+xx90bJy54B7KHqe4TjFZrPJzIUd1h4EZR/CUZOEpU8w7poYvCI0+EeFY2xjTkRiJIkZiYTERBCREE9WSTF+4WGExEQSognC29+RpOQgPLxMcXA2wtXTGjtXO1Zt2cx+MzOCYqOJTY8nLTeWyqNpHK9LU2sfwqEVF+zl84dprk/nSEkUOaleqs0rrV0RVhFVqUxVazfdWxmTxJAkrt+KkghlPBLzUcOxeFX9SQj4o1vVqrMhcYGP7zby9H4zT+7Uq1xeEcOvO/O5057JjbZUKjOdOJrjzs2OXC6fylHEp99dsl0tcqOZSIz3bhoOB3G5I52nN45QEGVGZrAhtSVBlJYGUFoerMx0Z5s/5ZdeljCFrmKVXiM+AjlnW7OUgU9GJSKoIqYijDIv/b9i+imaLk2JqfxcIqbiEpYjAvx/xVQwm/K7f6ohUdGohBd85fQR1i4aj2webF07G929izDSW8purZlsXDOeDSsmsWbJBHQ2L2LbyulY7l+tdj03LR+BkI7yEh0U3rMkw1mJXnKEAVH+uz9lnPrsJDXSgOx4CwpT7T7tFAsOMt9Vsdzv3sjg4YMivv2mlGdPj/LDs2PcuVXM+bPJVFcGUJzjSHaSDZmxFirCMynYiAS/g0S670XEVMxdEhgu3TN/x02fsksjDIgVYFHIQfydtuNpt42YICMC3fYos5HMTSMCdEmONCMlyly1ppWY/i6ovp578PXUJsBnL0F+OurIHqkIaljgPnUN9d2j3Fdhfnvxct2Ol4sssu5SoAeZbUr/W3rKgl7KSbVC5qptxwO5dzOT7x4W8PX9TN68ruD1y0rev63l9ctq9Y9w9UI6jceCFKBBxFqGylkJdkpQpaft6bAdT4cdeDrswsVqO1bGG7Ey2Yb+/nUc2LeGfXtXsXf3CvZp/++zkp2bF7Jj0wK2b1jA5jVzWL1kKgtnj2b2lCHMmDiQ2ROHMn/aKBbOGIO0VlU029iBCpAwY8wABKowrPcfGdHnvxjd/zP1/vTR/Zk8tLdy6k4f15epY3szb/JgdZbOHMn6RZNZPW88GxZMZNvyyaxfMEoJ6ryJXyCxatNHf8bimYNZs2QSM8YNUiI6vN/nDPjijwpFOGfqKKaOHaTEVChJYwb9VYnqpJG9ka8tIipB37J7KhXq8q/GqPZx3//ogc666YQ47uLgpnEsn/rvHNg4BFeDr7DbOwWj9YPxM/qKYOM57JrRg0S7RZSGa+GwaxAm63tiub0/5tv6s3fFZ8R5rOFohrkS0qpMC5L8tpMVtpcszT4SA7SI99tGbZ4N9fmWnDnqxjddqby8f4irHSlKSGU+equrQAUDHyvwws1kGc3lQVxsTlaOXplntlVq6G5MpCrVAe+DS2gtDlAz+LYmaSNJHmS5ct0+edDI/dvHePKgnmPZ7hRFmfPdlTL13IITFGeshIULHSfWR5uWQ4Hcas+mqSyYxuJgBRz/5uoxOtvyFIP0aGmoWoMRCLrMrcR4JC+KYmYSMRX6joipnG9v1ygxffGohVeP2/jldadK/5A7c/naMvO8fK6Q+9erlJgKS1iqVWk9/16ZyrxUdkrvXCnn4e2jvHjcrMRUzEkXzhWouZfMvH7+eIWP7y7S2pSqQPbwgLfvu/n1bzdVNdrWlqHav3/79Rovn3fw6tV5Hj5q49d/3OfN60tculjJ99+288+/f81//3ybF8+7VHv4ydOzdF04TE1NvEobuXy6iNJUV/JjbKkrCCA5xJiq3BCSQuyJ8XciPtgLX2crJZSulnpE+NiREupKVU4UR1KDKU/0xU13M5sWTCY+KpyvHzzEJzAEN79A4rMKcA6JwtQzCB07b7ZbumEVloyOSxB7nQPZ7eiPtoMf7kkFxB1qwNgzBBv/MGz9AwmKj0fHWB8dYz0CosLJLC4iMjWV6LQMHH388AkLJzAyFFdvR8IifQjVeGHtaIq9mz3BMdHomluyx8SckMQkIlMTCYkNJqcwlurqNFqbMpWr9eJ54SaXqrzTtsYcDhWGUZYTpAxHYjqqLI2kviqRusp46qsS6GwvRlZkxLUr1/Mn8pTYSIv10e16nt6t546Ev58vViCQR9c/kYxE+A5luKqqMiv0IGXx5lSl2ZERrEtTqZ9KRzrfmKTmjzI3lTWtC61pnKwMJ8pzF23V4ZxrilNCnOS7h4JICwXnLxcxLQ0gN8VFhdpLe/fKpTKVbyq/S7J7feGMQBjEVBSrdrX/t5j+78q0rTlDOXrF1SsrMbIu9Htl+nsCjYiwUKCkMpWWtFSmgnoUjrT8fVTk+XDhZB7Xz1WwecVklci1fvlUtq6fwcbVk1i3Yrw6a5eOV2K6Y90cNiyeiLvFLrJj3JBoSeGmG+z6Srm0xWhYfygQje8u0mMMKM2yUw5bmWUmhesRH7Kf3EQrtVPcWhfGjctpfP+wmFcvjiktefumnrdvGvn24RGuXMqm9bhGjSlLsl3JSbBWLvBonwPEeO0nykOHKC9dhaEVMQ1x0VLJY2KyDHTeQqDrVoLddhHkulOJqZ/zLjUbDfPZR4iPDnHhRv8S0qwEW3poQkxUVSot3tDAg0SGGSp4vYip7H0GeO8mLPAAwX46CJTB12OngirIVXZB3Ry2qag2cU75eegg6yxeLlqI2B4ucufiuWQEYv/twyK+f1zMs6clfPxQzcuXFbx+fYyff2zm6XeVXLucRd2xQNLizdQuaVyoETHBBgS6axPuu1+JqewOiaM32MeAg3uXsm/XUnT3rkZPZ606+3evYs+OZezcukidXVuXsldrBXu2L0drw2LWL5/NigVTFBt3ztQRTBs3mGljhzBr4ijmTBnLzAkjVaqLXOdNGces8SOZNnooYwZ+yeQRg9T7syeMYua4EWpHtP9f/sjAL/6oAPaTRw5AjoAU5gvEfvxg5k4YzJr549FaM53V80ewduEoBakXQZ03tQ/b1s1ix/rFjB7cU6EHB/b6I30//zfV3hXk4IQRfRUCcMKwPsiZOPxLJg7vq67Txw5m7tRhTB/fh5ULx7N89mjmje3PrhUz2Dh3KHtXD8fTZD4OuhMoT9EjLWgzVruG4Wcyi8Iwbcoj9/CPb8pozjbjwIo/Y7F1IPtWfMbSMT0w2DiA9MDtFMfqUZZkSGGsrjq1ebZEe6wj2H4peVH7aC13paXUHt42AJf4f29P8vFpE9/ePEz3yTTONSerdpa0c50NFyvMnxgsZGbafDhCXQVsX5fthseBhdTneCq0XGNNpGp7CTFGMiB/eNTMnRuVSogaCn0p0Jjy+HIpl09lKC6vmITOt6RwqiaKxAAdqrKc1YtVV2MSDUVBXD6Zy9XTRRyvjFHz0ppDEYoFK7hAAc2LmN7qLlPiKC8SIrCyqiA4O6lGf3xxVl3fPjnFz6/Oc+/KEZWjKsan6xdKFaVJ2rsyM5XsVamUP5mLSlVVKtWpiOvje3U8/7aJHx4d5+sbFcqcJHf/3Z1lvHh2ll9/usH1K1WfRO/yYX799QY//XSZR4+aVLTXwwcN/PrjZX56383PHy5y49oRLl05zNuPV3j27Ay//Hid//nbPV48OcPbF138+vE6P324yrVrR+nqKlNpM9Ie/u+PV1X0XHGqJwnBFmTFOFFdEMHRnFBayxKpzYmgISec+pxQmgsjOFkWw8kjiZSl+KPxsMDf0Qzt9StZv3wpXt7+pBeUY+7gjr1nEBnlRzl6qpPMqkYllIaeoRxwDcJek451aDJ7HIPY7xqBS1wh/plHcIvPwSlCKtQgIrNzcQsJQc/SHO/wcPIqq7Dy9MPC3Q97v1C8NdFoUpLQJEUREOFLeFwIhjZmGNjYkJhfgCY9B21TG3aaWGDk5ERESizJ2TGUV6bS2JjF6dMFXL1UQefZUhUg3nnmkBJOcegeLdXQXJ3MiXqp5LLUVZy6HU2ZnKhPVbuYF9oLuX7+EDe7K9Ru5YNr1ZysjlYgCQEtCFhCTEIV2d4q5aU43laxkQ/HW9NW7ENbsTe54Qe5dTKdhxdK1O+/VHciptLivNSWQX2RL3G+e5XZ7lRtOLdPZxHnuVNlmwpOUcS0uNiPkmxvpJV7Q8LHL5dzWVCVssfcVaIqU6lIBV4vovq7mP7e5pWZqZiLZG56Un7WxkwlpqrNW5P4CTxxKket14gpTpy8Ehco3OSm6mgFvZBwBhFT4Z8GmgAAIABJREFUWf0Rtu/dS9Xs3jSH2ZMHqG7f5jWzVRdQPCsyXlu5cKza+d++ZibrFk8gxN2EzFgPDmrNU5hAATHobJ6k2OKNR4KJCdpNfOheshIM1Al024Cf81oy44xU5mlBii0dzdHcuZ7F8ydl/PihgR8/HOfd2wbevT3OsyfV3L1dwsmWaFWdluW6kxVnqUxHGq99JAQYkRpqTkaElRLTMDdt/O03E+q2nZI0B8I9dxLsuo3cBDsCXXYQ5LqbQBdt3Gw2qnltfqqzMtuqNm/oQTW/7REVZqZmpdLijdGYER1hrCpTX89dhAYeUEjBEP99SlRFTEVchU4kVxFNqWZ93PeqFRYhJ7nYbcHBah1+btspL3ClpsJHtXkf3M/jm69zefn8CO/eHOPVq0revavlx/dNn8T0Ug5N9WGU5LqQlWSnKtPYEENCvPaqHyDQYy9JkZZqNutotQ0n6x2YG27GYN86dPeuQWfXCiWkIqZytLctY+cWiX/bxI6NS1izZAYrF05l6dzJSOUnM8nZk0Yyd+oExgztz8j+fZkwcjCTRw5n4qghTBszihkTRzNl1AgkDFw+PmnUcMYPHayOPL7vZ39iUK+/MOCLPzOsb08G9/wLI/t9ohFNHtaPSUP7IHtX6xaOZ+3CMSz/ahgSq7Zx6TiWzh7KumWT2L9jFYtmT2DBzHHqexrQ8w/IkWQZ9bHxkrc6iCmjBihhFbqSpMCIqEpVPWNiP5bNG8PiaSOZPbIv0wb/hWkDemCybRLG20Zgs28ELkZjcTYYx/61n6O/4UtaS+zpOuZFVtAWrtUH4286GyutEeis7EmAxQJOV/rQkG9PRvBOqjKsaCh0ID1kJ7FeG9SpL7DnXE0Apyo8FZiB1418fy1PhYBf6UiloyGWe1cPKWauRK6118biZLSMikwXLjSncro2Ti18n2tIRFZh6nPccds3nyNJ9jRVhlNbFaaqQyHCiNCJmN6+cZjbl8toLQ+mMNKM++fzuHlWKoU0tZ955ngi548nkBGuT0GsGR1VGq62pnGiIkKt45xuSFXJMBL8LZQjySptrolRAioAchFVOSKmsqYgYiqiKgL6/lmHEtMPP5xW7V55nDxGHnutq0QdMR79LqYinAJ8kFmpCKu0eb++UaV+jlfft6qbApmhyu6hLNZ/9+gE//z7Pb6VXdCaeDo7i5WQfvx4kefPOzh7No87t47y+uUZJaTvXp3jw5vzPPqmgZu3j/LuwwV++eUqP37o5rsHzXx4dZ6PrztVmPnTx63cu1OtBPnDh0t8/HiZN2+6eXCniZb6LPw8zYgIciIu3IXseC8aimMpS3SnJt2X6lRP6jN9KZadT38rrA9swdroAI62Nlha2LFj90F2HDDloI07zoHR6Fq5EpCQxZXHr6g9e4WovMM4a1Ix8grDN7kQe00mOs5h7LIPwdA3EcvQTOw0mdhrUrHwDycwORPf6DgO2tlh7OSKT1Q8jkGROARFE5ySh09MCiGJKaQU5BEUFYZXqD82Xt44BoSSVVlNZmUtBx092GvlgGt4FBXNzSTkJJFflsKhykRaJDv2cgWnO4qoqkzgWEUC7c25lOYEUF0eRdOxJOor4tTbAo+oPxyrUJQSKH+yLlV1NqS7Ie1Vmb+fEfReVTQym5fw7pNHYzhdm6h2qK+1ZXO3PY977Tncaknl8dlcrjclKDGVdu/X5wtpLAtWv2ddJ4XJm8TVE5kcyXAmLVSPzpY4TlWHcbcjizj3HTQW+SlqUlmRL3k57tQe1ijgvZiOpDKVmelV+V3rLlOVqQioVKbS2hZhPdWc/q827+9iKpXpqabsT1mw9SlUS6BCXbISU7nJE0ThKUllOpmlhFRcxy21sZxsTFSrZLJzeijPW7F971+rY//2hcya1J+VCyaxaeVsNq6azcpFE9URMtL29bPR3jhXYVljA+3wc9LF6sAafO218bHboaI1HUyWUZhqQ2qUHokRe4kL3UlixG4C3NYS5rOZ8hx7taYnO6H1lf5cu5DE42/yefemRnU6X72s4fWrWn54WqPEtL0tltqKIIoynUnSfMrADnHVJtpbTwlqdpQtMb66hAr60mkb4R47KEi0VmIa47+f5DBjxQEW16/kaMvoMTnSnPRYK/V8moB9KpotNvQgPcKC9AkPNiAixJBwWW/x3692PUVAFcTedbsSVGESujlsUQzeAK89SkhVVeq6Eye7zSoQ3EEAwLabVcUa4rOXo+U+Corf2RHLg/sFXLuSzNOnh3j+vIK3b2t486aat6/q+O7RYbrOplBTFaiIJYWZrqTH25CgMVVL2BJ7IwaCm92HidfYYG2yQYmpzEwND6zlwJ5V7N0pIrpUieo+7ZXs3bFSCeq+XWvZsGoOy+ZNYfn8qSydM0XFn82cMJx508YzY8JYhvT/koG9vmDE4P6MGTKI4YP6qevYEUMYO3Qwwwb2Y1i/Pgzq25sBPWXO2YsRA/oxYkBfhvWT//avDOj5Ob3+8w/0//wzJg4bwrjB/Rk35EtG9v8MQQPKvuiYgX9gxthebFo+hWVfjVC7WKsXTWHTqrmsWzaL5fMnq/auQPG/miSpC/OZPXGECi+XqlfCy+U5R/T7XIWYi8hKu3r0kD8jqzTbls1g/ujeDP5DDww2jSPQegkBtnPR39Ibo+39OLi5N456Ezlb7Ue8z0bG9+qB9sLP2Dzz31g5vgcOOhO5VB/OxYZwAqwWY75zDEG2KyiMOYjsknZU+sHHU6oKvdYWSZL/FqI91nKi0pOP31Xz4Ukj55rjVbX44EaFgpcLuFsE1cNiDUVJ9khrq/N4sgoAl7eLYiyoz3LDU3eREsm6chG7IBXc3NWaoSpGIRLduX5YtUpFJPM0JlxsSuDehSIuncmhuyMLEdMLLckqkzBbo8/xQm8uNSVz9jfhbjsWT215hEqEEZC9pJRIGoxUl3evlP+W3pLHxdPZtB9PUIHj59pS+enVGd4+PcHLx838+PK0oi0JYEHMF2dakv8FY5BdVGlHC+Dhf4upVKiSxyrOXTkCyJdVGsk+7Tqbz7XLlbx7e4XH37bT3JxObW0Cd+/WKTF98eI03z48zv271Xx838WHd538/ZerSkh//tDNrz9f5uLlUh5/38Kr12f4+39fUyL6tw8XkRUe+Xry7/bzxy712B9/vswPz89x+34TN+80c6K9ChcvN3bq6LBtxyb2aK/H2WY/TmbbcDPbirPRBuz11mOgtYLta5ewZvkSrKwd2K1ngVtwEuv3mrNa24Rt+vbYBcRi5RNJUHI+icVVuIYnEJVXjktEEh6xWbhEZWDqH49NeDZ7nCIwDszAK6MKx9h8PFOK8EstJDA9H9/4VCy8/DBw9lTzVLugGOwC43CNSEXedgiMICgxkcCYKGw9PTF28sQ+SINPXCo+8WnsMndgj6UDll5BBCemEJWeQHZxCoXlsdQ2pXHzVi03b9aovNS6qmQlprL+IiJadySWkkwf8pLdSI2ypSTNSwVmFCa7KwJTe10yclN2rimD882ZnGtM58SRSFoPRdBSHk5TaRhHcwPIj7cnyU+faNfdJHjK2UV+mCGNOR7EumlRl+uuOif3L5SqGzYRJfmbkFSdwngr8mPNuHQqmbMNUVxtTiDSaQsCM5Ed1MpDweRmu6mK81rnJxG91C1M3hIlplKZiqlNxLS1NlGhB5Wgtmaqdq2CNYijtzmDE5Jl+ruYNqRTUynkrRQlpr/DIGS3VMRUhFRmpbIWIx0boTlJ6tLRkkDleL9zuZoDWouU12ThzFFKUNcsnsqK+eNZvWgSK+eOY/emBWhvnI/ujqVkxXliuHsp+jvmo79jnopkM9k7Fw+bNUT4alGUZUVVmTN+7quJCdMiIVwbjf82Iny3kxC2j4p8N7raE5WYPvo6l7ev5W+kXunJu9f1/PCkmhtX8hSqs64ymMIMJ9WSjfHTI8JThwj3fQQ7aZPob6havrJ6FOmhrSpTMTGGu+8iI8oMD6v1BIpfx0WbKL+Dihmdn+RIhN9+UmPMFPEvMdJYwRx6SGs3NdGWpDgr/Lx2q5lpYqyFSoCR9q7weeWIgErEmlwFai+iKeYjB5uNWJmtRoTUy3U3YQEHCQvQVTtD1YcDVFzb5c5UrlxMoanRj7t3cvnucTnv3tbz/IejvHlZz7ffHOZEcxT52fZkJlqTHG2OJlCPML/9eDtvx89tJ+YHlxITYqqYiDamGxHuruGB1ezXXqZWYWQdRmfXciWo2tuXfGr1blnCpjVzWLt8FqsWzVBn5YIZLJ49iXnTxvLV1LFKQEcMHsCooYOQ6+B+XzKkfx8loIP69lIfGzqgj/rYyCED1OMH9unJv07vvzC4z18ZNag/g3p/weBePRk9cABDen2hYPYj+/+VL//UQ1nGJe1FUl9kP1SA9oIHnDq6P6sXT2fmxCFI63n14pnKzbto5nhWL5yhdk8nDu/HeCEoDe/HhGF9GT2wp2o9S17qnOmjGTP0czU7XSP4wcl9mTawB0ZbJhDqsBo3oxk4GU7By/IrbHQnEum1nqpca4x2jkJvwyBMtgzn9BFfTh/xpzLVipZiDzprwzh1JIDs8P1KTCOc11Gb6wg/n4Mfz3D/XDKNRY7U5dtyONWE8/XB/O1VK90nEqkq9FItUKncxNAjlKG7F8oIcNhCbqyVWoWRVu/ZxmT1dpynNs353gSZriY/QjiuAdQcCkIwcacbPrkGpaoTUbh8NpczNdFq7tR2OIgHl0rVeowIqiyQdzbFU55iS36MsRLTy80p3GiXzyXSfSKXi+0Crhcm7ie0nwjg7UulCpQvgirwh6vnpbWXqCpeed5f357nzZM2Xn3XooT16+tHVCu6pSaK1tpoJaYyG/2/YipsX6lMRUxFZGVXVVi/AnWQrNPqijA6z+SpNuwPz85z7Gg8FRWRfPfdCSWk79518ezZKV78cIpnT9p49+Yc79+eV0L68pmEsd9SpqyGplj+yS1evmrn49tOfhGRfXdBfd9/e3+e548b+fH9WW7dOMwPLzr4G99w9c5xjjXlklGcSkRKFob2Xli5erJu+xZWrl/KNq3VbN64iJVLZ7Fl4wp2aG1h5669GJjY4xeezszlO/GOKWKbsQc7zH2wDUnFzDsaU49wbPxjsPbV4K5JwdI7FKewBDzjsrENSsIyOBk7TS6bLAKwiCjANqYY58Qy7KKyVLvXNSYN96hE7IMjMXT14YCjDy6R6ThHZuKkySA4o5TApBwCk9KIzc7BMSAYXVtXbPwicYlIIK6oAvvgaPbbuLHH3BFTF28CoiNJzk8kszCS0spoLlw+wp079Zw5VURjTYqai0qbt7EqQbV6sxOckZMlWMFMX9prU7lyqogbZ0o425BGY7mGqoJAitPcyYyyoSzZhXAXbRwPLsPFeC3eVttwNVmHu8k6Aqy3EGyzCU/Dpfibr+ZYuguB1uvwNF1BctBBBYsXCIKk5Zyri6ezLk7BUEpSbRXt61JrAl01GsLs13H6aCTP7tfQejyR0mJfREjlSGu3u0ui14qVoMrMVExtqrXbkKJSYYTlK3NPiVD7HXivhLRN4A2/VaYN6dQdTVC7p7IaI25eSaOROamIqQhpa12cAjZIx0bEVOablcXeyqh3s7sKvZ3LFEp1ycyxSkRl/LT4q5GsWzaFDUumorNlCTIzNdZZQ3l2CHs2z1Bc9bIMP5VdKrGYJjoz2btlBJpAMbDuISfVCH+PVWj8t1BV7Kjmp01VAcpte7Y5mkvn4rh7M41nTw6pmemLZ0d58ayar++W0N4Ww+XzWTQcDaU4y4X8JAeVJJURaU1CgIkyH2ncdAiw3YqP5QZCnXYQ5b2XvHhL4vwPkB9vo5y+AtGP9tcnKcyMijxfsmKtSYo0JiZET22eyPaJnB4JUeZkpTooWEJ0uKFq30pVmplir+akgT57VIUqxiR3IR0FGxAZZoyrgxamBiuwt96gHMDSLo6PslbkCSebTdhZrCEt0YrifGd++dgBdNNyPJDO83Hcv1fAndv5fP9dBQ8fHOLaFXGOxauUmFiNMRFBQjoyJ8xXF9lbFfORmJsE4mBnvgl3B22cbHYqMTXVX6+uunuWsXfHYrS3LWDXloXs2rYIEdUNq2azbsVMNq6eqyrUVUtmsmTeZL6aNoqJowYwedwIRg4byLDB/RgxdICqSqUylTOo7xeIkI4a2p8xwwcz4MvPGfTl5wzt15N+X/yJYf2/oNefe9C/5x8Z0vfTx6VSlSp2SO+eqv07tM/n9P/rH36befZVLdvJI/srvq6kvwzu9QdlMBrW58/qMbo7N7B28SxVjQ7r85mqQkU8JwwfwPB+XzByQC+mjB7CmMESRN6TiaMGsWHVPKaM7s3MsZ8zZ9yf2LZ4CCmBBwmwXcuBDcMJsF+Nre50dq8fSHqknjIJnT8ew+5VA9A4beBiXQR86KQhz5XabCc6KoPoqAjmXG0Ep4+F0lTmSXGiCbdOJ/GPF01cbI7ku0u5/HCjgNxoXVqOeHGvO1cldki1JiQfmbFcOVuo9kRvnisiO9oCCW+XLFM5klkqYIVknz0057oTYbNeiWldcQCSWSliKqYMmc3I3FT2NG9dLOHBhWKyNYbUFXjS3ZqkAPgigBLB9v3NI3xzoZA8jYFyT357sYxbp/O401XKlY5C1Y6SGee9axI6XvWpWrxfiwjkw1tV6vnl+t29Gq51FvDtnWN8fNHB80fHlZCKoErl2lAZRt2REBVKLm5fcf1K6/fd03bl/pWPiZjKkapUhFbyT39HC545Kcvzibx9eZbu7kMkJjnT0JjCrdt1vH7dibRjpaX78EG9auX++OEC79+c4c3LdiWm0uJ98fQk166U0nYiEbjJy+cn+fD2LBJ3JYAJfrnCs2/q+PDyBK9+aKbrfC7Pnp/m46936LreSOPpSjSpMdh4heIVlaMqSlMPf4zdfDDz9MUpVKOqQ2NXf7YctGGPqQchSeVo6bvRZ/RCNOlH2WXsxV7bECWQVsFpGHlGYeqtwTYgFs+oNHxiM/FPzMchLAm74GRswzJxiy9ji1UQe90ScUmuxDWlAufEYhyiM/FNLyIgLQ+3mBTcotOw9I9G1zkY17h8PBKLcI3LJSL3CC4RcURk5hKZnY+Rix8WPuH4xWeqYxcQqcT0gLWH2pl1DQ4mLElDdkk8OcWhHK6KUh2AxppkNS8UVODR8ig1IxXCUWGapwJ7nG3M5PLJQgUW6GzMUq7nkmQ3NWOLCzAk1t+ApBBT0sIs1Amw34WX9TYCHPYQ4XGQ3BhHDqV6cCTVneIYW05XRCIz1FDn7QQ778DNfJ0y3Ahp61hpEMdyveioCCfUeSstFcGqKr3enkpriQ/hDuvVWtmN8wK1z6alMUFloN64dEQZj8TNK21euTmTvWURU5mXiqCKq1dmq+LIlV1mqUzFhCRh86o6bcriZHMOx2tTaKj+hBIUdq+Iqew9yzrMp8o0Sc1LpYqWv3HxKFw4karWU+Tm896lWratnMns8QMVDnXh9MGYHljFro0zWTlvJGsXTUQStzYsnkyYlwm3LlQoA1VBkhvFKR6K8SuBB5kJFqTE6FOW50C8ZjdxEdoK5ydIv/bmMA7nOVKSaUNOvBll2XacaQvnfEcE335dxDd383n17Kgi9slK5um2GPjHVd4+bVWu3FCP3SoD1c9ei6xoe4RQlRNpo26GREg9TNcoMU0K1ic9QlZojFW0WlyAPhofXeKDjcmMsUbWYGRvNTp4vzLjxobpkxJjRo+UeCsykm2IjzIlNcFS7ZXGRBiQk+7wqSL9zYAkiD9H2w34eOwm2P/TOo3spoqwinnJ00VbVaeyHmNtulZB6ovzPCkv8lSwh2/uHVJ5qI31QXSciuFkWzSyC3TzegFNjWFUHvIhPcmS5Fgr/D33ognQV2goX5fdCtskZCZBCvq47iPUzwR/T0McrHZia74dC6NNGOutxUh3DUa661TrV4xJUqmKGUkoSIIV3Lx2PisXz2DezLFMmzCEMSP6Mn7UEEYNH8ToEYMZM3IQn6rPvowY3JehA3sybFAvhg/uzYghX9Lvi//8TTg/U0Hgo2RtZURfhg/8nIG9/4vBff7CyIHSIh7IiH59GNzrC0YN7ENPSZj58nPEsDR11BCWzp7KspnTFPi+5x97MHrg54we+AX9P/93ZowbwvxpY1g2Z4qqRscO7q0q0mljhzFmcB9GD5IVmWFMHDGYccMH8tWUiUpQp475krEDZc+0D46Gy9HfMoU5o3oweUAPZo3qgc7G0bhZLsfiwCwCnDdyui4GJ4MFOO6fRUWSFQ/OZnHleCwlcWa0lPhwoTGGplIfqrIc6WqI4sapFAWYv3A8ku6mKP7n9Qk+PDrK/7xt42iBE/XlPlQVeqi1EplJivFBoqIunc7nVmcpR3K88LXdqAgvAm4QgX19v0E5eRsynYl32U6M63aaDgdTfyiYqgI/hS4TC/71rkLOn0zn6plsHl0to70qTH1fP9yqVOSj/359jp+enFK7fB8f1FOWYEFjgRdd9fFqZiqVqcy3OhrTFGlI5pwS7SaUI3HwihiLUF9oz1TVr+SjSutYAPpSlUqLV9q9r79vVbNgEVoJJJcjJoyq4gB1lfmqCL8YlKQilXavCKnMfO/eqFQxba2NCQqKL+L6w/efwAw5uX48/u4Ub99d4pdfrvP+/QXu3j7Ktw8bVWUq7dx3r0/z4/vzvH99jnevzqoq9EJnHpcvFfDP/3eVd2/O8OtP3bx5cZo3zzv48dUZnj2q5cV3Dfz84Yz6/PuPl3j+7irdd05yqLEU7+gwjFwC2G3ujaVfAnahaViFpKDnocFGk4V5cDrG/ilstfTHK/Ew+s7RTFu+lymLduAamIGpSxT7nCI+Pc4vCbMAeY4UrAJicQhOUC3eoJQiHMNTVGVpF56FVUgWqw290bKPwi7+CPZxpdjHFuKbWY5fRjG+KXl4JWTgn1JI2YmL7LYPwEGTg3NsgWoTeyfm4xmfTmROEdF5JRyw98DKTyrhJFW1ekalYODkg4GDLw6BGnxjYghMCCc2S0NqXghlshLVmKKqMAHUt9SlKTE905KrBFVmo8dKwmksj+LksSQOpUv6i7MS0fRwSyWcYl6R/MwQ1z1q9hYXIE7Q/QgvNiHYkpRwW4qTvTic4Ut5ijuNxSE0lYSQFmJMfMBBUsJMVdKIk/l6irM9VOv0XE0cFSnORHrspK0qlJaKQC62xFOf7aLaxFfbZa2nQIUmnDmVxZWuMroF43c2n85zEhJeoMRUgA3CrJYdUxFRySuVv0OpTCXqTYK/RUw7TuYqXOCJJqlOc2iuT0NuME61fEqVkce0Hk9RYipzU8FqisfgVGO86tp0taVx5ng8R4pcaanRcOVMOesWTmRMvz+pLtmqeUPV67a1wQr0tOeivWG2WovZtHQyHQ255CY7kh5thrH2VzgZr0JPaxr+zlu5ej6XR3cOcaEjiUtnk3n7rJ6W2iBCfDarPOy4kD0EuW8i0neXEtaWOj9Onwjj69u5XOpM4EpnsgI4HC3z4FCBM0++rlE33CKk4sqV/2ehbnuJ8NRVYeLhbjpqTSY91IScSEsKEmyJ9NqDCGq4p2ALtYkPNCA20FAJqRiSIv10kPjPuDA9REgFCqEqUxHNtEQLlRAj15R4qTANyUyxJjJUDzEiBfruxd97D6GBuiTH25IQbUOAt54SUCf7LdjbbPzXzPRTpJskUmxQyTOaEF1VcaanWBAStJO8bHtKCl0pKnSjrNSD0+0JHCpzJyvdlpRESxKjrRTeUDJIZa9UE2CsQA1u9juxt9iMmeEarEwkUWY/AV4mSlBtzLZhbrhRVagCZNDZuURVp9s3zFVmJBHTdStms3rpDBbNGc+sKcOYNGYAwwf3VCI5dNCXjBzSj5FDpZ3bSwnomKF9GTW4FyMH9VRn7PAvkcDvUYM+Z9KovopOtGDWKJbOGce08f0ZOfAvjBzwBWOH9Gf0wP4M6dNLzVJ7/tcfmDxmGGuXzFeB4qMH9WXhjGmsnDuX5XNmM3fKaGUsknno/56JLpwxnnlTxzBp5CBVic4YP4JRA3uranT8sIHI80hredSgAQwf0FsN+WdN+IJZY/4TrZUjWTTlC2aP/hMD/9SDgZ/1YNrIHuxaP0q1UQ5luSDzmq2LB2C0eTRN+e60lfpyryNDiZDMG4+X+CrR6jgWQWW2Ix3VYTy6XMTXF/JoKPHkclsC318v5kF3DqkRB6gr86X9eJzijNZWRqk/XgkcFrrQzfMlqhJ1s1irHIziWrx1vpi3D46reWlTjhtNOR74mCyj7UioWnGRMOjaw8GcqI+lozlJCeo31w7x5mE9L+8eIyfSgOe3q3hyu5qvrxxSpqZDaY60lQWQFaxHVfonR29Nvo/az5O0jfrDkWqBXSAQshcqCTECyhdBFROSLM6LOMpMSM6T+w08e3Ccl9+2IuajhzePcaOrRK3RSAtb/lu5K68s9lUvMu+enfyXmIqQyhF3rwjr+Y5sNSuVeZbsAYox6GJXqXKYVlTG8PTpaR49alPrMWIk6jyXx6Nv6pSA/vfPF3nzqoOfPnbx5tUZdeQxp9sz+eFJE7/+1KXE9qf3F/j+UbMKLReW8PvXJ/nl41nevGzj9cvTvHzbzf3vOzl1qYX08lyCU1LwjM7EwjcRPedI9tqH4xhdhnFgFlYRhYQUtqLtFImRXzKawuMs3G7G+HlbWbTRgF367lh7JrHHLgyTgBRMA1JwiMzCL6UEj9hs3CPT1ZzTMzoLu5BE3GJycIzMxTwwnXUmfkpMXVOqcIgvwTY6l6C8SjyScglILyQ4sxC7sETSqlrZ4xCIT9ph4o+cwjkmF4+4HHyTswlNzyWptEKt4Og6eGIfGIVLeCwuoXHY+WvYb+2qDEtdX39D/blTFFUXkloYTUFJJJVVcWo+KGIqbU4RkKtdFZwUcT2WTPPRJNoqkzheHktTeTRIA56QAAAgAElEQVRNJZFUZfqTFW6DxkOXMNd9RHvrkxRkRkKQKWnhtiSHWJEZ7URBojd5Ce6UpPlyJCuQW2dKeXSlispMLxKDDJHwhZqSUArS3RGyW6j/AQUtuNKSTkaQASnBepysieDksVCkzVsabU5OqD4ipnKzJ90NmY8KOlCSYoR+dLo9i3MdOZ9m8N1lamYqYipCKn+D6vrbisuFsyWfck3bspWgipieknSchgwlqB1teaoVLLuoLY3JyswkYiqmI/EYiJh2n8xQp7kqjJoyT8Xcvtd9jG3LpzK27x+YO6mP4pz7umwlwGWLogeVpvsS5WOq9kvbjiYS6rmD3CQzDHdNZd/m8ep1SfJo24/HEBW0FyvjuQR6b+ZKVwYVpW7EhO7hUIET2QkmhHhuUWJaVeRG9WE3mmt9udKZSFtDEG21QdQe8aGy0FWlwKRFGZMcZqhmn772W1SAeLjHPoJd9hLmrkOA/Q4CHLbjbr5WkZEqczxJDTMiP9GeMI/d/xJSMR+lasyRFZgIfx3C/XaTFKmvYtmSJLs70YIeBdlOpCebExWmS1Kc0SfhS7L8hGGKNSHIfw9R4YbEaEzQhBrg66GDlelajPSWq6uF6RqsLdZia7EBe6tNuDtpq+Nks0XhBV0dNmFrsQJnh7V4uG5SgpmaZEVKkg1xMSYI9qko35nkBAv1dSQrTgD3kj9qa7JeBbDKbqlwef3cD2BjtkWRj0wObsDGTIuDOqvUkaQYiVzbuWUeWhvnKTHds32pqkzXr5zFknkTmTtjFHOmj2TRnImqOh03qj9jRwxi5LD+jB42gNHD+zFqWF/Gjx7EtPFDmTx2oNr7HDPkC+WcFQKR7HbKTumi6cPZvHwGG5dNZdGskcycMFCt2kg7dmifL+j318+UKUmuNqb6+DjbMXPCaMYMkhUaIS1NZ9X8uayaP4sxg3qpdq4IqwSKS8C4hI0vmD5OVaHS1p06Zigj+vdUzy0t3uH9ejGif29GDx6oKtQJI75kwcwhzB7/BVOG/YeCRSye2o8pI/6Mu/UOsuIdKMpwVQHKEqgsFJBtSwZisWMirUVeHE2142T5p7zRE+WB1OZ7cKU1mdPVGpUb2VDsp2AIskR+tk5DRZYDtYVuHC1wUakyZyU2rDpSpXVUlYcp3JmsFPx/TJ11dNb3lr2Z+d25UsfdXYsVdy0QLBAjIe7u7u7u7q6EAFES3L04bZGWFiiUUrkyM89vnU9uu+aP73rfUkp770qy33PO3s++2FvM5d5Crp8sxs1iA9KIITfTG6dKeHihkkPZbrSkOfDgeC7B1hvoa4rhSHUIIqa/12jJVPr1nUbeftPN2yft8OasEtPrx7PoaY4jWdYuvtpEuGiQ4refVN/91KY7cbQsWHWl1ub5Up3nR1m2Nw3lYeqTukRZ1MpXpshL1WqalDuvZEzlkXWWgBzkETEVURWhbSgLUtO3CK9kTW9dLOdkR5qaGmQlLKIsf54IqDxyJxXR7jySrARVpoYvrtbx7ZNurlyspqUlieO9hfz22xe8fn1BOXJv32qg41gSz7/pUuYhWfG+fXOG169OKiH9+aeLPHvSxemT+fz20znevT7FTz+c5d2b8zx+dIxX353gmyftvHjexa/vzvDz21P88PoM7367zdU7vTR2NJJbW0VO/SFMvCIw9U7C0DMRLYcYPBLrcYiuwMQvE9vwAg64x+GfUYOJbyKTlu9g5U4zFm86yBoNK5yCczHySsIhugCL4DQ1OTqEp2MbkoJdSBLWgXHYyA01NFUJrXVYJpbBWeywCmKdobe6mQYWtuKTU01gbjUOYlZKySaqsFIBHTwT8jDyicUnvUqJqUdyGW6x2fgm5+GTmEZiSRXh2UXst3bCKy5dOX5D0wpIKKzG1C2AuMIKXgHXnz2hqfcIuVWZ5JUlUlufzrHDQgMqpOtoDmf6ypSYttYnKah9e6NARXKUoHZWxXO6JZMzh7I4Vh5DeZoX2VH9NzcRVBHSvDgXJaQiooWpvuQkuFGS5kNTSSQPLjVxrbeIzEgLmkuCuX+5QZ0bBONXkudDRpIdErO4eDid3FBjavPcOdueypXjmciaNzfUgPpMp/6WlmMp6oOYrHRvXKlTYHtx8oqYnpbCeWk6Ol+hMqGy5hXjUU9bunL9SixGsIJyD5UWGalYO3G8WE2l8v9D97E89ZyUovCeYoUcFDGV6VfiMQKil0cQgpf78tS0J2CWwzV+fHG+iCu9ZYoUt3DyR2ismYzOjqmY683G23E1GbEHqSv0Q1a6tflBCtAgopgYvo++w9EEumzGznChir0khOsR5rubEN9deDhuUA1kQtLzctyoClQkZyp502g/qV8zoKHMlUPVHhxvC1fv5b/nSF0gTWU+JATpEu2rRVyALrH+ekR56xDrZ0Cc/0HFBpb6NRHSQMedBDpqEOOjo4Q0xG2XcvGKk7cwxUVVtsUGHCQv0Z6KPC8yE8yV4EcG7VN6KYNnUa4zA4QOUZJrT06qJXnplpQUOFNb6aOCrsV5LkrkEuSOGW5EXJQp8VFWBPro4Wy3Uwmou8sevD001Q3VzXEPXq5aeLtp4eeuoxrJJSpjYbQSG4u1Ci8lrTD+3vsIDjiAm8sOUhItyM9xJCbCSEVypMVGileDvA3wcNTE2WYnFoYbsDbZjLvDXtwd96vVro3ZTqyMd2JyYCsHtTeip7kWnT2r0d27Bt298n4NWrvWqBXvpjXzWTJ/EnOmjWLx/Cns2LpKPZ8tmKZEdNzIwWqtK7fRaeOHM2fqWGZNHKEmUbllCjRh5acTVb/oirljWTJzBMvnjEawgELzWL+kv9RbHLgigiJyYkYaM2Qgc6aOx8fVHv39uxj28V/UFDnso/fVGnjMwI+ZOmoIc0TQB3/IpKEfK+C9rIQnStfpwPdZNGsy86aOU6Iqa16ZfOdMHsfUMcPV+4mjhjB13DAGv/cfLJs3Rf13ThnxVyX2E4b+B97OeqqQWdY/QuGR2Iq75Vq1+tVaPwb9DaOw3j0NF935OGjPVd+4XZVBSJ6zrcSfnvpIuhoiOd4UR32Bp4qfiGtW1rHNJd70NIXTXi+GgDiO1EerphepcmquiafzUBp9RzIVo1RMSPLJsCTNkTvny3lyq4W7Z0o5URlCYfABrrYmEm6/RUVlZAXd15akHLPXz5fy8FYDj27V8eOzLr690wg/X6K7Npjuuv52mFD3vSQE6JEZehAJuIuYFkWZURxjRV2WJ4fLw5BSZenFlIypRAVkOhXQgtw6BdQgt1lxKgovVbJ/YrIQEZWcqRCPZBKV25agxeTTaWm2u3IyXujJVnna+9dr+fWHM8oZLEYmicZIJEZ6TmUqlSC9MFhlqpBoy7OvO7l8oYoLF6p58qSXv/9yi1/fXVP5USkbv3C2kF/fXVDmoRfPe/jHb1f47tvjiDHp73+/oSAOX9xs4B8Si/nhFD+/Oa/+2efP+vjl3WW1Ir57p47XPxzn3U+nuHqtmmfPz3H70UVOXztHxeGj2AREK5Ez8UvFI6EK5+hSPGIrsA3MwjE4G6/ofKKya/GKzWG5hj6Tln7OFn1nZq7VYamGDe7x1diF56o1rFlAIuaBSdgEJ2PqE4NTZDoh2ZX4JBcTlFONb3oFIqaO0UXouMWxRNMWm+gCrKPycEjIxTu9mIDsEnzTsgnMyCMooxj78GRswlI54BGJWWAKliGp6s/1Ty3ALTqB4Ixssppa0XP2RNvWTZmenIMT8I/PwSUsidjCKorbOshtaiaxrJCEgjRyytNpbCmkp6tCgRs6juRw5FCGmswON6SoEo3m8liaiyM5XB5LToQ9eVGOFMa6UJHiTUtBKG0lkVSke6vJNDnITE2nmdEO5MbL6tKV9GhHNZ0eqY7j0ZUmOupiyY2z5cHlWv71+pLiNwtysKcji+OdmUjd4OnGRAoizDjXnsrtC6XcOJ3HpY5U9bXcWRHIzdPF9B5LUVPnRenEPVehHhHTvuM5yOpXVr6y9ZBJ8khDvPo6lxXvk3vHFKxDxFSEVG6isuYVkMXxzkKOdwoXOp+ejgJO9pbQ11OkxLT/ZpqnUIlS+iCTaXdLHJd6c7kltYFt0mfqx8OrFRxvTmLDomEYaCwk1u8ASaHahHhsxMt+CeHem0iN0KNZNl61EcQH6pAedQCDPeOI9d/B6fYY7lzM42xXoirFkIkvP8OOnFRrwvz2q7ukrckKvBy3Eh+sS1asMalhByhKtVTVkLWFjjSVepCfZEZZpq3i60rDlb/DFjIiTEgJOaimzkhPLRWHSQwwwtdmh3qEfuRj87n6+4mBBmREmSoBlp8p8UEGysErK974EBPKcjxpq4tSpqviHAeSYw4qMc3JtKMg14kB0iBeW+ZBdYmbaoipqfCkocaX6nIvcjNtCPDdjYvjZuytN6hqNInQRAQb4+60F0uT9Xi57yPQT1fB8gWY7+uhi4fzPrxdtHCz361MQ4a6SzA8sBRjg+XYWW7B3Ggtbs57sbPeqkRU6tfE4CSZVRFhmULDA0zU4+m0D0ujjRjrrcb84MY/7qIipLZme3G00sJUfwe6e9crQMNB7S0YaG1WkAbJloqQrlk2RxmOZkqR9qdT2LltDXs01rNiyVx1IxWzkdxKZUqVleynMyYwY/wwRnz0J8Z88ifGD/wTy2ePY+vSGaybP4FVs0eyes4odq6Zze51c1m7cCILpwxXhd1yE505bhRTRo1Qt9O1yxZioLWTFYtmM/C9/2T6hBGMH/EJsqoVYZRc6ur5s5Sg/i6mIrACipBn6bzpLJw5SYmqrHynjxvJrIlj1C1WJtVRg/+m1tAyraps7JRJzJ86kYUzxjHs4wGEB5orVF1Brgtu9usoTLWmKtuJgzumorHkYw6sH8nnc/7EzsUfsHrKAHXDFPSZlHS3lvgpvJkUMYuYyqtk445Vh3O6LYWepmg66kJprfTnWH1kf6D7mHBAc5SAS5uGAmm3Z/LFmQpSw01IDNbn4ZUa3jzu4YHcLlsTKQ41oKPQh1DbTdRlufLq0RFeftWu7pPCsH18t0XdS5/K+1u1yiz11aVSqjMdaSz0Jy/ORt07CmOtVGwmK0iP/HBjdYMqiLHmSGUEV/vKuXW+jgt9xcqYIT9kHt9r48qpEiWckisVIZWJVCZUEdjfEYJP77WpiI58WJBcnTzFma6qsaIy1536Yl91axUxlW5VEVZZ8UoJ+InuLFUMLfk/4aZ+/fAoL5+fUO7LS+fK+Odvt/j732/x4vkpvvu2V91DL50v5tnjY/zztytKTF9+181///MmL78/wdu3F/np58tcvFytfv/f35xDbsYvnvSoG6y4gX/57RrfvzjBs2/aefvulHqtb4zi/qNeHjy5wcXbNyhr6UDH1gf3hBI1LdqE5GDkEY9rVD4WnrEEJhRz4d4rUkpa2Kprzbz1mizabsAqLTtmbTFk3jZLLILzMA9KxTI4Sd1LA7IqCcutRaZTn+RCMpu7iSxuIra8jeCcBmzCs5RZySQgjc/22mAfXYhPZjVO8bm4JeYQV15HWG4xvqmZRBdV4ZdWhGN0Frtt/TjoHUdkcQthudXKpOSbkEZQehaBmdl4JKZywMWHup5LlLT2EZldSXReDdaBMdiGRGEfHo1LZBTBaUmkFWVQXpvPsaNlHG3NVROqiGlLfRIVhaHkpXjSWBpNhbCHY53JCrMl0deEcGcd9aQHW1Cd7sPhsiiOVcWRGWGjRDUn1oGCJHcKkz3JindW74/WxHOuPVutDEvTXbh3sZqvbzYrlrNsKBpro9TXwbUzZRwpCiI7yFgZ6Z7cbuTy8WzkxCKxmOM14Vw9WaA6bvtdu1VcvlDDpfPVnDtdSndnhhJTMSCpWIxUpR1KUbEYaSR6dKuVS2fK6TqSrlCC4uiVrtLOYzl/iGmXwBv+j5jKmldMSDLR/j6ZyvdHZ1OM+vB4vjOdY3Uh6oP0o2uVihu8cfFgNDdNxNF4OQEu63G1WoCB5nCcLWfjbr2Y8mxrIrx3KCGNC9qNl91S0iI1aSp1pDrflvamQEoybciIN1MEPYlXOlltUHB5KQCPDzUkyEVDwRSSQ3TJjTMlO86I0gwbJawx/ntICtUl0mc3sX778bHdiI/NZoKddxHtrUOQ0y51445w18bfbqd6RGCdjNYQ73+AaG9tcuOt1CP3VSkND3Deg9S2SW+uMOKliL62xFvFPqvLpaHGhdIid8pLPBlQVeJCTZmb2ks3VHlRW+lJheyms+3ISrMkPESbqHB9ooVR6KetMqWyzvX10iU6wpxAvwME+evh4boPdxdNXB324Gi9Cx9XXeW6FfetqcEqjPVXYma4BhvLrejrrMDJbg/ODruUiMqt1M9Lk0BfHbyc96miYH8PfeRxst6Fg6UGLrZ71CPuXVnpyiQqE6ixzufs375G0Y02r56vMpsam5ayde1i1i2bi3LvfjabJZ9OZf7MiSyYO4U1KxawbtUiFn06jVlTJzJ90nhmThzPrEnj1Sp25cLZrF40iwXTx6oC7omD/8xnU0ewccFk1s+fwJrZo9Szfek01i8cz7LZo5k/aTizxg5huky3o4erda7kUCU2I+vjTes+Uzfaj/86gMEf/CcjB72nbqCSR10yYyrTRgzl04njlBDPmTiWuZPGsWrBXDWRiuFICE2y6p06ZihTRg9R7uFxAm+YNIQxw95j7OBBjBk4nBljprF28QoWzpzCoA8GsGn9JJ5/06PW6U52K+lpjeDW6VyiPXZgsmMS2quHoLn0AzSXf8LuJR9REmPGrZ4sWot8OVzqzxFx19ZGq3hJW1U48hytieRseyb1hT501EfQ3RypHLhiPJIVrwS/5RYlRcO9R/sbYIRC1FQSqKZTuZf++OS4WvPe78mhMdGalixXCiONiffex5tHR5WYfvOwjXvXa5HMqpiPHl2t5vuHh/jnyxP89FUbtVlOZEaaI/SZyjRXajJcOVrir+APJTFWVCU7khNhTlWWJ4fKo5AS5DPdhepTuwTaZTIVyL2YpC72FXK8LVU1yUh5+LmePNUW892XnQjU/ub5SsXx/b1JRri+krEryXAiP9lWrb9+/u4EX91uUtNpP4+3mC+u1XLuZIH6IXf7Wj2P7h3+o+FDRPXld6cVQlDIRG/fnOf5025uXK3k+2+7+fmtrGjP8Pb1SWS1K88PP5zlwaNj3L7Tphi9QmT67x8v8PXdw3z14Ji6u758c4Ef3pzj3a8Xef3mJC9f9XLtRgM//PgFPaeOUVxbR2x2Bb5xRVgHpmETmo17bBH6zmFY+cZh6BKMnX8ixYfOYOoey4xV+1m0zYSVWvYs2GnB7B2mzN1pjo5XPKYBiThGpCnjkYAZ/DJKMQ+Mwzo0Bf/MCtwTi3COy8czpRyr0AyMfJPUs2inOYa+SZT1XiO4sAbPlFz8M3IJyMghPKeQuNJqMhqO4p6Yp0xIMtVWHL9GTEkDXomZCvAQlpVNVEkxSdX17LZ0xDchD/eoTDxjsokraSQws5jAnGJcElJwiIwlIieX1MJcsorSqavPp6Upm+amNHq7ilRMRlpjIvyMqcwNpjDRg1hfE9KCLEkPtlJPsr8ZCT7G6tfK03w4WhlLU34gBfGO5Cc4U5gs611v8hPdyI1z5FBZOMeqo9SHPfnw+d39Nr662X9Dl/xmQ1UY50+XcutCFdUpLlQlOnH/UpXawoiYylYoI0CPU81x6l56/nTRv792ahXJSbYaJ47nKzE9e7JQGZDEeavQf+3Z6pwha165mQq0QZpjBNggfN6zp8ro7shT/9tlMv2/YtrbXagg+BKN6Wfz5qgVr8R4ThxJRsxHfa3xNJX4qgn67oUyhM5kqbsAw93T2L9lJGbak9DeNgh74yl42c/DaN9I3Cw/xdF0HmFem3GxWKQENideiyjfjbhaLqS60EGJaXSQNkY6CzHSWaTwtJLo8HXarWrZAp13kBJmoIRUBDU1Qp/cBDPiA/bjZb2WcI9duFusIdD+c4Idt+Nuso4o930kBxwk0k1ejQh22E2khw5iPgp02oVEXzKjLYj21VFPsOtuVdUmvafSgxodcFBhBFOizMlIsCYj0VzxfqvK3GmsCaKpPoSWxjAGVBQ5UZpvj4iqiGldlRelhU4U5jpQWepBTKS+upsG+/cbkGTVK6Sk8BBjvD324+G6u3/N67qXQD8DAn0M8HTWVkLoZq+Ju8M+bExlGt2AhfFGLE23sn3LbPS0VmGguxor0w0kx9soipJMtu5Omvi46+DppIWdxQ6CvA1VDEYEVf7axmwH1qYaWBppYKy3VU2ju7YsV5jARbPHMXfqCD6dPoaln05RtKNtG5eyfsV81i3/lDVL5yKr3YXzJitRnTdrYv/NVPKjw4co09CEkYP5bM5UNq5YwIZl81izcJrKiC6YOIiVs0ezfMYIFk8eyILx77Ns+lA+nfAhi6YNY/G00cwZP1xNmipj+tEHDP/wfQZ/8CcmjR5ITJgX+3auZ+D7A9QkKWB7ibqImIqIjvnoffV+7KCPmDJyKBOHDVKrXLm/ytS5aNZU5k2doCZTucuKoM6ZOppJYz5Sf/6EYUOZMnI8E4dOZPKICcyYMJYhHw3Ayuxz/vsftwkL1iEp1hj+5waVOU7MHzeAPauH4qq/ECftucS576AmxY6cMEPuijHnRBGX2zOpy/GgozaSrvpYepoTEBi3mCiOVEXSWR+nas96DsVztDZKMTvFNShi2lQbr+DiEhwXATrXmaN6Sn3ttynE4NunPTy+WsOLa3XUJVnTmOHAlSPJ6m4qN9v2qhCe3W7i8RdNajKVOqoHV6t48+QYv3zbDa9OcKIpSvU+yg8qMRoJt7erMoT2kgCasz0pjLLgSGkINZmeZERaUZbpSVdLCoeqomipjOT25Xq+vt2qcqfS/CLMUXlUWXN3Dq+/PcH3j7v55lG7ohxJw0x7Y6LKq4ozuL0pXq22izKd1GQubl8RfnEDq3vqpSrO9fZ3nopx5Nuvu3j+uJuHd1t5+8M5tY6VqfTpU1nfXuTevVYePTjMqxd9iOlIHLw/vz2n1r0vn/fxr3/cVNnT06dLePK0j5/fXuHNNyfglxt887CTV9+d5sWLMwgY//HTLr57cYLXb8/w408X+PJJH/e/Okd+eQ7JeQVYe4ax38ILh+AUDjoHkdfYRWR2ORKFSato4sj5O4Rm1bJ4uymLdljx2S57Fu92YOZWM2ZuM2aloQtm4Rk4xeUQlFOJa0wWFv6xmPtHYxEQg2tsJr4pRThEZapbakB2A14p1Rj7pmAemMHyfbaKhiSMXruoVAJzSvFJzSIoK4eYwhKcouIIzBCzUSkall7stvYntb5b3UytAqIJzsjFLzkNb+HwllUpdKGpd4TKuoblVOEWk0VITgUp9W14p+XjEp1MclkVeTU1pBdmUlWXT/OhAmpqkjh6JJv2tlxqK6KJCbIkI8aJuAAzkgIsiHY3IMbDgHhvIzWhxnkZqvdZkfZUZ/nRVRNHSaIjGeGWakotSHRRwirO38bCAFVSnx5uqjY8d86Wqdvno2sNKjZ290qdcrrfPFmqxPRMU4KaTKUt5vbZYvrqwlWpwxfdOarCTRjUwn3ub4apULlRia6c7MxSfGjJUJ+R0nGJs3Rmqw+JAluQR1a8KjfaXaAiMadPlNHVmU9PdxHdXYV0Hs2lpzOfU8dLlNj2dfZHaY7J2aMzQ7l5RUzF5S69rGfbUzlcGURegiUBTp/jZbMBe6PPiPbZRYjbJlLC9+BhvUCJabj3Ktys5mK8bwyxQdvQ3z0aW8N5eNuvwOrAVLLjtHG3XoK3w1pigrWoKPBEOkIdrbdgZbKemGATgr10laAJK1duoIL7SwrWISvGVD2+dpuw0l2gEgO2B5bgZLQaX6stBNpt7wfau+wlwHY7KYHGhDjuIdZHnyDHPUR4aqlH7qnyZ0sMJtxLSxWIR/vpKSEVuL08uckOlOW5qxW0nEeF8CdshJJCl/7JtCDHlrIiZ2S9W1vphYyu5cUu6jfJdJoUb0JkmC7BAfsJC9IjKuygoiQJ4EFiMkGy4hVAvreucvgG+R5UYiqOW4mqyG1TjEHC0TU7uJV9O5eqWjT5a3HdGumvI8DHgLAgcxxsduHmJHlWXazNtuDmpImny3683XWUyIowmBtvxs5qlyoBt7fai5WpRGM02bZxEcsEhrBgIvNnjWHOtBFKaMRw9OnMsUybMISp4wczfeJQJNIyZexgFs+dzLrlC5AKtBED/8bEURJ/+RNjh7+vDEpiWhIE4WK5k84axWezRjB52H+xbOYw9q6bx6zRf2XRtMF8OmVQP3h+prB8xzFhyBBGffQRchMd+sF/qZ7S2tIstHdtZOTAPzN+2Id8/KcBSjylGHze5LGM/Og9JgwfpOI0EquRnKrQmFRmdfBAhTucOX6sWuXKmleiMTMnjGb0kI+YOnaUus8O+0gyrZ8wfdx4Rnz8HhNHfsSty53YmGgw+P0BbF83VQmIrDbdLLewfNbfVAXa+SOJ3OrNg5+vc7wulmQ/A+6cLOXR+WqVBW0u9KYhz0uteaXtpa8lWYXXjzenKBapgBl6W1PUakmA2eo5ktk/oSoXYa4SKFmlhnjsVgajn5938+hKBXfPFHLvTD4ViRY8PVtMjN1mqmPNCTJbQ3uJH48uVvDVzTo17d2/Xs3jL+r45bse+OEkjy4Uq1Xvm6+P8u2tegW//0piNC2xXOvIoDLJQT2nmpNoKw2htSxUFZM3lkjxeaiaQgUBKIYgWcdK9lMg+0cOxSN3S4mhfPWgjfu3W5SxQz7lt1RGI3i59rpkNemebM+krSFaxXgEhi/RGHH8CmDifG+OIjTJ3VfW1V8/aOPLe608f9KFOG9//fkKP/16kxc/XuLBV1189+osp86UKMGUvyf/fiEdibno7aszvHtzQa2J7989xNvXF5V4/vTqAt896VUYwedPe5Gb6dPHnTx+0sGbH8/x4tVpbkbwrnwAACAASURBVNw9zO2HvZy61kFj5yHSy8tJKa3FIyIV+4AI/GJTiM3Jx87PD8/ICJ78/Cu9Nx5i5h3DGm1X5myyZKNROIv3eLBgjwPTtxqy1coT+/gsdti4456cj1VIorpxmnmFYukbRmxhBR1X7ihgg01w/03WPaEOXbdkAnMPoWHlzxYTV4USdE/Kxic1R61ro4pKCM3NJ664gpCMQlyjMzH3iWeVphWmfklYhSTjkZyHR3IOninZBGUWEpFfjk9CNtq2HrjHZmHuG6X+Of/UYqIL6xXswdY/muSSagrr6wlLjqK0sZgjx2tpas2luTWTNnmtTyE31Y8wLyMCnXSJ9jQkyk2faFd9YtwMiPPoF1JZ+8rEmh1uw6GiEA6XhJAeYkJ2hIUSVvnwJn9dGGerSr2r0t042ZTI5Y4c7p6r5O65Kl4+6ODG8SK+OJbLQ1m7NsTR2xhNda4btQVuNGa70FcRSHu2B4dSHOksC6CzJkw1LUkp97ljmdw8WYII8dXjhVzuzuNCR7Zyy3c1xnCxOxP5ACpfhyKwMrFK1EVgDWfPVHG8t4Se48WqeL7tSJYiQokRq6+jQJ1pJJ8qLN6j0l/aJd/L/a56yVmrWMyRJI5Wh6gC89byAPZuGI321jHo75zA/i3DWbNgABpr32PX+vdICt1BgOsqTLQmsmfTICz0ZrJh6Xsc2DkBu4PziA/cTULwfqQpxtZ0NXIWdLTZhpOtBv5eB7BXbIF9hPsZEOC2h1DPPcpcJAYj6SfNjrHGUmcJVrpLcTJeq15N9y3E03IzAQ4ainbkabFV3UgFbC9rXnHxBjrsVlNpjP8BYgP0CfPRJtpPn0g/fSWeoV46JIWbq/o1KRhPjbVQEZjSPBfqyr0Ve14q3ipL3dTgOUBWuiKicietk2xOhScyvpYWupCXZUt2hi1x0QcJ8pfbqKaKyYQHH/jDkCQ5U0ESipi6OuxW/8PFcetksxcnG7l3arB3+1K0dq1UHF3NHdLeskAZhQx1NrFv1zLsrXerYm8vN6mA08XH4wCOtjuVmDrb78bJbhd2VtuxNN2sxNTCZAvW5kJe2omHswH+XmZYGO9kz45lrFk+jdnTBjN/9ghWLJ7ClHEfMWPSICWuIqxrl89m/cq5bFm3mP27NqC7d6sS1WnjhyqBHT74r4we/j4L5k5k5bKZKk4jIi0NM/OnD2PmuA9YImK6foFi7u7ZvICNK2co6LxEW8YPGcSIDz5QYirv5e455L0B7Nu2mlkThigwg0AYBv/1T2r6HPren5k5boQCPAjnd/Df/qKEVJCFE0YMY+yQoYwaOIgxgwYqspIIqvCCf7/LTh0tQjpIwSSmjR+psIif/PXPjB70Pnp7txDgZsWcyUMUeWnyiD9TUxTO8y+P42yxjY//YwAlKU5qndRaHMSbh518ebGO/Bg7ShMcuX+mQkEPpO2lpciHxnxPqjOdEabunbMVVGR6cEGQZC3JCGpNQPLHmpKRSicRVLm7yDew3FyEoCK3xNxEa9IiDXhys5ZnX9Ty95d9/Pq8i1T/ffSW+xNtuY5DybY8aE9XMAehwojZ4eG12v575JVKZUL69Wk731yroCLdhq+vlvPDwxZ+e9bBr087eXalim8FmnCigMMFftw8ns+VzlxV+3bmSDrtddG0lIZwrC6GO5drFT9XVrHqvtmdpSgz504V8u2TLh4/Oqog+2Igkl7Io41iZEqmuyWLU+39OT4B5kv4/vW3fSo2I1PptVOFKj4gP8wkw/rkfqtqi/n+WY8CL/z27rLKk95+2MHTF+epbkigqS2NmoZYfvr5qhLaF9/1KUEVqpHAGERQBdYg5iUR1l9/usr//us+F85WqrXft097VX2bIAjFnHT9eh237rbx8OkJ7j45T9uJZtpOd9J65hQtJ86TXlFPZEY2qcXFuAT4UHOslSdvX3H67m38E7PRsg9k0XYbluzxYIV2IMt1Ali8z5XJ6/XY4xCAaXAcuu7BGPtHs9faW+VLzb0isPQOVYg/Y/cA7EOT8Eosxjm6GPPAHEz8c0iqPc1B7wR2WnnjlVJMde8lTj58Slp9s7qBhuTkkVReQ0BKLq4RaVgHJLJex16JqX1kFtbhybil5GEblYRPUi7h2WWEZZVi5ReJXUg8NkGxOEWk4RGXQ0x+A8llhwhPL8E/IZ2kggJyqkvIry2gpDGXmpYcGloyaWvL48ihHCoLo0gItSfEVZ8QlwPEeRmR5GNKrPtBQuz2qbtpkp+pmlLDnPZTkequcqTpQcYURNtQGGtDUZwtlaku1GZ6cK0rj4fnqnh2rYmLx7LU780KN1drxwDLLUSYbcXm85nY7JtHoNPnasqTictN/zN0Vw0l23MvERZrCTRfi4fRMhz0P8PZcBnOBsvxMl5DjKsm2eFmNOX5cqo5QbUlCdjkRm82J1pj6WqMUoAF+fqUiVZurJKzPd5bTFd3oXraO3LpOJpN55FMVRR++VSZ6vXtbElU1KN+MY1XETWhgomYnmxLVGJ6qi0R/uc2Qc5b2bL0Aw7unoTejjG4mi/CyXQelrrTCXBag7nuDIw0p3FwzzRlgNRYN4rdG8diuHc6fo6b+gvBg/RVX6i54RqlI/LzXracAujxcdXG322/qj/zc9lJ1L9XsplR1iriYrZ/KXYGq7GU6rd9i9XjbrEFK+1l+FhvV3QqMR0JRlDWuyHOmnhYblXrXJlAw8X46r4fEVB5L4+seOOCjVWndlyYIZmJNhRkOFKU7Uh5gRv1FT5KL0Uz5RkgAtpU509jrd8fQip/Q8RUIjMZqVYkxhkTHWFATORBYiOF42ukGmbCg/tLxaUPVRy8jjY7sDHf+sc61sJomxJQEc8925ZyYN969bpr62foaa5Tf2/75k/R0VyFp6seAT7GuDruU4+Lg/SqyqSqqYRVxNTGon8yNTywloN6azA5uIkDWmuxFOC9/lakx3SvxjI+mz+G6ZM+YsbkT1i2aAJrV0xnw6o5bFw9F4nJCBVp+6Yl7Nm+Cs0d61m+cJYCH0wZO1QBGiaOHcSCuZNYs2IeMycPZdqET5gy9kMlpoIBXDBtCEtmjmTZ7FGqAWHt0imquFsg9KM/+YCRH/3+vKdiLqM++TPTxnyClIGvXzqbNYtnMXvCKIZ/8FcG/vk/kRuprHJV5GWIsHcHK/6v8ILHDB6ixHTkxx8hj2RYFYx/7GjGqd/bzwcWYMSk0QKK+FjdT8cO+ZBNqxaoermh7w9g7sShDP7LABzMttN7NBfLA+sY9KcB+DlsVyul9soI9cn525utXDyWTVGsHV3VUTyWPNvRVJU7PVLhS3t1AHX5LpSl23H9RB5HKkOV+UBKvGW1JLfI9tYUVV58qqeQzrY0pK9RVk0SOhezTqjHDjWVvn1ylCdf1PGvV30KFnGiMpDDabYk2m/hXGUIXcU+5Eea0FjkreqpvrxRz8MrVTw4X8Kjs4VcOpKgXL09dSF0VgfSWuxJc4EHbaW+qjeypdCTjsoQpIz8ujRftKWoUvLjLYnqv7mjPoYHV+q4d6lGGY4EESiPZEcFqi/gA4Er3Lpaw1n5ZN+aypEGcQTHKhi6vAqqreNQIme6clSBuLh+BYCvfuj05qhbl0D/pXbtzfNe3rw4pabNv/98RUVhuvsquXizk1MXGuk7U01haQg/vbvOTz9e4PWr07z6vlfFY+RVXL2vX55AcIIytf72y1VVEC7g9hvXD/HwYQf37h3l+fPT/PTTNX54fYnHz0/z+pfbXL7TQ3ZFGo09rZQfbcU/MRU9OycCEmIpO1RHfedhXv3rV+48f4ZfUjLGbiGYB6Qwe5MZ6w+GMn+XO6sOBPOZpivTNxthFpiGaWC8WvH6pBXjFJmNXXAaRi4RmLlHomXthV1gPLYhSdhHZhBa0ExiTQ96brFYBueg6xzNam17RByLO87y4N3/0HDmIhEFRQRn55JcUUtKRT3i3HUIS2GHqTsGnlF4JhdhH51OUEEV9tFp+KUUEp5VQWS+rHbT0bb3wiEsEefIdIUiDM+qJiS9jLi8aryik4jNzqGosYqYrFgyShOpbs6mtjGDlpYcjhwuoLk2lbw0f2ICLAh11SfR11RNp7HuBmSF2JAf6UhGsAUpAaYoM1KaJx0VkYiY1mZ4qrOCTKHPbx7iyZUG1VokQIAg+x1YaC4g0G6HypvKCri3Po57XYXUJjhw8Wg6j2/Wq0Lw7+4101EeQG6wPj9cr+frMyU8vljJl5cqFZ/3Wm8+J5rj6agMIy3IgGj3vXiZrcNedxHOBz4j0nkb0hEsZ5ALR1JU7aG024hDXe6p4iA+e7aMU6dK6ezI41RfKZIvFeOgeAokziZfz31HZUWchrQydR1O4GRnupp0xcEu5RUSYbtzroiLXSkEuWxC+/PRLJ42gHkT5OfKGpxMFmJnuAAL3TkY7Z2Fq/l6LPWW42SyiZ1rp/D5irHobJ+BYAStDixTNWe2whEw24qTtQZWJltxstqDr5uegvV4O2niYauh7qeydg3z1CYz2g57w/UY7FqE3cF16O9ciLHmZ5juW4Kb+VYlrjYHVmOrvwZvG40/JlKZTP0ddqmJNDpQX4nn70Ia5q1LhO8B1V8aEaCnektFTLOSbNWatzDLAXkaq/yUbop2yqPEVN6IqMq6Vx6ZTGUXnJ5sRlqyBSmJZiQnmJMc398qEx6sj6/nPtydZTLcg5vjLjWVyr3Tw0kLJ5vdikQkeD/t3atUFc/OLYtVr6gIqeQ/RUwlvrJr22fs2rYIR9u9BPmZ4mCzBzsrDdydtXCw0VATqQipraVMotvUDdDMaBOmhhuRV8MD6zmotw6NrQvYuHYan2+cy9YNc9i8bhY7tixUrF4B32vtWc2OLYvYtHaOen5HDO7aupr1KxayYNYUZk4axVSJxAhMfvQgZkwZqVa+E0b1gxpWL5nGjg2L2Lh0pmJQSqv87Mmf8On0IWr6U40ucusUJ++IYYwZ+CGjB/5VdZFKvGboBwNYMX+KEjiJ0Ej0RW6mn82apla2srqdPna0EtORAz9WU+bITwb2C+onHzP0/ffU1Cq/R2D6YwcPZPiHHzBplIAbPlarahHcBdOnKbjDiI//rCbhaWMGsXDqGCYP/xvGWmvxc9Fmx9rpzJ7wJxyMVvDgUgln2xK42p2lRKejOpwUQTnafU5vfRRPr9YqTF99josSLIE4uJst41hloIIlnDqcSndjgkKCSem2iI5kTFXl09FMxcOVb+RzXZlc7M4mMUiXq90Z8OaUIho9u1lNe6k3pZGG9BZ5kuG6ncZ4K46X+HGrK1vFZZrEQZvqQLy/LkEOW/G3XIuH4WeEO27Gdv9sAmzXEem2jSD7TeRGGRHprkGE2w7CXHZgqTMfT8sNqq8w0lOToiQ7DpeHqsaPs4Lxk3LvCxXqLiU/dMRMIVGEX74/ydPbrWraFDSiTNdtTQnqg8Kh+njqKyPVh4eGihC6DiXx4utulTMVMZV1mBCS5APE0weHlTD/9MNp5db9HVL/49urXLh6jNOXOrj2xXEyc0Moq4zhf3nEixenePl9L69f9vLTmxO8ftnDDy+O8+ZVn0IL/vTmjALfX73WSOfxQi5da+LFy0vquXe/kx9eX+HxN6f46tkp7j4+RXNHKVnlqdx8epuOi6dxi4jAyMWFoORoui6d4Pmvb7j++EviCwvxiEnGJTqbfQ7hzP7cki3m0Szc48lKvSAW7XFm7QEvXGNLcY3JI6qwHrvQZNxj8jF2jcbOL53i5vM4h2bjEpmDeWACRn5RCmaf0dyHoU88+h7xGHmlsFbHBRPfZGVSqjt5ldS6Q/inZ+OfnkliWSW5TYeJL6vDLiSRfba+aFh6qCo3l4Q8/HMrcIzNVBB9QRZGFVQTklXKLnMnVekm1CWBRYiYBiQWklRUT2haLhEZGeRUl5FWkk5RfS7VzTlUNaRRU5dGc3M2rY3Z1JTFqXqwhEArMsPtKUnwUNGY9CBzJaQl8S6UJrqRE2lNVaobnZVRHCsL50Z3Ibd6izhWHqaMb2Z7PsXFcDWhTruoy/biUGmwapQ5357N9b5int86TFt+AMk+OvQ2xyMiJf6DnuYYFfMSQZTWmMsdqVzsyuBSbzZXTuRz40yx2hhd785V35tfXSrnVl8OJxsiqctwVHEab+MVWO2eibvhclID9ThWGUzvoQQFQRFRlC2MgB6kt1TcvSKkkkuVrlsRUjHjiQlPJlrJl/5fMZWmJonIHKsN4/7FYhyMFuJpvRJjzamsXfAndLePxdd+LYa7p+BsupJ9mydgsHMO/g57MNNaiYnmapWE2LpsMnq7FmKqs1y92hptxPzAWhzNd+Buu1c9DqYaBLrrq8fXWQtfx/34Ou0jxPMA4T4HifAy4IDGQvR2LMBKbw262+djobMKw12LcTBcj7PJJg7uWoC51jKVLRXjkZfl5/jZaiDwhsQQIzV5ils3JtBQPSKkv0+m0luaGGmKiGlKjLkS09JcNwoy7dWaVwbR5voAWhoCGVBT4aFMR9Xlstp1VOYjWf0W5TmSkWKuyERZ6TYkxpki613JiHq778XTZa8SUh93bRWT+d045OWiowhFRnobMdBex84ti9i8Zg4ipp+v/5TtGxehv38T+zRWsWXtXHZvX8KOLfOxMN6uJlNn+33qdurpqqNene33Iu9l/Svv7a13ql+3tdyhxFTWvfLs37OUNSvGs3n9DGVusjTdhquDDjbmu7Ax34OZ4Xa09qxi64Z5bFwzi83rZNU7n83rl7F2xWIWzJnBzCnjmDF5rJpOhw9+jzEjPmTymEFMHjtQARk+mzuBVQunqely9aLpLJkzgZULJ7J2yVQlktLwsnjmZNYuns+GpYtYtWA265bMZfrYgYqYNHHE3/h02nAFtxfA/fql81jx6UwWz5yqsqkCYpg6eqQyLslUOm7YEIZ9+BHjhg5j3JDBSkyHffC+WvdOGzWK8UOHKHEdP2KQElMlqB9JPdvYf5OShqiWGYHkT5U4zqiP8LDVxtZoG1NG/heTBYivNZPSTFOqc2347n4d//iui1Ot0Yp+1JDrSl6EMX11kXxxPJeLbcm0lwZzojGORF8d3I1XqwLuq+IgPJyqzEkXe/KVsIhBp6MlWfVmyjfm2Y4sLvXk8PW1euJ995MWrMs3N2p5ca+Rb25U8+7hIdrz3TlZ6kNvgQc9+V6UhB3ESWuhgvYb75qF/YEl+NtuITfShFP10XxzsZI7vVkcLnDnq/PF8PMF5fLllwv8z+vT8I+r8NM5RZQR9+GNUwUcrggkL95C5VLF8ZcSpK+g45WpTso1KdVYjy9X8/xmIz993cHDS9U8udWEdKvK2qupKowjzYkcO5xCS10MjRXhVOX701QRyldfHFLwB0EgSq2WxGtkIpUJ97c353j76tQfjS/C23356hLnLnXy9bf3OdbVgKGJBldvHAUe8+rVGV79cJK3P57g+++O8ePrHt697VO50V9/kRaYSzz/rpczF6po7ynkxp2j/Ot/H9N3qgonVy06e0q4c7+bB1+d4urdbhqPFZNfk8G1L69SdrgWAyc7TD1cKD1czbe/vuT+y6eklJfin5ShbozC0V2p7cKivW5sMI1mpX4Iq/WDWKjhwEHPdJwjivFOKMXIIwxdOx9lZHIJycYzspiWE1+SUNKFtn0YthGZeKQVYuAbzkG/CDXN2oRmst8mnEWfW2AXVoBVcCahOTXq5uoYEafEVExI0QXFZDe14R6bgUN4KntsfZQ4+6RX4JZciHd6KS7R/YIallNOQlnjv+H4GbhFZmDlG4NnVBbBqcUkFtYRm1eKT0wMMbnplB+uIacqk9K6TMqqUyirSlYwh8OH8mhtyqS6IIqcBA8yIuxJDbYmM9SGsiR3mvOCackPoirVQ611vzpXw8PTlVxpz1XbHB/zzbgYrO6fQIOMKIq3V27y402JyrTX1RBPa3mYMu/JiaQoyYHcWGtOiHh1ZarzQFtVMClBelzuzODe2RJuni7sbzU6W4x040o2+tapUkRMBa4iG5o7fdlc60jjyrEUxaUW09K55njSA/WoSLKlNNGG1hIfjtUEc7Q2mEvHpQM4Ta1zRUTle/XEsQyuny3/w9kuzGmJiUlcTDLY8l42Lqe7MjjWFE1nU5TaLOXGGeNjv45wrx3kxJsqXKmbxRrcLdcrBvGmz4axfdVE7A9uwURzLRZam9HZuoxNS6er2jZj7dVoayzC/MB6TLXX4Gi6HTer3fg6aqsGo0DXA3jaauLjoIWvsw4edpqEeosIWmBv/Dk6Oxapx1BzGdrbF2Khtxbtz+dhrLkUW4P1aG2dg7n2cqJ8DBCucpDzXnztNPpxkEEHVc2nTKPi2pVHbqYirrLijQrSJyPBRhW3xIQYqDVvVZE3cjetKHRV21wx7TbU+PSLqQiqiGlFiYsyH8l0Km5eWfPKzVSiKwJuCPbX6RdS1914uWqqR/KmQj2SQ7E4eQWqYGG0GX2t1arRRVa8W9fNQ3PHcvUqgqqnuYEdmxazZulUNqyeyYbV09HcuRRHm324Oeoqc5GLw34lkiKiIQGmyqDk52WAt7se/t4H1V1VxFVEVVbD8qqntUIJrIuDJiKmRvobsBLnr8kOLIw1VJH4tk3zWbN8KquWTlY3VXH0zp42CQHZ/543FXiD4AUnjx+mRErcuNPHSQ3be4wZ9Demjh6oRKr/9WNV1i3l3UIykvvnohlTVLm4lIgLxUi4uysXTGXFgklILdHez5ezbskstq5exGcyEY8bxehBH6rs6ILpUxn5sVS6fcjowQP/EFNx64qQynQqwjp15Ejk19Sqd8QglV2VNe+Ijz5myqjRipQkrl/JrE4aPpDZcpd97z+xNtDAzlhDGaCG/m0AWtvG42GzFC+bZWRG6/HoUiFn2mI4eziGANu1f3BuZe309yfd3D9ZQk9VBGXx9ljtmUdRnLVy/Eqf49ObLTy/e1Q5FGXt21YXzfFDyeoHhRCQRHTFUFSd7qTgClKS/O3NOi53JPcXJ4fokey0BU+tOZiuG4XDzulkB/47M5rtRXO+n4q/CMP0RG00zy5U8epGA4fz3Dha7MWP91u4ezZfTdqSffvxWQcvvjyMkFp6DsXy7pseeHuBn5528e5xJ9/ealS9p4WxFgRIns14JWEOn1MYacqZxli+v9nIlxeq+P5OK19dbVCVU8LhlQq3w42xNFRF0FgWRn1JCLXFAXxxsVpFba6fLVOOyqtnS/nnTxf55cdzCN5P4i4CqZcqNYkrPXzUzVdPb3H1ziWi4gIIjXLjH//9mKfPz/DPf93kx7enefWym6++bOTVi3YlqC++7+SXn8/x4+vT3L17iFMXqjl+poInz8/z9te75BeFo623hnMXm3n+4ioXrx7h2t1ezl5vp7AuSzF5IzKisfRyIjQtjgc/PObJz99R3FJHUFoqETmlKjdqEpDBEi1Xluj6sdoonA3mMaw3CmPRTkdcY6ox9UzBOTgLl7AUkkoasPaNxjMqR/2asUscNgGZqOyqbxxWEcnYRifjlJCBRUiCWh+be6ehYxuNc3Q51sHZeCcK5L6ClOpmwvKKiMovIjKvkMTKWoIy8/FLK8DMNxodl2C808pxii0grLBJOYYD00sUFUmmU7mXSr7UOy4Hx5BkbP3i8IzOVDfTmo4TZFZUq9V2Xl0JifkJZJcnU1CRSGlVClV16bQ056l1b1NNChV5oRQmeVOS4kVpihcFMY5khJpTmuDMudZ0frjbTldFJEneenibbcJKcxEJ3nqqSSYv2prsaCuqs70oTXOlLN1NeQzEAd/TksT5rlwOV0WQEHxQlTpcFF712XIeXa+jPNNFgQbE0Sv1hcKOvn6pXHX63rhcpcRUDEe99TE8v17N9Y5k2oo8KY41I95nL0F2W/C33kiIw3ZyI83UZqc82Y7GPDdivXZipDGJqlQrjlX4KTf+uc5srp4o4mKPfADMU1+7IqQCL/mdCib0L3EJy8ZFiF9S9iA1hILzFKKZCGdhsh2+9lv5fMVw5ZB1Ml6P3va5rJgzkJ1rp2JzYDOWOptwOLgTo93r2LxsBvs1lnNQax16e1epD/nWBltwMd2Bo5E4hIVOpEWQiw4uZttwt96jplUXq12EeBqrR3/3cgz2rEBr2yJ0NZYoBrBUu2lunKME1Ua/fwVssm8JruZb1X1VyEeCEhSzUVTAAYI99xHoJtOucH91lJAmhpmRHGGBGI9yUhxIi7MkOlifzEQrREz7BdWJkgJHyotlm+vGAMmVyht5RFTFmVSYa6eADQJtkBWvoP7SkmyIjTRBSsTFxStge+HwuthrqOo1YfX+AW1w0lKCqrV7qWpyEQOSke5mhfjT2LyQfRor1LQqk+nKJZNYv2oGa1dMQ3ffajVNOtlpKseuCKJMoiKWIqoipL6e+gT6GqlHxDXIz1iJrZiWJHYjTl8RYqMD/fdUrT0rlMlJb/865Nm64VOWL57I0oXjWbpgsmqNmTJ+zL/r1wYitWtCRBJBFcj9hJED1fpX2lnGDH1ftbcI0GHQ3/6ToR/8P8YNe59Joz5m2tghiqP76bSJKsYirzPGj2DQ3wYwatBfVFRnxcKpKg+rs3sDKxdNY9ak4Up8J48YovCAcjNdMmcWYwZ9wqhBHyuKkkyo4uiVHKmsdIfLpDpkKJOGjVCiKmIqFCShI8kz8uNPmDFuvHIFjxr4nvrzp4wUx/BEBdpfu2gqG5ZMU4aksZ8MYNmsj9HbMUOtQAWG310fwrXjaZw6FM6OJX/Bw2g+hVH6ZAVrU59hR02qDV/0ZHDhUDy54Qepz3TBdNdMotz20NsYy40Txbx81MGz261ckOaJpnguducqnOC98xXc7MtDqtEkDyoc3fQQPbxMlqG5ciCeBxYSa7ueyggDUp2387Anm5oEa9VzKjm8klhb0gMOkuSlRYbfAZoyXHl5tZaLh2KpTLLk1e0G3n7dxg9ftvLt/WaeKEpzdgAAIABJREFUf9nKL6/6+PpOveo/7Dsci9yjvr/fwr++74NXp/j5SQf/fH6cfz7r5usLZbTmeZHitZ9E973khRjSWx3OlWNp3OotUH2TJwTscChJuXeP1MfQXBHBsbo46goDudJXxP1rDUgIXxyUArn/+dVpXn/fp3i5cusU5J/wdZ983c6jL3v4X96p3KOOvgbtPdX8+O42T749yT/+eYMXr7p59bKTZ8+k8LgTEdJXL4+rbtNHj45y9lwlHb2F9J2r4psXl/j6m7PcvN1JZ08Z3353jS/uHOdoZymnL7Ry/d4JciuTickMJyQ1lISCVOq6DvHiX+8oaq7FLiAA16h4xAErWVB9nwxmaziwwjCUNSZRrDGOYKNJBIt22eOfUo+xayw23nFq4is51IG5RwC2UrkWnoqpRzgWvgm4xhXhmlCIVXgq2e0nqDh5GcvQRPbZB2Ptn4WFdyb6rilYhxbgHl9OQtUxyrvOEJJbhLh6Y0tL1WtqbSP2EfHYhiayydBBkZSsw7LxSq0gKLOSyMJavJNzCc+vVOQkHQdvxRyWDlS38HTcItLwi8vm6LlrtJ+7SFRWOknF2aSVZZJRmkxhVSrF1WkUVyRRWZ2q7qdtLdk01STRUpVIfUkERUkelKV6cr2nmDcPezjRkIiX6Ub8zDcT5byX3AhL8qOsacr3JzfKSuUZpVEmO8aWyhwfVd3VXBbCkZooWqrCuXSiiPJcLwRMcLQpVgnVNfWBs4C0MBOaigJ4IMXfp/vh9sJqvnq5UrF5hSV9/0I1V49lcjjfkxTvPYprneCrSW226x8+hs6GWMWXldOG08GlhDptJc1/HzHOW4l12IjNzqmkB+tTne2ubqAXurI4dTRdbZHke/dMu9DLstTXu7xelu8BqTsUMW2MUsXmZ45mcrgiEn2NuZhoLmLC4AFobppOrL8RaxcMYenMj1i9YDgyNVobbMJCez0OhtvU695NC9DetRIxohpqr8fFcg8uFrvxst6LvcFG3M23E+qiQ6irLp6WGvg57MPDZi+u1rvxdz+IxcHPVdG47s7l7Fg3h32fL1ZEOhFVmVa1t8/Hw2Y3FgfWoL9zPga7FqiCgZRwc0U2So2wICbIQLl4xckbKjB8by3iQgxJjjYnPtxYrXilWzsnxZ7kaDNVCFOY40JFsTelBW4U5dmrja4MomrNK28qS8XV2w9syMmwVCvefgOSDTmZMqU6kRhrgZiOJA7j76WDt9s+xHwUHmSkEIOy+g3xNyQp1l5NqYa6azA33KKmVOHoGh/YpNi5AqDftHoW+3euUPdLja2LWPHZROTVzfGAmk7F4Sv3UxFTuaH+vt61sdiu7qUSqTE2WK+EVsRVojUipAa6a9m/ezlibDqgtf7fzTHL0RHcoOZaZUJaOGcM82eNYsHs8cyeNoGpE8aqZ9LYkapyTTi9UyeMYszwgYgpae60ccrcI5VrG5YvZN3S+Qz78M9IvZpQiOT5g5U7UoRtqFrbjhr4QT+YYcxgNdnOnzGWJZJxnTmGqWM/UUXgs8aPVHdTmUwHv/dfiowkjl6pcuvPvg5UE6rcQmUyFbEcP3QYE4cOZ+zAgUwbMwrJxqrc6eQxyoAkYiuNNSLo08eMUK7hMZ98ov49M8cMZtCfByha06Rh7zHybwNYPPljjlTEEeq6l1sn8rnYkcjxBj/Mdo/BZt9E9dhrT2fD7AFsmvv/ONcSRUeZL8XRpqrsePbQAUQ67aSzKpzKdGdl0ZdvdhHVq8cLON+eRXdDDN/cbFKTYEuBNwlemljumY2N9jwyw/S5fTyTlzdqqI4z4cmJHDI8dlEWYURveRA1SfYUR1mTG2amXsti7cgPNaEqwZYLjTHc78uhIPIgt3uz+P5uA8/vN/LNvSa+ul3Hg1vV/PbjKdpqguhqiuAfL/r47Ztu/v5NN7886eDd43aefVGvbsJPLlXw/Godj04W01EcQJavLh66S4hx0qA62ZETdTHKKHJWjExyf2pOQH5ACqqwtiCgH5sozNTTpSpfKu7ebx8LI7en/1b67hL/+O0ar344rVa0P7y9xqlzRwmO9CY00oNf/vGE719d5n+4z6MvD/PulzP8+stpfn53kl9+PsMPr3r55d0lfvrpijIc9Z0opaE1hSu3DvHbfz/k7oMe3v58h3sP+7h5s50nzy5x41YXX9zr5fu39+g42UjV4WKOnWnjzjd3ef2/P1N19DC2/oG4RyVg4hWKdVAKMpVusQhn4X4vVhtHss4ygc90AlhnEsrinXYEpNVh6RWHrW+M6kJ18A8hr6ZWRW6CUlI4decBrRduKJiDVVgKpkFJRJUfIjCvBiO/GEy9EzDxSGS/VQRbDvorHrBLTAn2ETmE5lbiFp9CTEkZ/unpVHR303HjFrZh0fik5LHZyBHrkAyFJZRuVJe4fHW3Dc4uJ62ujYLWHvZaueIWma4MUK5habhHpmPtHUFsXgVlh44Sn59HbF4GaWXZitdbXJ9NYVU6mYUx5BZEU1OXoabT9rZ8SnKDFWLw8vFyvr3TQV9zqsopehivV6aj/AhLyuIdSA0wJMlXn8o0N0XbESEtS/dQTOim0lBK0t2pyPOmsTxEial8jcjUU5TrrioLOxpi6T30/8l666iuE63737ue53vv3Dsz17ELFVtRwQADDBAEJEQUkO7u7u740PGhu0O6QykBA8FW7G7HmLpzn7t/6xzuzD+/P96LEnWtGdyfc87er52MnqpoJAca4FIfIfvKQNuNqUuVuDBegunLVfwxrYQ7ysIZjE886/YCH9wZzsf02RxM9GbhxngFbl6qwcTZfFCWdbQrkx34oY5K8DaSQlO6A1rT7DB5Jopdwy4Ge5AYoM0iTKeYa2MlIGGnPuE/xJTElShM5FInMe1sjAVN03cu1UMY6wCJ1f8P6xfO4XVuhTAQB8QXYOeGb7F36zyoHFoPc50DOK26E3oqu3nd62SsBJNTB2GgJQczQ2WY6SnA0+4Ur3ODXLThbCQPH2sVULUdFQuEuJ7i+2igqw58nbUZk6qmIAE1OQnuSCWk60klKa54I5E215GF8UlphHrqw85IHnqqO2B8YjcivAj0YMVUI3qbGGHK4klvBeEmLK7JUeZIjrEA3UvpbVaSPQqz3FhQk+MJau+IskJvVBSTUdeFN7o8mc5+4I76aj9+ivOpKNwUWWlWzOklKH1asjUKcjyRIrDhTCmZjygKQ5ze8ODZGjbqOfXxOMEi++XDJH77ehO2Fkehr72P3b1U5K11fA80ju2ExrHdPLESS1ddWWr2fiknDlmZTTDWOwpfDyOOvXi6nv5z5UtiSoYjElEyH5GTl4xH5saEOtTgta4O9Zlq7GfTEd1iFeXEYUivevQUoa+lANWjUn+2xlBzzK6tsyveVcsIeL8CG9eQqIpwLRsJFE2lNJFuXS+C7RtFIb5pDQy1NWBnbsjYQWqEIectTY0kXpQNJVMQTYv0lj4mkSVxpUyo2JrlWLd83p/TLE2mm1fOPiTIC7/9XxZpYvuuXPwDFn7/N26eoSmV1rskpou/I1PTfGxZuRprFy/GtrWiPBHTtEyCSitg0cVLeA28ftkSrJxPjN+5EF24GGsWL+RatzVLvsXCf/yFWcC716zE93PmoDIzAqNt2SCgPT6PoKnIAbFeB3FMcg4MFOfCUXsdLFRXQuCpDDddCdhrboGW9CIobvsbNs2dg1BbBYyciUNmmCE6K8IYojDelYGL3ZmYGsjF769H8fF+NxL9dHDqMIm0OAKt5dhteOd8IWZG8/H+Zj0ahQ44V+EPcvbGOChg/EwcGtJdUSFwYkJMdbIrSEyLY63RUeiP+8OF6Cr0Q16UMci9S0CHB1er8fZJJx7dacDD2/X48XU/HlyrRE2+Kxsm8GWcoQ9vbjVgajgHnXVh7E4WRhkhLeQ0CmJM0Sz0RF9REIojzFCb6IAEZzWk++mgpzR4dlIdyEFbaTBzf4daM/gORlMHEZXopjVz7Qye3+/C0wddXJdG8Hkq9/7xwzjnSD9/voRPP11HUnoQPHwt8fDZZXz+5Q6evhzBx08TePd+EG/e9eLHj2fx9csoXr8ZwJevl/DhwyV8+nwNt271Y3i4Bi0d6XjwpB+v3k3gw8crePBgCDdv9mDsfC2uXGnHx8+38Pj5Jdx5MIaaZiIAxePaoyv48T8fcXZyDG4RMXCNTObKNKtAAa9c9XzSIantjR0nfaBgk4zDVgJIG4ZD3jIKUhr2sAvJQOPQFKx9whAiyIBneATuv3mK269mUNJagbPXxjD14imiCkqg5xEK57hcGPjGwyI0DZ7JpTDzEUDXMRI69hE4dNoLLvFVcI4tQbCwDj5J+YgprkJqTQNChELkt7Xh9o8/omJgCCY+YVC18oSWUxgcovIZAkGEJY/EXARnlSK6sBrxxXVwjkqEnpMvfBKyUNR8lsU0OCkPAYIseMcKEJObDUGBEMlFGcgoSUFBTSbq2kpQ1ZiL3KIElJQno6klFy1NQtRXCtDblo2JgVLEBRjD8pQU813LU91YTGNcTyA/ygrxXjqoTvfkfkxyitblh6BC6I/K7ACU5/gx7IO50D1ZXP9XmuvFd7jJiTKOn7RVRaI+3x9V6e5sXrrYm4tbF6pxebSE+0lvXWvAxfPkmBeiqTQEka4ayA4zwSMyzvVkYpjyoK10Uknn+sPRswUMdSB3/QhNlWfz8fJGM+rSnRBpK4csbw1UxZji7ZVqNGW7w8VQEtZa4pxzfXqrkZuYiMF7nty8bclsyCOmNt11u5ti0NkUzVVsD6Yb4WN7DAv+dw5kts5DXIAp1OU2Yevq/wdJsXmQ27sKSgfXw/Dkfmip7ISu2i5OEhgel4SR5n5Q4oN8Lc7WGgjy0Ed0gAl87NTgbHSYM6JELqKsKMHpM2PsEeSuAw+74zA3kMO+HcugfHArjh3cDpVD4jilvAcaCrugJrcdeup7eTql1IKTmRJOKm2Fjup24Jc7ePd4mDGBxNxNDDefRQWmOvE6l6bRuDAjRAXpIjHKlEWUIjFUUZqWaPPnU5DtjvqqEE69EJeBTLtziHJEH5DpiG6luVk2SE4wRmqiKdew0b2UYPQFOR7ITHXkTCkJKHWZEqeX1r4xEcYcl6HIDAEchgbycGmsite/9lZKDFywNFaAzok9OKkmyYKqqSrFedNjCjuhdfwQTqhIc0ZUVmYzbC00EOJvCRsLFY7MkFgSsIEmVHr+cPHSTZRISuZGFIs5ghOq5AyW4ngMiTRFYI4elvizy/QPRu8OsVWQ2LyKCUKEE1y9fPGfIkp8XmqNofsjmY9IUImnS9Mp9YfKH9gDLXUlbF0nCnbc/nMulpPjdv48FlUS0T+e2egK3VKX8ATJ0ZdF/8SK+X//U1A3r1o0u4pdsZAn3WU//B0UayEzEZWQL577d55S6feiGykJKT2bVqzEmkWLOCpDQrx22Q8spmuXEspwOYspiScJ6oq5cyHyw3zQdEoZV7r1rlrwPTYtW4xNS5ZgwV/mwFFfDVeHqvH4ag36G/xhrb0SllpLYaz6AzQP/A8s1JbDXEUEqb4a8DLYA9Wd/8S2+XNYUCkD56y1E41CD3SXBaMm0xXVGW7or4vB1ycD+O3lMJcf6yuvh7uxDBuYrg7koDHPm/OrF7rSMN6eyDdP6lStTLbAjb50xLooYbAqHP1loWgUeqFJ6IuOgmA05fihvTAQIw0JeHapGq0F3uzgLUm2wfRILr6+GsD1i8X48LIXT+828rr347NO3L1cgpI0Gzy/XoOzNaEoT7dFsLsyQrxVIQjVAcGx63LcUJnuwMarzABdnk6r4m2RH2KEpnQ31Cc7IcxGAYWRZpgZLsF4eya6a+NQScjCigg8udHC0HzCCVKvKIkoAeo//ziBL18u49mzAY7EvHk3hpaOTIRG2uHSVCd++88jphQRV/fn3ybx7sNZ/Pb7Bbx80YXXr/rw4eMY3n2YwIuX43j58gp6eyoxPNqAqelGvHozjCfPzuL5ixE8fjSERw+HceliI65cacWLF5fw7NUV3Ht8AWm5USioFuL9b28xMj2GQEEcvGLS4RqVDZfIHNgEZcA6NA/a7inYqxuAvXohkLdOgqxFAhSsBVC2i8f2Y2ZQtfJGSmUz3KMEcPIPRUp+Ph6+f4TXvz7FxfvDyG8SIrVSiOKOVoTnlMAhKgs+aVUsftrOkTDxikcAVa9F5GKvpiNswotgF5EP3/Rqdut6CrLgm5wJ19h4RBcW8nSa29qJkOwiqFh6QNnMC8HZzQjMamS2sFtCLrwEubOr3twKLhc3cPGHqWcIrH2jefVsTyCHiESEpmUhOjsbwqpyZJTnIrUgGcm5cSiqFqK+vRTFVZnIyIlCRU0azg3Voq0lB2kCdzhbHoOHrRrSIqy5VDon1p7xdISrFEaYcyyGSEiUY8wTOKGpNApl2f7cjUpxKmLkMnT+bgdTjGjSaamN4hdcdGOn7HNDrh8qUl2RHKCPnto4XB0tYyg+8XZH+oS4Ol6OM8VBTPUpFjhgZqwc14cKMdadwVsSAqeM9eXznzV6tgjD/QVsAByn/tLWNNybqManmQ4M10XBU3cncgN1UJdogwdDeWxaSg05jQAnRRSm2TMedHq0iN335DSmF8bXRwsx3pPOZRnjZ7Mw0jtrmvK1V4LaQREYHBdHUoQNInyMoH9iL/ZsXQRVWTFoq+zBKWUSua0w1TrEpiGj47NiZ2GgwPWZNqaKcLUmuIMO/BzVOANKjS5hbhrIibPltpcw91NICbeBi6Uy5PaKQGH/OhbTEwqSUJQWY1ElQdU6JgUjTRn+syx1ZeFho865esrW373SjL7mdF73RvvpccyGwAwUgaFJlMxG9AgiTUCGo+wUB76XJsXNrnhTBdagJyvVAflCF5QVubOQEqthTkN1MIjiQFGYghxHNh2lJVqAnqxUG76XkpM3M9UBGSkOjBJMiLFEbIQFF4OnJzvyxEr1bGlJdvDxOM6OX1oFuzqocrsMmZTMDKkibQ90TuwD3VKJikROX5oWNVVleP1KsRVpqbU4KrsNni568HLV/5N2RHdQWvuSwFqaKsHCRJGnUsPTcrA0UeWJljKmx4/tYXjDceV9UFfaCxkpypju4Gf/rs3YvW0tP8TpFVu3gltjVi6dz+0u9DnxTauxY8tqbo3Zum4pA+8lNq5kti+1s2xZK4I9ElsYjE/3zIV//x7L5y7g1Su5a+neSfAFWtv+MaWuW7YU65cv44mV8ICiS2hapfq0udxhSjGZHZtW8bNFdAnWLJ2L1UsJE7gAS374hoEMhCakSZdypCvmkTNXhNe8NBmTAJNAU3E4GZM2LFuB9UuXYhWRk+jr33/Pk+nqBQtYRNctm22nEZ0/F+KrRbBj9VLs3biQqUbnWqJgo7sGJhoL4GW9AXHeMtCR/xZah77HvjVzoCe3Ep6G0nDW3oNj4j8gzkkZLy+Ww0hOBFvmzoHJUVGG5ZN55+HFSs550k3V8qQ4T6s0pV7qyeKJdbAxgVdLdIdsrwzhoPmrG7UoEpjhfHM0ciP0eY08XBeD8aYk9JaFYaAqhouW+2uiQR2QU31CFuWyVAc0FPqA6uXePuzE1fP5eH6vGe8edeDJzXq8ftCMX94MoK3CH+3lfgi1l0NKiBZ6WiIxOZaDJ3fO4POLPvzyegjvH3Tize0W/PZ0gKM5faUhiHU4hkibo8gL0UeWrxYEziqIsFNEQ44vZ1fplT9NF7QOm5luwJO77Zi52YRfvkzi7ethhjD8+OMlvHo1gq8/XcO16y1ISnbBwGApfvn9LpOQXr8dwW+/X8Obt7NNL2/f9LHZiKrY/v3v2/jx0zQePhzF+4930NNbg46uUkxNNzOG8Nq1Rjx7NoQ3L8fx4skoLl1s4An17dtpPH05ieaOYqTnx+HW0xu4/+YRwlPj4RAUAteoLDiE5cAuOAfm/lkw9smEik0M9mj54oBhBA4a0700GrLmMVCwisRuTTvsUDWERUAMhHUtMHZyR15VBT78/gYTt/ox9XAAL365garuElj6OsI1Kha2wQJY+KUgKLMBHgllMPIWIDizCknV3VhzUBt2MSUIymmGX0YNnGKymcdLJeHBwnwQwIGyp4QMTK1tZjHdLKcNp5hiWIVkwzEmF+5J+fBNK0JgRiESSuoRV1wNh5BYnHbwRnx+Lbou3IZfXBYcg2LgS7GfiCiklJUgrSwPmSXpyChKQlZJCkrrslFxJg/55cnIKYxFaWUyenvL0HImExGBphBEWKM8K4DXmgUCV5QmuyEtxAR5sTYoiLdHpOcpvpFSd25lXhCqi0LRXp+I8bPFTB57cKMNLx/2or0hDhnx1lzVRw1DNAEOnBGgrTgEedE2iPHU4qYZ4kGPn8tnQb0xXom6PH9Ee5wECSnd8K9SN+5gAUb7c9DXlsItMVfHqjA1WoGxvkJMDBRjrCsH4925eDDZwKCV64PF3CNM7G0nbQmkuKuhNcsZD8YK8Wy6hiEPwe4qsNTdhRg/LS64oJ/ZK71ZuDdexoJK3cVdjZG4PCrE20et7ODNjDNDUZoLG/JSo+2he1wK+3cuxxHpTTDUkgMJnsphQgoegZWuEsxPycLk5GGY68vD3uIYSEytDeluqsJCF+CojhBXDYR7nESYuyY7b1PCzBHuqccVb7s3fQ/No9txaPcaaB6V+lNMTbSOwEznCMy0D8NS9wjfaWkydTBVgNHJPbzm9bZVRajHKSSHm3MEJiPBnle50cH6SI4xR4bAhs1GZDpKT7Jl8SQxpSc5zgop8dZITZidUv8QU9rszqmtCGDyfU6GPbLT7fhhEU22QkayFajRhcSUMqYZKfYsqMJ0V2SluYCENE/oiZxMV173ErfXz+skbC3lYG4sA3cndRZTV4fjMNE/iNOaZEjaz2hB6iGlDCoJ6XFlae4bpSlS/tBWSIgtgbqyJPy9TNjhO3s71eDVL4mplRnBG5T4ra2FOhxtTrGgnj55CJpq+1lQSUg1ju1nghGJ6eF94pDevQVS4huxa+s6Fk2qWlsvuoSffTu34IDUVpDg7t25AeIbV2DrusVgQRVdhJ1bVoEoSTQxrl+5BMsXzcMSMgn9sAAi88hVu4DFkkSUxG3p3G9YVElcaVqkh8R1zdIFDKyn++n2DcuxedVC7jCV3rkZx2T3QvGgJPaKb4D4ppUs6nskNrEBivCAJKY0nW4UWQGJdRuwbskSbqch2tHyed+wSJOIktDS12i9S4JKYkoCS5Pssn9+A9HF37PDlyZTke+/wXaRhdi85H/4B7i5zBNqsn+Fi8kaWOksQkG8BkzUFsJMVQTahxZB68BS2Ghsh4vOXuxfPQfuWjtwsysN5gqi2PTtHGT5a+OnmQ5MdWUgwesENGQWozLNiXNx4x1pGKiP5R9QElJCEw61zT6U7eyoCcGLW/XoqQ9Beao1rg8KEWwrh/6qcDwcq0BXSQhTZWjivdwrxIcHPSAhpg7IgmR7jHQkoyrPA6PdqXj/uBuXB4W4c7kMD69W493DVlw5l4naHGd4W+xHSZIlfn3Zh5f3GvHpTR/eP+vGs9tnQAXk08P5uHOhDL+/HsZ/3ozil8d9LKp0o03z1kRlrCUm6mIw3Z6CYHsleFsroLkkBKOdGZgeIX5qFWMDiaD09fMl/MRwhXGeHH/59SaePhtBY1MKqBT8//5zD19+msLjx728xv3x0xgePmjB50/DmLlbj4sTxbh4sQI//3wd01dbERpuj9KKFDS1lqKxpQAz9/pw924bbt5swatX5/Hy2ShuXG9n5uqdO/149XYKtx+MoLQ2ExdujOLl1zdIKsqBqbs7PGNTQTEVq5BcmAcKYeonhK5rGo4YhkBK0xeyxpE4ZBwFWfNYdvVKG/hDwTIIG+R0sPeUGSp6z8M7SgD/6Eg8eHMP0w9GcOv5EJ59nkRWRSw8It1g6uGC0vY+RObUI6m8F4kV/UwyiiioR177CHZrWME8NBtuiWVwSyzlVW9kYQOvbQMy8hBTVIbY4nKE5hQio74DViFJEJM/DZuwfDjFlIKMSH+IKSEGCfIQll0M18hE6Dp6wSUsEXX9FxmdSMXhwclZ8IiKQVR2FqKFqRCWCZFbkYmsklTkV2WhurkY+RVpiEsNRFySL4pLBejrK0dlaQySYx2RHuOE7HgX7jBNC7OCINAANTk+yI23Q0aUJUozvVCY7oHKgmB0N6Xi7vU2fsYGijA9XsXCR5MP1fn98n4CVCg/eS6Pp9KSREcmI5WmubEzfPJ8KRckEDf66lAJMsNMkeitgwnqKB3I5f/fqH1maCAHPW1pGBsowM2LdZgcLMFIpxDTQ2W4PlyBxqJgdFZFs6ASAYwMgdRgkx1phnDLQygNN8BofSQudCby//t3JytBbUjmWhIIcFBCZ9nsaePmuRzOh1/oT8X0RB762qLQXhsIP8fDvNmh78lPc4Gm8lZsWPlXHJBcDcWD22CsrQh1ud1Qk90FoxOyMD0lD5vTStBXl4alnjw7dN1t1VlMKWvqaacKX3t1+NirQBBiwmQjbxsV3gqEuGjDSF0Sxw9tgNK+NXwj1T9+iAVVU1ESptpysNBVgJWePN9NyfREYkrTqZO5IgMjzLX2IsxDBz6OaiDXbqiPDsrzfZGb5swmo7x0Z55Kc9OceK37h6AmxppDEG3OgpomsOWvFebQdDqL451Do2pmii2S482RKrDk97NS7XgyTYozYfMRrXlTE22Qm0WRGS++n+YJ3ZGW5MDwBlr3OtoowdleiQvCyeFLZeGBPnoMc6AmGQsjeehrHWA2LyEFDbWPzHaOashBW0MOp9QPQ1ZajCdTohbt270aelqHEORrzjt1U0N52FmpMdyBXL70MU2nDtYn+DEzVATdTE+o7oXK0V1MOqKpV01xH+MDqRB8/+5NjA4kQDzdQWkSJWHdKSbKYnt4/3aQ43b/zvXYsXE5gxi2r1uCFQv+OruWpRLvpT/wxEhbL+txAAAgAElEQVTRGTIsiS5ZylCFpT98zw0xNFGuWf4DVi7+Dsvmf8Or2jXLFoOeVYsXsBDTn0dOYsqtElCBYjVS29dC/ag0tNTkuPHmwB4xro6TP7CL/44rF87l7Kjo4oW8Nt4mKsqCuXbJIp42SSApBrNpxQqIrRIF5VCXz6XPLeX1LhmWaM1LQr9+xXy+31Imds8mUWwTmYt/zpkD6vATxunjhPx3cDFZh0DHHQh32w8DlYXQlp0Hc/W1MDkmCqWd3+CE9Dwc2/E3GB1eBrtj6yC/bg4yfTTxrwed6CrywenDy+CqvxsXOpMx2ZuOvtpInj4nujMx3pOJs42JON+Vic7aWPQ0JbKpgdZG96YqcW+6HKUZNvjtVT8IFEG2/lfTjbgzWsotNgQMJ0v+p+dnGZVWkOGErDhrvucQ6qy+2BdfX5xlDCH1Qt4cK+T1dV6cGSI9lJEXa8z/cPzn/RDn5GgqvT9dhUfXa/HuURdezrTi5Uw7/u/TRbye6cCbux349dlZvLrawDenALMDyA0+jSfjZcDHS6jL80GYmzr8HBTRUhnK9CTi8BL67+P7MXz9Oskw+1evx/Cv32dwdqgM+UWhLKofPoyzc5fg9q9fDrDJiOAM717PQhoGz2bj1q1m/Oc/9/D23WVk54ajsiYDg+db0NlbzlnVd+/G8fz5MJOP7s304drVVsbEkSFp7HIzRi+3Y/LueTz7/JzpR5Y+AVymTZ2jVmFZMA/NhUVwHiyD8qHrmgE5g1Ac1AnGUbNYKFklQMEqFvsNA7FX3xdHLEOwWdkEGxT04JVcjPr+UcRmZKCkoQxT98bx5d8PISwJgamDOtrOVaN5oA3Cqip4x2YgvqgFETlnYOyTAFrNUiH4ERM3nPaOh3N8ETxTKhCYWcfTqV1oEmg6jcgvQQxxenOLkFrTygSkXaomLP6eSTWwi8yBU2wO30190vIY3CA804GS9gGklDdAxdAW7pEpMHMLhk9sGgKTsxCUkoHgtFREZaYhrTAD6XkCZBQlo7yxEBVNRRBkhiMy0ReFlckQ5kVy/nSgrwyVxdHIEnigINUHmTFOSAoxR2aUJagHsyjZGZQh7T2ThJHuPMxcbcfYuTJ++juFqCmLwORoORcpUC/mg+kz+PB4gP+fpTVtjdADeXFWEMZY8Ybj+mTtn2XfF84VoL82DgIvbRRGWXMBBSE9OYI1WMDIzq6WFG6HoWn2PPGw29Jxd6wS51vTUCRwQJTXKYy2p+P13W7GaNLP3LPrLfAz2IsMT3Vcak3AVH86WiuCQSvcmSs1/HPqbLgHATZH0JTtiQfnizHUGIX2Kn/cvFiASyOZGO9PRm6iGYozHDnikxBqDpmdi7F762LmChiTaJ48iqMyElBXoPWrHCx1lWFnqIpjB7aAYize9icYxuD43+nU0VwJrpYqcDZXhpm2DMiQRDEZ85P7YaV9ADbah6GjIA41mU0w05KDrZEqzLUVYKwpywJtrHkI9sbKLKbmpw7A2VQRXjbqCHA6CV97DdgbHmYxdTJX4DWvN/F7Qw0hTHZAkdAdlYV+KMp1hzDNHgnRpjyZkqDS3VQQa4HEOEuk0gvrJFsI02y5YY2IgXNmhdMKKQkW/z8xTYw1RrLAgidTEtPifHIv+fEkSivdiBBqedFAfJQNHG2Occ2aif4BBhTTx852JKqqTESi6jSaRklIiYJE9KOTqjLQPakAFYV9MNBWgpLcbkhJrIbcgS0cmaE8KImki70WPFx0eMVLIkpTKQkqmZCIz0tZUrqZkpieOi7NUy3dYmk6pXWv/EEJkJju27WRxZTWuCSis5PqetANlb5OBeJS4qtwQGoD9u9Yg73iKyEvvRXb1y/CmmXfYd2KH2YhDiILsWblQr6zrlm2hNF/fNtc/B3E1i+FxJYVjCEUXf5PkAOYzEwUXyG4wqw7WAS7t68GuYo3r6Jb6HfYsHI+9u1Yx+03eyXWQnwzOY5XQWzdMmYGk3OYzEw0ndKzWUTkT8EUXTS7LiZn8JaVKyG+dj2/pfYaElNy/a6avxCr5lMTzSKO8dCdlVjC6xZ9g/1iC7CM+MGKIgj3koO1vihOyn8Dm9MiyIvXwkB9IEoEZrA7JQZTlTWQ2/YXiC+bg2O7/gotye+R6KCIxkRb3O8X8g3GRnU9iqPN8JyKi+si0VjgxUD9qcFcpgv11MfgQl8ORruy0NOYjHZqn2kW4N6NOtyersC7Zx3oPhOGofY4/PS0lwEPhEV7d7eDs6ofH/fg66tzuDNVhbb6GF7LNFSE8k3p84tzaCoP5lvPh4dduD9ZhbvjxWgu8mEiUkG8KX5/NYDGfHdc6E7C85sNLKiUSyUxfXq3GTNXa0CF5IT/e3KnBbcuVnD929s7rfh4rw0jZ2I4jpAXYcRrZvw0ja/PzqEo1RGNZUG4drEcxOD95adJrlV7+3YML16O4tff7nBBd21DErp6CwE8wptXQ9wM8+XHUa5ao7q1//vXFSYd/fL1Iu7cauLV8MePl/HTr3dw7VYfhseb0dpbjobWHLx8NY737y8yVvD1qwk8uD+AO3d70NmTh4nJJgY2TN0bwYN3M6jtbYVXfALfFIlw5ByXD6PAFJiEZMEoQAgTv1yctE/CYZ0QHNGLgLJZHI6aReOwUQjkzMMgbRSAXVqu2K3txhnUQ7puyKnrRE55JWzcnVHVWIp3n+6jqCIBje05ePf1Hp59fIj4nDQ4h0TDJTwF7nE5sIvIwCmXII7MyJq6QN8vASF5TfBILudVb0h2PcKyqxFbXI9gYSGCsvIQV1rzp5juVDHGaTcBT6dughIWU5e4LHgm53I9W2ReGWLzK2DpGwaHoDh+LD3DEJgohGNINPwTUxmZKMjPYTHNKkxFeiGtelORW5GB7LI0nk4rzuSgqDwJghS/WTpSYxayknyQTCCHaGc0FEWiKMUF5VkeuHKuCHcv1/FN7vm9fowPlqOhMg7xEdYQRNkiK8WV6wkpu0j4uu76ONTk+6E61wsjbSkoSXZAocAWrRXhjP2jom8q/qbSb4KBVGd4INhKEbVprrgxWIg7Fyu5L5dQnb2dGVyvRpMsiSmdHCiHemesDNVZ7ojx0kR9PiE5c3B9tByDbWk425bBufCh8lC4nxBDvLMSb4JmLleymI71ZrIzmDi/Sb6nYKmyARlBWrjan4abo0Iu9B7tETD8wc5gD47LrYKJliSbj9aL/A3SO0X531JjnWPQPHYAqnJSOKUiA111GZ4cnc2Ocz7UVOsA3KxU4ed0Ci4WqrCmoclYGY5mqnAwVYH5aTl42Z2CqeYBHNi6BEd2iOD0EQmYqu6DtZYsjDUOwEJXEbYGKnA0UYPlaQVe7zqbq8Hi9GHOq3rbHmdBdTA6AjsDWVjqyPDkS+tedxslFGR4wM9NHbTmzc9w4Ttpe1MsSgu8EBthBEGMGQsp3Uop0UKCmhRvw+fN9CRLriqlUpg5ORnObPXNTLHn/XB6Eu2JrVlcE2NNmcebGG+G9BQbVJT6oaIkADmZtOK1Q3iwHhKibZGZ4gEfd20WVHMjWRZQan0x0TsMMh7ZmB3jxhgLw2MsohrK+6ClfpC7RzWOHeR75jF5MgxJ4sCejTiwdz0O7lvP0+l+yVWcGfVy04WtpSpHX2gipSmV3pI5ida++joHcfqUNGdV6XZKMRsC36soSLIRieD2NA1Kiq9lUaU6Nqpl27VNFOKbl7OQkZDukxCFvPQWzmLKSq2DitwOyO7diJ2bl2Gz6GzrDDXOMHKQgAjLl7BBiJpnNq1ZhD07RCGzZx0L5UbR+ZxNJUElISVRZQDEmkXYtnExJLYsYzFdueBvPP1uWk14wsVYu+JbrFj0N6xc8nfuKqV8K4kplYmvWbKIHcQS69Zh54YNPH1S/EVi/SpsXLGIG2toMt26ejU7eWnNS7dScvjSqnnr2hVsVqI19K7NIhCZNwcGGptAZb1V+dbob/bCtfF45CQch7HGYrQUuwKfxvDjvU54mR1CmJMyCuLNobDzr9i1Yg6ObpiDa03x+Pn6GVTHmkFu/RwYHF7Cr3SH6yPQVuiDkZZ4dFaE8E1zuD0Fo93p6G9KZPrK5ZEKtJ1JQkeTAJMTJbh1tRo/vuvH3avlEApMgF+voDLDEdnRpjjfloS7F8vx4VE33jzuwvmzmcjPdudNCdVEkYP253fjvDajafHZ1Xo8v9bAyDXK4MV5H8f51jj8+/VZvptSjOb5tTo8vlKFR9O1ePJnsXclnj7owL9/uYLnj7owc60ez2ZacOdyBeMP38+0or8qGAJvDXSVh+D1rWb+ezWXBXKsgKD2ZD4iti5Npi9eDLGYfvp8lW+k9Y1pvH795dc7+P23q3jzvBcvn3Tht68X8PbFAH79chE/f5rgOM2Hd+fx9esUPn26gkdPRzAwXIGmjlyUN6Thyo1uvP1wBY8eD/JDk+uDh+cwPlGL8poETFxpxdf/PMf1x5fRc2kAQWmJcItN4vuitmsULCOyoUf9pSFp0PVOga5HKlTMY3FIKwhKhjE4ZhqHIyZhOGwchIPGQdiv74dtGi6QOu2Po+Tw1fKCb1wOSupbEJWYjOKKEkxcPIeW9lI8fz2Ft59u4fLNQdx/fR/dE+PwiEli8IJLXDZsIzLgEJsFba9I6HhHwSutHDYR2Ygq6kBZ31UIz5xjZy/dQb2SMhFfVouEsgaE59dB3tAVuu6JcEuohGtCMdwEBfBLL0VoXiW3yFAXKrXWaNm6wcIrjB8rr3AkFlbDIzoRAUlp8E9K5rxpakE68sqyWEgFwhi+nbYONKBj6AxKajPRda4GOYUxyCuIQUNdBlobMjHUWYLxvkoMteUizt+A16Y08c1M1uPGhXrQSrejMY3rzIYHitFDPbrnilGc68s3uhKhJzpqotHXKGC61nh3GgT+OqjIdGNwwq2r9ZicrMbly1U8nRIMhIxO4TbH0F0SwvWIV4bzcHE4n5nRg11CTAwWsJBeHy/FzQulvK49S1jCGFMG6F8dzseL261sVOqsjsH0SDmmBwrRJfSE0EsDFXHmzLc+2xyPydF8rlmjmM3NoQLcHytFZ4EvAsylkep/Av31wRjpisXjmzUs/ock5kNM5C/Yv30RZHeLYrfYMobU0IZPVX4fFA/txAmlfTihLAVNxR3s7KWVa6iXHouch6U6AxkoY2pvogo7YxU4WJyAo6UmwnxtoC63E3u2LOUuadV9m2CufgBu+iqwOnEYmkckeBo11DgAaz1FOBirgsAPziYqsDdQ4PafcE99BLvqzOZUbdTgYqYIF1N5hjgEuZ9ERX4A4sON+SEdJHNRS0MUGqpDWQsToo1ZVGlKpan0DzGlgZK2unQezRc6zYopCSr9JjzGxpggPsoIcZGGiAnX56k0I9UauUJH1NcEo6E2hJvFS4vcWWDDAg0R4K3HBiMb86P81oEYumZKMNQ5wDVslDUlIbUxVYf+KXmQmKof3YdDe7bwKlNTXQ6H9olhr+QGbnWhGrX9u9dBfMtiSEqIMLiexJEISd5uBjyZEpOXxJXElESVhFTn5H4WU3L1EumIvufIQTEWVIVDO3gapKlRRmoLjkhLgFapJLC7t6/Eob2bcHDPeqYyKR7aioNSayG1fTnENy7Avp1kDlqMDdxAsxBb1i3ButULISpCa9tFXN1GAkvVb4f2bQY5kmnCpuLu5Qu/AUHoKepCFW/kEF6/aj5PrvTradpduYAcu//AptULGeRAxiQq/Kbyb1oXUz0cxWZo1Us3WJ5MV67AJpHloDXvjg1rsGvTGqxaMBcLv/mGgQ4kptRaQw+tfImKxOQkEcrAzuUKN2MtZdy82ICWigD0nAlEerQmTLWWo6vGGR1VztCU/QceXcrF5/tnMNoUgZ3L58BBazMeXyiGt4kUDm+cgy/X6nG5LgpmcstxaM0caO+fjz0r50B9z/cQhunzipeEtKsmnJmjbdXhzPUk1B51h06OVrKY0u2nvSkeN6Yq8fXHYfz7yzg660Mw0ZeG7towxHof5zXxfz6O48cnvbh4NhMlua4oK/FHa3MCms7EYvJCOR7dbsX7R/3cc9pfF4X/o27Pi+UM/y6MNcOnmRbcHSvgPOrtiUI8mqzEjeE8vpG+vNOCZ7dbuJ2GBPHNk16Mn8tBWrwFM02pCu7pjTPAr9N4c7sJ+fHmSA7UQnmaPRqL/dDfGMtVcfeuN+JfP0/zvfTRoz7uHp2514PrN9pRUBiM1rZMAM/YMPTjuzH866fLeDTTjBePO3H/dhML8ZcP4/j49jxITJ8/H8TPv9zA/UeD6DpbjHMTtahtzcDUrQ789NtNXLpch7Hxajx9MYabd/rQ0pGH0roUfMZzPPxwByWtZUivLoGgvBL2USkwD06HVUQRDAOEMApOhXlEFvT80qDllgxl8yjIng7FcaskHLdJhrJlHFTtEiCp7YndOt6Q1PHDtuMekDWLh6ZLOhT0XZBZdgblDS2IjI1BX18LPryfwdfPM4xGJFjEo/f3kFFRhHBhLlxiUnHc3hdeKWWwicxiIaU6N9/MKnj/1/HrHFMA5yght76EZBbDMyEdQemF8ErMQXxJI1QsvaBk5g/n+FI4xRbAI6kI/hkV3H3qLRAiqbQGwvpmmHsFwtwzGI6BcbDxiUZWZSu8Y1I5U+uXKEBYahLiMgRIFAqQXZaJvMosFNXmoH2gAecmOtDaV4Wy6jS0dhajtFyAgrxI1Fcm4dJIA6bGm5ER74KOugQ2nBFqcqAtFd1NyWgoj8K1Cw0Y7ivCtUuNONeZjWsX6pCT5IzKHB+8uNPJ+U26W9LJozzTGdmxlrg1UcmQhqG+bIyPl+LChXKMDuYzBKSlKBheRjIcCbs/UY6JnnRMjeRjuDuTMYBUcE/3ejIz3ZooZZZvUYodnIz3oqcukjuEqeCBcJ/DHVm4MVaLCz05fPcXOB5FpIM8i+n1sQKMdKUwKvDaSAHe3GzGjX4hnzQaMhwRaCWD0kRz9NeH4mJfOvSUxbBpyRwo7l0LOcl1UJPdgWOyO0Hd0iSix+QkedumJLuD27WoZcvolDQj/xJCLZlu5Gt3krGB7tYn4GR+HA6mx+FicQquNjo4sl8MuzYuheyuDdA+ugcaByVwXGYbdI/ugY68JPRVpEFrXZWDYlCTFYPxyQOcL7U+LQt3CzUGQHhaHee3BH2glTGZmIJdTzFeMMjzFDwdlbkRJi+d8qOe6GlPQFUZwYy8UVnkhZQEM4T7n0J40GnER5qymKYnOiA3wxXZ5PwX2qMg2xlzSgt8eCccGqCNEH8txEUSdMGSR9uoUF1EE+JNYIL8bDu0NYViZDAJYyPJONcfzWFVoiL5e53mqdTOkm6YytwcQ0hBMwM50HrXwugoi6mlkQosjdRhpKPIoz+tdWUPikN63xZuaDkoI45d4muxbbMIv5XcsR7iYquwZeMSiK1fyLlRis1Qj6mpwVG+lVJGyUBHFppqe0C0I72Th5m0dFxJEvQoHNwK+QNiLJay+7fg6CFx/o+7X2Id30epXo1cxHRnJRHkqI66NGQk12Cj6D+wbcN8bN04H7u2LmPRpb/H+lU/YN3KudyLumXNYi4jJ8PSZtFFkNi0HEQ3opUyiS6JIU2tyxfMPisWfscmJhJWEmKaOCkKQ7GZjSuX8gS7dN637OD9485KOdOF3/0di//57SwdiahIC+aB6th2bdoAifVruZScMqW02iWj0Y4N61hsKR5DRiT6HIkvgfXpocjMqnnfoDonEu3l0cgX2CIxUBOJgcdRm20LYYQm0oOPoTLlNIoT1JDiJwUXnQUwODwH3rpr4ayxDh8mq9GU4QR9uWUoijbmgnE/Mxkk+WrC/rQENA8uRUOeF/egdtdFo7MuChRO5/7TjjRQdRnFBahQvLUhDj0tiZgaL8HbJ9348LwHFwYyUJhqheGOeFTnOCM1XA9Tg9noqQtHbqIFOs9Eoa8nA2cHc1FeGYL+fiGuT9XiznQ97l+pRXakCX552IvbfUKEW8uht8gX72824Nl0Fe5dKcPty8V4fL0WNyeKcGOsmCdTaqV5MFWDt/e7GH5Pq9tA52PorIoAvk7h11cjeHilDncvVGK0IxkpwTooTDRHe2UQLg/mYWIwH79+ngTVoX36PMUieO9+L690q2uj0Nqegn/96zpevTg36/B9M473L4fx9eMY3r7ow5cfx0CNMi+enMWXHy8zo/fFq2F2/I5M1GBwrA5t/YWobUvFzIsBfPr5Mu4/7MTr9+N49GIEtU0ZqG3Lw82nV/Dg430UtVYhp6kWCRWV8M0ogmWEEAb+WdAPyIdxSDFMQ/JgFpbLbzVdEyFnHAoF0yioOyRD1S4ZitYCyJpG44BxBPbqBXP2dLdOIGQt4qDimAwV20jou0Wgoq0bsckxKMqPA/Ac755PoL+vGJPX+lHaWIjYggx4JiXCITYFRr5xcIyknGgtbCNzoWofCKfEfHimlsAzqQIBGbUQlLTAPToVwanZiBaWwC8hB4nFjYgqqIF3WiEO6bvAPraYV8OEFgzPa4R3YhG8ErK5ui2xuBy2/sHQs3WBuWsAjB0CYe0RCXvfKERm5iM4NRnJxbmIF6YgKScV6UWZyChKhbAoBVVn8tE32ICRiRY0NAqZKHX2bBkqymNRXR6HseFqXJ44g4mRKlwar8BAdzqa6qJwpjoSzdUx7GityglEUaonUsKtkBPvhLIMH0R6aKM8wwPnOzJxuT8fN8+X40JXBiLc1NFRGcmT6tR4OS6OluH8UBHXpVEPKZV/k7nN1ViaTX1EH7vckcigEbq3Evbv2vkyzFyu5fUu9ab2VEYh3lubQRK3Rsr5zxvrycZ4fwEGu3IwfbGOvQoX2pJRmWjF7vaqLAf+eSC4yUBzDIw1NoIy4HQrnRnMZxY2ZbpTvDVREGWCrBAjxHnpY9vy/4UK/du6bzMO7lw3WwZyQAx7dq76k4EuLyMOxQM7oHl0L7SU98HguAzsjRX5LmpnfARkQCLmrpXuUfg5G8LLTg+Sm5dz29Wujcuxf/sa6B+X5e/fvWkJlGS2Qlt5L4xOHIap5iGclBeHgZoUHI0VQAhBGwM52BkdBa2RHU1V+KE7qpuVOpuRfJ00mcObmUwRFze+fZKRaKArFpPjWbgwkoKGKi+U5jqgssgNGQnmiArSYbcvmZAoShMfZYLosNPISDHjvOmcqtJAnkojgnVZTEl9o0L1ERNuyMJK0ykB7wk1eGkiC88e1+LViwbcvV2A7o4wNiaFBxkx+J7up1TDZmkiBwtjOYY1mOofgYmeHNetmekrwUxfGYbaR3FS5SDXoCkpSOGgzDaQkB4+uBOSuzZiu9ga7Ny+HrslNvJtcpf4Or4hiiz+Bts2LYSWhgwcrE/C1eE0zI2OcQ0bQezp80RVOkHxmGN7oaUuwzB9OenNOCKzFceO7IKavCSIj0vAerpNUvG3wiFxnFQ7wIJKzTLkJN4vKQrxLYv42S2+go1RNDFvWbeAhZSmTrH1iyG+cRkbiXaJreaoy5K5/wt6yHy05Ie/gsSTxJQyozSd0kPvr1gwiwwkdy/dQmni5KlzwQ/8NYLcryXz0ML5zOklISUqEq156ddtEFkCmV3bISW2GVtFV7Frl4ST1rokntvWrMb2taK86iWRJfHcSGXj/4U40C2VeL1iy7/F9pV/xeYlcyD6/RyckluBvpowtBV5Ii9KC7cGY1AUq4CS+EO43GoNle1zYHX0H7jdnoCmFHsYHFmOseZYfLzTgqH6qNnvLfHDUFM8g7p7aqPR3xjPubX2mgheb/W3JvNdiMqHqVlmgG6nBNruyQIxQfvbEjnL1lYdjNRIfdycKOCatqIUKxSn2uLG+QJcHc7lFo0Bqofqy0ZtbSQGBrKZFnP3ah2e3WxEd0Uo51RvdmUg2FQa3QXe+P15H/efXhvPw+T5bHb7kqDev1LNq1paI9Pa9sX1JnYeB9kpoq82Gl8encWDi7VoLgxCd00MpgeLmCoT5qKEWB815Cdag1ZsFIl592oUdON8++4C7tzvw++4h3sPunGmKQ6v3wzhP/++hk8fRkHNL++pIu3VCD69o0xqLzfCUHH4+zdjoCgNPV9+ucoNMJ0DRRgca0BbfzGGr9Th5ecLePrqLF69GcLTl0O4ONWE3uE6TD+4gKtPr6F2oBUZtVWILa9CQHYxHBJyYRqaA/2AXOgHlsAoqAyGAbkwDsqBvl8WjtlGQUYvAHImYVC2E7DxiJi8B4wjsd8gjClIEid9sUcvBIp2yTjungWDwDyoWAfAyjcYF65fwp3bI7h0vh4vH42wA3bwfBMK63IRmBoLn9QkBAoLoeUaDBOvRDhHF8MqLAeq9sHwzCiBb2YZ3BNL4RyTx9VqYZn5SCqqRHxeGUJTihCXW4uYohpEFNXhoKErTIOz4BRXyFNteF4zAlIrkVLZhoSiasTkFsJfkASvyDgY23tD18ILDr4JcA5IQGRmAQKTExGcHIOojGREpwtYULOKM5FdnIrCinQ0thWiZ6AKI2P1aG0Voq+vGF2dOcjNCUB9XTKuTLZgfKwG1wgfOVnFdKLbV8+A4i8zU024OV6Hq8OVGG4TorEwFMWJLnA2kEFqsDHKUlyRFW2Fcw0ClKe6ojjJHpPnCtg4dGm4FGe7hSzSF86X8QvNs53pTCRKDTOCh9E+1KQ64OFwPgaqgrltZqIvh13xRFAinOd4ewZD+IPtVNBbGYcnV5pxfbQSE335XGjf15GFiZFyLm24fb4YpQILbl0qTrbElXNC0HR6fTQf6WF6UNs/D7TRmRksxFB1FDJ9dRBkIYswG0XkhVugNtMf0pvnY8+GRZCTXM9iKrdvCzeEkedF4fBWHoKUZXdDQ+kA9E8owkhTnh29dkZKMDy5Fxb6B2GuexCu1urwttNhgZSV3IhtogshuVkEMjT47NgIjaP7edrdvU2E/z1XkBHD0X2boK+6j5toHIzk+SZqfEIKFqcPMvmIYPkBLp+nM/YAACAASURBVHrwsD7FpiRaARMRibKqfpRjDTjN21eKhQ70xOPxTBXev2rGm6cNuHYpC801vigS2iIlxhAJ4Qbs8iWoA62FY0L0IYgxYjYDQxtqykKQleKIiCA9BHhpwsdNHd6uagj2nZ1Sw4O0OW/a2hiK+3dq8OtP5/Dv3+ge1MriSo4moiGRg5eiMGQ8MtKVhp7WXp5MjU4fhrGuLLN5TfUUYaKrCAMtisUchqbqQago7YP0vq3YI7kZ0vu2QXLnZohtEuUGl22b1kBaSoLXqeSQJUPOto1LsWbFt3wH9XI1YkQgMXf1tcmAdIhFVO3obqgrkqDuh7LcTjYUye3fhuOK+6EuvxfKh3ZBQVqcJ0ja61NhuKLsLhzcu4nXtLQaJkcxZV6ldqzkz1PDDK2it25Ygg2rF2DbxlkcIYEg5A/uhJz0Do6y0CS68Pv/weK5f2MhXbVkHk+bf9xMCRFIrl6RhfP4oTuo6KJ5WPrP77D4u3+wkNIdloR09ZJFXBBOcIhl8/4J0aWzYHvCDdL3HNotwaJJArn4279zppSElN4n4dy9eSO/pVUwiSk99HWaXunrO9evwpoF32DV3DmQWP1XNiEdEv8eI80pnBEdb43F5a4IlCefQJTLRjhpf4twm/V4NZGG1jQbaO6ei3CHI3g2WQGC1neW+LOYElB7ojOVHbzDVJzdnsI30vbqKLTSraglGcPdWfyK+1xPNgZ6hCyow/05ONuZhnOdKSB7/uv7rSA3LkVm8HUC5zsFyIw2wOOrVczWpVUXORcH2qkiKgUjfdnMxKWKqqfXG/DoUhWudqXj+UQpQiwOoDTBHC9v1uHVTCPePuvAUG8iT6WPpqu5l/HmSD6eTtdxY8x4WyoyQo2Q4qeHgdo4DDYI2BVJ5JveuniOGlRkeiAzwgip4QboqI7gzN/DO+1492aE75x373Uy0ejJi0EMDhfi9t1WBti/etGP33+9wi0y756dxafXQ/j4dgBfPlLd2ggbkv7161W8fz+BN2/Ocwb13HA5ahrT0d5ThpoWIa7c7sajl6N48Kgb7z9eYLEdn2zDxeuDmH44hTNnO+GfkojIghL4ZRXCKT4bFuFCFk7DoEIYBZWzmBoF5sE0JB96vpk4ahkGaV1/HLWIgopDEoupnEUsZIzCsU8/FLu1A0Bius8gDMcc06DpJYS6SwIMA5KhoGuBypYWfPn5LR49vID7M0MoLo7G9TtDaDt7BiUt1YgrKmCDkGVAHEKz6pi2ZOpPa98QboEhhq9LfB4CsyrgFp+K4PQsRGbnwE+QAr8EIaKyKxFf3ABBZTtkTrtAWtsVRn5JcIjNhXdyBfySyyGs70dmTRtSymqQXVsPQh3q23rAyj0CAbF5cPSLh61fGDyiIyGsLUdaST7ispKRkJWE9IIMZBakIL8sHS2dZRidaMHgcB06ugtBd+7BwQr09BSiujqJ6VM3b3Vh8iJNqWW4MlGBqQuVmBqrxOWhUlwaLJm9Sw6V4dpIBc63C1lAKY9K/aY50Vb8wizRX4+jNZf68zHWn8t51PPnCnH1cgPO9edisD8XdAK5NFSIvjNxiHZXh9mxdahNssGdwTx010TxnfXupRo8v9WGa8OlSI8wR6iTOnOCaSq9d6kON8eqcaG/AAOt6ZxHpW0QoQ0pp12ZYocodxU00M9tTyqmh3LYU9BZGQAbrW1cd1iVaIue4gC8nT6Da91ZcNXZDdNjW3CuLgl+Nho4KimKQxIiUD20nZu0qCVMTUmSo45EolOV3wNtdVmY6R5jNy+5bykHaqwlA2qNcbZQh6+THnRUpLFh2bfYunoBJDetgtTm1TgitQ2HJGd7oHdsFAElLJQO72J3sJmWPCy05GCovg8mmntBQmqjdwCBbtoI9zZEgMtpeNhowslUnW+pFrpHYGeiAE+H4/BxVoeL3VGEBGgzoOjCeSE+ve3Gr58H8PltJx7eLkdPSwRS4wwQE6wNQYQhQnxOIsTnFGJDjPl94jFQw1pdlT/mVBYHgzIzIX6n4eOmATeHY3C2VYS363EW2EAfTT6ytjVF4MHdOvz8eQj/+mUInz504/pUMYryvBAdZsauXmL1BvsZcCWblak8jHRl2IRE06m5oSLMDZR5QjXUluc+U50TslBTPsBiulNiHfbsFoPkTjFs2bia2bhUhya1Q4zxfjvFaIpch60bloH6RY8cEGe3LtGTDHUUYWagCmNdZZw+Icv1biSkdJulh3pIj0hv5zstrRrk929nqzbFYKR3bYLElpX8+1IRuJTEGs687tq2it8n7KC05EY2SdGNldy1dPekzOkm0cUcq6GoCz2UDaXPUTyGplEyHv3h4v1jIv2DuUuCuV5kGdYvWwQC3dPalpCEFH3ZuGoF1q1Yxi5hElWaUmmSpe+leymJ6eqFP2Dvts3s1l323zJyEs0/xJT6VGnVS4JK6126nRLAgT5Pokqfo7YaYvWuXfwNju7bAJltiyC2/C+I8zXEtXPFs12mk0W4P56MihR1ZATtx1SnD4ar3XB67z8R46CIu8O5eDFVxQSV3upQbqagH8qzDTEgAwT1g1KRMMHhuxsT0HUmgcWU7qVUHE4F4n/0KXY2J6OLeh2HCvDuaR/w8yTwZQLZCWacPyVBrc1z5ZXvp4edeHKtHg+mGnCuI537Fwnj9+DGGby+386iODNejNdXa/ByshLpPidQlWTNpeIXelMwNZqNq2O5eHm7EU+na0C/lhpsPs50cEC9KNYaYfbKqM/0Qm95JDrLwjHSlIxHlxswM17N0QO6ObVXRDBMnBo/7lypx7sX9ELzPB486MGjJ/24/7gPHb3puHbjDH777Rqbkp4/7sUvny/wNPrhZT++vh/E+9fd+PXryH+7S4fw5dNF3LjRjFdvRrlFpruvCO3dxWjvKUdjZzFuPz6Pe09HQCvkJ0+H8fj5Bcw8ncTo9DDyastAN0H3+CR4JOfCOSEP1lE5vM41DimEcUgpjIMrYBxcDuPAQhZTHa80yJmG4IB+IJStY6HmlAJ5yxjIW8VzawyJ6S4tf2w/4Y39huEspifcM6Hhlgh9vyTou4XB3CMAA2Mj+PzzK9y4PYxPP91jTGJ1cyG6RvuQXlYGp1DKeFaia/IeYgqb2ECk752AoJwq+KQXIam2C9XDk0ira0L9yAiq+wcQX1QKz9h0UG8plYFHFzfCyCcF+7VcYOQvgEmgAC6x+fz4CAoQkl6IqOxCCApLYejkCR0bNxjZB8DcLRI2PjFwDo2HV1ws0ipKkFKUy2Ian5mMlPw0XvWW1Oag61wdLk71YGS8GROX21hQL062YnCkBhnCQMYNzsycxc1rTbg5XYcbV+pAcZarE9W4cr6CM6WU+ZwaLgNVrV0eKMDMxRpc7BJCGGmBmiwvfhIC9JCTYIv+piSuPnt4sx1Tl2owdbke5/rzZ9e9Q8XM8x3vEYK40P5MHJNAiv8ptJWHgiZTamWqyfOFj60SAp3UmMr16ckgro2UYWqQ7qnlON+bh+GubIz25fEmiFprbgzmoyHTBY46EozjJA/B+c4kuJvtQX6cCapS7ZHopTG72o0wxqWWZC6ecDglgcxgQ8S4n0JHaQwi3PSwd9MPUJfbCvUj4lCT3wXt47M1m1RoQkONpoo0DE8dganuURifOgyDE9IsokYnD0BfQwbGp+Q4j0oT6b6ta7Ft9RJIb98A2d1bsXf7euzctIoTCBIbVkBZVorXybqq0jyVUr1boLMWgly0EOquzV2n5BKmnCndUSlCY21wFLZGSvC010CYrwECvXW4BY0IfsV5Hpi6VIRfPw8B/xrHb5/O4elMLbqawhEfpoNwv5NIjDBBsPdJ+LocR7ifLosqxUlpqq0u98Gcohw/CKItEeClDW/XE/Ckom9HNX4/yEcbQT6n+KZKHMLrVyr4FfTXH8/hzYsOXBzLRlGeNzN6CXwf7Ed7ZBvERljBw1mTxZTupuaGCuzmJUHlnlPtI3zbJDEl89GRQ7uxd7cY9kttw77d2yG+ZR02ryMI/VqOn4htWA0p8c2c7yRoAgkZlXqTuNFt8o/JkhzBNH3SCpleBdFjqKXEInpK9RDnnY4f3cP/EVTkduGg1GaIbxDhXKjosrnsxqXfjwxKFHGhZ6PoQv78HxAFQgsSYpCEkoxFSxd+i0XzvgH1n64iqtGqRTxJU/MMt8/8NxLDQrjgB55G6X3RpYvZCbxxBQnbUhZVWvfSGpfg9etFlnNbDK15qTWGV8B0+1w8n3/tVlER7P//uHrL8LrPLNk3d86Z2z3hxMzMzMzMzMy2LFlgWczMzLzFzMwMJpkxjuNwBzrp9PRMz8yZ8zvPWmrnOfd+eJ8N2tLeHyTVv2rVqpo59XfmKWXhcgQwBThFxhWpVwD1rbwrz8trRBbuMy/102zgUQPe15mEmAdmjvyQc3tXcrs2Va9sX3WlcLPcnbzIY/z1ZTLZwQc5sup9DctuyXChtzqYr+6k87g1juLEGxQlWFKZ7kBxkg23G6JoLPbXAG+x4zeUhegRFtlQHq6L5i0SddaQqKemIoyqkkCNTnvWm81PX9Xyn39u7+sjLfWF33r48n6mznZvVQfx65tqpHy7Q0wXD/J581m5FnG/flLA485kBcjv7mXxX6+rKQk3wfnUEmrib/CmI4mv76Tzt9eVWr4sn/1lRxISdP+gPpoUvwu4Xd1CuMNReqtj9LTkB1JpcKMw3lElu6RAU0rTPMiMttEGis/ul/DqURm//fkW/+s/nmj+7v2H+dQ1x3DrXha//naTX8Wh+3Mn//0fD/npuxZ++6FNgfTff5Xy72r+/jfJ723kqy8qeP2qkrq6aL77vpPuW/k0NGfQ1lWsjKmhtZCnr7v47MtOXrxqVNPRF9/08tnXj8mtKsbU1ZVzdi5cD47nnFsE59zjOOuRzGm3PiA97pDKSfs0TonMa5fAMbtodhj7s+yorcq8AqabLvuz6rS7Vq/1zUudmb3XRsF02UkPtl2LQMD0gHU4my44IqHzey9bYenux8vv3/D0i17ab1dQ15xDeJwPLbdaiU4zYOMdgJGjR19ghLMfFgGJ7Lxih4lPOBaBUdiEJ+GdmodVWCS57W3UPnpIdFGZdpp6JeRi6R+LXagBu7BcVhy6xhErH867hmIblol1SDo3/BJxjU7HLSqRgOQ0zljacfyajYLoiWsunDZ3xS4oFr/kFHwS4rDz9cI5wBPviECC4kIISwglJTuWwoo0yqrT6bhZTktnEa2dRfQ+rCUhxRs7pwtU1qbx/HkTzx6W8eJBIS8fFvH5k1JePi5RUL3Tlaa5uo9uZytIykqKlD48aUulszyECoMTIQ5HiPQ8p2EPwhof3szRWWbvzVxudWdxsytT56YSzyoXn+KAlzWaW1Vh2lFqfmKxBoac3jObcwfn42yxWw1OT3qyNCNaKhClnUbMScKUpWNYALWlMoqidA/di31QF0thlAWX